Where should you invest your online marketing dollars? Tracking online marketing efforts isn't an easy task. Results aren't immediately noticeable for some campaigns, and building a brand name adds value to your company in ways other than strictly monetary.
Influencer marketing utilizes people online with an established fan base and voice to get the word out about your products and company. However, influencer campaigns tend to offer a slow build toward name recognition rather than fast results. Ongoing investment and working with multiple influencers works best for most businesses.
There are eight key reasons your business should invest in influencer marketing.
1. Reach More Millennials
The millennial generation is one of the largest generations since the baby boomers, and they are now a vast buying block. About 70 percent of millennials tell surveyors the recommendations of their peers influence their purchase decisions. In a sea of businesses and online advertising, standing out to a marketing-savvy demographic isn't easy, but your brand can still reach millennials where they live via social media influencers.
2. Keep up With Competitors
As more marketers realize the value of influencer marketing, your competitors get on the bandwagon. Remaining competitive requires embracing the same types of marketing but also thinking outside the box.
Work with influencers your competitors aren't already working with. Think about who has similar audiences to yours, develop relationships with them and reach out for partnerships. The idea behind influencer marketing is creating a mutually beneficial relationship. Your audience should be a gain for the influencer and vice versa.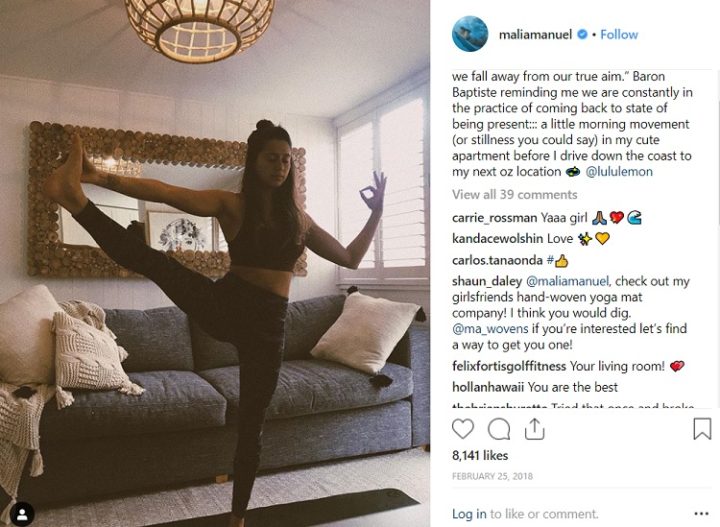 Lululemon Athletica teamed up with well-known names and micro-influencers to get the word out about its brand. In the screenshot above, professional surfer Malia Manuel shows off her Lululemon gear as she holds a yoga pose. Posts such as this give customers a reason to visit Lululemon's website or Instagram page.
3. Grow Your Social Following
When an influencer mentions your brand, you gain access to their followers. While not all will respond to a campaign, some will. You'll gain likes, followers and shares each time you work with an influencer on a campaign, and try out this auto likes instagram free trial to increase your brand.
Another way of engaging with influencers on social media is by commenting on their posts and sharing their content with your followers. Make sure your comments aren't spammy but are related to the post at hand and add value to the conversation. Folks interested in the topic may find your comment interesting and click on your profile to learn more about you.
4. Create Instant Trust
New brands sometimes have a difficult time building trust with new customers. You don't have a proven track record and users have no real reason to trust you and your customer service. However, they may already trust the influencer, who does have a proven record of only recommending the best products and services in the industry. Getting a recommendation from an influencer people already trust lends credibility to your brand.
50 Floor utilizes the help of a well-known influencer on the landing page of its website. Richard Karn is famous for his role as the handyman Al on "Home Improvement." When site visitors see his smiling face, they immediately think of high-quality work ethic and home improvement. Finding a recognized and trusted influencer lends credibility to your brand name.
5. Find Influencers Easily
Figuring out who to contact at a print magazine and how to create the right resolution and size ad is a grueling task for someone new to the advertising game. However, finding an influencer is as simple as researching a topic and seeing who is talking about that trend on social media. You can see at a glance which accounts have a decent following.
Pay attention to how many people interact on their profile pages and not just how many followers they have, as some people have a lot of bot followers. Are their users engaging when they post content? Pay particular attention to any branded posts they put up and how their followers react. Getting attention from 3,000 highly targeted and engaged users is preferable to little attention from a million followers.
6. Gain Sells
A powerful influencer mentions your product and the orders roll in. While influencer marketing isn't always fast, there are times when it is. A recommendation to take advantage of a special offer works well, especially if the audience trusts the influencer has their best interests at heart. Working with such an influencer increases your sales.
One example of a company utilizing an influencer to sell a product is Glossybox working with YouTube influencers. It created videos of the influencers opening its monthly subscription boxes and then using those products. The conversions from a Revfluence campaign were phenomenal, with 150,000 views and $3,000 in monthly sales — for far more than a single month.
7. Create Unique Content
One of the biggest challenges for small businesses is creating content regularly. However, working with influencers gives you content to share on your social media sites and even on your website. Influencers create reviews, videos, short posts, photos and more.
The cost of hiring a professional writer and photographer is far more than the cost of bringing on an influencer who also creates this type of content. A smart marketing mix is splitting your budget between influencers and unique content.
8. Add a Fresh Perspective
Figuring out ways of marketing your products isn't easy. Over time, ideas grow stale, and you need something fresh and cutting-edge. Influencers brainstorm ideas with you because they know what their audience responds best to. The way they see your brand may be slightly different than the way you see it. Their unique viewpoint allows them to showcase you in a new light with a fresh audience.
Cost-Effective Tool
Influencer marketing is one of the most effective tools you have for increasing brand awareness. Approach it as you would any other type of marketing endeavor. Do your research, study the competition and create a plan. Keep in mind that the best results often take time, but don't rule out immediate benefits, either. Look for ongoing partnership opportunities that expand the reach of your brand and add fresh ideas to your business.
Seasonal Sales Techniques for Small Business Owners
By the time the holiday season arrives, most business owners aren't prepared. There are so many aspects to running a business and staying afloat that it's difficult to find time to prepare for any one season.
The average person spends around $900 on Christmas gifts each year. Holiday sales are predicted to increase to as much as $729.89 billion in the United States. If you don't find the time to focus on seasonal sales, you can be sure your competitors will, and they'll snatch some of that potential holiday profit away from you.
No matter what type of business you own, there are some seasonal sales techniques you can use that will draw in the holiday shopping crowd. Here are six key ways to incorporate seasonal sales into your business just in time for the holidays.
1. Tap Into the Spirit of the Season
The last two months of the fiscal year are known as the "giving season" because people give about 24 percent of their annual giving in November and December. Part of the reason is a look forward to tax season and the ability to deduct donations to 401c and 501c classified organizations. However, another reason people give so much more during the last couple months of the year is that they're in the holiday giving spirit.
You can tap into the spirit of the season by calling on the emotions of your customers and figuring out how to give back as a business.
WestJet taps into the holiday giving season by offering a screen that features a Santa. As people step in front of the screen, they receive various prizes, some big and some small. The video on YouTube shows the reaction of the recipients and taps into that warm feeling that people associate with the holidays.
2. Remember Your Current Customers
It's easy to get caught up in the drive to gain more customers, but your current customers are of a higher value than a new lead. The chance that a current customer will buy from you is 60 to 70 percent, while the change that a new lead will buy is only five to 20 percent. Current customers are also more likely to try new offerings and spend more on each purchase.
As you can see, your current customers are quite valuable and should be a big part of any holiday sales planning. Spend time looking at what your current customers typically order, and figure out what new products might most interest them during the holidays. Items that complement what they already own but give that item a seasonal twist are popular. However, you should also offer exciting new products to current customers and give them special offers no one else receives.
3. Choose Your Season
Even though we talk about the winter holidays a lot in this article because of the sheer amount of business done during that time of year, Christmas isn't the only time when you can incorporate seasonal sales. If you run a pumpkin patch, fall is your hot season, and you should put most of your focus there. If you run a romantic Italian restaurant, your season might be Valentine's Day.
Choose the season that works best for your business, and focus on that for now. You can always add other seasonal sales throughout the year.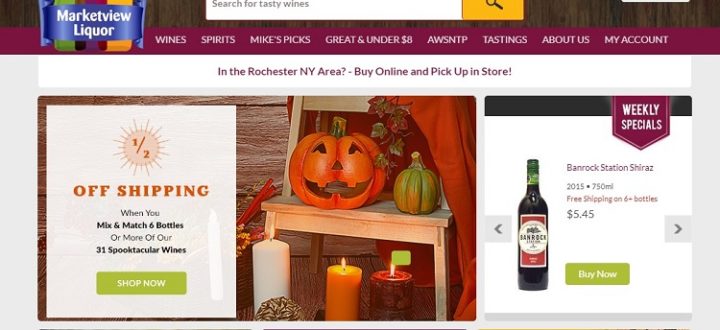 Marketview Liquor does a nice job of featuring special items for each holiday season. Take a look at their fall selection, featuring images of pumpkins and deep fall colors. They also offer a 1/2 off shipping discount if you order a certain amount of product. Finally, they offer a weekly special, sometimes tied to the season. If you're looking for a gift for any occasion, you'll find that they offer a special "gift set" section on their website.
4. Plan Your Social Media Marketing
To tap into the extra business sure to come your way during the holidays, plan out your social media marketing campaigns in advance. A multi-channel approach often works best to drive traffic to your special sales, so think through where your target audience spends their time and how you can best grab their attention on those social media platforms.
A holiday social media calendar is a great idea. You can also schedule out posts and offers in advance using a program such as Missingltr (free) or Buffer.
5. Turn a Negative Into a Positive
At some point in your business career, you'll make a mistake or receive criticism. One of the best things to do is to tie it into your overall seasonal efforts and embrace the error. You can, of course, fix the error, but also own up to it. If the problem was something serious, then a sincere apology might work best. But if the criticism is something lighter, you can turn it into a joke.
Reese's received quite a bit of criticism about their tree-shaped Christmas candy. People began posting on social media that the trees look more like human excrement than Christmas trees. Reese's embraced the criticism and started an #AllTreesAreBeautiful campaign. The screenshot above is an example of a candy tree seeing itself as the perfectly shaped Christmas tree. They released a series of #AllTreesAreBeautiful ads on Twitter.
6. Handling More Orders
Figure out now how to manage the extra workflow more orders bring to your business. It won't do you any good to have an absolutely brilliant marketing campaign that brings in thousands more in sales if you can't fulfill those orders and wind up with angry customers. When people order during the holidays, they expect those items to arrive quickly. Some might be presents they've purchased and need for a holiday gathering.
Hire on more staff, make sure you have enough inventory and streamline your shipping processes well before the holidays hit.
The Best Season Ever
Planning ahead allows you to take advantage of seasonal specials. Push your new products, clear out old inventory by offering deep discounts and show new customers that you have the best customer service on the planet. With a little prep work, the holidays can be a time when your business grows instead of fails.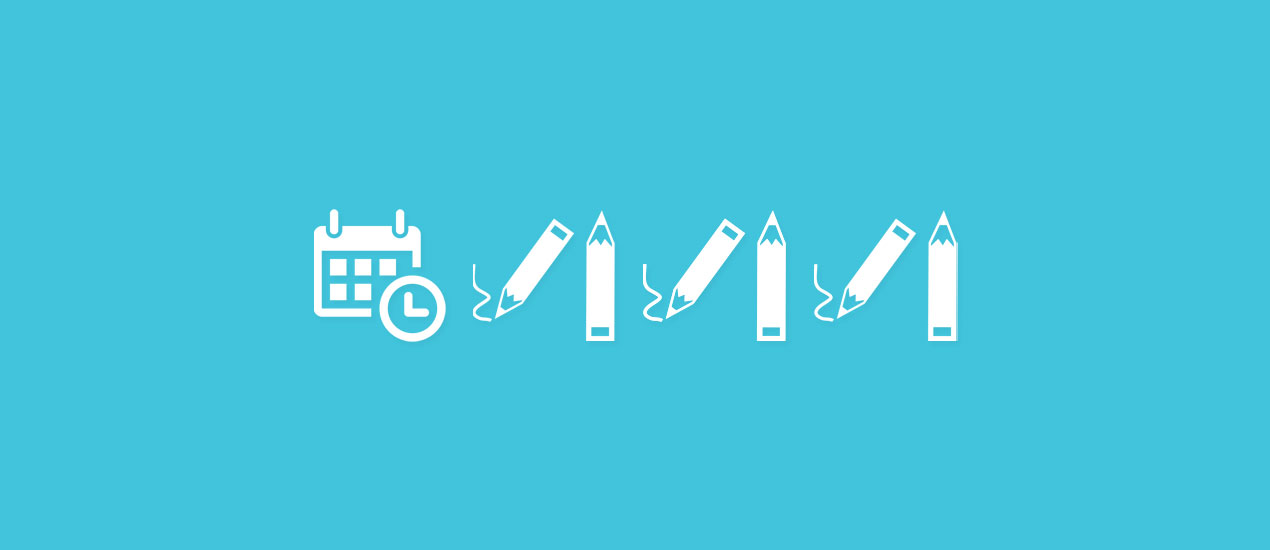 Content Marketing for E-Commerce
Over the past few years, content marketing/writing has been used by major brands worldwide to increase web traffic and brand awareness. These days, brands cannot expect to expand their work by simply making a website and listing their products; therefore, content writing plays a key role. Well-written content engages the audience in the brand and helps generate sales.
Planning to use content marketing/writing for your e-commerce business? Here are some ways to engage your audience while ensuring your blog ranks as high as possible in the eyes of Google/search engines.
Content Marketing for E-Commerce
– Our Tips
Engage your Audience
Starting with introducing your product or jumping right into your brand can tend to make your audience uncomfortable. Start with something different"
A story:

Stories are always fun and if you put some humor in it, there is a high chance that people will continue reading it.

A video:

An audiovisual way of communication is always better than just reading.

Memes:

It's been trending on the internet lately and is a really good way to engage teenagers.
Search Engine Optimization
Most of the people start searching for their products in search engines like Google and if your website rank isn't in the first or second page; there are high chances you won't be getting enough leads. SEO strategy helps to improve your ranking on those pages and once they find your page and see that your content is engaging, chances of conversion increases.
PPC Advertising
PPC stands for Pay per Click and it is recommended to use this along with SEO. This technique helps:
Advertise your product on a platform like Google AdWords

Use competitive and most searched keywords

You add your ads depending on the keywords searched by users then you set a bid according to your willingness to pay for each click.
Don't Force Product Placement
As we already mentioned, thrusting your products into people's face isn't the answer. If you follow step 1, you can slip in your product on audience's mind within the story for e.g.
If your brand offers a washing machine, you can make the hero wash his clothes in the middle of the story using that washing machine. In this way, you are not focusing just on your product but you are also promoting it.

You can also add photos to a person holding your brand and below you can mention a link to the same product.
Appropriate Keywords
Maybe you are doing everything right and you still notice that people don't visit your website much. Then you have to focus on the keywords. Two main tools that can help you come with relevant keywords are:
Google AdWords

: Here you can search for any phrase or word and Google will suggest a list of relevant keywords and also it tells the average month's searches and the competition (either high, low, medium) with respect to that word.

Serpstat

: This works by scanning your competitors ranking and finding those keywords that made their content in high ranking and not yours.
Developers, who are experts in building a website, often don't understand the importance of SEO keywords. In fact, a good keyword can help you rank on the first page of Google.
Stay Updated
We can't stress enough about the importance of this. If your content is not regarding current situations or upcoming events, there are high chances it's going to get ignored. The easy way to stay relevant is to talk about events: which can be divided in to-
General holidays:

e.g. Christmas, Thanksgiving etc. Again this will need a lot of research may be up to a month. You can introduce discount offers, gift hampers, provide various discount coupons or maybe share a cooking recipe for the big festival. As far as it's relevant and going to attract people.
Fun holidays: Now this one doesn't need a lot of research. These events usually involve prom days, farewell parties, the first day of spring. You can introduce your brand accordingly e.g. clothes that could be heavy or light depending on the occasion you are introducing it.
Mobile Friendly
Desktops' surfing is highly replaced by smartphones, which means most of the searches and readings are done on phones rather than desktop where the entire website is made and most of the time when these websites are opened on phone, they become slow or worse unresponsive.
Make sure your website responses well on phone as well.

Resize your content according to phone screens as well. Doing so can make your target audience satisfied and hence your sales can increase.
A good e-commerce site is the foundation of an efficient site. It is important for e-commerce sites to stay up for more than 99.99% time. If your site often experiences downtime, then you can lose a large number of visitors yet buyers
Social Media Marketing
There are multiple social media sites used by millions of people around the world. If you are familiar with the most famous one and you keep updating your content on them, there are higher chances of people stumbling upon it while scrolling down their newsfeed. Here are some of the famous sites:
Facebook:

Although it's a bit older than the other sites we will mention, it's still equally famous and is updated from time to time. There is a loyal fan base plus they have introduced a Facebook live option where you can simultaneously get feedback from your users.

Instagram

: This site is useful if you have great pictures of your product. Good visual representation of your product can result in the number of followers and buyers.

Twitter:

A really famous website, used by film stars and other popular individuals. You can add a short description of your product and add a link for people to follow.

YouTube:

This one is used for making videos. Videos are an excellent means of communication and engaging your audience. Also if they subscribe to your channel and open notifications, they are notified each time you update anything new.
All of these websites will increase engagement of your audience. Also, all of them offer a "Share" option which can help your content to reach from one person to several thousand people. Especially with Facebook group option, you can simultaneously address a large chunk of the audience by just one post.
Wrapping up
The above-mentioned tips if followed along with devotion and excellent research capacities can help you generate a great number of new people as well as you can keep your present customers engaged by writing about things they value.
Crawl Speed and Search Ranking
Internet users don't want to waste any time typing in your URL and you can't really blame them. They want a fast and seamless experience and that is why they favor search engines like Google. And to show up there, on the booming avenues of the internet, you need to get your pages crawled and indexed.
In other words, you have to face the technical side of SEO, one that often gets neglected and unsolved. However, this effort is the only way to lay the solid groundwork and elevate your website's usability, speed, and visibility. So, you must be able to appease the internet deities and delight its users at the same time.
Get your priorities straight
Make no mistake: crawl speed can make or break your internet presence. Although officially not a ranking factor, it has a profound impact on SEO. It affects all other aspects of your strategies and determines their ultimate success. All in all, not having your pages crawled and indexed undermines your SEO aspirations.
It is not an overstatement to say that this can be an utter disaster for websites that update content on the regular basis and want to get it in front of users as soon as possible. Therefore, before pondering your content marketing and social media strategy, you might want to take a look at what is going on "under the hood" of your website.
Make it snappy
First off, note that there is a strong correlation between your web speed and crawl speed.
In case you have a sluggish internet presence, the crawl speed of Google bots can be hampered. Namely, Google has expressed discontent with high-response times for requests made to the website. Its officials admitted that they differentiate between sites that are really slow and those that have normal load times. If it takes two seconds to fetch a single URL, then the number of URLs that bots crawl is severely limited.
This indirectly, yet substantially impedes your ranking. Of course, optimizing on a millisecond level doesn't change anything. But, if you improve response time by one second you can make a real difference in terms of how quickly Google picks up new content and related updates.
Strengthen the supporting pillars
In the eyes of a Googlebot, a speedy website is a reflection of a healthy server infrastructure. This is to say that it receives a positive signal, one that indicates the possibility of grasping more content over the same number of connections. On the other hand, 5xx errors and connection timeouts serve as red flags that reveal server deficiencies. In the wake of the latter scenario, crawl speed slows down.
In the mobile world, speed plays an even more pivotal role. Google has announced that as of July 2018, it will use mobile site speed as a ranking signal. All pages will be measured in the light of this criterion, regardless of whether they belong to a dedicated or a responsive site. Slow websites will be penalized and fast ones will be awarded better ranking. This seismic shift will be introduced by an algorithm change called "Speed Update".
So, take action now to brace yourself for the mobile-first digital world. You will have to figure out the exact moment when the tide of change hits your pages. To do that, you can access your server logs and see if there is an increase in crawling activity of Google's smartphone variant (accompanied by the decrease in the activity of the desktop counterpart).
Full speed ahead
Furthermore, website speed testing is a must.
There are various instruments to do this, so take your pick. Also, make sure to use SEO audit tool to gauge the SEO-friendliness of your pages and uncover any technical issues and errors that could hamper your ranking. Make it easier for your search engines to crawl your pages faster and you will be able to forward your overall optimization strategy.
In the case of mobile pages, you can utilize Search Console to estimate how your pages hold up. To be more precise, a "Smartphone" tab, which you can find under "Crawl Errors," allows you to identify any problems that encumber your mobile pages. "Fetch on Google" is another key feature that gives you insights into how Google bots see your website. Use the acquired knowledge to make the necessary adjustments.
Of course, there are some other things you can do to improve crawl speed. The list of solutions goes on and involves activities such as minimizing the downtime, creating an XML sitemap, and taking advantage of robot.txt files. So, go on, explore all avenues, and make an effort to cover all the technical bases.
Get a move on
If you are serious about taking your organic visibility to the next level, you have to enable search engines to efficiently crawl and index your pages. This is a real game-changer in the domain of SEO.
Thus, familiarize yourself with the way crawling process plays out. Realize that Google algorithm chances stem from shifting user preferences and trends such as the explosion smartphone-based online browsing. Make crawling a breeze for bots and let your pages run like clockwork.
You should be able to drive an immense amount of traffic your way and advance by leaps and bounds towards the forefront of the SERPs.
With the rise of the web, people's approach to making purchases has changed significantly. They are now aware of how important they are to small businesses trying to survive in such a competitive marketplace. And, in return for their loyalty, they expect you to provide them with the exceptional buying experience and they won't accept anything less than that.
Your customers not interested in your products only. Namely, they want to know the story behind your brand, as well. They expect you to answer their questions fast, connect with them on social networks, and create relevant and interesting content. They don't want to waste their time, either. If your site takes more than 3 seconds to load, they will abandon it and look for your competitors. The same goes for your navigation, mobile-friendliness, content, and the overall visual appeal of your site.
Given all these facts, here is how you should do digital marketing in 2018.
Prepare for the Google Mobile-First Index
If you haven't heard yet that Google has finally rolled out their mobile-first index, then you're living under a rock. This has become one of the hottest news in the digital marketing sphere, but what does it actually mean? From now on, Google will focus on the mobile version of your site when indexing it.
So, make sure you optimize your site for mobile searchers. After all, 60% of all web searches are done via mobile devices. Make your keywords longer and more conversational to optimize them for voice search. Use Google's AMPs to speed up your site significantly. Your navigation should be simpler, while all important elements of your website should be above the fold. For additional information, take a look at what Google says about preparing your site for the mobile-first index.
Show Appreciation
Do you know that an average U.S. household participates in about 29 loyalty programs? They love them for different reasons- some join these programs to save money, while others want to receive a reward for their loyalty. For some, the availability of rewards programs is the major factor that determines whether they will buy from you or not.
Now, loyalty programs vary and you need to choose the option that works for your target audience. You could give them points or vouchers that can be later redeemed at your stores or offer them exclusive deals for every purchase or referral they make. However, recent studies point out that people have labeled financial rewards or highly targeted incentives far more enticing. So, to make customized loyalty programs, you could offer personalized visa gift cards, with your customers' names on them or even organize a contest and let them win your premium products.
Focus on User-Generated Content
Let's face it- people trust other customers more than you. According to the Local Customer Review Survey, 85% of them trust online reviews as much as their friends, while 73% of them will trust your business more if your customers' reviews are positive.
In light of statistics like this, it's obvious that user-generated content (UGC) is one of those tactics you simply cannot allow to ignore. After all, it's your customers that sell your products today.
Use your social networks to invite people to share their own videos of your products or services.
Boost the visibility of this content by sharing it regularly and creating dedicated hashtags.
Most importantly, you need to know what works for each of the social networks you use. Share live stories and videos on Facebook, post photos on Twitter, while the user-generated content your Instagram account could be the combination of these forms of UGC.  
Use Social Networks to Offer Instant Feedback
In the past, your communication with your customers was based on phone calls and emails. However, the times have changed and, today, your communication channels cannot be observed in isolation. All instant messaging apps, video conferencing tools, social networks, email providers, and telemarketing strategies are highly intertwined, creating what we call the omnichannel approach to communication.
Today, your customers can move from one device to another uninterruptedly. They can find your phone number on your site and call you instantly, not having to switch between different apps. They can scan your QR code that will lead them to the piece of content they want to read or a product they want to buy. They can stumble upon your business on social networks, read the reviews, ask questions, and follow the link to your site to learn more about you.
If you're too busy answering your customers' messages regularly, then hire someone to do so for you. Even better, use a chatbot. Even this is still a pretty new concept, chatbots are predicted to revolutionize the digital marketing industry in 2018. Namely, these AI-powered tools have become smarter and more intuitive. They will provide your customers with relevant, real-time feedback and, at the same time, do all repetitive and time-consuming tasks for you.
You can use social media monitoring tools to keep track of your brand or product mentions. Whenever someone mentions you, you'll get notified. This is called social listening and it's immensely important in providing your customers with real-time customers services and collecting their feedback.
Create Interactive Content
Gone are the days when you could write a 1000-word blog post and generate a bunch of links, shares, and comments. We're living in the era of augmented reality and people expect your content to surprise and excite them. So, update your content strategy with interactive content, the one your customers can actively participate in, such as polls and quizzes. Don't forget about visual content, especially videos, as they're expected to account for 82% of the total internet traffic by 2020.  
Tell your Customers a Story
You're not doing content marketing for SEO purposes solely. You're creating your content for your customers. And, to engage them and get them emotionally involved, each article you write needs to have a good story to back it.
That's what storytelling is about.
Namely, 92% of people emphasized that they expect all major brands to create ads that feel like stories. Stories share a real-life experience, add the human element to your brand promotion, and evoke nostalgia and empathy. Most importantly, as they don't seem overly promotional, they will take your relationship with your customers to a completely new, more personal level.
Over to You
Digital marketing is not about promoting your business and ranking higher on Google. It's also about building and nurturing strong relationships with your target audience. That's exactly what will set you apart from a sea of businesses similar to yours.
Hope these tips help!
How Strategic Branding Can Help your Business
One way to stand out from the competition and make a mark on the internet for your business is through strategic branding. You've likely noticed branding via offline platforms, which is when companies use a tagline or some other identifying tactic to keep the brand in the mind of consumers. Think about some of the billboards you pass on a typical day, for example. However, branding on the internet is an entirely different game.
With so many different choices on methods for branding online, it can be difficult to know where to start. Fortunately, there are some tried-and-true ways to brand online that will benefit your business and not cost you much out of your overall marketing budget.
Street teams originally started out as a way for the music industry to promote artists, but has developed into a method that all types of businesses use. About 33 percent of consumers say they trust a message from a company, which isn't great, but 90 percent of consumers trust a recommendation from someone they know, even if they just know the person in passing.
This is where your street team comes into play. You should have a database of fans who will go out and tell others about your company and products. This can include social media influencers, people who have been customers for many years and brand ambassadors who you send free products in exchange for their word-of-mouth advertising.
Red Bull utilizes a street team/brand ambassadors to get the word out about its product. The way it has implemented its strategy is to have tiers within the team all the way down to student ambassadors who will recommend the product to their friends.
91 percent of B2B marketers use content marketing to promote to potential clients, making it one of the most popular B2B online marketing methods. You've probably heard that content is king, and in some ways, this still holds true.
However, you have to ensure the content speaks to your target audience and provides some value to them. Gone are days where businesses could keyword-stuff a page, drive traffic and find success. Today's savvy business owners expect and demand value for their time.
Small businesses need a convenient way to get active online and begin building that brand image. One key thing is figuring out how to connect with other small businesses, but statistics show that businesses with better listings receive as much as 347 percent more searches than those with subpar listings. A company called Manta helps with Google AdWords placement, figuring out SEO for local listings, social media timing, online reviews and preparing for mobile search traffic.
One example of a company using this platform is Mericle Commercial Real Estate Services. The company specializes as a developer of industrial sites and office buildings, so the ability to connect with other businesses is a real help.
Get everyone in the company versed in how to use social media to promote the business and then allow those who seem to be savvy to promote on your behalf.
Studies show that leads that are generated by employees via social media are about seven times more likely to have high conversion rates. The key is training employees on what to say and what not to say or to simply ask them to retweet and share.
Customer Service on Social Media
Every day, there are 2.1 million negative social media posts about U.S. brands, which means people are very likely to go online and voice their complaints. Since your goal is to please your customer and show others you care about your customers, it is a smart move to hire customer service specialists to handle social media complaints. The reps simply reach out to those complaining and offer to fix the issue.
JetBlue airlines is an excellent case study of how to use social media to respond to your customers in a pleasing way. When customers complain, it immediately responds, asks for flight info and provides an update.
A person has to see your branding approximately five to seven times before they remember it, as a rule of thumb. Of course there are exceptions to that rule, but it goes to show that you need to put your eggs in more than one basket when it comes to online marketing. Think about where your target demographic hangs out online. If most of them are on Pinterest and a specific crafting site, then that is where you'll advertise, as well as by using AdWords with a similar keyword range.
The number of people using mobile devices to access emails has risen by 180 percent over a three-year period. With more and more people using their mobile devices to get online, it is a smart practice to take those emails you've collected and send out a message here and there. You can offer stories about your company, discounts, free shipping, customer testimonials, etc.
Groupon sends out emails several times a week that are segmented to offer specials that particular group of subscribers would be interested in. This highly targeted form of advertising has been quite effective for the site. Those emails are also mobile friendly and can be easily read on a personal computer or a smartphone.
If your company isn't focusing on branding online yet, then you can see why it is vital that you do. You can easily expand your customer reach by doing online marketing. The key is to be smart about where you spend your marketing dollars. Even though online marketing is a fraction of the cost of traditional print advertising, you can still waste a lot of money if you don't go into it with a very specific strategy and marketing plan.
Lexie Lu is a freelance UX designer and blogger. She enjoys researching the latest design trends and always has a cup of coffee nearby. She manages Design Roast and can be followed on Twitter @lexieludesigner
Categorized:

Business Philosophy, Graphic Design, Small Business

Tagged:

branding, content marketing, customer service, emails, internet, marketing, mobile, mobile friendly, seo, street team, traffic