Articles by Month:
February 2019
Using SEO to Improve Your Online Reputation
The search engine optimization game is constantly evolving and changing with the algorithms. While this powerful digital marketing method has been used for years as a way to rank websites higher in the SERPs and boost the visibility of websites in the eyes of the online audience, in recent years it has become an integral part of online reputation management. Quite simply, SEO helps your website rank higher, but more importantly in the modern business world, it can help your brand stand out as a powerful authority figure.
There is no denying that websites that rank higher have the potential to score a 20% CTR average, but imagine click-through rates on a website that not only ranks high in the SERPs but also holds a coveted position as one of the leading and most recognizable brands in the field. With all of this in mind, here are the five ways you can use SEO to manage and improve your online reputation.
Brand dissemination and community engagement
The modern consumer is a peculiar being. Highly inquisitive and curious, with a smartphone in their hand and an account on every relevant platform on the web, they will stop at nothing to find out who you are and where your true intentions may lie. In other words, the modern consumer does their research before deciding on a brand, and this research will mostly take place on social media.
Keep in mind that not only are potential customers researching your entire online presence, but that Google's spiders are doing the same thing. This means that you need to disseminate your brand across the online world and provide all of the necessary information on every relevant platform that could help your rank higher and score positive reviews.
The better the reviews and the higher the engagement with your followers, the better your online reputation will become. With it comes better ranking and a prominent position in your industry. To initiate this snowball effect, make sure you're:
Present on every relevant platform.

Providing detailed information about the company.

Listing your products and services.

Posting quality content regularly.

Engaging with your audience in meaningful conversations and discussions.

Answering questions and resolving community problems efficiently and effectively.

Commenting on relevant topics other than your own to associate your brand with the solution.
Creating stellar content across the board
If digital marketers can agree on one thing, it's that quality content has a significant impact on rankings, and that there is no excuse for posting subpar pieces with poor keyword integration on the web. If you want to make it big in the online world, you need to go above and beyond with your content creation, and it all begins with elevating the proverbial bar. Remember, only stellar content will make it into the top three listings on Google.
However, content creation is not just about answering a problem or integrating keywords – nowadays it's also about organic brand implementation and storytelling. You need to immerse your readers into the topic in order to boost engagement, shareability, mentions, and of course, minimize your bounce rate. Combining stellar content with careful keyword and brand name integration will deem you worthy in the eyes of Google, and secure a top spot in the SERPs.
Building local authority with market-specific SEO
Another crucial element of authority and a stellar reputation in the digital realm is market-specific SEO. Focusing on local SEO can help your business stand out in your specific marketplace. This is an effective strategy for individual franchise outlets, local businesses catering to a single market, and even global brands who want to ensure brand consistency across the board. New York City is a prime example of the effectiveness of local SEO, as standing out in this bustling beehive has been a pain point for entrepreneurs and business leaders for years.
New York is a highly-competitive area, so it only stands to reason that an agency offering New York SEO services includes comprehensive strategies that use localized keywords to rank the brand higher in its niche and the local marketplace. This will allow the brand to rank higher in the local SERPs, boost brand awareness in the community, and build a more trustworthy relationship with the local demographic.
Emphasizing the video content form
Search engine optimization in its latest form ventures beyond written content and into the realm of video creation. With Google putting emphasis on brands that produce quality videos and integrate relevant keywords into video titles and descriptions, it only stands to reason that you should step up your videography game. Producing content in video form is an excellent way to improve audience engagement and disseminate your content on video platforms such as YouTube and the likes.
As the number of views rises over time, so will the video's ranking in the SERPs. In turn, you will raise brand awareness and thus your online reputation – provided that your videos are as good as your blogs. Another factor you should take into consideration is how brand-audience communication can impact your rankings. Make it a priority to answer comments on your videos and inspire conversations for Google to take notice.
Mentioning your brand name with relevant keywords
On a last note, it's important to acknowledge the power of positive association and repetition. Your brand name should appear in every post you publish, no matter the form, no matter the topic. This builds awareness and solidifies your brand in the minds of the consumers.
Combine your brand name with your most relevant keywords, and you have yourself a recipe for success when it comes to getting on Google's good side. Associating the content with your brand will tell the algorithm that there is a relevant connection between the two, which will in turn improve your ranking and portray you as the authority brand in your niche.
In conclusion
SEO is the name of the digital marketing game, and it's not likely that its importance for your long-term success will diminish any time in the foreseeable future. That said, SEO is also an ever-evolving science and art form, so it's important to stay on top of the latest trends and utilize the best practices to build your online reputation.
Mistakes happen. We are human, and we are not infallible. The trick is not necessarily avoiding mistakes altogether, but instead using them as a learning experience. In business — particularly when running a startup — it's also essential that you deal with any problems as soon as possible to prevent them from growing into something insurmountable. Some business mistakes may even come back to haunt you later down the line, in that case, it's about being prepared.
Of course, the best thing to do is to avoid making the mistake in the first place. That's not always possible, as some things are just going to play out how they play out. However, you can avoid some common problems during your first year of business — mistakes which many other entrepreneurs have made in the past. Here are eight examples.
1. Register as a Business Entity
In the U.S., most states require you to have a business license or at least be registered before you can start operating as one. This process is not the same as incorporating or starting an organization, but it's just as important because it separates your personal assets from your business assets. What does that mean?
If you're selling a product that hurts someone or makes them sick and they decide to sue your company, that's where the business entity comes into play. When registered as a business, that essentially takes over, and the person(s) suing can only collect from your business assets and funds, including available insurance. If you're not an "entity," your personal assets are on the table, too. It could very well be the difference between only losing your business funds and supplies or losing your home and personal materials, too.
The most common form of business entity is an LLC or limited liability corporation.
2. Plan Ahead
There's no way to know for sure what's coming in the years ahead. Your business could slowly start to grow, die off entirely or hit a sudden boom bringing in millions of dollars a day — you just don't know. But that doesn't change anything in regards to planning. You should always plan ahead and have multiple contingencies for when an event or scenario plays out. Don't prepare just for success, either.
More importantly, you should remember to set goals you can strive toward. Don't just set them in the near future, either — consider two, five and even 10 years down the line. What would you like to achieve? What new avenues, products or services would you like to pursue? Would you like to be in new markets?
Expanding your business into new markets or opening up new locations, for instance, will be necessary to grow influence and support. But it's important to understand the risks, timing and requirements, so you don't incur more significant problems. Do it at the wrong time, and you'll stretch your capital and assets thin, which could result in failure for the entire operation.
Start with a huge list of desirable yet realistic goals and narrow down what you want to achieve as you continue to grow.
3. Learn to Protect Your Business
Too many startups fail simply because the owner or owners were not prepared to deal with certain unfortunate yet legal events. They did not consult legal assistance, they did not file the appropriate paperwork to protect their assets or they did not draw up a contract to prevent gutting or theft.
Imagine two friends working together to build a startup. Things start to go sour, and one decides to leave, but they want to take "their" ideas or accomplishments with them. It's too late to draw up a contract to protect the business at that moment. So, you should do it beforehand.
Here are some things to consider:
Protect intellectual property through trademarks, copyrights, etc.
Draw up a contract before things get hot and heavy, explicitly outlining what stays with the business and who gets what during a split
Create similar contracts for partners, vendors and investors
Consult attorneys, accountants and bankers for advice and support — don't do everything yourself
Acquire the necessary insurance or emergency financial support
4. Don't Incorporate Too Early
Many companies and business owners will decide to incorporate when they're running low on funds, which opens up their business to public investments and incredible growth. It's a good idea, and it's a great source of capital — but that doesn't mean it's the best option for your business.
Do not incorporate until your business has a clear foundation and it's apparent whether you're going to sink or swim over the coming years. That might sound vague, but you can predict relatively well through past performance how a business will do on its current trajectory.
There are many requirements of an incorporated business you may or may not be able to deal with. For example, investors are going to want the company run the way they think is best, which means making decisions that please them — not necessarily how you would want your business to be shaped. This can completely alter the planning and design phases, as you must incorporate what your investors want as part of your decision, as opposed to only what you or your team might want.
5. Undervaluing Your Products or Services
The price you charge for your goods when you enter the market sets a precedent for your business. In most cases, it's difficult to raise prices or change a payment plan after your company is in operation, even with iterative product updates. You'd have to make substantial changes to warrant the increase, and many customers are going to be against it or upset by it.
That doesn't mean you should never change prices, but the critical point here is that you don't want to undervalue what you have to offer when you're just starting. A lot of businesses set their price points too low because they aren't confident or they fear failure.
Before launching anything, explore the market thoroughly to review comparable products. What are similar companies charging? What do your products or services have that others don't? What's a good price range for your industry?
6. Avoiding New Technology
For any business, the adoption of new technologies, systems and tools is going to be a costly endeavor — that's just how it is. The bigger the team, the more time and resources it will take to roll out a new solution — which includes higher costs.
Money aside, you should never be afraid to adopt new technologies or solutions. Many will help teams do their work more effectively, increasing output and ultimately lowering operating costs. In other words, it's almost always worth the investment.
Do your research beforehand. Also, don't adopt too many new platforms at once, just work on a single upgrade at a time. When assessing what to try or what to install, consider what parts of your normal day-to-day operations could do with a little improvement.
7. Know Your Ideal Customer
You could have the greatest idea ever for a business or product, but it won't make a difference if you don't know who your customer is. That also means understanding what they want, how they live and how they might interact with your business in the future. Will they be willing to upgrade to a new model as soon as it's available, for instance?
Knowing your customer is not just vital for regular business operations and development, it's also crucial to marketing. You need to speak directly to your customers through your marketing campaign, including those that have yet to invest in your business.
8. Need Strong Marketing
Speaking of marketing, you won't see a lot of growth if you aren't continually promoting your business. Marketing takes many forms from online and social media content to word of mouth referrals. Furthermore, as a local business or new startup, your marketing campaigns are going to look a lot different than large organizations.
You won't succeed at marketing, however, if you don't understand your market. That means getting to know your customers, understanding your competition and knowing the current market sentiment. Are people just not interested in the products or services you wish to sell, for instance? How can you change that?
If you don't learn to market early, you're going to have a much more difficult time later on. Not to mention, you won't have a consistent way to bring on new customers and clientele.
Mistakes Happen, So Learn to Correct Your Trajectory
Even armed with these incredibly helpful tips, you're going to make a few mistakes. That's okay. What's important is that you correct your trajectory as soon as you realize what's happening and that you learn from any errors, so you don't repeat them.
Running a startup business is not a simple or easy feat. It's challenging, there will be lots of obstacles and it takes a lot of time, patience and money. But you can make it happen. Just stay focused on your goals, trust in your support and keep pushing forward.
Follow these Illustrators on Instagram
Hate social media bringing you down? Hate scrolling and slowly feeling down about yourself as the posts roll by? Follow these ten illustrators on Instagram we suggest below and you'll perk right up. We promise!
We are all about inspiration these days. We have started a Facebook group for creatives and hope you'll join. Head to the We Are Weapons – Go Media Creative Crew on Facebook and request to join in on the conversation.
A few more notes before the inspiration begins:

A space that honors the importance of choosing self-care over self-harm.
---
Empowering creative ladies! Started by @jessicavwalsh
powered by awesome ladies worldwide in over 200 cities.
---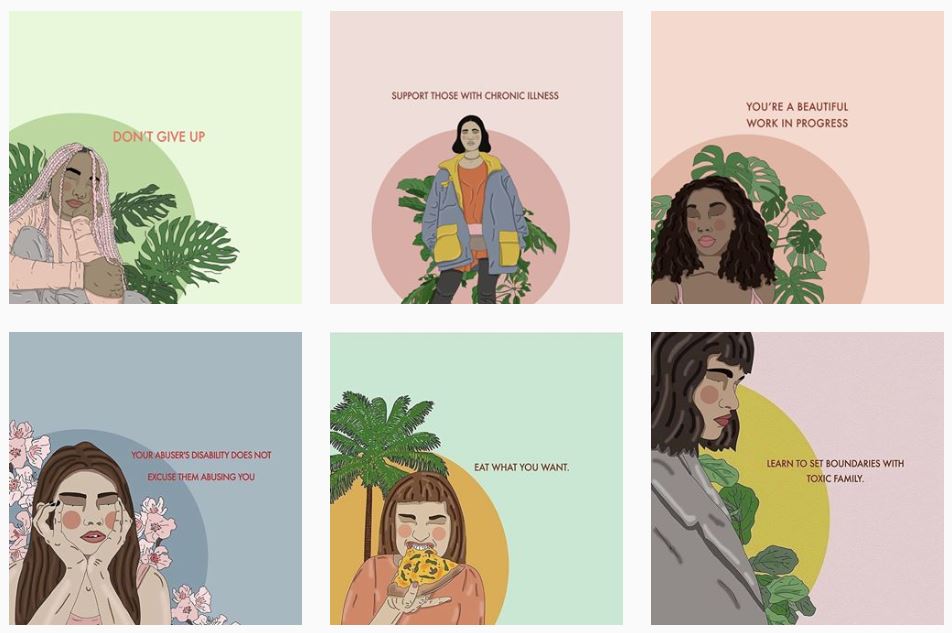 ---
THEY/THEM pls | queer trans artist & activist
---
A way of being | A space for embodied wisdom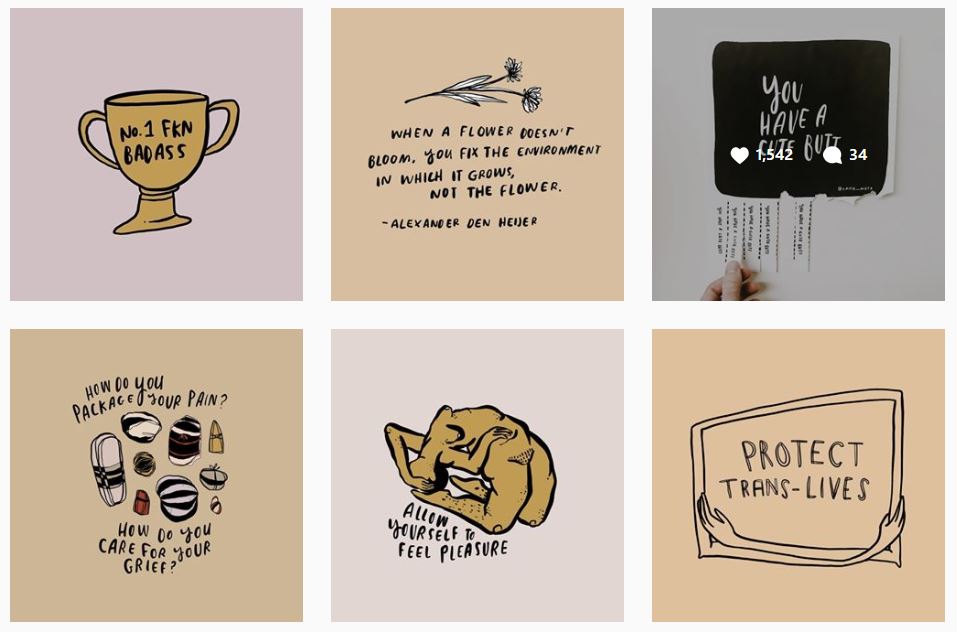 ---

Original artwork © Dani DiPirro
DC-area artist + author

---
illustrator trying her best
---
infamous anti-socialite and pug lady
---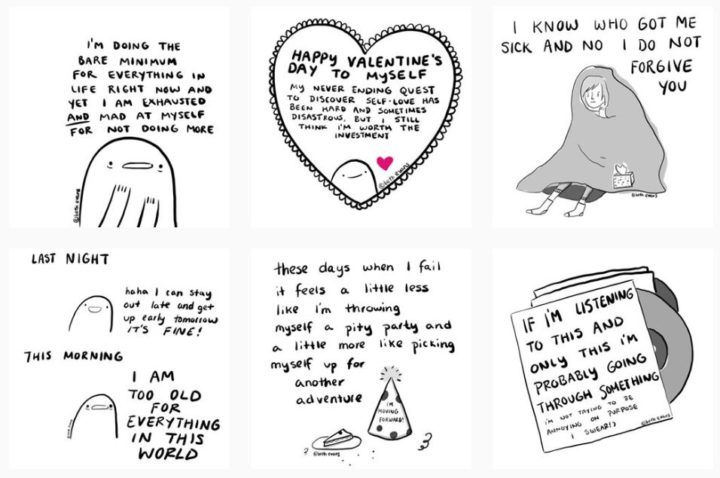 ---

London Based Artist & Social Issues Advocate

Hiring a Professional Logo Designer
What makes a company stand out? Is it a unique product that no one else in the industry is selling? Is it dedication to providing round-the-clock customer service? Is it a history of contributing money to charity?
All of these are certainly true, but in a more basic sense, what makes a company stand out is simply its logo. For something that is essentially just a small illustration, it can exercise a remarkably powerful influence on consumers.
To illustrate, what is the first thing that comes to mind when you think of Apple, Nike, or McDonald's? Before you even start thinking about what these companies are about, your mind will conjure up an image of the half-eaten apple, the iconic 'swoosh', or the yellow 'M' against a red background. This is the power of the logo.
If you are a business owner yourself, coming up with a logo to represent your company should be one of your top priorities. And unless you are also a designer, it is advisable to leave the task of bringing your vision to life to a professional logo design company.
Doing this has several benefits over trying to create one on your own, or leaving the job to amateurs, and we will cover the most important ones in the rest of this article.
1. To Establish Your Brand Identity
Think of a company as an entity that has two key features. One is its internal structure, which is a kind of mechanism for producing wealth. The other is its outward appearance, the image it projects into the public sphere. The marketing discipline of branding is primarily concerned with the latter, namely with the process of forming and disseminating the company's image. And a logo is a key element of this process. The purpose of a logo is to encapsulate your company's brand identity into a simple, reproducible form, so it can be used as a visual shorthand for representing your company to clients and customers.
2. To Make Your Products And Services Recognizable
In a hypothetical world where marketing never took off as a commercial activity, there would be little means of distinguishing between various products and services that society produces. One can of tuna would look like any other, and consumers would have no means of telling them apart, even if they came from different factories. Now, imagine adding a logo of your favorite seafood brand to one of the cans. Suddenly, the can without a logo will look boring and nondescript, whereas the one with a logo will immediately jump out at you. The point should be obvious – having a logo is crucial to make customers notice your products and services.
3. To Set You Apart From Your Rivals
We will extend our example from the previous paragraph, and ask you to imagine that a competitor of yours now has their logo on the other can of tuna. We are now back to square one – the cans are indistinguishable insofar each of the has a logo plastered over it. This is where the element of competition comes into play. In order to make your can stand out, your logo has to be better at identifying your product than the one your competitor is using. And a professionally designed logo will always look better than a doodle by an amateur, so make sure that your company only uses the former.
4. To Build Trust With Consumers
A logo is not just an image. It is also a symbol, and symbols have meaning. Take the symbol of the cross. For a non-christian, a cross is just the intersection of two lines. For a believer, the cross represents the very core of their faith. A logo rarely inspires such adherence, but it will nonetheless communicate some sort of message to people that are aware of it. And the message your logo should be communicating is one of trust. And if your customers associate your logo with a sense of trustworthiness, they will be more willing to do business with your company.
5. To Communicate Complex Messages
Logos are used to build trust, but they can also transmit more specific messages. In this sense, a logo is a means of describing the thing it is associated with, whether it is your company as a whole, or a particular product or service your are offering. Take the famous Nike 'swoosh'. For one of the most famous logos ever created, the 'swoosh' is rather minimalist in its design, but only on first glance. The 'swoosh' resembles a 'tick' used to mark the completion of a task, conjuring forth images of success. It also evokes a sense of motion due to the a variation in thickness, another idea which is in line with Nike's brand identity.
6. To Enhance Your Aesthetics
While a logo is arguably the most prominent visual element of your company's aesthetic, it is by no means the only one. Equally important are your choice of color, font, and website layout. The question then becomes: which element should you develop first? There is no one answer to this question, but we would like to argue that by opting to first design your logo, you will make it much easier for yourself to come up with the other two. Our reasoning is the following: a logo combines all three of the aforementioned aspects of your visual aesthetic in a neat little package. It has a specific color scheme, it often includes some form of writing, and it's overall shape is a good starting point for developing the layout for a website.
7. To Create a Legacy
If you sit down and sift through a book on medieval illustration, you will find a lot of images that resemble logos of today. These so-called heraldic symbols were used to identify various institutions, guilds, and families. More importantly, a heraldic marking was a sign of legacy – it implied that whoever wore the mark came from a long line of descendants of good repute. And your company logo can also work in this fashion. Once your company gets established as a reputable name in your industry, its logo will slowly start accumulating value over time. Eventually, your logo might even outgrow your company, becoming a true symbol of its own.
Conclusion
As you can see, a professionally designed logo can bring substantial benefits to your company. Whether you are trying to differentiate yourself from competitors, raise brand awareness, or communicate more effectively with consumers, a logo can help you achieve these goals, all for the price of a single illustration.
A logo serves as the storefront of a company in the simplest way possible. Getting a logo done is indeed an intricate task, a logo designer puts their heart and soul in the process and strives to create an identity that can be easily detectable from a branding expert to the 5th-grade student. In a nutshell, it's a first impression that reflects the entire idea of a brand and sticks out a like a sore thumb.
A brand pulls out all the stops to make its logo as the face of their company, which is definitely not an overnight task. It requires constant repetition, perpetual promotions and many other efforts to acquire the desired goal. Then why does a brand have to retire their established custom logo design and go back to the canvas for redoing the strokes? Why don't they just skip such a daunting task where they will have to go through the intimidating details all over again? Well, sometimes a fine-tune in the logo design gets inevitable. Whether you want it or not, you will have to take on the design journey for the sake of your brand replenishment. Except for the most iconic ones such as Nike swoosh, almost every brand's symbol had to undergo some kind of reform in their original design.
Here we are going to look at some of the most famous logo designs journey – who have really raised the bar with their new and improved logo redesigns. Let's delve into the before and after comparison of the well-known logo redesigns and see what we can learn from their tremendous success.
Pizza Hut
Logo History: Since the food chain's opening in 1958, the company's logo has undergone drastic redesigns several times. Started from a mascot logo in which Pete was holding the words "Pizza" and "Hut" in both the hands, the logo has come a long way to represent the slanted hut image as the central element of its brand identity.
New Logo- The Improvements: Pizza Hut decided to keep up with modern trends at the same time kept their design's legacy intact. The logo has been known for its slanted roof not only in its logo design but also on their outlet's building. Therefore they kept the primary identity untouched in the design. On the other hand, they took a smart move to simplify the color palette of the logo while emphasizing the color red which has a psychological connection with appetite and hunger. As compared to the older version, the logo has been tweaked to maintain the flat look and feel, which is quite trendy nowadays.
MailChimp
Logo History: A free and paid email marketing service started in 2001 with the monkey head as their original logo which was kept by the company until 2005. In 2006, the email marketing company decided to streamline their animated logo and went for a complete overhaul by replacing the monkey head with the typography 'MailChimp.'
New Logo- The Improvements: The current logo redesign doesn't even appear as an obvious redesign at first glance. However, upon close observation, you will be able to identify the subtle pinches in the design. The logo has been further simplified and has been given a lighter look. However, the original energy is kept the same as it used to be. But there is a clear difference in the typography which has been optimized over the years to improve the readability.
The logo is the prime example that tells us how one can breathe a new life into the brand identity without going overboard. Designer Jessica Hische has shown here how a low-key redesign is done while keeping the real essence unaffected.
Starbucks
Old Logo: Speaking of the iconic logos, you can't skip mentioning the classic Starbucks logo and its redesign journey. 1987 Starbuck's logo displayed a woodcut illustration inspired by the Greek pottery. The original version sported the Starbucks siren as fully topless holding the prominent fishtail. However, the logo underwent a drastic modification in 1987. In the 1987 version, the siren's frontal upper body was covered by her long hair, however the fishtail was slightly cropped.
New Logo- The Improvements: For the new logo, the designers decided to get rid of the outer circle, and the name has also been dropped from the disc. Before the recent tweaks, designers opted for the symmetry until they realized that they don't want the siren to be perfect as a Barbie. After numerous brainstorming sessions, Starbuck's logo design team settled on one point that perfection is not something they want for this logo. Hence, they added a few rounder details and opted to keep the siren's personality as it used to be; mythical, mysterious and worldly.
Target
Old Logo: Target came up with their unique logo in 1962. The logo initially kept 3 red and 3 white rings with the company name written boldly across the bullseye. In 1968, Target attempted to give a more contemporary look to the bullseye logo. However, in 1989 the company temporarily removed the bullseye image from the logo and kept the wordmark "Target" in bold Helvetica.
New Logo- The Improvements: Since the beginning, Target's logo has managed to stand out due to its outstanding choice of color. Other than that, nothing can be wiser than representing a brand name 'Target' with the actual Target in its logo. As far as modifications are concerned, Target has reduced the number of rings, whereas the circle within the circle has always communicated effectively to the global audience. Not to mention the minimalist circle design creates an image of reliability, attention, trust, and strength. Besides, their perfect choice of color matches perfectly to the core values, vision, and purpose of the corporation.
Google
Old Logo: Google original logo was designed in 1998. The designers used a standard font for the company name. Until 2009 the logo remained unchanged, after which the company decided to alter the shades in the letters. Fast forward to 2004, the company made a few subtle changes in the letter spacing.
New Logo- The Improvements: The simplicity of Google's logo is the winning factor which makes its brand recognition game stronger than others. The sophisticated yet straightforward wordmark combined with the thoughtfully chosen primary and secondary colors gives the design a wow-factor that many other fails to adopt. The current logo is a flat design with sans serif typeface. Despite several minor changes, the logo has always owned and retained the classic feel with bold and playful colors and laidback typography.
Conclusion
Your logo is the face of your company. Sometimes, the face needs a makeover so that it can be conceived by the newer audience, at the same time, relate with the existing target audience. All the logo redesign examples mentioned above opted for the flat design trends with the bright colors. Not only this, but they decided to tone down the intricate details to modify the logo designs into a memorable yet timeless symbol that's bold and recognizable from a distance. Remember, as your company grows, your logo should not remain the same as it used to be when the company was initiated. You will have to rebuild a consistent, robust and identifiable brand identity that resonates with the existing as well as potential customer base, which is only possible with an impactful logo redesign.  
There is a certain draw, a certain magnetism towards being an entrepreneur. Sure, the potential profits can be amazing, there is barely a ceiling on how much money you can make, but there must be something else that makes a person work the insane hours required. It's the freedom, the control. It's the fact that all the profits you make, all the success you have, and it's all yours. However, the risk is very high, as is the starting investment. This is where franchise businesses come in.
Instead of starting everything from scratch, you get the opportunity to run a local branch of a franchise you concluded a contract with. You, for a fee, obtain the right to a franchise, to run a branch with their products, brands, trademarks… With a franchise, you get to essentially be your own boss, all your achievements (and failures) will be yours and yours alone. However, the stating capital needed is much lower than what you need to get for your own business. Furthermore, you get a completely developed plan and marketing strategy pretty much handed to you.  
Know that while franchising isn't for everyone, for some it is the perfect opportunity to achieve their entrepreneurial dreams.  However, giving it a shot requires some forethought (obviously). Below are some tips on how to figure out what kind of franchise is right for you.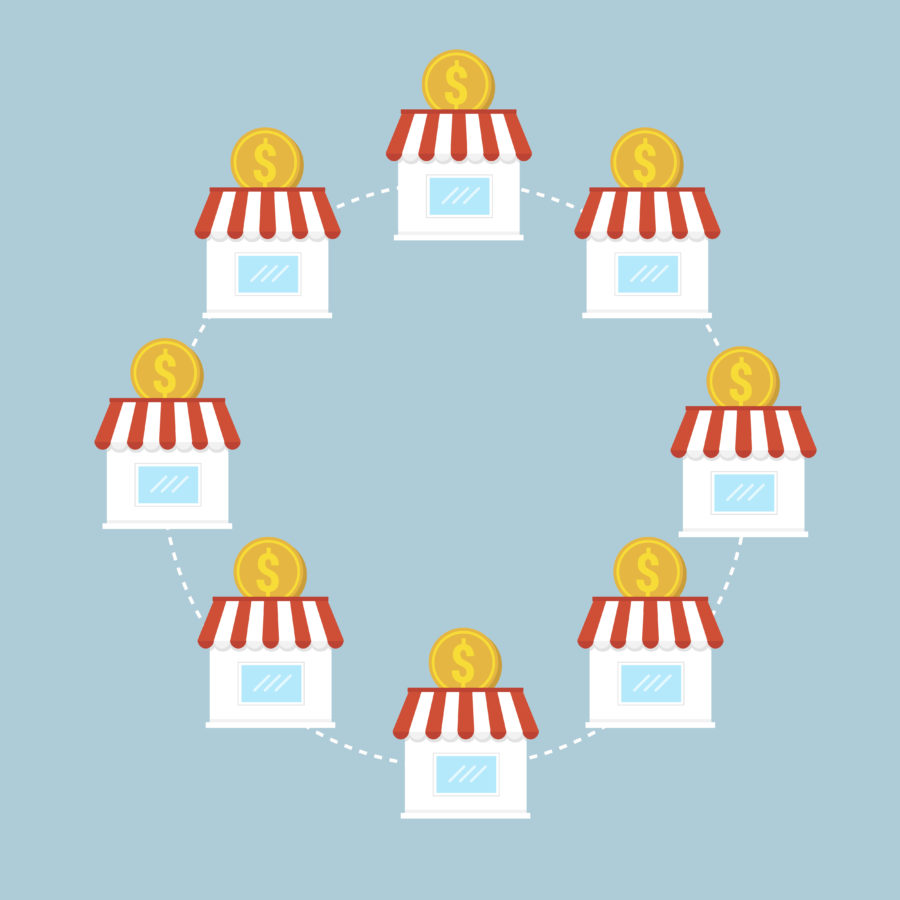 Which Franchise Business is Best?
What is your initial budget?
The first thing you need to ask yourself is – what is your budget like? Franchise prices vary greatly, they can range from anything between ten thousand dollars, to a cool million. Weight in what your initial investment can be, as well as your expected profits, how soon you will break even, what's your lifestyle like, and what your goals are.
Understand that the initial investment will depend on the line of work you have chosen. A restaurant will be much more expensive when compared to a B2B company. The equipment can be substantial, refrigerators, coolers, ovens, grills, all the cutlery. You will also need to set up the right décor. Utilities can be quite high, as can the cost of rent if you're anywhere near a high-traffic location. On the other hand, a B2B consulting company that does all its work online can have its location set-up essentially wherever you want. The initial equipment, besides a few costly computers and software licences, is pretty minimal.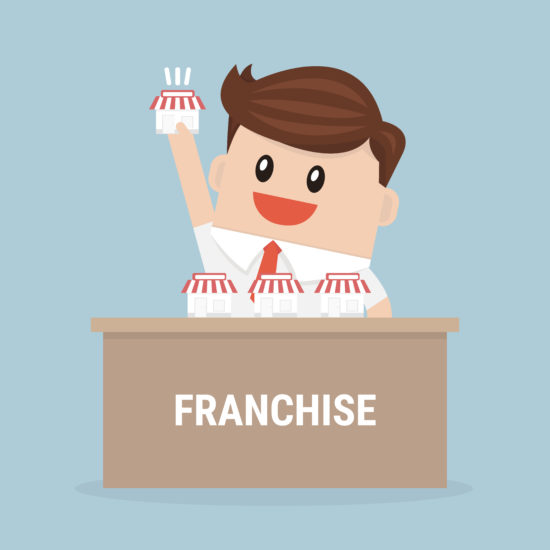 What role do you want to play?
Now, depending on how you want to spend your workday, you can choose to work as an operator, or an absentee owner. If you're interested in getting right into it, going on the frontlines, then being an operator is an excellent choice. You will have direct insight into what's going on at the company, will be able to control everything. It is the perfect choice for anybody who gravitates towards a hands-on approach.
On the other hand, absentee owners are more like pure investors. They hire the right staff, and are involved with some of the day-to-day grind, but they are mostly behind the scenes. They let the staff they hired to actually manage the whole enterprise. Now, of course, these choices depend on the franchise. Some places expect one type of work, others the other. Most often you will have free reign, but the actual type of business may require you to be at the office every day.
Do you have any experience (and in which area)?
Finally, you need to figure out where your interests are, in which area have you accumulated experience. There is no point in running a company branch whose line of work you despise. Go with your passion. Are you obsessed with cars? Maybe get the number from some car selling franchise.  Do you love artisanal teas? Then calling up Chatime for franchise options is your best bet. How about fashion? Then contact a clothing brand. What you need is passion, and some kind of (formal or informal) education in that area. A couple of years in the business can come in handy as well.
And this isn't just about passion, or pure knowledge, but about connections as well. If you want to get a franchise focused on the fast food industry, having some ties in that world will serve you well. Knowing the right distributors, maintenance workers, wholesalers and retailers will make your life much easier than just starting from scratch.
Conclusion
A franchise can be just as exciting and lucrative, if not more so, than regularly starting your own business. You still get a serious amount of control, and will have very high potential profits. Furthermore, a big chunk of the work, regarding marketing and planning, will be laid out in front of you. Just remember to figure out what you're passionate about, and how much experience do you have. Be honest with how big your initial budget can be, and what kind of leadership role can you take on.
Where should you invest your online marketing dollars? Tracking online marketing efforts isn't an easy task. Results aren't immediately noticeable for some campaigns, and building a brand name adds value to your company in ways other than strictly monetary.
Influencer marketing utilizes people online with an established fan base and voice to get the word out about your products and company. However, influencer campaigns tend to offer a slow build toward name recognition rather than fast results. Ongoing investment and working with multiple influencers works best for most businesses.
There are eight key reasons your business should invest in influencer marketing.
1. Reach More Millennials
The millennial generation is one of the largest generations since the baby boomers, and they are now a vast buying block. About 70 percent of millennials tell surveyors the recommendations of their peers influence their purchase decisions. In a sea of businesses and online advertising, standing out to a marketing-savvy demographic isn't easy, but your brand can still reach millennials where they live via social media influencers.
2. Keep up With Competitors
As more marketers realize the value of influencer marketing, your competitors get on the bandwagon. Remaining competitive requires embracing the same types of marketing but also thinking outside the box.
Work with influencers your competitors aren't already working with. Think about who has similar audiences to yours, develop relationships with them and reach out for partnerships. The idea behind influencer marketing is creating a mutually beneficial relationship. Your audience should be a gain for the influencer and vice versa.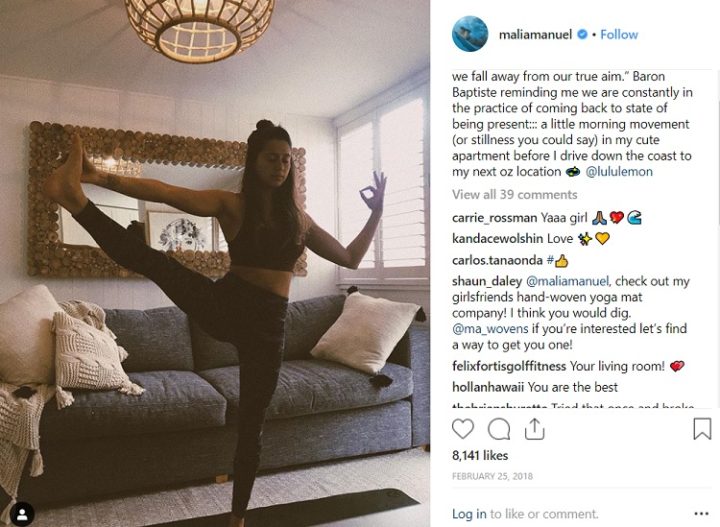 Lululemon Athletica teamed up with well-known names and micro-influencers to get the word out about its brand. In the screenshot above, professional surfer Malia Manuel shows off her Lululemon gear as she holds a yoga pose. Posts such as this give customers a reason to visit Lululemon's website or Instagram page.
3. Grow Your Social Following
When an influencer mentions your brand, you gain access to their followers. While not all will respond to a campaign, some will. You'll gain likes, followers and shares each time you work with an influencer on a campaign, and try out this auto likes instagram free trial to increase your brand.
Another way of engaging with influencers on social media is by commenting on their posts and sharing their content with your followers. Make sure your comments aren't spammy but are related to the post at hand and add value to the conversation. Folks interested in the topic may find your comment interesting and click on your profile to learn more about you.
4. Create Instant Trust
New brands sometimes have a difficult time building trust with new customers. You don't have a proven track record and users have no real reason to trust you and your customer service. However, they may already trust the influencer, who does have a proven record of only recommending the best products and services in the industry. Getting a recommendation from an influencer people already trust lends credibility to your brand.
50 Floor utilizes the help of a well-known influencer on the landing page of its website. Richard Karn is famous for his role as the handyman Al on "Home Improvement." When site visitors see his smiling face, they immediately think of high-quality work ethic and home improvement. Finding a recognized and trusted influencer lends credibility to your brand name.
5. Find Influencers Easily
Figuring out who to contact at a print magazine and how to create the right resolution and size ad is a grueling task for someone new to the advertising game. However, finding an influencer is as simple as researching a topic and seeing who is talking about that trend on social media. You can see at a glance which accounts have a decent following.
Pay attention to how many people interact on their profile pages and not just how many followers they have, as some people have a lot of bot followers. Are their users engaging when they post content? Pay particular attention to any branded posts they put up and how their followers react. Getting attention from 3,000 highly targeted and engaged users is preferable to little attention from a million followers.
6. Gain Sells
A powerful influencer mentions your product and the orders roll in. While influencer marketing isn't always fast, there are times when it is. A recommendation to take advantage of a special offer works well, especially if the audience trusts the influencer has their best interests at heart. Working with such an influencer increases your sales.
One example of a company utilizing an influencer to sell a product is Glossybox working with YouTube influencers. It created videos of the influencers opening its monthly subscription boxes and then using those products. The conversions from a Revfluence campaign were phenomenal, with 150,000 views and $3,000 in monthly sales — for far more than a single month.
7. Create Unique Content
One of the biggest challenges for small businesses is creating content regularly. However, working with influencers gives you content to share on your social media sites and even on your website. Influencers create reviews, videos, short posts, photos and more.
The cost of hiring a professional writer and photographer is far more than the cost of bringing on an influencer who also creates this type of content. A smart marketing mix is splitting your budget between influencers and unique content.
8. Add a Fresh Perspective
Figuring out ways of marketing your products isn't easy. Over time, ideas grow stale, and you need something fresh and cutting-edge. Influencers brainstorm ideas with you because they know what their audience responds best to. The way they see your brand may be slightly different than the way you see it. Their unique viewpoint allows them to showcase you in a new light with a fresh audience.
Cost-Effective Tool
Influencer marketing is one of the most effective tools you have for increasing brand awareness. Approach it as you would any other type of marketing endeavor. Do your research, study the competition and create a plan. Keep in mind that the best results often take time, but don't rule out immediate benefits, either. Look for ongoing partnership opportunities that expand the reach of your brand and add fresh ideas to your business.
Website is the first thing your customers and clients want to see. Your website is your first impression on your audience. Your customers create an opinion whether or not they should do business with you after seeing your website. Given that, looking good for your website is very important.
Once your page loads, users form an opinion in just .05 seconds, finds Kinesis Inc. in a study. Now, you know why leading businesses have in-house teams for web designing and development to keep their website updated in terms of content, design and functionality.
Forward-looking businesses are open to making updates based on latest trends in web designing as they do not want their customers to see an outdated website. Despite the fact that creating a website is less complicated these days, building a website that appeal to end users is still an extremely challenging job.
We are in the first month of 2019. And this year, according to Smart Insights, "Global businesses are expecting to see an average sales growth of 19.5%." It gives businesses an opportunity to fine-tune their website so it offers a better experience to their customers and brings them maximum gains in such a positive market scenario.
But how do you make sure your website has that appeal to attract and convert in the new year? One simple answer to this question is – by ensuring your website follows the latest, outstanding web design trends. Here are top web design trends every business needs to be prepared for in 2019 –
Mobile Ready Website –
Most of your audiences access your website through their mobile phone. According to a research, mobile devices make up two thirds of web usage. Moreover, mobile devices account for over 2 of every 3 minutes spent online.
If that doesn't convince you to follow latest web design trends, consider this. As per a report published by KoMarketing, 40% of smart phone and tablet users search products on their device.
So, if your website doesn't look good on mobile devices such as mobile phones, tablets, iPads, etc., you might be losing your potential customers away. An Adobe report says, "Two-thirds of web visitors would rather read something beautifully designed than something plain."
So, it is imperative that you have a mobile ready website that looks great on all devices and platforms.
Simple Logo and Minimal Design –
Graphic and web designers have started delivering simple graphics and web layouts. An overuse of images increases the weight of the website, adversely impacting its load speed.
Apparently, load speed is a major contributing factor for a website's performance on search engines. Slow page speed means that search engines can crawl fewer pages using their allocated crawl budget. Websites with fewer images have higher SEO value, says OnCrawl.com.
Lists and Headings Are Better Than a Descriptive Paragraph –
Believe it or not, a large number of users aren't interested in reading long, boring, trivial content. You need to present crisp, precise, to-the-point content on your website. The text should offer the right information about you and your products and services.
Large-format content is a key to better SEO results. However, too much content can be confusing for readers. Using text in a more appealing way, such as lists, bullet points, heading (h1, h2, h3…, etc.) tags, etc. can be more effective.
So, 2019 is time to cut-short the text on your website and make it more readable and to-the-point.
Micro Animations –
Introducing micro animations – that move or change color with mouse hovering – makes your website more engaging, usable and readable. When clicked, these animations or buttons take the user to the page linked. They also add to the user interface of your website.
On small mobile screens, these animations make the user experience a lot easier. They guide a user to the page or check out/payment page where you want them to go.
Here are some of the coolest advantages of using micro animations on your website.
SEO-Ready Design –
The design of your website has a direct impact on its ranking and visibility on search engines. A large number of businesses still do not realize that SEO should be taken care since the beginning of web designing process.
Your website is the center of your online business. Search engine crawlers – the bots sent by search engines – also read your website and have an effect on your search engine ranking. The websites that do not follow SEO web design principles lack on the digital marketing front, mentions a blog on Search Engine Land.
Video Background –
Video background adds an outstanding appeal to your website. It, in fact, becomes one of the most striking elements of your website. Visuals speak more than words do. High-definition videos serve that purpose pretty effectively.
According to a blog published on Intechnic.com, videos have a better engagement rate than images. It is a great way to make customers spend more time on your website. The more your visitors stay on your website the better it is for your paid search campaigns and search engine visibility.
Besides, did you know that your website's hosting plan has a connection with its design and performance? Yes, that's true. According to HostPresto, choosing the right hosting plan is a fundamental element of a successful website design process.
Behind your slow loading website could be your incapable hosting plan. Your hosting plan should provide you adequate space required to support a website with high-quality graphics and heavy traffic.
Bottom Line
In addition to these, large header lines, AI-based chatbots, color & theme, effective use of gradient, font style and size, easy navigation, plenty of white space, and dynamic scrolling feature are some of trends that leading organization will most likely follow throughout the year.
Users today want flawless, smooth, and faster websites to browse. Since most of your visitors will be accessing your website from their mobile phone, you will need to codify a mobile-friendly website that opens well and looks good on their hand-held device. The main purpose of your website design should be to offer convenience and right information to the reader.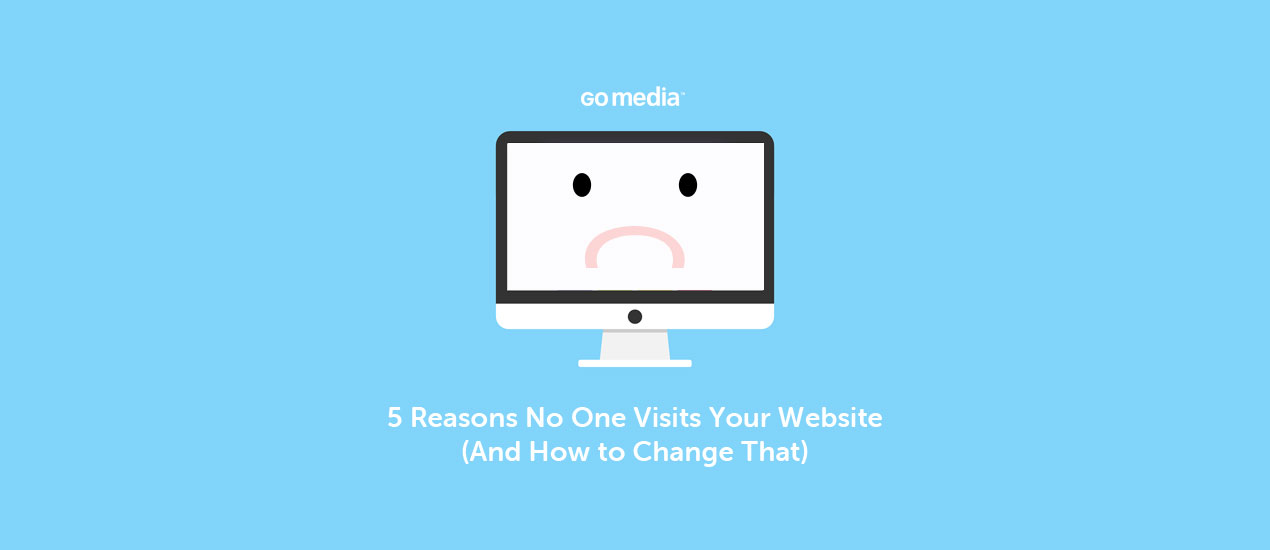 Most Common Website Errors 2019
In the modern day business world, it's obvious that no company can survive or thrive without a strong web presence. But simply throwing some pretty HTML onto a server isn't enough to guarantee success, especially in competitive industries that are full of tech-savvy entrepreneurs.
When you start your very first online venture, you might presume that you get to sit back and watch a large audience of consumers rush to your website. But pretty quickly you'll find that gaining and maintaining a user base is a hard job that requires a great deal of time, effort, and creativity.
This article runs through five of the most common mistakes that website owners make and provides the steps to take to get your online business on the path to success.
1- Think More Like a Customer
Time is a person's most precious commodity and you need to keep that in mind when designing your business plan and the website that will accompany it. Before you sit down to write a single line of code, think about how you plan to add value to your customers' daily lives.
Once your focus has been set and vetted by others, go about building a website that supports that vision while keeping the user experience as simple and streamlined as possible. You want customers to be able to navigate your web pages easily and find the information and services they care about as quickly as possible.
One mistake that a lot of websites make is to devote too much real estate to advertisements. This can be tempting, as display ads often serve as a new company's primary form of income. But if you flood your pages with annoying ads, you'll end up distracting visitors and risk losing their business altogether.
2 – Optimize Better for Search Engines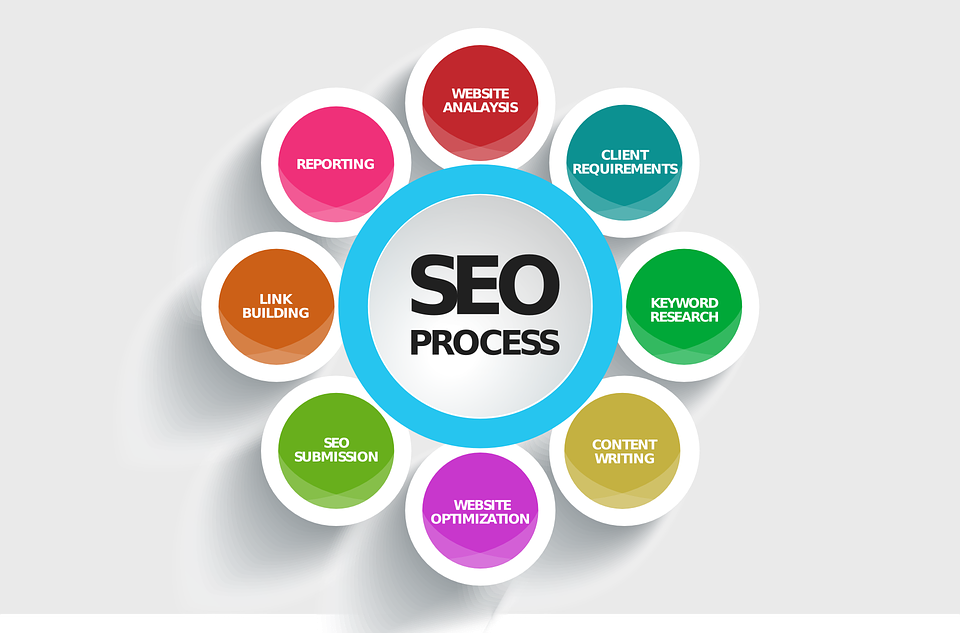 The discussion around search engine optimization (SEO) reached a peak in the past decade, but it still remains a critical topic to consider when building and launching a new website. If your business provides a unique product or service, there's a good chance the potential customers are using Google and other search engines look for it.
The basics of SEO are all about making the text content on your web pages simple, clear, and searchable. Do not try and trick search engines by creating bulk pages with fake content, as this will actually cause your website to be demoted within search rankings. Instead, do research on what search terms are most relevant to your business and work them in naturally to your branding content.
3 – Find a Reliable Host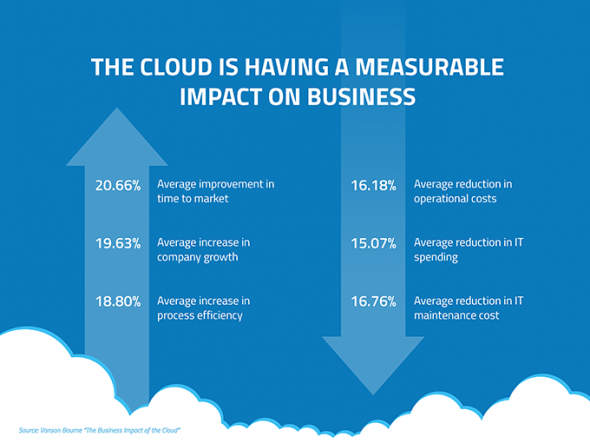 The quickest way to lose customers and visitors is to have a website that is routinely down or delivering poor performance. Today's internet users expect services to be available around the clock with response times of a second or less. Otherwise they will simply move on to a competitor.
Considering the rush of companies hawking the service, finding a reliable web host is not something to leave to chance or a coin flip. There are actual performance metrics that can be measured across various providers that allow analysis of the results to identify the best value. In a study conducted by Hosting Canada results showed that average loading times across hosts varied from 17500ms down to all the way to 475ms without much variation in price.
It may be tempting to make your cloud host selection based on price alone, especially because you can find some companies that will offer free or low-cost solutions. But be sure to question everything you see, because when it comes to hosting providers, additional features always cost extra. There are even detailed guides about how to get more from your customers.
For example, the basic plans for a lot of low-cost providers often comes with limited storage space or bandwidth allowances. Or you might sign up for a host and find out that adding a security certificate will cost you hundreds of dollars per year.
4 – Use Multimedia the Right Way
Thanks to higher broadband speeds across the globe, website developers have the option to embed graphics, audio, and video while trusting that their customers will be able to stream it easily. This opens a range of opportunities that can help a business grow and attract a new audience.
When it comes to adding videos to a homepage or landing page, make sure they align to your branding strategy without being obtrusive to visitors. Research has found that marketing videos are a good way of introducing a new product or service on a website, as it creates a more memorable experience than text in a press release.
Videos on your website should always tell a story. They open up a creative outlet for you to let customers see inside your business and understand the work you do.
5- Listen to the Smart Metrics
In order to truly evaluate the performance of your website and business, you need to spend time gathering and analyzing the right types of metrics. Obviously sales numbers and profit margins are an easy way to evaluate financial performance, but in terms of web traffic patterns, you will need to dig deeper.
For example, you'll want to use an analytics tool to capture information about how your customers get to your website and what they do once they are there. A successful conversion means that you've attracted a user to a page and convinced them to perform an action, like subscribing to a mailing list or purchasing a product.
Studying analytics data is important both in good times and bad. If you see a sudden spike in your website's traffic, you will want to look closer to see what caused it and how you can capitalize. On the other hand, if you find that visitors are routinely staying on your website for less than a minute and never coming back, you'll want to understand why that might be.
Small businesses don't have the ability to talk to every customer about their needs and desires. Fortunately, analytics can translate this into data and help companies grow faster than ever.
Final Thought
We'll leave you with this. The world has evolved far beyond the stage where you can draw visitors simply by putting up a website. There are around 1.8 billion of the things out there. If that makes you think you'll have to be proactive in order to grab some attention, you're right. Good luck!