How to Incorporate Seasonal Sales for Any Business
Seasonal Sales Techniques for Small Business Owners
By the time the holiday season arrives, most business owners aren't prepared. There are so many aspects to running a business and staying afloat that it's difficult to find time to prepare for any one season.
The average person spends around $900 on Christmas gifts each year. Holiday sales are predicted to increase to as much as $729.89 billion in the United States. If you don't find the time to focus on seasonal sales, you can be sure your competitors will, and they'll snatch some of that potential holiday profit away from you.
No matter what type of business you own, there are some seasonal sales techniques you can use that will draw in the holiday shopping crowd. Here are six key ways to incorporate seasonal sales into your business just in time for the holidays.
1. Tap Into the Spirit of the Season
The last two months of the fiscal year are known as the "giving season" because people give about 24 percent of their annual giving in November and December. Part of the reason is a look forward to tax season and the ability to deduct donations to 401c and 501c classified organizations. However, another reason people give so much more during the last couple months of the year is that they're in the holiday giving spirit.
You can tap into the spirit of the season by calling on the emotions of your customers and figuring out how to give back as a business.
WestJet taps into the holiday giving season by offering a screen that features a Santa. As people step in front of the screen, they receive various prizes, some big and some small. The video on YouTube shows the reaction of the recipients and taps into that warm feeling that people associate with the holidays.
2. Remember Your Current Customers
It's easy to get caught up in the drive to gain more customers, but your current customers are of a higher value than a new lead. The chance that a current customer will buy from you is 60 to 70 percent, while the change that a new lead will buy is only five to 20 percent. Current customers are also more likely to try new offerings and spend more on each purchase.
As you can see, your current customers are quite valuable and should be a big part of any holiday sales planning. Spend time looking at what your current customers typically order, and figure out what new products might most interest them during the holidays. Items that complement what they already own but give that item a seasonal twist are popular. However, you should also offer exciting new products to current customers and give them special offers no one else receives.
3. Choose Your Season
Even though we talk about the winter holidays a lot in this article because of the sheer amount of business done during that time of year, Christmas isn't the only time when you can incorporate seasonal sales. If you run a pumpkin patch, fall is your hot season, and you should put most of your focus there. If you run a romantic Italian restaurant, your season might be Valentine's Day.
Choose the season that works best for your business, and focus on that for now. You can always add other seasonal sales throughout the year.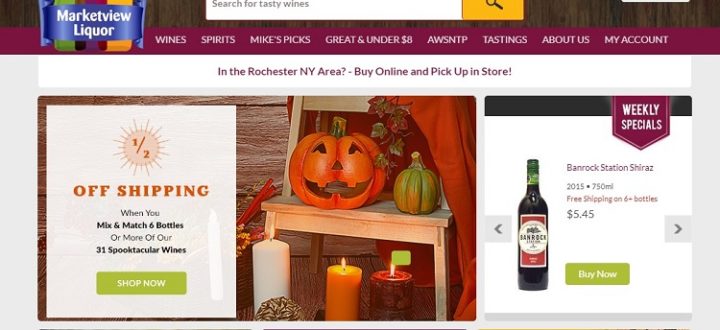 Marketview Liquor does a nice job of featuring special items for each holiday season. Take a look at their fall selection, featuring images of pumpkins and deep fall colors. They also offer a 1/2 off shipping discount if you order a certain amount of product. Finally, they offer a weekly special, sometimes tied to the season. If you're looking for a gift for any occasion, you'll find that they offer a special "gift set" section on their website.
4. Plan Your Social Media Marketing
To tap into the extra business sure to come your way during the holidays, plan out your social media marketing campaigns in advance. A multi-channel approach often works best to drive traffic to your special sales, so think through where your target audience spends their time and how you can best grab their attention on those social media platforms.
A holiday social media calendar is a great idea. You can also schedule out posts and offers in advance using a program such as Missingltr (free) or Buffer.
5. Turn a Negative Into a Positive
At some point in your business career, you'll make a mistake or receive criticism. One of the best things to do is to tie it into your overall seasonal efforts and embrace the error. You can, of course, fix the error, but also own up to it. If the problem was something serious, then a sincere apology might work best. But if the criticism is something lighter, you can turn it into a joke.
Reese's received quite a bit of criticism about their tree-shaped Christmas candy. People began posting on social media that the trees look more like human excrement than Christmas trees. Reese's embraced the criticism and started an #AllTreesAreBeautiful campaign. The screenshot above is an example of a candy tree seeing itself as the perfectly shaped Christmas tree. They released a series of #AllTreesAreBeautiful ads on Twitter.
6. Handling More Orders
Figure out now how to manage the extra workflow more orders bring to your business. It won't do you any good to have an absolutely brilliant marketing campaign that brings in thousands more in sales if you can't fulfill those orders and wind up with angry customers. When people order during the holidays, they expect those items to arrive quickly. Some might be presents they've purchased and need for a holiday gathering.
Hire on more staff, make sure you have enough inventory and streamline your shipping processes well before the holidays hit.
The Best Season Ever
Planning ahead allows you to take advantage of seasonal specials. Push your new products, clear out old inventory by offering deep discounts and show new customers that you have the best customer service on the planet. With a little prep work, the holidays can be a time when your business grows instead of fails.