Articles by Month:
September 2015
Meet T-Shirt Mockup Tool Mockup Everything
What's better than a portfolio filled with your best work? Not much, we say. After all, you never know when opportunity is going to come a-knocking.
But this, we know, is much harder than it seems. And as you know, the very last thing you want to do is throw work into your portfolio without the utmost care and consideration.
But guess what! If you are having a difficulty finding the time populating your portfolio, we have the perfect solution.
Our free t-shirt mockup tool, Mockup Everything, will add apparel design work to your portfolio, easily and efficiently – with stunning results. Up the anty when you upgrade to our Pro Account, which offers bonuses such as larger image sizes, no watermarks, a transparency option and hundreds of template options (with a growing library).
Make Magic Happen >
1. Head to our t-shirt mockup tool, MockupEverything.com
2. Select from 7 Main Template Categories, then dive deeper to find the template you'd like to use.
Use the Purple "Select a Template" Button to choose your selection.
3. Click on the template (turning it blue) to select a design for your template.  
This design can be minimized, expanded, rotated to fit your design. Use the white button above to change the color of your template. Want your t-shirt color to match your uploaded design? Touch the eyedropper to your design and poof! Use the purple to change the color of your background. Pro Users, click the purple button, then choose the transparent box option to change your background to a transparent png.
4. Crop or just simply continue on to save to your computer. Please note, if you have chosen a transparent background, the screen will go to white briefly while saving.
5. Add it to your portfolio. Last but certainly not least! Post your work. And make sure to share it with us. We'd love to give you a great big like, appreciation, shout-out, tweet, high-five or hug.
Good luck and enjoy Mocking Up Everything!
How to Build a Passionate Team
Have you ever thought to yourself, "This isn't working for me."?
Sure, that's a pretty blanket statement and could mean a multitude of things: The "It's not you, it's me" end to a relationship, the wait at your local coffee shop as you longingly sniff the air to try to infuse caffeine into your system…heck, it could even mean that your skinny jeans are feeling the one (ahem…two) brownie sundaes you just had to have last night.
But here's what it should never be: An end-all in the workplace. Here's how this line of thinking should go instead: "This isn't working for me. How about…" or "What about…" or "Have you considered…".
At Cleveland web and graphic design firm Go Media, we believe that as a leader, your  #1 job is to encourage this kind of out-of-the-box, creative, can-do thinking. But how in the world do you do that?
Here are ten tips that can help, straight from the most passionate team in the universe:
1. Share your vision. No one can jump on your bandwagon if you don't know where you are going. In order to build a passionate team, you must live and breathe your vision. Recruit a team that is enthusiastic about your vision and has the talent to help you execute it. Your team must drink your kool-aid!
2. Modify your vision. Just because you have a [email protected]@ vision doesn't mean it has to stay stagnant. Perhaps your amazing team has challenged your vision. That's a good thing. We repeat: A challenge to your vision is a good thing. It means that your team is thinking, really thinking about their work and the future of their company. Your team most likely is smarter than you (at least if you've recruited well). Listen to them.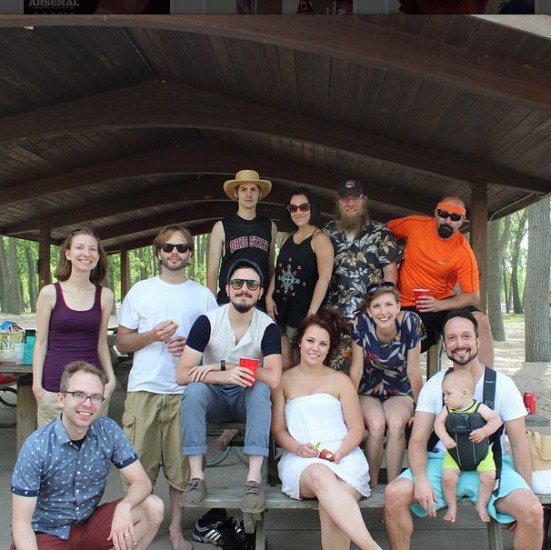 3. Cultivate your culture. Be encouraging. Sometimes, projects or deadlines and some aspect of your work may falter or even fail. Acknowledge the difficulties that are around the bend, and then figure out a solution together. This leads us to our next point:
4. Celebrate. A happy team is a successful team. Celebrate milestones in your team's life. Celebrate milestones in your company's life. Celebrate bounce-backs after defeat. Work may be called "work" for a reason; however, having fun will help your team support your vision and work hard.
5. Encourage risk taking. Trust your team with new responsibilities. If your colleagues are doing the same thing over and over again, they're going to get bored…perhaps even resentful. Providing a calculated risk is a way to keep minds fresh.
6. Care about your team. Whether you're showing interest in a project, a hobby, or learning the names of your colleagues' pets, it's important to know what makes your team tick. You're all people; as people, you will work together as a team. Plus, we're going to go ahead and state the obvious here: Employees who have vested interest in their company and are excited about their projects may actually work harder!
7. Commit. Keep your promises to your team. Keep your promises to your clients. Your team needs to believe in your integrity and trust your word. Your clients will become repeat clients when they can trust you and your work.
8. Reward your employees. We're not necessarily talking about bonuses or raises, although we're certainly not discouraging them either :) Thank your team for a job well done or give credit where credit's due–since your know your employees, you'll know what kind of reward is meaningful for them. Promote a culture of gratitude and encourage this mentality for your team.
9. Lead, don't micromanage. Being a smart leader means that you have a vision and have assembled an incredible team to help you execute it. Help prioritize, then delegate the tasks. Ownership goes a huge way in your employees feeling as though they have a meaningful stake in your vision.
10. Be spontaneous. We're big believers of work-life balance. Surprise workers with a half-day off, bring lunch into the office, organize a happy hour on a Tuesday…keep the vibe in you office enthusiastic and FUN. At Go Media, we're big believers that FUN helps rejuvenate workers and keeps them passionate about who you are and what you do.
There you have it! These are our top ten tips to build a passionate team. Want to join ours? Head to our jobs page and check out the Cleveland job openings we currently have available.
Check out our work with Lincoln Electric
Our good friends at Lincoln Electric gave us a call because they needed a wrap designed to cover their automatic (robotic) welding cell. They would be competing at the upcoming American Welding Society's convention. They knew we were the go-to firm for cutting edge and eye-grabbing graphics as they had worked very successfully with us on welding helmet graphic designs in the past. We discussed a few different possible directions and settled on the idea of a futuristic looking welding robot. Today we have automated welding arms, but in fifty years, might we have welding robots walking around?
Above you can see all four sides of the welding cell laid out. Below you can see the final approved design of the robotic welder. You will notice that we decided that this robot's arm would be the welding tip and not a hand. So, how did Lincoln Electric do in the welding cell design competition? They won it of course, thanks to the creative designers at Go Media!
Check out our Lincoln Electric Welding Helmet Designs
welding helmet graphic design
welding helmet graphic design
Vector to Augmented Reality Tutorial
You asked, we answered! This all new, in-depth tutorial answers a question asked of us often here at Cleveland creative agency Go Media: "How do you create those awesome vectors?"
We're answering that and a whole lot more, as in this two part video tut we're teaming up with Photonic Creative Studio, a Cleveland-based company that specializes in 3D graphics, for an incredible project based on our vectors, known industry wide for being the best of the best.
If you were at our design conference, Weapons of Mass Creation Fest 6, you may have seen Photonic Creative Studio's awesome augmented reality photo booth.
After receiving lots of interest, we decided to make a vector to augmented reality tutorial that shows how the 3D-modeled art weapons were created, specifically the futuristic x-acto knife. The process begins with one of the top questions we are asked at Go Media, "How do you create those awesome vectors?"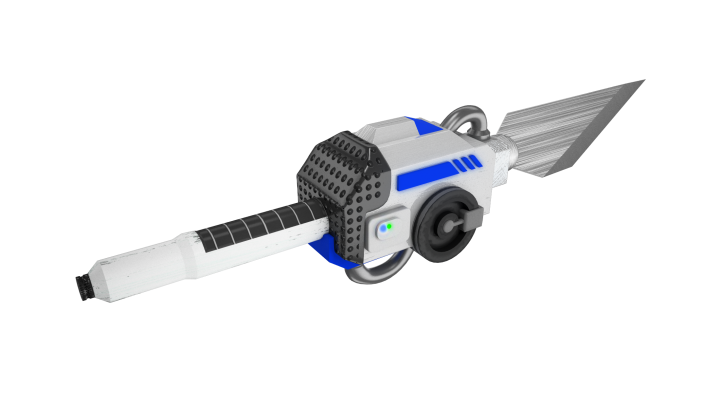 This tutorial begins with conceptualization, sketch and the creation of our vectors and then turns it over to Photonic, who imports the illustration and creates the 3D model in Maya. The result is remarkable; the process is captivating and tons of fun.
Here's what's included:
Sketch to Vector
Go Media's Arsenal designer Jordan Wong will walk you through how he created the illustration of the futuristic x-acto knife. Beginning with the process of conceptualization and gathering references to work from, Part I will offer an inside look at how the original sketch was made as well as the steps of bringing the drawing into the computer via scanning. After a detailed walkthrough on turning the drawing into a vector in Illustrator, the segment will end with an overview of the finished diagram that was used to create the 3D model. (57 minutes)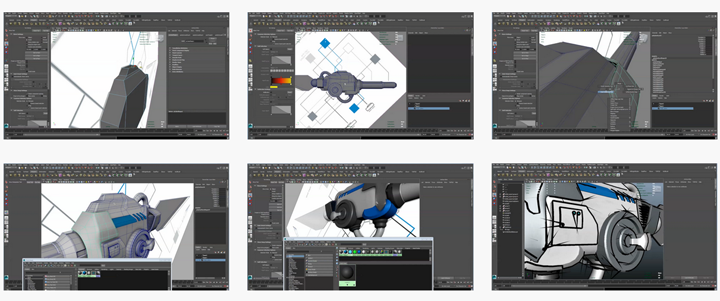 Vector to Augmented Reality
Ian Zeigler, the founder of Photonic, uses Autodesk Maya to import Jordan's illustration and create the 3D model. This segment will kick off with basic navigation of Maya's interface, including an explanation of tumbling, zooming, and basic hotkey modifiers. Ian will cover importing, rotating and scaling the image to fit the needs of the modeling phase. You will also learn about polygon modeling and the tools used, like extrude, move and scale, to bring form to the model. The tutorial will conclude with assigning basic materials, colors and textures, as well as the basic outputs for rendering, game-engine, or 3D print. (2 hours, 57 minutes)
Resources Included
The tutorial includes:
Introduction Video
Step-by-step instructional videos (qty 6) outlining the process of taking a drawing from paper to vector, and from Illustrator to Maya. (3 hours, 55 minutes of content!)
Full working files of the example art weapons!
Vector to Augmented Reality Tutorial
The WMC Fest Creators. Doers. Makers. Series
Our new video series highlights remarkable makers and designers that inspire and motivate us to create greatness. Episode Three puts the spotlight on Michael Cavotta, a featured speaker and workshop leader at the best creative conference of the summer, Go Media's Weapons of Mass Creation Fest (2015).
Weapons of Mass Creation Fest is presented by Cleveland web design, logo design and graphic design studio Go Media.
The Creators. Doers. Makers. Series, directed by Aaron Freeder, will be back with more videos highlighting your favorite Weapons of Mass Creation Fest artists. Continue checking back here on our blog or over at wmcfest.com for more great features.
Watch the Video Now:

About Michael:
Michael Cavotta is a Cleveland-based personal branding coach, award-winning photographer, and ass-kicking agent of authenticity who thrives on bringing people face-to-face with their exceptional selves.
Prior to a career reboot in 2009, Michael had been a serial entrepreneur and venture consultant with over 10 years of experience helping launch a long list of exceptional start-ups, including iPod® accessory maker, Mophie. Along the way, he picked up a camera and taught himself how to use it. He started shooting food and interiors for Cleveland Magazine in 2006, but over the next four years, his focus would shift—and not just in terms of his photography.
In 2010, Michael traded the mercenary work of branding opportunity for the missionary work of branding people. Six months later, he was an Associate to renowned NY headshot photographer, Peter Hurley. By 2013, the distinction between Michael's on-camera craft and off-camera coaching had all but disappeared, prompting his certification as a Reach® Personal Brand Strategist under William Arruda. In the years that followed, Michael's original thoughts on image and authenticity—what he likes to call the You Quotient™—have been published around the world.
While he's not busy boosting his clients' YQ, Michael lives with his wife and two kids in a renovated schoolhouse loft guarded by a lovable 30lb pit bull named Kitty.
Clipping Masks in Illustrator
Hey, everyone! For this short and sweet Design Tip of the Week, I'll show you how to use clipping masks in Illustrator. They are very to do, yet incredibly useful in creating backgrounds, making textured shapes and cropping in objects.
Start by opening the image you would like to be masked in Illustrator. Create a rectangle on top*. Select both the image and the rectangle, right click, then select Make Clipping Mask. Keep in mind that the rectangle must be on top of the image.
*So that you may see better, I gave my rectangle a white stroke. (You do not need it.) 
Ta-da! Told you it was super easy.
Double-click on the rectangle to edit the image inside. You'll notice that the display will change to that of working inside a group. You can also remove the clipping mask by right-clicking and selecting "Release Clipping Mask."
Any shape can be used to create a clipping mask. Again, just remember to have it on top of all of the elements you want inside the mask.
There are many uses for clipping masks. For example, You can use them in your illustration! (You too can create a debonair character like this one.) The suave Casanova above is made from three different images of textures, all confined in their designated shape by using clipping masks.
In need of some good textures? Look no further! Check out our texture packs in the Arsenal!
That's all for now. Thanks for stopping by!
Creative Control Fest is an annual creative gathering in Columbus, Ohio aimed at bringing ethnically and culturally diverse community together. It was inspired by some of the efforts of our own design festival Weapons of Mass Creation Fest, and works to provide exposure, resources, and opportunities in the design and creative fields to its members.
A photo posted by Bryan Garvin (@bryangarvin) on
The event began on Friday, September 11th at 7pm with a party, connecting attendees with one another. A DJ kept the music running all night while attendees collaborated on a large, paint-by-numbers illustration.
Saturday, September 12th, was a day full of workshops, talks, and collaborative art. I decided to head in after the first workshop, which was a 4-part series that aimed to help those who were wanting to take their performance art product to the stage.
My path lead me through three speakers and two workshops. Sadly, I wasn't able to attend everything, so I missed out on Chris Cochran's workshop on landing a job in advertising, Larry Smith's "6 Word Slam" workshop, and Melissa Kimble's workshop about using social media in your career.
After the talks, attendees were treated to a 4-person art battle and a concert inside of the theater.
A major, shared message that I took away from most that I attended was about empowering ourselves and the people around us with constructive feedback, a willingness to collaborate and help, and a willingness to be advocates for each other to help create supportive communities.
Most of Saturday's festivities took place at the Lincoln Theatre and Jazz Academy in downtown Columbus. The Lincoln Theatre is a beautiful venue. I hope that, as CCF continues to grow, they can fully take advantage of the entire theater. The onstage setup was well done, but we need to figure out how to fill out these seats.
Piper told her story about what she's done after she left the prison environment that many of us are familiar with from her book 'Orange is the New Black'. Her main message was asking those creatives in the audience to decide what their creative intention was. Is it to make something cool? Or is it to advance a message?
"In your work, how are you changing the world and how is the world changing you?" Piper Kerman
My major takeways from her fireside chat:
Take ownership and control over your stories. Don't let outside forces dictate your telling of the experience. Be a participant, not just an observer.
There are three pieces of a good story: the facts, how the writer wants their side of the story perceived, and the relationship between the two.
If you're a creative, there's no worse feedback than no feedback at all. "If you aren't getting negative feedback, you aren't pushing yourself enough."
"To get better, you want challenges, not just head pats."
Decide what your creative intention is. Do you want to do something cool or do you want to do something lasting? "If you want to change perceptions, you have to be willing to relinquish creative control." If your intention is to push social justice and be an activist, to reach the most people you have to collaborate with mass media, who's creative intention is to profit.
Melissa pushed her students to look past historical assumptions about a person or situation, and create your own story before your perception. We were split into groups of four to look at a piece of art and tell the story of what was taking place.
We started off by sharing our own initial reactions. Then, we looked at the historical significance of some of the imagery and examined how that affected our story? We learned the artist's intentions and motivations for the work. Did that affect our perception?
The two major takeaways from this workshop:
Make your own story. Whether it's stopping yourself from getting road rage, or stopping yourself from prejudging a situation, put yourself in their shoes.
Different doesn't always equal deficient. Someone who is loud or quiet in a class doesn't mean they don't care about the subject.
Alison talked about her story on how she got involved in letterpress and why she made it her career. During the class we learned a more rustic technique at putting together a letterpress poster. It was a very relaxed and social class. The focus was getting involved and getting our hands dirty. And yes, there were gloves if we weren't okay with getting a little paint on us.
Dr. Sonia talked to us about she's been working with a team of four to push their "Full Participation" movement. A movement that allows underprivileged ethnically diverse students to go to college and get the most out of it. She's also been working with non-profit artists to transition them to self-sustaining enterprises.
Another major focus of Dr. Sonia is the 100 Families project in Oakland, California. This project is aimed at connecting families to families, families to neighborhoods, and neighborhoods to neighborhoods through art. Each family collaborates with other families to create public works of art.
Adrian Franks is the Design Director at IBM and talked about why being social is so important to expressing and pushing your ideas to their full potential. He talked about the work of the Wright Brothers, Martin Luther King, and Steve Jobs. If they had only relied on themselves, their ideas would not have reached as far as they had with a community around them.
"Ideas start with individuals, but require a community to come to life." Adrian Franks
Ideas, by default, are social by nature. When you get an idea, you normally tend to want to share that idea. When you do, you get feedback. With that feedback, you can improve it and reach more people. And that cycle of sharing your ideas, then working on improving them based on the feedback you receive, is the only way for your ideas to reach it's maximum level.
"Ideas can't just replace other ideas." Adrian Franks
He showed an example of how the iPhone replaced the camcorder, walkman, pager, original cell phone, polaroid, map, laptop, and even a notebook. But, if that's all it did, the idea wouldn't have survived. But, because it allowed for social connectivity, and because it created a community around it, it took over.
Swag
I also walked out with some great swag. I mean, come on. What's the point of going to an event like this if you aren't walking away with something cool.
Attendees received swag bags when they arrived. But, I also was able to get some cool items from the vendor area.
Shoutouts to Joshua Wallace for the cool shirt and of course the plus from Little Critters.
And of course, I bought an official CCFIV shirt:
A photo posted by Bryan Garvin (@bryangarvin) on
Overall Thoughts
After becoming an organizer of Cleveland design conference Weapons of Mass Creation, I made a promise to myself to become more involved in what the community, as a whole, was doing. We say that WMC is "three days that change your life". And while that's become very true in most cases, we can't just depend on 3 days of being together to grow. We need to continue to help each other.
Our focus, as members of the community, shouldn't be just to make sure we bring our best selves with us to Cleveland once a year. We have to take that message home with us, help those around, and continue to push each other.
I honestly didn't know what to expect going to Creative Control. It was different. The messaging was different. The focus was different. The assortment of content was different. But, in the end, the idea that we have to help each other continued to be shouted loudly.
Marshall, Corey, and the rest of the CCF team are doing great things in Columbus. I'm looking forward to connecting with them later this year to see what we can do together to keep CCF growing and improving.
-Creating Learning Material:
A Beginners Guide to Making
Educational Content
In 2014, back when I lived in Pittsburgh, I received the opportunity to be an art instructor at a community-focused arts organization known as Wash Arts (located in Washington county). In addition to myself, Joe Mruk, a Pittsburgh-based illustrator and one of my best friends, was asked to be involved as well. Every Saturday morning we would teach a kids class, which was then followed by an adult class in the afternoon. Joe had Intro. to Drawing while I was responsible for the Beginner's Digital Illustration class. I should mention that at that time we had no prior teaching experience. However, this did not stop us from being beyond excited. We could not wait to share what we knew, yet wanted to do more than just provide instruction on foundational skill sets. It was our ambition to encourage and inspire, to make art accessible and break down the excluding notion that not everyone is creative or could be an artist.
As soon as we received the opportunity with Wash Arts, we hit the ground running. We did a lot of preparation: wrote lesson plans, gathered references and created learning resources. We discussed during the week what we would teach for Saturday and spent Friday nights going over each others lesson plans. Sometimes we were up late working on educational infographics and other instructional visuals. We taught for six months and while we absolutely loved it, we eventually decided to move onto other opportunities.
In this tutorial, I will share with you the class material on vectors I created at that time, as well as the steps and considerations I recommend when creating your own inspiring and insightful content!
DIGITAL ILLUSTRATION | INSTRUCTOR: JORDAN WONG | SATURDAYS AT 10AM & 1PM
Teach What You Know and Love
This is the starting point. Let's pretend that you're teaching outside the world of academia, where you have more freedom and are not limited to a mandatory curriculum. Maybe you're working for a non-profit arts organization or doing a class on Skillshare. Whatever the case, here are two questions in helping you decide what you should teach:
What am I really knowledgeable about?
What am I passionate about?
If you found something that answers both of these questions, you're off to a really good start. Ever taken a class where the teacher could care less, which resulted in you caring less? Your level of enthusiasm will affect your students', so be sure to choose something that you absolutely love. Something you could talk for hours and hours about, all while maintaining the biggest smile on your absurdly thrilled face!
In relation to what you're knowledgeable about, make sure that you KEEP BEING knowledgeable. You, who people will look up to, must be on your A-game. Stay up to date on industry standards and trends. Know who the top dogs of the field are, their work can be used as class examples as well as sources of inspiration for your students (and you). Attend seminars, conventions, workshops and other events (like Weapons of Mass Creation Fest). I guarantee you will come back with fresh ideas and new material to share with your students.
Determine Who Your Students Are
Are your students very young with lots of energy and short attention spans? Are they older, yet not too familiar with the computer? Or are they seasoned experts with years of experience? Knowing who you will be teaching will determine the information you will cover. If they are just beginners, then you probably do not want to jump into really nitty-gritty, technical instruction or conceptual topics that will go over their heads.
Also, who your students are will determine the "look" of your content. It would not make sense to hand out the same bright, colorful, goofy material to your adult class that was meant for a kids class. But what if you're instructing an adult beginner class and a kids beginner class as well? What if there is just no time (or money) to re-create different visual versions of the same content? If this is the case, take that into consideration in designing your curriculum. Perhaps you go for an aesthetic that is not too "old" or "young", but  somewhere in the middle so that it can work for both classes. (In fact, my lesson handouts were for both the beginners kids and adult class.) There are other ways to relate and appeal to your differing students, such as the projects that are assigned, the examples that are shown and your demeanor when lecturing and instructing.
The main point is this: really get to know who your students are. Find out their passions, their goals. What they struggle with and what they are really good at. The better you understand and empathize with your students, the greater success you will have in teaching and inspiring them.
Show Them Who YOU Are
You are the instructor, the teacher, the intelligent and well-versed leader standing in the front of the class. Naturally, your students are going to be curious who you are, so show them! Talk about how you got into your craft – origin stories are the best! Show your work and share your accomplishments, yet also tell of your struggles and failures. The latter is especially important. People relate and feel more motivated when they learn that the experienced, incredibly talented legend before them has also made mistakes along the way. They then feel that they too can do it!
Provide Context
Showing application and real world examples is important. Knowing why and when to do something is, if not more, just as important as knowing how to do something. Educate them on the rules so they may break them. Let them see how creativity lives in the real world. Don't just stop at how to create a beautiful image, but how it can be used in a practical sense or even bring about change. We are not hobbyists, we are professionals. This is not only our passion, it is our careers and livelihoods. There is value to what we do. And we need to teach our students that there is value in what they do.
Introduce Concepts Sequentially
You do not read a book by bouncing around randomly chapter to chapter (UNLESS it's a choose-your-own-adventure book). Your content needs to have a sense of order, building upon each other from basic to complex. The end of a lesson should segway into the beginning of the next.
In the "What are Vectors?" section of my handout, you'll notice I allude to a previously taught section:

I used it to help introduce vectors and how they are composed of paths and anchors (as opposed to pixels). The lesson continues to build on that idea, showing the possibilities and nuances of working in Illustrator. The more "flow" your curriculum has, the more your students will retain and be able to apply.
Make it Engaging
Three ways to do this:
Add personality

Make it look good

Have the visuals emphasize key points and help explain concepts
Blocks of text and bulleted lists will most likely bore your students. Utilize witty and playful elements to help get your point across. Show relevant, fun and interesting videos. Of course don't go overboard and overload your material with silly internet memes or unrelated GIFs. Remember, employing visuals, even if they're humorous, is to highlight the main ideas.

Revisit and Improve
Looking back, there are somethings I would change in my material. It's always a good idea to review what you have taught so it can be better for the next time. Perhaps your examples are out of date or there are topics in which you need to expand upon. With software updating regularly and new versions being released every year (sometimes more), new capabilities will turn into industry standards sooner than you think. As said earlier, it is your job to be up to date and ensure your students are aware of current practices.
"But who am I to teach?"
Having never taught before, I struggled with some insecurities. "Who am I to teach anyone? Don't I have to be really established in order for my teachings to be valid?" The truth is that you (and I) have experience that others don't. You have skill sets that others have yet to develop. You have knowledge on subjects that people know nothing about. The focus is not on being the authority on matters, it's about sharing what you know. There will probably be times in which your students will actually teach YOU something. Like I said, it is about imparting what you have learned onto them as well as encouraging them to surpass you. Learn and grow together.
There you have it! I hope this tutorial has been helpful. Like I said, I had no prior experience of teaching and felt like I was just "wingin' it." The truth of the matter is that is how everyone starts, doing their best and making it up as they go. So, if you feel unsure and nervous, know that you will do just fine. After all, We are all just trying to figure stuff out, so we might as well do it together.
Conceptualizing Through Questioning
Coming up with an idea can be difficult. Coming up with a GOOD idea is even more challenging. There are times when one faces a creative drought, when those AHA moments feel as if they are never going to happen and solutions are elusive. We're left with that frustrating feeling of being "stuck." But what if we focus less on finding answers and spent more time asking questions? For this Design Tip of the Week, I'd like to share the approach of conceptualizing through questioning.
We often ask practical, straightforward questions to determine situations and starting points in a design project. This includes figuring out the budget, timeline, audience, company history and goals. While figuring out these aspects help in sparking some ideas and providing direction for aesthetics, sometimes we still get stuck. When this happens, ask even more questions.
What is the medium?
How long will a person have to experience it?
What does it need to feel like?
Should it be masculine or feminine?
What do similar things out there look like? What is being done that is successful? What is not?
What associations people do have of ________?
What is too typical or cliché? How can I make it unique?
Is this boring?
Is this too strange?
Is this too simple? Is it too complex?
More specific questions can certainly help in making particular decisions. Say you are choosing a color palette for a new aromatherapy clinic. "What colors are relaxing, yet encouraging and supportive?" Another example: perhaps you're having trouble picking a typeface for a new BBQ restaurant owned by a renown chef. You may want to ask yourself, "What typeface communicates the idea of being established, yet not too fancy in that the viewer feels they have to wear a suit and tie or elegant dress?" (After all, it is still a BBQ joint, and not, say, a French gourmet restaurant.) These questions keep us focused, reminding who and what we are designing for.
Boosting Imagination Through Questioning
There are times the right solution requires the strangest, most unorthodox approach. The new Old Spice commercials are a perfect example. They are absolutely fantastically random and hilariously imaginative, which resulted in a large increase of sales. How does one even come up with this stuff? Well, a great way to expand our minds into those inconceivable, brilliant territories is through, again, questioning. But not normal, pragmatic ones. I'm talking really weird questions, force-you-to-think-out-of-the-box-but-then-realize-there-is-no-box-and-that-your-imagination-has-the-potential-that-equates-to-a-space-whale-being-born-from-a-supernova-weird.
I stumbled upon this idea when I was sketching one morning at a coffee shop, however I was facing the problem of not knowing what to draw. I ended up doing some loose figural sketches. The one figure I drew had this strong, heroic pose, and for whatever reason, it sparked a strange question: "I wonder what this figure would look like as a deity of nature?" From there my imagination ran wild and I delved into more abstract concepts. "What would this figure look like if he was composed of a wood and iron?" I began visualizing gnarled, bark-like forms fusing with a mechanical, hard-edge appearance. I jotted down my thoughts, and from them I hope to create a new series of drawings.
I went from not knowing what to draw to coming up with a concept for a new body of artwork. And it all resulted from me asking just one, very weird and random question. Because what I was asking was so strange, my imagination was unhindered by obvious answers. Possibilities were endless.
I encourage you to try it out. Ask yourself ridiculous, bizarre questions. Your mind will launch an expedition of thoughts. Practicality and logic are of no concern. The more extraordinary the question, the better! Here are a few that I came up with:
How would you design a poster for an audience that is blind?
What if there was a device that could conduct positive emotions and use them to charge your cell phone? What would the device be called? What would the promotional campaign be?
If you had a robot companion, what functions would be programmed into it? Based off of those functions, what would its appearance be?
What would a computer keyboard look like if we had an extra finger?
What if umbrellas had hyper-efficient solar panels on them?
What would the mission statement be of a non-profit organization that had the ability to control weather forecasts?
Phew! This was quite a long Design Tip of the Week, so thank you for reading. Again, questioning can be extremely useful, from establishing aesthetic directions, helping make specific visual decisions and boosting one's imagination. Remember, the answers and solutions will come. All you have to do is ask the right questions.
Cheers!
The WMC Fest Creators. Doers. Makers. Series
Our new video series highlights remarkable makers and designers that inspire and motivate us to create greatness. Episode Two puts the spotlight on Michael Bierut, a featured speaker at the best creative conference of the summer, Go Media's Weapons of Mass Creation Fest (2015).
Weapons of Mass Creation Fest is presented by Cleveland web design, logo design and graphic design studio Go Media.
The Creators. Doers. Makers. Series, directed by Aaron Freeder, will be back with more videos highlighting your favorite Weapons of Mass Creation Fest artists. Continue checking back here on our blog or over at wmcfest.com for more great features.
Watch the Video Now:
About Michael Bierut:
Michael Bierut studied graphic design at the University of Cincinnati's College of Design, Architecture, Art and Planning, graduating summa cum laude in 1980. Prior to joining Pentagram in 1990 as a partner in the firm's New York office, he worked for ten years at Vignelli Associates, ultimately as vice president of graphic design.
His clients at Pentagram have included The New York Times, Saks Fifth Avenue, The Council of Fashion Designers of America, Harley-Davidson, The Museum of Arts and Design, United Airlines, The William Jefferson Clinton Foundation, Mohawk Paper Mills, New World Symphony, Princeton University, the New York Jets, the Brooklyn Academy of Music, and the Morgan Library and Museum.
He has won hundreds of design awards and his work is represented in the permanent collections of the Museum of Modern Art and the Metropolitan Museum of Art in New York, and the Musée des Arts Décoratifs, Montreal. He served as president of the New York Chapter of the American Institute of Graphic Arts (AIGA) from 1988 to 1990 and is president emeritus of AIGA National. He also serves on the boards of the Architectural League of New York and the Frank Lloyd Wright Foundation. Michael was elected to the Alliance Graphique Internationale in 1989, to the Art Directors Club Hall of Fame in 2003, and was awarded the profession's highest honor, the AIGA Medal, in 2006. In 2008, he was named winner in the Design Mind category of the Cooper-Hewitt National Design Awards.
Michael is a senior critic in graphic design at the Yale School of Art. He writes frequently about design and is the co-editor of the five-volume series Looking Closer: Critical Writings on Graphic Design published by Allworth Press. In 2002, Michael Bierut co-founded Design Observer, a blog of design and cultural criticism: today, the site is the largest design publication in the world with over a million site visits a month. Michael's book 79 Short Essays on Design was published in 2007 by Princeton Architectural Press. A monograph on his work, How to use graphic design to sell things, explain things, make things look better, make people laugh, make people cry and (every once in a while) change the world will be published this fall by Harper Collins.
________________________________
Watch Episode 1: Danielle Evans
Stay tuned to the latest WMC Fest news over at wmcfest.com!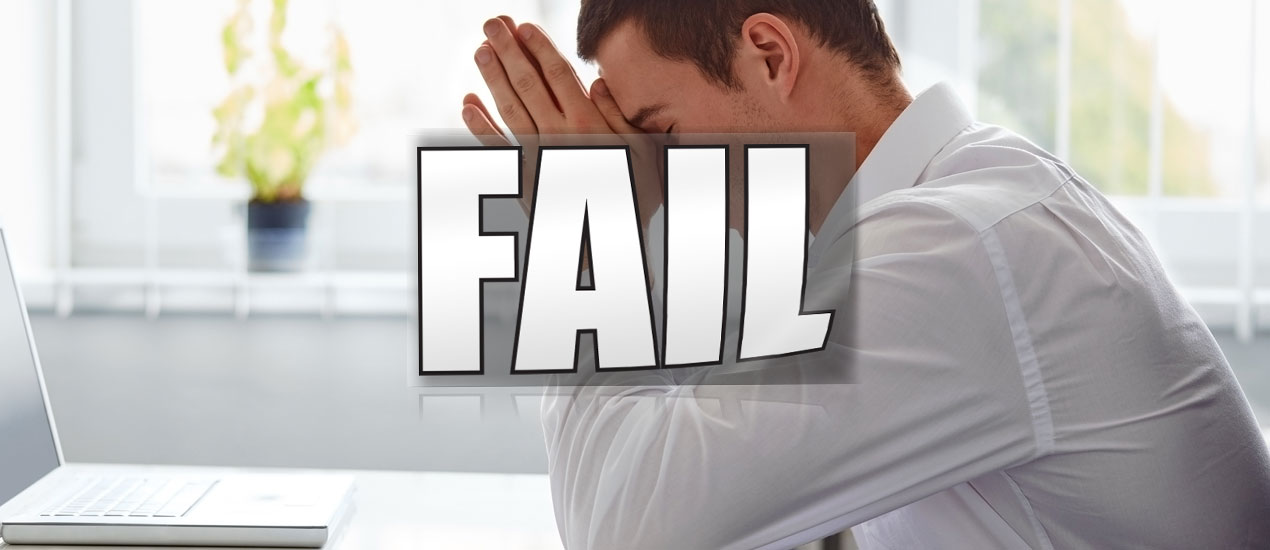 What to Do When a Client Rejects Your Work
You've just spent the last two days pouring your heart into a design. Then, the dreaded email comes through.
Dear designer, I hate it.
Love, your client
Sure, the rejection was a way softer blow, but that's sure how it felt. After a few laps around the office…what do you do? Here are recommendations from your friends here at graphic, logo and web design studio Go Media. Take them step by step and you (and your client) will be happier in the end.
Repeat your client's feedback to them

. Make sure you fully understand what your client has expressed. This is beneficial in two ways – it show the client you have listened to their concerns and has eliminated any misunderstandings.

Carefully consider their feedback. Yes! You're a Design God, we know. But set your ego aside for a moment and understand that your client is an expert in their industry as well. Consider the feedback for a moment. Could your client possibly…eek…be right?
Assure the client. Let them know they are in charge.

So, you've carefully reviewed the feedback and still feel you're right? It's time for a healthy discussion (rather than a heated debate) about who is right. How do you do that? Well, first lower their defenses and let them know that they're the ultimate decision maker. Let them know that if they want their logo BIGGER AND BUSIER, you'll do it – because they're paying and making the rules. And you're there to make them happy, however…

Say your piece (calmly and intellectually.) Intellectually explain the merits of your design choices. IE. "Well Bob, we shouldn't put yellow text on a white background because there isn't sufficient contrast for anyone to read it." Without design driven points, keep in mind that your moves may be subjective (IE. "Well Bob, we shouldn't make your logo pink because… uhh… it's ugly.") – and that's simply unfair.
Use real-world examples to back your arguments. If the design principles you are using are also employed by famous brands like Nike, Coca-Cola and Apple, say so. Your client will often see things a little more clearly when they can comprehend things through the light of cool companies.
Give them options – theirs and yours. Give your client what they have asked for, but when you feel strongly about your design choice, design yours as well. This has two benefits. It gives your client the feeling that they are in control, while giving you the ability to show them your vision.
Know when to pick your battles. Understand your role. In the end, you are being paid to give the client what they have asked for. Do you due diligence and give your opinions respectfully, working for great design always. But know when to hold back and give the client what they want.
Good luck!
Adjust Rounded Rectangle Corners in Illustrator
I forgot who showed me this (I think it might have been Aaron), but man, it absolutely blew my mind. It's so simple too. In fact, you probably already know this tip, but for those who don't, I'll let you in on a little secret. You can easily adjust rounded rectangle corners in Illustrator simply by using the UP arrow key or DOWN arrow key.  Simply equip the Rounded Rectangle Tool, drag out your rectangle – don't let go of your mouse click – then use your arrow keys.
I've been using Illustrator for freakin' over seven years, since I was in high school, and I had no idea about this little shortcut. GAH! Absolutely awesome. Again, for those who knew this tip already, I apologize. For those who didn't, YOU'RE WELCOME! It goes to show you that there's always something new to learn. It's these little tips and shortcuts that can help streamline your process and just make things a whole lot easier.
Want to save even more time? Check out my article on designing faster with vectors on hand.  (There's even a freebie included!
God speed!
Facebook Tips for Small Businesses
What would you like to do with Facebook? (Horrible pun intended).
The first step for expanding your network through Facebook is asking yourself: What are my goals? What do I really want to do with more likes?
If your answer is that you need to increase your likes by x%, your favorite Cleveland graphic, logo and web design studio Go Media can help with that. We love a good contest as much as the next person! However, a contest that increases your community by 1000, 3000, or even 100,000 likes may seem awesome in theory, but do you know what's not awesome? Talking to yourself. And if you have a bazillion likes who don't contribute to your page in any way, you're essentially talking to a wall. That's why we we strongly encourage our clients to create robust Facebook pages with "Active Likes."
"So, what's an Active Like?"
We're so glad you asked.
Active Likes are your key to expanding your meaningful reach on Facebook. It's these community members who will become brand advocates for your company, sharing their enthusiasm with their own community members. We all have more confidence in referrals from those we trust, so when your Active Likes share your content, they create a domino-effect for gaining valuable, meaningful Active Likes for your page.
So, how do I gain active likes?
Here are 10 great ways >
1. Be personal.
Don't sell to your community for every post. Yes, highlight your expertise in whatever you do…but show that you are a person too. If you sell, sell, sell, people will stop wanting to listen. You'll be like that annoying perfume person at the mall, but instead of a scent, you'll be so busy spraying your words into oblivion that you won't even realize that no one wants a sample. Don't tell us that you aren't guilty of the no-eye-contact-power-walk when walking into that section!
2. Be relevant.
Create or share real content that matters to your community. If you are talking about a koala on National Cat Day to a feline- friendly community (yes, National Cat Day is a thing…mark your calendars for Saturday, October 29th), you probably aren't providing meaningful content to your community. Which brings us to our next point…
3. Be organized.
Have a plan! Create a social media calendar so that you have smart, meaningful posts in the docket. There are numerous programs that help you stay organized and plan ahead. Hootsuite, TweetDeck, Socialite…the list goes on and on. Of course, plan for some wiggle room as more timely content may arise.
4. Be engaging.
Keep content fresh. Ask questions and seek advice from your Facebook community. The last thing anyone wants is someone preaching at you day-in and day-out. Make sure to have an actual conversation with your community. Listen to what your community is saying and respond accordingly.
5. Be visual.
Copy can be overrated. Keep it short and sweet, and include a visual if possible. You post has to stand out from the crowd, and copy (however clever) may not be enough to do the trick.
6. Be responsive.
Acknowledge any concerns that may arise quickly, and respond effectively to any customer service inquiries as soon as you can. Social media is a very public forum (obviously!) and you want to make sure that everyone knows that your customer experience is top-notch.
7. Be funny.
Show your sense of humor (if you have one). We all love to laugh. If you don't have a sense of humor, then figure out your persona (see tip #10) and let it shine through.
8. Be generous.
Create meaningful contests that showcase your brand. Ensure that the contest or giveaway highlights who you are and what you do–if it doesn't tie back to you in some way, it will still be great (who doesn't love free things?!?) but it won't do much for you. If you're partnering with another brand or product, make sure it's something you really truly believe it. Promote contests via social media, email campaigns, print–whatever you have in your arsenal. Please don't forget to announce/contact winners and thank everyone for entering.
9. Be smart.
Analyze what's working and what's not working–only then will you truly understand what your community's needs are. Which posts were shared the most? Which ones received the most likes or comments? Does posting at certain times work better for your community? Figure out your trends and adjust accordingly.
[Tweet ""Stay true to your brand, stay true to your values…stay true to you.""]
10. Be…YOU.
This tip is simple, but can be extraordinarily difficult on social media. You need to be your amazing, authentic self (probably a cooler self than you are in reality, but don't veer too far away from what makes you who you are.) Stay true to your brand, stay true to your values…stay true to you.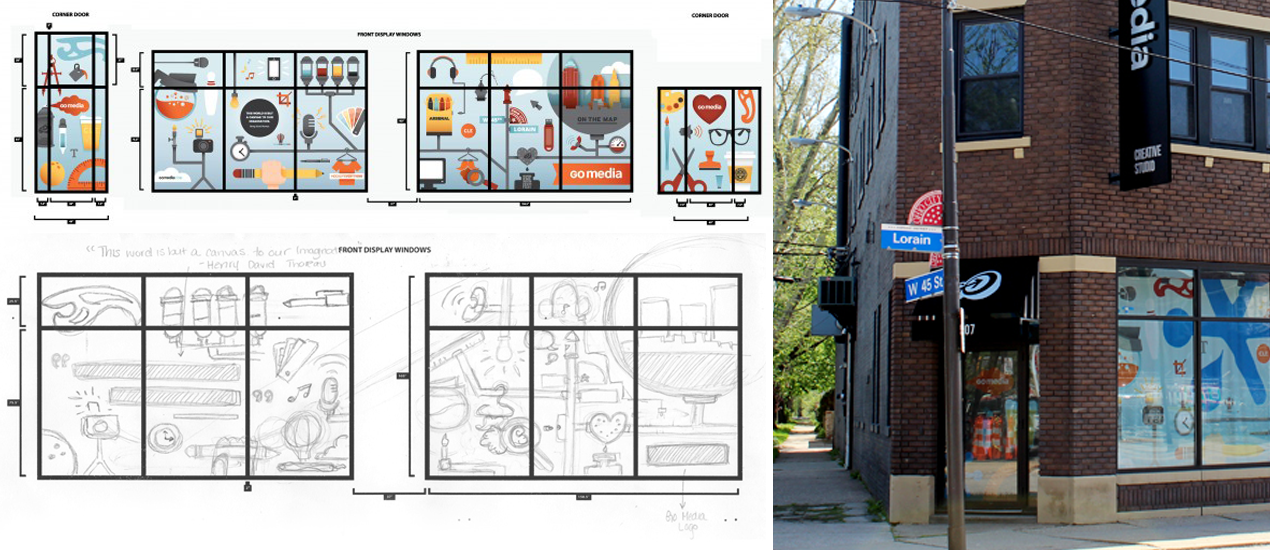 Custom Storefront Window Graphics
We teamed up with Jakprints to show off our brand new store front as well as their awesome large format printing capabilities. Here you'll get to see the full process from conception to installation.
Step 1 : The Concept
We ran through a few different ideas before finally landing on a concept for our first set of window banners. We wanted to create a large collage of icons which all, in one way or another represented the life of an artist and more specifically the crew here at Cleveland graphic, logo and web design studio Go Media. This included a good mix of the tools we use, the things we like and Cleveland, Ohio!
We thought it would be most helpful to start by creating  a list of all of the individual items that needed to be created – then we asked our entire staff to add items that they felt represented Go Media and being an artist to them. We made sure to include a piece of everyone.
Step 2 : Sketches & Measurements
Now we had the concept down, and the first step in the production phase was to measure and quickly sketch the general layout of the icons.
Step 3 : Graphic Proofs
Now we had the concept down, and the first step in the production phase was to measure and quickly sketch the general layout of the icons. Once we had our rough blueprint sketch, it was a process of knocking out each item on the list one by one and working them together with some Jakprints logos to really fill the space.
Once all the icons were in place, a texture was applied using an opacity mask.
Step 4 : Applying an Opacity Mask (Texture)
An opacity mask is essentially a combination of a layer mask and a clipping mask. It allows you to control the transparency of a shape based off of a black and white gradient or in this case texture. You can use an opacity mask in place of a vector texture to cut back on your file size.
How it works:
Group all of the elements you wish to apply the opacity mask to and make sure they are set to 100% opacity.
With your group selected, click the drop down menu in the transparency palette and select 'Make Opacity Mask'.
A mask is applied to the image like you see here, click into the mask.
With the mask selected, you can now file > place your texture.
You're Done! Depending on the texture you selected the result might be very subtle or rather extreme. Because the one we are using here is primarily light the outcome was very subtle. You can also check the 'Invert Mask' box to get a different effect, but for our purpose this subtle texture was just right.
Step 5 : Teaming Up with Jakprints
Now we had a graphic proof and were ready to sit down with Jakprints and go over our options. We knew we wanted to do banners for the windows but weren't quite sure how we were going to tackle the doors. JakPrints was able to provide us with a list of options to consider. Some of which included:
Vinyl Banners
Vinyl Mesh Banners
Poly-Banners with Stitched Hems
Window Clings
Vinyl Decals
We ended up up selecting a lightweight stretch banner for the main windows. This material is wrinkle resistant, and because we know we will be swapping out banners over the years this works out best in terms of storage. JakPrints also offers a wide variety of substrates (eco-friendly, economic, or synthetic for maximum durability).
For the windows we decided to go with a clear vinyl application. This was adhered backwards to the inside of the windows, a non-permanent short term option that prevents weathering of the graphics. JakPrints also has long term outdoor durability options as well as many more solutions for just about any application. Some  others include: Wall, floor, posters, trade show displays, indoor/outdoor signs, back-lit material, yard signage, even vehicle wrap.
Step 6 : The Printing Process
After rounds of revisions, swapping icons in and out the design was done it was ready for the printers at Jakprints to work their magic.
Step 7 : Installation
Before we were ready to physically install the banners we needed to think through the logistics of the space. We created a mockup of our hanging system and had Jakprints sew in hems to match.
When the banners finally arrived we were all anxious to get them up. So we gathered our team and got to work.
The window vinyl for the doors was a slightly more complicated installation, not one we were willing to attempt. But we need not worry because  Jakprints has access to a nationwide network of certified 3M installers, so they set out one of their guys to finish the job.
Step 6 : Conclusion
So there you have it, after all that hard work we are proud to reveal our beautiful new store front and our very first set of window graphics!
A big thank you to JakPrints for working with us on this project!
Want to work with us to create something beautiful? Contact us here.