Articles by Month:
February 2018
Improving the CX of your eCommerce Site
More than likely, you truly want to provide the best customer experience (CX) possible to the visitors who land on your website. However, in a rapidly changing digital world, it can be difficult to know just what strategies you should use to create a positive experience.
Experts estimate by 2020, CX will be the most important factor in branding, even topping price and the product. Seventy percent of why customers decide to buy a product is based on their perception of the way the company treats them. Taking time to invest in your customer service model is one thing you can do to stand out from the competition.
1. Consistent Experience
Whether you're conducting business online or offline, offering a consistent service experience that spans the reach of your business allows customers to embrace your brand, no matter how they prefer to shop. For example, if you have an email list, you might send out a coupon code people can use either on your website or in a store. If a customer comes into your store and you are out of their size or the color they want, you provide a kiosk they can order from.
AutoZone has gotten on board with that consistent user experience. If you go in their store, they can help you, but you can also go online, figure out what you need and pick it up in the store the very same day. Customers can quickly see which locations near them have the part they're looking for.
2. Target Audience
Before you begin to focus on CX, you must fully understand who your target customer is and how to meet their needs. You can figure out the demographics of the people visiting your site by studying analytics, taking polls and studying buying patterns. Once you have a grasp of your typical site visitor, create a user persona based on that model. This persona is who you will plan everything around. You can have more than one persona for your brand, too.
3. Anticipating Customer Questions
When a consumer chooses to visit your site, he or she likely has a specific purpose in mind. Think through what the different purposes might be and how you can anticipate any questions the user will have. If you get a lot of emails asking the same question about your products, or if you offer a certain feature, this is a good place to start. You'll provide the answer before the customer ever has to ask you.
Notice how Nitterhouse Masonry Products anticipates customers visiting their site might have one of three product types in mind: architectural, contractor or residential. By narrowing down the choices, they anticipate their different users' needs and direct them to more information on the specific area.
4. Omni-Channel Customer Service Reps
When someone visits your website, you likely have a variety of options for contacting your company. You might offer live chat, email and even a toll-free number. Is a customer who calls your company getting the same answer you provide via live chat or email? Making sure you not only provide consistent answers, but that you keep a record of customer contacts, is vital to making the customer feel valued.
Customers get annoyed when they must repeat a problem they have with your product to three or four different people. About 89 percent of customers state this frustrates them, and about as many feel brands should try harder to create a consistent customer service experience.
5. Mobile Matters
You've heard this one before, but it is worth repeating, because more and more people are using their smartphones to access the Internet. If your site isn't mobile-friendly, or doesn't provide the main features of your website, you are going to have a lot of irritated users. If the mobile site is not up to par, about 52 percent of consumers are less likely to engage with the brand.
Elf on the Shelf is one of those trends you either love or think is creepy, but their website is a good one to study for how to create a great mobile CX. When you land on their page, you have two choices based on whether you are an adult or a child. Their landing page is very simple and to the point.
6. Customer Service Philosophy
Train your customer service reps thoroughly in your customer service philosophy. It can take an additional 12 positive experiences to make up for one bad experience with service. If your customer is dissatisfied, hurry to minimize the damage and turn a negative into a positive. Make sure everyone who has any contact with your customers understands the value of every customer. Likewise, that they reflect that in their interactions.
7. Social Media
If your site isn't integrated with social media, you might be missing out on traffic. More than 62 percent of people in North America use Facebook. Integrating your e-commerce site with social media is simple. First, you need to mention your social media channels and make it easy to access them. Second, point your social media followers to specials, sales and new arrivals on your site. Of course, there is a lot more involved with marketing on social media, but understanding the importance of a presence is enough to get you started.
8. Gain the Consumer's Trust
One of the key components of successful CX is that customers feel they can trust your brand. If you receive a question, do you answer promptly? Did you make your contact information easy to find? Other things you can do to gain consumers' trust is to add any certificates you hold or positive ratings, and adding customer testimonials.
Optimizing CX
Optimizing your site's CX takes time and perseverance. Pay attention to any complaints you receive. When do consumers bounce away from your website? Can you improve their experience and reduce your bounce rate? Putting the time and effort into continually improving your CX will pay off in happy customers who frequent your business time and time again.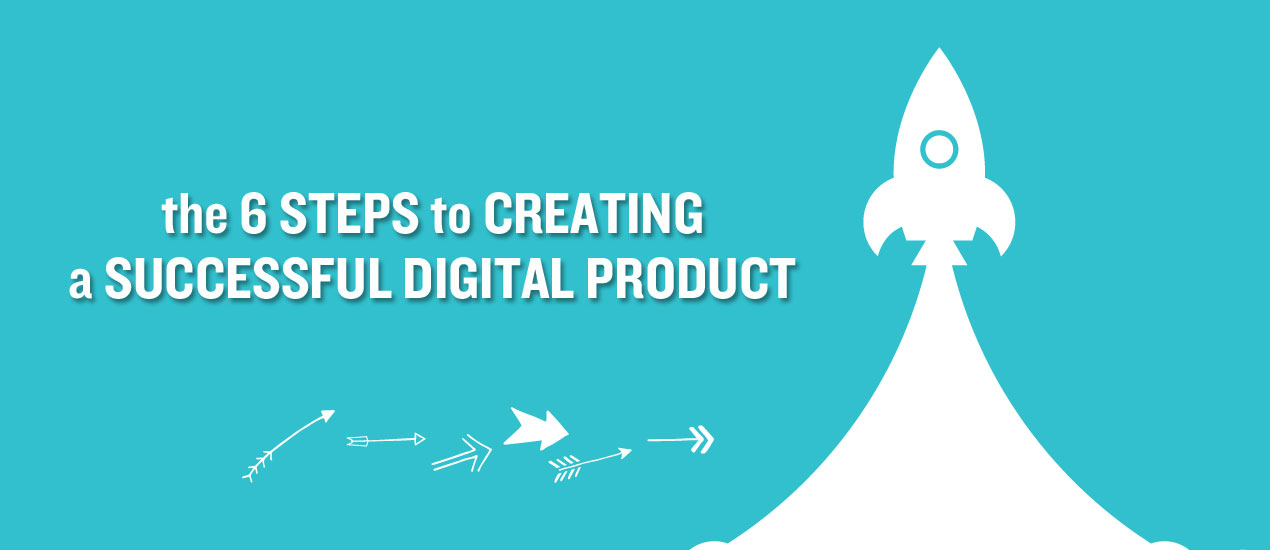 Digital Product Development Process
When creating a digital product, whether its an app or simple website, it is important to follow a consistent process in order to produce a consistently successful product. This is going to be a high-level overview of a process that can be adjusted to scale successfully to any project size and complexity.

Step One: Discovering the Problem
Firstly, it is the UX team's job to understand the problem that is going to be solved. This part of the project involves meetings with the client or product owners, researching the competitive landscape, performing business analysis and analyzing any data that can be provided by previous iterations analytics. When it comes down to a digital product, like a website, it is also important to understand the people using the product, why they are using it and the type of technology they are comfortable with, as this will help the UX team define the best answer to the problem's question.
Step Two: Defining the Best Answer
Next, the UX team is responsible for using the information discovered in step one to come up with the best solution to the problem discovered. Generally speaking, this second phase is marked with lots of sketches and initial concepts that can be quickly tested and iterated upon to drive towards the best answer to the problem. Wireframing, storyboarding, site-mapping (and information architecture), sketching and whiteboarding are routine elements that make up this phase of the project.
Step Three: Designing the Solution
Typically the design phase is what most non-industry folks picture when they think of when they hear digital product design. This is when the solution that was defined in Step two is crafted into a form that resembles a completed digital product. This means applying branding elements and styles to the structures defined in the wireframes, crafting a seamless digital experience that feels very much a part of the brand. This third phase is also when interaction design is created and generally involves working closely with the development team to ensure a seamless handoff into the next phase, development.
Step Four: Developing The Product
The fourth step in this digital product creation process is the actual building of the application using code, also known as development. Here the final designs that were crafted in step three are turned into front-end code (HTML, CSS & JavaScript) and hooked into back-end databases, CMS's or APIs. Development is also when the actual interaction design is implemented, as well as any transition or loading animations, giving the digital product some life and allowing it to be tested in terms of user delight.
Step Five: Deploying the Final Product
The fifth and final production step of the process is deployment. Here, the final developed product is transitioned from its development environment to the live internet, where it can be accessed by the masses. Generally, this migration is taken care of via the modification of the Domain Name System (DNS), pointing URLs to their correct indexes. This phase can be completed with relative ease, however, a number of situations can arise when moving digital hosting and each deployment should factor in time to allow for bug fixes and code adjustments.
Step Six: Optimization (Constantly Improving the Product and Process)
The final step, optimization, isn't a typical phase of the digital product production process. This is because Optimization should take place throughout the project and takes a number of different forms. In the initial discovery phase, optimization takes the form of user surveys and interviews to test the assumptions the team is making while performing research. In the second and third steps, it takes the form of prototype user testing, allowing users to interact with wireframes and mockups to test concepts and workflow ideas. In development and deployment, optimization takes the form of quality assurance (QA) testing, making sure to note and quash bugs as they are discovered. Finally, optimization even takes the form of a project post-mortem, analyzing the overall project to see how elements of the process can be improved to provide solid digital solutions in the future.
Presenting Free Slime Textures
Introducing the Slime Texture Pack, created by young creative BearCubSlimes. The eight free slime textures included in this pack are high-resolution photography of homemade slime, some of which are available on her shop on Etsy. These textures give photography or design work an extra edge, so download them and see what you can create with them today.
Slime Textures 1
Slime Textures 2
For more awesome textures like these, head to our eCommerce site, the Arsenal.
Eight B2C Website Benefits
As a business to consumer company (B2C), your audience range is much more extensive than if you were merely targeting business owners in a specific industry. There are between 2 and 3 million e-commerce companies around the globe, with 1.3 million of those located in North America. Knowing your target audience becomes extremely important to delivering information in a way that speaks to them.
Your business is different than any other company out there — the key is in figuring out how to convey that to your potential customers. Fortunately, there are a few key things you can do to ensure your website is built precisely for those people you most want to reach. When a visitor lands on your page, they should go through a funnel that creates a conversion.
Here are eight tips to follow to ensure your company's website is benefiting your audience:
1. Realize You Can't Compete Financially With the Big Guys
Small and mid-size businesses need to understand they can't compete with the big box retailers when it comes to price or advertising budget. However, you can compete in other areas, such as by offering better customer service or personalization options.
Figure out how you're different and inform your target audience about it. Many customers abandon a purchase because of a bad customer service experience — in fact, 78 percent of people don't complete a purchase of something they intended to buy due to poor service.
Warby Parker is an eyeglass company that offers glasses for half or less of what you would pay at most vision stores. For example, a simple frame for a woman is about $95, and that price includes the lenses. They have earned a reputation for their outstanding customer service from patrons' stories about the store going above and beyond.
For example, one man left his glasses on a commuter train, and someone who worked for Warby Parker found them. When he got home, both the originals and a new pair from Warby Parker were waiting on him. That type of experience is one that stays with the consumer.
2. Personalize the Customer Experience
One way you can compete with the big guys is by personalizing the experience of your customers. Customers care about the time they spend on your website. So, improving the experience a customer has on your site improves customer retention by about 42 percent and customer satisfaction by 33 percent. Also, you'll increase your up-sells and cross-sells.
There are many ways you can improve the experience visitors have on your website. Boosting your site's speed is one of the best things you can do. You'll also want to make navigation intuitive and limit the information on your landing page to just the most essential elements.
3. Anticipate Your Audience's Needs
What are the things the typical person landing on your website is looking for? If you can anticipate the needs of your site visitors, you can deliver what they want.
The best way to figure this out is by first studying analytics for your site. Who is the typical person visiting? Moms? Millennials? Baby Boomers? Armed with this information, you can figure out why that user persona is on your website, as well as what you need to deliver to satisfy their needs. Next, study heat maps to figure out which areas on your landing page your visitors use most frequently.
Look at what Clopay Doors does to anticipate the needs of their site visitors. The company understands the average visitor is coming to browse through possible door replacements for their home. So, they show some of their more popular styles in an easy-to-digest grid layout. Then, they allow the user to choose a few styles to compare. They've anticipated their target audience will likely want to look at several options, and in turn, have given them the tools to do just that.
4. Use an Aesthetically Appealing Design
Is your site visually appealing? It might seem like a minor factor, but your site's appearance has a significant impact on your site visitors, particularly the average consumer.
A site that is visually appealing has a delicate balance of positive and negative space — people tend to shy away from sites that are too cluttered. They also expect specific features to be in certain places, such as a navigation bar near the top of the page and your logo on the top left. These little touches can mean the difference between a site visitor who converts into a customer and a site visitor who bounces away.
5. Localize Your Business
If you run a small business, localization is one of the critical components of a successful online strategy. The best way to achieve localization is by integrating how your site performs with the IP address of the site visitor. This allows you to direct the person to the right landing page that will best meet their needs.
Look at the Living Social landing page. The site uses your IP address to figure out approximately where you are. Then, they present deals for that area so you can shop for local restaurant certificates and activities. This highly targeted, localized B2C marketing is much more efficient than showing the site visitor items that don't apply to their shopping needs.
6. Include Video Content
In a survey of B2C marketers, 34 percent felt video was a key component of marketing success. Video engages the site users and allows you to deliver content to answer any questions they may have. With higher Internet connection speeds and more people accessing your site via mobile devices, adding video makes sense for most businesses.
7. Integrate Your Website With Your Social Media Profiles
About 81 percent of Americans have at least one social media profile, so integrating your company's social media accounts into your website can create a rich experience for the consumer. It's essential that people can quickly follow and engage with your company online. One of the simplest ways to achieve this is to include a link to your social media profiles on your homepage. You should also provide visitors with easy ways to share articles and other content from your site on social media.
Sky's Guide Service offers a feature at the bottom of their page that instructs visitors to "find us." This works well because users will then recognize the icons for Twitter, Facebook, YouTube and Vimeo. They've also focused on social media their typical customer is likely to use. If you navigate to their blog, they've further integrated Facebook with the site by throwing up a feed of posts and inviting you to like their page.
8. Display Visual Data
You may be tempted to fill your site with mostly text and fewer images. After all, the page will load faster, and isn't speed essential? The problem is that people respond to images better than text. So, while speed is important, it's better to compress images, add caching features and figure out other ways to speed up your site than by not using pictures.
Using visuals to display data is an efficient way to deliver information to your site visitors. For example, when people follow directions with both text and illustrations, they complete tasks about 323 percent better than people without the pictures.
Back to Audience Demographics
Of course, every marketing concept always comes back to audience demographics. Who is your target customer? Once you know the ins and outs of their needs, you can customize the content you deliver to their needs. Your website should be an ongoing petri dish, where you try different tactics and continually improve the experience for your average site visitor.
UX versus UI:
The digital product industry has a wide range of acronyms and job titles that make it difficult for a non-digital industry member to understand who and what everyone on a digital product team is responsible for and what roles do what work. Basically, as teams become more insulated from the population at large discussions can quickly devolve into what sounds like a jumble of letters and acronyms that are mostly meaningless to the general public. One particular point of confusion that is brought up, again and again, is the difference between UX and UI.  
What is UX, what is UI?
What is UX?
UX stands for User Experience. User experience is a broad field that can encompass anything from digital user research, information architecture, and business analysis, as well as digital product design. Practitioners of UX are generally called user experience designers, and their role in a digital project is to ensure that all decisions that are made in regards to the product take account of user needs and desires. On smaller digital product teams, UX designers perform the role of design and research generalists, producing business and user analysis as well as creating the wireframes, prototypes, and mockups that will make up the final digital product. While on larger teams, user experience can be broken up into many roles, from user experience researchers (who focus on user interviews, surveys and questionnaires) information architects (experts in developing high-level workflows and context maps to determine the user's flows through the product) and digital visual designers (folks responsible for the styling and look and feel of the product).
When a company or team talks about "design thinking," it is generally in reference to user experience design, or thinking about how the end user will interact and use the product. Basically, when creating something for a purpose, it is important to ensure that the purpose remains the focus of the project and that it (the purpose of the project) is in no way hindered by other elements of the product.
What is UI?
UI stands for User Interface, so a UI designer would translate to a User Interface Designer. A user interface is a technical term for what a user interacts with when operating your digital product. A user interface designer's role in a project is more focused than that of a UX design generalist, as it centers around designing and building the interface elements itself, ensuring brand coherence and intuitive interaction. They build their interfaces based on the research and work that was done by the User Experience designer but a user interface designer is generally more focused on the visual elements of the interface and how they work together to create a seamless experience.
UI designers benefit from an understanding of the implementation of their designs or how they will be constructed in code. So much so, that many user interface designers learn front-end development languages in order to better bring their projects to life. This allows UI designers more control over their projects and gives them the ability to create more interactive and delightful experiences.
So Do I Need a UX or UI Designer?
This is a bit difficult to answer as all digital projects need elements from both UX and UI design, which is probably why roles for these positions are generally labeled as UX/UI Designer, as companies focus on generalists that can produce work throughout the digital project process. When starting a project it is important to research your users and understand their motivations to give your product immediate impact, but it is equally important to implement that information in a way that is both appealing and intuitive. Understanding how those two elements relate and walking that fine line is what makes digital projects successful, so it's important to find a team or individual who values both.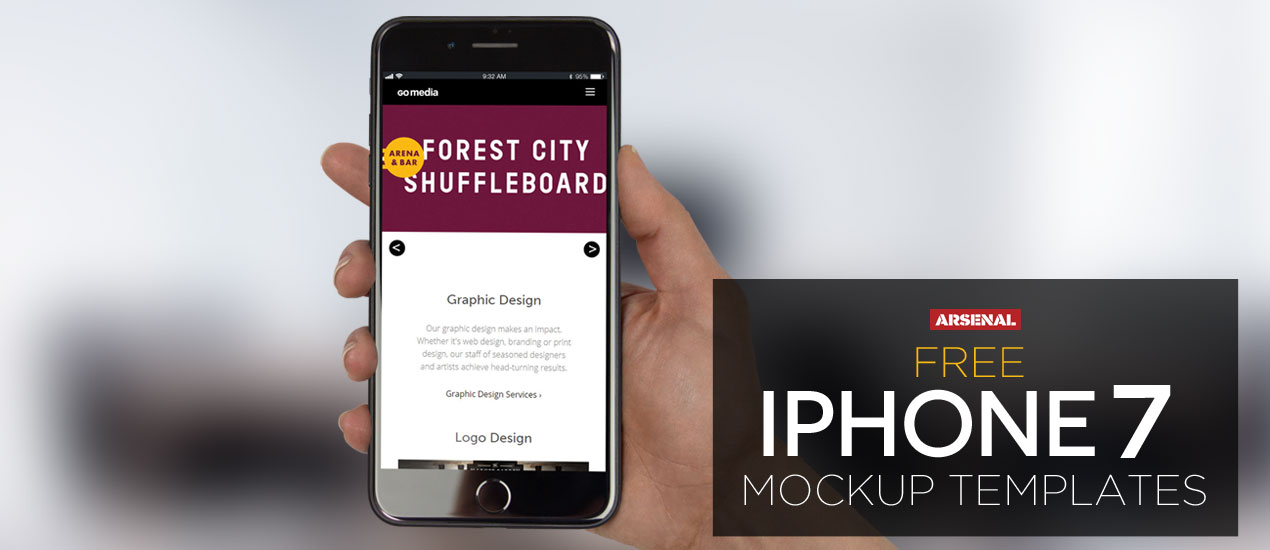 Yep, a totally free iPhone 7 Mockup Templates Pack
We just launched a free iPhone 7 Mockup Templates Pack, so what are you waiting for? Go download it now over on the Arsenal, the home of the World's Best Mockup Templates, Vectors, Textures and more.
This Free iPhone 7 mockup templates pack includes two mockup templates that will help you show off your website/app in a realistic way. The pack includes an iPhone 7 in both flat and angled versions and includes the different options listed below. These mockups have assisted us in pulling our portfolio together and hope they will do the same for you.
Here are the various options our iPhone 7 Mockup Templates Pack give you:
iPhone 7 Flat
iPhone 7 Flat (with hand)
iPhone 7 with backgrounds (with or without hand) with backgrounds – modern office space, desktop workspace, coffee shop, park outside
iPhone 7 Angled
iPhone 7 Angled (with hand)
iPhone 7 Angled (with or without hand) with backgrounds – modern office space, desktop workspace, coffee shop, park outside
Obsessed with our mockups and want more? Become a member for only $15 a month and access them all, plus the rest of our library, instantly! Learn all about that now.
Categorized:

Freebies, Graphic Design Freebies, Templates

Tagged:

angled, desktop, flat office, free, freebie, iPhone, iphone 7, mockup, mockup template, phone, portfolio, technology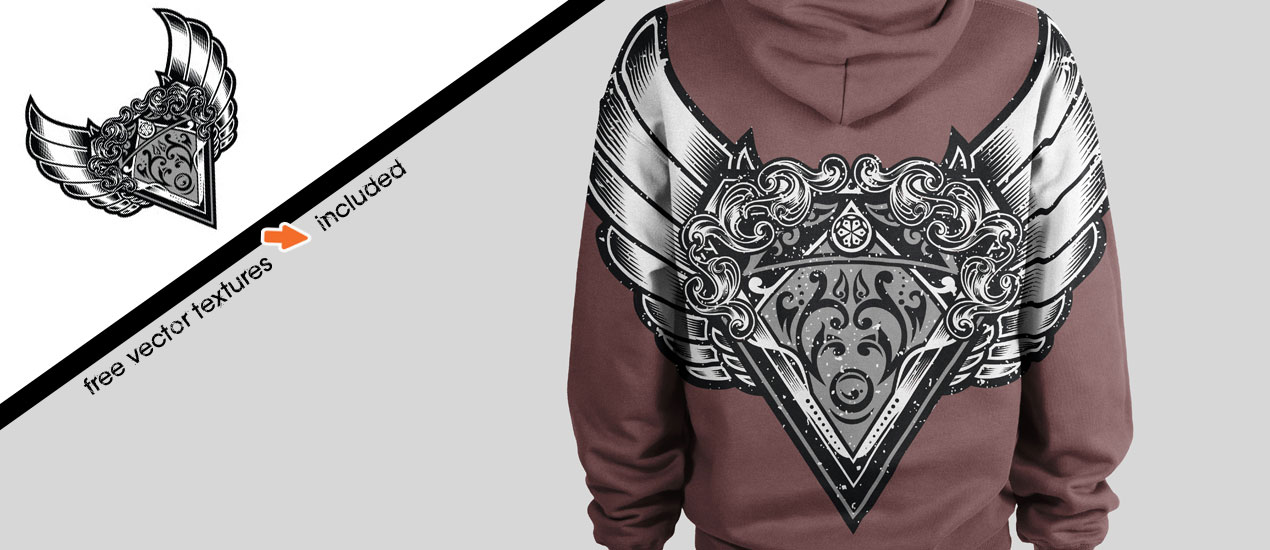 Free Vector Textures + How to Use Them
We are so excited to announce the release of a new vector set, the Fistful T-Shirt Design Graphic Vector Set.
This new vector set was created by new Arsenal Artist, Dedda Sutanto, and can be found over on our Arsenal for purchase now. This set is exclusive to our Arsenal and includes 43 individual elements, plus the fully completed design. These elements include a fantastic array of frames, crests, wings, borders, bullets, stars, ornate elements, and more. A gun and fist are extra elements that complete this unique set.
Purchase the Fistful Vector Set now
We'll be using elements from this pack, along with free distressed vector textures, to create a distinct weathered design. So, in order to follow along, you will need to purchase the set, as well as to download the free set of distressed vector textures we've made available for you here:
Download now: GoMedia_Vector_Freebie_Distressed-Vector-Texture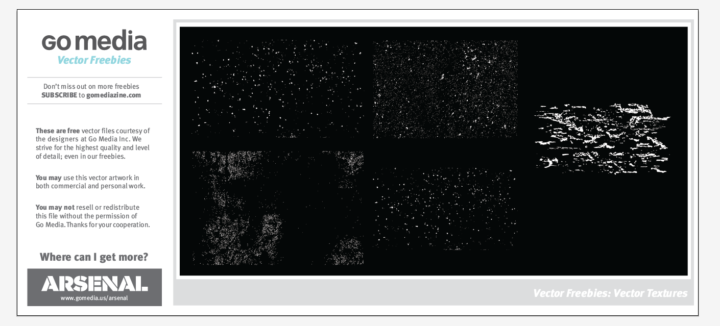 Step One: Come Up with Your Own Design in AI.
Use the elements from the Fistful T-Shirt Design Graphic Vector Set to create your own unique design. (Or, if you choose, use the fully completed design provided in the set.)
Here's the design I'll be using for the purposes of this tutorial:
Step Two: Select (Ctrl + A) and Group (Ctrl + G) all of the elements together. Make sure your design is centered horizontally and vertically within your artboard. This will come into play later.
Step Three: Select (Ctrl + A), then make a copy your design (Ctrl + C). Place your copy next to the original. Then go to Window > Pathfinder to pull up your Pathfinder Window.
Step Four: Making sure your copy is selected, press UNITE on your pathfinder tool. Your copy should merge into one solid shape. Well done!
Let's leave it there for a moment and go back to our original design.
Step Five: It's time to paste our vector texture over our original design! Open the vector texture of our choice up in AI.
Copy (Ctrl + C), then (Ctrl + V) to paste the vector texture over top of your design. Head over to your swatch panel in order to change the vector texture from black to white and place your texture where you think it looks best.
Step Six: Add the copy (i.e. the black shape) over top of the original design (and, of course, the vector texture you've added to it).
Just like the original design, you'll want to center this shape to the artboard. You'll also want to make sure that this shape is indeed at the top of the pile so to speak. You can do this by making sure it's selected and going to Object > Arrange > Bring to Front.
Step Seven: Next, select all (Ctrl + A) and head back to your Pathfinder Tool. Hit CROP.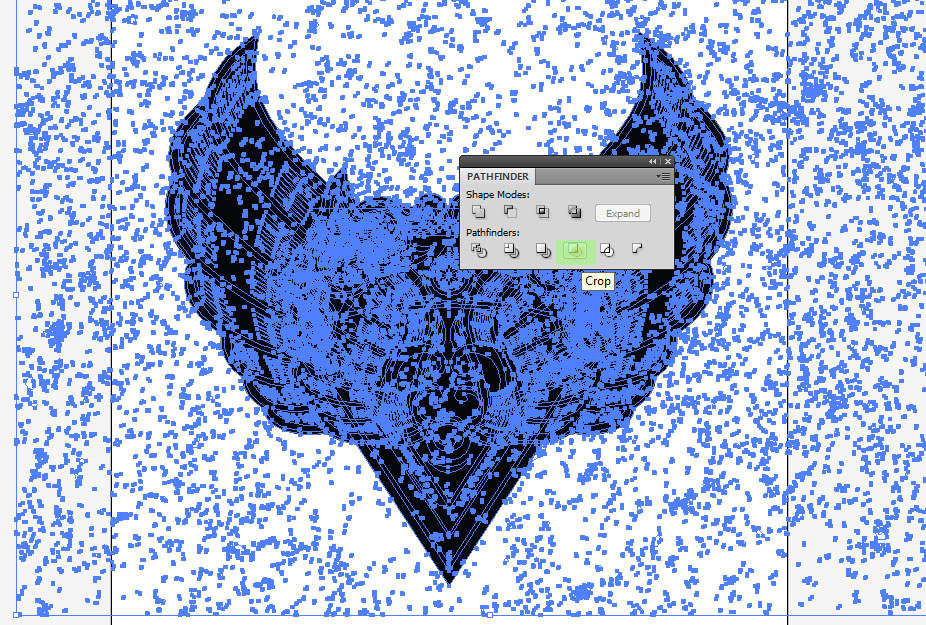 Purchase the Fistful Vector Set now
Step Eight: and you're done! But wait!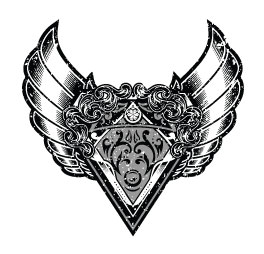 Step Nine. Let's see how your newly distressed design looks on one of our mockups!  (I'm going to use one of our Men's Ghosted Pullover Hoodie Mockup Templates featuring displacement maps.)
Hope you guys found that helpful. See you all very soon!
Purchase the Fistful Vector Set nowAccess our full library, only $15 per month
Categorized:

Tutorials

Tagged:

Adobe Illustrator, Ai, design, distressed, distressing, grunge, logo, tutorial, vector textures, vectors, weathered, worn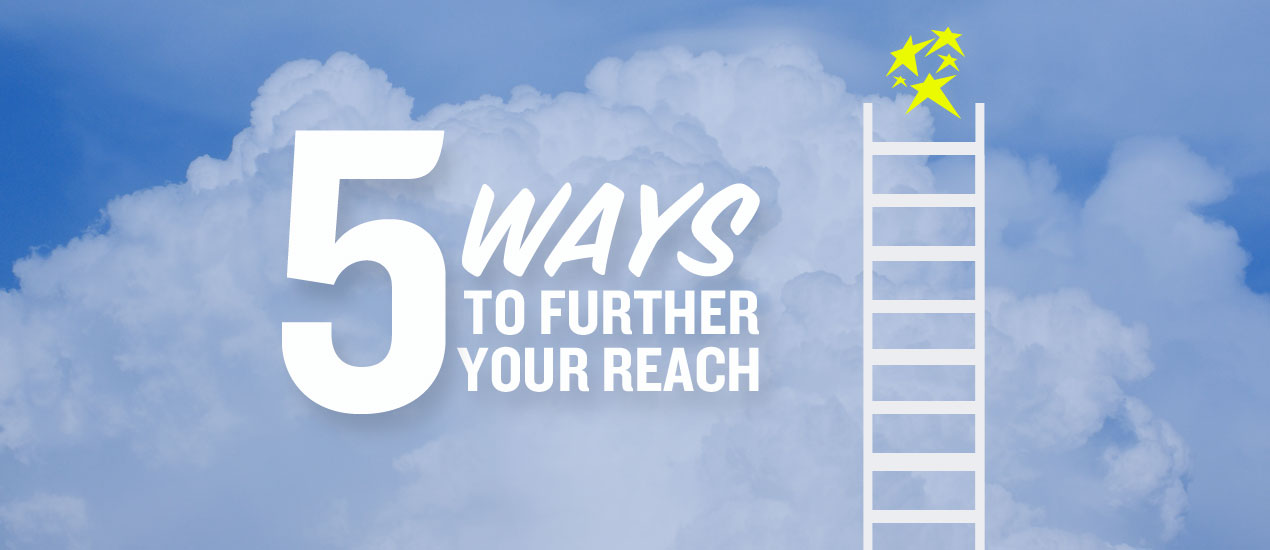 Expanding Your Brand Presence: 5 Tips
Are you feeling a stagnant air in your business? Strategy planning is a key element of any business, so here are 5 simple ways to further your reach!
How to Further Your Reach
1. Invest in yourself!
Let everyone know who you are by professionally branding your business. Start with a logo and simple website. Creating a relationship with a professional designer will help you throughout your businesses lifetime, you never know when you'll need something! It helps to have someone on standby who understands your brand and can help support your direction. Designers do a lot more than just create pretty pictures. We create marketing plans, help plan strategies, consult and more. As you grow, your advertising needs change and your designer should be there by your side to guide you. When you are professionally branded and have a user friendly, modern website, it gives your business instant legitimacy in the eyes of your customer. If you are unsure about your logo or website, lots of designers do brand consulting and can help point you in the right direction and show you where you need improvement.
2. Utilize Social Media
The best thing about Social Media is that it is FREE! The worst? You can get lost, easily. The best advice I ever heard was pick the best social media for your business and focus your time and energy on creating great content for your audience there. Do not spread yourself thin posting to countless social media accounts every day. If your biggest audience is on Facebook, utilize groups, events and business pages. Maybe you find your following is more Instagram central. Post updates, stories and go live! Pick your best social media platform and run with it. What about sponsored posts, you ask? Personally, I hardly ever sponsor posts because I know how to reach my target on social media. When I have a post performing exceptionally well, reaching thousands without much effort, I will occasionally boost those. It is already performing for me and converting it to a paid ad will only help my reach!
3. The Right Content
You picked your perfect social media platform, but now you need to post. Create relevant content for your target customer. We're not talking click bait. Research shows valuable content builds better customer relationships and leads to positive returns for your business! Create each piece with a "Call to Action" or the intent to trigger a specific action in your customer. Pro Tip: Create your content for a few weeks and mass upload them as scheduled posts!
4. Be Engaged
The right content grabs your customer's attention, now it's time to engage WITH them! Your created content gets people excited and they want to learn more about you. You start getting comments and messages, engage with them and reply! Your customer base needs to think of you as someone they can count on, someone they are comfortable with. When people feel like they already 'know' you from connecting and engagement on social media, you've already built the foundation of trust in your relationship with them. Comment on posts in and outside of your social media community. I'm not talking about a sales pitch saying "I'm Sally & I do blah blah blah..". Comment on things that ENGAGE YOU and that YOU are the expert in. Show off your knowledge, the rest will follow. Engaged networking goes a long way with expanding your reach beyond your own two walls.
5. Get Listed!
Are you listed on the big 7? What is the big 7? Google, Bing, Yahoo, Yelp, Foursquare, YP & Superpages. Maybe your business doesn't need to be listed on all 7, but you can absolutely benefit from being listed on the others. Not only is it a FREE way to get out to your customer base, it helps populate your website and business on search engine rankings. Listed on these websites goes back to tip #1, instant business legitimacy in the eyes of your customer.
What about you? Do you know or practice any other creative ways to further your reach that should be included in this list? Let me know!
Using Visuals and Boosting Engagement on your Site
Getting your site visitors to engage with your website often means the difference between developing a loyal customer and losing that person to a competitor. There are many factors to consider when boosting engagement, but one area you can directly control is how and where you utilize graphics on your website.
About 63 percent of marketers state that improving customer engagement equals customer retention and repeat purchases. It costs more to gain a new customer than to retain a customer you already have, so boosting engagement through strategic use of graphics is a smart way to grow your revenue. Keeping the customers you have allows you to focus on developing stellar customer service and refining processes. Below are six tips to get the most from the graphics you add to your page:
1. Where to Place
There are many schools of thought about the best placement for graphics, how many you should have on a page (too many can reduce page speeds) and even what size those graphics should be. One place to consider putting a graphic is across the top of your post in place of a headline. It's been said that a picture is worth 1,000 words, and apparently, this is true because using a graphic above or below a headline can be quite effective.
Mashable is a good example of using a big graphic under the headline to help tell the reader what the story is about. In the screenshot above, the article is about Amazon's new ability to deliver Whole Foods groceries to some customers. The image makes it clear that the article is about Whole Foods. Providing a quick graphic that helps the user process what the piece is about is particularly useful to mobile users who are likely to skim through articles.
2. What Graphic to Use
Figuring out what type of graphic to use is just as important as including graphics to break up some of the text. When it comes to using graphics, you have several options. You can include an infographic, a smaller data visualization that shows just one key statistic or fact, a photograph or a drawing.
Your best bet as you learn your audience's preferences is to try different types of graphics and do some split testing to see which performs best for your particular industry.
3. Provide Information
A good graphic choice enhances the content on your page. It provides additional information or presents the information in an easy-to-understand way. Researchers have discovered that the brain processes an image in as little as 13 milliseconds. If you want to get a message across fast and effectively, then using an image to provide information is your best course of action.
Take a look at the way The Exterior Company uses a graphic to provide information to the user. The user can quickly check the area they are interested in learning more about and then find the matching key on the list to gather more information. This is helpful because the user can enhance their knowledge visually.
4. Reduce Load Times
It is important to remember that when you use graphics, you don't want to allow them to slow down the load times on your page. The time it takes your page to load impacts everything from conversions to bounce rates. For example, mobile users indicate they'll wait six to 10 seconds for a page to load and then abandon a site. You can help your images load more quickly with image resizing, compression and using CDN technology.
5. Use Unique Images
One of the trends for 2018 is using custom images instead of stock or generic photos. A custom image fits the topic perfectly, rather than being a general image. Since people form an impression of your site within the first 10 to 20 seconds of landing on your page, you can see why every single element must work seamlessly to draw the user in and engage them. Using custom images shows the user immediately that you've put thought and care into which images will have the most impact.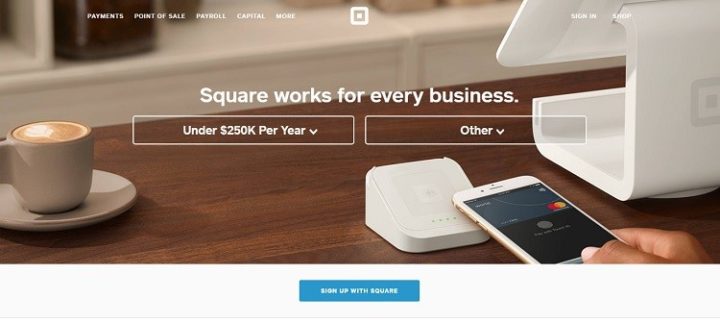 An example of a site utilizing custom images is Square. When you go to their landing page, you see a very specific image in the background of the header showing a point of sale system that works with a smartphone. However, if you change the options for the type of business, then the image changes. If you choose food, the image changes to a cashier and customer. Choose service, and the image changes to a person in home construction. This engages the exact target audience that lands on the page.
6. Optimizing for Mobile
Ninety-five percent of adults in the United States own a cellphone, and 77 percent of them own smartphones. More and more people are using those smartphones to access the Internet. However, the way a mobile browser looks at your site is a bit different than the way a desktop user does. The screen is smaller, so they typically aren't doing in-depth reading but are skimming through material. You have an opportunity to present condensed material in a graphic form.
Make sure those graphics resize appropriately for mobile devices. You don't want an image to take over the entire screen, but you also want the user to be able to decipher what the image is. You can use options such as only loading select images on mobile or resizing images so they load more quickly.
Visuals Tell a Story
Remember that people process visual elements much faster than text. Making sure the images on your site are highly relevant and optimized for all types of users will create stronger engagement. The right graphic can add to the message you are trying to convey and draw the user into your site. Visuals tell your site's story much faster and better than even words can.
Common Marketing Mistakes
"The best marketing doesn't feel like marketing," said Tom Fishburne, founder of Marketoonist. But, behind this seemingly effortless marketing, there's a lot of hard work. Many business owners believe that good marketing requires substantial investments, but they choose to rely on in-informed marketing attempts believing that the quality of their product or service will speak for itself. Young companies usually operate on a shoestring budget, meaning that marketing isn't exactly high on their agenda, and that's usually the main reason for making some big mistakes. However, avoiding them won't break the bank.
To be successful at any size, all it takes is a well-crafted strategy, some creativity, and a lot of persistence.
Here are six common marketing mistakes you should avoid
No prep
In order to lay a solid foundation for your marketing strategy, you need to do your homework first. A proper market and target audience analysis should be your first step. Building your buyer personas will help you address their problems and interests in a better and more meaningful manner. Before you start with any marketing, you should have three to five buyer personas recognized. When you have detailed information about people who are your prospective customers, it's much easier to create compelling campaigns that will resonate with them. Besides getting to know your customers, it's also essential to learn as much as possible about your competitors and their marketing strategies. Without preparation, your marketing efforts will be reduced to a series of blindfolded hit-and-miss attempts.
Taking your existing customers for granted
This is a serious mistake that could ruin your business. According to Gartner Group, 20% of your existing customers account for 80% of your future revenue. This Pareto principle variation isn't the only stat that emphasizes the importance of zeroing in on customer retention. Another research study shows that if you increase your retention rate by just 5%, your profits will be increased by 25% to 95%. One of the ways to retain your customers is by boosting customer experience – you can feature them on social media, offer them discounts, reply to their comments, and send them birthday cards. Another effective tactic is to reward them for their loyalty by giving them all kinds of cool promotional items like printed mugs, T-shirts, branded notebooks, or any other free merchandise with your brand's name and logo on it. Finally, never fail to deliver on your promise and always be consistent.
Lack of USP
Without a unique selling proposition, you'll sink into obscurity together with thousands of similar businesses. All your marketing efforts have to be backed up with a clear and concise USP that will distinguish your business from your competitors. If you don't emphasize what makes your product or service a better choice, your target audience won't have a good reason to choose you. Make sure to give a promise that you will solve their problems in a competent and skillful manner, and insist on the distinctive benefits your product or service provides.
Underestimating the importance of SEO
Many businesses ignore SEO either because they don't understand its power, or because it's a time-consuming process that doesn't produce the results instantly. By leveraging search engine optimization, you'll drive quality traffic to your website, and, in turn, get more conversions. It's worth mentioning that SEO leads score a 14.6% close rate, while outbound leads have a 1.7% close rate. Although this marketing practice can be pricey, it's worth every cent you invest in it. To cut the long story short, SEO will boost your visibility and help you reach your target audience more effectively than other marketing practices.
Neglecting your content
If your blog isn't updated with quality content on a regular basis or if you don't have a blog at all, you definitely won't be able to engage your audience. Producing superb content will bring lots of visitors to your website, grab their attention, initiate interaction, and encourage conversions. 61% of consumers state that they're more likely to purchase from a company that provides custom content. This means that if you create valuable and relevant content which is useful to your target audience, you can count on positively influencing their purchasing decision. Your blog posts should be informative and entertaining, and they need to address some of the most common pain points that plague your potential customers and offer effective and efficient solutions. No wonder that how-tos and all kinds of guides are immensely popular, so tune into this trend and prosper.
Ignoring social media
OK, we can agree that social media platforms have their downsides, but when it comes to marketing they are indispensable. Almost 40% of the global population is on Facebook, Instagram, Twitter, LinkedIn, and other networks. This means that if you create a profile on these social media platforms you will gain exposure and benefit by sharing your superb content. Whenever they want to find out more about a certain company, consumers look it up on social media, which is why it's essential to maintain strong and consistent social media presence and keep up with an increasingly important role of social search.
These 6 mistakes can severely undermine your marketing strategy and damage your business, so do your best to prevent them.
Valentine's Day is the perfect time to show some love — to your small business. Owning a small business is a labor of love in many ways. There may be times when you love it more than others, of course. However, to really show that love and passion you have for your biz, you'll want to demonstrate it to both customers and employees.
1. Find Your Passion
You've probably heard it said that before you can love others, you have to love yourself. This is true for your business as well. Before you can show your customers and employees that you adore them, you have to appreciate what you're doing and remember why you started your business in the first place.
There are things you can do to help you remember why you love your business. Look back and photos and reminisce about the beginning. Find supportive friends and a mentor. And take an occasional break — too much time together can wear you out.
Have you seen the Peloton commercials on TV lately? It is readily apparent to anyone that these people love their business and have a passion for helping people get fit. There is an excitement surrounding the product and about where they are heading in the future.
2. Offer Customers a Discount
Once you remember why you love your business and your purpose for doing what you do, it's time to let your customers know you love them, too. There are many ways to show your love to your customers. We'll discuss more in other sections, but one way is by offering them a discount. Everyone likes a gift. It shows that you appreciate the person and what they have to offer. Offer your loyal customers a discount on new items or services.
3. Give Your Employees a Shoutout
Your employees help your business run from day to day. It's important to show them how valued they are. Your employees don't just impact your business though. They also impact your customers and any suppliers you do business with, as well as other partners such as delivery service companies.
About 48 percent of employees say they are only somewhat happy or even unhappy at their jobs. Some of the reasons that employees are unhappy are lack of career development, work encroaching on family time and poor treatment by upper-level management. These things are directly under your control, especially showing employees they are appreciated. Think up creative ways to say thanks and give them a shout out.
4. Create New Website Content
It's never a bad idea to update and/or create new content for your website, and Valentine's Day is the best time to do so. Consider adding content that provides helpful advice to your target audience that also has visual appeal.
An infographic is the perfect way to display data in an image-friendly format. Take a look at the example above of B-Air and notice how they play on the "cuteness" factor of animals. Not only are most users instantly engaged with the graphic because of the dogs, but they learn the proper ways to drying a dog at the same time.
5. Reinvest in Your Business
Just as you invest in a child both with your time and money to see that child grow and thrive, so should you invest in your business. Love your business, by investing in training and growth. Many experts advise putting as much as half of what you earn back into your business each year. You might choose to spend more on online marketing, training for your workers, a brand redesign or a larger space.
6. Interact with Your Customers
If you want your customers to feel valued, you need to interact with them. When a customer has a poor service experience, that information can reach double the number of people as a positive experience. Your goal is to make every experience amazing for your customers. So, if a customer posts a complaint on social media, reach out and ask to talk with them. Always speak with respect and really listen to the concerns.
JetBlue Airways does an excellent job of reaching out to customers on Twitter, trying to respond quickly, answer questions and resolve issues. In the example above, a customer was upset about a flight and complained, and JetBlue had a quick and friendly response.
7. Create an Open Company Culture
Employees are happiest when they are engaged and involved in the company. If you can bring your employees together and make them feel as though they are part of a family, then they are naturally going to be more engaged. There are many steps you can toward creating an open company culture.
First, have an open door policy where employees can stop by your office and talk to you about ideas or concerns. Second, host quick meetings at the start of every workday. These will allow you to get everyone on the same page and headed in the same direction. Finally, plan company events and teambuilding activities.
8. Get to Know Your Staff
Another idea is to get to know your employees better by interviewing them. You can create videos of these conversations and share them online so that your customers and potential customers can get to know the employees too. This type of storytelling is helpful for showing people what your company is about and who the people behind it are.
Engle Dentistry takes the time to interview their employees and shares the videos on YouTube along with other video clips. The clips share who the person is, what they do at the dentist office and some fun facts about their daily lives.
9. Customer Appreciation Night
Host a night to show your current customers how much you love them. Your current and loyal customers are worth more money in your pocket than new customers. With a new customer, you have to invest in reaching that potential customer and building the relationship. With a current customer, the connection is already there. Your event can be as simple as early peeks at new products along with serving some snacks and playing music. The key is to make it as special as your customers are.
Small Business Love
Running a small business is no easy task, but with some determination and by reminding yourself why you love doing what you do, you can find success. Take the time to invest in yourself, your business, your customers and your employees. You should show the love all year long when it comes to your business, but Valentine's Day is a perfect reminder of where to focus your efforts.
Working with Photoshop's Quick Mask Mode
Go Media's Arsenal proudly announces the release of a brand new video tutorial, "Digitizing Your Illustrations with the Quick Mask Mode in Photoshop."
In this video tutorial, Go Media's Lindsey Meisterheim will be using a kind line illustration to show you how to work with the quick mask mode in Photoshop.
This tutorial will show you how this versatile tool was a key element in ensuring her one of a kind illustration maintained a realistic, hand-drawn look (as if it was drawn right in Photoshop).
Lindsey will take you step-by-step through her process. This includes how she:
got the inspiration for her unique, almost child-like drawing
used the quick mask mode to achieve the look you see above (shapes built upon shapes without losing their integrity/color)
added the watercolor/wash effect
chose the color for her piece
and more!
Lindsey will show how she uses this versatile tool to refine her selection and maintain the integrity of the illustration she has created so that it appears as if it was drawn right in Photoshop.
Follow along with Lindsey as she moves through the tutorial. The 10 Indian Ink Washes we included will aid you in your journey.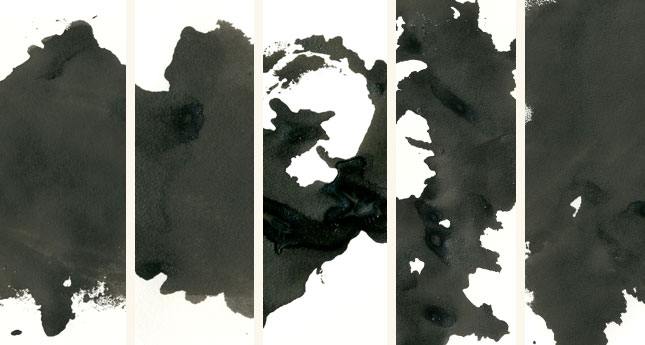 Tutorial length: 35 minutes
Cleveland Design Firm Go Media helps to develop Forest City Shuffleboard brand
Based on the success of their original shuffleboard business in Marblehead Ohio (the Erie Social), owners Jim and Kari looked to elaborate on their concept by venturing to the city of Cleveland. As the branding began, we quickly realized a tweaked direction based off the original concept could be fruitful, and thus we arrived at the vintage varsity aesthetic. Orienting visuals to the feel of late-century gymnasiums and sports movies helped develop the voice of the concept. To further cement the brand voice,  we decided to rename what would have been Cleveland Shuffleboard, Forest City Shuffleboard — A throw-back, nickname oriented approach which was the cherry on top of their new brand.
Wall Cards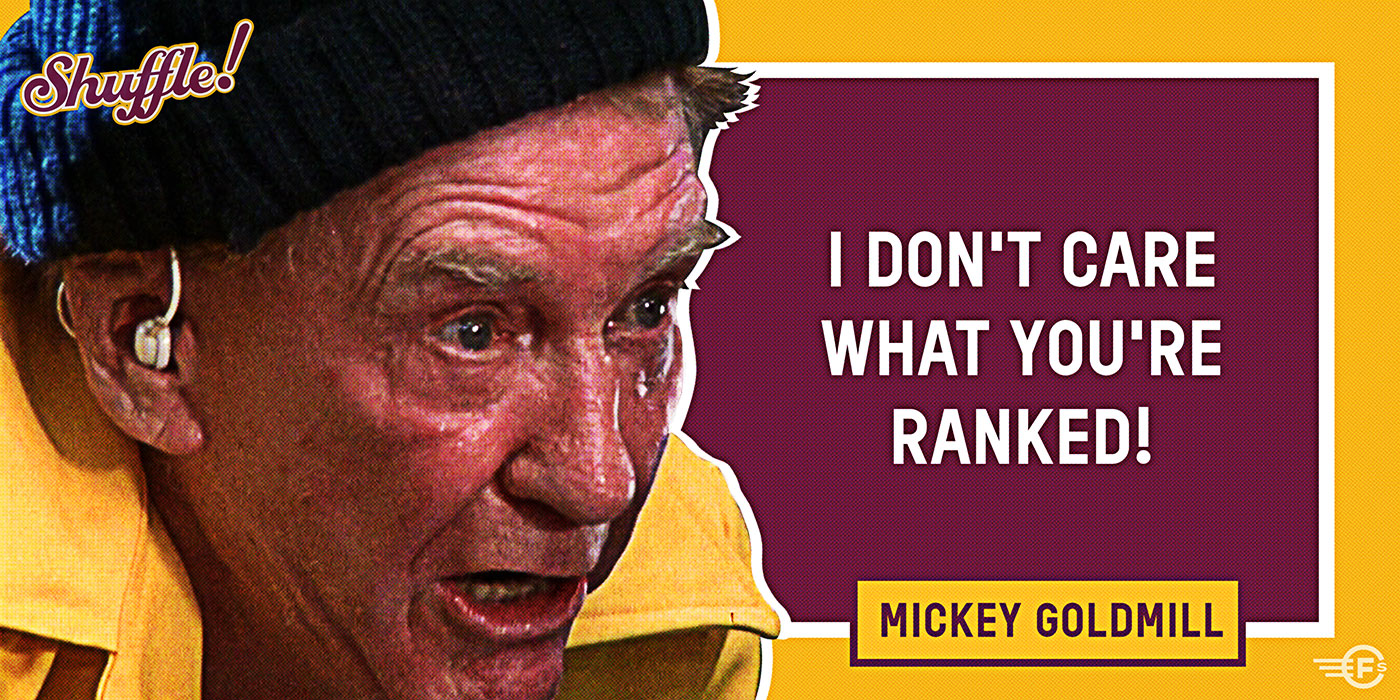 Website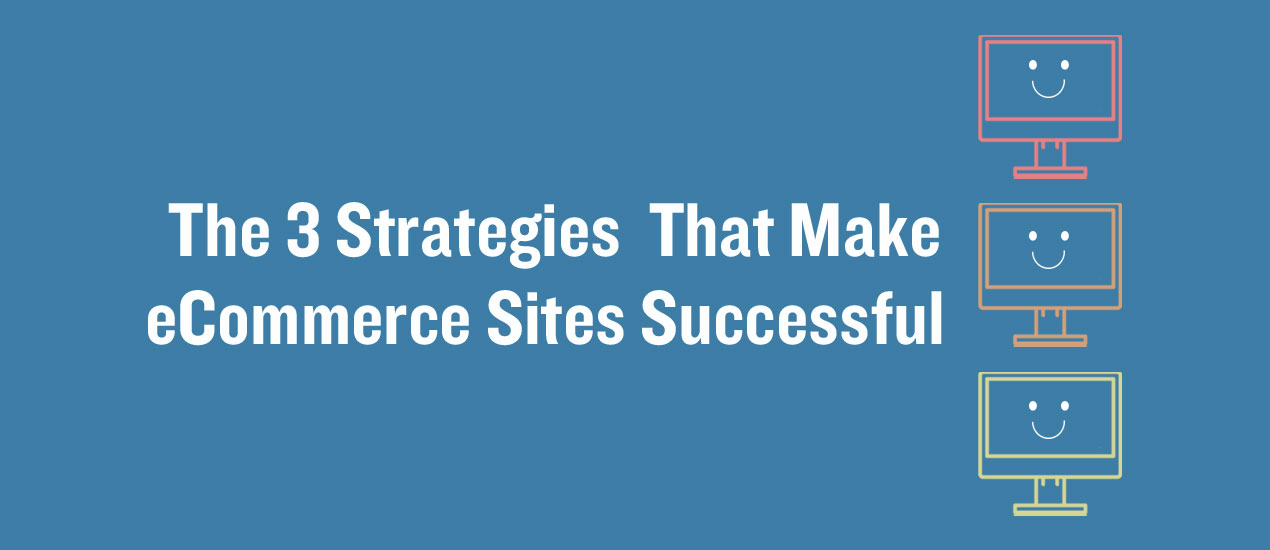 eCommerce websites are becoming more and more popular and prevalent by the day, creating a thriving and competitive market. Although the market is growing, the competition means that it can be difficult for new and existing eCommerce businesses to break through the barrier and get themselves seen and heard. Unfortunately, this can only inevitably lead those businesses to be pushed out of the market. We've put together 3 strategies that will make your eCommerce website stand out, and be successful. As with most businesses, time and effort are required, but it will certainly pay off in the long run.
1. Choose the right web host: First and foremost, you must ensure that you choose the right web host for your eCommerce site. There are many web hosting companies to choose from, all offering similar plans and features, but knowing which one is right for you can be difficult, especially if the thought hadn't even crossed your mind! Here are a few things to consider when deciding on your web host:
Uptime guarantee – Ensure that your web host has an uptime guarantee, or at least a very good uptime record if they can't provide a guarantee. Providing your customers, as an eCommerce website, with a site that is available at all times is essential to maintaining a loyal user base, and encourages more traffic to your business's website.
Speed – It's a well-known fact that website visitors are impatient; if your website doesn't load within 3 seconds, your users and your conversion rate will rapidly decrease. If your web host's servers aren't up to scratch or don't perform well, this could be a huge detriment to your eCommerce website.
Features – Does your web host offer 1-click installs, such as WordPress, Shopping Carts, etc.? Getting the most for your money is obviously important when purchasing any product or service, but is especially true when choosing your web host. If you're just starting out your eCommerce journey, you may be surprised at how easy it is to create a website with an online store, with integrated cart and payment facilities all from your web host.
Choosing the right web host is often not something that's on the top of every eCommerce business' list, but it really should be. If your website doesn't load fast enough or isn't visible to your users, how are you going to generate any business to ensure your eCommerce site is successful? If choosing a web host is a bit of a minefield, there are plenty of hosting reviews available and designed for you to make an informed decision.
2. Implement and update SEO: As we've already mentioned, the eCommerce market is rapidly growing and is very competitive, so implementing a solid SEO strategy and keeping on top of it is another high priority task to ensure your website is successful. SEO can be complicated, but there are lots of guides on the internet to help you get on your way.
One of the key things to remember is to keep your SEO updated; we can't stress this enough. If your SEO is not updated, then your conversion rates will decrease, as well as traffic to your website, and potentially your customer base. Google's SERP factors are constantly evolving, so your SEO strategy must evolve with it. What you thought was successful last year, may get penalized this year, so research is a must. If SEO is not your specialty, or you're finding it too hard to keep on top of, don't be afraid to reach out to others for help. There are plenty of SEO professionals available to take your eCommerce website to the next level, and are certainly worth investing in, even if it is to get your feet off the ground.
3. Optimise for Mobile: As of January 2017, Statista confirmed that 90% of Japan's mobile phone users were using their phones to access the internet; with 87% in the U.K., and 73% in the U.S. Those figures are quite extraordinary, but they pack a punch, and shouldn't be taken lightly. When over 70% of a country are using their mobile phones to browse websites, you'll want to make sure that your eCommerce site is mobile optimized.
If your eCommerce site is not mobile friendly, you could be losing out on a huge customer base, and giving away potential users to your competition – don't let that happen! Responsive website design doesn't have to be difficult; in fact, most CMS providers, such as WordPress, have themes and templates at the ready with very little effort required from you. Once created, there are a range of tools available on the internet to confirm how well your eCommerce website is optimized for mobile, outlining areas for improvement if required.