Articles by Month:
January 2018
Crucial Elements of An Engaging Website Design
Most elements of good web design are reliant upon one another. For example, higher engagement and more interactivity usually mean lower bounce rates. Compelling content and visuals translate to higher engagement ratings. Fluid and convenient navigation is conducive to the user experience, encouraging visitors to move around your site more freely. And, of course, all of this is what factors into whether or not your site is successful, along with whether or not your design is a good one for you and your customers.
Customers who are satisfied and enjoy their experience(s) tend to stick around. The longer they stick around, the more they're willing to buy your products and services. It's a cyclical pattern that feeds into the success of your business and the growth — or decrease — of your bottom line.
Creating a Website That's Mindful of Audience Needs
The trick is getting to the point where your website serves your audience efficiently. To build a compelling site, you first need to understand what it is your customers and audience want from you and the experience you have to offer. Then, it's a matter of delivering, which is never as simple as throwing up a live site with random elements and design components.
How do you get there? To the point where your site is ideally functional so that it's serving the demands of your entire audience?
1 – Navigational Flow
You know what a sales funnel is, right? Even if you don't, the concept is relatively simple, and you probably understand the foundation. It's essentially optimizing the flow of a site, a page or navigational elements so that your users end up where you want them to. More specifically, a sales funnel is leading customers to the point where they either reach out for more information from a sales rep, or they flat out buy a product.
Customers get around a site using the navigation. They move from page to page through a concept called the flow, often designed using an initial sitemap. It all ties back into the concept of "navigational flow" or how freely they can move about your online portal. Take a look at how Paris-based Dataveyes presents their site navigation panel and important content.
Step one to ensuring your site needs the needs of your audience is fine-tuning the flow. Can they find your most important pages easily? Are they landing on the right pages or content? How long does it take someone to find what they're looking for when they reach your site?
2 – Keep It Simple and Responsive
Online users have an eight-second attention span, sometimes even less if they're browsing on mobile. You only have a small window to hook them and keep them engaged. If you take too long, they'll leave and may never come back.
That's exactly why your main landing pages should be simple and responsive. Not just responsive in terms of operation — where they adapt to meet the viewer's device resolution — but responsive regarding how fast it is to move around and find what you're looking for.
A viewer should land on your page or site and immediately see what they're looking for or how to get there.
3 – White or Negative Space
Minimal, understated designs are all the rage these days, and for good reason. Negative space is invariably used not just to make a page aesthetically pleasing, but even to highlight important elements and other content. Don't clutter your pages with content, visuals, buttons, elements and everything else that goes into a design.
In our example from the La Farfalle site, you can clearly see how their use of whitespace works to bring attention to the rest of the page and site content.
4 – Avoid Autoplay Content
Unless the visual content or media you have showcased on your site is innovative, don't set it to autoplay. The exception would be something like a video background on a page or a catchy animation to start up the experience.
One of the best examples of this is music. When used appropriately, music can add a lot of atmosphere to a site or design, especially in certain industries. But not everyone enjoys loud music blaring through their desktop or mobile speakers. It's even worse if they're out in public or somewhere they need to remain relatively low-key. Even more annoying is when a track or video is set to autoplay on a loop. While you're browsing the rest of the page, it just continues over, and over, and over, and over, and over — you get the idea.
5 – "Above the Fold" No Longer Matters
Keep in mind, putting your most relevant content above the fold is still a good idea. The main reason is that you want your most important and highly popular elements front and center. That said, there's nothing wrong with putting more content below the fold, especially on mobile. Viewers are more willing to scroll an entire page now, especially since doing so on mobile is carried out through a quick swipe gesture. In fact, that's exactly why we've seen a huge influx in infinite and endless-scrolling site designs lately.
6 – Ask for Feedback
One great way to discern what your audience wants is to simply ask for feedback. You can do this many ways, the most common of which is including a customer feedback page or form on your site. You can also ask regular questions or host polls on social media. Consider maybe even getting in touch with additional design agencies or development teams to see what they're doing differently.
The reason this is important is because you don't exist in a bubble. Sure, you may be focused on current trends and following popular design concepts. But just because something is popular doesn't necessarily mean your audience wants it, or cares for it. Before rolling out new designs, themes or content, get a feel for what your audience wants. Ask them directly and find out how it's going to impact their experience.
Check out how mindful SincerelyNuts is of their audience's potential allergies and dietary concerns. It's
clear they honed and optimized this experience for their customers, through feedback, research — maybe even years of it — and maintenance.
7 – Choose the Right Content
Most site admins and owners assume that text-heavy content is the way to go, but it's important to remember it's not the only form used today. Visual content plays a huge role in the current landscape, too, including videos, images, infographics and even live video streams.
You'll see a lot of marketing teams highlighting the importance of running a company blog or news-feed, and they're not wrong, but you don't always have to go the conventional route. Vlogging — or video blogging — is just one incredibly popular medium you can use to your advantage.
Take some time getting to know your audience and viewers and find out what they resonate with most before delivering a steady stream of new content. You'll quickly find that you're developing material your viewers actually want to consume, meaning it's not going to waste. You can thank us later.
8 – Colors
Fonts and typography are a big deal. The layout is a big deal. The visuals and content you choose are a big deal. But none of them have as much impact on the overall feel and experience of your site as the colors you choose.
Choose the wrong background and font colors, and guess what? No one can read your content or web copy. Choose a theme that uses horribly meshed colors, and your viewers will run away screaming. There's even the opposite problem, where if you choose images that are too subtle and bland, no one will stick around.
To drive the point home even more, look at this study done by Joe Hallock which reveals how people feel about colors. They are actually associated with different character traits, such as trustworthiness, fun and even security.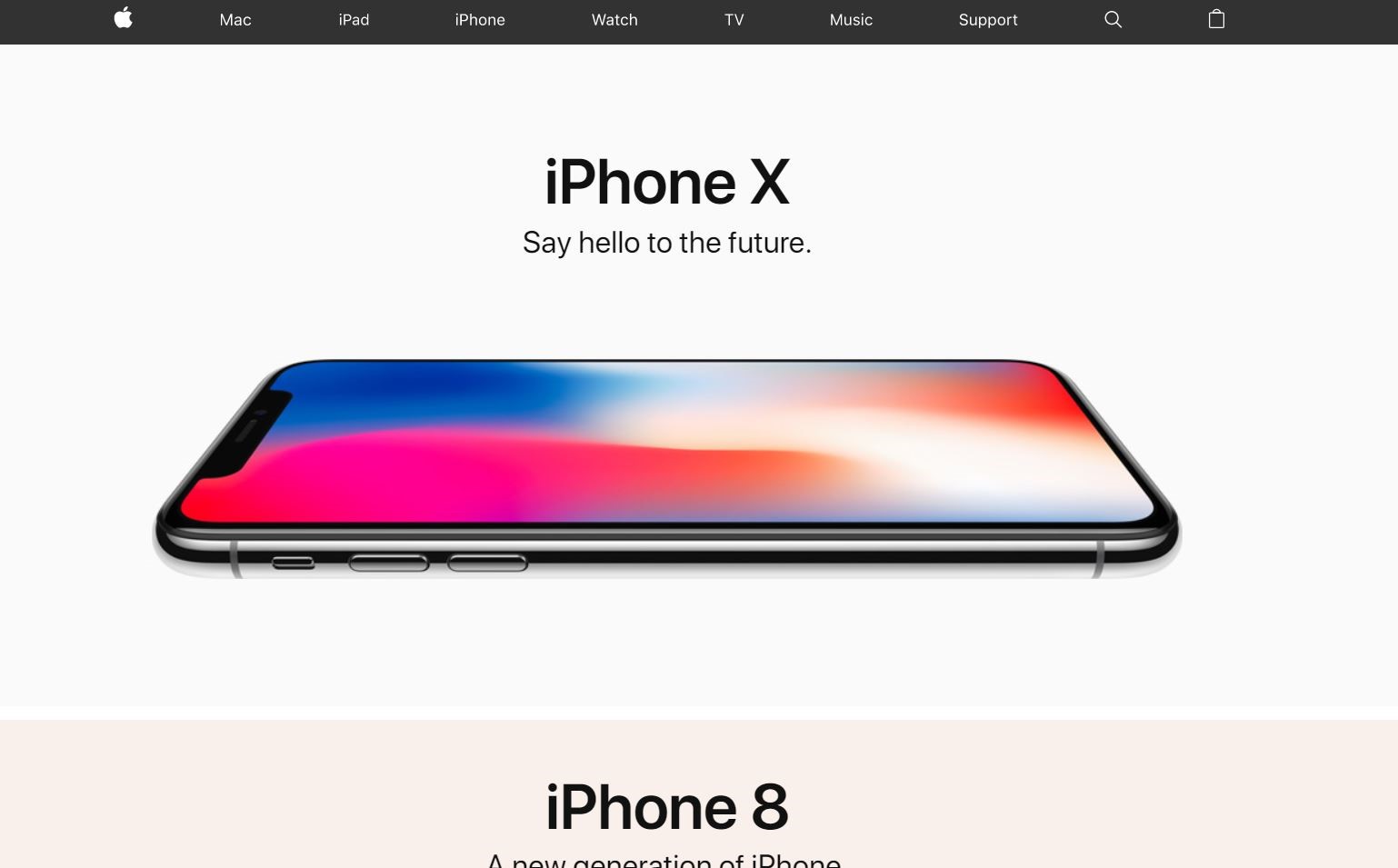 Notice how Apple uses muted colors for the rest of their site but incredibly vibrant and vivid colors to highlight the products they want to sell.
Stick With Me If You Want to Live
That's a bit excessive, but your website deserves the best, right? Here's the bottom line, it all boils down to one question. Do you want to create a compelling and effective website that meets the needs of your audience or customer base? If the answer is yes — and it should be — then following the steps discussed here will put you on the path to success.
How to Integrate New Year's Resolutions into Marketing Efforts
People who work in marketing or internet-based jobs are familiar with various ways of keeping seasonal needs in mind while catering to customers. You may have even engaged in some of them at your company.
It's common to create banner ads that urge people to get an early start with back-to-school shopping, offer discounts on flowers and perfume sets near Mother's Day or even plan sales that coincide with tax refunds. Seasonal campaigns get results because they meet people's well-defined needs.
That's why you shouldn't overlook a year-end practice that people take part in around the world — setting New Year's resolutions. Below, we'll look at several ways to integrate New Year's resolutions in your marketing efforts.
Cater to Their Decision to Get on a Schedule of Periodic Checkups
The start of a new year is a time when many people reflect on the things they wish they'd done differently over the previous 12 months. Sometimes, individuals realize they shouldn't have procrastinated with scheduling well-being checkups or put off recommended maintenance appointments for their cars.
In that case, they often say to themselves "This year, I must improve by scheduling ongoing appointments. Then I can be aware of issues before they become severe." Applegate Dentistry, a dental practice in Kentucky, tapped into that common line of thought by publishing a blog post encouraging viewers to contact the office and get on a schedule of regular dental checkups.
The content outlines the various reasons prevention is so important, then ends with a call to action that urges people to make appointments. You can apply this approach to any service because New Year's Eve is often a day when people decide to form better habits moving forward, and relevant material from your business could support that plan.
Tap Into the Desire to Make Long-Held Dreams Come True
Many people envision exploring faraway destinations, but realize life gets in the way and going globetrotting isn't as easy as it seemed. However, after getting fed up with perceived obstacles, some individuals choose to set New Year's resolutions about finally visiting the places they've always wanted to see.
BMI, an airline that operates 400 weekly flights to nearly 50 European destinations, built a New Year's resolution-themed page on its website that advertised a cheap flight sale and listed potential route options. Well-intentioned individuals often have great ideas, but they need an extra push to turn those aspirations into realities.
BMI's strategy to offer discounted fares at a time when people are thinking about what the year ahead could bring was a wise move. It removes some of the logistical barriers — the cost of flights, plus choosing a destination and air travel provider — to help people think seriously about bringing their travel dreams to life.
Help People Make Good on Promises to Get in Shape
Statistics associated with the end of 2016 indicate there were more than 57 million Americans with health club memberships. However, a substantial amount of people who use fitness centers join just before or after making New Year's resolutions — giving you a meaningful window of opportunity.
If you do marketing for a gym or fitness products company, it's easy to reach out to those individuals by using window graphics that advertise limited-time-only membership deals or banners and flags that encourage people to get motivated about shedding their unwanted holiday pounds by checking out sales on equipment and clothing.
Be Aware of Timekeeping and Scheduling Goals
Improved time management is perhaps one of the most common New Year's resolutions people set each year. There are various ways you can tailor marketing campaigns to help individuals succeed with time-related aspirations.
If your company offers a digital scheduling or timer app, look at ways to add a New Year's push notification that encourages users to buy premium offerings. You could use wording such as "Our premium features help you stop wasting time and get closer to your ideals for the new year. Try them today."
Apple incorporated the start of 2018 into its Apple Watch by showing fireworks across the screens at midnight. It also gave a personalized New Year's message to the wearer by using his or her name.
The company behind the Day Designer planner also tied New Year's into its promotional efforts by crafting a helpful blog post about how to set plans for the year ahead. It provided several relatable suggestions for people to try. The last section of the post included a call to action and link that urged readers to go to the Day Designer online store and pick out products that would help them use the tips they just learned every day.
Stay Sensitive to the Difficulty of Breaking Bad Habits
When deciding how to change their lives for the better in the days and months ahead, people frequently come up with resolutions to turn undesirable habits into good ones. For example, they might choose to start smoking cessation programs, seek counseling to deal with emotional eating problems or begin seeing business coaches to stop patterns of never following through with company plans.
Even if your business does not directly market products that relate to changing habits, you can still show an awareness that forming more positive behaviors is not easy. Maybe you sell meditation MP3s or luxury bath products. In those cases, you could appeal to customers with a campaign that asks, "Feeling overwhelmed by the process of creating better habits? Reward yourself for the hard work you've done so far with our selection of relaxing products."
In some cases, you may sell items that could potentially derail someone's efforts to stop certain ways of acting. However, you can still angle your marketing pitches appropriately. If you offer gourmet chocolates or other tempting treats, you could include content on your website that suggests how adhering to a diet that completely cuts out sweets doesn't typically work well.
Speak to the fact that treats are usually okay in moderation. Also, mention that people can allow themselves to have goodies occasionally, especially as a reward for all the life-changing efforts they've made up to now. You can also mention how occasional nice things strengthen willpower by teaching individuals not to overindulge.
A New Year's Marketing Resolution
After reading these suggestions and case studies, you should feel well equipped to connect New Year's resolutions with your marketing campaigns. You'll be spreading the word about your business or products while also helping customers improve and have their best year yet.
Seeking Graphic Design Bloggers
In our quest to be the best resource to designers, developers, entrepreneurs, and artists, we are now looking for copywriters and bloggers to contribute epic articles to our design blog.
If you are excited by what you see on the Zine, please reach out. Experienced, enthusiastic and reliable writers will be compensated for their work. Please note, the work must be directly related to graphic design. Sponsored posts or posts written for the sole purpose of embedding a link/links will not be approved.
How to Become a Graphic Design Writer for Go Media's Blog
1. Submit an email introducing yourself to us at [email protected]
After you have done so, please submit a follow-up with the following:
a/ Your background and experience in the graphic design field
b/ any writing credits
c/ why you'd make a great writer for the 'Zine. What would you be interested in writing about and how could you benefit our audience?
Please note that we are looking for writers with intermediate to advanced experience in the field of graphic design.
d/ In this email, you must include a writing sample(s). This can be an article you have written in the past or a new piece you have written for the purposes of this submission.
e/ If you have any ideas for a future post, please list them in your email.
A few notes about blog submissions:
We take posts that are written specifically for Go Media.
Again, sponsored posts or posts written for the sole purpose of embedding a link/links will not be approved. We are a design company and links pointing away from our company* do not serve us well. *Please note that when we speak of links pointing away from our company, we solely mean links that point to our competitors. For example, other design companies. We, of course, welcome all links that educate our audience! If you are looking to do a sponsored post, please check out this article.
We are looking for heavily researched posts from professionals in the field about graphic design, small business and web design. Our audience is made up of professionals in the field.
Yes, we are happy to link to your website! The link will go in the author bio section on the bottom of the page.
We get many submissions for blog posts daily, so please follow these instructions. If we do not see these items outlined, we will not be able to get back to you. We hope you understand!
If accepted, we will get back to you as soon as possible. Please understand that we receive a high number of requests from bloggers who ask to write for us, so we cannot respond to everyone.
*Please also note that we are only accepting U.S. based writers for our blog.
Requirements for our blog posts:
All blog post topics will be chosen by our editor. They must be heavily researched and between 980 and 1,600 words.
Please take a look at our Start Here section to see what our most popular posts are. This will clue you into the subject matters we may have you write about.
Thanks for your interest!
Free Lotus Vectors
Our freebie of the day is a pack of free lotus vectors! We hope these three free vectors take you to your happy place today. Download them here, then head to our Arsenal for more great royalty-free elements. Love  our vectors? Gain access to all of them, 24/7, when you subscribe to our Arsenal Membership. Our Arsenal Membership is only $15/mth and affords you access to our entire product library, our community and every single new product as they are released.
Download our: Lotus Freebie from your friends at Go Media
How do you build links to your website?
Every online business wants to reach the top and be the best on the market. That's why the online market is so overcrowded in the first place. Nevertheless, the competition is ongoing and businesses implement different strategies that will help them reach the top regardless. One such strategy is SEO (Search Engine Optimization) which helps businesses rank high on search engines and appear on the first page of search results. That way, businesses can improve their online visibility and allow their potential customers to easily find them online.
Link building is one of the most important SEO activities. Even though search engines change their algorithms often, thus changing the rules for SEO, it's estimated that backlinks still account for around 80% of ranking factors for websites. The main reason backlinks are so important is that they build credibility and reputation of a website they link to; this is why it's important that they come from reputable sources. Here are a few ways backlinks can boost your website traffic.
Build authority with backlinks
Backlinks are hyperlinks on a specific web page that point back to your website. Simply put, your website will appear on various web pages as a reference for further exploration or as a source of additional information. The more reputable and relevant backlink sources – i.e. websites that point back to you – will provide higher quality backlinks. Many business owners believe they'll improve their SEO ranking by creating as many backlinks as they can, wherever they can.
However, that's not the case. In fact, search engines, such as Google, penalize this activity. Instead of spamming backlinks, you should focus on building authority by creating high-quality backlinks. That means you should find websites and blogs that already have good reputation and authority, and are relevant to your niche to create backlinks on. This will undoubtedly build your own authority as you'll be recommended by reputable sources. Not just that, but the audience on those sources will deem you worthy of attention and will want to check out what you have to offer.
Engage in guest posting
Guest posting on other websites or blogs is a great way to build relationships with popular people in your industry and for creating top-quality backlinks. Basically, guest posting is an opportunity to write and publish articles on someone else's blog or website. However, you'll have to find the right blogger or a webmaster and convince them to allow you to share your content.
You could use a reliable link building tool to help you identify prospects that are the most valuable to you and design a compelling outreach message. Furthermore, the content you want to publish has to be high-quality if you want your backlinks to have any real value. That means that the content has to be relevant, creative, informative and entertaining. That way, the audience from the blog or website you're currently guest posting at, will find your content interesting enough to explore further and even check out your links.
Fix broken links
Broken link building is a great method for creating quality backlinks for your website and for boosting your web traffic. So what exactly is broken link building? Basically, you search for links that are no longer live on websites and blogs that are relevant to your industry and ask bloggers or webmaster to allow you to replace those broken links with links of your own. However, the content you provide has to be relevant to the content that was hosted on the broken link.
That way, you'll help the webmasters fix their broken links, while you'll also have an opportunity to create backlinks. Not only will you have backlinks on multiple sources, which will boost your web traffic, but you'll also find out that it's easier to fix a broken link than it is to create a new one. For instance, alerting a webmaster about a broken link may take a lot less time to generate a response than waiting for a response to an outreach mail.
Post content on social media
Social media is essential for every online business today. Various businesses build their presence on social networks and publish their content in order to drive engagement in their target audience. However, social links do not account for search ranking factors, but they can indeed boost your website traffic. Creating backlinks on social media can generate a lot of referral traffic to your website, especially if your content goes viral on social networks.
On the other hand, your social profiles do in fact rank in the search engines, so if someone searches for you by name or brand, chances are your social accounts may appear in the search results. Therefore, it's important to maintain your social activity and publish content that will generate backlinks for your website on social media. Your social links may not influence your search rank, but they'll definitely get people to visit your website.
Backlinks are one of the most important aspects of every SEO strategy. Not only do they improve online credibility, but they also boost website traffic by increasing the reach and exposure of online businesses. Having high-quality backlinks can greatly improve your business success, not to mention that search engines favor businesses that have quality backlinks as well.
Categorized:

Business Philosophy, Graphic Design, Web Design

Tagged:

authority, backlinks, content, guest posting, link building, seo, social media, traffic, website
Free Vintage Starburst Vectors
We've really been in a retro kind of mood lately, as inspired by a trip to a local vintage shop. What really caught our eye were the starbursts that decorated so many of 1950's fabrics and bakeware. So, we were inspired to create some free vintage starburst vectors for you. We hope the pack serves you well and gets your motivated to create something fun and dynamic.
To give your work some extra oomph, head over to our Arsenal, where you can have access to our entire library, including all of our vector files for only $15 per month.
The Arsenal subscription includes some of our other vintage packs (roughly $10 to $12 each), like:
Download our: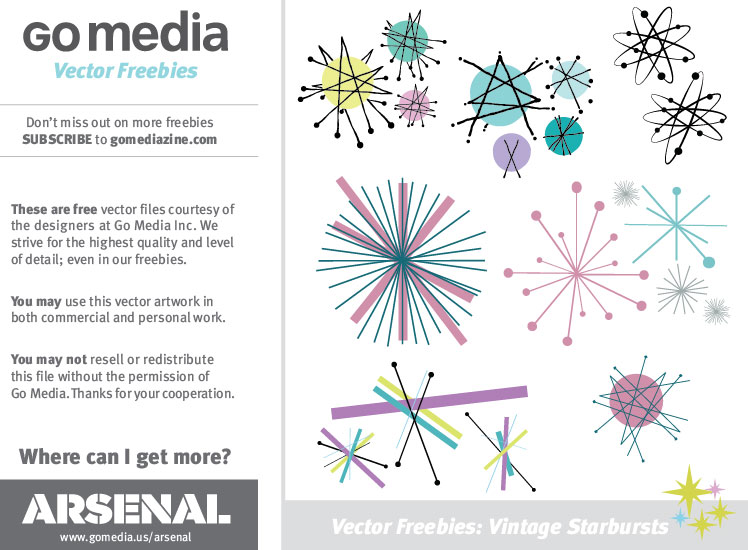 A New Marketing Strategy 2018
As a small business owner, you too have your share of new year's resolutions. You begin each year with the best intentions. But, let's face it, some resolutions are easier to keep than others. Take your marketing strategy, for instance. You've managed to keep it alive over the years with an action plan that can be described as arbitrary at best.
Thankfully the digital frontier makes marketing your small business a little easier these days. And so as we begin anew this year, we'd like to offer you a few simple tips on launching a marketing strategy for your small business in 2018.
First, a damage assessment:
a. The content on your website is no longer relevant. It needs to be either re-written, edited, or scrapped entirely.
b. Your website is not responsive, which means it doesn't translate to mobile devices. Translation: you're missing out on a load of potential business.
c. Your Social Networking skills are just sad:
Your

Facebook

feed is starving, because you haven't fed it all year.

Your

Twitter

page doesn't tweet, it coughs.

Your Instagram isn't instant, it's so 2013.

Resolve to jumpstart your marketing strategy in 2018 with these 7 useful tips:
New website, new you.

Rebuild your website, one that's fully responsive (meaning it will translate nicely to the mobile environment (i.e.,

iPhone

,

iPad, Samsung Galaxy, Google Pixel

, etc. ) and built on a current content management system (CMS) like

WordPress, Joomla, or Drupal

.

Keep your front end clean and your backend stocked.

Say Wha??? Think of your website like a virtual bricks and mortar store. Located on the corner of Revenue Street and Potential Avenue, your website is open twenty-four hours a day. And just like any store, the pages on your website (

aka

the "front end") need to look inviting. You can achieve this by seeking the professional advice of a web design firm [like yours truly] to furnish your company's website with a better user interface (UI) which will, in turn, provide your customers with a better user experience (UX). As for the back of your store (

aka

the "backend") you have to keep it stocked with the right inventory. This is achieved through Search Engine Optimization (i.e., the process of improving the search rankings of your website through a series of metrics and procedures such as keyword analysis, code optimization, onsite optimization, and link building). In other words, if you imagine your company website as an actual concrete thing, then it's not enough to just leave the lights on these days. You've got to treat it like an actual physical extension of your business, whether you see yourself as a shopkeeper or not, keep your shop clean, the shelves stocked, and the lights on.

Blah. Blah. Blah. or Blog. Blog. Blog.

It's all good. Blogging is a great way to maintain a regular dialogue with your customers. Your blog is the space on your company website that can undergo regular updates without disrupting it's more stationary aspects. Regular content updates improve the overall rank of your website. Blog proactively…about your business. Blog about your employees. Blog about your promos. Blog about your company history. It doesn't have to be exhausting or very in depth. The slightest blip on the radar, in the form of a little blog post, combined with a series of regular blips, will up your company's online profile.

Treat 'em like pen pals.

Maintain regular correspondence with your customers with marketing tools like

Constant Contact

and

MailChimp.

Send out regular eblasts, promotions, and newsletters. Use giveaways, grabbing goodies from sites like Couponobox.com, to peek your customers' interest to keep them subscribed. These marketing platforms are effective, easy to use, and they come with built-in metrics that allow you to measure customer behavior. Not bad.
Feed your social network on a regular basis

. After all, they don't call it a feed for nothing. If you don't already have a

Facebook, Twitte

r, and/or

Instagram

page for your business, resolve to launch one of each in 2018. If you've already got one but they've been lying dormant, now's the time to dust them off and get them working again. Don't be intimidated. These platforms are inherently designed to be fun to use. So have a good time with them, and keep it simple. Take your company content and slice it, dice it, and tailor it to the digital marketplace. Once you're done with those three platforms, considering adding another to your cadre of apps like

YouTube, Reddit, Pinterest, or Google+

. The more the merrier.

Be an opportunist.

The biggest commitment you need to make when managing a successful marketing strategy is time. Always be on the lookout for opportunities to promote your business. The digital space has essentially turned everyone into a potential guerilla marketer. But marketing can be ephemeral and pretty fickle. Your marketing strategy will dry up unless you care for it on a regular basis, and sometimes that means stealing time when you can get it, and not just during regular business hours. Stay inspired, and always be on the lookout for new opportunities to promote your business in different, unconventional ways.

Get a contact buzz!

Sponsor a high profile event in your area. Popular events often promote themselves organically. People attend the event, they check in, take pictures, and tag the room from head to toe with potential customers. The buzz spreads like wildfire. Get buzzed by proxy by sponsoring events that are consistent with your business model.
Resolve to build a better marketing strategy for your business in 2018. Contact Go Media, your Cleveland marketing specialists through the power of design.
Happy New Year! Now get back to work!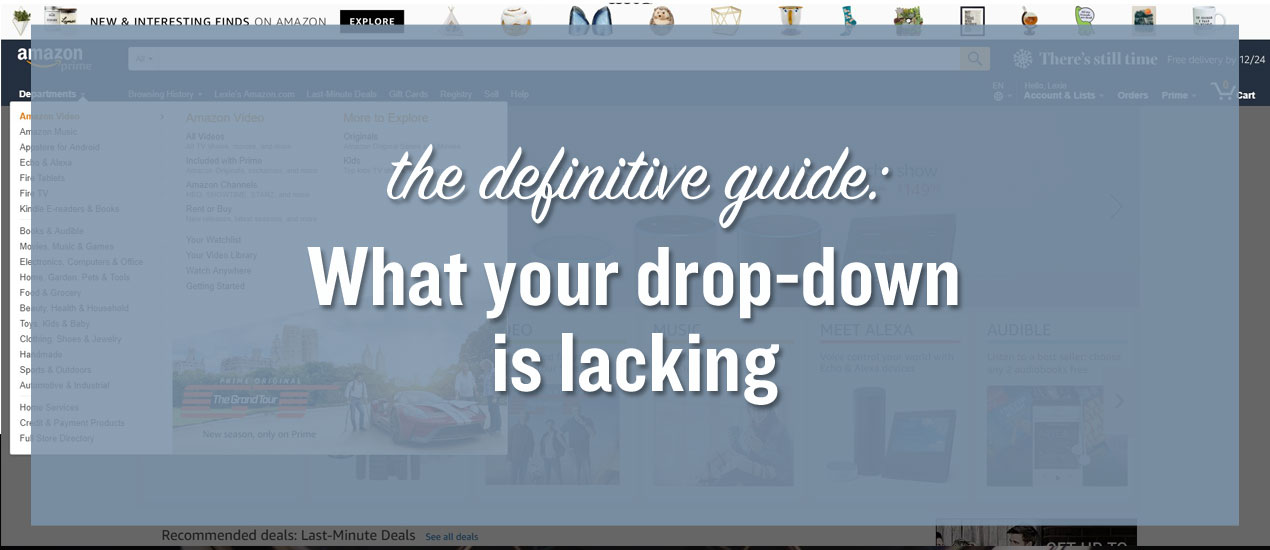 How to Improve Your Drop-Down Menu
The navigation menu is central to the user experience on a website or mobile app. When we visit a website, we have a particular goal in mind. We want to get somewhere on the site as quickly as possible. Usually, the drop-down menu is the most efficient way to do that.
Optimizing your navigation menu should be a top priority. Here are some things you should do to optimize it, plus some you shouldn't.
Do Kill the Clutter
Keep your navigation simple. You may have tons of sub-pages and a variety of product categories, but you don't have to include them all in your main navigation. There are other ways to set this up. Alternatively, you could create a top-seated breadcrumb-style menu to offer easier navigation through lesser sub-pages, while keeping all the juicy stuff in the main nav.
When you open a nav menu, you don't want it to take up the entire screen. Many retailers and e-commerce sites do this, and it's poor design. You want navigation to be quick and easy, but that also means keeping a lid on the box. If you add too many options, things get cluttered and confusing. This is especially true on mobile, where the screen is much smaller.
The restaurant Denny's did this with their newer design. The menu displays the most important categories first. When you select one, it opens to reveal sub-categories or additional options.
Do Use Borders or Shadows
Adding a subtle border or drop shadow to your menu helps it stand out from the rest of the page especially if you're using a lighter background. This isn't so important when you have plenty of negative space below your menu foldout. However, if you have images or text content, sometimes these elements can make the menu harder to differentiate.
Do Consider Applications
When browsing on desktop, it makes sense to have the drop-down menu or main nav take up the width of the page. On mobile, however, where there's much less space to work, a collapsible menu is the better choice. Consider the applications for your menu, such as how and where they will be used. This makes a huge difference when it comes to the function, style and even layout of your design.
Do Include Images or Icons
Most menus are text-based, which is a shame because many devices can display high-quality HD content. Why not spruce things up and make your menu more engaging? It's okay to add images, icons or even visual indicators to your menu alongside text labels.
An auto seller or manufacturer, for example, might consider putting images of the vehicle next to the model name. As a bonus, this can also help when people know visually what they're looking for, but don't know the model.
Formula Boats gets this right with their visually appealing dropdown menu. Open it up, and you can see all their boat models, making it easier to choose between them.
Do Use a Column or Grid-Based Design
Column or grid-based navigation menus are better organized, simple to understand and easy to create. Keep your dropdown menu structured appropriately, especially since consumers and internet users are so used to this design technique.
Don't Have a Disappearing Menu
Ever notice when a site uses a dropdown menu, it remains visible and follows you down the page? This is good web design, especially on mobile. The main navigation menu is always only a tap away, no matter how far down you scroll. This is important for infinite or lengthy scrolling sites.
Amazon has one of the best examples of this anywhere. While their menu doesn't collapse, it is a mega menu with a dropdown design. It's visible no matter where you are on the site, on both desktop and mobile versions. Customers retain quick access, to any section of the site.
Don't Use Unclear Headings
With a dropdown menu, you're going to have quite a few menu items in view. That's alright, so long as you have clear headers to differentiate the varying categories and pages.
For example, an electronics retailer might have categories for home theater, laptops and PCs and printers. The correct way to structure this is to bold the headers of each category so they stand out. The improper way to do this is to list all the options in the same font, color and weight. Then you end up with one list of items, and that's confusing.
Take a look at the official Columbia site. Pay attention to their mega dropdown menu and how it's structured. Notice how the header for each category stands out from the rest? Now imagine if all those fonts were the same. Even with the columns separate, things would get confusing.
Don't Forget to Test
You may prefer Chrome over Microsoft Explorer, or maybe you use Safari. Whatever the case, the worst thing you can do is assume everyone has the same preferences as you. One of the biggest mistakes you can make with web design is not testing your setup on multiple platforms.
Before you roll out the final design for your drop-down menu, check it out on multiple devices, browser types and resolutions. The content may scale differently on certain platforms, which could ruin your perfectly crafted menu.
Look no further than IWC Schaffhausen. Open their site on desktop, and you see a drop-down menu with high-quality images of their watches. This makes sense considering you want to choose a watch that looks good. But on mobile, the menu acts differently. Instead of a full menu that takes up the entire screen, you only see a few of the watches, and you must scroll left or right to see the rest.
Don't Neglect a "Best Sellers" Section
One of the beneficial aspects of a drop-down menu is when you structure it appropriately, you will have some wiggle room — some space to be innovative. Instead of doing something wild, include your popular or best sellers here. Your customers can jump to your most popular product or service right from the get-go.
Don't Make It Sluggish
You want your site to look beautiful, and that means including animations, visuals and effects. But you don't want to hinder the experience by creating something that takes too long to load. It is possible to bog down a drop-down menu, making it sluggish in the process. More importantly, you have control over open and close times, where it appears on the page and how hover elements work. Keep this in mind when designing your menu.
The same is true in the opposite direction, too. If a user is moving their mouse over a menu, you don't want it to pop open and block another element they're trying to interact with. Find the sweet spot — usually a half a second — before that menu shows up.
Time to Overhaul Your Menu
If you noticed one or two things on this list that conflict with your drop-down menu, you may want to head back to the drawing board. You see, the navigation menu — dropdown or not — is central to your customers' experience on your site.
Think of it in terms of a brick-and-mortar storefront. When you go into a grocery store, the building is laid out and organized. Each aisle has a purpose and is properly labeled. If you want something specific, you can usually find the aisle quickly. Now imagine if all those signs were gone. It would be utter chaos.
Your nav menu is the equivalent of those signs in digital form. Not only do you need them to direct traffic, but your customers need them to understand your design.
Lexie Lu is a freelance UX designer and blogger. She enjoys researching the latest design trends and always has a cup of coffee nearby. She manages Design Roast and can be followed on Twitter @lexieludesigner.
Categorized:

Graphic Design

Tagged:

application, desktop, drop-down, dropdown, e-commerce, ecommerce, headings, icons, images, menu, mobile app, navigation, optimization, website