Articles by Month:
December 2017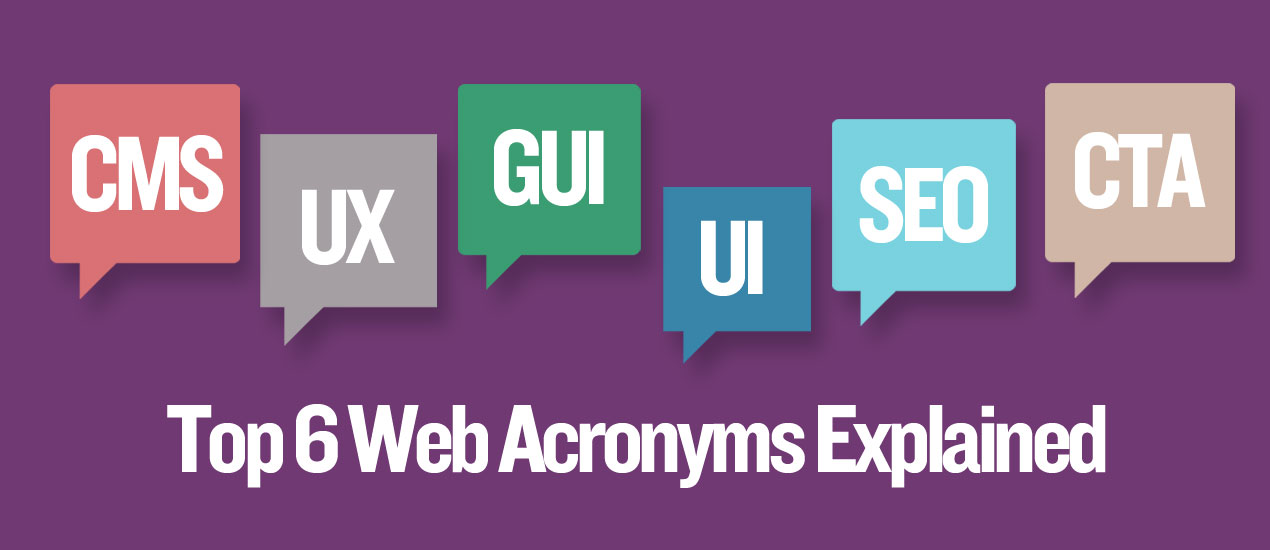 Get to Know these Web Acronyms
Acronyms acronyms acronyms! Today it seems we're drowning in a sea of acronyms. Everybody uses them in business. Some people use them for good, for example, to explain perhaps an otherwise complicated thing that requires some simplification. Others use them for bad, as a smokescreen to keep clients in the dark. Most of us, however, just misuse them because we take for granted that, when we engage in tech-speak, not everyone knows what we're talking about. To the average "Joe," this stuff is not innate knowledge.
This article is inspired by a recent WordPress training session we had with a client. After several months of working very closely with this client on their new Go Media Designer Site, they asked, "What's a CMS? And do we have one?" A perfectly normal question to ask under any other circumstance. But with it being nine months into the project, it was a major red flag. It was at that moment when we realized that we hadn't done a good job explaining things to them early in the process. We vowed to do something about it.
Go Media believes that the process of creating beautiful and intuitive, fully responsive websites should be presented in a manner that is easy to understand. Any self-respecting web design and web development team worth its salt sees the value in explaining "tech speak" to their clients.
In an effort to clear the smoke and mirrors, as well as the hocus pocus behind the business of web design and web development, we give you our Top 6 Web Development Acronyms explained:
CMS:
Once again, this is the acronym that inspired this very article. CMS is short for Content Management System. A Content Management System is a computer application that supports the creation and modification of digital content (i.e., all the stuff that goes on your company's website). A CMS is the very thing (i.e., application) on which your website is built. Here at Go Media, we're big believers in WordPress for Web Design and Development. It's our personal favorite. Just sayin'.
UX:
Short for User Experience, UX literally refers to the more palatable, emotional response we have toward the devices, gadgets, systems, and platforms we interact with on a daily basis. When it comes to building the perfect website (one that possesses beauty and functionality in spades), UX is HUGE! Providing a comfortable, rewarding UX experience through beautiful, fully responsive web design (see Go Media Designer Sites) that's fun to use is what we strive for.
UI:
Short for User Interface, this rather beautiful, perfectly contoured little acronym kind of looks like the very thing it refers to. User interface can be a thing of beauty. At its core, it concerns the way in which people interact with your website and just how user-friendly your website is. The quality of a website's UI is really determined by how well the site is designed.
User Interface can also be very compelling, because, in order to fully understand it, you start getting into the emotional and physical responses that individuals have to your website. For our purposes, however, we'll cut to the chase. Translation: Your website should feel intuitive and easy to use, and it should look good too. Seek out the Web Designer who possesses the skill to create a dashing website that is beautiful with a satisfying user interface. Beware the web designer who neglects to tell you exactly what UI means.
GUI:
Pronounced like "gooey", the GUI, or Graphical User Interface is UI's kid brother. Graphical User interface refers to the overall look and feel of your website and all the little things [represented as graphic elements] that visitors to your website can click on to access information: icons, menus, buttons, images & video, etc.
At Go Media, we take GUI very seriously (despite the fact that it kinda reminds us of salt water taffy, which we love by the way). In addition to being talented Cleveland Web Developers, we're also accomplished graphic designers. The two go together like hand and glove. GUI is what happens when we put our heads together. The overall look and feel of your website plays a major factor in the success of your business. Seek out the Web Design firm who understand the importance of getting GUI right!
SEO:
SEO (or Search Engine Optimization) is the process of improving the search rankings of your website through a series of metrics and procedures such as keyword analysis, code optimization, onsite optimization, and link building. Confused? You're not alone.
At its most basic, SEO is simply a matter of taking the right steps to improve your website's global profile. In terms of marketing your business these days, SEO is THE hot property. More and more businesses see the value in it. The process of "getting optimized" as we like to call it is necessary in managing an effective online strategy for your business.
CTA:
Short for Call to Action – a CTA is a prompt on a website that tells the user to take some specified action, such as 'Read More', 'Contact Us', or 'Buy Now'. The CTA generally takes the form of a button or what is known as a hyperlink (i.e., a special link that visitors to your website can either click, tap, or hover over to access other parts of your website).
So there you have it. Hopefully we debunked some of the mysteries behind these common but confusing acronyms. Heck, if you found this article helpful (and we hope you did), print it out and take it with you the next time you're in the market for a new website. To paraphrase the great Sy Syms, "An educated consumer is the best customer."
Plan on building a website for your business? Don't get lost in a sea of acronyms. Drop us a line. We'll remove the guesswork.
Tips on How to Boost Usability of a WordPress Website
It is a small world, but the digital world is even smaller. Therefore, it is important to safeguard your brand's reputation as a single miss from your end can affect your brand's identity. One of the places where you have to keep your brand's identity in mind is your website and blog. It is your brand on the virtual world. It is your window of getting more opportunities. Therefore, it is essential to ensure that your website is easily accessible and attracts your target audience.
While there are many several web development options that you can use to create your website, one of the easiest and efficient ones is WordPress.
WordPress allows you to develop user-friendly websites and helps in making it usable with its easy-to-use plugins, navigational tools, etc. We are going to give some easy tips on how you can boost the usability of your WordPress website.
Below are few tips that will help you:
Tip # 1 – Website should be visually appealing
First impression, as we always say, is the last impression. Now, imagine for a minute – would you explore a website with confusing navigation, garish colors, and designs that take ages to download, Or would you prefer to explore a website that is easy to navigate and has eye-appealing color combination and good design. Most likely, you will choose to explore the latter website.
You might find us repeating us ourselves, but we cannot stress enough on the importance of creating a website that has an easy workflow with good visual impact. Also, ensure that you update your website with the latest principles of website designing as what worked ten years ago might not appeal the visitors anymore. So, it is important to update your website regularly to keep your visitors engaged in your website.
Tip # 2 – Go mobile!
Let us face it – people access information on mobile more than on laptops and desktops. So, it is critical for your website to be mobile-friendly. Your target audience should be able to access your website on the go! And this is possible only if your website has a responsive design. Now, you might ask if you have to upgrade your website. The answer to it is a loud YES! Earlier, websites were typically designed keeping the PC in mind.
The mobile screens are small and viewing your website on mobile can be an arduous task. Your visitor may have to scroll sideways and downwards to read even a small paragraph of text, and that can be a great disadvantage considering that people no longer have the patience to scroll so much to read a small chunk of text.
A responsive design makes your website mobile-friendly, so the visitor can read the content easily without having to scroll/zoom much. If you are wondering if it is a tough task, then let us assure you – it is not! With free WordPress plugins such as Jetpack, you can optimize your website for smaller screens and make your content accessible on all devices.
Tip # 3 – Don't break the link with your website visitors
Imagine this scenario – a reader comes across your blog post that has a link to another website, they click on it and come across an error saying the page is not found. Disappointing isn't it? You almost lost a potential visitor there.
It is important to ensure that there are no broken links on your website. Be wary of adding broken links that direct visitors to empty pages. There are chances that the link you added today might not work few months down the line.
Now, monitoring every link might not be possible. But, WordPress has a solution to it. There is a plugin called Broken Link Checker checks for posts and pictures that have a broken link or missing images and notifies you about it. That will help you rectify the issue and keep your website updated.
Tip # 4 – Make website navigation seamless
Yes, we know we are repeating ourselves. However, this is crucial, and no matter how many times we repeat, website developers miss this simple but very important aspect of your website. It is a fast-paced world, and no matter how beautiful your content is, people are not going to read it if your website navigation leaves them with a bad experience.
From logical navigation (you don't want the website visitor to navigate from About Us to directly Contact Us without going through the other parts of your website), to adding a sitemap to make it easier for the visitor to explore the website, and linking your logo to your website's homepage; every small aspect adds to the customer experience.
Tip # 5 – Interaction with website visitors = potential customers
We live in a time where we require immediate solutions to our queries. Earlier, visitors had to either post their queries on the 'contact us' form of the website or call the helpline and wait for their turn to get their queries resolved.
Now, times have changed. Customers prefer to use different Omni-channels to resolve their queries. Therefore, while you can provide offline options such as a helpline to enable visitors to reach out to you, there are also options such as live chat window that can help you chat with your visitors real-time and resolve their queries at a less turnaround time. With quick solutions and proactive suggestions, you will be able to convert the leads into customers. WordPress offers plugins such as WP Live Chat Support that can help your website visitors to connect with you easily without third-party interference.
Tip # 6 – Attract your users with your content
When we talk about the usability of the website, we often focus on the design and user interface of the website. However, one thing that distinguishes your website from your competitor's is the quality of content. Ensure that your content is useful and is regularly updated. Remember that while a picture talks a thousand words, it is your content that will convert your visitors into leads. So, always keep your content as the focal point even as you update your website.
In conclusion
Website is not just another marketing exercise to be done for the sake of creating online presence. It is an important means of generating leads for your business. So, always ensure that your website is user-friendly and dedicate time to maintaining it regularly. A good content with great design, navigation, and real-time customer service is the key to success of your website and your brand identity on digital space.
When selling a product, the first option that may spring to mind is to become a retailer for that item. However, you also have the potential to become a brand owner — the person or group that holds intellectual property rights.
In that case, there is more control over which outlets sell the brand, how available the product is in the global marketplace and other specifics. Below, we'll go over several things you need to do during your quest to become a brand owner instead of just a retailer.
Have Ideas for Products That Aren't Available Elsewhere
A major factor that causes a person or company to be a brand owner rather than filling the role of a retailer is the presence of ideas for things that aren't currently available — or knowing how to make things that are better than what people can buy now.
Maybe you love the outdoors and have been thinking about creating a water bottle that makes purification easier when people are roughing it in the middle of nowhere. You might already run a business that stocks outdoor products. However, it probably feels like carrying a selection of inferior water bottles makes your customers miss out.
In the above scenario, becoming a brand owner lets you stock your products in your store. As a result, you can spread the word about them and give current customers easy access to the merchandise.
Protect Your Brand or Product
It's crucial to go through strategies that protect your brand from dilution. It occurs when there are too many similar products in the marketplace, causing people to become confused about all of them and have difficulty with differentiation.
If your own name is also the brand, you can trademark it, as Oprah did. She's one of the few people who've taken that step to set herself apart. After securing the trademark, it's also necessary to keep an eye on the internet and make sure merchants aren't using it without permission. Setting up Google alerts can help you stay more aware compared to manual monitoring alone.
If your product is unique or has characteristics other items don't, you need to strongly consider filing for a patent. Otherwise, other brand owners could see your products and copy attributes about them.
To ensure your brand and products and properly and thoroughly protected, consult a lawyer who has experience assisting other people in your situation. That person can advise you on the best measures to take, plus tell you what to do if you notice companies or individuals infringing on your property.
Generate Curiosity About the Brand
As a brand owner, it's necessary to adjust your business strategy and focus on stimulating interest within multiple groups. The more curiosity you cause, the higher the likelihood your efforts will lead to sales and fruitful business partners.
Retailers merely convince shoppers to buy products. As a brand owner, you not only have to do that but also network with distributors that extend the brand's reach when necessary. Being successful in that task requires showing genuine excitement for your brand and describing why it's worthy.
Build an Appealing Website
The internet is the first place many people will find out about your brand. Invest time and money into creating a strong web presence that reflects what you offer. Does your brand cater to busy businesspeople, or adventurous travel lovers? Regardless of specifics related to the target audience, make sure the website's design, copy voice, images and content support the brand. Then, it's easier to convey what makes your brand stand out and why people should care.
Set Up — and Oversee — Social Media Accounts
Having an informative and user-friendly website is a good start, but you also need to maintain active and interesting social media accounts. Take your time during the setup process and fill out all the relevant sections of a social media profile. Use the same approach to content as building your website and angle it to develop and strengthen your brand at every opportunity. Update social media regularly, too. Ongoing updates boost traffic and engagement.
Also, realize a social media page could quickly become the go-to internet destination for someone who wants to tarnish your brand or is unhappy for some reason and wants the world to know. That's why it's crucial to develop and uphold a plan for moderating social media pages.
If you can afford it, hire a moderation team or person to supervise social media and intervene when required. Also, decide what constitutes intolerable behavior. If people continue to break the rules after being made aware of what's acceptable, ban them and keep track of their IP addresses.
Also, never ignore customers who are truly disgruntled about something brand-related. Instead of keeping up with a publicly viewable content string, you may find it's more comfortable and private to ask an upset person to send you a private message or call a dedicated phone number to explain their concerns further.
Come up With a Licensing Plan
Licensing is the best way to realize the full value of brand equity because it provides new avenues for promoting, manufacturing and distributing your brand in new markets. It's essential to prioritize obtaining license agreements as a brand owner to achieve staying power in a crowded marketplace.
There are various ways to do that. Visiting trade shows is a great initial step. They connect brand owners with companies interested in growing the collection of merchandise they offer.
Furthermore, don't ignore cold calls and social media outreach techniques from potential licensees. Consider that some of the companies most suited to signing licensing agreements may be from other countries, meaning you'd not necessarily encounter representatives at domestic trade shows.
Also, don't get too eager and sign agreements with any company that gets in contact. Licensees are representatives of your brand, and if they don't stick to minimum standards when associating with it, all the hard work you've done as a brand owner could quickly become nearly useless.
When evaluating whether to accept a potential licensee, ask about the direction they want to take the brand. If it doesn't align with at least most of your goals or seems in direct opposition, think carefully before finalizing a contract.
Understand What to Expect
Many aspiring brand owners fixate on all the positive aspects of the outcome. Indeed, the advantages are compelling, and the ownership and responsibility involved are quite motivating.
Having a realistic perspective is crucial. Taking steps to become a brand owner is typically more difficult and less straightforward than being a retailer. Because of those realities, you cannot anticipate quick results.
However, it's not hard to understand why brand ownership provides such a substantial payoff to the people who do it right. Many brands become timeless segments of the pop culture landscape. Consider names like Coca-Cola, Apple and Mercedes-Benz.
As an owner of your brand, you enjoy an unprecedented amount of control over how it appears in the marketplace. Brand ownership also gives more freedom to shape what people think of the brand and perform reputation management as needed.
After reading these steps, it shouldn't be hard to realize why many entrepreneurs see brand ownership as such as appealing concept. If you can relate, don't get intimidated by the length and complexity of the process. Instead, persevere and recall that owning a brand could result in long-term profits and recognition within an ever-crowded consumer landscape.
Hello everybody! Mike Miller here, Copywriter at Go Media. Today I'm going to talk to you about meeting deadlines as a professional copywriter. But first, a little disclaimer:
I used to follow the old Jack Kerouac/Hunter S. Thompson approach to churning out copy – on a healthy diet of absolute debauchery (cue Ian Dury & The Blockheads, please). I'm not gonna lie. It was a hell of a lot of fun for awhile. But unfortunately it wasn't the healthiest way to meet deadlines. Luckily I wised up and figured that, if I wanted to survive and make a decent living, I had to develop a healthier, less self destructive approach. I soon discovered after cleaning up my act that my inherent weirdness shone through regardless of my routine.
So here are some tips for aspiring copywriters on meeting deadlines without losing your edge (aka The Reformed Person's Guide to the Writer's Life).
Tips for Meeting Deadlines
Visualize the Finish Line. Paint a mental picture. Keep your deadline at the front of your mind, like a beacon of light at the end of a tunnel, or the end of a demanding race with a cheering crowd waiting for you at the finish line.
Know your subject. Investigate. Do your homework. Get acquainted with your client and the market they serve. This process is much like having a conversation with someone you've just met. Usually there's a preliminary phase when you're fishing for small talk. Eventually you find a common thread to follow. The same applies when writing for hire. Schedule a couple days for total immersion in your subject matter, relative to your deadline, and dive in. Give yourself the opportunity to effectively learn the lingo and body language of a specific market so that you can convincingly talk the talk and walk the walk, both figuratively and literally. To paraphrase Bob Dylan, "know your song well before you start singing."
Take note of things that pique your interest and grab your attention while investigating your client's goods and services. It's precisely the little things that grab your attention early that might help move your narrative forward should you get stuck attempting to communicate an idea further on up the road.
After you've done your homework, find an angle – a thematic hook – from which to intuitively get some traction. Dig in your heels and use it as a launch pad to get started. [Note: If this sounds a bit abstract, just stick with me here. The creative mind often relies on intuition to carry it forward. Finding a hook means trusting your instincts and letting intuition be your guide.]
Get some exercise. Nothing frees the mind better than a long walk, jog, or bike ride. I had a writing instructor in college who taught me the importance of physical exercise to open the mind and generate ideas. Over the years I've found that it's a tried-and-true, effective way to shape ideas. But don't go out there empty handed. Be sure to bring along your phone or a voice recorder to capture your ideas while on the move. [Side Note: I've established a few physical routines over the years to fortify my writing. First, long runs: I often start a run with my mind all scrambled; but by the time I finish, everything is all sorted out. Works like a charm. Second, I prefer to commute to work each day by bike. I find it provides a great opportunity to get inspired and focus on conquering creative road blocks. On top of that, a morning or evening walk is always a winner. After all, walking is the most essential form of exercise. And since running and biking isn't for everyone, walking is a relatively safe alternative. I actually dictated the first draft of this article on my morning walk. No kidding.]
Get started. Freestyle. Don't be cautious. Don't ease into your first draft. Charge! Like a bull in a china shop! It's the best way to combat all of the emotions that stifle writers at the start of any project: trepidation, apprehension, consternation, and most importantly, procrastination – all those -ation words. They're a bummer. But you can beat them by being bold and a bit daring with your first draft.
Take, for instance, the toughest of them all: Procrastination! You're inevitably going to procrastinate. Everybody does. It's human nature. In fact, some of you out there (myself included) might swear to writing better under pressure. To heck with that. Don't let your deadline control you. Know your timeline inside and out and stay on top of it.
The sooner you get something down on the page, the closer you are to the finish line. And, as an added bonus, the sooner you begin, the more time you free up for dilly dallying later on [dilly dallying: verb dil·ly·dal·ly-ing  \ ˈdi-lē-ˌda-lē-ing \ : 1. writer's speak for engaging in a bit of frivolity to give yourself a break. 2. a technical term for screwing around on the job.]  
Drafting. Hit the ground running with what I like to call the "word vomit" or "brain dump" phase of copywriting. Sounds kinda gross, I know. And it can be, depending on how your mind works. But it's rewarding nonetheless because this is the point in composition when you just go for it by leaning into your hook or your angle, pounding out ideas on your typewriter (or pc, tablet, or whatevs) like an old newspaper man. Your first draft doesn't have to be pretty. It doesn't even have to make sense. Let it run wild. To heck with punctuation and proper diction, or even rational thought for that matter! Your first draft is your most organic and primordial – where your best ideas are born and begin to take shape. Keep it raw.
"The rain in Spain looks strange from the plane. And it's downright insane." No.
" The rain in Spain drains like a water main on that godforsaken plain?" Not quite.
"The rain in Spain stays mainly on the plain?" Yeah! That's it!
Editing is fundamental. Proactively read and re-read what you've written. Make changes and adjustments to your copy by reworking and rewriting your text as you read through it. Be diligent. Take notes. Doublecheck your deadline, and keep carving until you're sure you've shaped your text to your liking. You'll know it when you see it. [Note: I recommend a three draft minimum for any project, and I don't mean "barley pops" either. Save that for when you're done.]
Cutting room floor stuff. One of the biggest stumbling blocks that writers encounter is the fear of letting go – letting go of a good idea that doesn't quite fit thematically with the rest of their work; letting go of a bad idea that just doesn't cut it. Point is, don't get precious with your work. Don't be afraid to leave content on the cutting room floor. You can always keep track of any unused ideas by simply cataloging them in a separate file. Good ideas are recyclable. An idea that seems unfit for today might come in handy tomorrow.
So those are my tips for meeting deadlines for aspiring copywriters. Remember to stay busy. Stay healthy. Stay weird!
For more information on a complete list of communication services for your business including copywriting from Go Media, Holla!
-Michael J. Miller
How Strategic Branding Can Help your Business
One way to stand out from the competition and make a mark on the internet for your business is through strategic branding. You've likely noticed branding via offline platforms, which is when companies use a tagline or some other identifying tactic to keep the brand in the mind of consumers. Think about some of the billboards you pass on a typical day, for example. However, branding on the internet is an entirely different game.
With so many different choices on methods for branding online, it can be difficult to know where to start. Fortunately, there are some tried-and-true ways to brand online that will benefit your business and not cost you much out of your overall marketing budget.
Street teams originally started out as a way for the music industry to promote artists, but has developed into a method that all types of businesses use. About 33 percent of consumers say they trust a message from a company, which isn't great, but 90 percent of consumers trust a recommendation from someone they know, even if they just know the person in passing.
This is where your street team comes into play. You should have a database of fans who will go out and tell others about your company and products. This can include social media influencers, people who have been customers for many years and brand ambassadors who you send free products in exchange for their word-of-mouth advertising.
Red Bull utilizes a street team/brand ambassadors to get the word out about its product. The way it has implemented its strategy is to have tiers within the team all the way down to student ambassadors who will recommend the product to their friends.
91 percent of B2B marketers use content marketing to promote to potential clients, making it one of the most popular B2B online marketing methods. You've probably heard that content is king, and in some ways, this still holds true.
However, you have to ensure the content speaks to your target audience and provides some value to them. Gone are days where businesses could keyword-stuff a page, drive traffic and find success. Today's savvy business owners expect and demand value for their time.
Small businesses need a convenient way to get active online and begin building that brand image. One key thing is figuring out how to connect with other small businesses, but statistics show that businesses with better listings receive as much as 347 percent more searches than those with subpar listings. A company called Manta helps with Google AdWords placement, figuring out SEO for local listings, social media timing, online reviews and preparing for mobile search traffic.
One example of a company using this platform is Mericle Commercial Real Estate Services. The company specializes as a developer of industrial sites and office buildings, so the ability to connect with other businesses is a real help.
Get everyone in the company versed in how to use social media to promote the business and then allow those who seem to be savvy to promote on your behalf.
Studies show that leads that are generated by employees via social media are about seven times more likely to have high conversion rates. The key is training employees on what to say and what not to say or to simply ask them to retweet and share.
Customer Service on Social Media
Every day, there are 2.1 million negative social media posts about U.S. brands, which means people are very likely to go online and voice their complaints. Since your goal is to please your customer and show others you care about your customers, it is a smart move to hire customer service specialists to handle social media complaints. The reps simply reach out to those complaining and offer to fix the issue.
JetBlue airlines is an excellent case study of how to use social media to respond to your customers in a pleasing way. When customers complain, it immediately responds, asks for flight info and provides an update.
A person has to see your branding approximately five to seven times before they remember it, as a rule of thumb. Of course there are exceptions to that rule, but it goes to show that you need to put your eggs in more than one basket when it comes to online marketing. Think about where your target demographic hangs out online. If most of them are on Pinterest and a specific crafting site, then that is where you'll advertise, as well as by using AdWords with a similar keyword range.
The number of people using mobile devices to access emails has risen by 180 percent over a three-year period. With more and more people using their mobile devices to get online, it is a smart practice to take those emails you've collected and send out a message here and there. You can offer stories about your company, discounts, free shipping, customer testimonials, etc.
Groupon sends out emails several times a week that are segmented to offer specials that particular group of subscribers would be interested in. This highly targeted form of advertising has been quite effective for the site. Those emails are also mobile friendly and can be easily read on a personal computer or a smartphone.
If your company isn't focusing on branding online yet, then you can see why it is vital that you do. You can easily expand your customer reach by doing online marketing. The key is to be smart about where you spend your marketing dollars. Even though online marketing is a fraction of the cost of traditional print advertising, you can still waste a lot of money if you don't go into it with a very specific strategy and marketing plan.
Lexie Lu is a freelance UX designer and blogger. She enjoys researching the latest design trends and always has a cup of coffee nearby. She manages Design Roast and can be followed on Twitter @lexieludesigner
Categorized:

Business Philosophy, Graphic Design, Small Business

Tagged:

branding, content marketing, customer service, emails, internet, marketing, mobile, mobile friendly, seo, street team, traffic