Articles by Month:
July 2018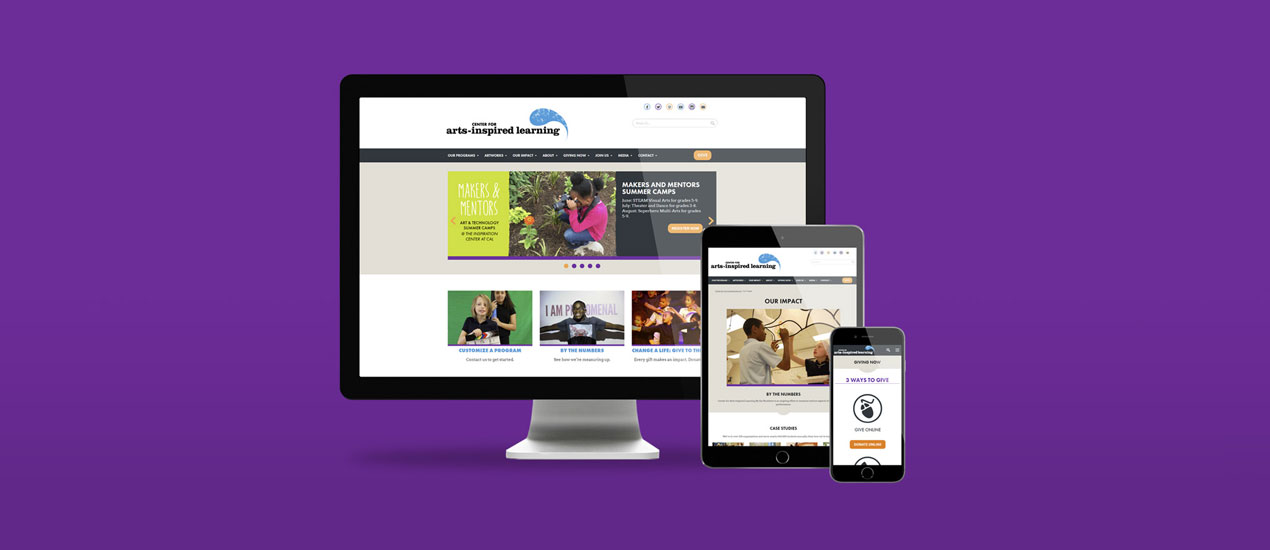 Go Media, your favorite Cleveland-based web design, branding and design firm, is so proud to have had the pleasure to work on the website for the Center for Arts-Inspired Learning.
The Center for Arts-Inspired Learning is a non-profit organization that brings unique learning experiences to students through the arts. 'CAL' as they are affectionately known has impacted the lives of 7 million students over eighteen counties through arts education. As former board members, it was our great privilege to help them on their mission to ignite student learning, creativity and success by building them a highly functioning, intuitive and fun website. Our goals were to increase awareness, drive fundraising and to have the overall feel of the website reflect the creative nature of the organization.
The new Center for Arts Inspired Learning website was built upon Go Media's Designer Sites Platform. The site is built in WordPress, the leader in content management systems. WordPress sets the standard for ease-of-use, which is key when you have a number of contributing members to your website. This CAL website is enhanced by Go Media's Page Builder on page editing tool. This powerful and intuitive content management tool allows members of CAL the ability to make live edits directly to pages without having to use WordPress' backend.
Take a peek at some of the work we did on the website here:
CAL does a very special place in our hearts and we trust the website will assist them to assist their goals in uniting art and education to change lives. To learn more about their programs or donate to the cause, please head to the CAL website.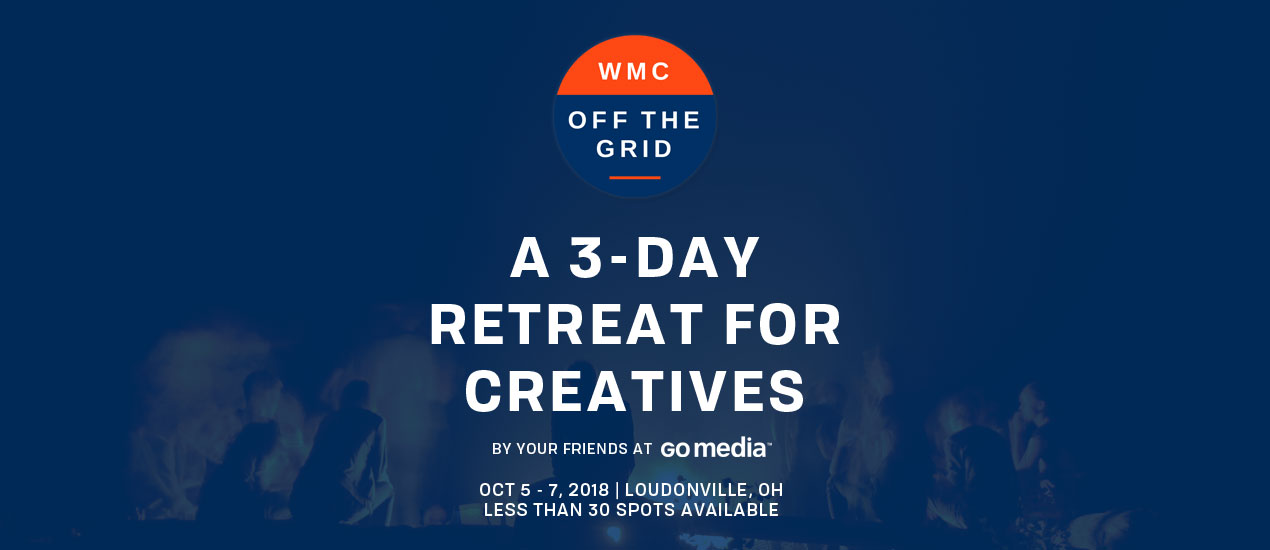 Design Conference 2018 – WMC: Off-The-Grid by Go Media
We here at Go Media (your favorite design shop in CLE) are thrilled to introduce a new event to our community this year, an offshoot of our annual design conference Weapons of Mass Creation Festival, called WMC: Off-The-Grid. WMC: Off-The-Grid is an all-inclusive three-day weekend retreat aimed at YOU, the designers, illustrators, small business owners and other design-minded creatives looking to step away from the screens and social chatter that pull you in a million different directions daily. You will come away with tangible tools and action steps you can use to grow your skill set, your mindset, and your business to become more confident design leaders in your communities.
The event is to take place October 5 – 7th, 2018 at Mohican Adventures in Loudonville, Ohio.
So why do we believe you can't miss it?
Reason #1
Skyrocket your business & grow your skillset in order to become a more confident design leader in your community.
WMC: OTG is not just your everyday conference. The talks and workshops will dig deep, characterized by a sense of intimacy, authenticity and transparency you won't find at just any conference. Secrets aren't kept here, so expect to hear how our faculty made mistakes and overcame them, how they have built their own businesses from the ground up, the tools they have used, and tricks of the trade. You'll leave with tangible skills and action steps you can use to increase profits, become more valuable to your employer and build and maintain more successul design firms.
Reason #2
Step Away from the Social Chatter and Focus on Your Craft
Imagine what would happen if you turned off your notifications, put down your phone and truly had time to make connections, learn from the best and focus on your craft. For two days and three nights, you will have the opportunity to truly unplug and have some serious face time with nationally recognized designers and creatives you've admired from afar. You will also have time to network, building relationships that have the potential to help grow your business and client list for years into the future. Friendships will be made, undoubtedly. Quiet moments will refuel us and propel us forward as we move into late 2018/2019.
Reason #3
Learn from the best of the best.
Speaking of our faculty, each of these incredible creatives should be a reason on their own, but we'll group them together for the purposes of this list.
Here is our phenomenal list and a little bit about them. You can learn more about each of our faculty members here.
Shiu Pei Luu, Art Director for Facebook and Creative Director and Co-Founder for The Beehive Society, a non-profit that fosters creativity through pop up art shows and workshops facilitated around the Bay Area. Shiu Pei Luu will be teaching a workshop on Character Design. She'll also be speaking – her talk title is "Diversity is Design and the Roles We Play."
The Banner Years, a customer experience studio who has worked with the likes of NPR, Coca-Cola, Disney, Lionsgate, Sony, and more. Their workshop is on "Contracts and Collections" and talk entitled "Swimming to the Shore."
Tony Diaz, founder of Austin's Industry Print Shop and someone who has undoubtedly cemented himself as an authority on all things screenprinting. Tony's talk will be called, "It's Not Where You're From, It's Where You're At."
Ken Schneck, producer and host of This Show is So Gay, the long-running, award-winning radio show and podcast. Ken's workshops will be entitled, "The Art of Shameless Self Promotion" and "Creating a Community of Individuals (AKA: Herding Cats to Do Good)"
Marshall Shorts, award-winning entrepreneur, owner of Soulo Theory Creative and co-founder of Creative Control Fest. Marshall's talk is called, "This Moment On."
Dylan Menges, owner of Menges Design, who has a client list including Subaru of America, Mozilla, Sherwin Williams, and more… Dylan will be teaching a workshop entitled, "Finding Your Wild."
Lenny Terenzi, designer and illustrator of Hey! Monkey Design will be our host. Lenny will be teaching a workshop entitled, "Self Compassion for Creatives."
Reason #4
You're going to love Mohican Adventures.
Mohican Adventures, located at Mohican State Park in Loudonville, Ohio, is partway between Cleveland and Columbus. If you're driving or flying in from either of these cities, it will take you about 1.5 hours to arrive to the destination. You won't be able to to miss Mohican Adventures, a vacation destination that offers cozy cabins and vacation homes (each with their unique charm), as well as adventure activities we will have access to (think: kayaking, tubing, ropes courses, hiking, rafting, fishing, and more.)
We will be staying in beautiful homes/cabins, which you can preview here:
Reason #5
Ink Wars!
Ink Wars is returning to WMC! Ink Wars is one of the most popular events in the history of Weapons of Mass Creation Fest. This eight-person illustration just gets everyone's blood-pumping and hearts racing. After all, when do you get to witness so many illustrators going toe-to-toe before your very eyes under some very strict time, material and thematic restraints? Interested in competing in Ink Wars 2018?  Please fill out this form by August 31, 2018 and you'll be considered for this year's event! Special note: We will not be using the usual 8 foot canvases this year. A surprise medium will be announced at a later date. This will indeed change how this year's Ink Wars will go down.
Reason #6
The little touches.
Did you know that all of your meals will be covered during your time at WMC: Off-The-Grid? We can't wait to fill your bellies with some amazing meals, including our special Saturday BBQ entitled, "Mike Jones and Friends "Big Southern Lovin' BBQ," which is sponsored by the one and only Mike Jones and the team from Creative South out of Columbus, Georgia!
You'll also get some swag from our incredible sponsors. Plus, more surprises await you!
Reason #7
We need YOU!
We need you add to the conversation, to help paddle our canoe. And don't worry. If you don't have a buddy coming to WMC: OTG, you mustn't worry. Most of the attendees enrolled thus far are coming solo, so you won't be the odd woman or man out. After an hour or so, we'll all be as thick as thieves.
There is still time to enroll, so head to our official site to learn more about the event and to our ticketing page to grab one of the last flying blind tickets, or to put down a deposit if you can't pay for a full price ticket now.
Have any questions? Email me at [email protected] and I'd be happy to answer anything!
Hope to see you there!
Interested in sponsoring or giving us an in-kind donation, such as items for our awesome SWAG bags? Contact Heather.
Good design makes the difference in a company that serves other businesses well and stands out above the crowd. Computer-aided design, or CAD, is one way B2B companies can improve their services, becoming more productive and better meeting the needs of their customers.
By 2023, experts predict the CAD market to reach $11.2 billion globally. The number of businesses using CAD, especially 3D technology, grows annually. CAD is changing the way we design, and, in particular, the way B2B companies do business. Here are five ways CAD is making an impact.
1. Offer Innovation
Computer-aided design allows you to test out a variety of situations before they occur. It saves you from having to create expensive prototypes or develop a product and suddenly realize it doesn't have the strength or ability to carry out a given task. When businesses use CAD, they can stretch their skills more than ever before.
Hensley Industries creates parts for equipment for construction. So, imagine a new bucket for a piece of excavation equipment or parts to swap out when the current ones wear down. With computer-aided design, engineers can push the limits of the function, while still making sure the equipment is stable.
Since their specialization is attachments and wear parts, figuring out how operators can replace a tooth on the bucket of an excavator quickly is a major concern. CAD allows engineers to run simulations while designing parts. They can see how the part will perform in a real-world situation and figure out a consumption ratio that works both for the businesses they serve and for their bottom line.
2. Personalizing Productions
CAD makes it easier to test minor changes and personalize products to meet the individual needs of clients. In a world where people expect things to fulfill their needs perfectly, this gives your business an edge over competitors. Instead of somewhat meeting the needs of businesses, you can exactly meet their needs.
In one report, 75 percent of consumers reported they want to buy from someone who knows them by name and tracks past purchases to make specific recommendations. It isn't as easy to accomplish with B2B business, but CAD allows the ability to at least try different features to meet the specific needs of your customers.
3. Presenting a Solution to Clients
Working with other businesses often requires coming up with a solution to a client's problem. You'll need to present various answers until you find one that fixes things for the business owner or meets a definite need.
With the use of CAD, you can present the solution in a three-dimensional format, so the client sees exactly how the answer will look in real life. Even better, these solutions are digital, so you can present them via a virtual meeting, saving both of you time and effort.
Playworld creates playground equipment and uses CAD to come up with designs that work in a variety of settings. The company uses what they call their SketchUp 3D Warehouse to bring design ideas to life. They also have a library of CAD files if you want to see what other people have done creating play zones for children.
4. Improving Collaboration
Digital designs make it much easier to present your ideas to collaborators by uploading to the cloud and using a shared workspace. Imagine your client wants a few changes to the design. You make the changes in your software and upload some screenshots or a three-dimensional image or video to the workspace. The client then approves or asks for additional changes.
Gone are the days where you had to painstakingly create prototypes, only to be told they wouldn't work and you had to start from scratch. CAD saves designers time and money. You'll be able to take on more projects than before and manage them all seamlessly and efficiently.
5. Accessing Universal Data
Because many companies post their data to the cloud, future project managers benefit from the ideas that have succeeded in the past. If something didn't work, you'll be able to avoid that scenario easily. And if something does work, you'll be able to build on those ideas and take them to the next level or higher.
Whether the information is only within your company from work with the client at hand or past clients, or different companies are sharing information, CAD allows storage of ideas and the ability to pull up specific files for adjustments.
Eagle Engineering uses CAD to help their engineers become increasingly efficient over time. In one step instead of multiple steps, their engineers can create a project by accessing information stored in the system. Then they can use a "streamlined package" to make modifications or correct an error. Other advantages include more precise designs and the ability to test a design before building it.
CAD Is Changing B2B
CAD is just one of the things changing the way businesses serve other businesses. The world is advancing by leaps and bounds, and computer design technology is only one component of creating new products. As CAD continues to develop and improve, expect to see even faster design capabilities and finely tuned features, unlike anything that was possible even a few years ago. If your business isn't already using CAD, this should be the year you shift over to it.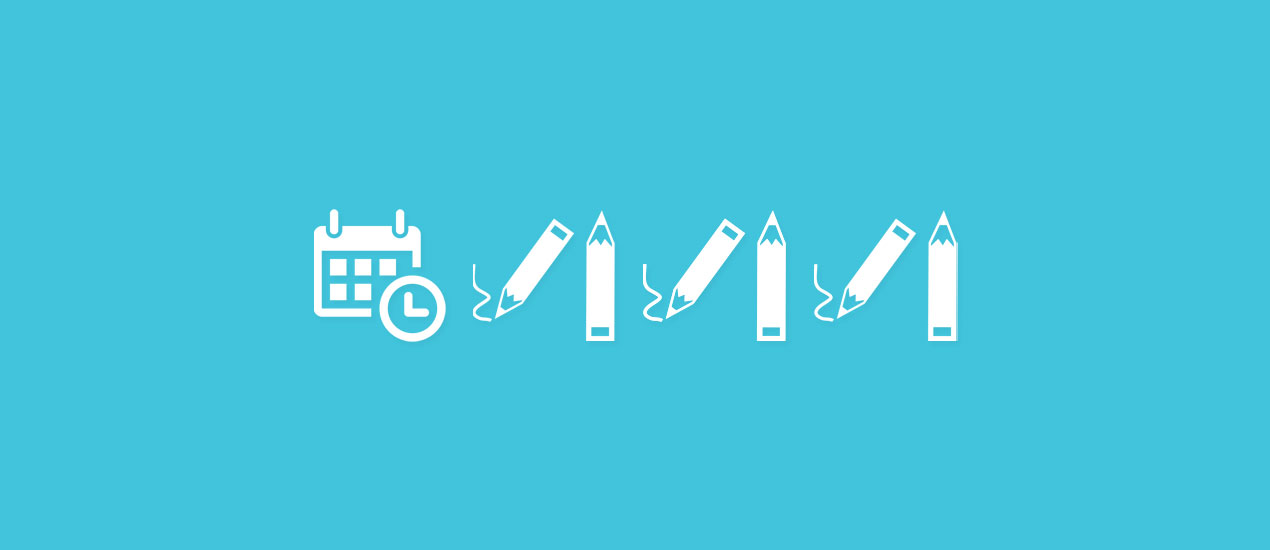 Content Marketing for E-Commerce
Over the past few years, content marketing/writing has been used by major brands worldwide to increase web traffic and brand awareness. These days, brands cannot expect to expand their work by simply making a website and listing their products; therefore, content writing plays a key role. Well-written content engages the audience in the brand and helps generate sales.
Planning to use content marketing/writing for your e-commerce business? Here are some ways to engage your audience while ensuring your blog ranks as high as possible in the eyes of Google/search engines.
Content Marketing for E-Commerce
– Our Tips
Engage your Audience
Starting with introducing your product or jumping right into your brand can tend to make your audience uncomfortable. Start with something different"
A story:

Stories are always fun and if you put some humor in it, there is a high chance that people will continue reading it.

A video:

An audiovisual way of communication is always better than just reading.

Memes:

It's been trending on the internet lately and is a really good way to engage teenagers.
Search Engine Optimization
Most of the people start searching for their products in search engines like Google and if your website rank isn't in the first or second page; there are high chances you won't be getting enough leads. SEO strategy helps to improve your ranking on those pages and once they find your page and see that your content is engaging, chances of conversion increases.
PPC Advertising
PPC stands for Pay per Click and it is recommended to use this along with SEO. This technique helps:
Advertise your product on a platform like Google AdWords

Use competitive and most searched keywords

You add your ads depending on the keywords searched by users then you set a bid according to your willingness to pay for each click.
Don't Force Product Placement
As we already mentioned, thrusting your products into people's face isn't the answer. If you follow step 1, you can slip in your product on audience's mind within the story for e.g.
If your brand offers a washing machine, you can make the hero wash his clothes in the middle of the story using that washing machine. In this way, you are not focusing just on your product but you are also promoting it.

You can also add photos to a person holding your brand and below you can mention a link to the same product.
Appropriate Keywords
Maybe you are doing everything right and you still notice that people don't visit your website much. Then you have to focus on the keywords. Two main tools that can help you come with relevant keywords are:
Google AdWords

: Here you can search for any phrase or word and Google will suggest a list of relevant keywords and also it tells the average month's searches and the competition (either high, low, medium) with respect to that word.

Serpstat

: This works by scanning your competitors ranking and finding those keywords that made their content in high ranking and not yours.
Developers, who are experts in building a website, often don't understand the importance of SEO keywords. In fact, a good keyword can help you rank on the first page of Google.
Stay Updated
We can't stress enough about the importance of this. If your content is not regarding current situations or upcoming events, there are high chances it's going to get ignored. The easy way to stay relevant is to talk about events: which can be divided in to-
General holidays:

e.g. Christmas, Thanksgiving etc. Again this will need a lot of research may be up to a month. You can introduce discount offers, gift hampers, provide various discount coupons or maybe share a cooking recipe for the big festival. As far as it's relevant and going to attract people.
Fun holidays: Now this one doesn't need a lot of research. These events usually involve prom days, farewell parties, the first day of spring. You can introduce your brand accordingly e.g. clothes that could be heavy or light depending on the occasion you are introducing it.
Mobile Friendly
Desktops' surfing is highly replaced by smartphones, which means most of the searches and readings are done on phones rather than desktop where the entire website is made and most of the time when these websites are opened on phone, they become slow or worse unresponsive.
Make sure your website responses well on phone as well.

Resize your content according to phone screens as well. Doing so can make your target audience satisfied and hence your sales can increase.
A good e-commerce site is the foundation of an efficient site. It is important for e-commerce sites to stay up for more than 99.99% time. If your site often experiences downtime, then you can lose a large number of visitors yet buyers
Social Media Marketing
There are multiple social media sites used by millions of people around the world. If you are familiar with the most famous one and you keep updating your content on them, there are higher chances of people stumbling upon it while scrolling down their newsfeed. Here are some of the famous sites:
Facebook:

Although it's a bit older than the other sites we will mention, it's still equally famous and is updated from time to time. There is a loyal fan base plus they have introduced a Facebook live option where you can simultaneously get feedback from your users.

Instagram

: This site is useful if you have great pictures of your product. Good visual representation of your product can result in the number of followers and buyers.

Twitter:

A really famous website, used by film stars and other popular individuals. You can add a short description of your product and add a link for people to follow.

YouTube:

This one is used for making videos. Videos are an excellent means of communication and engaging your audience. Also if they subscribe to your channel and open notifications, they are notified each time you update anything new.
All of these websites will increase engagement of your audience. Also, all of them offer a "Share" option which can help your content to reach from one person to several thousand people. Especially with Facebook group option, you can simultaneously address a large chunk of the audience by just one post.
Wrapping up
The above-mentioned tips if followed along with devotion and excellent research capacities can help you generate a great number of new people as well as you can keep your present customers engaged by writing about things they value.
Wouldn't it be wonderful to roll out of bed and instantly be at work without a lengthy commute or hours spent on getting ready? More and more people are working from home these days either remotely for companies or as freelance workers.
According to one survey of 15,000 people, about 43 percent of Americans work at home at least some of the work week. Working from home has a number of advantages, including saving money on your wardrobe, commuting costs and lunches out. At the same time, it can be challenging due to distractions, so make sure you're prepared for the time commitment before taking on a remote position.
If you've already thought it over and you're sure you want a web-based job you can do from the comfort of your own home office, here are 14 that might interest you.
1. Web Designer
As a web designer, you can either work freelance from your own home office or secure a remote position with a company. Web design has many different facets, and it's smart to specialize in an area or two, such as user experience (UX) design.
While you don't technically need a formal education to become a web designer, some knowledge of coding and training in the aesthetics of design will help you build your career.
2. Writer
If you have skill with the written word, look into writing as a full-time career. Many companies hire writers to create content for their websites. You can either collect a number of small business clients or find a company that needs full-time writers.
Degrees in related areas such as education, English and journalism are helpful so that you understand proper grammar and how to put together a story.
3. Cyber Security
As more and more businesses go online and conduct their business there, cybersecurity needs grow. By the year 2024, security analyst jobs are expected to increase by 18 percent.
The majority of work in cybersecurity requires a bachelor's degree and even some advanced training beyond that. It's vital that you fully understand how the backend of networks operate and what you need to do to protect companies from external attacks.
4. Medical Coding
You've likely heard that you can do medical coding from home. That's true, but many people start with a local hospital and then work their way into a remote job.
Medical coding pays fairly well, and you can get into it by completing certification. You'll have to pass a test to show that you know all the codes needed. Be aware that the coding system changes, so you'll also need to stay up-to-date on training over time.
5. Social Media Marketer
Do you have a knack for social media and a background in marketing? Social media marketing is a position that can be done from home. Similar to writing, smaller companies may require only a part-time marketer, so you may need to work for several companies to reach full-time income status.
Make sure you have a background in marketing and that you understand the details of each social media platform and its typical audience.
6. Virtual Assistant
Are you highly organized? Consider working as a virtual assistant. The work for this type of position is highly varied. You might answer emails for a CEO one day and transcribe a recorded meeting another day. You might have a client who needs you to send out notices to their customers the next week.
You'll need to be extremely organized and have a wide range of clerical skills to do this type of work.
7. Language Translator
The median pay for interpreters and translators is $47,190 per year. The typical education is a bachelor's degree, and you'll of course need to read, write and speak fluently in the languages you'll translate. Because this type of work isn't something companies typically need every day, you'll probably work as a freelancer running your own business.
8. Online Teacher/Tutor
Do you love to teach others? A job as an online teacher or tutor is an excellent option. Be aware that if you plan to teach English to other countries, you'll likely be required to work hours that make sense in that country. So, if you live in the United States and plan to tutor students in Asia, you'll need to get up very early in the morning or stay up very late at night to cover your shifts.
Most companies require a teaching degree and/or experience with this kind of work.
9. Phone Support
In today's economy, consumers expect companies to answer live chat, emails and phone calls 24/7. This demand has created an entire industry for remote workers, which gives you an opportunity.
You don't need an advanced degree to offer phone support for a company, but you will need good phone manners and a decent speaking voice. If you're unsure, take some basic voice lessons to help you develop your voice and keep from straining it while talking for long periods of time.
10. Legal Transcriptionist
Do you type fast and have accuracy in your finished product? Legal transcription is a good choice for you, and you can do this type of work web-based. Expect about $20 per audio hour, but be aware that it can take you longer than an hour to transcribe an hour's worth of audio depending on your typing speed and any accents in the recording as well as other factors.
You don't need any special training for this position, but you'll be expected to have good grammatical skills.
11. Bookkeeper
If your skills are more in the math realm, take accounting classes and learn to do business bookkeeping. You can complete this work from nearly anywhere. If you work for a local company, you'll likely need to go into the office sometimes, but you'll find that much of your work is doable at home. Local community colleges typically offer accounting classes.
12. Life Coach
If you're skilled at inspiring people to do their best, you may do well as a life coach or personal coach. This type of work requires multiple clients, but you can specialize in areas such as weight loss, academics or personal improvement. All work can be completed online via Skype or messaging. You could also meet clients in your home or at a small local office.
13. Video Editing
There are many opportunities to do this type of work at home. Contact local funeral homes to inquire about their need for a video editor. Most now offer this type of service and may need someone to fill the gap and put in the time it takes to pull all the images and text together as well as add music. You could also freelance and create videos for graduations, birthdays, anniversaries, weddings and other special events.
14. Photographer
Many different types of photography exist nowadays. And, you don't have to be a wedding or portrait photographer to make money with today's online marketplace. In fact, you can take pictures of nearly anything imaginable, upload them to stock photo sites and make a living. Another option is to commission with companies such as grocery stores and restaurants to come up with recipes and include images for their readers.
Best Web-Based Jobs
These fourteen ideas cover a wide range of skill types and interests. The best web-based jobs tap into something you're already passionate about. This allows you to work from home while pursuing that interest. If you don't see anything on the list that interests you, brainstorm about what you like to do and how you might turn that into a career. With a little creativity and a lot of determination, you'll work from home before you know it.
Here are five links, images or videos from the web that stood out to us this week. We thought we'd pass them onto you and share the love. We hope you enjoy them. Please tweet us and let us know what caught your eye or inspired you.
1 – Manrope – a free font by Michael Sharanda on Behance
2. Our Top Reasons to Attend WMC: Off-The-Grid by Heather Sakai on Medium (Shameless Self Promotion)
3. Design Week's nod to the World Cup
4. The Zany Logistics of London's Baby Trump protest balloon
5. Top 10 Fonts Used by Professional Graphic Designers
Have a great weekend and we'll see you next week!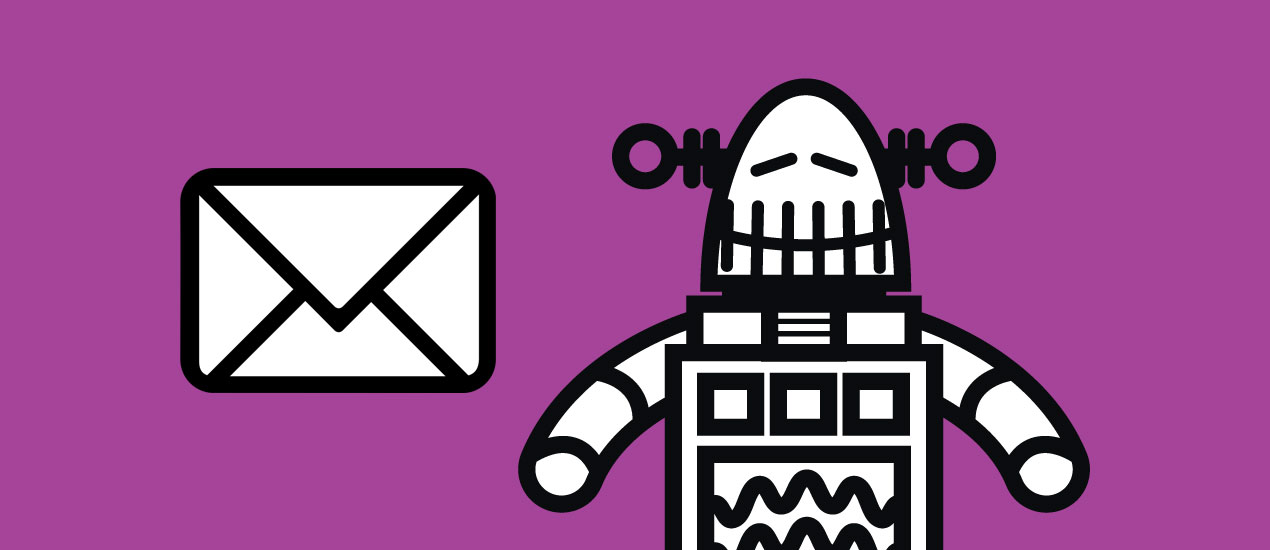 In the modern business world, it's very important that companies leverage creative and innovative strategies to drive their goals. Also, it's important to be fast at making the right moves and decisions, in order to gain a competitive advantage. Thanks to the technology and its innovations, marketers today are able to leverage automation to achieve what's needed on the market.
Marketing automation can be a very powerful tool that can boost your business and help it grow further, but only if you use it properly. That means that you need a good strategy, so that marketing automation can be as efficient as you need it to be. With the right approach, automating marketing processes can not only improve your efforts, but also save you time and money in the long-run. Here are a few ways marketing automation can make you invincible.
Ways to Use Marketing Automation to Improve Your Efforts:
Identifies good leads
Using marketing automations software can help you identify the right opportunities for your business. Marketing automaton can tap into your website traffic and analytics, in order to identify the best leads for your marketing campaigns. With the help from software, you can also categorize leads, based on the interest and willingness to make a purchase.
Equipped with valuable information about leads from marketing automation, you'll know what type of messages to tailor to give your leads a push towards converting into customers. That way, you'll be able to make sales and capitalize on the most valuable leads, while you devise a strategy to nurture other leads who are not yet ready to make a decision.
Improve your targeted messaging
Marketing automation allows you to leverage data about your target audience, in order to tailor more customized and personal messages, as well as offers for your products and services. That being said, you can leverage automation to send out these messages at the right moments during every potential customers buying journey. What's more, you won't miss out on any leads, due to the lack of time or resources for a manual search.
Marketing automation can target each and every lead you have and influence them to make a purchase. With the right strategy in place, you can vastly improve your targeted messaging, as well as your lead generation and conversion rate. By sending out the right messages at the right time, you're able to secure audiences interest and their engagement. As a matter of fact, 68.5% of marketers have stated that the biggest benefit of marketing automation is improved targeted messaging.
Helps gather feedback
Building relationships with your target audience is key to having loyal and engaged customers. Marketing automation collects information about your audience and can help you identify customers that are most engaged. You can leverage that information to further strengthen your relationships with such customers and ensure that you can successfully retain them. Not only that, but you can ask your trusted customers for their opinions in order to leverage their feedback to further boost your efforts.
For instance, offer your audience a chance to partake in paid surveys online. That way, you'll give them something of value in exchange for their honest feedback. Using that feedback to improve your business won't just make your efforts more effective, but your customers will appreciate the fact that you listen to what they have to say as well.
Saves both money and time
Marketers know how demanding, but still important, mundane tasks really are. These tasks require constant attention and they repeat themselves each day. For example, sending out emails, responding to emails, social media posting, commenting and responding are just a few of the mundane tasks you have to attend to every day. What's more, it takes a lot of time and resources to complete such tasks manually. However, with marketing automation, you can streamline the entire process and make it far more seamless.
You can automate the majority of processes in your social media and email campaigns, which can save you a lot of time and money along the way. Still, you can't allow yourself to rely on automation too much, especially for your social media activities. The main reason is that sometimes your audience requires a personal response and not an automated one. If you don't take time to respond to your customer's comments or questions, they will most likely become aggravated.
Follow-up engagement
Marketing automation allows you to stay in touch with your customers, in order to ensure they'll be interested in repeat business. A simple follow-up "thank you" email after a purchase is oftentimes enough to retain customers. You can even include a special promotion or a discount in follow-up messages to further improve customer's interest. Moreover, you can also use automated messages to gain information.
For example, automated messages can remind your customers about abandoned carts. You can even ask for feedback as to why they've abandoned it in the first place. If there's an issue that drives your customers to abandon their shopping carts on your website, you can use that information to improve your check out process. Marketing automation will keep you informed about what your customers are experiencing, as well as help you guarantee their engagement through well-crafted messages.
Modern technology can in many ways help various businesses grow and develop on the market. Marketing automation is one of the best examples of such technology. Not only will you be able to seize better opportunities with automated marketing, but you'll also be able to drive better results and ensure that your customers have the best experience possible with your business.
One of the most valuable assets you can build as a business owner is a mailing list. Unlike followers on social media or traffic from a search engine, a mailing list is under your direct control. You can reach out to those leads anytime, and because you spend the time to reach a specific target audience, they will be highly receptive leads as well.
Investing in email marketing pays off. Every $1 spent on email marketing results in $44 in average profit. Building your online mailing list is something that takes your business to a new level and keeps it growing.
There are several ways to gain more subscribers. Here are nine ideas to get you started.
1. Use the Right Color
The color you use for your call-to-action (CTA) buttons truly does matter. While some studies show red buttons grab more attention, other studies show blue or green ones do. The truth is more likely that the contrast of the button against the background is what matters most.
You should choose a color and shade that make the button stand out and grab the reader's attention from the minute they land on your page. The key is to draw the eye to the CTA in the first place. Otherwise, your visitors might miss it.
2. Keep Your Signup Form Short
Your signup form should be short and straightforward, so users only have to fill in an email address and click to subscribe. If you make the form too long, you risk losing users who don't have the time or patience to fill in lengthy information sheets. Some people may not want to give up private details, either.
Another idea is to allow an option to add a newsletter signup anytime the user is already filling in their email address. If they are in the middle of contacting you, you need a checkbox on your comment form that allows them to subscribe to your newsletter. If they order something, add an option to sign up for the newsletter there, too.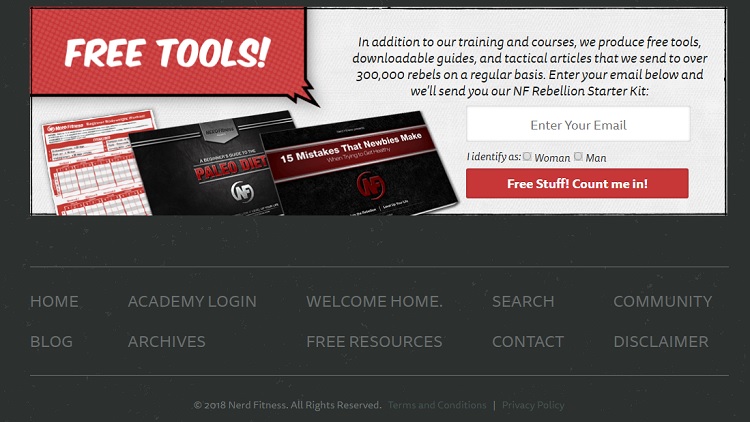 Nerd Fitness keeps the form to sign up for their mailing list short and to the point. They only ask you to enter your email address, have the option to share which gender you identify as and then click on the CTA, which reads "Free Stuff! Count me in!" Signing up truly couldn't be easier.
3. Place Your CTA in the Best Spot
Knowing where to put your CTA for maximum impact helps you gain or lose potential subscribers. There is no one-size-fits-all approach when it comes to CTA placement. While some people say to place the CTA above the fold, others say to put it at the bottom of the information about what you have to offer.
If the content of your newsletter is obvious, putting a CTA above the fold will grab the reader's eye. However, if it requires a bit more explanation to entice people to subscribe, you may need to place it a bit further down the page.
4. Offer Incentives
Offer incentives to people for signing up for your newsletter. These can be coupons, letting them know about specials as things go on sale or deals that are exclusively for your newsletter subscribers. Offering this type of incentive is often the only enticement people need to share their email address with you.
A bonus of this type of CTA is that if they want deals, they are likely already interested in what you have to offer. You'll build a mailing list that is not only hungry for what you have to offer, but also highly targeted.
Wing Tactical uses an incentive of receiving discounts to get people to sign up for their mailing list. Note how their CTA button is in the large, red horizontal bar at the bottom of the page. The words "get exclusive deals" are in large, bold print, and then they clarify with slightly smaller text that reads, "when you sign up for our email list."
5. Make It Big Enough
Is your CTA button so small it is easy to overlook? Remember, you want to grab your site visitors' attention. While you don't want to be obnoxious and fill the entire page with your button, you do want to make it stand out from other elements on the page and large enough to spot easily.
Remember that some people will come to your page specifically to get an offer or sign up for your newsletter. These people don't want to hunt for your CTA to sign up for your mailing list. Make it easy for them to find it in mere seconds and take action.
6. Pose a Question
Another way to snag site visitors is to pose a question that guides them to the answer you'd like them to choose, which is to sign up for your newsletter. Consumers are pretty savvy these days. There are thousands of free newsletters, so to entice them to subscribe to yours, you need to stand out from the crowd.
Digital Photography School poses the simple question, "Ready to take better photos?" to make site visitors think. Since the natural answer to such a question is yes, they then explain you can receive free weekly tips and tutorials and provide a box for your email address and a button that says "Let's go!"
7. Tie the Newsletter to Your Site
Newsletter readers tend to spend 80 percent more time on a website than non-subscribers. A big reason for this is likely because you are speaking to a highly targeted group of people who are already interested in what you have to offer. However, meshing the site and your newsletter in some areas can interest people in signing up.
At some point, you've likely seen a CTA that says something along the lines of "never miss another post" or "get updates when we post new content." These types of CTAs remind the reader they don't want to miss what you have to offer.
8. Hold Their Attention
Don't forget the copy around your CTA is equally important as the button. You must attract the reader's attention in a fun or exciting way. They see dozens of ads in a typical day. If you don't stand out, why would they even bother? Tell them what they have to gain and do it in a way that will make them sit up and take notice.
Look at Campaign Monitor's customer Flume and the way they entice people to subscribe. They show how they kept Flume's email subscribers interested and in the know. Then, they offer to help you "build an email like this."
9. Add More White Space
Filling your page with information is tempting. However, sometimes you need to reduce the noise and allow the user to home in on your CTA offer. Do some A/B testing and remove a bit of the clutter around your CTA button. You'll likely see an increase in conversions.
Adding white space isn't always easy, but more than likely, there are elements on your page you can easily do away with. Use heat maps to help you find which areas of your page visitors linger on, and which ones can go.
More Subscribers
Better CTAs will bring you more subscribers, but you also need to understand how to convert those subscribers once they're a part of your mailing list. No matter what type of business you run, CTAs help you make that initial contact with site visitors and convert them into raving fans.
TV Glitch Effects: Makin' Em in PS (& Free TV Glitch Textures, Too!)
So guys, we're kind of obsessed with these tv glitch textures we've been seeing around town lately.
Here are five links, images or videos from the web that stood out to us this week. We thought we'd pass them onto you and share the love. We hope you enjoy them. Please tweet us and let us know what caught your eye or inspired you.
1- From Fastcodesign, Article – The Heartbreaking Art of a Former Border Control Janitor
2 – From Fastcodesign: Video – The Secret Behind Starbucks' Iconic Logo
3 – From the Hootsuite Blog, Article – The 2018 Instagram Hashtag Guide
4 – From Medium, Article – Would You Have Hired Steve Jobs?
5 – From Medium, Article – How to Develop an Eye for Design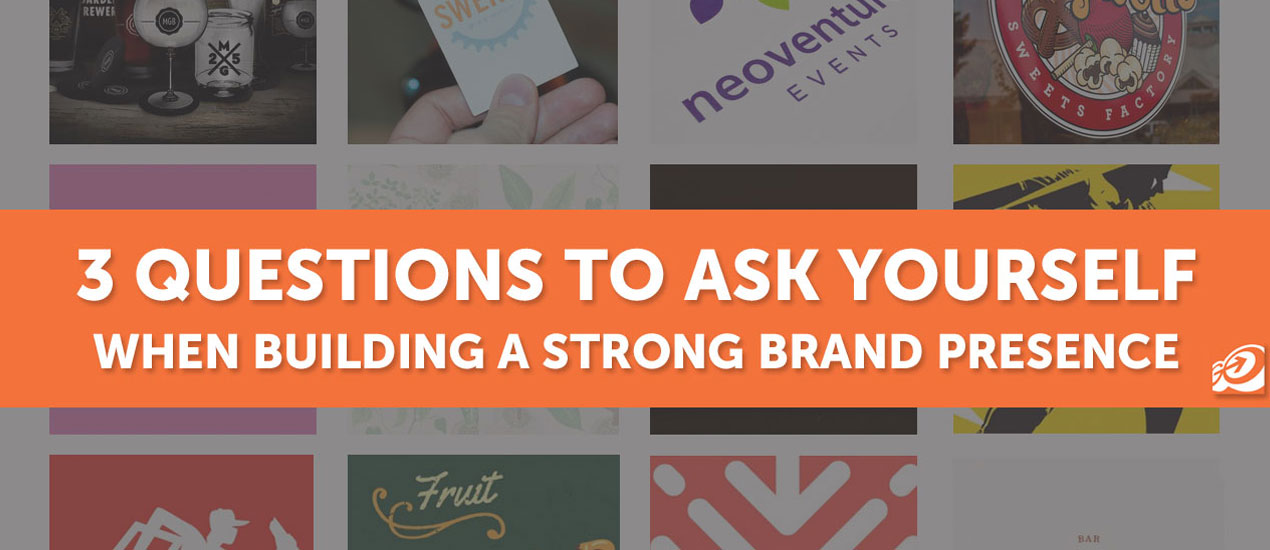 How to Build a Brand
What is your brand? Who is your brand? And why should we care? Developing a brand is more than just your logo. A brand represents everything you are as a company. Everything that you say and do shows your prospective customer who you are. It's your "dress," the way you talk, your slogan, your signage, your messaging, how clean your offices are, company uniforms, your collateral materials and so much more.
To build a strong brand presence, it's important that you ask yourself three very important questions –
What is my positioning statement? (Where is my space in all of this clutter? What does my company offer that no one else does? Why are we special?)
What is my messaging platform? (Why should anyone care? What's in it for my customers?)
What's my brand persona? (Who is my target customer? Who is my company?)
Close your eyes for a minute. If you had to talk about your company as a real person. Who would you see? Try to imagine your company as a movie star. Is your company Brad Pitt or Morgan Freeman? Someone young and hip? Old and stodgy? Middle aged and reliable? What about your customer? How do they communicate? How does your target customer like his coffee? You should live and breathe your brand persona so much that that answers to questions about your brand should roll off of your tongue. "Duh!" You should be telling me, "We're an almond latte kind of company!" Or maybe you're a tea company, or a pop company. We can't answer that for you–only you can. This is the first question of many you should ask yourself about your brand persona.
Once you figured out your brand personality, it's time to start working on the visual components of your brand. When creating your brand, it's important to take its various components into consideration: logotype (the word), mark (commonly referred to as a 'logo',) and color scheme.
The logotype is a distinct font that represents your company. It should be meaningful to your brand. Bold, curious, flirty, simple–fonts speak visually to your prospective consumer and should be an extension of your brand persona.
The mark, or the symbol, supplements the logotype. If your brand is edgy, be edgy! If your brand is laced up, be more formal. However, always remember that your mark should (not too be too cheesey) help you make your mark on all things visual. It should work well in black and white, not just in color. Additionally, you should be able to use this mark on any design work–print or online. Think about how it will be displayed on social media, on eblasts, on brochures, on t-shirts, or on uniforms… just to name a few visual outlets.
The color scheme. It should use one or two primary colors, one accent color, or colors of differing value. Creating a strong brand color scheme will facilitate your brand's flexibility across print and online, and it will also help make your brand visually appealing.
Once you figured out your brand personality, it's time to start working on the visual components of your brand. This begins with your logo. 
Putting in the resources to craft up a quality logo cannot be underrated. Also, we're going to get on our soapbox right now and tell you that for the love of all that is good in this world, please don't think that once you have created a logo, you are done. So many brands focus on just this one part of their visual identity. While the logo is vital to a brand's identity, it isn't the only visual piece of the puzzle that helps set you apart from your competitors. Your logo, my friend, is just the beginning of your visual brand identity.
Let's say, for example, you want to create a brochure so that you can tell the world how amazing your company is. Where should your logo appear on the brochure? What kind of header will you use? What kind of typeface will follow? What size font do you plan to use? What kind of photography or imagery will be included? What's your white space/copy ratio? What kind of voice are you using in the copy? Does the piece feel simple or intricate, casual or fussy? You see, it's not as easy as you might think to release a brochure. Just like your logo, this brochure should exemplify who you are as a brand–it's an extension of who you are. Your customers should immediately see and feel the synergy between your logo, your chosen imagery, your words, and YOU. This thought process holds true for every single piece of collateral that you release…no matter how big or how small.
It seems daunting to live up to your brand persona in each and every piece you release. That's probably why, time and time again, we see a brand that looks and feels different on various pieces of collateral. Maybe you're using different designers or firms or heck!, maybe an in-house designer is adding his or her flair to your logo, or whatever piece you're currently creating. Creating a Brand Standards Guide can help keep things consistent. On the Brand Standards Guide, include an example of the mark and logotype. Include fonts. Include colors in RGB, CMYK and Pantone. Include best practices such as uses and spacing. And finally, include example designs. Sometimes, we even see sample copy on a Brand Standards Guide. A solid Brand Standards Guide helps ensure that no matter who is helping push your brand, you're all pushing the same brand–not spin offs of one another
In no way are we saying that each piece has to look identical. We're a creative firm–we'd never tell you to go for visual boredom, or ask you to turn into a boring machine spitting out identical pieces, one after the other. Instead, we're saying that visual consistency is vital to your brand. By following these tips, your customers will create a stronger connection with your brand that they can trust. Trust = repeat business, which, at the end of the day, is what we all want.
Questions? Get in touch! We'd love to help you no matter what stage of the brand process you are in. We can't get enough!
Space has and will probably always be one of those things that man has long dreamt of conquering. From the darkest corners of the Milky Way to the farthest region of the known Universe we will always poses that urge to explore and look for new worlds, worlds that could change what we know about life itself.