How to Increase Your Website's Conversion Rate
Setting up and maintaining an e-commerce site is no joke. It can be very difficult to draw in clients and ensure they proceed with a checkout. Many people simply add items to cart and leave it hanging for one reason or the other. Many times, there are certain elements on your website that can make all the difference, changing your client's perspective and user experience will help you to capture them for longer and ensure sales. Here we have portrayed some of the most important elements of your e-commerce site that are worth the extra time. They will certainly boost your revenue and fortify your traffic.
No questions asked
The best approach to ensure your client makes it to the end is to give them the minimal possible opportunities to rethink their decision. This means you need to eliminate the questions and the popup asking 'whether the client is sure'! Of course, he is sure the first time he clicked the buy button but repeatedly interrogating him may make him think otherwise. Try to leave minimal options for them to select. A simplified approach is as follows:
Allow clients to add objects to cart

Prompt all the important info such as billing address, payment method etc. on one page

Proceed to checkout
This three-step procedure will ensure the buyer has minimal rethinking time and is not irritated with annoying questions. For example, a simple notification saying they have purchased the product suffices, along with the delivery time. This approach helps limit the no. of pages in the final checkout. Moreover, it has significant benefit in ensuring sales.
Instill trust
Just like buyers and sellers in real life, clients are looking for solid assurance before they proceed to purchase your products. For instance, for an online e-commerce site, certain elements help highlight the authenticity of the site. These include:
Authentic buyer reviews

Money back warranties

Free returns

Money back testimonials

Secure payment portals

Trust pilot

Encrypted checkout
All of these different aspects help fortify the trust of the buyer. This makes it even more likely, that he will proceed with the checkout.
Take advantage of the live chat feature
Yes, it can be a bit hectic, having someone to answer the live chat any time of the day. This feature is one of the many ways of building customer confidence and increasing sales. Often clients are simply stuck in a little spot and some small help from the center scores a sale. Online chats are wonderful means of interacting with clients and motivating them towards a purchase. You can also direct them to different items. As for the part where you have to attend to the chat 24/7, there are ways to counteract it.
You can lay down certain timing every day

Incorporate an auto-generated message

Take the chat directly to mail in case of unavailability

Assign a telephone number
Incorporate customer feedback
There is nothing like an authenticity stamp than an actual customer review. The more reviews you have, the more people are going to trust you. This is an important way of building confidence. Being a blogger, you may have noticed the positive reviews and feedback on other blogs and e-commerce sites. This feedback leaves a great first impression. In addition, it also helps to highlight your good qualities. People feel reassured when they see that there are other people like them. Plus, a client is more likely to buy an item once they spot a similar customer leaving a good review of the product. We highly motivate the use of authentic reviews on your site. Adjust them along with the associated products preferably which will help to drive in relevant traffic.
Notification tags
Often clients need to be notified of the products repeatedly. Sometimes you can text them the new offers on certain products. For instance, if your site chooses to put up a sale send over messages describing it as well as occasional messages highlighting different products. This will:
Peak consumer interest

Attract potential buyers

Increase popularity and work as an advertisements

Convert newcomers into permanent clients
Employing these tactics will help you gain an advantage on multiple fronts. It will also help assure other people of money back guarantees as well as returns. This is because different customers will have a different experience and will certainly share it on the website. An immediate plus for you!
Countdown timers
This new tactic is a great addition to the e-commerce market. It helps users clinging on to every second. Introduce deals with a countdown timer. Moreover, this will limit the time for the client and motivate him to make an early decision. It also helps ensure that clients actually proceed with the purchase. As they know they might miss the deal, chances are they will proceed with the order, immediately! Countdown timers:
Effectively create a state of urgency for the client

Motivate clients to revisit for different deals

Ensure checkout and reduces cart abandonment
Include a package
One other element on e-commerce sites is the package where a buyer has to select a certain amount of items to get a lower delivery or free delivery. This allows clients to look for multiple things that he may or may not need necessarily in order to avail a free delivery. Although you will pay for the delivery, the extra surge you got from the additional products the client bought can cover for it. This is one of the latest means of captivating buyers and motivating sales. However, you need to be consistent with this regime and offer reasonably proceed items along with the expensive ones in order to ensure a purchase. If you increase the prices chances are
Clients will avoid a purchase simply because of cost to high

Many buyers tend to refuse a checkout when they see a high total

Multiple cheap items are acceptable for a client but multiple expensive items provoke thought.
Hence, the package deal is something that you need to play wisely. You need to understand the mentality of the person in order to attract a purchase. Where you are gaining orders, you also need to offer clients something in return.
Prompt delivery options
One thing you can do to improve your site offers a prompt delivery option. However, you need to include a time limit for it. This way, clients who need it will order it for sure, without wasting time rethinking. In addition, the option helps encourage clients to place an order and checkout immediately. It also helps take the clients mind off the price and the actual need in favor of a prompt delivery. The satisfaction of receiving the product at an earlier date helps to outshine other problems. Furthermore, these clients' will surely shop again and leave a good review, which will boost your e-commerce site in multiple ways. It will
Boost sales

Improve reviews and attract more clients

Increase permanent clients
These different elements will help address the many ways of improving your e-commerce sites. Many of these tips are simple and can be easily incorporated. Use them to boost sales and increase traffic. They are some of the authentic means of advertising and boosting product sales, which will surely boost your business as well.
A product page that conveys a purpose and benefit of a store item, and smoothly take a user through all the features and demos, and to the checkout page is considered an ideal user experience (UX) design. The web design UX focuses the removal of every possible hurdle that may stop a user from taking action and the addition of a feature that adds comfort to the user in reading, clicking, entering detail, or paying for the order.
Pursuing a UX design is not restricted to the layout or appearance of the product page, in fact, it is about enhancing the web design usability and understanding for the end users. Like, easing the users in scanning the content, viewing the images with a focus, comparing prices with product features, expediting the checkout process, and lots of more.
Optimizing the UX design for higher conversion is crucial as the developer, designer, or the merchant has to put himself in the shoes of a common user and examine the areas that have to be improved. Following are some of the UX design tips that may give you a checklist to expeditiously review product pages and adopt relevant strategies to enhance the ease and usability for a layman.
1. Set a Competitive Price and Justify It
Price of a product is a major driving force of a purchase decision. The internet users are browsing the internet and compare product prices along with features at different online stores. They roughly draft a cost versus benefit analysis of the product in your store. To facilitate them in knowing the best value for money, clarify the price you charge and justify it with the features you have in hand.
The price clarification means showing direct and indirect charges. For example, you display a white color T-shirt at $10, but secretly increase the price when a user selects a black color. Avoiding tricking people to select a product at a low price and quote a higher one when they convert or about to convert.
2. Add Quality Images with Zooming Features
The online stores have virtual shelves that can never provide a real-life experience to the users to examine a product from each and every corner. But, professional photography and zooming features have the power to provide a somewhat similar experience. Add high-quality product images from various angles, and allow the users to zoom in or out a specific part of the image as well.
Try experimenting different product zooming options. In addition to quick-view and zoom-in feature, a 360-degree view is also an emerging trend in enhancing the user experience. It demands to capture multiple product images and sorting them in a series so that a user can go through every detail of the store item.  
3. Acquire and Display Customer reviews
Acquiring reviews from your happy customers is a tangible and long-term asset to your product pages. It is an effective strategy for gaining trust and credibility in the eyes of your potential buyers. The users are more likely to read what your existing customers have found about your products and services.
According to a survey published by MarketingLand, about 90% of the customers have agreed that the online reviews are highly influential in making a purchase decision. So, don't miss on your losing your potential customers who only need to hear from a few fellow customers.
4. Publish Scannable Product Descriptions
Reading content on the screen is a completely different thing than reading text on a hard paper. In fact, the screen readers scan the content rather than reading it word by word. Unlike the novel and short stories, people are here to absorb the information of their interest and skip the rest of the text.
Compose the product content that is simple, clear, and crisp that caters to the exact needs of your targeted users. Incorporate story-telling in a way that keeps the users engaged rather than making them cross the tab and switch to another one.
A product page shall begin with a short summary and leads to highlight the core features. Let the readers know about the product at first instance. Make the introduction attractive to compel them to scroll down the page and review the features one by one.
5. Consider Simplifying the Checkout Process
Checkout is the conversion borderline. A successful checkout means an accomplished sale. The UX design needs to be improved in a way that smoothly takes the users all the way through the product description to the cart pages and the checkout page. A minor difficulty in filling the details or understanding an option may result in cart abandonment.
For smooth checkout experience, you can simplify the entire process with different strategies like allowing one-page checkout that removes the multiple steps of entering shipping, billing, and personal details all at once.
Additionally, you can modify the design with stick checkout that carries forward transaction details as the user goes through the multiple steps. The permission of guest user checkout is also a way forward to improve the user experience. Make the user registration voluntary and observe the difference in conversions.
6. Display Relevant and Bought Together Products
Do not limit your customers to view a single product on a landing page. A Majority of buyers are willing to select more relevant products from the same store. It helps them save the shipping charges and time in browsing multiple stores. By displaying relevant products or frequently bought together items, you can facilitate users in adding more products to cart and checkout for all of them at once.
With the help of widgets, plug-ins, and modules, you can automate the display of similar products in a small block right on the product page. It will surely help you to cross-sell and up-sell products that ultimately boost the revenues.
7. Show Product Availability or Stock Top-up duration
A user covers a long journey in reaching the 'add to cart' page but feels disappointed when finds that the required product is not available in stock. To save them from the hassle, display the stock availability in numbers and minimum items they can order. This will allow them to quickly add a required number of items to cart. Avoid cart abandonment right on the product page.  
The addition of out-of-stock notification tool is also a way forward in informing the users about the expected inventory top-up period. With the help of such a tool, users can get email notifications about inventory top-ups so that they can return and buy the products that were out of stock on their last visit.
Final Thoughts
The above-discussed UX design tips may help you quickly restore a viable user experience that contributes towards higher conversions. But, this is not the end. UX design is an open concept that welcomes the addition of every feature and functionality that aims to reduce the user stress in buying a product or service. Be creative in coining new ways of improving UX in addition to the ones mentioned above, and take the lead in your niche.
Asad Ali is an experienced Digital marketing expert having more than 7 years of experience in eCommerce industry. He is currently working for GO-Gulf Dubai web design company. As leading executive for GO-Gulf, he has specialized in search engine optimization, user experience & conversion optimization. You can reach him on LinkedIn.
Categorized:

Web Design

Tagged:

cart, cart abandonment, checkout, conversions, design, design tips, e-commerce, ecommerce, pages, product, product pages, ui, usability, ux, ux design, web design
Improving the CX of your eCommerce Site
More than likely, you truly want to provide the best customer experience (CX) possible to the visitors who land on your website. However, in a rapidly changing digital world, it can be difficult to know just what strategies you should use to create a positive experience.
Experts estimate by 2020, CX will be the most important factor in branding, even topping price and the product. Seventy percent of why customers decide to buy a product is based on their perception of the way the company treats them. Taking time to invest in your customer service model is one thing you can do to stand out from the competition.
1. Consistent Experience
Whether you're conducting business online or offline, offering a consistent service experience that spans the reach of your business allows customers to embrace your brand, no matter how they prefer to shop. For example, if you have an email list, you might send out a coupon code people can use either on your website or in a store. If a customer comes into your store and you are out of their size or the color they want, you provide a kiosk they can order from.
AutoZone has gotten on board with that consistent user experience. If you go in their store, they can help you, but you can also go online, figure out what you need and pick it up in the store the very same day. Customers can quickly see which locations near them have the part they're looking for.
2. Target Audience
Before you begin to focus on CX, you must fully understand who your target customer is and how to meet their needs. You can figure out the demographics of the people visiting your site by studying analytics, taking polls and studying buying patterns. Once you have a grasp of your typical site visitor, create a user persona based on that model. This persona is who you will plan everything around. You can have more than one persona for your brand, too.
3. Anticipating Customer Questions
When a consumer chooses to visit your site, he or she likely has a specific purpose in mind. Think through what the different purposes might be and how you can anticipate any questions the user will have. If you get a lot of emails asking the same question about your products, or if you offer a certain feature, this is a good place to start. You'll provide the answer before the customer ever has to ask you.
Notice how Nitterhouse Masonry Products anticipates customers visiting their site might have one of three product types in mind: architectural, contractor or residential. By narrowing down the choices, they anticipate their different users' needs and direct them to more information on the specific area.
4. Omni-Channel Customer Service Reps
When someone visits your website, you likely have a variety of options for contacting your company. You might offer live chat, email and even a toll-free number. Is a customer who calls your company getting the same answer you provide via live chat or email? Making sure you not only provide consistent answers, but that you keep a record of customer contacts, is vital to making the customer feel valued.
Customers get annoyed when they must repeat a problem they have with your product to three or four different people. About 89 percent of customers state this frustrates them, and about as many feel brands should try harder to create a consistent customer service experience.
5. Mobile Matters
You've heard this one before, but it is worth repeating, because more and more people are using their smartphones to access the Internet. If your site isn't mobile-friendly, or doesn't provide the main features of your website, you are going to have a lot of irritated users. If the mobile site is not up to par, about 52 percent of consumers are less likely to engage with the brand.
Elf on the Shelf is one of those trends you either love or think is creepy, but their website is a good one to study for how to create a great mobile CX. When you land on their page, you have two choices based on whether you are an adult or a child. Their landing page is very simple and to the point.
6. Customer Service Philosophy
Train your customer service reps thoroughly in your customer service philosophy. It can take an additional 12 positive experiences to make up for one bad experience with service. If your customer is dissatisfied, hurry to minimize the damage and turn a negative into a positive. Make sure everyone who has any contact with your customers understands the value of every customer. Likewise, that they reflect that in their interactions.
7. Social Media
If your site isn't integrated with social media, you might be missing out on traffic. More than 62 percent of people in North America use Facebook. Integrating your e-commerce site with social media is simple. First, you need to mention your social media channels and make it easy to access them. Second, point your social media followers to specials, sales and new arrivals on your site. Of course, there is a lot more involved with marketing on social media, but understanding the importance of a presence is enough to get you started.
8. Gain the Consumer's Trust
One of the key components of successful CX is that customers feel they can trust your brand. If you receive a question, do you answer promptly? Did you make your contact information easy to find? Other things you can do to gain consumers' trust is to add any certificates you hold or positive ratings, and adding customer testimonials.
Optimizing CX
Optimizing your site's CX takes time and perseverance. Pay attention to any complaints you receive. When do consumers bounce away from your website? Can you improve their experience and reduce your bounce rate? Putting the time and effort into continually improving your CX will pay off in happy customers who frequent your business time and time again.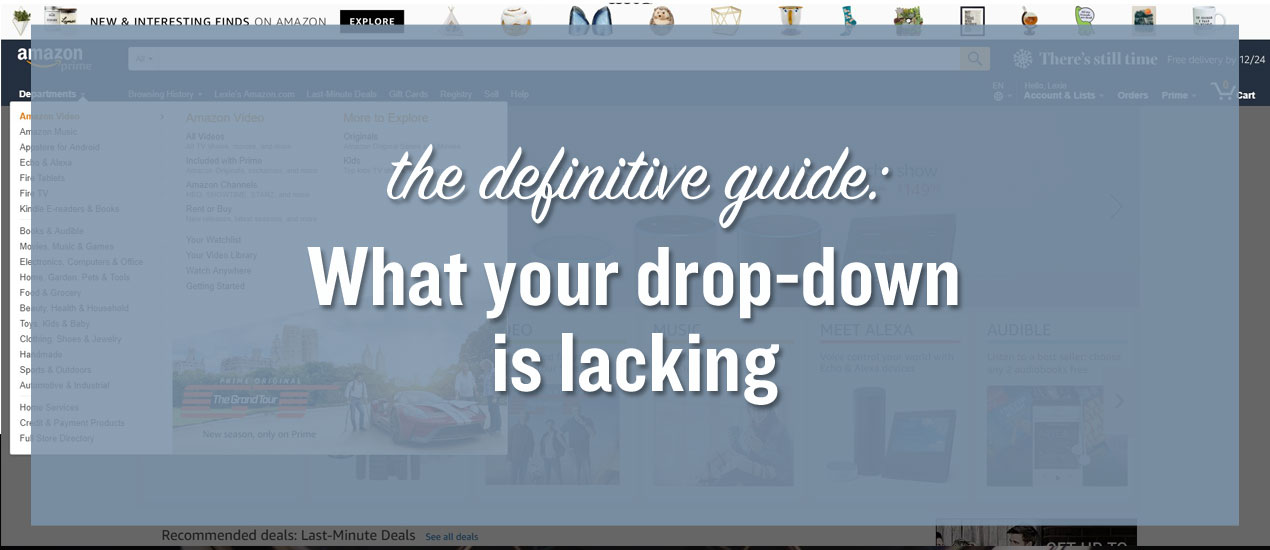 How to Improve Your Drop-Down Menu
The navigation menu is central to the user experience on a website or mobile app. When we visit a website, we have a particular goal in mind. We want to get somewhere on the site as quickly as possible. Usually, the drop-down menu is the most efficient way to do that.
Optimizing your navigation menu should be a top priority. Here are some things you should do to optimize it, plus some you shouldn't.
Do Kill the Clutter
Keep your navigation simple. You may have tons of sub-pages and a variety of product categories, but you don't have to include them all in your main navigation. There are other ways to set this up. Alternatively, you could create a top-seated breadcrumb-style menu to offer easier navigation through lesser sub-pages, while keeping all the juicy stuff in the main nav.
When you open a nav menu, you don't want it to take up the entire screen. Many retailers and e-commerce sites do this, and it's poor design. You want navigation to be quick and easy, but that also means keeping a lid on the box. If you add too many options, things get cluttered and confusing. This is especially true on mobile, where the screen is much smaller.
The restaurant Denny's did this with their newer design. The menu displays the most important categories first. When you select one, it opens to reveal sub-categories or additional options.
Do Use Borders or Shadows
Adding a subtle border or drop shadow to your menu helps it stand out from the rest of the page especially if you're using a lighter background. This isn't so important when you have plenty of negative space below your menu foldout. However, if you have images or text content, sometimes these elements can make the menu harder to differentiate.
Do Consider Applications
When browsing on desktop, it makes sense to have the drop-down menu or main nav take up the width of the page. On mobile, however, where there's much less space to work, a collapsible menu is the better choice. Consider the applications for your menu, such as how and where they will be used. This makes a huge difference when it comes to the function, style and even layout of your design.
Do Include Images or Icons
Most menus are text-based, which is a shame because many devices can display high-quality HD content. Why not spruce things up and make your menu more engaging? It's okay to add images, icons or even visual indicators to your menu alongside text labels.
An auto seller or manufacturer, for example, might consider putting images of the vehicle next to the model name. As a bonus, this can also help when people know visually what they're looking for, but don't know the model.
Formula Boats gets this right with their visually appealing dropdown menu. Open it up, and you can see all their boat models, making it easier to choose between them.
Do Use a Column or Grid-Based Design
Column or grid-based navigation menus are better organized, simple to understand and easy to create. Keep your dropdown menu structured appropriately, especially since consumers and internet users are so used to this design technique.
Don't Have a Disappearing Menu
Ever notice when a site uses a dropdown menu, it remains visible and follows you down the page? This is good web design, especially on mobile. The main navigation menu is always only a tap away, no matter how far down you scroll. This is important for infinite or lengthy scrolling sites.
Amazon has one of the best examples of this anywhere. While their menu doesn't collapse, it is a mega menu with a dropdown design. It's visible no matter where you are on the site, on both desktop and mobile versions. Customers retain quick access, to any section of the site.
Don't Use Unclear Headings
With a dropdown menu, you're going to have quite a few menu items in view. That's alright, so long as you have clear headers to differentiate the varying categories and pages.
For example, an electronics retailer might have categories for home theater, laptops and PCs and printers. The correct way to structure this is to bold the headers of each category so they stand out. The improper way to do this is to list all the options in the same font, color and weight. Then you end up with one list of items, and that's confusing.
Take a look at the official Columbia site. Pay attention to their mega dropdown menu and how it's structured. Notice how the header for each category stands out from the rest? Now imagine if all those fonts were the same. Even with the columns separate, things would get confusing.
Don't Forget to Test
You may prefer Chrome over Microsoft Explorer, or maybe you use Safari. Whatever the case, the worst thing you can do is assume everyone has the same preferences as you. One of the biggest mistakes you can make with web design is not testing your setup on multiple platforms.
Before you roll out the final design for your drop-down menu, check it out on multiple devices, browser types and resolutions. The content may scale differently on certain platforms, which could ruin your perfectly crafted menu.
Look no further than IWC Schaffhausen. Open their site on desktop, and you see a drop-down menu with high-quality images of their watches. This makes sense considering you want to choose a watch that looks good. But on mobile, the menu acts differently. Instead of a full menu that takes up the entire screen, you only see a few of the watches, and you must scroll left or right to see the rest.
Don't Neglect a "Best Sellers" Section
One of the beneficial aspects of a drop-down menu is when you structure it appropriately, you will have some wiggle room — some space to be innovative. Instead of doing something wild, include your popular or best sellers here. Your customers can jump to your most popular product or service right from the get-go.
Don't Make It Sluggish
You want your site to look beautiful, and that means including animations, visuals and effects. But you don't want to hinder the experience by creating something that takes too long to load. It is possible to bog down a drop-down menu, making it sluggish in the process. More importantly, you have control over open and close times, where it appears on the page and how hover elements work. Keep this in mind when designing your menu.
The same is true in the opposite direction, too. If a user is moving their mouse over a menu, you don't want it to pop open and block another element they're trying to interact with. Find the sweet spot — usually a half a second — before that menu shows up.
Time to Overhaul Your Menu
If you noticed one or two things on this list that conflict with your drop-down menu, you may want to head back to the drawing board. You see, the navigation menu — dropdown or not — is central to your customers' experience on your site.
Think of it in terms of a brick-and-mortar storefront. When you go into a grocery store, the building is laid out and organized. Each aisle has a purpose and is properly labeled. If you want something specific, you can usually find the aisle quickly. Now imagine if all those signs were gone. It would be utter chaos.
Your nav menu is the equivalent of those signs in digital form. Not only do you need them to direct traffic, but your customers need them to understand your design.
Lexie Lu is a freelance UX designer and blogger. She enjoys researching the latest design trends and always has a cup of coffee nearby. She manages Design Roast and can be followed on Twitter @lexieludesigner.
Categorized:

Graphic Design

Tagged:

application, desktop, drop-down, dropdown, e-commerce, ecommerce, headings, icons, images, menu, mobile app, navigation, optimization, website