Why Your Business Should Consider Investing in Influencer Marketing
Where should you invest your online marketing dollars? Tracking online marketing efforts isn't an easy task. Results aren't immediately noticeable for some campaigns, and building a brand name adds value to your company in ways other than strictly monetary.
Influencer marketing utilizes people online with an established fan base and voice to get the word out about your products and company. However, influencer campaigns tend to offer a slow build toward name recognition rather than fast results. Ongoing investment and working with multiple influencers works best for most businesses.
There are eight key reasons your business should invest in influencer marketing.
1. Reach More Millennials
The millennial generation is one of the largest generations since the baby boomers, and they are now a vast buying block. About 70 percent of millennials tell surveyors the recommendations of their peers influence their purchase decisions. In a sea of businesses and online advertising, standing out to a marketing-savvy demographic isn't easy, but your brand can still reach millennials where they live via social media influencers.
2. Keep up With Competitors
As more marketers realize the value of influencer marketing, your competitors get on the bandwagon. Remaining competitive requires embracing the same types of marketing but also thinking outside the box.
Work with influencers your competitors aren't already working with. Think about who has similar audiences to yours, develop relationships with them and reach out for partnerships. The idea behind influencer marketing is creating a mutually beneficial relationship. Your audience should be a gain for the influencer and vice versa.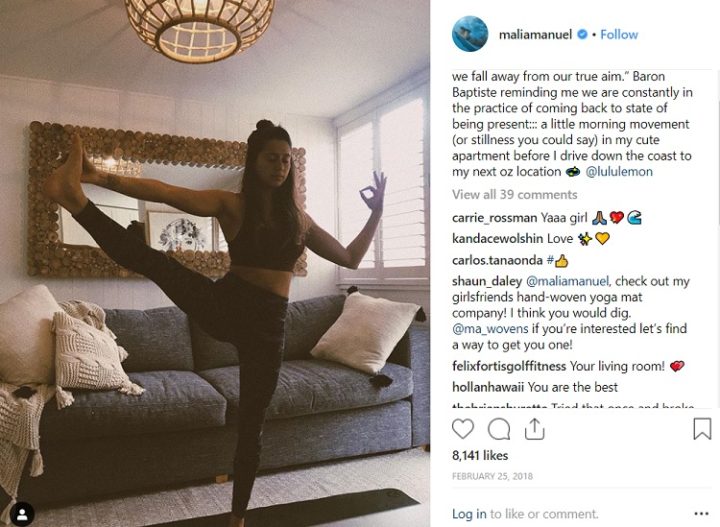 Lululemon Athletica teamed up with well-known names and micro-influencers to get the word out about its brand. In the screenshot above, professional surfer Malia Manuel shows off her Lululemon gear as she holds a yoga pose. Posts such as this give customers a reason to visit Lululemon's website or Instagram page.
3. Grow Your Social Following
When an influencer mentions your brand, you gain access to their followers. While not all will respond to a campaign, some will. You'll gain likes, followers and shares each time you work with an influencer on a campaign, and try out this auto likes instagram free trial to increase your brand.
Another way of engaging with influencers on social media is by commenting on their posts and sharing their content with your followers. Make sure your comments aren't spammy but are related to the post at hand and add value to the conversation. Folks interested in the topic may find your comment interesting and click on your profile to learn more about you.
4. Create Instant Trust
New brands sometimes have a difficult time building trust with new customers. You don't have a proven track record and users have no real reason to trust you and your customer service. However, they may already trust the influencer, who does have a proven record of only recommending the best products and services in the industry. Getting a recommendation from an influencer people already trust lends credibility to your brand.
50 Floor utilizes the help of a well-known influencer on the landing page of its website. Richard Karn is famous for his role as the handyman Al on "Home Improvement." When site visitors see his smiling face, they immediately think of high-quality work ethic and home improvement. Finding a recognized and trusted influencer lends credibility to your brand name.
5. Find Influencers Easily
Figuring out who to contact at a print magazine and how to create the right resolution and size ad is a grueling task for someone new to the advertising game. However, finding an influencer is as simple as researching a topic and seeing who is talking about that trend on social media. You can see at a glance which accounts have a decent following.
Pay attention to how many people interact on their profile pages and not just how many followers they have, as some people have a lot of bot followers. Are their users engaging when they post content? Pay particular attention to any branded posts they put up and how their followers react. Getting attention from 3,000 highly targeted and engaged users is preferable to little attention from a million followers.
6. Gain Sells
A powerful influencer mentions your product and the orders roll in. While influencer marketing isn't always fast, there are times when it is. A recommendation to take advantage of a special offer works well, especially if the audience trusts the influencer has their best interests at heart. Working with such an influencer increases your sales.
One example of a company utilizing an influencer to sell a product is Glossybox working with YouTube influencers. It created videos of the influencers opening its monthly subscription boxes and then using those products. The conversions from a Revfluence campaign were phenomenal, with 150,000 views and $3,000 in monthly sales — for far more than a single month.
7. Create Unique Content
One of the biggest challenges for small businesses is creating content regularly. However, working with influencers gives you content to share on your social media sites and even on your website. Influencers create reviews, videos, short posts, photos and more.
The cost of hiring a professional writer and photographer is far more than the cost of bringing on an influencer who also creates this type of content. A smart marketing mix is splitting your budget between influencers and unique content.
8. Add a Fresh Perspective
Figuring out ways of marketing your products isn't easy. Over time, ideas grow stale, and you need something fresh and cutting-edge. Influencers brainstorm ideas with you because they know what their audience responds best to. The way they see your brand may be slightly different than the way you see it. Their unique viewpoint allows them to showcase you in a new light with a fresh audience.
Cost-Effective Tool
Influencer marketing is one of the most effective tools you have for increasing brand awareness. Approach it as you would any other type of marketing endeavor. Do your research, study the competition and create a plan. Keep in mind that the best results often take time, but don't rule out immediate benefits, either. Look for ongoing partnership opportunities that expand the reach of your brand and add fresh ideas to your business.