Vector to Augmented Reality Tutorial
You asked, we answered! This all new, in-depth tutorial answers a question asked of us often here at Cleveland creative agency Go Media: "How do you create those awesome vectors?"
We're answering that and a whole lot more, as in this two part video tut we're teaming up with Photonic Creative Studio, a Cleveland-based company that specializes in 3D graphics, for an incredible project based on our vectors, known industry wide for being the best of the best.
If you were at our design conference, Weapons of Mass Creation Fest 6, you may have seen Photonic Creative Studio's awesome augmented reality photo booth.
After receiving lots of interest, we decided to make a vector to augmented reality tutorial that shows how the 3D-modeled art weapons were created, specifically the futuristic x-acto knife. The process begins with one of the top questions we are asked at Go Media, "How do you create those awesome vectors?"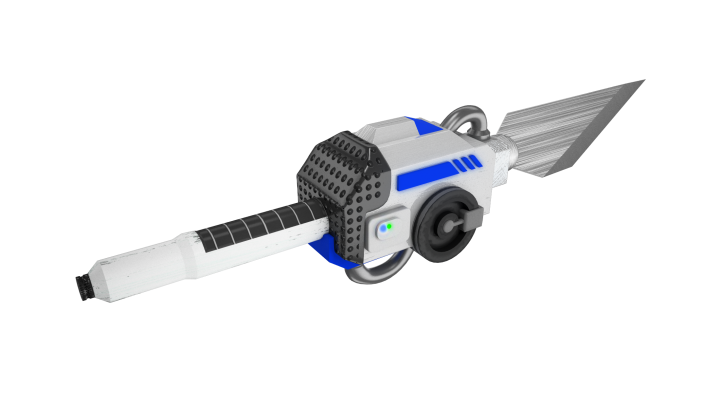 This tutorial begins with conceptualization, sketch and the creation of our vectors and then turns it over to Photonic, who imports the illustration and creates the 3D model in Maya. The result is remarkable; the process is captivating and tons of fun.
Here's what's included:
Sketch to Vector
Go Media's Arsenal designer Jordan Wong will walk you through how he created the illustration of the futuristic x-acto knife. Beginning with the process of conceptualization and gathering references to work from, Part I will offer an inside look at how the original sketch was made as well as the steps of bringing the drawing into the computer via scanning. After a detailed walkthrough on turning the drawing into a vector in Illustrator, the segment will end with an overview of the finished diagram that was used to create the 3D model. (57 minutes)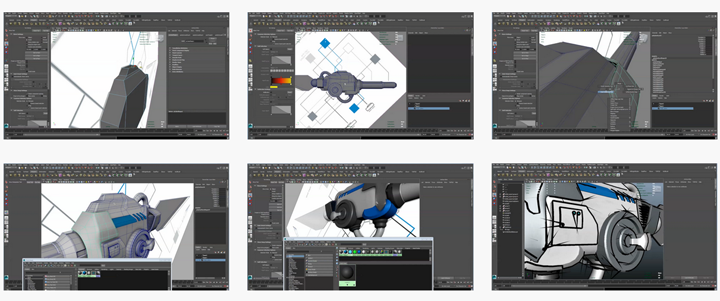 Vector to Augmented Reality
Ian Zeigler, the founder of Photonic, uses Autodesk Maya to import Jordan's illustration and create the 3D model. This segment will kick off with basic navigation of Maya's interface, including an explanation of tumbling, zooming, and basic hotkey modifiers. Ian will cover importing, rotating and scaling the image to fit the needs of the modeling phase. You will also learn about polygon modeling and the tools used, like extrude, move and scale, to bring form to the model. The tutorial will conclude with assigning basic materials, colors and textures, as well as the basic outputs for rendering, game-engine, or 3D print. (2 hours, 57 minutes)
Resources Included
The tutorial includes:
Introduction Video
Step-by-step instructional videos (qty 6) outlining the process of taking a drawing from paper to vector, and from Illustrator to Maya. (3 hours, 55 minutes of content!)
Full working files of the example art weapons!
Vector to Augmented Reality Tutorial
And now, for something completely different
If I recap the latest Arsenal releases, we have things ranging from mockup templates, vector packs, to texture sets. Which is, don't get me wrong, great. Today, I have a different product to put in your eager hands. Behold, the Graphic Designer's Guide to Motion Graphics (A video course by Pete Maric).
Why this video class?
We have a great number of video tutorials already on the Arsenal. They cover Photoshop and Illustrator quite in depth, either through the vintage art approach from Jeff's Beauty is a black hole Wacom illustration tutorial, or through the clean and detailed approach from Bill's 100 series about vector illustration. One of the types of work we've only scratched the surface of so far is 3d modeling and motion graphics.
Well, the wait is over. We've enlisted an amazing contributor in Pete Maric (the brain behind Triplet 3d) to create a tutorial that would start from some of the Arsenal vectors most of you are already familiar with, and shows you how to create this kind of end result:
Exciting, right? In case the video isn't loading, head straight to Vimeo.
Let's have a look at what Pete is covering
Planning your work with story boards
Setting up vector artwork for import into Cinema 4D
Creating 3D geometry based on vector paths
Materials and setting selections
Animation techniques using manual keyframing, MoGraph cloners, and splines
Adjusting animation parameters using Cinema 4D's timeline
Three-point light set-up
Render settings
Post-production techniques in After Effects
Sound Design using Garage Band (obviously Mac only, sorry Windows users – but there are Windows alternatives)
You can also read the full table of contents. It basically gives you the keys to understand the basics of 3d modeling and of motion graphics to animate simple elements, using various techniques. The demo video is obviously a combination of everything that's covered, but you can do simpler, shorter, longer, more complex, etc.
      There's more!
In order to help the people (like me) that are a bit scared by the Cinema 4D interface, he did a "Cinema 4D 101" kind of series on his blog. It's pretty great, and well detailed. There are eight posts in the series so far. I now officially don't have any more excuses to not learn it. And neither do you!
Where can you get it?
On the Arsenal, of course!

Hello again! I have been recently experimenting and working with mental ray and v-ray renders in both 3ds studio max and Autodesk Maya. For this tutorial I will be teaching you guys some basic modeling, easy rendering techniques using mental ray and creating textures in Photoshop to be used in 3ds max.
V-ray and mental ray both give you very realistic renders depending on what you want to achieve.
Let's begin.
Step 1: Modelling the base of the phone.
Open up 3ds max. Go to create tab, chose Splines, and then hit Line. Create a rectangular shape in the front view port.
With the shape still selected hit 1 to enter vertex mode. Select Fillet and refine the corners of your rectangular shape.

Step 2: Bevelling the shape.
Now with your shape still selected we will go ahead and apply a bevel modifier. Right click and convert the object into an editable poly.
Hit 4 to enter a face mode. Extrude and scale the face.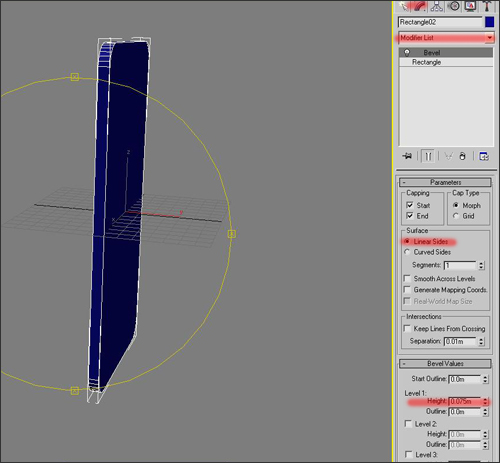 Create, extrude and duplicate the Line splines to create a model like the preview below.
Step 3: Slicing the polygon face.
Let's slice the polygon face to create the screen and a section to accommodate the keys.
Select your top polygon.
Hit 4 to enter the polygon face mode.
In the top view, with your polygon face still selected, select slice plane.

A yellow box will appear around your model. Right click and select rotate.
Hit F2. This helps you slice accurately.
Rotate the yellow box and hit Slice to create a slice similar to the preview below.

Step 4: Adding details.
Using your line tool, create line shapes with refined corners like we did in step 1.
Apply a bevel modifier to it to give it more depth. Clone and scale one of the key shapes
to create a shape for the speaker.
Add more details to make it look realistic using the line spline and extrude techniques.
Place and arrange all your shapes like the preview below.
Step 5: Creating textures.
We will be creating a simple texture for our speaker in Photoshop.
Open up Photoshop. Hit Ctrl + N.
Apply a gradient to the background. Create a new layer, make small black circles, duplicate and arrange them.
Give it a name and save as a jpg. Now go back to studio max and let's assign a mental ray renderer.
Step 6: Assigning a renderer.
Hit F10 to bring up the render scene menu.
Scroll down and select assign a renderer. By default mine is already set to mental ray.
Click the dotted box next to it to change it to mental ray if yours isn't.
Click ok.

Step 6: Assigning Materials.
Now hit M to bring up your materials. Select a material and apply a diffuse bitmap.

Select the jpg you created in Photoshop and apply it to the speaker shape we created earlier.
Apply a UVW mapping modifier to it. Select gizmo and position it accurately.

Let's create a daylight system. Create a plane to act as a floor.
Hit systems in the create tab. Select daylight.
In the top view port draw your daylight.
Now go to Rendering, Advanced Lighting and Exposure Control.
Check exterior daylight. This will reduce the intensity of the light in our scene.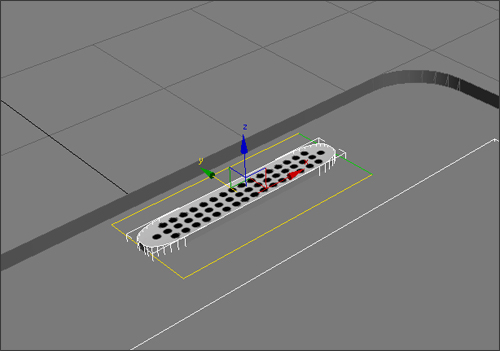 In the daylight parameters use these settings.
Hit M for the materials menu again.
Let's create a mental ray Arch and Design material. For tutorial I will use the following materials:
Chrome material
Tinted Glass
Glazed Ceramics
Translucent Plastic Film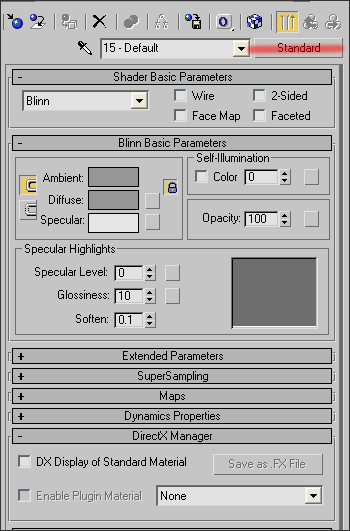 Apply the following materials we just added to parts of our 3d model.

Make a quick render to see how it looks so far. Apply your translucent plastic film properly so it renders. Play around and see what more you can achieve. Below are some of the renders I had in the end.

I will make the max file available Hope this tutorial was useful and helpful.
Check out my blog at andrewohene.wordpress.com and comment.
Introduction
Hello again! I was recently asked to do a flyer for a promotions company by the name of  inFamous Productions; a very popular promotion movement in Western NY mainly stationed in Buffalo.
My main objective was to create something unique that would serve as a creative campaign for a nightclub. Long story short, one thing led to another, and I came up with a poster which led to the flyer design. For this tutorial I will be teaching you guys and letting you all get ahold of the process in which I used to create this Galactic Title in Photoshop.
The tutorial will be 80% Photoshop intensive and 20% 3DS Max. Somethings to keep in mind are: 3D letters can be made in any program, be it Adobe Illustrator, 3DS Max, Cinema 4D, Xara 3D, Photoshop, etc. The great thing about this technique is that it can be translated into any 3D generating software.
I will shed light on the basics of lighting, mapping and Render Setup in the robust package that Autodesk has to offer. I don't want this to predominantly be a 3D tutorial, thus I will not go into extensive detail on everything I do. Feel free to shoot me an email at [email protected] if you have any questions and or concerns. I can also point you into the right direction if you are interested in pursuing a design career in 3D.
Lets Have At It!
Begin by finding a great font. I like to browse around this site for inspiration and possible font purchases. I find that rounded san-serif texts tend to work well with this technique.
Step 1 – Setup
We can begin by launching 3DS Max and create our preferred slogan. For this, I chose "Stand Up", since it was the name of the event. Go the Create Tab, marked by red, chose splines, then hit text. Type in what you like and line up the text as shown in the front viewport.
Step 2 – Extrusion
Perfect. Now with the text spline selected we will go ahead and hover over to the modifier stack and apply a bevel modifier. Follow the settings displayed below.
NOTE The bevel settings will vary between text sizes so don't depend on solely on mine. Mine are generally smaller because I exported my splines from illustrator. Just scroll down the arrows until you get something that looks like the preview below.
Step 3 – Mapping
Lets add some materials to this text by hitting the M key on the keyboard to bring out the material editor in Max. I am using VRAY, which is a physical based rendering engine and I HIGHLY ENCOURAGE all to purchase it or at least try it out.
This is definitely one of the best rendering solutions for any platform. Although 3DS Max and many other 3D software come with their own G.I. Solution, in my opinion, VRAY surpasses them all. For this reason, I chose to use this engine for the tutorial. You can get a hold of a demo from here.
Without further ado, lets continue on. Let's give the text a semi-glossy white material. I absolutely enjoy white text but you can change the color to match your creative ambition.
Step 4 – Lighting
Lighting. I promise, this will be easy. Vray is the way my friends. We will simulate a rig for a studio lit scene without using a 3 pt. Lighting system. Find the Vray Lights and click and drag on the viewport to create the rectangular Vray lights. Feel free to experiment with different lights and shadow parameters. Remember, experimentation is key to success when using software.**
Step 5 – Position Text for Renderer and Create Camera
Follow the picture below. After you are done creating the camera, press F10 to bring out the render settings window:
Step 6 – Render Setup | Low-res and Hi-res
Rendering—one of the essential parts of finishing a project in any 3D platform. These settings are very critical, as they determine how long a render task will take and how good a quality the engine will put out. It's always essential to set up test presets so that you can get relatively quick renders without losing too much quality.
After you are done plugging in these settings, save them as a preset. Name the preset 'Test High'. This will now help you save time when testing out scenes.
Low-Res Setup
This actually looks OK to go ahead and use for a small production. However, I assume you would like to make this project in large prints. Therefore, I will also show you how to set up a great quality render that will probably take up about 1 hr to 45 minutes to render depending upon what hardware you are working with. Sorry—for great quality you always have to pay the price of render times.
If you really hate render times and want to get a great quality realistic looking render with max's built in scanline render, I suggest you Google "dome light rigs for Max". This is basically an array of lights in a scene with multiple settings that are used to fake G.I. With an ambient occlusion pass……whoa, I hope I did not lose you there. Nevertheless, the technique is out there—it's just up to you to fish it out. Now follow the settings: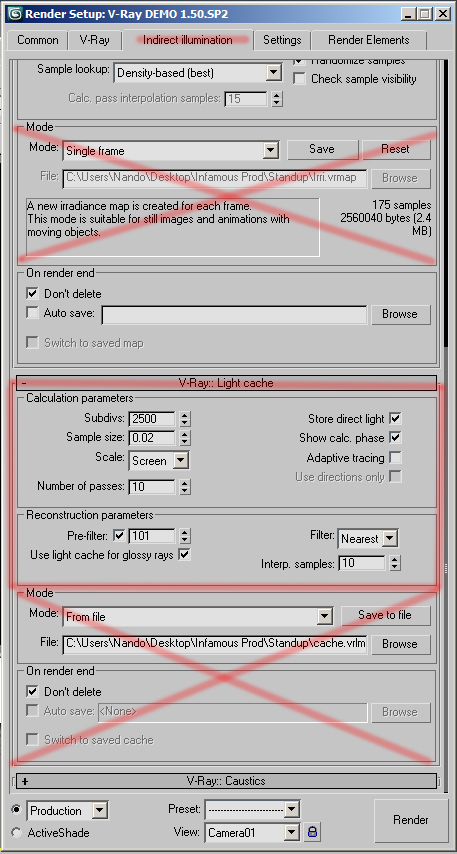 **NOTE** if you are a 3DS and Vray Junkie like myself, I would actually ignore the "X" I put on the Mode settings for each GI engine. If you are a beginner, please follow the pictures exactly. I just don't want to cause confusion and more complexity; therefore, I chose to ignore those options. However, if you are interested in finding out what they do, Google 'Vray Mode Settings' and follow the online instructions. Basically what they do is help avoid flickering and lessen calculation times during animation renders by referring to the same map in every frame.
Step 7 – Saving Files for PSD
No that we have that out of the way, we are going to save out PNG's—not jpgs, not exr's, not tiffs, but PNG's. We will also need to mask out the Face of the type because we are going to add a texture later on. I'm very lazy, and rather than wasting 30 minutes of my time tracing a mask of the text face in Photoshop, why not generate one from 3DS Max? Here's how:
Step 8 – Finding the Resources
OK—now that we are done with 3DS Max, shut the program off and launch your preferred browser. Let's look for some stock images. The picture above shows a lot of galactic activity, therefore we want to look for nebula stocks, cosmos brushes and the whole nine yards.
Here is a list of places where you can go to find amazing resources for this tutorial.
…and the list goes on. However, Google 'nebula', or space brushes and try to find high res brushes. I got lucky a while back and got a hold of some amazing, free royalty space brushes. I would love to share with you guys however, I don't remember where I got them. Also, you will need to watch a brief tutorial in order to create cloud brushes:
We will use them as erasers to get nice dynamic "cosmic" clouds.
Step 9 – Setup
We have everything we need. If you downloaded brushes make sure to install them before you launch Photoshop. Lets setup our document size. I encourage you all to make this a large file because when printed large on a poster, this design really turns heads.
Step 10 – Mapping and Coloring
Lets begin by adding a semi dark background. Go to blending options and create a radial gradient: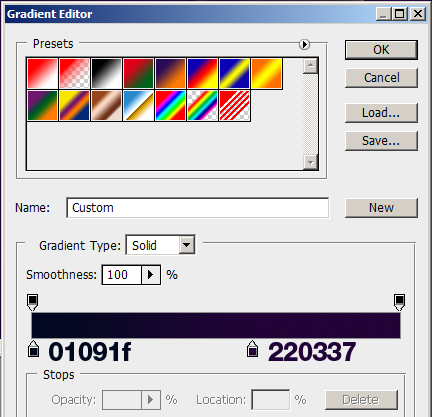 Now snag this stock image and place it behind the text like so, and set the blending mode to screen. Feel free to use the cloud brush (from the tutorial above) and erase off anything you don't want to keep from the stock. Like I did below:
So far so good. Now let's go further. Lets begin to add our texture and color map to the extruded text. First add the Color Map: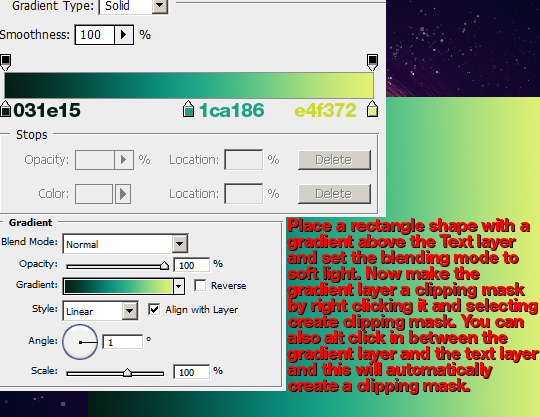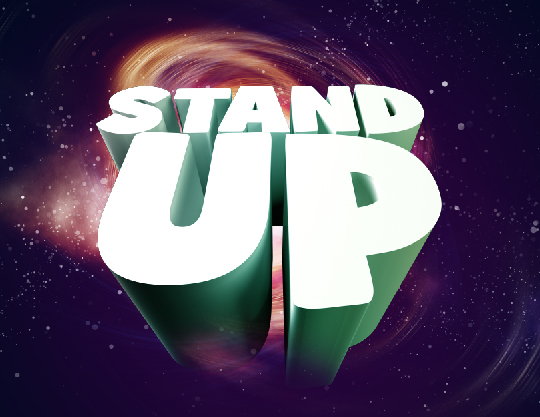 Now we are going to do the same but with a texture map. Snag this texture from bittbox's Flickr Pool. Lets make all the white ares pop out my bringing up the curve editor and raising the curve. Now set the blend mode to soft light and opacity of 75%. Now give it a clipping mask on top of the gradient map:
With the same texture and following these same steps, lets now do this to the mask layer we generated from 3DS Max:
Step 11 – Lighting
As you may see, with this mask layer, we have a lot more control of what we can do to the face of the text. 3DS Max is absolutely the best. Now lets create more cosmic distortion by duplicating the first stock image we used, which is the swirl fractal. Hit Ctrl + U to bring out the Hue/Saturation settings. Now go to Filter > Blur > Motion Blur. We will use this technique to create light streaks. Duplicate this layer and set blend mode to soft light to both: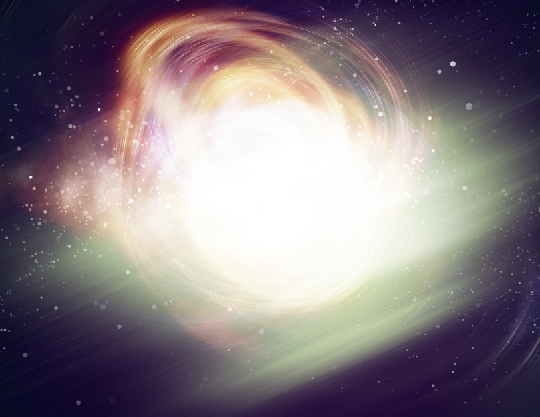 Step 12 – Using Brushes
Now with the space brushes loaded, create an array of new layers. In each layer you will place a different space brush. Trust me, you do not want to go ahead and paint all the different brushes in one individual layer. We want to create a dynamic collage, therefore, we need every element in their own individual layer.
Experiment with different shades of green and yellow to create more harmony. You'll want to switch from brush to cloud eraser in order to get rid of hard edges  in a non-destructive way. Watch as I do it: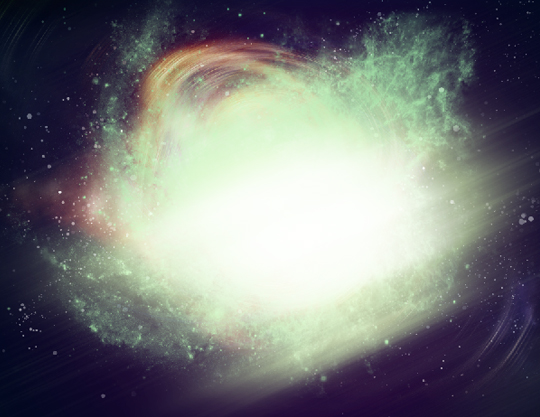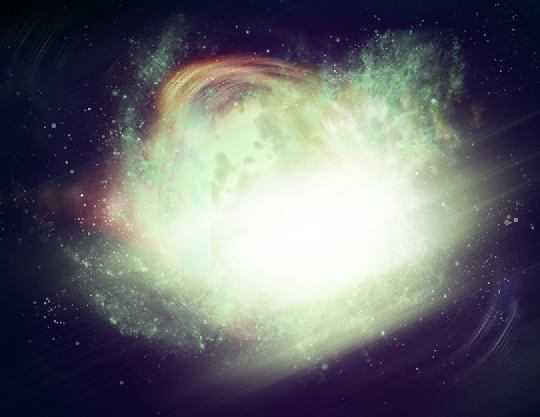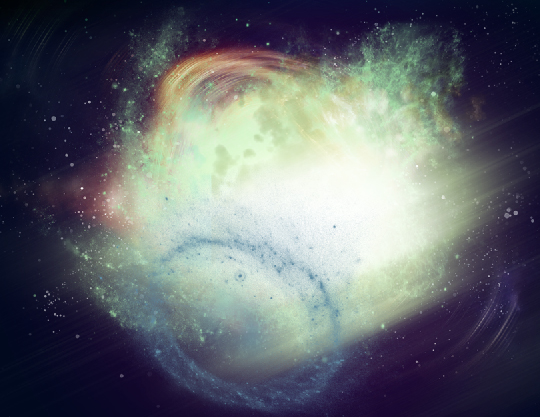 Step 14 – Adding Lights
Now lets create an array of circles with different hues. Blur them using Gaussian blur with a setting of 97.4:
Continue adding lights to the comp. Try differentiating the blur densities.
Step 15 – Brushing Continued…
Lets keep on brushing more cosmic relief. Now lets add depth by brushing in front of the letters since we have spatial design behind the words. This will create a sense of interaction among the elements and will make the text seem as if it is part of the composition rather than look like it was pasted on. Use your creativity and imagination to determine size and colors of the brushes. Continue brushing: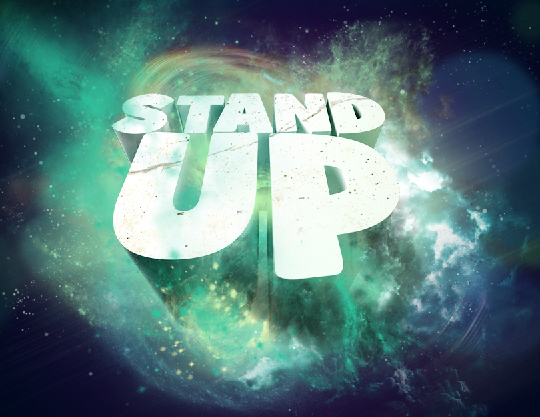 Step 16 – Fades
Next I will show you how to create fading designs:
OK now that I have shown you how to do this. Repeat this step until you are happy with your light streaks.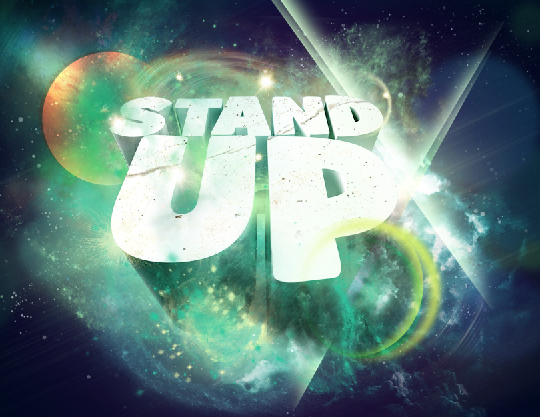 Step 17 – Line Design…
Now we are going to create the intricate line pattern behind the letters. As complicated as it may seem, in reality it is fairly easy. Choose the Line shape tool, with an empty path selection as shown in the video below. While holding shift, create continuous lines from left to right. Go to Brushes and create a simple scatter brush by following along with the video below:
Step 18 – Background
Now lets add a final texture to the background layer. Google watercolor textures. When you find one that you like, import it into your comp. and set the blending mode to soft light and the opacity to 75%. We are all set!
Step 19 – Topaz Filter
Ha….I lied, we are not all set yet. We have one final step. You can skip this if you like, however this will give your final piece more continuity. After you have downloaded the lovely trial version I posted above, go to Filter > Topaz Adjust and scroll down to the presets and click on Portrait drama. Apply the preset and you are finished.
Voila—now instead of doing the various techniques I showed in my previous tutorial, you can now perform them with the click of a button, but at a monetary trade off.
I hope you all enjoyed the tutorial, and hope it wasn't too complicated. Comment please and let me know what you think before I move on to the next tutorial.
I am once again providing all of the files used in this tutorial: Stand Up tutorial source files [Go Media]
I hope this tutorial was helpful. Lets see some submissions of this technique in the Go Media User Showcase. Thank you for your support and happy designing.
Also, be sure to check out my portfolio and my previous tutorial.
A Square Foundation
Let's start off by creating a new document that's 1024×768.  Name this first layer "Maze."  Then, take the Rectangle tool and draw a 50×50 square.  Give this square a 10px black outline and no fill.  Then align it to the center of the canvas.  Repeat this process, only this time make the square 700×700.
Now we're going to blend these two squares together.  Select the two of them and then type Ctrl+Alt+B (or go to Edit > Object > Blend > Make on your menu bar.)
Now you should have what looks like three squares.  We want a few more than this, though.  So it's time to go into the Blend Options and make a few changes.
After that's done, you should have a series of squares that look like this on your canvas.
We can't do anything with these squares until we separate them into their individual shapes.  So go to Object > Expand and make sure all the checkboxes for "Object," "Fill," and "Stroke" are selected before you hit the "OK" button.  Now the squares are separate items.  However, they are still grouped.  So type Shift+Ctrl+G to ungroup the lot of them.  Now you can select each square individually.
A Proper Maze Has a Lot of Twists, Turns, and Dead Ends
A maze is not a number of squares within each other from largest to smallest.  A maze is a puzzle where the solution is a winding path amid many twists, turns, and dead ends leads from the outer entrance to the center.   So now it's time to turn this pattern of squares into a true labyrinth.
Take the pencil tool (Shortcut:  "N"), change the stroke color to red, and make the stroke width at least 3pts.  Then create a new layer above the squares, named "Solution".  Take the pencil and draw a possible solution to the maze through the squares on this layer.  It should start in the center and end somewhere outside the outermost square.
The drawn line does not have to be perfect.  Nor does it have to cover the entire square.  It can be as simple or complex as you want it, so long as it's not a straight line from start to finish.  After you've finished drawing your path for the maze, double click on the "Solution" layer and select the "Template" option.  Now we can go back to the "Maze" layer.
We're going to use two tools to edit the squares on the "Maze" layer.  The first tool is the "Add Anchor Point Pen Tool" (shortcut:  "+").  The second is the "Line Tool" (shortcut:  "/").  Starting with the smallest, innermost box, take the "Add Anchor Point Pen Tool" and add two anchor points on either side of the solution line that crosses through it.
After those two points are added, add one more point between those two.  Immediately after that, press the "Delete" key to remove that third point.  Now you should be left with a single opening in the center square.
Now take your "Line" tool and draw a line from one side of the small square to the side of the larger square just outside it.  Press and hold the "Shift" key while you draw this line to keep it perpendicular to the wall you're drawing from.  This creates your first "dead end" in the maze.
Now it's just a matter of opening up doorways where the red lines cross the black boxes, and creating walls for dead ends.  Don't forget to create more doorways and walls to create a more complex maze.  When you're done you ought to have something that looks like this:
When your maze is done, select all the black lines on the page.  Go up to the "Object" drop-down menu and "Expand" everything.  Once everything is expanded, open up the "Pathfinder" tab (shortcut:  Shift+Ctrl+F9).  Under the "Shape Modes", press and hold the Alt key while selecting the "Add to Shape Area" button. Any lines that intersected another become a solid shape.  Anything not intersecting will be grouped together automatically.
When your maze is fully developed, then you can go ahead and delete or hide the "Solution" layer.  It won't be needed again.  Now what you're left with is the grouped shape on the Maze layer.
Turning the 2D to 3D
Now it's time to turn this flat maze into a three-dimensional labyrinth.  Select the grouped maze image and change the color to gray (#7F7F7F).  Then go to Effects >Extrude & Bevel…
When the pop-up menu opens up with all the options, change the settings to what you see below:
If you click on "Ok", your 3D maze should now look like this:
Adding a Little Flair
For this maze, I want to make it so that the bottoms of the walls blend into the background.  In order to do this, we are going to map the labyrinth walls with a simple gradient symbol.  On the same Maze layer, create a 100×100 square.  Fill it with a gray-to-white gradient (#7F7F7F to #FFFFFF).
With this square still selected, turn it into a graphic symbol by pressing F8.  Name it "Wall".
Now reselect your maze and open up your "Appearance" tab.  Double-click the FX layer named "3D Extrude & Bevel".  When the options pop-up has opened up, select the "Map Art" button.
Press the "Next Surface" button on the Map Art options screen until you reach a simple rectangular shape.  Whenever you get to a plain rectangle shape go to the Symbols drop down and select your "Wall" symbol.  Make sure to press the "Scale to Fit" button.
Note:  Although the gradient is mapped to the wall so that the gradient runs white-to-gray from top-to-bottom, when it appears on the actual 3D object, it will be reversed so that it's gray-to-white.
Keep going through each image and map each visible wall, which are usually shaded in a very light gray.  Walls that are not visible will usually be shaded in dark gray and do not need to be mapped.  I say "usually" because sometimes Illustrator's 3D Extrude and Bevel function acts a little buggy with complex shapes like this.  Sometimes walls that are visible on the canvas show up as "not visible" in the Map Art pop-up.   If you keep the "Preview" box checked, you can see which walls you are mapping on the 3D labyrinth itself as you go.   When you're done mapping all the visible walls, this is how the labyrinth should look:
Finishing Touches
Now we have the fully built 3D Labyrinth.  However, let's add some color.  We want to make all the gray portions blue.  This is easy enough to fix, and we won't have to go into any shapes or symbols to do it.  First select the maze and then go to Edit > Edit Colors > Recolor Artwork from your menubar.
If you followed the tutorial to the letter, you should only have two colors available to edit in the Live Color pop-up:  white and gray.   In the "New" color box beside the gray color, change that swatch of gray to blue.  Then press OK.  Everything that had that gray color, including the gradient in the "Wall" symbol, will now be changed.
The color is now what we want it.  However, I want to see more white in the gradient of the walls.  All you need to do to change how the walls look is to open up the "Wall" symbol and change the gradient there.  If the symbol is deleted, then it can be found again in the Symbol tab (Shift+Ctrl+F11).  Double-click the symbol to open it up for editing.  Change the midpoint of the gradient from 50% to 75%.
When you're done with the color and gradient changes, your maze should look like this:
Finally, it's time to export the final image.  Take a moment to center the labyrinth in the middle of the canvas.  Then go to File > Export and export the image into the file-type and resolution of your choice.  For this example, I chose a JPEG.  When you look upon the final exported image, you'll notice that the image has no jagged edges around the perimeter of the maze.  The white portions of the walls blend smoothly into the background.  You now have what looks like a labyrinth sitting in the middle of a fog.
In Conclusion
Now that you know how to create this 3D labyrinth, feel free to experiment with any number of shape and color combinations.  Variations of this theme can be created using different foundations shapes (circles, hexagons, hearts, etc) and by varying the number of shapes used as well as the thickness of their outlines.  If you wish to make the maze large enough so that it fills the entire canvas, I suggest either making the size change before you start mapping the walls (as the symbols do not deform well once they are in place) or exporting the image far larger than your intended image dimensions, and then cropping the image down to the size and view you want.
I hope you enjoyed this tutorial and that it proves useful in a future artistic endeavor.
What you will learn
In this tutorial, you're going to learn how to create a vintage, retro-modernist poster in Photoshop. You'll also learn some vintage coloring techniques, retro photo effects, and some cool 3d typographic effects. You'll also need Adobe Illustrator to create vector paths that will then be imported into 3ds max. This won't be a typical step by step tutorial, but more of a walkthrough of how I created this poster for a real client.
The design brief
The poster is for North Coast 99, an annual recognition program that honors 99 great workplaces for top talent in Northeast Ohio. Every year they have a unique design that is used as a poster and magazine cover for Inside Business magazine.
The concept behind this year's design was to honor businesses in Northeast Ohio who were able to grow even during the recession. Themes that the client provided were the words "Pioneer & Persevere", a plummeting line graph to symbolize the recession, and green/nature elements to symbolize the environmentally conscious.
Preliminary sketches
I am a firm believer in sketching out some ideas on paper before you start. This helps get your mind going and the pressure is off. Here's a list of things to make sure you think about when sketching your ideas.
Does your sketch include the themes or subject matter provided by the client?
Is your sketch the right proportions of the final design?
Does your sketch properly convey the meaning behind the design?
Create your type in Illustrator
The first step is to use Adobe Illustrator to create your type. Choose your fonts wisely. How do you know what font to use? In this particular case, I used Fritz Quadrata because it is classy and has a slight flare-serif characteristic of many retro typefaces made popular in 80's movie posters.
But you can use your favorite font, as long as it helps you achieve the vibe you're going for. Other fonts great for vintage and retro design are Serif Gothic, Kaptiva, Garamond Ultra, Windsor, Korinna, Liberty, Tango, Flange, Springfield, Seagull, Legothic, or Scentogram to name a few. Lay out your type and go to Type > Create Outlines. Save your document in AI 8.0 format. This is key! You must save as AI 8.0 in order to import your paths into 3ds Max, otherwise, you'll get an error.
Set up your scene in 3ds Max
Open up 3ds Max (if you don't have this, Cinema 4d will do the trick as well). I use 3ds Max simply because I learned it in college and am more comfortable with it. I can get results I want quickly.
What is the final output size of the poster? In this case it's 11" wide by 14" tall. Or 3300×4200 pixels at 300 dpi. Eventually you'll need to set your render settings to this, but for now, let's just lock that aspect ratio and make it 500×636. This is good for speedy renders while working.
Then create a camera and set it up at the proper angle. One shortcut I like to do is manipulate my perspective view to get my desired angle and then create a camera in top view. Then select my perspective viewport and press Ctrl+C to automatically position my camera to the same view. Cool huh! Now I can switch to camera view and keep the angle I originally had in the perspective viewport.
Then right click on "Camera1" in the upper left of the viewport and select "Show Safe Frame" and this will give you the correct proportions for your poster.
Import your paths into 3ds Max
Go to File > Import > Paths and select your .ai file that you just saved. You'll be presented with a dialogue box that asks if you want replace the scene or merge with current. Just click OK to merge objects within the current scene. It will ask if you want to import your paths as single or multiple objects. In this case, just select single object because you're not going to need to edit these letters individually.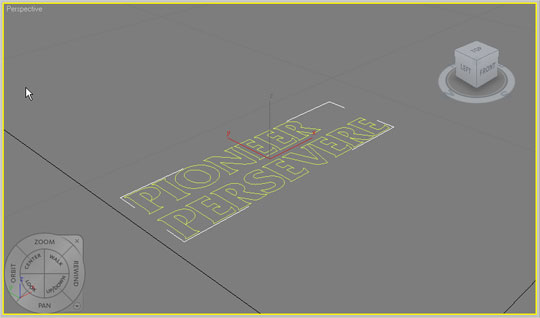 Once they're imported, you'll see they came into your document very small. I usually like to scale my letters up some with the scale tool. After you've done that, proceed to the next step.
Extrude and Bevel your type
Apply a Bevel Modifier to your type and use my settings as reference. You can tweak them to your liking to get a deeper bevel or a more rounded bevel.
I prefer the subtle bevel that's barely noticeable but it helps add realism. Why? Because a standard extrude with no beveled edges has a hard time looking realistic. In reality, every single object has some sort of corner to it, not matter how subtle. With a simple extrude, you don't get any corner. It's an exact 90 degree angle from one side to the other. You need that subtle beveled edge to catch light that gives your letters that sexy specular highlight along the edges for added realism.
Once your bevel is set up to your liking, rotate your text 90 degrees so it's on its side reading from bottom to top.
Create the line graph
Go back into Illustrator and create a line graph similar to the one I have shown here. In this case, you see the graph goes down and then steadily rises to the right. This is supposed to symbolize the businesses that overcame the recession.
Once you are happy with your line graph, expand your strokes and save your file in AI 8.0 format and import into 3ds Max. Just like we did before.
This is where it can get tricky. I wanted my line graph to come in from the left side of my type, wrap around the letters, then exit on the right side. It's more of an abstract representation of the line graph rather than making it so literal. It makes the image interesting.
You'll need to rotate around your scene to make sure you don't accidentally intersect the line with your letters. It's not hard, but it just takes some time.
Add an extrude modifier on this line and check the settings below.
Once you're satisfied with the result, we'll create the ground that the type is sitting on.
Create the ground / hill
Create a new geosphere and positioned it under your letters. Adjust the size to your liking. Crank up the number of polygons to make sure you get a pretty round edge. You don't want to be seeing any blocky edges that scream "hey, I'm CG!"
Apply Textures / Materials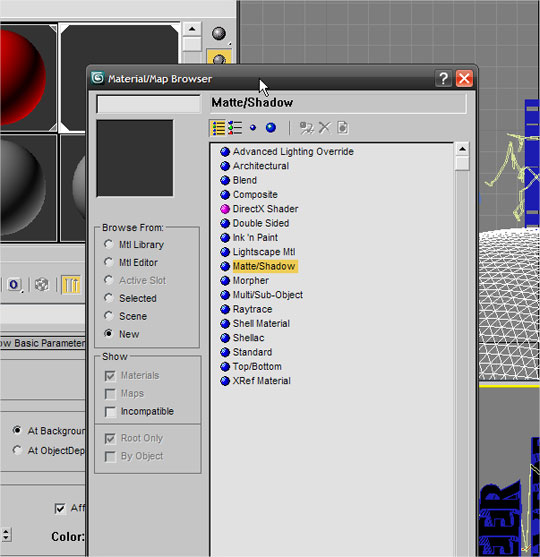 With your hill still selected, you can go ahead and apply a new material to it. Instead of "standard", select Matte Shadow. This will essentially make the hill render ONLY the shadows cast by the light and NOT the hill itself. This is going to be useful later when compositing the scene together in Photoshop.
For the type, apply just a standard blinn material to it. Adjust the diffuse color to white and you're set. You could play around with the specular highlights and glossiness if you want as well.
For the line graph, just apply another standard blinn material but make it red. Check the box that says "2 sided texture" because otherwise, the backside of your "ribbon" will be invisible. Again, you could adjust specular and glossiness to your liking. Remember, specular is how much light is reflected on the surface and glossiness is the size of the highlight. The higher the number, the smaller and more precise the highlights.
Set up your lights
First create a skylight in the top viewport. Adjust the intensity to something like 0.8. You don't want it too bright, because we're going to be adding more lights next.
Add a targeted direct light next. AIM it from behind the letters as if it's about 3pm in the afternoon. In my initial concept, I wanted to have the sun behind the letters so I could give it a glowy feel. Later, we'll be compositing a real sun photo to get a more realistic look. Turn on cast shadows.
And lastly, clone your direct light and turn off the cast shadows. Position this light more in front and lower the intensity to something like 0.4 for a subtle effect. This light will act as a fill light so it's not so dark in the front. Typically if you take a photo of a subject with the primary light source behind them, they come out silhouetted. We don't really want that so much in this case. This fill light helps. Feel free to adjust the settings to your liking.
Environment and Render Settings
Go to Rendering > Environment and give your scene a light blue background color. This is only for the render, not the final scene. In Photoshop, you'll be adding a new background later.
Turn on Advanced Lighting – Rendering > Advanced Lighting and select Light Tracer from the drop down menu. If you've got a fast computer and some extra time, feel free to turn up the bounces to 1 or 2. I usually stick with 0 or 1 bounce because I cannot wait for the extra render time. This gives me results that I like just fine.
If you've been rendering as you go at the smaller size we mentioned in step 3 and you're ready to do the final render, then follow these steps. If you're still not happy with your result, keep tweaking and making changes as you see fit. Once your happy, set your render output size to be 3300×4200. This is 11×14 at 300 dpi.
Render and Save as a .tga file with Alpha Channel
Render your image. This may take a while so grab a cup of coffee or take a break. Once it's finished rendering, save the file as a TGA w/ Alpha Channel. These are typically your default settings for TGA files so I just let them be. TGA files are uncompressed and we can use the Alpha Channel to remove the background seamlessly. It's brilliant!!
Setup a new document in Photoshop
Create an new document in Photoshop. 11" wide by 14" tall, 300 DPI, and RGB color. Even though this will be a printed piece, I like to work in RGB sometimes and then convert my colors later. Sometimes the effects I apply might look funny or not at all in CMYK mode. So start in RGB in this case.
Open your rendered .tga file
Open your .tga file that you just rendered. Check out the channels tab and Ctrl+click on the Alpha Channel to make a selection around it. Go back to your layer, copy and paste the art into your new document that you created in step 12. Now you're officially ready to start the post-production editing in Photoshop. This part gets fun.
Create a retro stylized grassy hill
To design the retro looking hill, first just create a single ellipse as your ground plane. Remember how your original geosphere looked in 3ds Max? Try to make it exactly the same. Line it up with your letters and shadows so it looks real.
Then apply a gradient overlay from green to red to purple. Tweak to your liking.
Then duplicate the layer and scale it vertically from the top down ever so slightly. Duplicate it again and do the same. Each time scaling it down from the top. Once you do it 3 or 4 times, you'll see it gives the ground a more rounded, three dimensional look that also has this retro faded gradient effect.
Add Clouds and a Glowing Sun
Go outside and snap a photo of the sky, with a good bright sun. If you're not inclined to do this yourself, you can find plenty of good sky photos on stock photo sites. I chose one that has some clouds, but it's most got a bright sun with nice rays shooting off.
Once I had my sky photo in there, the sun was not as big as I had envisioned. So I made a selection around it and copied and pasted it on top and made it bigger. Much bigger. I faded the edges with a soft eraser brush to get rid of the hard edge.
Add birds in the sky
You can surf some stock photo sites for a nice flock of birds photo or grab one quickly from the Flock of Birds Vector Pack in the Arsenal. If you're using a photo, make sure the sky behind the birds is white so you can set it to multiply to get rid of that background easily. The birds are there to show scale of the letters. It helps give the type that "monumental" look.
Now duplicate the bigger sun from earlier and put it on top of your text and birds. Set the blending mode to "screen" to give it a nice glowing effect. You might want to adjust the levels or softly erase the edges of the layer to suit your fancy.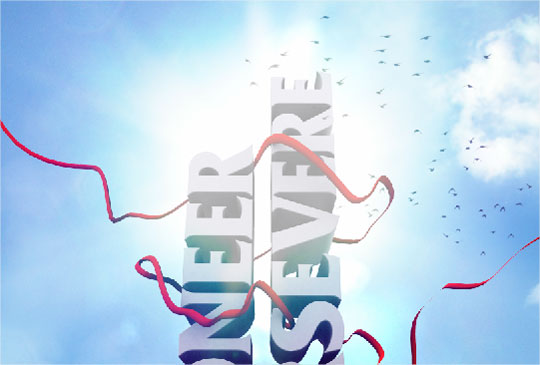 Add some cloudy smoke textures
Any nice photo of smoke or clouds could do the trick, but we've prepared a special set of ready-to-use Smoke and Cloud textures. You can buy them here. I set the layer to "screen" to give my clouds a little extra oomph behind the text.
Add some Dust Textures
We recently released an awesome new Dust and Particles Texture Pack that are perfect for this job. I pasted in one of the dust textures and set the layer to screen and it's literally like a magic bullet for adding some subtle aged effects without looking grungy or too dirty.
Boost Contrast and add a vignette and border
Increase the contrast by creating a new Levels adjustment layer on top and tweak the settings to get a little more contrast. Then Copy > Merged and paste a new layer on top. Duplicate that layer and apply a Filter > High Pass on it. Then set the opacity to something like 40%. This will give your image more contrast.
Next, create a nice subtle vignette on your image. But first, merge the high pass layer with the original. Then go to Filter > Distort > Lens Correction. Change the Vignette amount to -100 and press ok.
Achieve that vintage, worn, and analog look.
One major characteristic of retro and vintage photos is the grain. The easiest way to add some of that grain is to add noise, blur it, then sharpen it.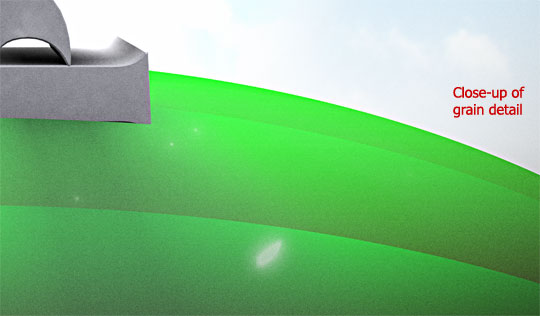 To be more specific, Copy > Merged and then paste your image on top of all layers. Add some noise, roughly 25-30%. I find that this number can vary a lot depending on the size of your document. Select "Gaussian" and "monochromatic" and press ok.
Then you want to run a Gaussian Blur on it to tone down that fake looking noise. Simply adding noise is never enough, it always looks fake and too sharp. Blurring it with a radius of 1-3 pixels is key.
The last part is using the Smart Sharpen filter. Set the amount to somewhere between 100-140% and a radius somewhere between 10-35 pixels. This is really up to you. This will boost the contrast and give everything a slight glowing edge or halo between the lights and darks. I have found this is a tiny detail that you'll see on truly aged and worn posters. If you look closely, especially at some letters on old movie posters, you'll see there is some grainy noise in there, but also a slight halo around the edges. The higher your amounts here, the more contrast and more halo you'll get. You don't want to overdo it here, but do just enough to get the look you want.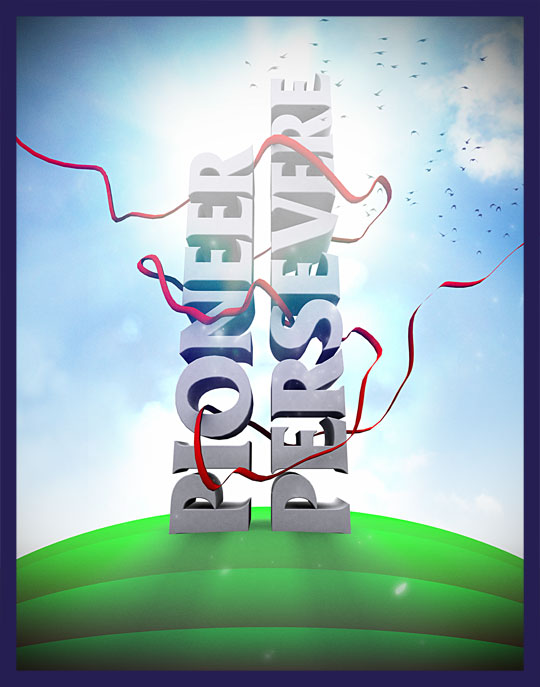 Add your copy and logos
The client wanted to make sure their logo and sponsor list were present on the poster. As well as a few other required lines of copy. I originally made these smaller, in the corners to further emphasize the massiveness of the type monument.
Use your judgment and eye for typography to place the copy in an aesthetically pleasing way. I avoided using drop shadows on my type, even if that sacrificed some of the readability somewhat. Sometimes drop shadows look tacky and fake.
Quick and Easy Retro Color Treatment
It gets even more fun. To truly achieve a retro, vintage look in Photoshop, we'll need to treat the colors. We'll make them look washed out, faded, and bleached by the sun. There are many ways to achieve this look digitally, but I'm going to show you one of the easiest and fastest tricks to get that retro, 70's or 80's look.
One characteristic of those photos is that the darks tend to be bluish and the lights tend to be yellow.
First thing is we'll make a new layer on top of everything you've already done. Fill this layer with a pale yellow color and set to "multiply" and 50% opacity.
Make another layer on top of that and fill it with a deep purple. You can try leaning more on the red side or more on the blue side. Either one will work well. Set this layer to "lighten" and you could tweak the opacity to somewhere around 50-100%.
Final Poster
Here is the final poster. If you want, do a copy > merged and paste the new layer on top of everything. Then duplicate it, run a high pass filter, and set it to hard light. Adjust the opacity to your liking to achieve a cohesive fake HDR sharpening look.
In this tutorial I will walk through the steps I used to create this illustration to bring alive the word "collide." While you may not find yourself needing to recreate the word "collide," I hope you will find useful the techniques I will cover:
– extruding text in Cinema 4d
– using displacement maps in Cinema 4d
– using the explosion deformer in Cinema 4d
– exporting to photoshop from Cinema 4d
– unique color enhancing techniques in Photoshop
– various layer modes applied in Photoshop for great light effects
(A basic knowledge of Cinema 4d and Photoshop is required)
STEP 1: Creating 3d text

I created a new document in C4d and added some text with the built in text tool.




I typed the word COLLIDE in the Attributes manager.




I applied Extrude Nurbs by making it a parent of my text.




Parent/child relationship shown above in my Objects Manager.




There's a small problem at this point: The word "collide" is treated as one object and I want to manipulate the individual letters. In order to do that I need to Explode Segments from the Function menu.




Now each part of each letter is broken into individual splines and I can extrude them separately as well as manipulate them.




On a couple of the letters I need to Connect the inside spline and outside spline together. The "O" and the "D" need to be connected because they are 2 individual splines as a result of the Explode Segments function I applied. I selected the 2 splines and right clicked to pull up a menu. I chose Connect. Once I've connected them I am ready to extrude each individual letter and place them where I want in my composition.




I have applied an Extrude nurbs to each letter now. See my object window for clarity.




And now I've named each nurb so that I know what letter it is.




Next I will click on each letter's Extrude Nurbs and adjust the cap to be a Fillet Cap. I chose 3 Steps with a Radius of 3. This gives a nice looking edge to each letter.




Next I selected each letter and changed it's position and rotation into a random spot that I felt would work for this composition.


STEP TWO: Creating reflective material for my 3d text

I created a new material that I will plan to tweak a bit later to get better results. But for now I know I will want to add reflection, environment, and a color.




My reflection is set to 35% and I did the same for environment as well. These are just settings I am randomly choosing and require some tweaking as the project progresses.




I added a light and and a sky to my scene.




I created a material to apply to my sky. I used a picture of a sky. There is definitely a lot of experimenting that can be done with what you can place in the sky and how it will look in the reflections of the material on the text.




I applied the new material to my sky and experimented with the Projection method. Cubic ended up being what I chose based on the way it looked as it reacted with my text.




Here is the result of my sky being reflected on my text. You can load the same image of a sky into your reflection and environment materials but the results will look different than using a sky in c4d to be reflected. I've found that I have more control over the reflections this way. I can rotate the sky. I can change the projection method of the material on my sky. Ultimately, it allowed me to get the results I wanted with ease.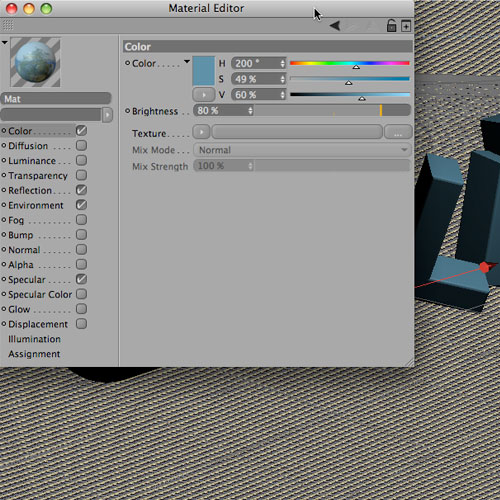 My text material wasn't quite colorful enough so I added a tint of blue to the original material.




Here is the result of adding the tint of blue. Much better for what I am looking to accomplish.


STEP THREE: Using a displacement map to create my collision effect

I copied several of my letter from the word "collide" and will apply a displacement map to those to create the collision.




I copied my reflective material that I created for the word "collide" and then I checked the "displacement" box and loaded a texture. Cinema 4d has built in textures you can experiment with for the displacement. Usually something black and white will work best but it is not completely necessary. I chose "brick" from the preset surfaces. I've also used black and white jpegs of stripes or other patterns that I've created in Illustrator.




Here you can see I set the Height to 500m and kept the strength at 100%. This is definitely a step that I could get lost in time experimenting with different heights, textures, and even projection methods for this material. Each tweak will give you amazing new results to choose from.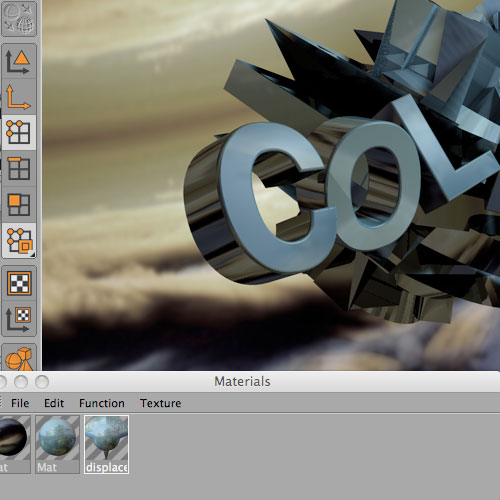 Here is the result of my current settings on the displacement material.


STEP FOUR: Adding exploding bits and pieces to my collision

I added a pyramid to my scene that will be used as the object to explode. I increased the Segments to 5. The more segments you have, the more bits and pieces to explode.




For this step I added an Explosion FX. I will use the Explosion later. (notice the difference above)




In order for the Explosion FX to work, it must be a child of the parent (the object to be exploded being the parent). I adjusted the Thickness until I found a setting I liked.




Here is the what my exploding pyramid looks like after playing with the Time and Strength of the explosion.




Next I copied my pyramid twice. On one of them I left the settings but moved the position of the pyramid to quickly double the amount of exploding segments. Then on my 3rd copy of the pyramid I added an Explosion rather than Explosion FX. This gave me a bunch of tiny specs of metal flying through the air rather than the large chunks created from my other 2 pyramids.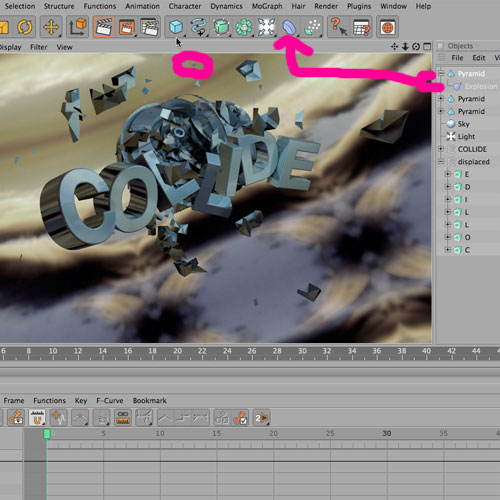 You can see the addition of the tiny explosion particles in this render above.


STEP FIVE: Adding the final effects in Photoshop

In my Render Settings, I made sure Alpha Channel is checked. Then I make my final render by choosing Render to Picture Viewer from the C4d Render menu.




When I open the rendered .tif in Photoshop it contains the alpha channel I included from C4d.




I selected the Alpha Channel, deleted the background and added a solid black background on a new layer below my collide artwork.




I wanted a feeling of air & space around my artwork rather than just solid black, so I added clouds from the Photoshop Filter menu.




Next I made a selection around a portion of the clouds and feathered the edge using the Refine Edge button.




I deleted the extra part of the clouds with my selection and adjusted the Levels of the layer.




I found a picture of smoke to really give this collision illustration some convincing touches. Almost like a car wreck and the engine is over heated.




Next I copied and pasted the image then inverted it (command, "I") and set it to Screen Mode.




I added a layer mask and revealed all. Then I went in with an airbrush on the layer mask and started erasing different areas of the smoke to make it look like it was interacting with the "collide" rather than just placed on top.




Here is what my smoke looks like after erasing bits of it. Next, I copied that layer and repeated the same steps to add some more smoke toward the bottom of my composition.




I felt the piece needed some more color to make it pop so I added a layer and airbrushed pink onto the layer with a large brush size. The layer was set to Soft Light and placed below my "collide" artwork so that it would effect the colors of my background but not my 3d collision.




I wanted to spice things up a bit and throw some lighting into my collision.




I copied and pasted the lighting into my composition, desaturated, and set the layer mode to screen.




Then I copied my layer of lighting and added a gaussian blur to the copied layer. I set both layers to Add and moved them below the layer I airbrushed with color earlier. This created some nice color through my lightning streaks.




The final result in Photoshop with all the layers displayed.
CONCLUSION:
I created 3d text in Cinema 4d. Then I created an explosion using displacement maps and exploding 3 different copies of my pyramid. Once I saved with an Alpha Channel for PHotoshop, I created a background for my 3d artwork by using the cloud filter and then using layer modes to create color and lighting effects. The most challenging part of this is getting the displacement the way you like it. Experiment with different patterns and different projection methods for the material.

In addition to the feature in Advanced Photoshop this month, I was blessed with a feature in Computer Arts Projects. Issue #111 Typography to be exact. They highlighted some of my 3D typography and ornate lettering techniques. Here are some photos. You can buy this magazine at any major book store.
Some random artwork I created for a poster that we never finished. It was the worst looking poster you can imagine! Just thought I'd post this.
Edit: This artwork is modified from the original poster. The "worst poster you could imagine" came from the idea that everyone in the office create something cool and then all those elements would be assembled into one big piece of art. I created a 3D "rebuild" text and Oliver created the word "aesthetic" out of fruit, and Bill had some vectored lady faces, and Dave had to take those elements and make them work together. Needless to say it didn't work out the way we had planned! I took my render of the 3D "rebuild" and made it it's own little piece of art and posted it above. I think it looks neat by itself.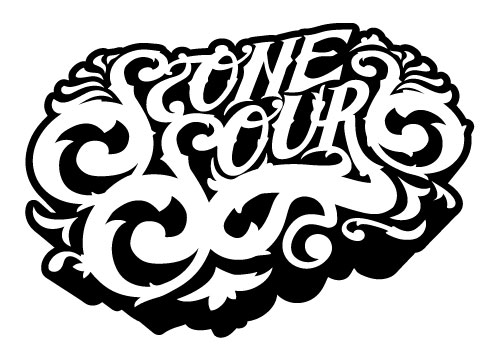 I'm going to show you the process as to how I do my ornate lettering. This is a new design I did for Stone Sour that utilized this technique. Now right off the bat, this is not a step by step tutorial. It's more of a look behind the scenes into how I work. The very core of this process is having a solid drawing ability and a good understanding of letterforms, typography, spacing, composition, yada yada. Also, I assume you know your way around Illustrator, Photoshop, and 3D Studio Max. There is no simple process to this – so yep, that means it actually takes work! So for those of you who are only interested in a shortcut to get this look, you can probably just skip reading. Because there really isn't anything short about this. It's good old fashioned hand lettering that's tweaked and finalized on the computer for a vector final result. Here is how I do it:
Start with a Sketch:
No of course, it took lots of bad sketches to get to this point. I probably went through about 4 or 5 sheets of paper with lots of various concepts. Once I had one I liked, I scanned it into the computer and placed it into Illustrator. Then I started creating my first letter using the Pen Tool.
Start Forming Letters with the Pen Tool using Sketch as Reference
I started placing basic geometric shapes (like circles) in place of where some of my major smooth curves are going to be. For me, it's hard to get such perfect curves using the Pen Tool alone, so I give myself some help by putting circles in. I plan to clean this up later.
You can see I started getting a little more detail in there. Just creating shapes with only the Stroke Color on and not the fill. I'll use the Pathfinder tool and subtract or add shapes together as I need to. Again, I will clean up this mess as I go.
I started making my letters solid fills now and used the subtract tool to knock out some of the circles.
You can see now that the S is cleaned up. The basic form is down and I am happy with it. I will add more fancy frilly stuff to the S later. At this point, I move onto the other letters. I will skip some of the redundant steps, but I basically do the same thing. I trace out the shapes with the Pen Tool or use basic geometric primitives to give me a good base. And tweak and tweak. I'm not afraid to merge shapes together and then tweak the points.
Continue to build the rest of the letters
Here is the rest of word Stone in its basic form. You can see each shape I created with the Pen Tool. Some of the perfect circular shapes were just circles that were merged with the other shapes.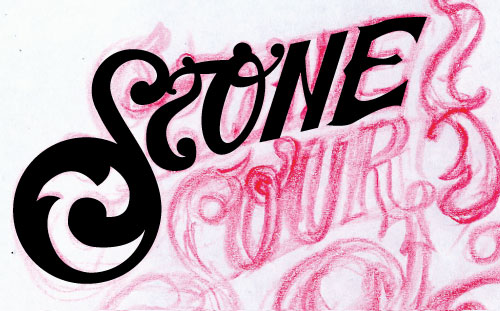 This is what the basic form of the word "stone" looks like. Let's move on to the other letters.
Adding Swashes
I added a swash underneath the letters to fill the negative space there and balance things out. I created this by making a custom brush in the shape of a tall triangle. This way the brush starts thick and ends in a point as it progresses down the path.
Adding Details
Now that all the basic letterforms are finished, now it's time to add in details. Smaller swashes, frills, flourishes, ornaments, etc. These are kind of improvised based on what I've already created. I just eyeball it and see what might look good where. I might see an area that is begging me to put a flowery type shape there. Or a certain place that might look cool with an ornate swirl. I also duplicated my S and mirrored it and put it on the right side. I dressed it up with some cool detailing and arranged it in the piece until I was happy. This isn't a science here, it's just about what you think looks good. This is where I can experiment and I usually try some things that I don't like and move things around until I am happy. This is my final piece after all the details were finished:
I think it looks very cool at this point, but I know there is more I can do to give it some extra kick. I will merge all the shapes into one path and import the path into 3D Studio Max. From there I can make it a solid 3D object and can get some cool effects that I cannot get in Illustrator. Well, it's sort of possible with Illustrators 3D engine but in my opinion, it's not as accurate and creates weird shapes. And I just like working in real 3D anyway.
Import paths into 3D Studio Max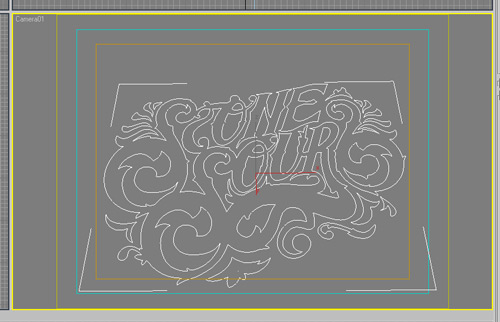 You can use whatever 3D program you want if you are trying this at home. But I grew up using 3DS Max. So here are my paths in 3D space. I set up a camera exactly how I want it, which is perfectly centered and in front of my object. I also moved it slightly down to sort of "look up" at my object from underneath – just a tad. This will give it more of a "big" feel.
Extrude the Shapes
I used the Extrude Modifier to give my text a 3D shape. In most cases I would use Bevel to give my shapes a more realistic edge to them (because real life objects always have at least some sort of bevel on the edges and are not perfectly flux together). Bevel gives edges an accurate highlight along them and can really add to the realism of the piece. But in this case, since our final output is vector and NOT a photo realistic 3D piece, extrude is the tool to use. So while extruding, I simply tweaked my settings to my liking. Now it's time to choose my materials that will best help me export this beast in a format that I can live trace easily.
Pick Materials
I want my letters to be white and the sides of them to be black. This way the letters will really pop. To do this, I applied an Edit Mesh modifier to the stack and sleceted only the front faces of my letters. I made a material that was white and self illuminated. This is guaranteed to be white with no shadows. I applied this to my letter faces and then selected the inverse. As a result, everything else was selected. I gave the remaining selection a black material that was self illumincated to prevent any odd shadows or highlights from affecting my final output. This is good if you plan to live trace your 3D rendering which I am about to do.
Render a high res image
Once I have the materials applied the way I like them, I render out a high res image – usually bigger than 2500 pixels. This gives me a nice size image to live trace. Also, render using a TGA file extension with an Alpha Channel. This is so you can easily cut your image out of the background.
Live Tracing
Before I Live Trace in Illustrator, I must go into Photoshop and separate my colors. For the whites, I select my highlights and invert them and copy and paste the now "black" letters into Illustrator. They're ready to be live traced. For the black shapes, it's a bit different. I make a copy of my render layer and use it's Alpha Channel to make a selection and delete the background away. I make a selection around my rendered image and fill it completely with black. Then I give it a good sized stroke to give it some extra thickness. Then I take that into Illustrator and live trace it using the default settings. Here are the two pieces as you see them in Illustrator after they have been live traced: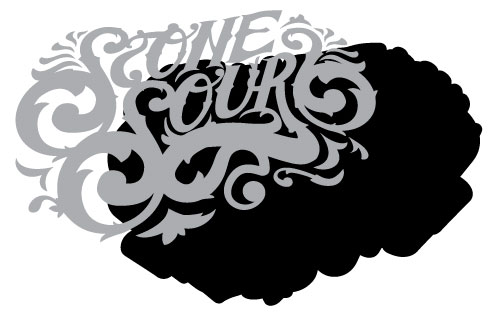 Final Result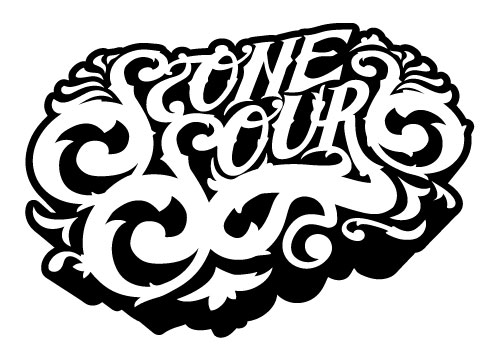 I hope you enjoyed a look behind the scenes into the creation of Ornate Lettering.
Here are some other examples using this technique or similar: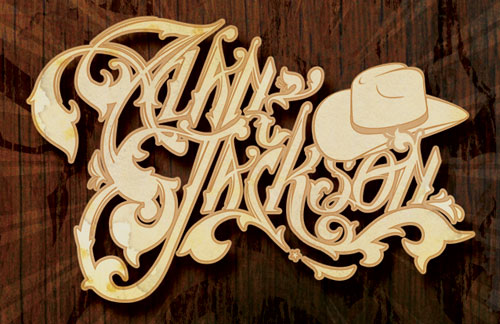 This is a video tutorial on taking vector art and importing it into Cinema 4D to create a 3D object that can be animated, textured, and manipulated in 3D space. In this tutorial, written by David from filmmakingcentral.com he shows you exactly how to do this. David was nice enough to allow us to repost this on our blog. He is using artwork from the free Vector Sample Pack from our Arsenal.
Continue reading to watch the video and read the step by step tutorial.