Articles by Month:
October 2007
We're giving away a little sampler of our newest Vector Pack Set 8. There are 7 items, one from each individual pack including Decorative 2, Religion, Flourishes, Music, Industrial, Arrows 2, and Silhouettes. Enjoy!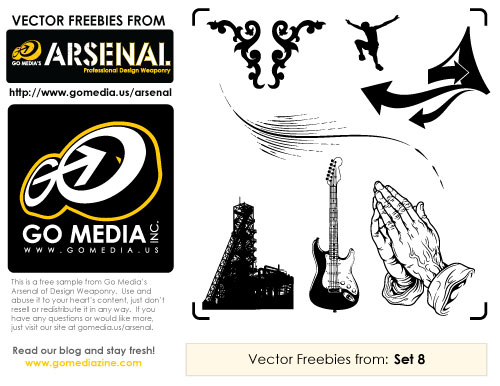 Download the file after the jump and be sure to say thanks in the comments!
Get your hands on our latest vector pack set 8! This set contains 220 pieces of artwork including Flourishes, Decorative 2, Arrows 2, Silhouettes, Industiral, Religious, and Music.
Let us know what you think.
As of this writing our Go Media User Showcase has 267 entries and 152 members. Here are a couple pieces that I thought put some of the items in Go Media's Arsenal to good use.
Combines the scribble pack and various others with photos. It's not overworked, and I think it's nice.
This design puts the Watercolor pack to good use:
Great job you two. Everyone visit their flickr page to see more of their work! And keep posting your designs and you could potentially get showcased!
The new issue of "I Want Your Skull" is out now and Dave and I managed to get some of our drawings in the zine. I did the dirty mullet skull and Dave did the one with the snake. Check them out:
I Want your Skull is an indie zine that showcases the art of skull illustration and design. It's a pretty niche market, but it's cool. This issue has a nice feature on Justin "Angryblue" Kamerer. The zine includes artwork from artists such as Dwitt, Doktor A, Shawn Hebrank, Kevin Mcnutt, Jerry Vigil, J. Statts, Tyler Kline, Mike Thompson, Eric Talbot, Alex Barrera, Miss Pinny, Shaun Friend, Punchgut, The Pit, Scott Benson, R.M. Hanson, Nate Nolting, Ryan August, Marald Van Haasteren, Ed Syder, and Jim Altieri.
Get your copy for $20 US here.
It's happened to the best of us and will inevitably happen to you if it hasn't already. Your hard work and creativity are ripped off without consent, permission, payment, or even credit. Oftentimes the idiot who assembled a piece of garbage like you see above will take credit for the design entirely. You'll even see fans of the band compliment the "poster" with remarks like "Wow, you're really talented, you should make a flyer for me!" Or even "I always knew you could draw!"
The image above was a close recreation of a poster that some band on Myspace made using Go Media's artwork as their "attention grabber." Their typography was horrid and it made me want to barf. My first instinct was to be all super pissed off and flame the person who created this trash!
The Small Time Crook
But then I sat back and took a deep breath. Was this as big of a deal as I thought? It was some band with less than 1,000 total plays and only a few hundred friends. They weren't any good and were probably just a group of young kids who are fans of our designs. I didn't want to sound like a complete asshole when I messaged them so I simply said "Woah, sweet design who made it?" The wrote back and said "A friend of mine created it…" Haha.
So was this kid just lying about it? Or did he have a friend make the poster and the friend stole it without the band even knowing? I wrote back and asked for the guy who created it, and he wrote back and said "Woah, I didn't know that this was something you created. Sorry about that! I'll take it down right away." I didn't even have to ask them to remove it. He was smart enough to notice my profile and portfolio and saw the original artwork in it. He must have got the hint!
This is typical of most cases of design piracy online. Small time, no-name designers wanting to use a cool piece of art for their own. They always say imitation is the sincerest form of flattery right? I try to keep that in mind when "policing" any stolen art. Other examples are
Back in May, the girlfriend of Go Media co-founder Chris Wilson wrote us a letter expressing her concern about the number of skulls in our portfolio. I thought you might enjoy reading it and what we had to say about it. Keep in mind she's an experienced reporter for a major newspaper in Southern Florida.
In the words of Rachel Myers:
"Skulls. *sigh*
Ok, here's the thing, and I sincerely hope you don't take it the wrong way. I am, by no means, a design guru. You guys possess talents beyond my comprehension, and I have a great respect for your skull (er… skill). You all have come this far without any say from me, but I hope you will hear me out the same way I would if you were to critique my writing. This is just my opinion, and I only offer it because I was asked.
Part Three of Seven Easy Principles to Becoming a Master Designer.
Good contrast in your design goes hand-in-hand with your color selections. Contrast is the value difference between the colors on your design. Value is how bright or dark the color (ink) is. Ever see a blank white canvas and as a joke someone says: "Hey – it's a white cow in a snow storm!" This is an example of no contrast. White on white is no contrast – you can't see anything.
Elementary right? I mean what kind of stupid tutorial is this? I'm explaining that the piece I'm designing needs to be visible??
This is a video tutorial on taking vector art and importing it into Cinema 4D to create a 3D object that can be animated, textured, and manipulated in 3D space. In this tutorial, written by David from filmmakingcentral.com he shows you exactly how to do this. David was nice enough to allow us to repost this on our blog. He is using artwork from the free Vector Sample Pack from our Arsenal.
Continue reading to watch the video and read the step by step tutorial.
So in this tutorial I'm going to show you how to create a spray paint effect using After Effects. It's a fairly simple process but I've got a few tricks that you may not have thought of. Here is a sample video of what you'll be creating:
Here are the AE project files.
So let's begin.
1.) Open After Effects
Lets create a composition that is 720×540 and call it "final stencil".
2.) Make Paint
Now we are going to make a spray paint effect. There are lots of different ways to achieve a spray paint effect. I will show you two different techniques in this tutorial. First, create an adjustment layer that is the size of the composition and call it "paint 1". Apply "vector paint" to this layer. Change your vector paint settings to look something like this.
There's a cool new site out there called Emptees that's showcasing the art of t-shirt design. There doesn't seem to be a commercial slant like Threadless, and it's more of basically a hub for inspiration. Some great artists are posting their designs there and it seems to be taking off. The site was created by the fine folks at Big Cartel so if there would be a commercial slant, it would be to try to get these apparel designers to sign up for their own Big Cartel store which is cool by me.
But anyway I've signed up and posted a few of my own apparel designs. I plan to post more eventually. There are lots of new designs posted every day by all the different artists and they are awarding the most favorited designs. I think it's a great idea! If you've got some of your own shirts you've designed, might as well post them up so the community can give you feedback.
Calling all bands, artists, and musicians!
Use TuneCore
to get your songs on iTunes, Napster, Rhapsody, eMusic, and more and get yourself a FREE complete set of Go Media's Vector Packs!
I've worked with TuneCore
before on getting my friend Brent Simon's music on iTunes and it worked surprisingly well. I think I paid something minuscule like $30 bucks for the year and got every track on his record up on ALL those digital music stores. A few weeks later his album was searchable in the iTunes store as well as streamable on Rhapsody! It even had his album artwork up there. I thought that it'd be really hard to get our songs up on those sites because it seems like only the big and famous bands can do it. But TuneCore makes it so easy it's ridiculous. So what a better motivation to get your band's music up there than getting a full complete set (a $52 value) of our Vector Packs.
Click here for more information.
Sign up with TuneCore and start uploading your tracks!
On of my favorite blogs (and one of the most well designed) Freelance Switch redesigned their site the other day. FS is an amazing inspiration to me in terms of the site's growth the past 6 months (nearly 15,000 subscribers already?). Not only is this redesign great, it's somehow better than their previous which I adored. What do I love about it? Well, I love how this blog has really
What do you want to know?
Sometimes it's hard for me to decide what to write about or what our next tutorial should be. So what better way than ask you! So, to all our loyal readers, give me
I was asked a question recently how we keep the creativity flowing at Go Media and not get bored, uninspired, and lazy. Well, we have a handful of designers here and they're often working on a variety of different jobs at any given time. So things are usually really busy and it's hard to get lazy. But when we are given the job to come up with something creative, and we're feeling uninspired, here are somethings that seem to do the trick:
1) Coffee or other stimulant. I'm not a regular coffee drinker but if I make a trip to my favorite coffee shop, I usually have a bunch of creative ideas and motivation. But I must not be distracted with other things because I'll end up freakin' out and working on 5 things at once and