From Vector to Augmented Reality: A New Tutorial from Go Media's Arsenal
Vector to Augmented Reality Tutorial
You asked, we answered! This all new, in-depth tutorial answers a question asked of us often here at Cleveland creative agency Go Media: "How do you create those awesome vectors?"
We're answering that and a whole lot more, as in this two part video tut we're teaming up with Photonic Creative Studio, a Cleveland-based company that specializes in 3D graphics, for an incredible project based on our vectors, known industry wide for being the best of the best.
If you were at our design conference, Weapons of Mass Creation Fest 6, you may have seen Photonic Creative Studio's awesome augmented reality photo booth.
After receiving lots of interest, we decided to make a vector to augmented reality tutorial that shows how the 3D-modeled art weapons were created, specifically the futuristic x-acto knife. The process begins with one of the top questions we are asked at Go Media, "How do you create those awesome vectors?"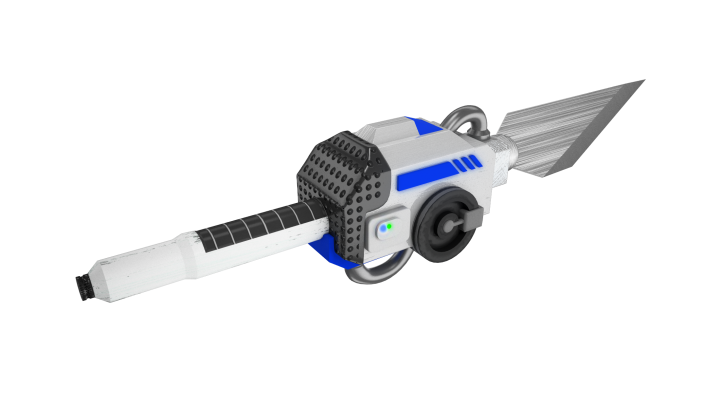 This tutorial begins with conceptualization, sketch and the creation of our vectors and then turns it over to Photonic, who imports the illustration and creates the 3D model in Maya. The result is remarkable; the process is captivating and tons of fun.
Here's what's included:
Sketch to Vector
Go Media's Arsenal designer Jordan Wong will walk you through how he created the illustration of the futuristic x-acto knife. Beginning with the process of conceptualization and gathering references to work from, Part I will offer an inside look at how the original sketch was made as well as the steps of bringing the drawing into the computer via scanning. After a detailed walkthrough on turning the drawing into a vector in Illustrator, the segment will end with an overview of the finished diagram that was used to create the 3D model. (57 minutes)
Vector to Augmented Reality
Ian Zeigler, the founder of Photonic, uses Autodesk Maya to import Jordan's illustration and create the 3D model. This segment will kick off with basic navigation of Maya's interface, including an explanation of tumbling, zooming, and basic hotkey modifiers. Ian will cover importing, rotating and scaling the image to fit the needs of the modeling phase. You will also learn about polygon modeling and the tools used, like extrude, move and scale, to bring form to the model. The tutorial will conclude with assigning basic materials, colors and textures, as well as the basic outputs for rendering, game-engine, or 3D print. (2 hours, 57 minutes)
Resources Included
The tutorial includes:
Introduction Video
Step-by-step instructional videos (qty 6) outlining the process of taking a drawing from paper to vector, and from Illustrator to Maya. (3 hours, 55 minutes of content!)
Full working files of the example art weapons!
Vector to Augmented Reality Tutorial