Articles by Month:
February 2011
Hello there! Simon here today, with an interview of the fantabulous (yes, it's a word. I just decided that it would be so.) illustrator McBess. We are stoked because Go Media/Weapons of Mass Creation is sponsoring FITC Toronto, an event where he'll be speaking at. This means you should go.
Without any further ado, here's the interview!
GoMediaZine: GoMediaZine readers, meet McBess, McBess, meet the GoMediaZine readers. Could you tell us a bit about yourself, since your about page is a bit short?
McBess: Hoy GomediaZine, my name is McBess, I'm a French guy and I live in London because French people are stressing me out. I'm director at The Mill, and I do illustration and music and I try to mix those two together.
GMZ: I saw on your blog a video that gives us a sneak peak at your illustration process. Could you give us a bit more insight? Is everything hand drawn? Do you draw digitally too (tablet…)?
McB: Most of what I draw is straight on photoshop with a tablet indeed, but I like to use pencils, rotring and poscas to switch techniques, keep things fresh. I don't really have a lot tricks, but I do prefer to work on photoshop for big and complicated illustration, I always fear the moment when you do something wrong with ink and there's no coming back.
GMZ: Who are the Dead Pirates? Could you tell us more about your work with the music industry?
McB: The Dead Pirates is my band, it's the band I've always been drawing about in my illustration, but last year we actually put the band together with some close friends. We don't really work with the music industry, we're not signed or anything, we record on our own with our money and sell our mp3s. Right now it's composed of 5 guys, my brother and I  play guitar and sing, a bassist, a keyboard and a drummer. We tend to play rock, sometimes a bit hard, chubby rock.
GMZ: FITC Amsterdam, FITC Toronto… Woaw. That's cool! Could you tell us what it means for you to be invited to speak at such events? Have you done speaking engagements before? If so, why are you doing them? Is this something every designer should consider doing to further his or her career? What are the benefits you get out of it?
McB: Well it means a lot to me that people think I could say something interesting ahah, I've never done it before and I was quite intrigued, now I'm shitting myself. I enjoy talking  and meeting people, but I think it also pushes you to think real hard as to what you can give, what you can add to the mixture, if you do have an interesting point of view, I hopefully have that, who knows… I'm not sure yet about the benefits, but it's an experience so I want to try.
GMZ: Could you give us an idea of what your presentation will be about?
McB: Well the title of my presentation is "Making contrast with details", which is a challenge for me, I love details and I tend to put a shit load of it but it can be harsh on the composition or the dynamic of the image. So I'll try to explain ways of working in very small portion of the image without forgetting the big picture, and I'll  also explain the process I use from thinking about an image to the final piece.
GMZ: Ever heard of Weapons of Mass Creation? What do you think about a design community based more on lifting each other up, kind of a global fraternity, rather than cut throat competition? Would you make it to the event this June?
McB: I did not hear about Weapons of Mass Creation, I'm not really a community guy or a team player, but I'm also against competition especially in art field I just don't understand it. I do like collabs though, I just don't see myself making it a habit.
GMZ: Is it weird to be a French guy interviewed in English by another French guy?
McB: It is weird indeed, you've got a very good accent, I did not realize you were French.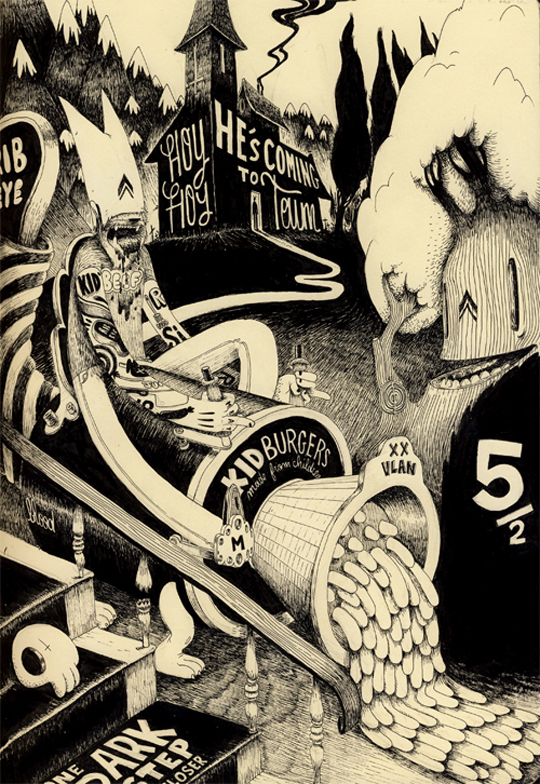 GMZ: A goodbye note for the readers? A goodbye doodle maybe?
McB: Well dear readers I bid farewell, you are beautiful people.
Curious about McBess? Check out his website, his blog (it's a Tumblr! Follow!) and also his demo reel:
Go Media president Bill Beachy sits down to give you some daily inspiration and advice. Bill shares his years of experience building Go Media into the company it is today. Topics in this video series include Getting Started, Happiness, Humility, Patience, Flow, Focus, Productivity, Business Systems, Courage, Eating Well, Obstacles, and Creativity.
For more information about Bill Beachy, check out his bio on gomedia.us. Bill is currently accepting opportunities to speak at your event, university, or business.
View all episodes of Daily Inspiration here
Sponsored by Weapons of Mass Creation
The Daily Inspiration video series is brought to you by WMC Fest – a grassroots event put on by Go Media to inspire and enable the creative mind. It takes place in Cleveland, OH on June 11 and 12, 2011 and will feature 20 speakers, 20 bands, and 20 designers in what aims to be the premier event for artists/designers in the midwest.
Hope you enjoy the video!
Or download the podcast
[powerpress]
Categorized:

Business Philosophy, Graphic Design, Small Business

Tagged:

advice, art, cleveland, complacent, courage, focus, happiness, help, humility, leadership, lull, patience, podcast, productivity, starting out, strategy, tips, video blog, William Beachy

Hello again! I have been recently experimenting and working with mental ray and v-ray renders in both 3ds studio max and Autodesk Maya. For this tutorial I will be teaching you guys some basic modeling, easy rendering techniques using mental ray and creating textures in Photoshop to be used in 3ds max.
V-ray and mental ray both give you very realistic renders depending on what you want to achieve.
Let's begin.
Step 1: Modelling the base of the phone.
Open up 3ds max. Go to create tab, chose Splines, and then hit Line. Create a rectangular shape in the front view port.
With the shape still selected hit 1 to enter vertex mode. Select Fillet and refine the corners of your rectangular shape.

Step 2: Bevelling the shape.
Now with your shape still selected we will go ahead and apply a bevel modifier. Right click and convert the object into an editable poly.
Hit 4 to enter a face mode. Extrude and scale the face.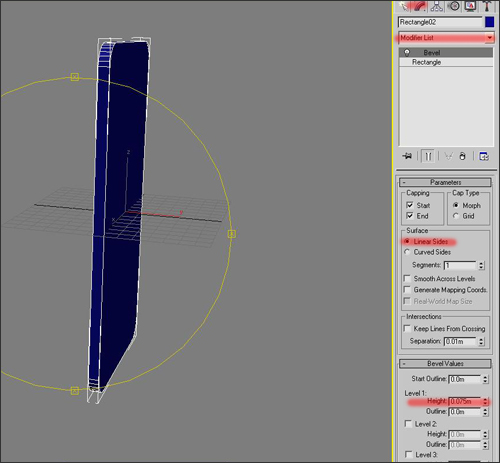 Create, extrude and duplicate the Line splines to create a model like the preview below.
Step 3: Slicing the polygon face.
Let's slice the polygon face to create the screen and a section to accommodate the keys.
Select your top polygon.
Hit 4 to enter the polygon face mode.
In the top view, with your polygon face still selected, select slice plane.

A yellow box will appear around your model. Right click and select rotate.
Hit F2. This helps you slice accurately.
Rotate the yellow box and hit Slice to create a slice similar to the preview below.

Step 4: Adding details.
Using your line tool, create line shapes with refined corners like we did in step 1.
Apply a bevel modifier to it to give it more depth. Clone and scale one of the key shapes
to create a shape for the speaker.
Add more details to make it look realistic using the line spline and extrude techniques.
Place and arrange all your shapes like the preview below.
Step 5: Creating textures.
We will be creating a simple texture for our speaker in Photoshop.
Open up Photoshop. Hit Ctrl + N.
Apply a gradient to the background. Create a new layer, make small black circles, duplicate and arrange them.
Give it a name and save as a jpg. Now go back to studio max and let's assign a mental ray renderer.
Step 6: Assigning a renderer.
Hit F10 to bring up the render scene menu.
Scroll down and select assign a renderer. By default mine is already set to mental ray.
Click the dotted box next to it to change it to mental ray if yours isn't.
Click ok.

Step 6: Assigning Materials.
Now hit M to bring up your materials. Select a material and apply a diffuse bitmap.

Select the jpg you created in Photoshop and apply it to the speaker shape we created earlier.
Apply a UVW mapping modifier to it. Select gizmo and position it accurately.

Let's create a daylight system. Create a plane to act as a floor.
Hit systems in the create tab. Select daylight.
In the top view port draw your daylight.
Now go to Rendering, Advanced Lighting and Exposure Control.
Check exterior daylight. This will reduce the intensity of the light in our scene.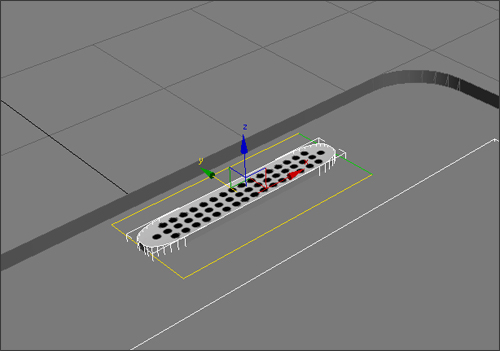 In the daylight parameters use these settings.
Hit M for the materials menu again.
Let's create a mental ray Arch and Design material. For tutorial I will use the following materials:
Chrome material
Tinted Glass
Glazed Ceramics
Translucent Plastic Film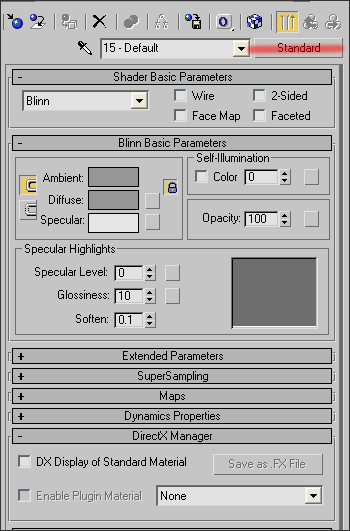 Apply the following materials we just added to parts of our 3d model.

Make a quick render to see how it looks so far. Apply your translucent plastic film properly so it renders. Play around and see what more you can achieve. Below are some of the renders I had in the end.

I will make the max file available Hope this tutorial was useful and helpful.
Check out my blog at andrewohene.wordpress.com and comment.