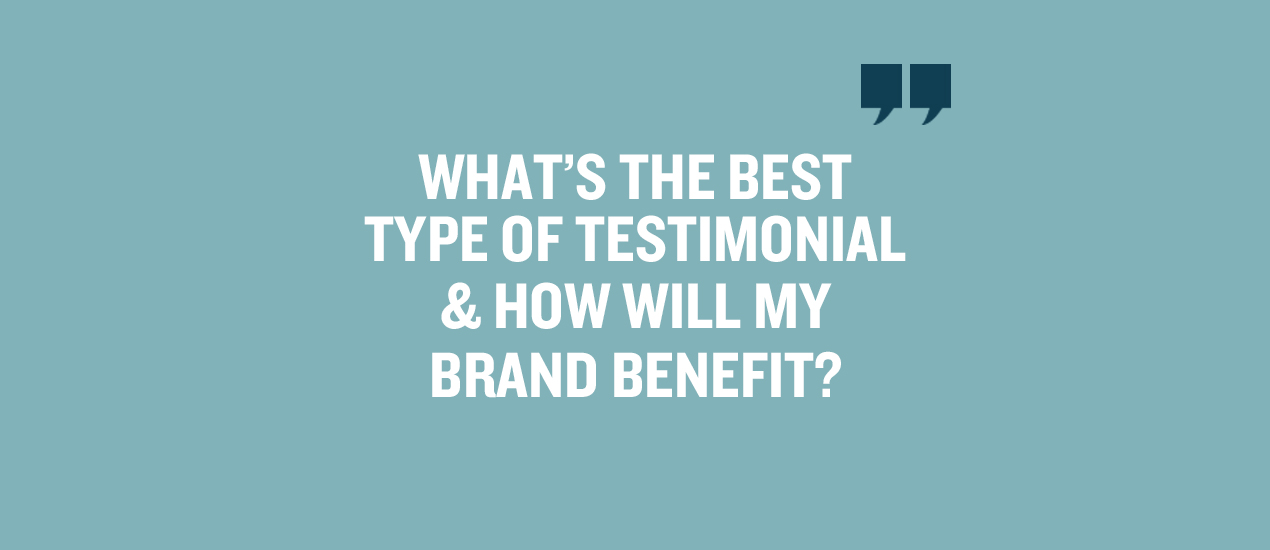 What's the Best Type of Testimonial and How Will My Brand Benefit?
The social proof of testimonials lends a lot of credibility to your brand. It also allows people who might not be familiar with the work you do to see that you have happy customers. When it comes to content marketing, customer testimonials and case studies are considered the most effective forms of content. In fact, 89 percent of marketers indicate that testimonials are a necessary part of their overall content strategy.
You've probably already learned that testimonials are an effective way to reach new customers from the minute they land on your website. However, there are many different ways to implement testimonials into your content strategy. Here are the best types of testimonials and what they bring to your business model:
1. Interviews
Taking the time to feature a customer does a couple of things for your brand. First, it helps you get to know your target audience better, which in turn will allow you to perfect your marketing to this demographic. Second, it shows potential customers you have satisfied customers who are already using your product or service.
Your first step is to recruit customers to interview. One easy way to do this is to choose customers who've written a positive review recently. Ask them if they'd be willing to be interviewed about their experience. However, don't overlook customers who've complained, but whose issues have been resolved. Your ability and willingness to strive for perfection can be a powerful testimony.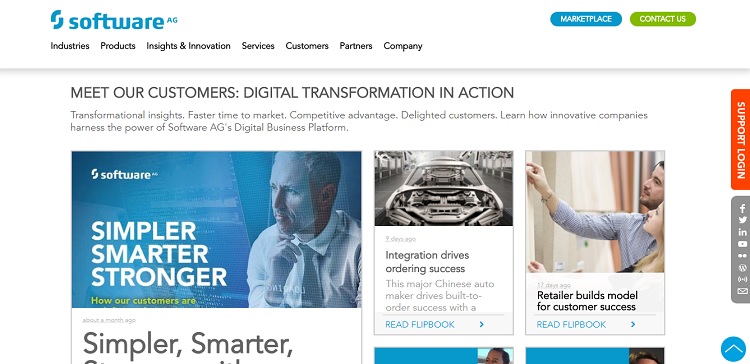 Software AG offers an in-depth look at some of its customers. For example, it tells the story of how a Chinese automaker utilizes its business software platform, how one retailer uses it to build a model for customer success and how it has simplified data-reporting for another company.
2. High-Profile Testimonials
When you think about sharing a high-profile testimonial on your website, your first thought might be using an influencer or a celebrity to tout your brand. While a high-profile testimonial can certainly encompass those elements, another way to show you are an up-and-coming brand is by using big-name companies for this purpose. As a result, you'll gain the halo effect, where a big name makes the things they endorse look better.
Take a look at your client list. Choose your top five clients as far as how well known they are. As your company grows and you gain new, bigger clients, you can revamp this testimonial list from time to time. One creative way to use this method is to do a case study of how you've helped said company and then take snippets to show this to the reader, such as how a campaign helped XYZ Co. increase its conversions by 1,500 percent.
3. Video
If you aren't already using video testimonials, this is something you can easily add to your brand to better engage your site visitors or your followers on social media. About 78 percent of people online watch videos every week. Creating a video testimonial does a number of positive things for your brand, such as forming a better emotional connection with your readers and lending a sense of credibility to your marketing efforts.
Hubble features software with real-time reporting that allows for data visualization and integration. It features a video of its customers describing how they personally use Hubble and the benefits. The video features people from different industries to show how flexible the software is.
4. Social Media Posts
If you plan to share testimonials on social media, there are a couple of options. First, you could reach out to customers with a large following and simply ask them to give your company a shout-out. This is likely the most effective way to add a testimonial, because it looks more organic. About 80 percent of Americans look for a recommendation from someone they know before making a purchase.
Your other option is to add short snippets and combine them with a photo of the customer or the product to encourage shares and retweets of the post. If your customer is online, it is also a good idea to tag them in the post.
5. Snippets
You don't have to use a long testimonial in every instance. Creating blocks of quoted text that highlight a small part of what your business does is a smart tactic. You can pull these from a larger testimonial or case studies, or you can simply ask your customers to give you a short, one-line review.
Today's average person is extremely busy. They might have 10 minutes on the train to work to glance at your website or social media page. If you provide them with snippets of information that can be quickly scanned, then the testimonial is likely to stick with them.
Vanderbilt University's MBA program does a good job of highlighting students and professors who make the program memorable. Note the short snippet from one of its students who earned an MBA. This allows potential students to see what the program did for someone similar to them.
6. Reviews
Reviews are a form of testimonial if you think about it. They highlight a customer and what that customer thinks about the product or service. The last time you booked a hotel, what did you do first? More than likely, you checked out the online reviews. Make it easy for your customers to review your product by adding a review form to your website or sending a push on social media asking for their feedback. You can then pull short quotes from these reviews to highlight elsewhere as testimonials.
Best Types of Testimonials
Companies that were centered on the customer were around 60 percent more profitable than companies without this focus. The benefits to your brand are that you'll lend credibility to your claims, show you are focused on the customer and reach new customers you otherwise might not have found. Take the time to make testimonials a part of your marketing plan and you're certain to see positive results.