Articles by Day:
July 30, 2018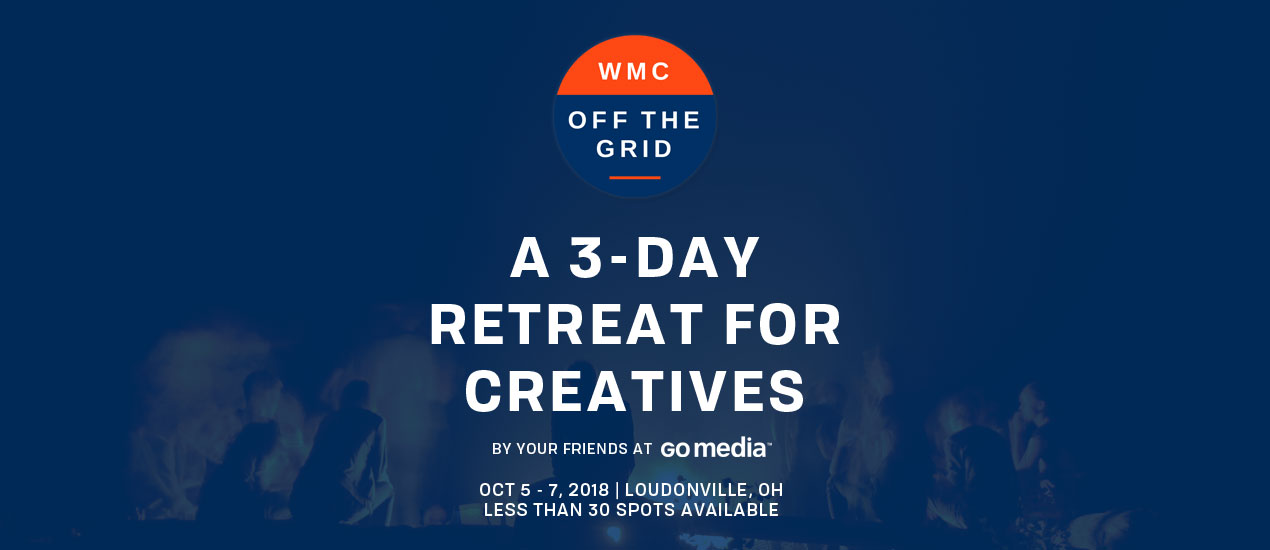 Design Conference 2018 – WMC: Off-The-Grid by Go Media
We here at Go Media (your favorite design shop in CLE) are thrilled to introduce a new event to our community this year, an offshoot of our annual design conference Weapons of Mass Creation Festival, called WMC: Off-The-Grid. WMC: Off-The-Grid is an all-inclusive three-day weekend retreat aimed at YOU, the designers, illustrators, small business owners and other design-minded creatives looking to step away from the screens and social chatter that pull you in a million different directions daily. You will come away with tangible tools and action steps you can use to grow your skill set, your mindset, and your business to become more confident design leaders in your communities.
The event is to take place October 5 – 7th, 2018 at Mohican Adventures in Loudonville, Ohio.
So why do we believe you can't miss it?
Reason #1
Skyrocket your business & grow your skillset in order to become a more confident design leader in your community.
WMC: OTG is not just your everyday conference. The talks and workshops will dig deep, characterized by a sense of intimacy, authenticity and transparency you won't find at just any conference. Secrets aren't kept here, so expect to hear how our faculty made mistakes and overcame them, how they have built their own businesses from the ground up, the tools they have used, and tricks of the trade. You'll leave with tangible skills and action steps you can use to increase profits, become more valuable to your employer and build and maintain more successul design firms.
Reason #2
Step Away from the Social Chatter and Focus on Your Craft
Imagine what would happen if you turned off your notifications, put down your phone and truly had time to make connections, learn from the best and focus on your craft. For two days and three nights, you will have the opportunity to truly unplug and have some serious face time with nationally recognized designers and creatives you've admired from afar. You will also have time to network, building relationships that have the potential to help grow your business and client list for years into the future. Friendships will be made, undoubtedly. Quiet moments will refuel us and propel us forward as we move into late 2018/2019.
Reason #3
Learn from the best of the best.
Speaking of our faculty, each of these incredible creatives should be a reason on their own, but we'll group them together for the purposes of this list.
Here is our phenomenal list and a little bit about them. You can learn more about each of our faculty members here.
Shiu Pei Luu, Art Director for Facebook and Creative Director and Co-Founder for The Beehive Society, a non-profit that fosters creativity through pop up art shows and workshops facilitated around the Bay Area. Shiu Pei Luu will be teaching a workshop on Character Design. She'll also be speaking – her talk title is "Diversity is Design and the Roles We Play."
The Banner Years, a customer experience studio who has worked with the likes of NPR, Coca-Cola, Disney, Lionsgate, Sony, and more. Their workshop is on "Contracts and Collections" and talk entitled "Swimming to the Shore."
Tony Diaz, founder of Austin's Industry Print Shop and someone who has undoubtedly cemented himself as an authority on all things screenprinting. Tony's talk will be called, "It's Not Where You're From, It's Where You're At."
Ken Schneck, producer and host of This Show is So Gay, the long-running, award-winning radio show and podcast. Ken's workshops will be entitled, "The Art of Shameless Self Promotion" and "Creating a Community of Individuals (AKA: Herding Cats to Do Good)"
Marshall Shorts, award-winning entrepreneur, owner of Soulo Theory Creative and co-founder of Creative Control Fest. Marshall's talk is called, "This Moment On."
Dylan Menges, owner of Menges Design, who has a client list including Subaru of America, Mozilla, Sherwin Williams, and more… Dylan will be teaching a workshop entitled, "Finding Your Wild."
Lenny Terenzi, designer and illustrator of Hey! Monkey Design will be our host. Lenny will be teaching a workshop entitled, "Self Compassion for Creatives."
Reason #4
You're going to love Mohican Adventures.
Mohican Adventures, located at Mohican State Park in Loudonville, Ohio, is partway between Cleveland and Columbus. If you're driving or flying in from either of these cities, it will take you about 1.5 hours to arrive to the destination. You won't be able to to miss Mohican Adventures, a vacation destination that offers cozy cabins and vacation homes (each with their unique charm), as well as adventure activities we will have access to (think: kayaking, tubing, ropes courses, hiking, rafting, fishing, and more.)
We will be staying in beautiful homes/cabins, which you can preview here:
Reason #5
Ink Wars!
Ink Wars is returning to WMC! Ink Wars is one of the most popular events in the history of Weapons of Mass Creation Fest. This eight-person illustration just gets everyone's blood-pumping and hearts racing. After all, when do you get to witness so many illustrators going toe-to-toe before your very eyes under some very strict time, material and thematic restraints? Interested in competing in Ink Wars 2018?  Please fill out this form by August 31, 2018 and you'll be considered for this year's event! Special note: We will not be using the usual 8 foot canvases this year. A surprise medium will be announced at a later date. This will indeed change how this year's Ink Wars will go down.
Reason #6
The little touches.
Did you know that all of your meals will be covered during your time at WMC: Off-The-Grid? We can't wait to fill your bellies with some amazing meals, including our special Saturday BBQ entitled, "Mike Jones and Friends "Big Southern Lovin' BBQ," which is sponsored by the one and only Mike Jones and the team from Creative South out of Columbus, Georgia!
You'll also get some swag from our incredible sponsors. Plus, more surprises await you!
Reason #7
We need YOU!
We need you add to the conversation, to help paddle our canoe. And don't worry. If you don't have a buddy coming to WMC: OTG, you mustn't worry. Most of the attendees enrolled thus far are coming solo, so you won't be the odd woman or man out. After an hour or so, we'll all be as thick as thieves.
There is still time to enroll, so head to our official site to learn more about the event and to our ticketing page to grab one of the last flying blind tickets, or to put down a deposit if you can't pay for a full price ticket now.
Have any questions? Email me at [email protected] and I'd be happy to answer anything!
Hope to see you there!
Interested in sponsoring or giving us an in-kind donation, such as items for our awesome SWAG bags? Contact Heather.
Good design makes the difference in a company that serves other businesses well and stands out above the crowd. Computer-aided design, or CAD, is one way B2B companies can improve their services, becoming more productive and better meeting the needs of their customers.
By 2023, experts predict the CAD market to reach $11.2 billion globally. The number of businesses using CAD, especially 3D technology, grows annually. CAD is changing the way we design, and, in particular, the way B2B companies do business. Here are five ways CAD is making an impact.
1. Offer Innovation
Computer-aided design allows you to test out a variety of situations before they occur. It saves you from having to create expensive prototypes or develop a product and suddenly realize it doesn't have the strength or ability to carry out a given task. When businesses use CAD, they can stretch their skills more than ever before.
Hensley Industries creates parts for equipment for construction. So, imagine a new bucket for a piece of excavation equipment or parts to swap out when the current ones wear down. With computer-aided design, engineers can push the limits of the function, while still making sure the equipment is stable.
Since their specialization is attachments and wear parts, figuring out how operators can replace a tooth on the bucket of an excavator quickly is a major concern. CAD allows engineers to run simulations while designing parts. They can see how the part will perform in a real-world situation and figure out a consumption ratio that works both for the businesses they serve and for their bottom line.
2. Personalizing Productions
CAD makes it easier to test minor changes and personalize products to meet the individual needs of clients. In a world where people expect things to fulfill their needs perfectly, this gives your business an edge over competitors. Instead of somewhat meeting the needs of businesses, you can exactly meet their needs.
In one report, 75 percent of consumers reported they want to buy from someone who knows them by name and tracks past purchases to make specific recommendations. It isn't as easy to accomplish with B2B business, but CAD allows the ability to at least try different features to meet the specific needs of your customers.
3. Presenting a Solution to Clients
Working with other businesses often requires coming up with a solution to a client's problem. You'll need to present various answers until you find one that fixes things for the business owner or meets a definite need.
With the use of CAD, you can present the solution in a three-dimensional format, so the client sees exactly how the answer will look in real life. Even better, these solutions are digital, so you can present them via a virtual meeting, saving both of you time and effort.
Playworld creates playground equipment and uses CAD to come up with designs that work in a variety of settings. The company uses what they call their SketchUp 3D Warehouse to bring design ideas to life. They also have a library of CAD files if you want to see what other people have done creating play zones for children.
4. Improving Collaboration
Digital designs make it much easier to present your ideas to collaborators by uploading to the cloud and using a shared workspace. Imagine your client wants a few changes to the design. You make the changes in your software and upload some screenshots or a three-dimensional image or video to the workspace. The client then approves or asks for additional changes.
Gone are the days where you had to painstakingly create prototypes, only to be told they wouldn't work and you had to start from scratch. CAD saves designers time and money. You'll be able to take on more projects than before and manage them all seamlessly and efficiently.
5. Accessing Universal Data
Because many companies post their data to the cloud, future project managers benefit from the ideas that have succeeded in the past. If something didn't work, you'll be able to avoid that scenario easily. And if something does work, you'll be able to build on those ideas and take them to the next level or higher.
Whether the information is only within your company from work with the client at hand or past clients, or different companies are sharing information, CAD allows storage of ideas and the ability to pull up specific files for adjustments.
Eagle Engineering uses CAD to help their engineers become increasingly efficient over time. In one step instead of multiple steps, their engineers can create a project by accessing information stored in the system. Then they can use a "streamlined package" to make modifications or correct an error. Other advantages include more precise designs and the ability to test a design before building it.
CAD Is Changing B2B
CAD is just one of the things changing the way businesses serve other businesses. The world is advancing by leaps and bounds, and computer design technology is only one component of creating new products. As CAD continues to develop and improve, expect to see even faster design capabilities and finely tuned features, unlike anything that was possible even a few years ago. If your business isn't already using CAD, this should be the year you shift over to it.