How to Gain More Subscribers One CTA at a Time
One of the most valuable assets you can build as a business owner is a mailing list. Unlike followers on social media or traffic from a search engine, a mailing list is under your direct control. You can reach out to those leads anytime, and because you spend the time to reach a specific target audience, they will be highly receptive leads as well.
Investing in email marketing pays off. Every $1 spent on email marketing results in $44 in average profit. Building your online mailing list is something that takes your business to a new level and keeps it growing.
There are several ways to gain more subscribers. Here are nine ideas to get you started.
1. Use the Right Color
The color you use for your call-to-action (CTA) buttons truly does matter. While some studies show red buttons grab more attention, other studies show blue or green ones do. The truth is more likely that the contrast of the button against the background is what matters most.
You should choose a color and shade that make the button stand out and grab the reader's attention from the minute they land on your page. The key is to draw the eye to the CTA in the first place. Otherwise, your visitors might miss it.
2. Keep Your Signup Form Short
Your signup form should be short and straightforward, so users only have to fill in an email address and click to subscribe. If you make the form too long, you risk losing users who don't have the time or patience to fill in lengthy information sheets. Some people may not want to give up private details, either.
Another idea is to allow an option to add a newsletter signup anytime the user is already filling in their email address. If they are in the middle of contacting you, you need a checkbox on your comment form that allows them to subscribe to your newsletter. If they order something, add an option to sign up for the newsletter there, too.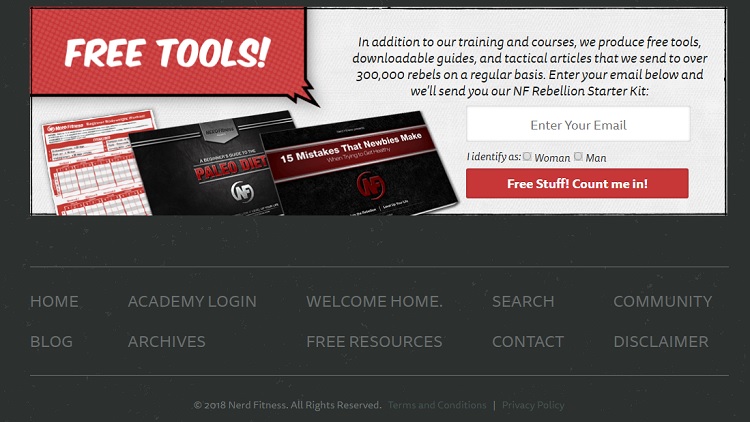 Nerd Fitness keeps the form to sign up for their mailing list short and to the point. They only ask you to enter your email address, have the option to share which gender you identify as and then click on the CTA, which reads "Free Stuff! Count me in!" Signing up truly couldn't be easier.
3. Place Your CTA in the Best Spot
Knowing where to put your CTA for maximum impact helps you gain or lose potential subscribers. There is no one-size-fits-all approach when it comes to CTA placement. While some people say to place the CTA above the fold, others say to put it at the bottom of the information about what you have to offer.
If the content of your newsletter is obvious, putting a CTA above the fold will grab the reader's eye. However, if it requires a bit more explanation to entice people to subscribe, you may need to place it a bit further down the page.
4. Offer Incentives
Offer incentives to people for signing up for your newsletter. These can be coupons, letting them know about specials as things go on sale or deals that are exclusively for your newsletter subscribers. Offering this type of incentive is often the only enticement people need to share their email address with you.
A bonus of this type of CTA is that if they want deals, they are likely already interested in what you have to offer. You'll build a mailing list that is not only hungry for what you have to offer, but also highly targeted.
Wing Tactical uses an incentive of receiving discounts to get people to sign up for their mailing list. Note how their CTA button is in the large, red horizontal bar at the bottom of the page. The words "get exclusive deals" are in large, bold print, and then they clarify with slightly smaller text that reads, "when you sign up for our email list."
5. Make It Big Enough
Is your CTA button so small it is easy to overlook? Remember, you want to grab your site visitors' attention. While you don't want to be obnoxious and fill the entire page with your button, you do want to make it stand out from other elements on the page and large enough to spot easily.
Remember that some people will come to your page specifically to get an offer or sign up for your newsletter. These people don't want to hunt for your CTA to sign up for your mailing list. Make it easy for them to find it in mere seconds and take action.
6. Pose a Question
Another way to snag site visitors is to pose a question that guides them to the answer you'd like them to choose, which is to sign up for your newsletter. Consumers are pretty savvy these days. There are thousands of free newsletters, so to entice them to subscribe to yours, you need to stand out from the crowd.
Digital Photography School poses the simple question, "Ready to take better photos?" to make site visitors think. Since the natural answer to such a question is yes, they then explain you can receive free weekly tips and tutorials and provide a box for your email address and a button that says "Let's go!"
7. Tie the Newsletter to Your Site
Newsletter readers tend to spend 80 percent more time on a website than non-subscribers. A big reason for this is likely because you are speaking to a highly targeted group of people who are already interested in what you have to offer. However, meshing the site and your newsletter in some areas can interest people in signing up.
At some point, you've likely seen a CTA that says something along the lines of "never miss another post" or "get updates when we post new content." These types of CTAs remind the reader they don't want to miss what you have to offer.
8. Hold Their Attention
Don't forget the copy around your CTA is equally important as the button. You must attract the reader's attention in a fun or exciting way. They see dozens of ads in a typical day. If you don't stand out, why would they even bother? Tell them what they have to gain and do it in a way that will make them sit up and take notice.
Look at Campaign Monitor's customer Flume and the way they entice people to subscribe. They show how they kept Flume's email subscribers interested and in the know. Then, they offer to help you "build an email like this."
9. Add More White Space
Filling your page with information is tempting. However, sometimes you need to reduce the noise and allow the user to home in on your CTA offer. Do some A/B testing and remove a bit of the clutter around your CTA button. You'll likely see an increase in conversions.
Adding white space isn't always easy, but more than likely, there are elements on your page you can easily do away with. Use heat maps to help you find which areas of your page visitors linger on, and which ones can go.
More Subscribers
Better CTAs will bring you more subscribers, but you also need to understand how to convert those subscribers once they're a part of your mailing list. No matter what type of business you run, CTAs help you make that initial contact with site visitors and convert them into raving fans.