Articles by Month:
June 2015
You're a pro. We all know it. However, do you ever find yourself drawing the same shape over and over again? With the growing popularity of icons and simplistic, geometric illustration, it's not uncommon for elements to be used time after time in your designs. This does not mean that we have to stay trapped in some sort of weird, repetitive dimensional hell of making that perfectly-narrow (or wide) triangle.
Design Conference Podcast Bryan and Heather sat down for a bit of an informal episode of our design conference podcast. With less than 40 days left, there were a number of updates that needed to be said including where tickets stand…
What's the Best T-Shirt Mock Up Website? Mocking up designs is an absolute must, of that we are sure. It's just that extra step that takes a design from flat to incredibly realistic. Clients will think you've gone through the…
As you may know, GIFs are taking the world by storm, and this tutorial, "How to Make a GIF in Photoshop," is going to teach you exactly how to stay hip with these crazy internet trends. I'm going to walk you through 7 basic steps and by the end you will have your very own GIF that you can show off to your friends, family, coworkers and random strangers on the internet.
How to Become a Faster Graphic Designer I wanted to talk about a subject that is very important to being a successful designer – speed. I'm talking about how fast you can produce designs for your client, boss or even…
Adventures in Design Podcast What? Another two-for-one special over at Adventures in Design Podcast, WMC Fest Fans! Following in AID Episode 203's footsteps, we're being treated to yet another podcast featuring two of this year's Weapons of Mass Creation Fest 2015 speakers.…
Design Podcast 2015 It's a two-for-one special over at Adventures in Design Podcast, WMC Fest Fans! AID Episode 203 includes two of this year's Weapons of Mass Creation Fest 2015 speakers in one delicious podcast. Not only do you get…
Tips on Drawing Symmetry I have a hard time drawing things perfectly symmetrical. I mean, really, who doesn't? Drawing symmetry is tough! We're not robots with mathematical precision. No worries, here are some quick tips that will surely help. One trick…
Ladies and Gents, it's time we all took a moment to honor our good friend, print media. Print media includes a wide range of techniques that challenge us as designers to go back to basics and work with our hands. It is a nice way to take a step back and do some design work without the help of our beloved computers and advanced technology. Although, if you want to stick with the computer AND get that handmade print feel, Go Media has something for you too!
Naturally, we all love wasting time. Procrastination is something all human beings can relate to and are notorious for. But if you are going to procrastinate, you might as well be looking at some good design while you are at…
How to make patterns in Illustrator: Lines and Dots Patterns can be a wonderful visual element. They can create form and show depth in an illustration, or add more visual interest to a large color field of a graphic. Below are step-by-step…
Boom! Energy Gel Branding Carb Boom! Energy Gels, that is. Carb Boom Sports Nutrition Inc., founded in 2000, has recently developed Carb Boom! Energy Gels, a fruit-based, high-carbohydrate product that, according to CEO Lammers and partner Mike Cousino, had a…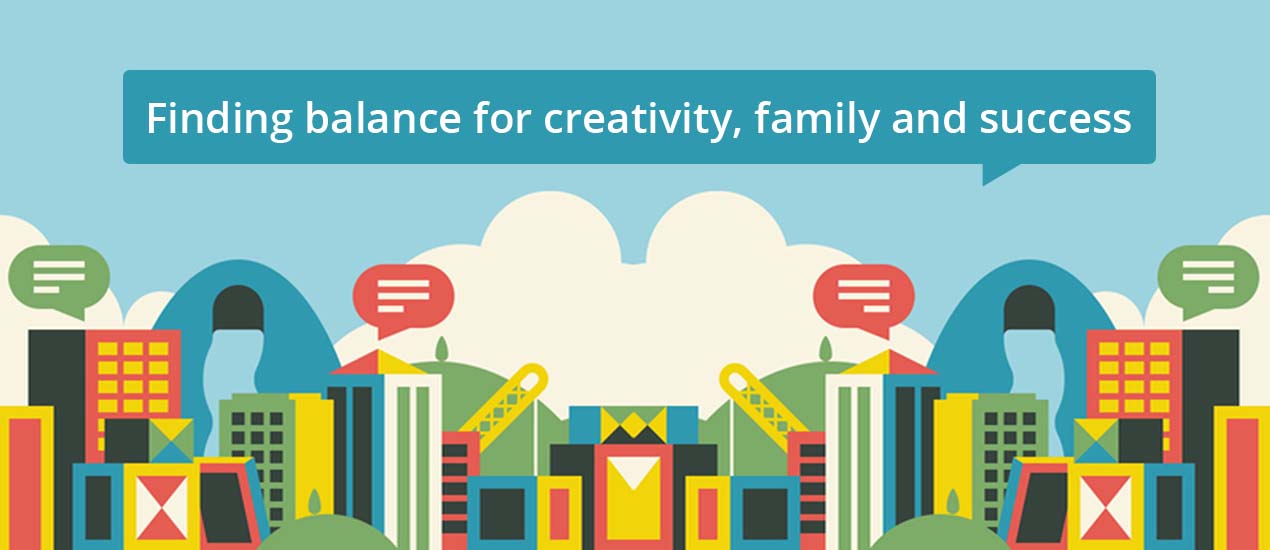 Justin Mezzell is a designer living and working in Orlando, Florida. He is art director for Code School, an online learning site that helps people learn how to code. He's also a sought-after designer and illustrator, having worked with clients like Facebook, Twitter and Google, along with magazines like Wired, Fast Company, ESPN and Fortune. He also helped make this.
Justin manages to juggle a busy work schedule with personal projects and freelance work, all while working to be a good husband and a dad to two little ones— a daily balancing act he usually seems to manage quite well. I recently spoke with him via email to find out how he's tried to cultivate that balance in his life, how he views his commitment to professional and personal commitments and what drives him in his day-to-day work.