Articles by Month:
June 2014
Mockup Templates are All Around Us.
Yes, my friends we're back with more and more mockup templates for you, the lucky Pro Users of Mockup Everything!
Not a Pro User? Worry not, my friends! Why?
You can always give our Pro Version a go with a 7 day free trial!
Fun fact:
Did you know that we are now up to 210 templates in these categories: technology, apparel, print, advertising, food & beverage, sporting goods & body?
Now, let's not waste any more time! Onto the new templates!
Men's Varsity Jacket
Youth Leotard: Front View
Purchase the individual PSD: $2.99
Youth Leotard: Back View
Purchase the individual PSD: $2.99
Men's Boxer Briefs: Front View
Purchase the individual PSD: $2.99
Men's Boxer Briefs: Back View
Purchase the individual PSD: $2.99
We hope you love this month's templates. We're busy working on next month's and would love to hear your suggestions for what's to come. Drop us a line and tell us which ones you'd love to see next.
How to Design the Perfect Rock and Roll T-Shirt
When creating a rock and roll tee, nothing comes to mind more than a perfectly illustrated, bad ass skull and crossbones with snakes and chains thrown in for good measure. Am I right or am I right?
Get ready to craft up your own original masterpiece with a little help from Marketplace Artist, Steve Knerem, rock and roll tee expert. Steve has created this, the Skull and Snake T-Shirt Design Pack to help in your process. The possibilities are endless with this pack!
Buy the t-shirt design pack now – $17
You'll grab:
All 10 Illustrations including snakes, a skull, angel wings, illuminati eye, flower, brass knuckles, chains, horse head, and more.
the Original .AI file of this design
Men's Triblend Ghosted mockup template
As a bonus, we throw in a sample of Jeff Finley's popular eBook, Thread's Not Dead, the Designer's Guide to the Apparel Industry.
Use the elements in the skull and snake t-shirt design pack in Adobe Illustrator to create your own unique work of art.
You can either use this design as-is without changing a thing or mix and match. We recommend using the detailed snakes, skull and wings to create brand new designs.
Here's what you get:
Now go off and create something great!
Inspirational Posters like Whoa
Today's inspiration comes to us from someone you're going to be seeing a lot of in the next few months.
Meet JP Boneyard: designer, front-end developer, producer of art and music events, and new member of the Weapons of Mass Creation Fest family. JP will be bringing his traveling poster show, the National Poster Retrospecticus, to those of us lucky enough to attend the Fest August 15 through 17 this year at the Cleveland Public Theatre.
Hint, hint get your tickets to the Fest here
Tell me about the NPR:
The National Poster Retrospecticus is a traveling show of more than 300 hand-printed event posters from over 100 of the most prominent poster designers in the USA. While some of the NPR goes back as far as 2006, the current format took shape in the Spring of 2012. The NPR's mission is to celebrate posters, the made-by-hand aesthetic and help spread that enthusiasm around the world. Pretty cool Cleveland is one of their pit stops around the country, ey?
Now onto the Inspiration:
Here are some sample posters JP chose to share with us today. So good!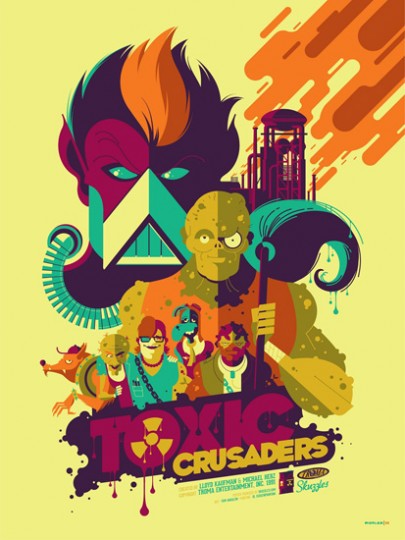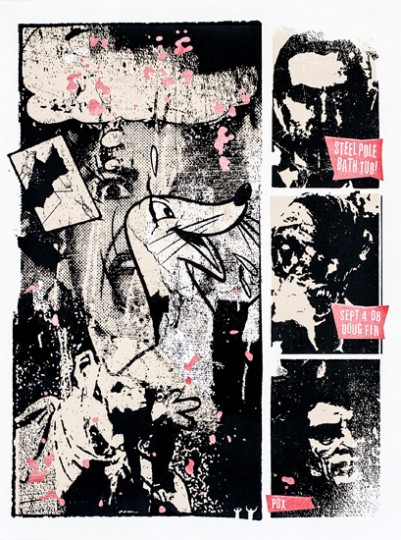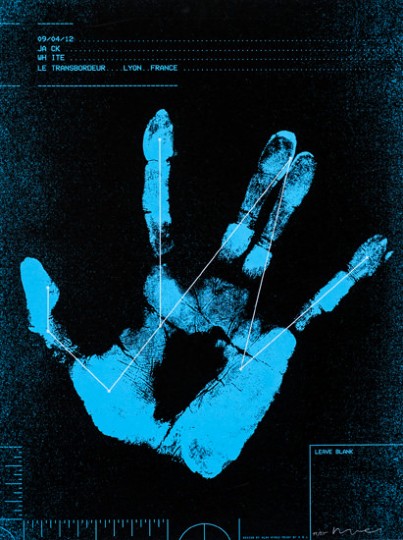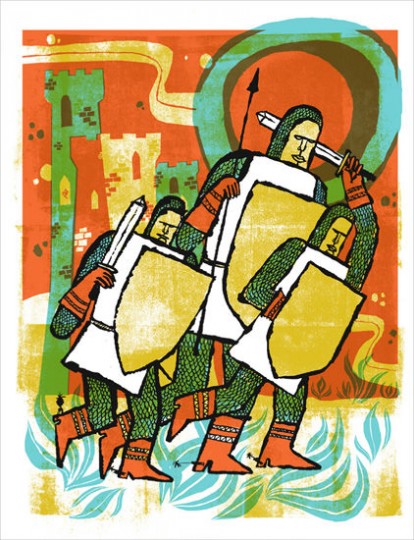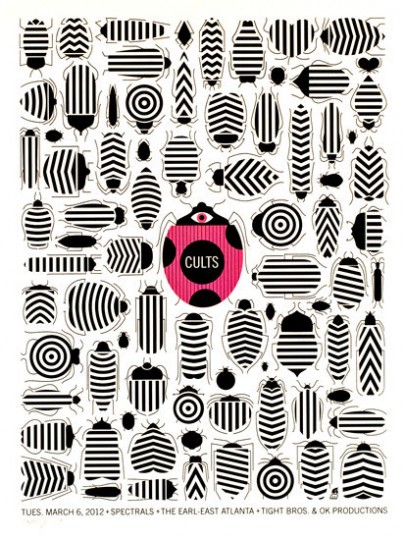 Further connect with JP and the NPR:
National Poster Retrospecticus | NPR on Facebook | Twitter | Instagram | Supermarket | JPB
And don't forget to buy your tickets to see NPR at the Fest!
Counting down to Weapons of Mass Creation Festival 5
For all of us here at Go Media and the Weapons of Mass Creation Festival 5 team, it is hard to believe that another year of hard work is about to pay off, yet again, in dividends.  Though we have a million details to work out before the best art, design and music event in the US opens on August 15, the light at the end of the tunnel is again in sight and we know that some of the best days of our life are upon us.
We cannot wait to share another weekend of inspiration and collaboration with all of you. We look forward to seeing many familiar faces and welcoming brand new members into our WMC Fest family.
If you're reading this and have yet to attend the Fest, we encourage you to join us.
Still on the fence?
If you're wondering why you should pack your bags to sunny CLE for a weekend of inspiration and collaboration, read on. Below we've outlined:
Top Ten Reasons to Attend Weapons of Mass Creation Fest 5:
At Weapons of Mass Creation Fest, which runs August 15-17 at the Cleveland Public Theatre, you're treated to a magnificent gallery of art, design, and illustration. Featuring up and coming local and national talent, expect to see some inspiring work. We're in for a very special treat this year as JP Boneyard, Producer of the National Poster Retrospecticus, a traveling show of over 300 hand-printed posters, is stopping by this year with his collection. The show will feature over 100 artists from around the world.
WMC Fest has chosen 20 to spotlight this year: Two Arms Inc, Plum City Press, Justin Carolyne, Daniel Nyari, April Bleakney, JP Boneyard, The Bubble Process, Landland, Meghan Minior, Scott Williams, Jason Munn, Little Friends of Printmaking, Kelsey Cronkhite, DKNG Studios, Daniel Danger, Laura Baisden, Joe Van Wetering, Ariel Cotton, Anthony Simpson, and Donald Wooten

Experience raw and authentic music so intimate that it gives you chills. Expect a diverse and creative sound with a proudly independent spirit.
Music Lineup:
The World is a Beautiful Place and I'm No Longer Afraid to Die, Kevin Devine, Mr. Gnome, Hawkeye, Smoke Noises, Urbindex, Black Puddle Noise, Teddy Boys, Dolfish, Oldboy, Texas Plant, These Knees, Midnight Passenger, The Commonwealth, John Kalman, Briar Rabbit, Automagik
If you haven't yet heard, Weapons of Mass Creation speakers are notorious for bringing a tear to the eye with their raw and genuine stories of triumph despite the many challenges, hardships and failures that many creatives face. We dare you not to leave the Cleveland Public Theatre completely inspired by these talks on subjects like design, creativity, entrepreneurship, community, activism, and pursuing happiness as a creative go-getter.
Our featured speakers this year are Grace Bonney (DesignSponge), Eric Natzke (Adobe), Martine Syms, Veronica Corzo-Duchardt, Keenan Cummings, Jolby & Friends, Melody Kramer (NPR), Kumar Arora (iLTHY), Sonnenzimmer.
This year's lineup was curated with the help of Margot Harrington and Stewart Scott-Curran.
4. Panel Discussions
One speaker isn't always enough. Panel discussions will feature multiple speakers and a moderator tackling important issues we face as creatives. These discussions will push us, challenge us, and force us to think more openly. Only good can come of this. Pretty cool, huh?
Designers Debate Club: Is "do what you love" ruining design?
Featuring: Keenan Cummings, James T. Green, Sharlene King, Jessica Jacobs & more
Weapons Declassified: Race in Design & Creativity
Moderated by: Angela Townsend (Plain Dealer)
Panelists: Jacinda Walker, Donald Wooten, Luis Cabrera, Maurice Cherry, and others TBD
Weapons Declassified: Gender/Sex in Design & Creativity
Moderated by: Raymond Bobgan (Cleveland Public Theatre)
Panelists: Treva Lindsey, Phyllis Harris, Zoe Lapin, Dane Horvath, Rusty C. Cook.
5. Workshops
Learn new skills and get your hands dirty in small group workshops. Because seating is limited, a separate admission fee is required to attend. Let's create together! Our workshops on the bill for this year are:
Drawn to Business: How to Build a Thriving Design Firm
Led by: William A. Beachy (Go Media)
Good Times & Collaboration
Led by: Dan Cassaro and Dan Christofferson (Big Cartel)
I'd Totally Print That! Letterpress Workshop
Led by: Allison Chapman (Igloo Letterpress)
Adobe Creative Cloud Workshop
Led by: TBD
Creativity, Flow & Resilience: Create Your Own Brain
Led by: Paula Kampf (SOMO Leadership Labs)
6. Ink Wars and other Special Events
There is a lot happening at WMC and some things just don't fit in a proper box. These include such awesomeness as our annual Breakdance Battle, the Go Media Podcast Live, the Closing Comedy Showcase and our Second Annual Inkwars.
If nothing else, you have to be here to see if someone is going to take down Ink Wars reigning champ Aaron Sechrist? You feelin' lucky, Pants?
Ink Wars
8 Person Black Marker Drawing Battle
60 Minutes – Theme announced at event
2 on 2 Break Battle presented by CityBreaks Studio
Hosted by Tony Fresh
Music by DJ Druskii (Shaolin Funk – Cincinnati)
Judges: EvilMonk (ISR – Cleveland), Seoul (61Syx – Michigan), Osuga (Shaolin Funk – Columbus)
ChuckleFck presents WMC Closing Comedy Showcase
With Maronzio Vance and others TBA Sponsored by Cards Against Humanity
Go Media Podcast: LIVE
With Jeff Finley, William A. Beachy, and Bryan Garvin
Live interviews with WMC speakers, participants, and more.
8. New Found Friends:
What we love most about Weapons of Mass Creation Fest is the sense of community that is built in three short days every summer.  So many friendships began at the Fest, and nothing, to us, is more important than that.
The thing I take away from WMC 2013 is the wonderful sense of community. Meeting people in real life that I have known on the internet for quite a while was amazing. As was making brand new friends. There was a palpable sense of togetherness and love throughout the festival. A sense that we are all in this together and that we all share the same hopes, dreams and fears. That will live with me for a long time."
– Stewart Scott-Curran, WMC Fest 5 Speaker organizer
9. Cleveland.
Yes, you heard me. Come on, now. You can't tell me you believe everything you hear?  Give us a chance. We honestly believe there is all kinds of value in our great city. Would it help if we bought you a hot dog while you're here?
10. Total Inspiration and Awesomeness
We promise that if you spend some real time integrating yourself into the Weapons of Mass Creation Fest experience, you'll feel completely inspired. You'll walk a little taller, breathe a little deeper, feel more motivated than ever before. And, you know what? You'll have a ton of fun doing it. Please join us.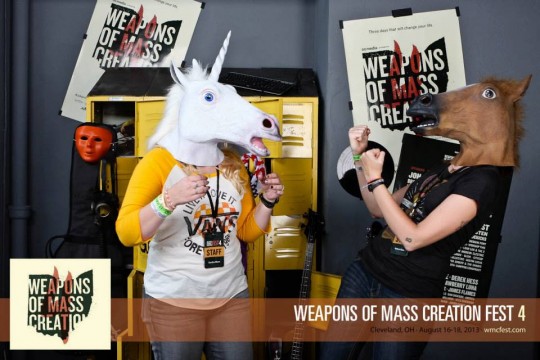 Now that you're convinced….
It's Giveaway Time!
So, who wants some merch?
Leave a comment and tell us why you are most excited to attend WMC Fest 5 and we'll select one lucky winner to receive a WMC Fest 5 prize pack. Please remember to check back on Wednesday, July 2 (or your Facebook inbox) to see if you won!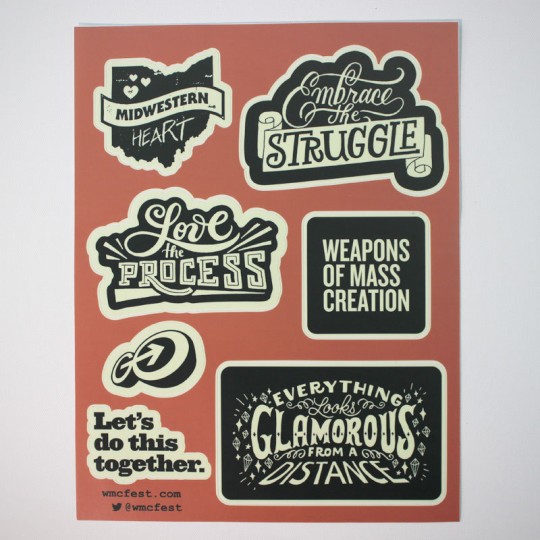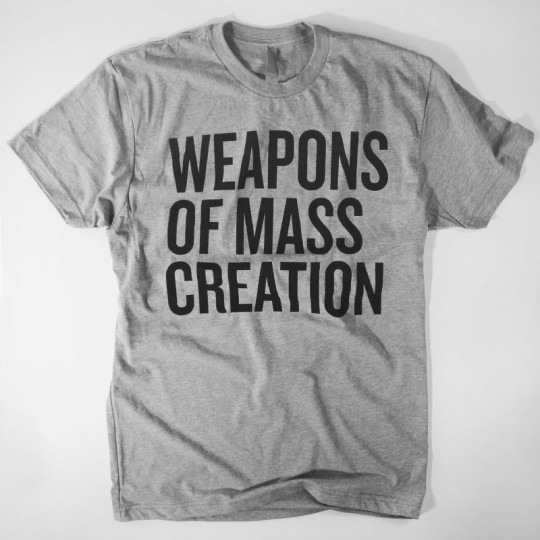 For more WMC Fest: Facebook | Twitter | Vimeo | Google+
And before we go, a big thank you to our sponsors: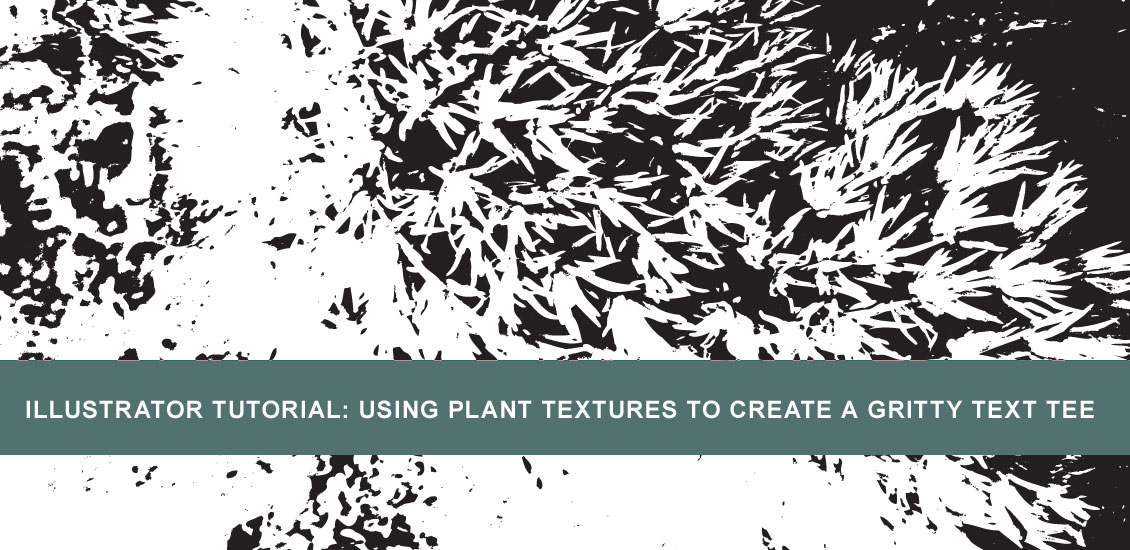 Illustrator Tutorial: Using Plant Textures to Create a Gritty Text Tee
Hey Friends,
I'm going to show you a simple way to use my Plant textures for a text tee design. The purpose is to show you how I use addition and subtraction methods to make text a little gritty in Illustrator.
Want to Follow Along? First:
Ok, Let's Go!
To start I'm going to use my hashtag #CROMfitness. This is my personal fitness plan I came up with and have fun with. And if you have to ask "Who is CROM?" I'm gonna hang my head in shame, just google it.
I'll open Illustrator and type out the text in Impact. I know, real creative, but we're going for simplicity. Open the Plants pack. I'm choosing a texture that has a lot of breaks or speckles in the texture.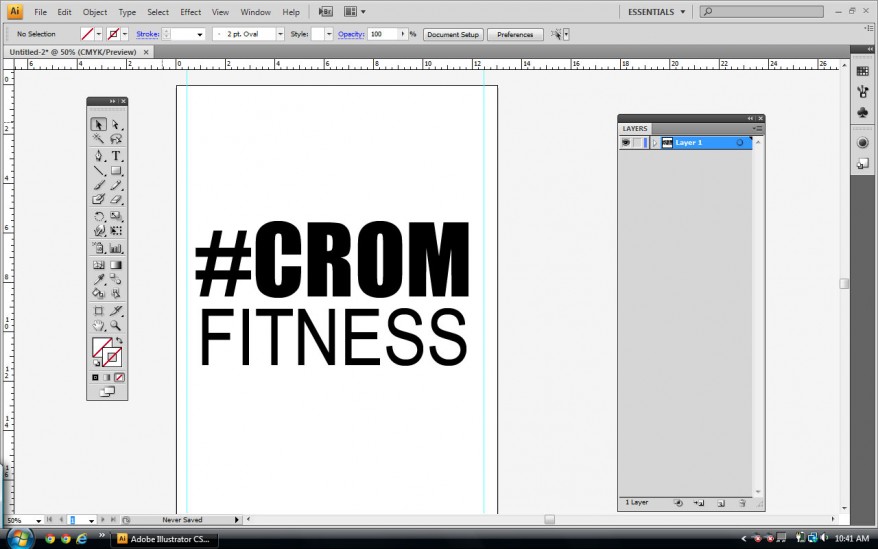 The texture I'm using is obviously rectangle so I'm going to cut out certain areas with the LASSO TOOL.
You will want to select the image you cut out, pull up the PATHFINDER box and UNITE the cut out area. I'll do this for 5 more cutouts and there we have 6 new textures.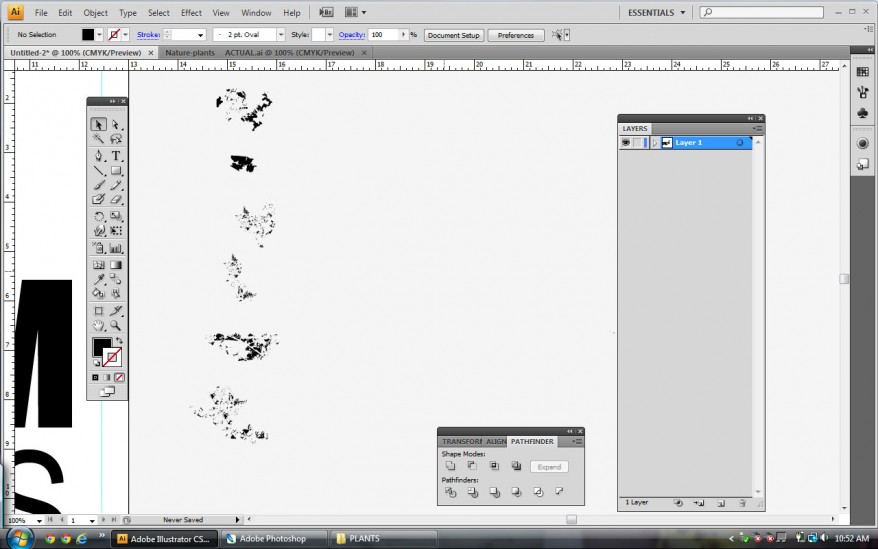 Next, I'm going to take one of the newly made textures and make another one with even smaller specs.
Next step is to EXPAND your text and place the texture over the certain letter.
This part has been my own formula, the best way I've found to extract the texture from the expanded text.
-Grab a letter with the WHITE ARROW tool.
-Hold Shift +grab the texture with the BLACK ARROW tool.
-Select the MINUS FRONT tab from the PATHFINDER box with the WHITE ARROW tool and there you have the beginning of the grungy look. This is the SUBTRACTION technique.
Repeat these steps with the rest of your letters.
Next, I'm going to add a stroke to the hashtag by using the Offset Path.
Select the hashtag then choose OBJECT – PATH- OFFSET PATH. This will provide essentially a black stroke around the outside of the object/hashtag.
With your WHITE ARROW tool grab the outer edge of the black stroke and make the fill white and create a black stroke.
Here is the additional part that I have used for many of my drawings. This is just a simple splatter effect. I'm going to grab a different Plant texture and cut out different areas with LASSO tool like I did with the texture before.
From here, I'll start building the various spots where I want this splatter look. I'll experiment with the look and feel of the different areas until I get the solution I want.
Just a tip, this is not mandatory but you can take your WHITE ARROW tool, select the letter and splatter, select the UNITE tab in the PATHFINDER box. This will keep everything together. So there you have my super simple ADDITION technique. With the subtractions and additions you get a roughed up text that doesn't look so boring.
Ok let's mock up our tee using the World's Best Mockup tees from Go Media, which you can buy in packs on the Arsenal, or individually on MockupEverything.com.
Make an EPS file of the image and bring it into Photoshop. Drop it onto the file and adjust the size and color. We now have a great visual for the CROMfitness.
Thanks for reading through this short tutorial. I find that the most simple effects/techniques provide the coolest results that make people say "How did he do that?"
Make sure you pick up these textures and make something nobody has ever seen before so they are asking you "How did you do that?"
Categorized:

Go Media's Arsenal, Graphic Design, Illustrator, News, Tutorials

Tagged:

Adobe, arsenal, Illustrator, texture, texture pack, texture packs, textures, tutorial
Things to consider before rebranding your company.
Here at Cleveland creative agency Go Media, we take branding very seriously. We have helped many companies, who've undergone natural growth and change, take necessary steps to transform the face of their company for the better. Consider these six simple questions when rebranding your own company and you'll be on the road to success.
1. What is the goal?
Don't rebrand simply just because. You should have a specific set of goals driving your rebrand. Perhaps, for example, you are a tech company who needs to modernize a logo designed in the 70's. Ask yourself why you are rebranding and give yourself an excellent answer. Don't have one? It may not be time.
2. Is brand boredom the reason for the rebrand?
Many times business owners will rebrand because they're suffering from brand boredom. They're looking at their brand all day long, every day. Brand boredom, on the part of the business owner, is normal and only natural. This, however, not a good reason to rebrand! Remember that clients are not coming into contact with your brand as frequently as you. They need to become familiar with your color schemes, fonts, mark. This can only be accomplished through consistency.
3. What is your brand equity?
Is your brand equity good or bad? When customers come in contact with your logo, do they remember the amazing work you've done for them? Or, do they instead only recall a negative experience with you? If you believe your brand to have a positive brand equity, this is extremely valuable! Hold onto that value! If you feel a change is in order, a brand refresh, is what we recommend. With a brand refresh, you'll use enough new elements to move the brand forward while keeping enough old elements to maintain brand recognition.
Consider your brand to have a negative equity? You may want to try something new, so far as considering a new name and a new brand. You'll want to completely break any negative association with your brand if needed. For example, imagine you owned an airline that had a 50% incidence rate of plane crashes over a one year period. Your brand equity would call for a complete change to say the least.
4. What costs are involved?
When thinking about doing a rebrand of your company, you must consider all of the costs involved. Your brand is more pervasive than you may at first think and if you're considering a rebrand you'll have to replace everything relatively quickly. This includes your letterhead, your website, building signs, ads, etc.  Hesitate to do so and your customers will be seeing two brands for an extended period of time. Focus on primary touch points first, then go from there. Also, possibly hold off on a rebrand until you have exhausted your stock of items with old branding. This way, when you've rebranding, you can restock and be all ready to go!
5. Have you considered your whole brand?
Keep in mind that your brand is not only a logo, but that your brand also embodies your company in its entirety. Your brand is your personality, its messaging, copy. Your brand is what you say and how you say it. Your brand is your company's vibe, the music you play, your uniform, the furniture in your office. Consider a rebrand and how these elements may be impacted.
6. How will you transition the rebrand?
The rebranding process can be very disruptive if not handled with finesse. Making major aesthetic shifts or changing your names can confuse customers. Consider how you'll educate your customers about the transition to your new brand. Some examples? Place your old brand next to your new brand, or explain very clearly to customers that "ABC Company is now XYZ Company."  Take some time to let things sink in.
Considering a rebrand? Don't forget to consult your friends here at Go Media!
Guys.
I don't know about you, but I'm ready for my life to be changed. I need a breath of fresh air, like now.
But until then, I have a friend or two I'd like you to meet. Let's start with one of the designers who will be struttin' their stuff this year at Weapons of Mass Creation Fest 5, Mr. Scott Williams.
Scott Williams is a Chicago-based graphic designer who has been making things around town a little more beautiful since 1996. He's created numerous show posters for the Annoyance Theatre, I.O. and the Second City in support of Chicago's talented comedy and improv community. For the past five years, Scott has been designing gig posters, and has been commissioned by artists including Sharon Jones & the Dap-Kings, Black Joe Lewis & the Honeybears, Charles Bradley & His Extraordinaires, JC Brooks & the Uptown Sound, JD McPherson and Numero Group. Scott is also a part of Soul Summit—a three-man DJ collective that hosts a monthly dance party at the Double Door in Chicago's Wicker Park. As Art Director for Soul Summit, he creates a fresh poster for every party.
Let's hear from Scott for a bit about his background and what inspires his work, shall we?
So Scott, can you tell us a little bit about how you got started in the field and about any pivotal moments that brought you to where you are today?
As far back as I can recall, I've always been into drawing. My grandfather had a ton of old letterhead after he retired. He'd give me a box of it and I'd just draw on it. I'd draw everything I was into as a kid, which was usually sunken pirate ships, old castles, sword fights or anything Star Wars related. I was really encouraged to keep at it growing up and into high school. I went to college and got my BFA in painting and drawing. I was into Surrealism and Realism, painters like Chuck Close and James Valerio. My goal was to get my Masters at the Art Institute of Chicago and then teach at a collegiate level. But after moving to Chicago in the early/mid 90s, that didn't really pan out for me. The Art Institute is expensive! So instead, I got a job at a record store. Standard pivot move from the life of academia. That was the turning point for me. Everyday I was seeing graphic design in the form of album covers. Working there was like being immersed in a graveyard of thousands of ideas in graphic form. That inspired me. A LOT. So I started doing tiny side jobs for bands. For example, I painted large tour banners and backdrops for bands like Man or Astroman, which really got me thinking about graphic design as a full time gig. I then went and got a degree in computer graphics and cut the record store hours in half. After I got that degree, which I really needed for the computer skills, things started to click for graphic design and me. Since then I've been lucky enough to work in the field for 20 years and counting.
What is the main style and or theme of your work and how did you develop that over time?
I'd say some of my biggest influences come from my own record collection, old magazine ads and from artists like Art Chantry or Tooth. I'm really inspired by folks who really fuck with the way we perceive imagery and font stylings. Very gritty, distressed, but simple and clean at the same time. The bulk of my gig poster work comes from a very successful Soul & Funk night here in Chicago called Soul Summit. I wanted to create posters that had a punk edge to them and not just revue styled Soul posters which were super prevalent during what some might call the "Soul Revival". After a couple years doing those I got tapped by groups like Sharon Jones & the Dap-Kings, Charles Bradley and His Extraordinaires, and Black Joe Lewis & the Honeybears for work.
Where do you find daily inspiration?
The Internet for sure. It's corny to say, but it really provides a great avenue for Artists to share their work (if they're online that is). Endless inspiration. Big portal sites like gigposters.com is good in that way as well. Other than that, it's record covers, books, magazines, etc.
We look forward to seeing your work at Weapons of Mass Creation Fest 5! What should we look forward to seeing and what should we expect from you in the future?
Hopefully a lot more art work! I think the WMC is a great concept and i'm very excited to be a part of it this year! Thank you!
For more Scott: Scott Williams Design
And don't forget to:
We are pleased to show off the new art print for Weapons of Mass Creation 5!  The lettering was done by the talented Mary Kate McDevitt and the printing is done by Mama's Sauce! What follows is a step by step walkthrough of the printing process by Mama's Sauce.
Weapons of Mass Creation is a 3-day creative conference that will change your life. It takes place on August 15-17 in Cleveland, OH. See speakers, bands, workshops, and more.
01. Ink Mixing.
Hand-mixing the inks for the poster was the first step. We hand-mix every color for all of our custom screen printing projects; this gives us the most possible control over color.
02. Color Proofing.
After the ink was mixed, we tested a small amount of it for accuracy. We always use a piece of the paper that the poster will actually be printed on. Different papers handle ink differently, so it's important to test for every project.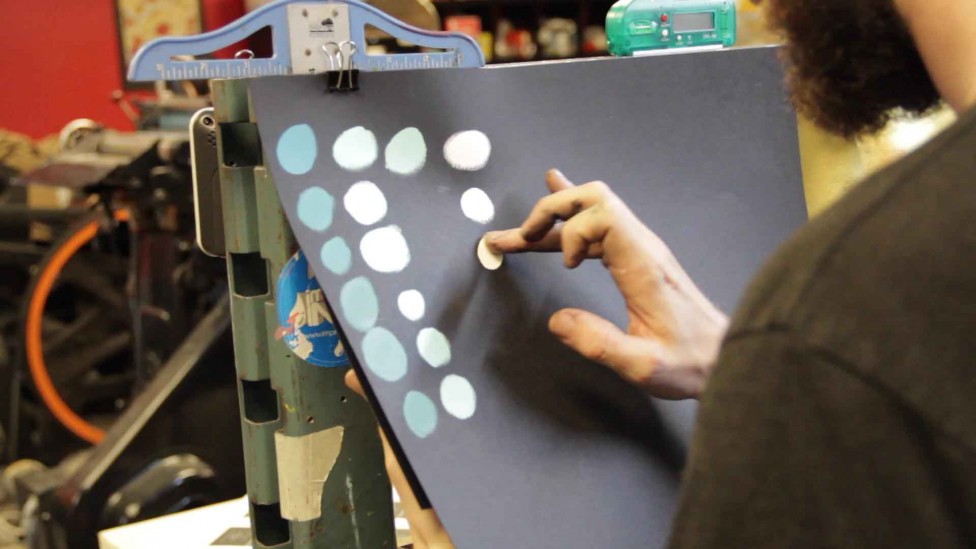 03. Prep the Screen.
Screen printing uses a fine mesh through which ink is pressed. To start printing, we had to burn the image for the poster into the mesh of the screen. This process is repeated for each color in the design. In this case, there were three screens.
04. Printing.
Once the inks were mixed and the screens were prepped, printing could begin. Ink was flooded over the screen and then pressed through the mesh by a squeegee. It's very important that the 3 colors line up perfectly.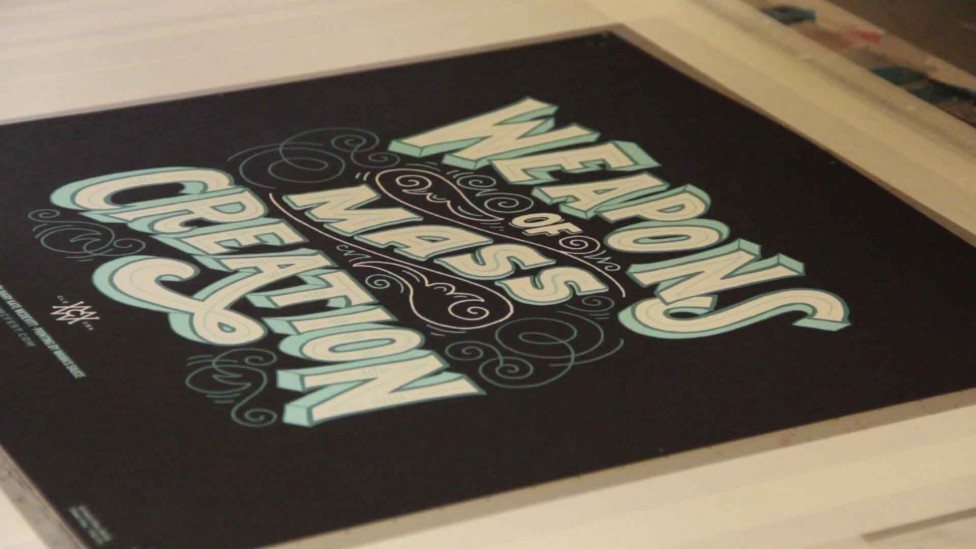 05. Quality Control.
After we started printing, we were very careful to keep an eye out for inconsistencies and defects in the prints. A lot can go wrong on press, so quality control is an ongoing, essential part of custom screen printing.
06. Racking & Drying.
The WMC Fest poster was printed with water-based inks that take a little while to dry. Consequently, each poster was hand-placed on a rack to dry for about 15-20 minutes between each color.
07. Trimming.
Most custom screen printing projects are printed on a sheet of paper that's a little bit bigger than the final size of the piece. This allows room for helpful marks & notes on the press sheet as well as room for us to actually grab the sheet without smudging the artwork. Once the WMC poster was printed, we trimmed it to its final size with a guillotine paper cutter.
08. The Finished Product.
Once each color had been printed, dried, and trimmed, the job was done. At this point, a sigh of relief and admiration surged through the shop.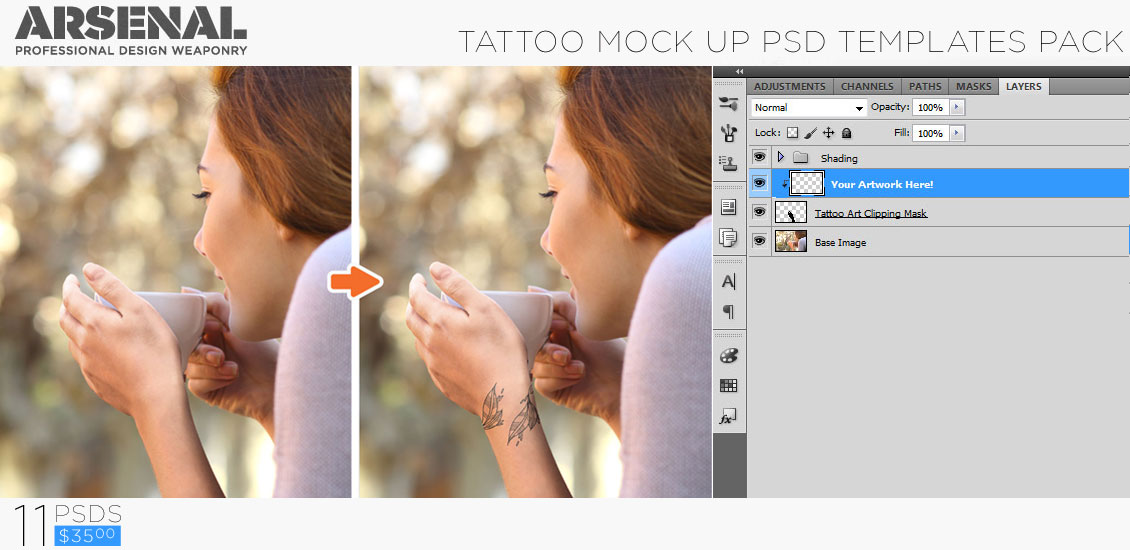 Introducing the Tattoo Mockup Photoshop Templates Pack
Always wanted to see your art mocked up on the human body? Have a client who's ready to get inked up but a little on edge? Vacillating between a few designs? Fear not, we've got the perfect pack for you! With our Tattoo Mockup Pack, you can quickly and easily pull your art onto our PSD files, perfecting them, placing them and erasing them from skin in a quick click. If only ink were that easy.
You're grabbing the following Photoshop files:
Ankle
Back
Back of Neck
Back of Wrist
Feet
Knuckles
Chest
Left Hand
Bicep
Forearm
Wrist
Get 11 Tattoo Mockup Templates – Only $35
Check 'em out: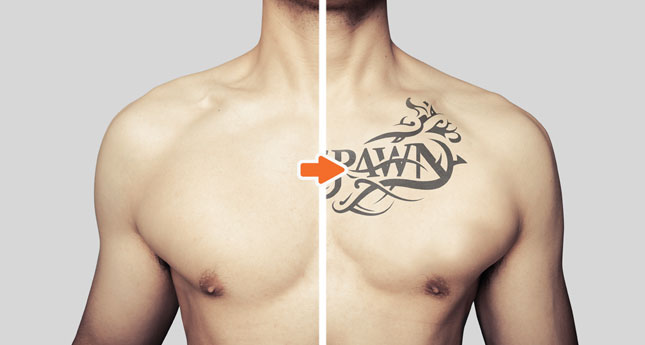 How to Hire a Web Design Firm: Ask These Questions Before You Invest
When hiring a web development firm, we here at Cleveland creative agency Go Media are firm believers in looking before you leap. Make the right decision and your financial investment will pay dividends for the long term. This is one serious decision! Knowing that, you've got some serious questions to ask to potential firms. Ask this list of exhaustive questions and you can feel confident about your decision.
And of course, all consulting for a new website is free when you come to Go Media, so feel free to start your new search with us!
Recommended Questions for Other Firms:
Get to know your team:
At the end of the day, you want to know if the team handling your work is a cohesive one. You'll want to ask if they have been working together for years on a reliable web solution, or figure out if there is a middleman that will cause disruption or confusion in the process. Try asking:
Where is your development team based?
Is all of your development work handled in-house?
What is the size of your team?
How long has your team been working together?
Get to know the technology:
Ask potential firms to give you a little back story on the technology they'll be implementing. Really get a gauge on their history with the technology and their familiarity with it. Then, get a feel for the back-end. Trust us, you'll need to have quick and easy access to your website, as well as be able to edit it without having to contact your web development team. Not only will that be an aggravating experience, but an expensive one. Ask:
Can you tell me a little bit about your history deploying similar websites and what my user experience might look like?
What might the back-end of my experience look like?
Can I take a peek at some sites you've deployed in the past?
Request it be Responsive:
As over half of websites are now viewed on mobile devices, this is a must-have. This one is simple. Say:
Will you build my site responsive or mobile ready?
Check into CMS:
Dig deep into the content management system, or CMS, used by the web development firm you're interviewing. As there are so many on the market, as well as varying fees associated with each, you've got to take note. If you ask our opinion, you've got to go with the most inexpensive, widely adopted technology that gives you the most functionality. That, to us, is WordPress.
Tell me about your content management system and the associated fees. Is the CMS proprietary or open source?
What is the warranty?
Because the web is constantly changing, your site will require constant maintenance and upkeep to stay up to the times. Talk to a future web design firm about things like their warranty, maintenance plan, service plan and web hosting. This way, you can feel safe knowing that the firm you have hired for web development will handle this support in the best and the worst of times. Cover these questions:
What is your warranty, what does it cover and what costs are involved?
Talk Pricing:
This is important, now. When talking pricing remember to ask, ask, ask away and never, never assume. Here are some questions you'll want to ask right out of the gate to ensure you are communicating clearly and leaving nothing to imagination.
Tell me about your pricing system?
Are you project-based or hourly?
What is your policy for payments?
How frequently do projects go over budget?
What happens when extra features are added or work is added over the projects initial scope?
* Side note: many times our clients tell us our proposals are bigger than the average bear. Why, they ask? Well, it's simple. We get down to the nitty gritty, giving our clients extremely detailed discovery and project scopes, leaving nothing to the imagination. We want to make sure we nail deadlines and accurately meet the budget outlined. Honesty is the best policy. If the web design firm you are speaking with doesn't provide you with full details, run!
Take a look at the timeline:
Gain an estimate of the time it will take to build the site at hand. Take note, then check with a reference. What's the estimate they gave their reference? How long did it actually take to build the site? Do some of your own research and be the judge. Does their internal team have the technology down this to a science or a third party at play here?
What is your estimated timeline to build the site?
Process, process, process:
You want to be sure the firm has thought through their process, as this is crucial to their, and your, overall success. Process, to Go Media, equals quality, consistency and reliability. We have our own detailed 32 step web development process mapped out. But that's us and we love process!
Talk me through your design process?
Find out who owns the source files:
You'll want to know, upfront, if you will have access to your design files upon project completion. Do you they belong to you? The design firm? Should it end badly for some reason and you no longer have access to the files, you'll wish you would have asked this question earlier.
Will I be able to access my files upon project completion?
Track Success:
Once your website is launched, you'll want to track its success. Make sure the firm you'll hire has metrics built directly into the site, whatever those might be (sales, conversions, traffic, etc.)
What ways do you track the success of the websites you deploy?
Look out for the Long-term:
Once you've made a commitment you'll want to settle in and stay for the long-term. Choose a company that has some size, stability and staying-power. We suggest a company of six or more. With a firm this size, there will most likely be a couple designers and a couple developers. Even in a pinch, when someone is out sick, you'll be covered.
How long have you been in business? How large is your firm?
Ask about the Project Management Piece:
You'll want to know if a dedicated project manager will be assigned to your project. If so, you'll have someone on your side building timelines, scheduling meetings, coordinating feedback, reviewing and organizing content, etc. If not, you'll have some more work on your plate.
Do you have a dedicated project manager that will be managing this project?
Ask for References:
Last but not least, don't forget to ask for some references. Like any investment, this is a natural and normal request.
To learn more about Go Media's  web development services visit us at gomedia.us!
Introducing the Weapons of Mass Creation Fest Vector Skull Icons
Hey, Hey Go Media Faithful! If you haven't heard, the countdown to Weapons of Mass Creation Fest is on!
If you've just stumbled on our site from outer space, it's okay. Let's back up for a moment while I tell you a little about my favorite event of the year.
You see, the annual Weapons of Mass Creation Festival, founded by Go Media Partner Jeff Finley, is the premier art, design and music event in the USA. Creative professionals, entrepreneurs, musicians, artists, students and fans gather annually to learn, get inspired, collaborate, network and celebrate their passion for art, design, music and entrepreneurship. It's truly a grassroots movement to inspire and enable the creative mind. We believe that good things happen when ideas and talents are shared within the community. This mentality manifests itself into the lifestyle of a Weapon of Mass Creation. A person who defies the hand they're dealt and makes things happen.
One of my favorite Weapons of Mass Creation is graphic designer Brandon Rike.  Brandon spoke at WMC Fest 2013 and can be found as a vendor at each of our festivals. He is well-known for not only his incredible breadth of work but his role as an inspiration for fellow designers.
Something super awesome.
I have had the opportunity to speak with Brandon on many occasions and let me tell you – he is the real deal.
So kind, humble, generous with his time and talent.
I'm really happy to announce that Brandon is now treating us to a very special vector pack created for Weapons of Mass Creation Festival:
Weapons of Mass Creation Fest Vector Skull Icons Pack – Only $9
The Weapons of Mass Creation Fest Vector Skull Icons Pack includes 59 unique design weaponry themed vectors for use in Adobe Illustrator.
It's way awesome and is making me all the more excited for this summer. I almost cannot stand it. How about you?
Networking Tips: Secrets to Networking Success
"The richest people in the world look for and build networks, everyone else looks for work." – Robert Kiyosaki
Networking is without a doubt one of the most important efforts to get your name out there and  grow your business.  Like the old adage says, "it's not what you know, it's who you know". Whether you're a freelancer working out of a house or working in an established company, getting out there and meeting folks can do wonders.
As Go Media's Account Manager, networking is an important part my job. In fact, each member of the sales team has a minimum number of networking hours to hit each month. We recognize the value of getting out there and spreading the Go Media word. Sure, there are days where the last thing I want to do after a full day at the office is go and mingle with strangers for hours, but I look forward to networking most of the time!
Often times, the hardest part is finding and getting yourself to the events. It can be uncomfortable to walk up to people you don't know and start a conversation, but the potential outcome can be worth the 30 seconds of awkwardness.
Some people are natural born social butterflies, while others aren't. For those who are looking to network more, here are the tips I've learned from my experiences:
Bring a wingman (or woman). If you have a fear of flying solo, bring an outgoing friend or colleague along! It's important to not isolate yourself though. Don't sit in a corner and only talk to the one person you know. If you're going to do that, don't bother attending. The goal is to make new connections, after all.
Find a common ground. It certainly helps to have something in common with the person you're chatting with, other than the weather. This is can be tricky, but helps to establish a level of trust. I tend to jot down notes on business cards with this sort of information. It creates a personal touch when following up at a later day. Otherwise, the little things tend to be forgotten after chatting with dozens of people.
"If people like you they'll listen to you, but if they trust you they'll do business with you." – Zig Ziglar
Listen! Take interest in others and what they do. This is key. Networking is not just about telling others about you, it's about making valuable connections that ideally result in mutually beneficial relationships. There are countless leads that I've sent to folks I've met while out networking while never receiving one in return and that's OK! Don't keep score.
Master your 30 second pitch. After you've started a conversation and someone asks you what you do for living, have a concise response in your back pocket that touches on the value you bring. If you start rambling, you'll lose your listener fast. It's important not to be too 'salesy' (no one likes that guy). Be authentic. Be you.
Casual followup. Now that you've collected a slew of business cards, don't let them sit in a stack never to be touched again. A few days after the event, shoot a quick email following this simple outline:

Thank the person for taking the time to chat with you

Touch on something personal (i.e. the 'common ground') that is not business related – humor always helps!

Reiterate how you can help or be of value in a casual, not pushy, way
It's important to not bombard your connections the minute you get back to your desk or call once a week to 'chit chat', though. Reach out to them when it matters or if you have a lead for them. Maybe even invite them to another event with you!
"The bigger your rolodex, the bigger your business." -Anonymous
Mastering the art of networking takes time and experience. There are going to be uncomfortable moments and maybe even some rejection. Most events offer small plates and cocktails (which certainly help to loosen people up). Just don't overdo it or you'll be remembered for all the wrong reasons.
What are your tips for networking success? Please share with me in the comments below!
Want to connect with Lauren? Contact her here:
Lauren's email |   Lauren's LinkedIn
Hand Lettering Tutorial: How to Letter with Jason Carne
Hey there Go Media Faithful! Love lettering like we do? You're in luck. Today on the Arsenal, we're releasing the hand lettering tutorial you've been waiting for!
Today, we're expanding our knowledge base thanks to one of the best: hand letterer extraordinaire Jason Carne.
Jason's no joke; he has worked with international musicians and touring artists such as Def Leppard, Protest The Hero, and Boyce Avenue as well as global apparel corporations like American Eagle Outfitters.
And now, with the click of a button, he'll appear in your living room.
The goods
Today's release, Hand Lettering Tutorial: Techniques from Conception to Completion with Jason Carne, demonstrates how to create a hand-lettered piece from conception all the way through completion in Adobe Photoshop. Jason guides us through his very detailed process, while reviewing laws of lettering, favorite tips, tricks and tools that he attributes to his success as an artist.
If you're ready to learn to get your own ideas on paper, as well as valuable lessons like the process of creating unique letters, coloring techniques and preparation for print –
We promise Jason's process will awe and inspire.
Take a peek at some images from the tutorial

Podcast for Designers – Episode 24: Todd Gauman and Uniting Cleveland Creatives
This month, Cleveland design company, Go Media sits down with Todd Gauman, the WMC Fest Event Director, to talk about all the new changes to WMC Fest 5. We also talk about the current struggles Cleveland Creatives face, including Loren Naji's art gallery being shut down twice in three weeks.