Full Weapons of Mass Creation Festival Lineup Announcement and Merch Giveaway
Counting down to Weapons of Mass Creation Festival 5
For all of us here at Go Media and the Weapons of Mass Creation Festival 5 team, it is hard to believe that another year of hard work is about to pay off, yet again, in dividends.  Though we have a million details to work out before the best art, design and music event in the US opens on August 15, the light at the end of the tunnel is again in sight and we know that some of the best days of our life are upon us.
We cannot wait to share another weekend of inspiration and collaboration with all of you. We look forward to seeing many familiar faces and welcoming brand new members into our WMC Fest family.
If you're reading this and have yet to attend the Fest, we encourage you to join us.
Still on the fence?
If you're wondering why you should pack your bags to sunny CLE for a weekend of inspiration and collaboration, read on. Below we've outlined:
Top Ten Reasons to Attend Weapons of Mass Creation Fest 5:
At Weapons of Mass Creation Fest, which runs August 15-17 at the Cleveland Public Theatre, you're treated to a magnificent gallery of art, design, and illustration. Featuring up and coming local and national talent, expect to see some inspiring work. We're in for a very special treat this year as JP Boneyard, Producer of the National Poster Retrospecticus, a traveling show of over 300 hand-printed posters, is stopping by this year with his collection. The show will feature over 100 artists from around the world.
WMC Fest has chosen 20 to spotlight this year: Two Arms Inc, Plum City Press, Justin Carolyne, Daniel Nyari, April Bleakney, JP Boneyard, The Bubble Process, Landland, Meghan Minior, Scott Williams, Jason Munn, Little Friends of Printmaking, Kelsey Cronkhite, DKNG Studios, Daniel Danger, Laura Baisden, Joe Van Wetering, Ariel Cotton, Anthony Simpson, and Donald Wooten

Experience raw and authentic music so intimate that it gives you chills. Expect a diverse and creative sound with a proudly independent spirit.
Music Lineup:
The World is a Beautiful Place and I'm No Longer Afraid to Die, Kevin Devine, Mr. Gnome, Hawkeye, Smoke Noises, Urbindex, Black Puddle Noise, Teddy Boys, Dolfish, Oldboy, Texas Plant, These Knees, Midnight Passenger, The Commonwealth, John Kalman, Briar Rabbit, Automagik
If you haven't yet heard, Weapons of Mass Creation speakers are notorious for bringing a tear to the eye with their raw and genuine stories of triumph despite the many challenges, hardships and failures that many creatives face. We dare you not to leave the Cleveland Public Theatre completely inspired by these talks on subjects like design, creativity, entrepreneurship, community, activism, and pursuing happiness as a creative go-getter.
Our featured speakers this year are Grace Bonney (DesignSponge), Eric Natzke (Adobe), Martine Syms, Veronica Corzo-Duchardt, Keenan Cummings, Jolby & Friends, Melody Kramer (NPR), Kumar Arora (iLTHY), Sonnenzimmer.
This year's lineup was curated with the help of Margot Harrington and Stewart Scott-Curran.
4. Panel Discussions
One speaker isn't always enough. Panel discussions will feature multiple speakers and a moderator tackling important issues we face as creatives. These discussions will push us, challenge us, and force us to think more openly. Only good can come of this. Pretty cool, huh?
Designers Debate Club: Is "do what you love" ruining design?
Featuring: Keenan Cummings, James T. Green, Sharlene King, Jessica Jacobs & more
Weapons Declassified: Race in Design & Creativity
Moderated by: Angela Townsend (Plain Dealer)
Panelists: Jacinda Walker, Donald Wooten, Luis Cabrera, Maurice Cherry, and others TBD
Weapons Declassified: Gender/Sex in Design & Creativity
Moderated by: Raymond Bobgan (Cleveland Public Theatre)
Panelists: Treva Lindsey, Phyllis Harris, Zoe Lapin, Dane Horvath, Rusty C. Cook.
5. Workshops
Learn new skills and get your hands dirty in small group workshops. Because seating is limited, a separate admission fee is required to attend. Let's create together! Our workshops on the bill for this year are:
Drawn to Business: How to Build a Thriving Design Firm
Led by: William A. Beachy (Go Media)
Good Times & Collaboration
Led by: Dan Cassaro and Dan Christofferson (Big Cartel)
I'd Totally Print That! Letterpress Workshop
Led by: Allison Chapman (Igloo Letterpress)
Adobe Creative Cloud Workshop
Led by: TBD
Creativity, Flow & Resilience: Create Your Own Brain
Led by: Paula Kampf (SOMO Leadership Labs)
6. Ink Wars and other Special Events
There is a lot happening at WMC and some things just don't fit in a proper box. These include such awesomeness as our annual Breakdance Battle, the Go Media Podcast Live, the Closing Comedy Showcase and our Second Annual Inkwars.
If nothing else, you have to be here to see if someone is going to take down Ink Wars reigning champ Aaron Sechrist? You feelin' lucky, Pants?
Ink Wars
8 Person Black Marker Drawing Battle
60 Minutes – Theme announced at event
2 on 2 Break Battle presented by CityBreaks Studio
Hosted by Tony Fresh
Music by DJ Druskii (Shaolin Funk – Cincinnati)
Judges: EvilMonk (ISR – Cleveland), Seoul (61Syx – Michigan), Osuga (Shaolin Funk – Columbus)
ChuckleFck presents WMC Closing Comedy Showcase
With Maronzio Vance and others TBA Sponsored by Cards Against Humanity
Go Media Podcast: LIVE
With Jeff Finley, William A. Beachy, and Bryan Garvin
Live interviews with WMC speakers, participants, and more.
8. New Found Friends:
What we love most about Weapons of Mass Creation Fest is the sense of community that is built in three short days every summer.  So many friendships began at the Fest, and nothing, to us, is more important than that.
The thing I take away from WMC 2013 is the wonderful sense of community. Meeting people in real life that I have known on the internet for quite a while was amazing. As was making brand new friends. There was a palpable sense of togetherness and love throughout the festival. A sense that we are all in this together and that we all share the same hopes, dreams and fears. That will live with me for a long time."
– Stewart Scott-Curran, WMC Fest 5 Speaker organizer
9. Cleveland.
Yes, you heard me. Come on, now. You can't tell me you believe everything you hear?  Give us a chance. We honestly believe there is all kinds of value in our great city. Would it help if we bought you a hot dog while you're here?
10. Total Inspiration and Awesomeness
We promise that if you spend some real time integrating yourself into the Weapons of Mass Creation Fest experience, you'll feel completely inspired. You'll walk a little taller, breathe a little deeper, feel more motivated than ever before. And, you know what? You'll have a ton of fun doing it. Please join us.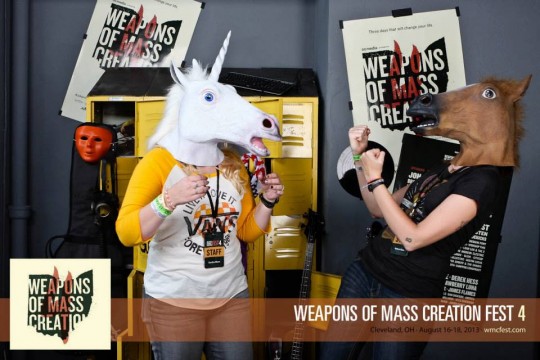 Now that you're convinced….
It's Giveaway Time!
So, who wants some merch?
Leave a comment and tell us why you are most excited to attend WMC Fest 5 and we'll select one lucky winner to receive a WMC Fest 5 prize pack. Please remember to check back on Wednesday, July 2 (or your Facebook inbox) to see if you won!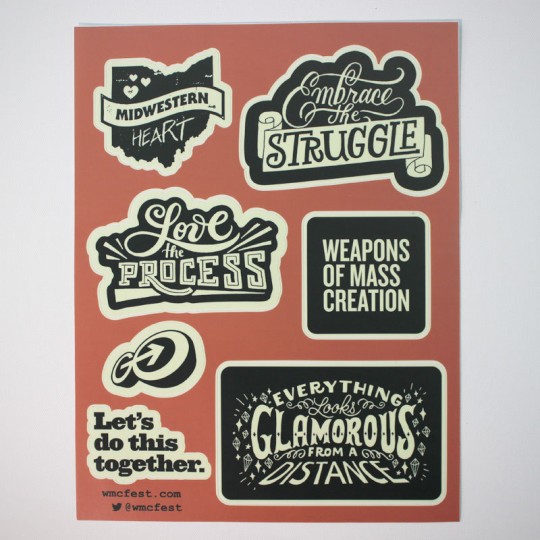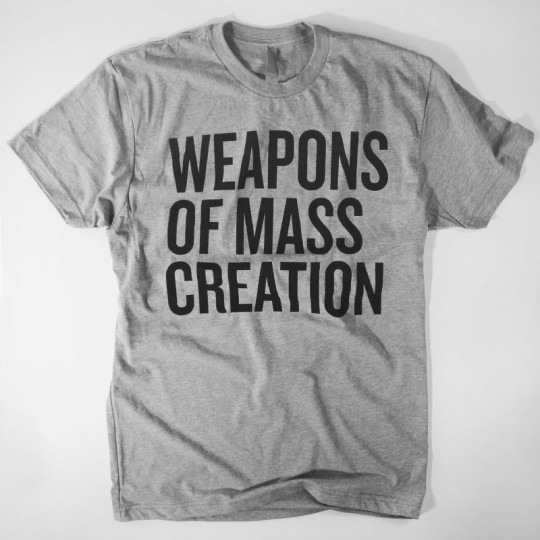 For more WMC Fest: Facebook | Twitter | Vimeo | Google+
And before we go, a big thank you to our sponsors: