Weapons of Mass Creation Fest Interview with Designer: Scott Williams
Guys.
I don't know about you, but I'm ready for my life to be changed. I need a breath of fresh air, like now.
But until then, I have a friend or two I'd like you to meet. Let's start with one of the designers who will be struttin' their stuff this year at Weapons of Mass Creation Fest 5, Mr. Scott Williams.
Scott Williams is a Chicago-based graphic designer who has been making things around town a little more beautiful since 1996. He's created numerous show posters for the Annoyance Theatre, I.O. and the Second City in support of Chicago's talented comedy and improv community. For the past five years, Scott has been designing gig posters, and has been commissioned by artists including Sharon Jones & the Dap-Kings, Black Joe Lewis & the Honeybears, Charles Bradley & His Extraordinaires, JC Brooks & the Uptown Sound, JD McPherson and Numero Group. Scott is also a part of Soul Summit—a three-man DJ collective that hosts a monthly dance party at the Double Door in Chicago's Wicker Park. As Art Director for Soul Summit, he creates a fresh poster for every party.
Let's hear from Scott for a bit about his background and what inspires his work, shall we?
So Scott, can you tell us a little bit about how you got started in the field and about any pivotal moments that brought you to where you are today?
As far back as I can recall, I've always been into drawing. My grandfather had a ton of old letterhead after he retired. He'd give me a box of it and I'd just draw on it. I'd draw everything I was into as a kid, which was usually sunken pirate ships, old castles, sword fights or anything Star Wars related. I was really encouraged to keep at it growing up and into high school. I went to college and got my BFA in painting and drawing. I was into Surrealism and Realism, painters like Chuck Close and James Valerio. My goal was to get my Masters at the Art Institute of Chicago and then teach at a collegiate level. But after moving to Chicago in the early/mid 90s, that didn't really pan out for me. The Art Institute is expensive! So instead, I got a job at a record store. Standard pivot move from the life of academia. That was the turning point for me. Everyday I was seeing graphic design in the form of album covers. Working there was like being immersed in a graveyard of thousands of ideas in graphic form. That inspired me. A LOT. So I started doing tiny side jobs for bands. For example, I painted large tour banners and backdrops for bands like Man or Astroman, which really got me thinking about graphic design as a full time gig. I then went and got a degree in computer graphics and cut the record store hours in half. After I got that degree, which I really needed for the computer skills, things started to click for graphic design and me. Since then I've been lucky enough to work in the field for 20 years and counting.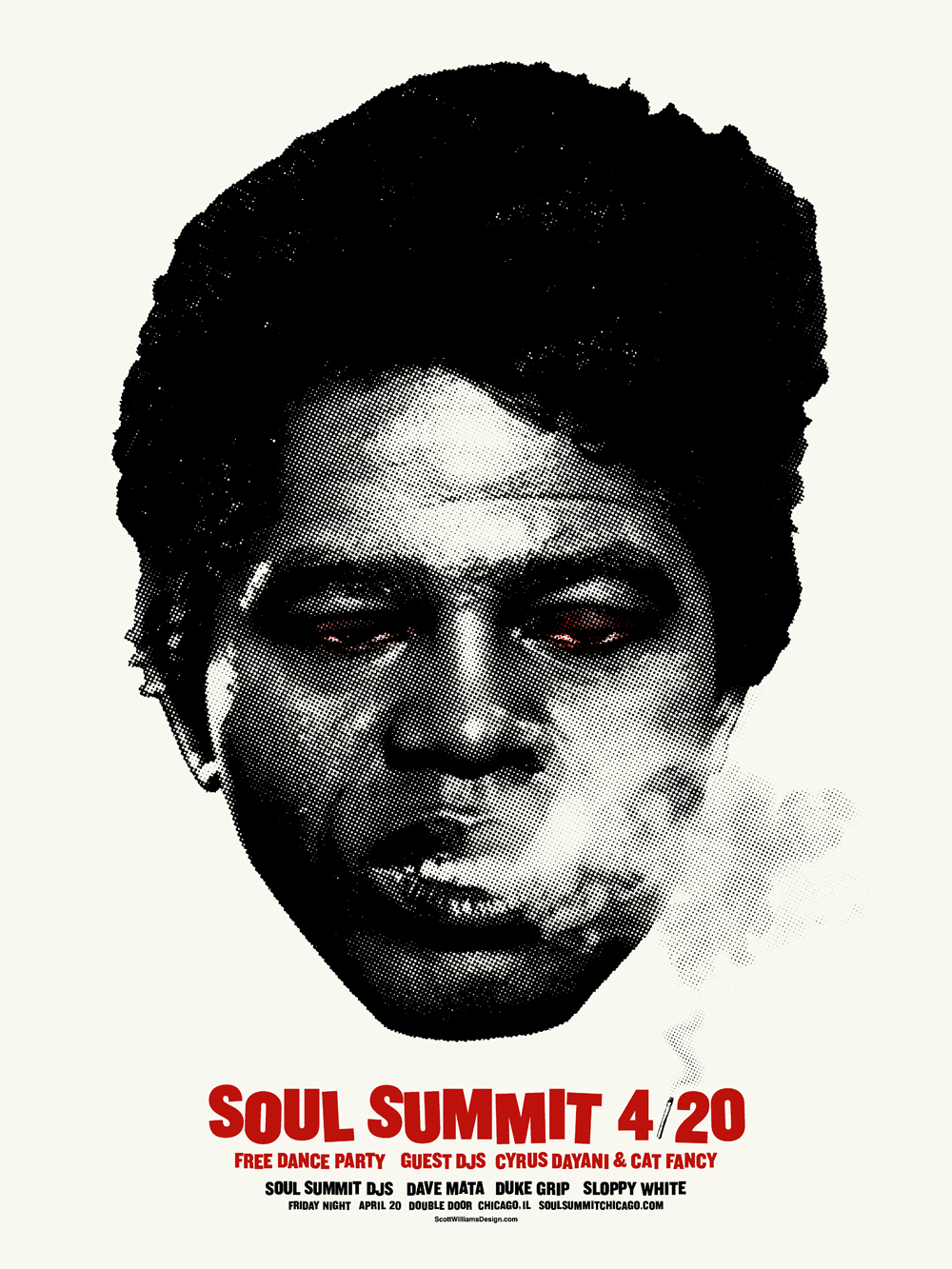 What is the main style and or theme of your work and how did you develop that over time?
I'd say some of my biggest influences come from my own record collection, old magazine ads and from artists like Art Chantry or Tooth. I'm really inspired by folks who really fuck with the way we perceive imagery and font stylings. Very gritty, distressed, but simple and clean at the same time. The bulk of my gig poster work comes from a very successful Soul & Funk night here in Chicago called Soul Summit. I wanted to create posters that had a punk edge to them and not just revue styled Soul posters which were super prevalent during what some might call the "Soul Revival". After a couple years doing those I got tapped by groups like Sharon Jones & the Dap-Kings, Charles Bradley and His Extraordinaires, and Black Joe Lewis & the Honeybears for work.
Where do you find daily inspiration?
The Internet for sure. It's corny to say, but it really provides a great avenue for Artists to share their work (if they're online that is). Endless inspiration. Big portal sites like gigposters.com is good in that way as well. Other than that, it's record covers, books, magazines, etc.
We look forward to seeing your work at Weapons of Mass Creation Fest 5! What should we look forward to seeing and what should we expect from you in the future?
Hopefully a lot more art work! I think the WMC is a great concept and i'm very excited to be a part of it this year! Thank you!
For more Scott: Scott Williams Design
And don't forget to: