Articles by:
Steve Knerem
How to Design the Perfect Rock and Roll T-Shirt
When creating a rock and roll tee, nothing comes to mind more than a perfectly illustrated, bad ass skull and crossbones with snakes and chains thrown in for good measure. Am I right or am I right?
Get ready to craft up your own original masterpiece with a little help from Marketplace Artist, Steve Knerem, rock and roll tee expert. Steve has created this, the Skull and Snake T-Shirt Design Pack to help in your process. The possibilities are endless with this pack!
Buy the t-shirt design pack now – $17
You'll grab:
All 10 Illustrations including snakes, a skull, angel wings, illuminati eye, flower, brass knuckles, chains, horse head, and more.
the Original .AI file of this design
Men's Triblend Ghosted mockup template
As a bonus, we throw in a sample of Jeff Finley's popular eBook, Thread's Not Dead, the Designer's Guide to the Apparel Industry.
Use the elements in the skull and snake t-shirt design pack in Adobe Illustrator to create your own unique work of art.
You can either use this design as-is without changing a thing or mix and match. We recommend using the detailed snakes, skull and wings to create brand new designs.
Here's what you get:
Now go off and create something great!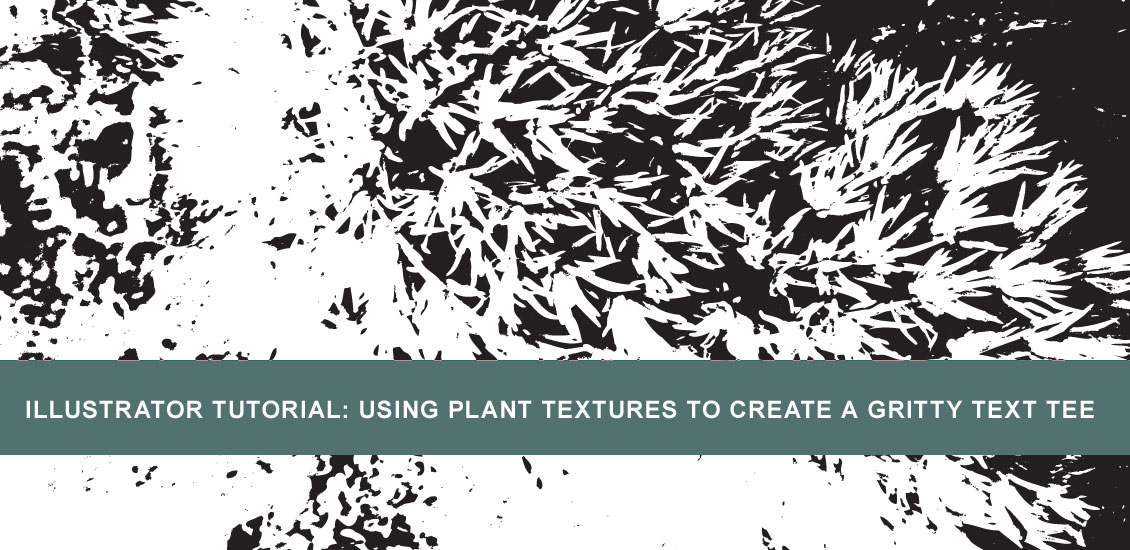 Illustrator Tutorial: Using Plant Textures to Create a Gritty Text Tee
Hey Friends,
I'm going to show you a simple way to use my Plant textures for a text tee design. The purpose is to show you how I use addition and subtraction methods to make text a little gritty in Illustrator.
Want to Follow Along? First:
Ok, Let's Go!
To start I'm going to use my hashtag #CROMfitness. This is my personal fitness plan I came up with and have fun with. And if you have to ask "Who is CROM?" I'm gonna hang my head in shame, just google it.
I'll open Illustrator and type out the text in Impact. I know, real creative, but we're going for simplicity. Open the Plants pack. I'm choosing a texture that has a lot of breaks or speckles in the texture.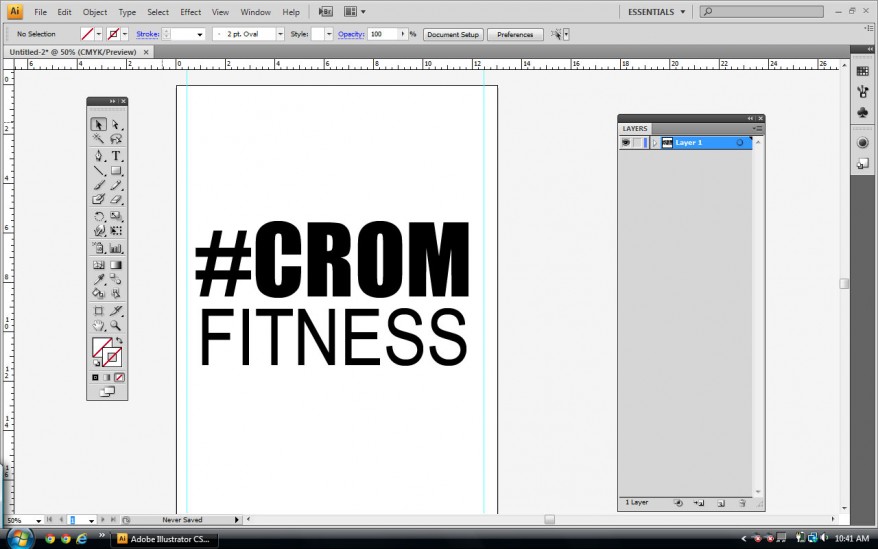 The texture I'm using is obviously rectangle so I'm going to cut out certain areas with the LASSO TOOL.
You will want to select the image you cut out, pull up the PATHFINDER box and UNITE the cut out area. I'll do this for 5 more cutouts and there we have 6 new textures.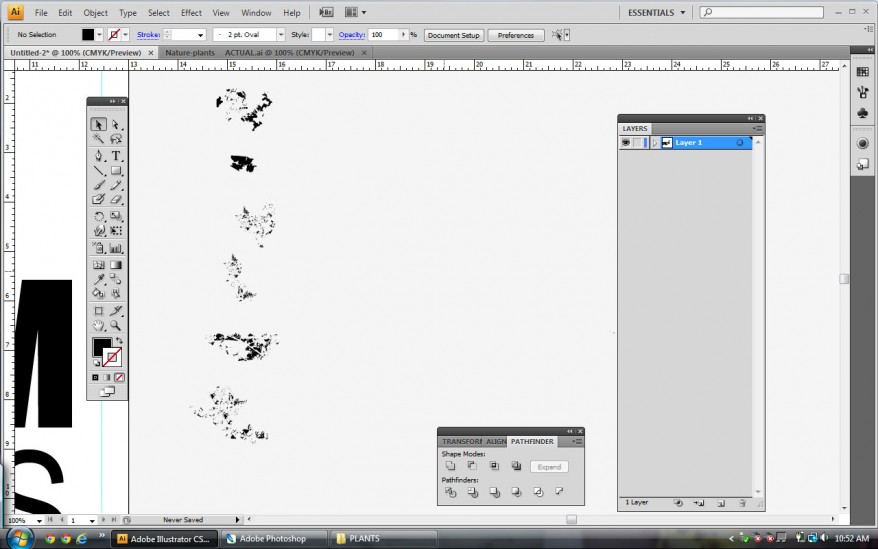 Next, I'm going to take one of the newly made textures and make another one with even smaller specs.
Next step is to EXPAND your text and place the texture over the certain letter.
This part has been my own formula, the best way I've found to extract the texture from the expanded text.
-Grab a letter with the WHITE ARROW tool.
-Hold Shift +grab the texture with the BLACK ARROW tool.
-Select the MINUS FRONT tab from the PATHFINDER box with the WHITE ARROW tool and there you have the beginning of the grungy look. This is the SUBTRACTION technique.
Repeat these steps with the rest of your letters.
Next, I'm going to add a stroke to the hashtag by using the Offset Path.
Select the hashtag then choose OBJECT – PATH- OFFSET PATH. This will provide essentially a black stroke around the outside of the object/hashtag.
With your WHITE ARROW tool grab the outer edge of the black stroke and make the fill white and create a black stroke.
Here is the additional part that I have used for many of my drawings. This is just a simple splatter effect. I'm going to grab a different Plant texture and cut out different areas with LASSO tool like I did with the texture before.
From here, I'll start building the various spots where I want this splatter look. I'll experiment with the look and feel of the different areas until I get the solution I want.
Just a tip, this is not mandatory but you can take your WHITE ARROW tool, select the letter and splatter, select the UNITE tab in the PATHFINDER box. This will keep everything together. So there you have my super simple ADDITION technique. With the subtractions and additions you get a roughed up text that doesn't look so boring.
Ok let's mock up our tee using the World's Best Mockup tees from Go Media, which you can buy in packs on the Arsenal, or individually on MockupEverything.com.
Make an EPS file of the image and bring it into Photoshop. Drop it onto the file and adjust the size and color. We now have a great visual for the CROMfitness.
Thanks for reading through this short tutorial. I find that the most simple effects/techniques provide the coolest results that make people say "How did he do that?"
Make sure you pick up these textures and make something nobody has ever seen before so they are asking you "How did you do that?"
Categorized:

Go Media's Arsenal, Graphic Design, Illustrator, News, Tutorials

Tagged:

Adobe, arsenal, Illustrator, texture, texture pack, texture packs, textures, tutorial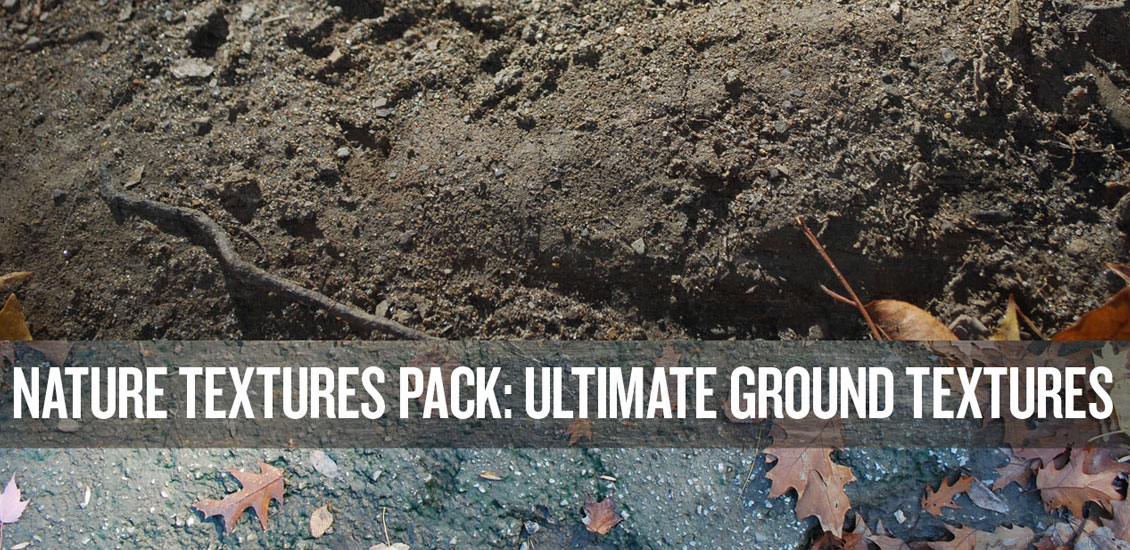 Introducing the Ultimate Ground Textures Pack
Hey Gang!
As you well know, textures give a sense of life and depth to an otherwise flat design. On a recent trip to Italy, I had the opportunity to capture my own gritty, grainy and one-of-a-kind images. I've found these to be perfect for roughening up those pieces that need a little punch.
You know I couldn't keep them to myself.
Today I'd like to introduce to you the second in my series of six Nature Texture Packs.
Say hello to the Ground Pack!
This pack includes 10 carefully crafted photographs from my recent travels and 11 images I vectorized, all of which are available for your use roughening and dirtying your designs.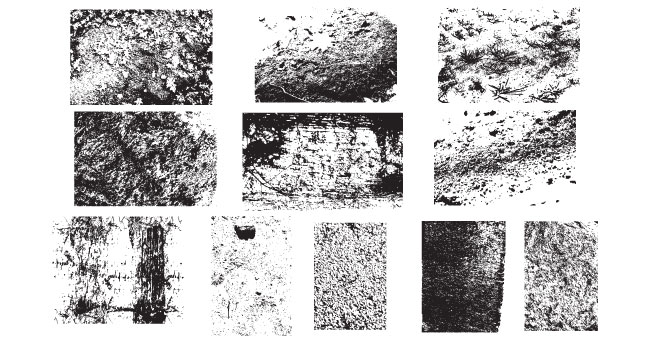 You'll need to grab it now, because today I'll be taking you through a step by step pamphlet brochure design using a few textures and overlays in Photoshop.
What we're making:
I am featuring a picture of a marble bust from the Uffizi gallery in Florence, Italy. My wife and I had the opportunity in May 2013 to do some traveling with friends and take in a ton of gallery sights and the beautiful country side.
So let's get to it.
Buy Ultimate Ground Textures Pack now!
Here is the statue of our character in Photoshop. I wasn't 100% sure what I wanted to do at first so I just started experimenting.
I'll go ahead and place him on a document for print that will crop him nicely.
Next I'm going to grab the actual photo that is included in the pack and set it over the character.
Next I'm just going to see what happens and play around with some options to see what kind of effect I can get.
I love this look so far but I want him to look like he is coming out of the ground. I'll grab some brushes from my Godmachine pack I downloaded and see what happens.
Ok so from here I want to utilize another texture so I'll grab a different one. Here is an important tip, set the texture on a large document and make it that size so it covers the character.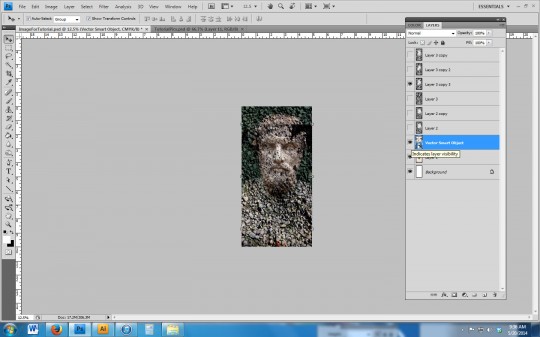 Once again I'll start experimenting and see what happens and add some color.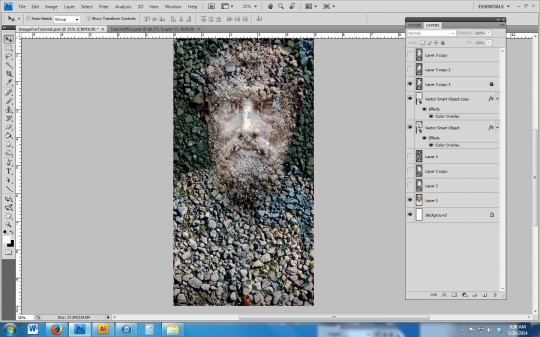 At this point I want to see how this looks with text and I'll experiment with stroke colors, drop shadows and size of the fonts.
I'm liking it so far but not thrilled with the color….so let's see what happens.
Very cool! I decided to add effects to the words as well. I feel the words go with the image now. It's very important not to just slap anything together and expect it to work. Make the image balance with the text and colors.
Last item I thought is to change "History" to "Italy" and add the Uffizi Gallery Florence, Italy to make it look like an actual brochure when you walk into this specific exhibit.
So there it is. This has a complicated look but made simple by experimenting with layer effects, a photograph, a graphic, text and design. It's like cooking where each ingredient needs to work together yet stand on their own.
Thanks for checking this out and purchasing the packs and set!
_______________________________________
For more of Steve's work, check him out his site or chat with him on Twitter.
Hey Gang,
If you follow me, know me, used or seen my work you probably think of high detail illustration. Well, every once in a while you gotta change things up. From time to time I'll do something quite opposite just to keep things fresh.
Last summer, I had the idea to do something quite different and photograph my own images. I have been a fan of all the Go Media texture packs and I have used them in my work and figured out ways to manipulate them through Photoshop and Illustrator.
I started taking high resolution photos and thought about what I would buy and how I would use the textures. The set is divided into 6 categories, the first release is my Clouds Vector Texture Pack.
Soon to be released are my Ground, Plants, Rocks, Trees and Water Packs. Keep an eye out!
Now, let's chat about some of the tricks and ideas that I've used with these textures. Clouds, you're up!
Ready to follow along?
First, grab the cloud textures here, only $9!
Now, let's go!
First I'll start with an effect using the clouds. This effect is based on simple placement using a clipping mask and creativity. I'll start with the personal monogram I've been designing. I'll open the CLOUDS.eps file in Photoshop.
I'm going to just grab some of the cloud textures and bring them onto the monogram file and start placing them over the design.
Off the bat I know this is gonna be too much texture and won't show enough of the design. I'm going to start over and change the color of the design and bring in another texture.
From here I'll place the texture over the design and select a clipping mask (click on the layer for PC and right click and select Clipping Mask selection)
From here, I want to add a bit more to it with a simple drop shadow.
Now, I'll make a duplicate image of the design and set a complementary color stroke.
Next, I'll adjust the colors of the design that go better with the blue.
Now I'll select the colors of the cloud textures and change those colors.
I'm thinking I want to take advantage of this pack and add a little more texture and grit from the upper left cloud.
I'm just going to cut the middle out, paste it and duplicate the selection and just take a pre made eraser tool and get rid of certain areas.
I'll place it under the first cloud texture, adjust colors and then move the texture around a bit to get it where I want it.
From here we created a simple texture using clipping masks duplicate layers and color strokes. Simple all from a cloud, creativity and knowledge.
Try this on your own and see what you come up with!
Grab the cloud textures here, only $9!
For more of Steve's work, check him out his site or chat with him on Twitter.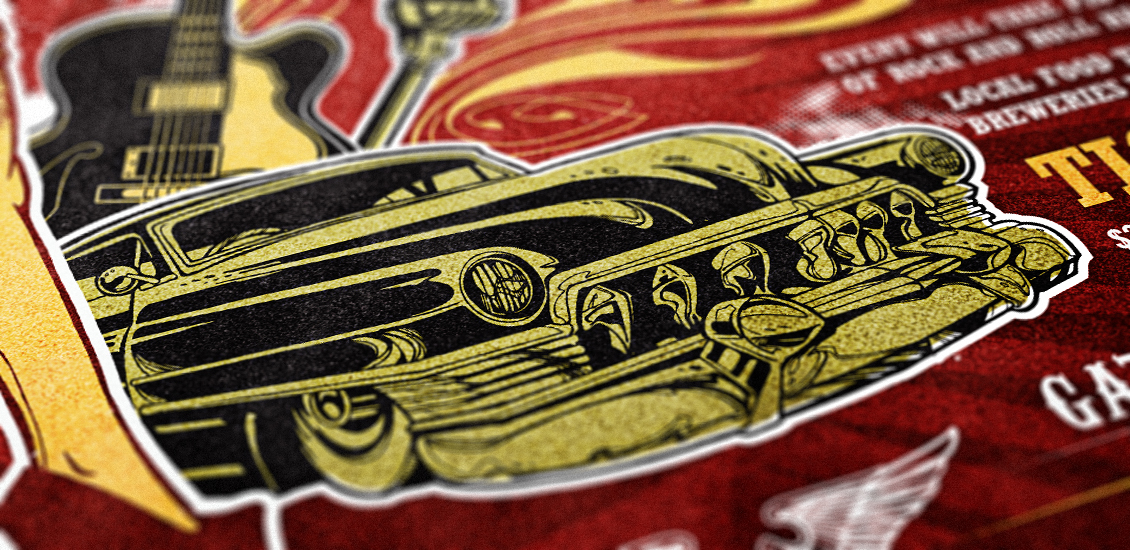 Hello all,
The very talented Steve Knerem is the guest artist behind a majority of the content of our vector set 22.  In this tutorial, he shows us how to assemble a rad rockabilly poster using various elements of the set, a bit like what Jeff did for us when we released Set 18. 
In the first part of the tutorial, Steve will be walking you through his process to design the poster, from concept to final piece. In a couple of weeks, we'll publish the 2nd part, which will infuse the composition with an even stronger rockabilly/1950s feel, by doing some additional research in terms of typefaces by digging at the source: 1950's/1960's era gig posters (as well as more contemporary material too). Finally, a few weeks after that, we'll publish a wrap-up piece that will provide additional tips and tricks to give a vintage finish to the poster, like if you had found it in your parent's/grandparent's attic after all these years.
But no more rambling, let's let Steve have the microphone!
— Simon, Go Media's Arsenal Manager
Hey Guys,
Thanks for reading my article on how I built this Rockabilly poster using the Arsenal's Vector Set 22.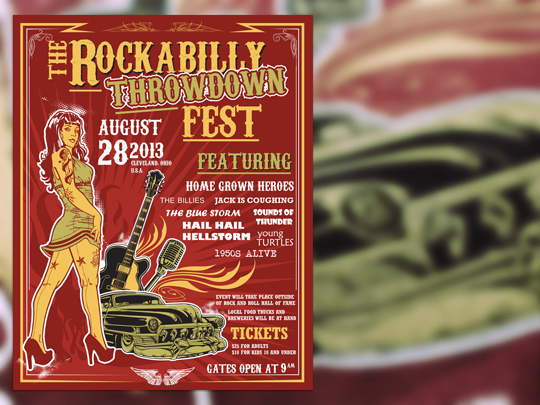 In this set you are going to notice that it's all revolved around icons from vintage 1950's U.S.A: hot rods, babes, tattoos and everything in between. As you search through the set notice I threw in a mix of styles from my hand drawn look to straight vector art (done in Illustrator). Have fun with the pack and add it to your own arsenal of goodies!
Let's have a quick look at the set's content
So let's get started!
My thoughts to create this poster are keep it simple within the realms of design and content, yet pack a punch with enthusiasm and detail. When I think of design, I definitely try not to throw in the kitchen sink, but be selective and make sure I have for this project a title focus and an image focus. In addition to that, make sure your eye flows either top to bottom, in the "Z" pattern or in what I think is helpful is a circle pattern. These are the elements the the brain locks into and make the poster reads well, creates good flow and is a successful piece.
Choosing the Color Palette
I need to think about colors. When I thought about my color palette typical Rockabilly/50's colors seem to be red, black, white, tan and a cool color. This isn't etched in stone but what seems to be the norm. I know I want to go with a vintage look as it were designed back in this era.
I did some searching and remembered one of my favorite websites when I need some inspiration or knowledge. This is what popped up after doing a search for "vintage rockabilly colors."
Thinking through the composition
Ok I have my color palette, now for design. I am setting up this design for a 16×20 4-5 color screen printed poster for a fictitious event in my home town Cleveland, Ohio, U.S.A. I worked- up a few quick ideas and am going to call this "The Rockabilly Throwdown Fest." Imagine a huge fest with all your favorite bands, hairdos, pinups and vintage styles for one day, sounds awesome!
I'll first set up a ½" bleed area around the poster. This guarantees me that anything within these borders will be printed, and I don't have to worry about it getting cut off. You could probably set up a ¼" in bleed as well.
Looking at Typefaces
I'm going to then move on to the title "The Rockabilly Throwdown Fest" and search for a font. There is an endless supply of possibilities but let's go with something that feels like it belongs.
Quick note: if I were to choose a font that seemed like it could go with a black death metal fest, it wouldn't have the right feel. Do your research.
Down to the Nitty-Gritty
Next let's piece this together.
Choosing the Centerpiece
My initial thought is to utilize one of the pin ups as the main character… Maybe the devil girl.
A Layout Change
Ok, so an interesting turn of design events is taking place. I was originally thinking of placing an image in the center, but because of the title design I am thinking of something else…Let's see where it goes.
Let's Change the Centerpiece, and Let's Add Some Supporting Design Elements
I like this pose better, and I think she goes better with the design. I know I want some sort of starburst in the background to create a sense of depth so I grab the star tool and set it to 75 points.
I want to trim the bottom and left side so I take the pen tool and make three points in at "L" shape. Make sure the color is selected in the stroke color box. Note the purple color "L" at the bottom left of the artboard.
While the "L" shape is selected, I also select the starburst then I go to the pathfinder panel and select the divide button all with my black arrow tool. Both images will look united, but then click on the part that looks cut away with your white arrow tool and delete it. The starburst might spill over the document parameters, so you will have to select those parts and delete. From here select the starburst with your black arrow tool and choose a fill color in the color box. Most likely you will see areas fill in the where your dividing "L" line was.
These are a few extra steps, but this makes the object complete. Click off on a blank area and select the parts that are spilling over and the parts that filled in with your white arrow tool and delete them. Click off on a blank area, then click on the starburst one more time and select unite in the pathfinder panel. I like to do this just to give it a final merge of the object. Now you are all set. Now we can play with different colors of the starburst and create some background texture/depth.
Remember the arrow patterns I drew once I noticed the design took a different direction? Well, I want to keep this design going and incorporate all things related to the fest. So let's grab a guitar, a microphone, and an old car. I also swapped out the pinstripes at the bottom for some military looking wings. Also, don't forget to switch the starburst's color to a red slightly brighter than the background. The yellow was too strong, and overpowered the character.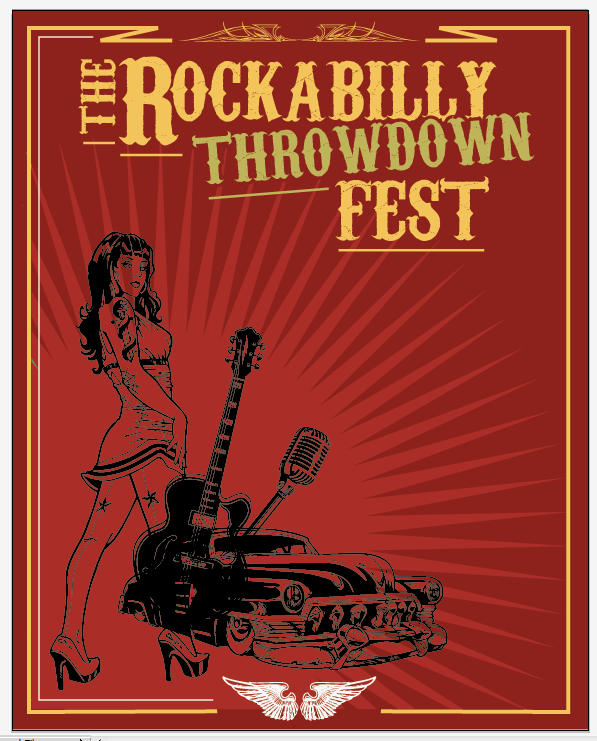 Adding More Supporting Elements
I have in mind flames also, pretty iconic piece for this scene. But something a little different… like this, from the pinstripes pack.
I know I don't want to use the whole image, only half. So, I have to cut it in half.
Here's how I did it:
Select your lasso tool, and draw around the part you DO want to keep.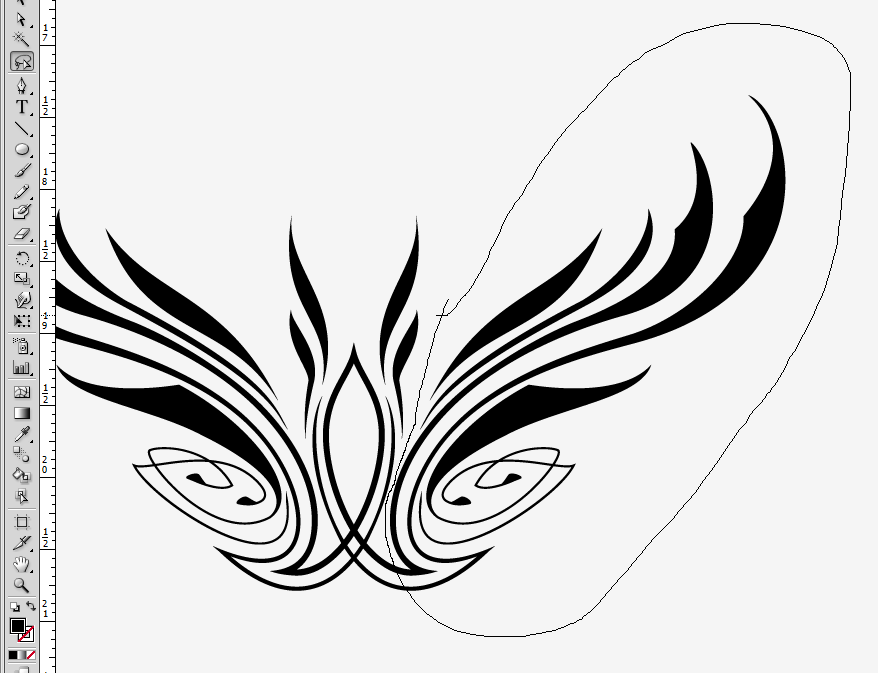 Cut it and paste it back (CTRL/CMD + X, then CMD/CTRL + V or F). Select the image and select unite from the pathfinder panel. This is so there are no open points and you can select it and change the color any time. Let's place it on the poster in a few open spots:
Quick note: the one placed left of the pinup had its color changed to the same red as the background. Since it's overlayed on the starburst that's lighter, it gives it that sweet punch through effect. One more thing to play with!
Time to Add More Copy!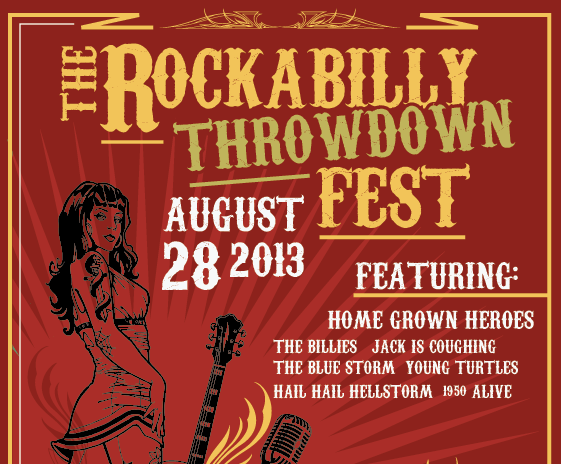 Quick note: work around the canvas and DO NOT focus in one area for a long period of time. You have to work around the canvas/design and give most areas enough attention. Say I completed this bottom left part completely and came back to it in two days. Well some of those fresh thoughts will be gone and you need to think through the design once again. If you work around the canvas little by little you can give most of it attention and develop those first thoughts.
Alright, back to the game. Keep developing the text, make parts pop, and make the fonts of the bands specific. If you look at any poster the bands will have their own text font.
Time to Make Sense Out of the Mess of Items at the Bottom Left
When coloring for a spot color project such as this poster or a tee shirt, you're limited to one color choice usually. This is where you need to be selective/creative and think this through.
All I did here is create color shapes and place them behind the character and objects.
Here is another technique that is good to use especially with my hand drawn pieces. If you know my style or if this is the first time seeing it..it's pretty detailed… Yes? So here is a time saver. Make a copy of the outlined image and place it behind the original piece. Lock the top original piece. Select the car with your white arrow tool. Select merge  from the pathfinder panel then add a fill color to the color box then unite it using the pathfinder.
Change color and we just saved 10 minutes of using the pen tool.
Do the same with the microphone and the guitar and now we can take this to the next step.
Adding a Tad More Depth, and Other Refinements
I also wanted more dimension that just the starburst in the background. So I took the flames from the pinstripe pack pack and made this into a solid image by repeating the steps we just did for the car. You just got a free vector! Take a look under the pinup at the light red flames, cool feature and more interesting things going on.
Time to add some finesse to the border. You can taper the edges by expanding the stroke of the frame, then deleting the top point of the square edge.
I also added a stroke to each image. You have to add the stroke to a solid image that is underneath all of your layers. For the car we have two layers. One is the black outlines and one is the green color. Add the stroke to the green color. Make sense? Notice I changed the black lines to red… Looking cool!
Well I'm liking what I see, title reads well, colors look cool, feels like a Rockabilly poster.
Last Touches
Last thing I like to do is add a touch of my own flair. In this case I'll grab some dot patterns from the symbol box.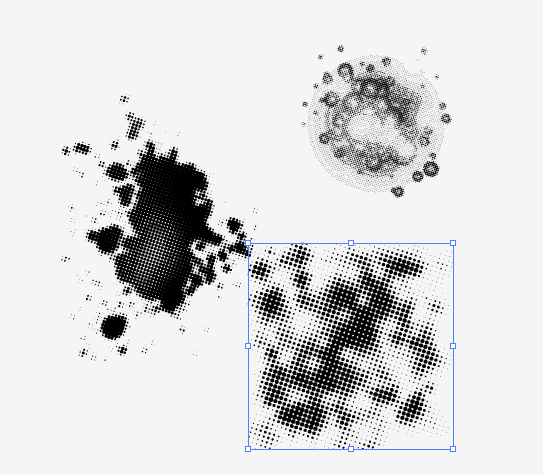 I'll just throw a few down and figure out what I like.
Next I'll expand it because I don't want to use the whole pattern just parts. So click on Object > Expand.
I'll then take the lasso tool and cut out random parts that I want to use.
Cut then paste it then unite with the pathfinder using your black arrow tool.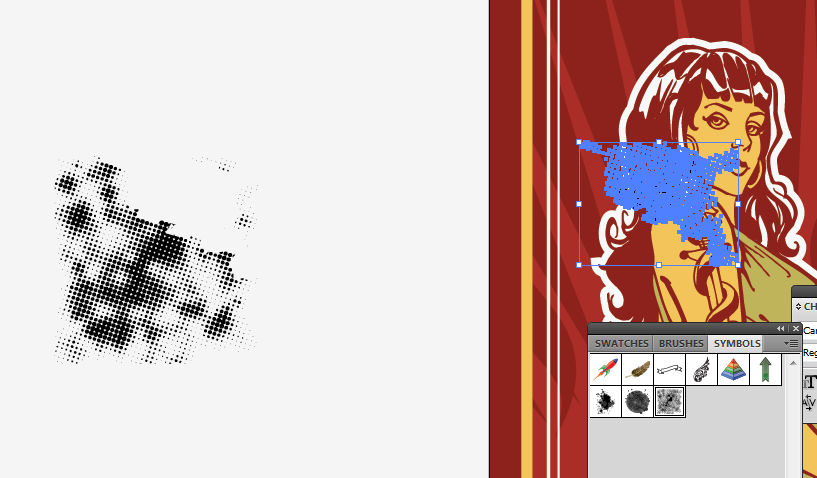 I like to place these splatters behind the white stroke and make it the color of the stroke, in this case it's white. So now we have a cool 16″x20″ – 5 color promo poster!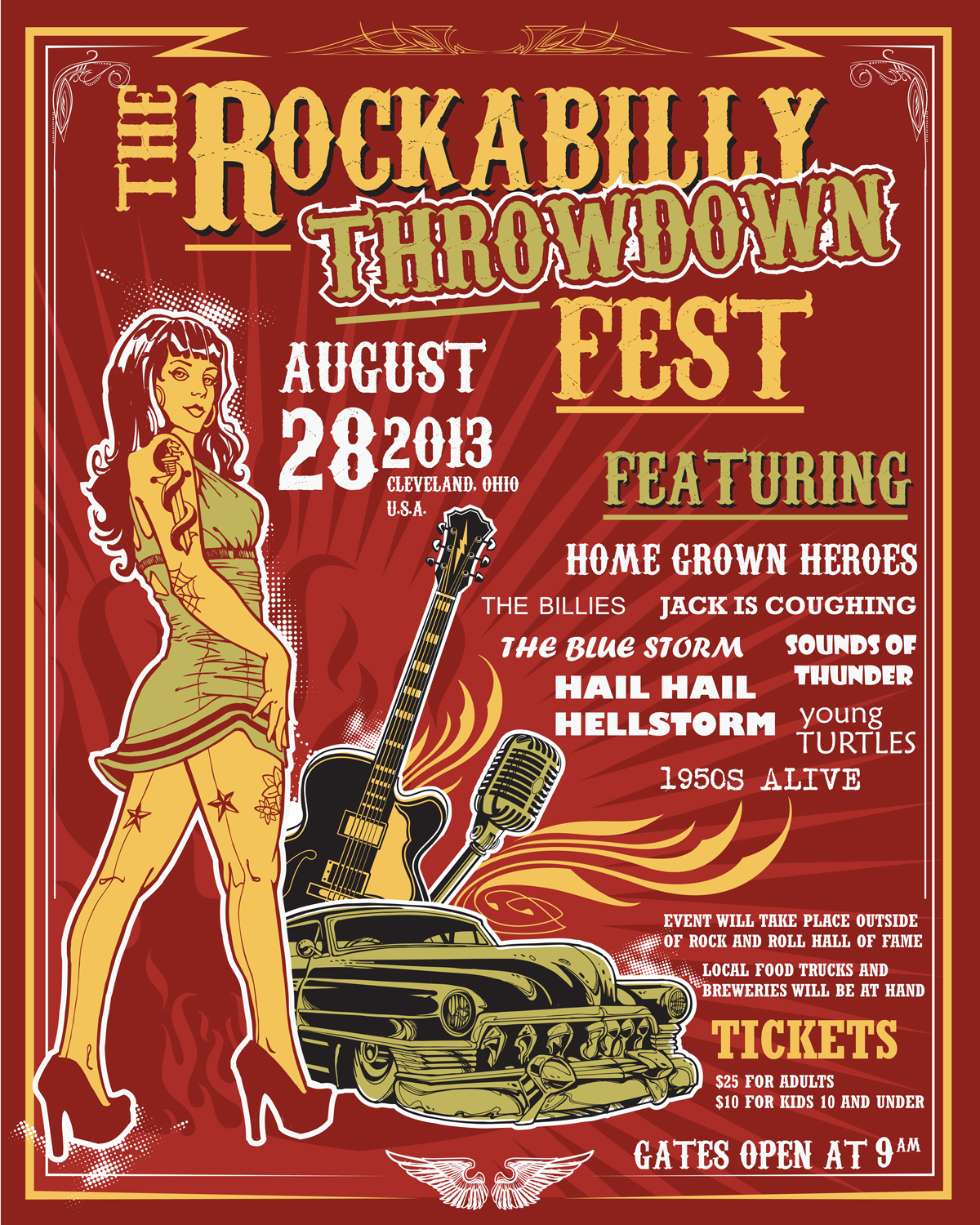 Let me know if you have any questions, go crazy with these vectors and send me your designs: put them in the Go Media Flickr Pool, and/or in the comments! One thing to add is that I illustrated a mix of hand drawn and vector/Illustrator images. This adds a really nice feel of that hand drawn look yet utilizing the strengths of Illustrator.
Enjoy guys!
— Steve Knerem
Note: find Steve online at: 
Categorized:

Illustrator, Tutorials

Tagged:

arsenal, grunge, how to, Illustrator, learn, retro, rockabilly, set 22, Steve Knerem, tutorial, vector, vintage
Hey Friends,
This is Steve Knerem from www.steveknerem.com, promoting my second video tutorial of my t-shirt illustration titled "Keep Me Safe – The Ink Stage". It's been sometime since the first video so I definitely apologize for the long wait. If you did see the first one, then hang on tight because there is more music, new bands, more info to make your head spin, and a kick-ass HD camera that will make you feel like you are looking right over my shoulder!
I'm mega pumped to get this to you and add it to your "go-to learning library." Learning never ends! I have my style, but I'm always looking to watch someone do their thing just because they have their own experiences and techniques. So grab your friends and make sure you get over to http://arsenal.gomedia.us/ and pick up at least 7 or 8 copies and be ready to dive into an hour of mayhem!
Onward! Without giving too much away, the new video reveals my "hidden secrets" —  how I ink and what makes me so great! Only kidding.
I do talk through my techniques and style, and hit you with some information on character design and artists who I feel are good to learn from. I'm going to do some of that here, but mostly I am going to walk you through my process of inking.
Let's begin.
WHERE DO I START?
First, let's back up to the original idea for this tutorial, which started with a scribble.
Scribble on anything! I have endless little scraps of paper that have ideas on them. I could stop creating new images now, and have enough material to create from for the next year.
Once I have some ideas scribbled down, I develop that mud to give it some form and subject matter.
COOL! I knew what I wanted: this female with a shroud, with snakes all around her. So, I asked my friend Danielle Muad 'Dib, to model for me. A great reference makes ALL the difference. An experienced artist will know if you are throwing crap down and being lazy because a shoulder or hand looks out of place. Don't half-ass the figure. Get a reference, photograph a friend!
'
Here is my inspiration: Caravaggio. A master painter, and good source to study for strong light source.
As some of you saw in the first video, I developed my scribble into a finished drawing ready to be inked. In past work, I used to hash out the shadows and light source more in depth. But now, because my drawings take 20-25 hrs from sketch to color, I try to just rough in those areas before I begin inking. If I know I am using a lot of color, then it makes my job easier — all I have to do is some minor shadow detailing. Not that I'm lazy, but after cranking out a bunch of these drawings, your eye knows where to throw down the shadow in the inking stage. I also try to have strong line weight and minor shading. This varies from piece to piece.
LET'S TALK INK!
Time to rock n' roll!  Here are a few basic tips to keep in mind when inking:
TIP #1 Don't think of inking as tracing. Yes, you are tracing — but the difference is now your drawing will become crisp with refined detail and line weight. So, pay attention and work slow if you have to. This is where it counts!
TIP#2 Draw to the actual size of the final print on the t shirt.  I say this because if you draw too big then you have to reduce the image and your awesome detail might become mud. At the same time if you draw too small and you have to blow up the pic to be a larger size, it might look pixelated and blurry, and ultimately be a crappy print.
TIP #3 What you see is what you get.  If the piece is for a client, sometimes I'll draw just slightly over the size of the actual printed size just in case they decide they want  image a little bigger.
These are just guidelines. Remember: you have to find out what works for you.
So now, I am going to hone in on the character. I love drawing characters and thinking of different costumes. I almost went into film for character creation but I was sort of guided into the apparel world and just ran with it.
TIP # 4 Hit it head on. Don't be shy about attacking a face. If eyes freak you out then I say START with the eyes. Overcome those challenges and make them your strength.
Most of the time, I usually start outlining the major areas such as the hood in this pic.
Then I go for the jugular! Meaning the eyes, nose and over all face. I always feel that if I get the face first, then that's my anchor point. It sets the tone for my overall inking. I'm fresh, energized and my hand and neck aren't cramping yet.
As far as shading goes, I've experimented with many techniques. There are endless ways to create depth, but with the past few shirts, I wanted to play with a "stippling" or "pointilism" style. I wanted to get more dimension from my ink stage rather than rely on color, which costs money — think about it!
Once I have the main features lined, I go into mechanical arm mode and dot, dot, dot, dot. It's hours of work, and I always ask myself: WHY?!?! Well, it's kinda different. Not that many people want to put in the labor for these techniques, and that's fine. I'm doing what I think works best for the piece.
In the video tutorial, I demonstrate a few other forms of shading.
YOU MIGHT ASK.
How far do you go? How do you know when it's enough?
Some things to think about:
It takes time to develop the eye for not doing too much or too little and you have to always look at your entire drawing
Are the values working together?
Does it simply look right?
I say do a little in an area then work on another area. DONT FUSS!  Just let it flow baby!
So now I hit the face and skin tones. How do I treat the costume? The same, with a million dots? I could. I like to separate the items and think through the garments.  Let's look at what she's wearing: a robe and undergarment with ropes and lace. I simply kept in mind what type of cloth is on her body, how it lays on her and where the folds are. Simple.
From here, I always think about the pattern on the character's outfit. along with the line weight. I would probably use a thinner marker. I use Micron pens and would hit those patterns with a 02 most likely. Think through these elements. If it's something shiny, make sure it looks shiny with a proper technique. Is it fuzzy? Draw what fuzzy would look like. Make sense?
LET'S TALK COSTUME PURPOSE OF THE CHARACTER

As I mentioned before, I know I wanted this Mary Magdalene like character. I like the shrouded character not for religious reasons but I felt her character went along with the point I want to make with this drawing which is "Protection" hence the name "Keep Me Safe." I also brought into the mix the costume from my tee "Octolady." The third part I added was a Day of the Dead make-up on her face. So these are a lot of elements but if you are going to create a character, go all out! Sometimes there could be too much but I SAY throw the kitchen sink at your drawing and scale back if you need to. You will know if you did too much. Just save those ideas for the next one.
How fun is this!? Just let your imagination flow and draw what is in your head and what means the most to you. So far so good? How about the purpose/storyline behind the character? No you don't always need some deep meaning and purpose, but it does make for great conversation and I know I want my work to "hit home" with the viewer.
To explain: KMS is a theme of protection. The character is just a representation of who or what you feel keeps you from harm, evil, people, the boogey man or the peanut butter monster.
THE WHO – Whomever means the most to you, a father, brother, sister, God, you get the picture.
THE WHAT – This is up to you. I generalized the "what" as the evils of the world or anything negative that crosses my path.
MORE MEANING – The snakes and skull represent the evil that surrounds us daily. The roses are a force field of good or protection. She is looking up to the heavens or to a source of good to protect her.
NOW IT REALLY GETS  DEEP – The make-up. Why Day of the Dead make-up? Well, I think it looks awesome. Now for the deep part. In my mind nobody is perfect. Humans have good and evil in their heart (you make the choice what good and evil is.) So although she looks like an enlightened being protecting her her heart from evil and surrounded by the force field of roses, she still deals with adversity and her own "evils."
WHOA!!!! Need a drink, a nap or a smoke break yet?
So there is (extreme) meaning and purpose to our character that will get printed onto a t-shirt (and worn by millions!)
SECRET***This is the direction I am taking my t shirt line. Meaning, Purpose, and something anyone can relate to.
MORE KNOWLEDGE
Here are a few artists I like to follow that have really cool inking styles. Study them if you need to, but develop your own way.
Jerry Beck  www.illustratusmaximus.com– Awesome comic style. Ripped dudes specific to the body building industry.
Godmachine www.godmachine.co.uk – A freak of nature.
John Baizley – http://aperfectmonster.com/ Unreal. Beautiful penmanship and great illustrator.
Alphonse Mucha-  www.muchafoundation.org   My personal favorite and the godfather of line weight.
TO CONCLUDE
As always, thank you for viewing, reading and purchasing the new tutorial. Thanks to Go Media.
Last point. Inking is broken down into a few steps. Some guidelines: Study objects and people for light and shadow. Experiment with different styles. Find out what tool works best for you i.e. pen, marker, paint brush. Take a look at C.J. Darden  http://cjdraden.blogspot.com/  I watched him live at Chicago Comic Con 2 years ago. He throws down ink on a plastic surface of some type then cuts away at it with a blade. Holy Crap original!!!
Until next time guys, I  hope you learned a lot. Feel free to contact me anytime:
Hi Friends,
Welcome to the third and final installment to Starting your own Shirt Line.  In this article I'll be talking about elements of business and planning and the importance of developing relationships.
Quick recap of past two articles.  In Part I I talked about Creating your Idea, Research, and Who is Interested? That part answers questions about where to begin and shares my view on originality. Part II talks about my process of creating the actual art and working with a printer. Although you can create art in many different ways I gave you some insight to my process as a guide.
With that said let's get down to the nitty-gritty of Part III: Business.
Deep breath……
BUSINESS
In anything you do you need a plan, right? Let's keep it simple and talk about your business plan. There is something about writing down your goals, visions and dreams. They take on substance. No matter if you think your goals are unattainable, you just need to know where you stand. As I wrote down my plans and goals I discovered more what I wanted my line to become than I thought I would. Ideas poured when I just started writing. After pouring out my ideas I put them into an outlined plan. See SCORE.ORG. I researched every part of business that I didn't know about and I ended up with a 31 page business plan! I sent my plan to an advisor at SCORE, and I think I sent him into system overload.  "That's ok.", he said. "It shows you did your research/homework and that you understand the t-shirt/clothing world."
*Good Advice:
Send your business plan to an advisor that has experience in the fashion industry. Why? They will know how to guide you and offer suggestions. Fortunately I found someone at SCORE that was a big time salesman for Bobby Brooks back in the day.
WRITE IT DOWN!
This might look insane but I really dove into learning about how to start a shirt line. I can't tell you how many times I went through this folder.
As you write a thorough and well designed plan you are going to understand what you want with your business and what is needed. Don't worry, you won't lose your creativity, you are just going to understand where to put those creative and business energies. Remember smarter not harder. Below are highlighted points to start with as you write your plan. Within these points are the elements of business.
GOALS: What do you want to accomplish? What are your goals now, and in five years? Do you want to just have a t-shirt line or a full-blown clothing line down the road? Do you want to sell to friends and family or do you want to really make money at this?
OBJECTIVES: How are you going to accomplish your goals? Do you need employees and/or investors? By what means will you accomplish your goals?
MARKET RESEARCH: You have to know your market. Who are you selling to? Where does your art fit in? Is it the Hot Topic crowd, the BMX crowd, or are you creating apparel art for pets?  What other companies are out there doing what you want to do? Become an observer. Observe the past 10 years of t-shirts trends. What I am getting at is originality again. Do you want to ride a wave or be the wave? Barriers. There are also going to be barriers that will prevent you from something in your business. Is it start-up cost? Not enough designs? What strategy do you have to get people to buy and how will you advertise/promote?
HERE IS AN INTRIGUING QUESTION: What advantage does your product have over the competition? T-shirts are not something new. You have to be creative, not just with your work, but with your advertising, marketing and sales. Don't be discouraged, you're not alone.
PRODUCT:You are the face of your product and your product will reflect the kind of person you are. To explain, the more care and attention you give it the more quality of a product you will have. People will notice. Think about the amount of time you put into each piece of art. My most detailed shirts range from 20-30 hrs. I really, really care about the quality of my art and product. I want word to get back to me that people are drooling over my work and can't wait for the next one. In addition to the man hours of creating the art, I put time into figuring out what kind of tee I will be using and if I want a specialty ink. Remember that the same amount of energy needs to go into the marketing and sales part too.
*Good Advice:
Probably the toughest question I had to answer in the beginning was: Can I financially do this? For a while it was "no." I thought, in that case, was it even possible? I had to start small, which meant I had to make smart decisions. Personally I believe unless you are 1000% sure you will be making your money back within a suitable time frame DO NOT MAX OUT A CREDIT CARD!! DO NOT START IN THE RED.
Some of the best advice I received from a sales rep at Jakprints is "go for quality not quantity." This helped me understand it wasn't about getting as many printed as possible for the sake of quantity. I knew my budget and I made the most quality product I could afford. My plan was to produce an excellent line where buyers can't wait to see the next one.  I could therefore be strategic with what I put out and not crank out as many as possible for the sake of quantity. On my computer monitors I had around 20 thumbnails of ideas. When I made my first run, only three were chosen.
SALES: I feel sales can be simple. Where and how are you going to sell? Retail stores, on-line, both? Who you are selling to? Celebrities, your friends? You have to sell to people who have money, right? You have to sell at places where people are coming expecting to purchase something too. If a company charges $90 a shirt they are not going to sell to a person who can't afford it. YOU CAN'T MAKE MONEY OFF OF POOR PEOPLE. The company selling the $90 shirt sells to celebrities, entertainers and those rocks stars who think nothing of it. You have to figure out how much you want to sell your product for and make sure you are selling at a fair price to you and the buyer. If you can sell a higher price shirt and you have buyers, do it! Remember that cash flow is essential in order to stay in business. Produce, sell, invest back into your line and make a good return on your investments.
Alright so this was a lot of info to think about, but do you feel a bit more armed? Do you still want to start a shirt line? Hype can only take you so far but knowledge and understanding will give you longevity. Remember to make a plan for success.
*Good Advice:
Everyone is in a different spot in life. Some people have wealthy families that can spot them $2000- $5000 to start, cool! Some have to save everything they have (not so cool) but they end up approaching business with a different perspective. DON'T COMPARE YOURSELF TO OTHERS. Yes, you can learn from everybody; the good, bad and the ugly. Remember, whatever you do in life you have to find your own way and your own path. Don't ride the coat tails of what has already been created. Finding what is unique to you will make your shirt line stand out. My favorite quote is from film director Patrick Tatopoulos: "Create something you have never seen on the streets before."
RELATIONSHIPS
Ok so we talked business. You learned, you're prepared. You rock out amazing art but what else do you need? PEOPLE, RELATIONSHIPS AND NETWORKING. You probably already do this, but, go to art shows, rock shows, events, conventions and most of all hang out with people after the show is over. Here's my point…
Don't be a cave artist!
In 2006 I decided to increase my freelance time and build my business. I kept to myself and didn't go out to gallery shows or hang with people. I stayed in my "cave" only communicating on-line with people in my own city. I worked hard to get my style down and perfect my craft. True, this is necessary, rock your style, but there is a saying that hit me like a ton of bricks a year later: "IT'S NOT WHAT YOU KNOW IT'S WHO YOU KNOW." It's all about face time.
Since then I've spent more time networking and hanging out after events with people. There is something about a relationship that builds a trust factor. There is something about having a drink with someone and getting to know that person that builds the feeling "I want to work with ya!" When I had my epiphany it was also when I observed art on clothing that sold for big bucks. I thought to my self," I can do that and even better!" (Please insert a pompous ass..me not you.) The difference was I didn't know anyone and nobody knew me. It was the reality check and smack in the face I needed for my ego.
So where did my epiphany get me? For one, it got me out of the cave and to events where people I wanted to work with were. This has paid off but you must keep going. It never stops. RELATIONSHIPS ARE THE KEY TO SUCCESS. Yes, learn business, yes, get a degree if you want, make killer art and be the best at it. But don't forsake the little things like buying someone a beer, lunch, or even their merch. It will show that you are interested. It's funny how that little act can help launch you to the next level you have been striving for.
Levels of people
Another realization I had is that everybody needs to be carried. Now that doesn't mean you should sit back and let someone else does the work for you. But there is always going to be someone above you and below you. Think of a sports team. Without fans buying tickets and merch, how will the owners stay in business? Same goes for your shirt business. You need buyers, you need to be on websites that promote you. Get involved with events and with groups that are doing things on a higher level than you. You might just be asked to sell your product to thousands of people for a 3 day event!
As far as the people up and coming or the people below you, it's a golden rule/karma thing. Don't burn people, be honest and your personality will count for something. I love illustrating, but a close second is teaching someone and watching them learn. Word will spread about your character, whether good or bad. Better be sure it's good.
BONUS ROUND: Here are a few bonus points:
ORGANIZATION: Be organized with your inventory. Keep an Excel spread sheet of all your inventory. Take pride in your business.
PRESENTATION: An organized table/booth says a lot. A sloppy table/booth says more.
WHEELIN' N DEALIN' BABY! This has to do with negotiating. Negotiating can really be fun, it can also be painful. I would love to sell shirts for the highest cost all the time in order to make a full profit. Does it always happen? Nope. Think of giving deals, price breaks and discounts. For instance, a family stopped by my booth at the West Side Market one afternoon in August 2010. The 3 kids (pre-teens and teens) loved my creatures and skulls. The parents were thinking and talking about it. Yes I could have charged $26 for each, but who holds the money? Dad. I thought to myself "Be cool." I offered them a little off the top and cash was in my hand. I bagged up the shirts and asked them to be a part of my email list. I thanked them and had 3 sales. When you are confident and feel out the situation good things happen.
FOR REAL: Have some street sense, just be yourself, read people, let them look and feel your shirt and give them hooks. One of the best ways to hook people is to explain your art! Be passionate about it. I have people just liking the art rather than saying "I need a t-shirt." I love the double takes…reel them in! We wear the "hats of business." Whether you know it or not you have to wear a sales hat, marketing/advertising hat and, of course, your creative hat.
BE PROFESSIONAL: What does that mean? RESPECT. Be respectful, not a jerk. Be grateful not pompous. You will be amazed how far customer care helps you out. Communicate with people. Nothing boils my blood more than walking into an establishment and nobody says "Be right with you."
FEAR: Simply put, fear sucks. There is always going to be fear and risk, but if you don't create a plan for success then you will always be wondering "What if?" Just jump in, there is no perfect time, just a time that feels right.
WRAP UP
Give yourself a high-five – you passed the Starting your own Shirt Line class! I'm guessing this series has been a lot to digest. Do you feel OD-ed information? Good! Preparation/homework is a key to success. Do you know where you stand starting your own shirtline? Remember you're never alone. Just do the footwork and others will help you along the way. I really hope this article and Part I and II give you the confidence and courage to begin or continue business. Keep in mind, Knowledge = Power. Relationships = Success.
Thank you for reading! It's my honor to provide helpful tips for creativity, originality and business. View my work at www.steveknerem.com
Here is the list of websites I mentioned throughout the past three articles:
PRINTERS:
Store Envy

SOURCES:

SCORE
How to Start a Clothing Company
ARTISTS:
COMPANIES:

Hey Guys,
Welcome to the second article in the series 'Starting Your Own Shirt Line'. In the first article, Start – Up, we covered the topics:
Originality
Research
Who will like it?
In Part II I'll take you through my process of creating the Octolady and my experience working with a printer.
CREATING THE ART
Here is where I start: paper, pencil and a vision for the shirt.
Sketching/Brainstorming
The best part of the creation is stage 1: brainstorming and your first thoughts. This is as raw as it gets. Your first thoughts are often your best ones and it's good to run with them. I knew I wanted a style for the overall shirtline. I thought of using my logo in all my designs but there was more creativity I wanted to pour out. (Johnny Cupcakes is a great exmple for branding your logo.)
For this shirt I wanted to draw a person of some sorts. So why not have this person be engulfed in an octopus? I figured I'd throw in some water, a koi fish, and my love for art nouveau. I loosley sketched out my thoughts, while keeping design principles and content in mind.
Tip #1: REFERENCE
I've been around various artists that look down on reference and I've been around artists that always use it (not for tracing but a visual!). If you want to be a carpenter what do you do? You take an apprenticeship, study the trade and other carpenters' work. Same goes for art. I took pictures of the arms and looked at octopus pics. How else will you know how something looks? Use it, become better!
From here I need to enlarge my sketch to the size of the shirt. My method might be a bit tedious but this is what works for me. I scan in the drawing, configure the actual size in Photoshop, print out on multiple 8.5 x 11 paper and trace onto the final paper using my light box. *Make sure you know the largest screen size your shirt printer uses so you know how large to make your drawing.
Tip #2 DRAW FOR THE MEDIUM
It took me a few shirt illustrations to understand that when you draw for apparel you have to draw for the medium. My background is in print so whatever I would draw on paper is what I see in the final print for the most part.  I found out I needed to start drawing bolder lines and understand that what I see on paper doesn't translate to clothing 100%. I don't have to sacrifice anything, just make adjustments with my linework.
Inking
There are so many ways to ink and many tools to ink with. Work with what feels comfortable to you. There is no "by the book" way. I started out about 5 years ago using a calligraphy pen and would dip it in ink. My results were thin lines.  I would have to go over my lines multiple times to produce thick enough line weight. I currently use Micron pens.  These help me make consistent lines and I'm most comfortable with them. As far as paper choice goes I use Canson/Bristol Smooth/100lb.
Tip #3 INK METHODICALLY
Be methodical when you ink.  You need to think a few steps ahead of yourself before and during the inking stage. Think about your coloring stage. Will it be a 1-4 color job? Keep in mind the color shirt you will be using. Will the art be on a dark or light shirt? Your drawing may have to suit that color.
For this piece I wanted color toned paper because I planned on framing the piece. After going to multiple art stores I found a nice parchment toned paper at Utrecht.  The paper itself had alot of tooth to it like printmaking paper. It dried up my pens pretty fast fortunately the result turned out fine. Stick with paper that is smooth.
Inking is a fun process because your drawing comes to life and line work becomes crisp and bold. I always document my work for later use, like this article.
Tip #4 LINE WEIGHT
Look at how different artists use line weights. Thick line weight defines and makes parts pop out. Thin line weight pushes content back.
Understand where line weight should be thin and thick. A few of my favorite artists Alphonse Mucha, J.Scott Cambell and Frank Cho all demonstrate excellent pencil and ink stages as well as awesome line quality.
Tip #5 Art fundamentals ALWAYS apply
Design/composition, lightsource, perspective, color and being a good draftsman is essential.  It's best to figure these parts out in your pencil stage.
I follow a lot of artists in tattoo, film, gaming and comic industries. In March 2009 I met Shawn Barber (www.sdbarber.com), an awesome painter and tattooist from San Francisco.  As an artist and teacher he stresses how vital it is to balance the fundamentals of art. Learn from many sources.
Alright, the ink is done!  I'm feeling good about it so let's talk color.
WAIT!
How did I get this 30×26 piece on my computer so I can color? Forget the camera unless you have a studio. In my opinion the best solutions are either flat bed scanners or using a copier company. In my case I use Kinkos. Most flat bed scanners are great for 8.5×11 pieces but anything after that I recommend drum scanners because they scan evenly.
MAKE SURE THEY CLEAN THE ROLLERS! Many people use these scanners and I have had oily streaks bleed onto original art that will never come off (Please insert Incredible Hulk!). Scan at least 300 dpi in color even for black ink. Color scans can be changed to grayscale in Photoshop. If you scan your image in black and white the lines look pixelated.
Color
You know it, you love it, it's your best friend, the color wheel. If you are not sure what colors to throw down, research. Research the master painters, fashion trends and other successful apparel companies. I've found awesome color combos in Japanese prints.
When I got to this stage I knew I wanted to up my coloring game and style. I wanted to do something different than what I been producing. I did probably 20 color samples in Photoshop trying to find the right combinations.
Eventually I opened up Illustrator and started using brushes. I understood where I wanted the light source to be, so that was my guide for the darks and lights. I also wanted colors that worked with the mood of the drawing.
Now here comes the tricky part. You need to understand a little bit about silk screen printing. There are advanced screen printing methods, but let's keep this simple with spot colors. Spot colors are assigned their own screen. You have to color for the medium. Unless you want to pay $30 a t-shirt for a 12 color job, think about color application. Figure out ways to manipulate a 1 color job to look like a 2 or even 3 color job by using half tones and utilizing the shirt as a color. There are multiple forums that are answering these questions. Remember T-shirt forums.com, How to Start a Clothing Company.com, and Google your brains out.
I used multiple brushes, half tones and utilized the shirt color for shadows. I truly believe originality comes from experimentation. Remember in the first article, originality will set you apart from the competition.
Tip #6 LIVE TRACE
Live trace in Illustrator saves time and file size. When you apply the live trace option (and expand) to your art all your lines become vectorized. This means you can make your art any size and it retains its shape and quality. It also makes your lines super crisp and ideal for apparel printing because it will burn through a screen better.
WORKING WITH A PRINTER
I finished my piece. Now I need a printer. There are many awesome printers in the US I've found. Jakprints in Cleveland, Store Envy in Chicago, Groovy Graphics in St. Petersburg, Fl just to name a few. Ask them questions and learn a little bit about the process and what kind of ink applications are available.
I am fortunate to have Jakprints in Cleveland (www.jakprints.com) so  I can meet directly with the sales rep and explain my vision. Remember, this is your creation and your hard earned money; be involved as much as possible. I really didn't know much about the process when starting out, but they were very patient and now I know what I am talking about.
Tip#7 FILE ORGANIZATION
One of the best things you can do is keep your files organized. SAVE  AND MAKE DUPLICATES OFTEN.  Always send at least a 300 dpi flattened image and a low res jpeg mocked up on the apparel to give the printer a visual of placement. Check out out Go Media's shirt mock up website to do this. www.shirtmockup.com
I found out Jakprints offers many methods to print the Octolady. I could get straight plastisol ink, dye sublimation, a hybrid technique, softs inks, etc. If you can go to your print shop, ask for samples of these different techniques. Grab some of your own shirts. Become a feeler. Feel the print. Is it kinda crusty, smooth or soft? Find out what technique it is.
For the Octolady I used a hybrid technique. The print feels like part of the shirt. It feels soft and I didn't want heavy ink on the shirt. I can run it through the washer and dryer multiple times and it holds up. It turned out amazing! I also added a custom tag where I placed my logo, website and contact information. I also included my signature to add originality to it so people can say "I own a Steve Knerem." (pronounced ken-air-em) Remember marketing, promotions, and advertising during the final production process.
This wraps up Part II.  Remember: create something original and have fun with it. Be true to yourself.
I'll end the article with a last thought. I read through the comments from Part I and some readers were hesitant to actually produce a line meaning cha-ching from your pockets. You can create the art for free. When you talk to the printer you are making a commitment. Sometimes it's hard to pull the "financial trigger."
I know it's just clothing but here's the cool part. There's anticipation, there's the financial turn of the stomach, but when you hold your product in hand it's an awesome feeling of accomplishment. "This is awesome!" It's an even better feeling of accomplishment when someone buys it and wears it because they appreciate your art and that you wanted to bring a quality product to them. This leads into the final article, Business. ARM YOURSELF!
View my work at www.steveknerem.com
View Tshirts at www.steveknerem.bigcartel.com
Follow me at  www.facebook.com/steve.knerem
Greetings friends,
This is Steve Knerem and I'm a freelance illustrator from Cleveland, Ohio that specializes in hand drawn art used for apparel and editorial pieces.  You can view my work at www.steveknerem.com.
When asked by Go Media to write some tutorials about work I've done, I was more than excited to help others who are in the process of starting their own shirt line.  Turns out there was too much to say in just one article, so I've split it into a three part series titled "Starting a Shirt Line."
PART I – Start – Up
PART II – The creation of your art and working with a printer
PART III – Business
Let's boogie!
So you're a great illustrator, designer and master of artistic mayhem. You rule the design world and celebrities are begging for your next shirt design, right?  This is your dream, everyone loves your dream, right?  Well, let's figure out how to make your dream a reality, make the celebrities beg for your next piece, and of course, make you a big 'ol wad of cash at the end of the day.
In the Spring of 2009 I was asking myself the questions "How do I start a shirt line?" and "Where do I begin?".  In this article I will share 3 points that will help you get started:  Creating your idea, Research, and Who is Interested?
CREATING YOUR IDEA
Simply put, what do you like?  Skulls, ponies, vampire movies? The answer to this question will be the factor that separates you from the competition. Not necessarily that you draw the best looking ponies with brass knuckles, but originality.  What other questions should you ask yourself?
How about: do you design in Photoshop? Are you a vector wizard in Illustrator? Do you hand draw your art?
What about subject matter?  Do you dive into pentagrams, do you draw tattoo esq illustrations, or something else?  After you answer these few questions you're on the move.
Here is one of my shirt illustrations.  This is one of the first drawings in a sketchbook solely dedicated to my shirt line.  I had to ask myself what I like, because after doing work for clients and their content I needed to think about me and what I would like to see on a shirt.  For me it's art nouveau line art. I love following tattoo artists and seeing what they create. I also love to draw the human figure. Remember, keep it simple and have fun!  I'll thoroughly dissect the drawing in PART II, but for now here is the "The Octolady." The first image is the sketch, and the second is the final piece.
I didn't overwhelm myself with "questions of worry" such as "What will people think" or "Is it good enough?".  I approached this piece, as I do with all my work, with the more strategic question "How do I set my work apart from the competition?"  My answers have been "It's original and I'm not trying to copy or follow any specific style or look."
I have also educated myself with print locations on a shirt (covered in PART II).  I shopped developed ideas from my sketchbook around to friends and clothing stores to get some feedback as well.  This might seem like overkill, but the results of such effort lead into the next point, RESEARCH.
RESEARCH
Research is a large part before starting a successful line.  Let's be honest people. You have to know how to get your target audience to buy your shirts. Let's start looking at successful brands out there: AFFLICTION, TAPOUT, ECKO, SILVER STAR, SULLEN, TO DIE FOR, and the list goes on.
Find out the success stories of these brands and where it all started for them.  I found out I wasn't that much different; I'm just a dude with some creative ideas that wants to provide a good product.
Start researching the market of a successful apparel brand. For example, TAPOUT struck gold with the rising sport of MMA.  The point is, TAPOUT knows it's target market, they're not trying to hit every person from the soccer mom to the war vet.  Likewise, you need to find out how and where to sell.  Would you sell on-line and/or in stores?
Grab a computer and obliterate Google with your questions, it's free!  Some great sites I use are T- Shirt Forums and I am the trend. These are great resources where I probably learned 50% of my information just by reading what people were asking.  They cover business, printing, start-up costs and everything in between.
HOMEWORK: Take 15 minutes everyday for 2 weeks and research these sites, find other sites and follow the successful brands on Facebook and Twitter. You'll take yourself to school and not have to pay a dime. It's worth the investment.
Ok, we covered who to research (TAPOUT, Silver Star, etc.) and where to research (Google, Blogs, etc). What else? Oh yeah, business research.  I'll detail more in the PART III, but for now, here are some points.
Take into consideration that everybody has different backgrounds. Personally I needed to learn and keep learning about running a business.  Start with SCORE.org. This is a nationwide company that offers FREE advice, FREE counseling, FREE paperwork and FREE information.  Familiarize yourself with becoming a business person.  YES YOU THE GENIUS ARTIST; find out the paper work you need and what it will take to run a well structured shirt business.  I spent the winter months of 2009-2010 devouring the info on the SCORE website and about 50 more websites. I feel a hell of a lot more educated after all this legwork.
My overall point with research is that it doesn't cost you any money before you have to spend money.  When you know what, where, and how much money to spend you will have an educated decision that will only help you in the long run.  Let's keep moving.
WHO IS INTERESTED?
I figured everyone would like my work and want to buy my product.  Then I got a reality check. After friends and family buy, who else is interested?  A good rule of thumb is knowing your target market, who is going to be most interested, and who are you going to attract to buy your awesome shirts.
To find my answer I showed my developed sketchbook work and final designs to tattoo artists, boutique stores (not baby clothing stores but higher end fashion), skate and snow stores, other artists in film, gaming and comics.   Do you see the pattern? These groups are my target audience.  These specific people I know will be attracted to my work and say "Hell yes I'll buy one!" (That is an actual quote.)  It's not necessarily ages 14 -25 but a group of people who appreciate my style. I can shop my work around to many places and people and not handcuff myself with a certain age group.  The funniest thing to this day is I have moms buying Establish the Frontline shirts for their sons without hesitation. WHAT!?  That was another surprise niche.
Lastly, here's the truth: not everyone will like your work, not everyone will buy your shirts.  Start developing tough skin. You're a salesperson now and you are going to meet thousands of people with mixed reactions.  Be excited when someone buys and don't be a poor sport or unprofessional when someone doesn't; it's business, not personal.
WRAP UP
To recap the START-UP article we covered:
CREATING YOUR IDEA – originality, what do you like and how will you set yourself apart from the competition.
RESEARCH –  researching successful brands, blogs and t-shirts forums, score.org on how to run a shirt business.
WHO IS INTERESTED? – find your niche market,  know who to sell to and who will buy.
I hope this article helps you get started and answers some of your questions.  The night before I finished writing this article I was thinking about my past year and half and what has helped me get to where I'm at.  Rome wasn't built in a day.  Everything takes time, everything is still taking time.  Be patient, strive for quality not quantity.  Being patient is frustrating. Personally I want results immediately, even though I realize the less I rush the better the outcome will be.
Next up is the fun part, "The creation of your art and working with a printer", I can hardly wait!
READ PART 2 HERE!
BIO: The work of Steve Knerem features bold line art and digital paint used to portray imaginative creatures, the human figure and ornate objects.  Steve's work is most notably used for apparel and editorial art that combine a realistic and decorative style.