Articles by Month:
May 2014
Well hello friends!
We're thrilled to announce that we're past the 200 mark here at Mockup Everything. What does that mean, you say? Well, it's just that you, the Pro Users (or Pro Users to be) now have access to over 200 high-quality,  mockup templates on the very best, easiest-to-use, mockup template site on the planet.
Every month we're adding to our library so that you can improve your portfolio ten-fold and wow your clients like whoa.
Now, let's chat about this month's additions, shall we?
We have to send a HUGE shout out to our friends over at the MMA World Series of Fighting for hooking us up with the photo for the first template, an MMA ring requested by one of our Pro Users. Please go and like the MMA World Series of Fighting on Facebook, everyone! They are the cats pajamas and we are huge fans of theirs. Thank you, thank you to them!
One more quick reminder: we are selling our individual templates as Photoshop Documents on Mockup Everything! We're adding them slowly but surely, so be patient. Check out our current offerings now!
MMA Ring
Wrist
Always wanted a new tattoo? Have friends and family who want to sport your designs on their skin? Take pause before you (or they) take the plunge. Check out the new body category on MockupEverything.com! Just as with any other design disaster, we'll now save many a soul from what might be an ugly inking error (ugh).
This, the wrist, is a little teaser. Check back next month for many more!
Street Banner
Wall for Handpainted Sign
Kids Hoodie Flat Front and Back
Responsive iPad and iPhone (with 2 surfaces)
Men's Jersey Shorts (Back View)
Men's Boardshorts (Back View)
Now what are you doing? Get to Mocking up Everything!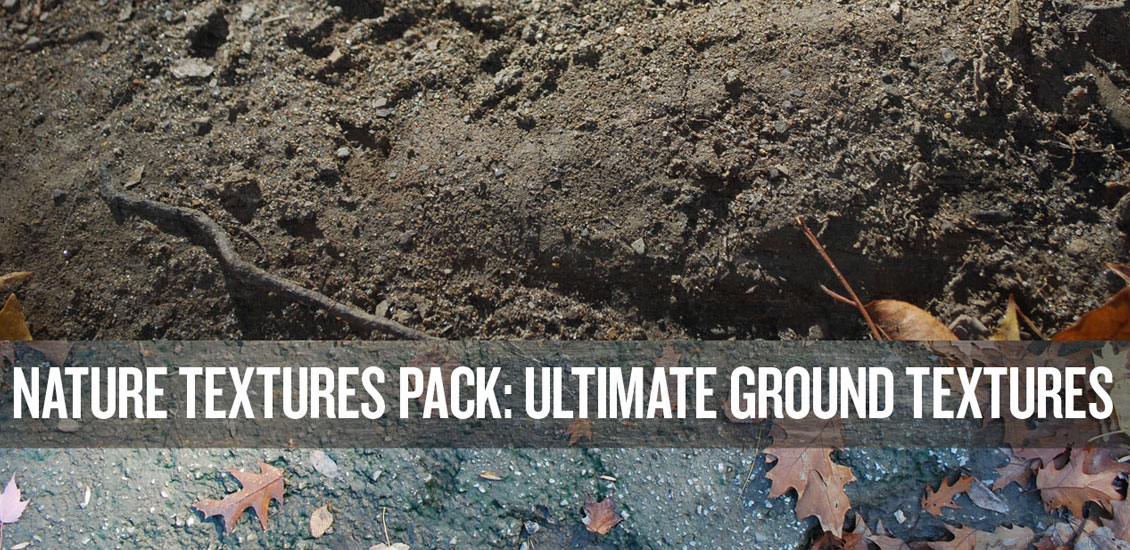 Introducing the Ultimate Ground Textures Pack
Hey Gang!
As you well know, textures give a sense of life and depth to an otherwise flat design. On a recent trip to Italy, I had the opportunity to capture my own gritty, grainy and one-of-a-kind images. I've found these to be perfect for roughening up those pieces that need a little punch.
You know I couldn't keep them to myself.
Today I'd like to introduce to you the second in my series of six Nature Texture Packs.
Say hello to the Ground Pack!
This pack includes 10 carefully crafted photographs from my recent travels and 11 images I vectorized, all of which are available for your use roughening and dirtying your designs.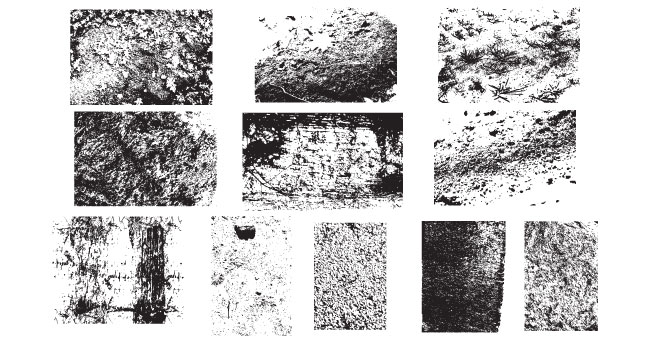 You'll need to grab it now, because today I'll be taking you through a step by step pamphlet brochure design using a few textures and overlays in Photoshop.
What we're making:
I am featuring a picture of a marble bust from the Uffizi gallery in Florence, Italy. My wife and I had the opportunity in May 2013 to do some traveling with friends and take in a ton of gallery sights and the beautiful country side.
So let's get to it.
Buy Ultimate Ground Textures Pack now!
Here is the statue of our character in Photoshop. I wasn't 100% sure what I wanted to do at first so I just started experimenting.
I'll go ahead and place him on a document for print that will crop him nicely.
Next I'm going to grab the actual photo that is included in the pack and set it over the character.
Next I'm just going to see what happens and play around with some options to see what kind of effect I can get.
I love this look so far but I want him to look like he is coming out of the ground. I'll grab some brushes from my Godmachine pack I downloaded and see what happens.
Ok so from here I want to utilize another texture so I'll grab a different one. Here is an important tip, set the texture on a large document and make it that size so it covers the character.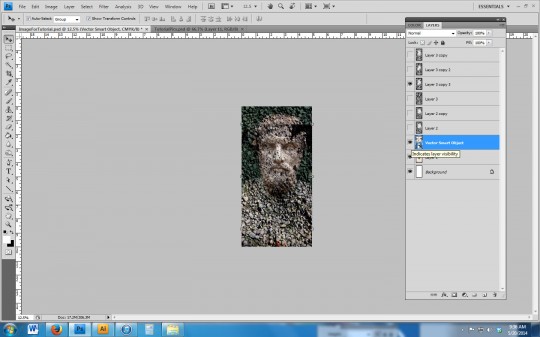 Once again I'll start experimenting and see what happens and add some color.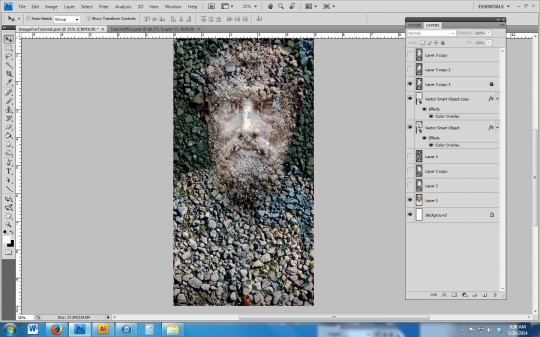 At this point I want to see how this looks with text and I'll experiment with stroke colors, drop shadows and size of the fonts.
I'm liking it so far but not thrilled with the color….so let's see what happens.
Very cool! I decided to add effects to the words as well. I feel the words go with the image now. It's very important not to just slap anything together and expect it to work. Make the image balance with the text and colors.
Last item I thought is to change "History" to "Italy" and add the Uffizi Gallery Florence, Italy to make it look like an actual brochure when you walk into this specific exhibit.
So there it is. This has a complicated look but made simple by experimenting with layer effects, a photograph, a graphic, text and design. It's like cooking where each ingredient needs to work together yet stand on their own.
Thanks for checking this out and purchasing the packs and set!
_______________________________________
For more of Steve's work, check him out his site or chat with him on Twitter.
Poster Inspiration: Graphic Design Goodness
Hey designers, want way more inspiration? Attend our all-inclusive soul-fulfilling three-day design retreat, WMC: Off-The-Grid, this October 5 – 7th. To learn more, head to wmcfest.com.
Who's ready for some poster inspiration: graphic design goodness to get you going? Let's talk about something really quick first. I don't know about you, but to me, this poster is everything:
oh and
not to mention…
All hail the great Hayao Miyazaki!
Below you'll find some designs I'm loving as of late. Some are old, some new, others in between. All are to be loved just as they are, if you ask me. If you missed my latest collection, make sure to check it out here: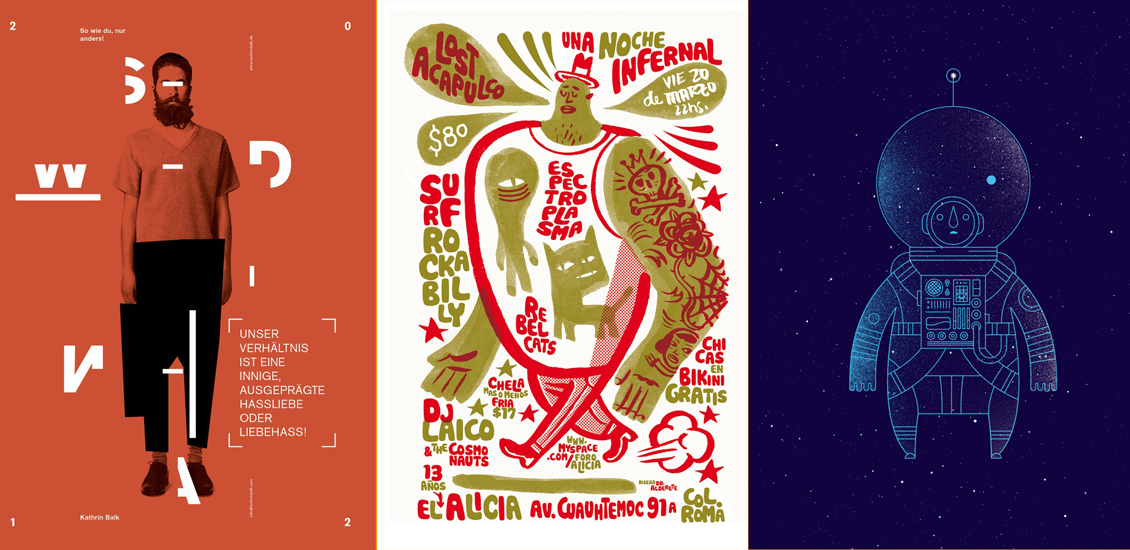 …and don't forget to follow us on Pinterest to stay up to date on all of the illustrations, typography, posters, posts and freebies we find and collect just for you!
Let's take a peek at the posters!
Sutja Gutierrez by Serjio Membrillas
Molar Bear (Gentlemen's Edition) by Zach Terrell
Yves Saint Laurent by François-Marie Banier
The Lumineers Poster by thesearethingsbykody on Etsy
Regina Spektor Poster by Nayla Smith
Never Stop Dreaming poster found on Pinterest
Lou Reed poster found on Pinterest
First Night poster by Sergio Naslau
The Master Poster found on Designspiration.net
Eternal Sunshine of the Spotless Mind Poster by JPH
Posters for the Dutch National Ballet by Martin Pyper
Take this Waltz movie poster by Marcell Bandicks
Radiohead Gig poster by Bruce Young
Triangle Guzzo Poster design by Tom Theys
Chuck Prophet & The Mission Express by Tamara Pešić
The Science of Sleep poster found on Pinterest
Ra Ra Riot Gig Poster found on Pinterest
Poster Illustration by Tadano Kitano
The Kings of Summer found on Pinterest
Daft Punk poster found on Pinterest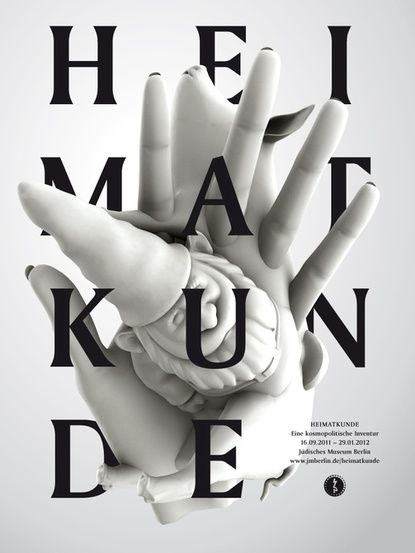 Heimatkunde poster found on Baudau Haus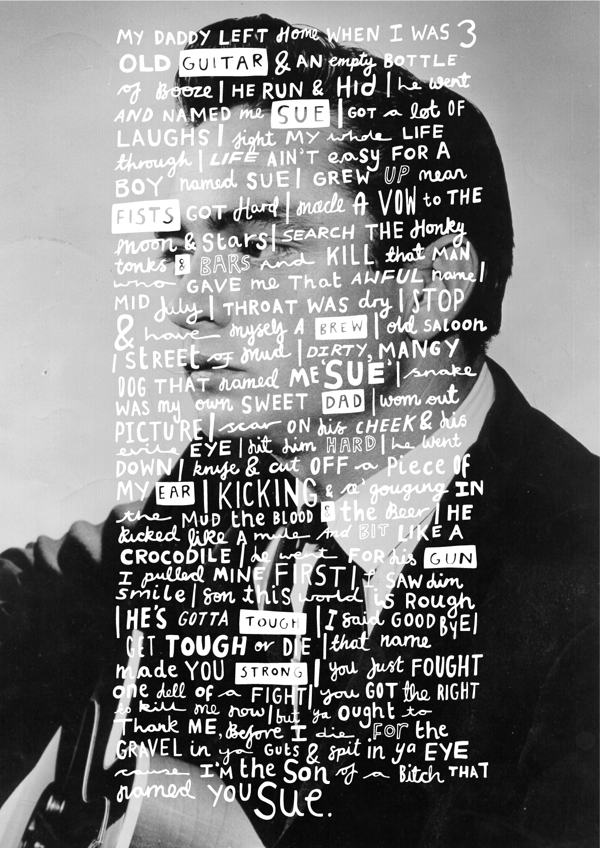 A Boy Named Sue Poster by Lauren Smith
Noah Movie Poster by Thomas Walker
Grand Budapest Hotel Poster found on Designspiration.net
Fly to Tokyo Poster by Eric Tan
Man of Steel Poster by Oli Riches
HamOn at Cave245 Concert Poster by Asuka Watanabe
Moe, What Happened to the La Las by Kris Johnson
Moonrise Kingdom Poster by Jotaká
Retrofuturistic Lem Poster by Przemek Debowski
Anywhere Poster by Les produits de l'épicerie
Macbeth Poster by Javier Triviño Murillo
Retro Poster by Tadanori Yokoo
Bon Iver Poster by Rafael Mayani
Pelbo Days of Transcendence Poster found on Pinterest
Vampire Weekend Poster by The Bubble Process
Snow Patrol Poster found on Pinterest
Waves and Best Coast poster by Anne Benjamin
Reeperhahn Festival Art Poster
Yay Festival Poster found on Pinterest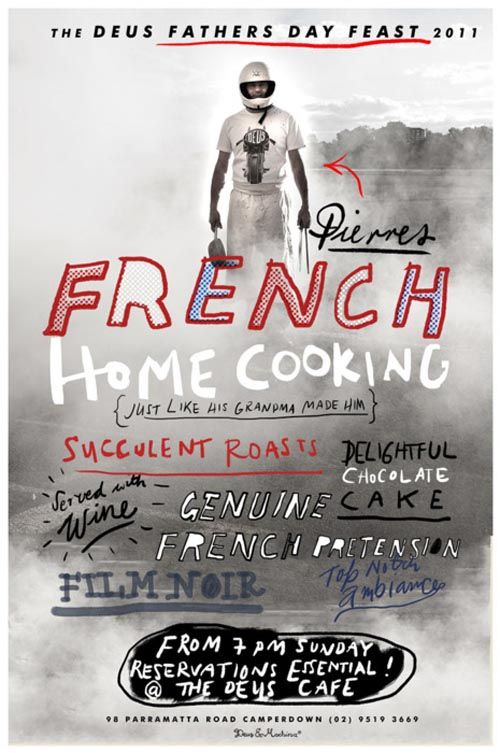 French Home Cooking Poster found on Pinterest
Poster by Publicis Singapore Typography & Johnson Banks 3D Realise Studio
Looking to deliver your client design filled with character and an organic quality only achieved with hand lettering?
Lacking the tools or time to do so?
You're in luck.
Calligrapher Laura Di Piazza's first Arsenal product, Hand Drawn Lettering Elements: All American Words, delivers you all the goods you'll need to bring the human aesthetic you (and your client) desire.
Open up this new product and in moments you can add beautifully crafted words into your work, taking your design from awesome to awe-inspiring and emotive.
Say hello to Hand Drawn Lettering Elements: All American Grit
The pack includes 130 following words in various styles and scripts: work hard, craft, rugged, u.s.a., industries, brotherhood, america, american, craft, pride, honest, genuine, superior, quality, tough, vintage, goods, handcrafted, handmade, original, est., magic, fine, custom, trademark, union, blue collar, artisan and supply.
The lovely lettered words are available in an organized, layered Photoshop document.
As a bonus we're throwing in three paper textures from our Paper Texture Pack.
Here's a little bit about the pack from Laura herself!
"This lettering pack is all-American! It includes words that we associate with America's strong work ethics and American-made pride. During my recent travels to Germany, Italy, Switzerland and Austria I encountered some people's opinions about American-made products and the general impression was that American-made is usually equated with 'well-made'.
As a calligrapher I mainly engage in non-modified lettering, where the first go is the only go for a word, sentence, paragraph or page. And if it doesn't come out the way I intended I either accept the results or do it over. The lack of editing has helped me to relax and embrace a certain flow when I letter.
The tools I used for this pack include the Japanese-made pointed pen Nikko G nib (originally designed for Anime artists), German-made Haff ruling pen (originally an architectural tool) , homemade cola pen (yes, the writing tip is made out of a small piece of a Coca Cola can), various square edge brushes and the beloved American-made Sharpie."
Let's take a peek, shall we?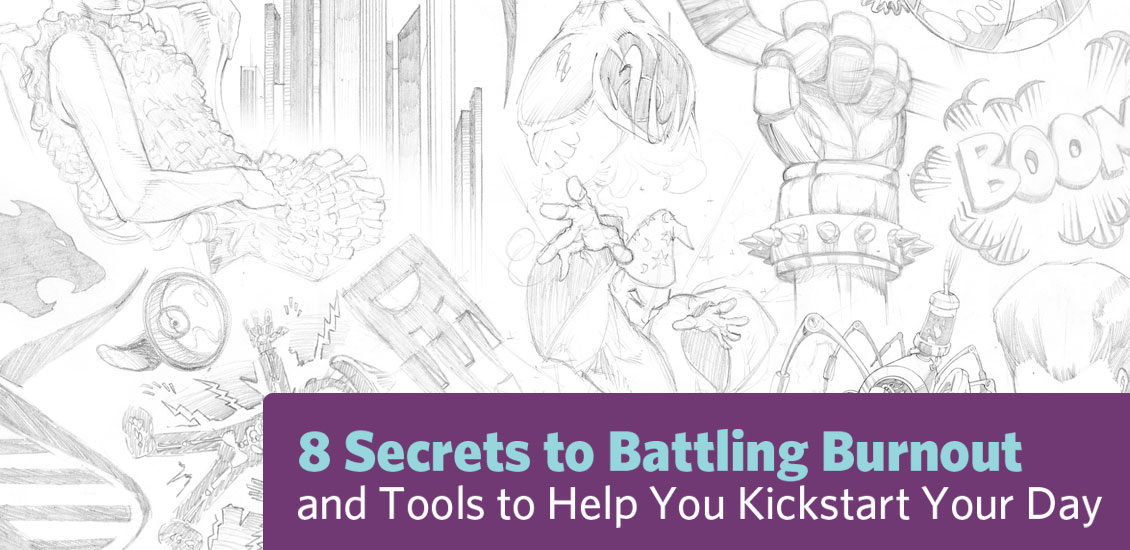 Battle Burnout: Tips for Designers, Managers, Entrepreneurs
This is an excerpt from Go Media President William Beachy's book, Drawn to Business. Drawn to Business is the best reference for those looking to start their own million dollar business.
Building a business requires massive amounts of focus and energy. It's perfectly natural to have moments where you feel absolutely fried. You won't feel motivated to lift a single finger. Finding ways to motivate yourself are key in business and in life. Here is a list of motivators I've used to keep myself productive:
8 Secrets to Battling Burnout
1. Start with the low fruit. It's always easiest to start with simple tasks and build up to larger ones. So as you look over your list of everything you need to do, pick something simple to get the ball rolling.
Block out the noise with these apps:
Anti-Social: blocks social media sites which take you away from what you need to be doing
StayFocused: an extension by Google Chrome which increases your productivity by limiting the time that you can spend on time-wasting websites
2. Make checklists. I'm not sure why exactly, but checklists have always been a motivator for me. Perhaps it's because I can see a well-defined list of the things I need to get done. Or perhaps it's the visceral satisfaction of crossing items off my list after I'm done. Whatever it is, I believe in lists.
Try Teux Deux: a straight-forward and simple to-do app
Lift App: employs coaching, community and data to help get things done
Any.do: a task list app available on Google Play and the Apple App store
Wunderlist: an easy way to manage and share your to-do lists
2Do: allows for color coding of tasks, scheduling, notifications and tags
Todosit: enables you to access your tasks anywhere as well as collaborate on shared tasks
3. Break down your large to-do items into smaller tasks. Sometimes when I'm having a difficult time getting started on a particular project, it's because the project is large with lots of work required to finish it. The size of the project alone is what's intimidating. "Well, I know I'll never be able to finish that project today—so why start? That won't be very rewarding." But any large project can be broken down into smaller steps – baby steps. Focus on one of the baby steps and give yourself a reward when you've finished it.
4. Make a game out of it. This works particularly well when faced with boring repetitive work. How many widgets can you design in an hour?
Try Carrot App: a task list with attitude
My Minutes: rewards you when you meet small goals, nudges you when you're taking too much time
5. Make a story out of it. If the context of your project is boring, then you need to use your imagination! Imagine for a moment that your logo design project is not for the local private school, but for a covert military organization. This shift in perspective can really boost your enthusiasm. Also, it can push your design to a higher standard.
6. Find Inspiration. Read a book, talk to other entrepreneurs, or browse the web. Do whatever it takes to reignite the fire in your belly. When illustrating was the focus of my business, I would drive to the local comic book shop to get inspired. These days it's a good business biography that inspires me the most.
7. Do Nothing. When nothing else is working, I will turn to this technique. Now, I know this might seem contrary to what you're hoping to accomplish, but let me explain. Sometimes if I'm having a really hard time focusing and working hard, I just don't. I just stop. I'll take a nap, watch TV, go for a walk or browse the web. In my experience, if I just let myself take a little break, my motivation will come back on its own. It's only when I try to force myself to work hard when I'm not in the mood  that I feel really bad.
8. Set a time limit. Before you try the "Do Nothing" technique, try giving yourself a short-term goal. Like: work hard for one hour. Sometimes you just need to get the ball rolling and before you know it, three hours will have passed. So, pick something manageable—maybe even break it down to 15 minutes. I'm going to sit and write my book for 15 minutes (yes, I'm using this technique right now)!
Rescue Time: tracks time spent on applications and websites, gives you detailed reports about your day
Toggl: tracks time, showing you what you spent your day on and for how long you worked on each task
ATracker: for iPhone and iPad – tracks your time and reports via pie chart, bar chart and data export
Eternity Time Log: for iPhone and iPad – tracks and times your daily tasks with a simple start and stop feature
What tricks and tools do you use to keep yourself on track?
Free Textures Freebie Alert!
While going through folders the other day, I stumbled upon all of the textures I submitted to the lovely Liz Hunt for Texture Set 5. To be honest, when creating the pack, I went texture crazy. Needless to say, there was some material that doesn't appear in the final product. Since it's just sitting around unused (and also because I love you guys), I thought I would share some of it. Yes, that means free textures just for you.
Here's what you're getting: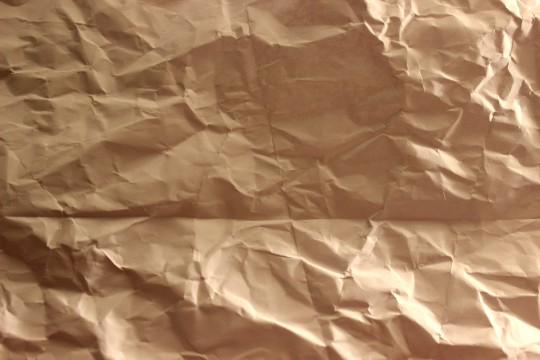 Download the free textures now!
Freebie Textures from Go Media's Arsenal Download 1
Freebie Textures from Go Media's Arsenal Download 2
Freebie Textures from Go Media's Arsenal Download 3
Bonus!
Want more?
Or buy bits and pieces as you wish:
See you all again soon for more freebie goodness! Until then, head to the Arsenal to check out our new layout and let us know what you think!
Inspirational Creative Quotes That Will Recharge You Now
Feeling overwhelmed? Down on your luck? Uninspired? Sometimes a word of wisdom is just what the doctor ordered. We've collected some of our favorite inspirational creative quotes on our Pinterest page. May they give you the inspiration you need today.
Click on each image for its source:
Introducing our Outdoor Mockup PSD Templates Pack!
Hey ya'll! It's Heather from Go Media's Arsenal here.
I think it's safe to say that, as designers, there are few things more thrilling than to see our designs out living their lives in the real world.
Like so:
Yay and yum!
But before all is said and done, we find it best to test the waters, if you will.
We do this by way of our very own mockup templates.
With a few simple steps, we can simulate how our designs will eventually look and feel.
This extra step is imperative for our clients, our printer and ourselves. (Our reputation is on the line, you know.)
Introducing the Outdoor Advertising Templates
We wanted to see our designs hit the streets, so we created the Outdoor Mockup Templates PSD Template Pack, now available on the Arsenal. This 8 piece template pack features a Building Billboard, Street Banner, Street Billboard, Wheat Paste Poster Display, Outdoor Concert Venue, Brick Wall for Hand-painted sign, Vinyl Window Graphics and Sticker on Payphone.
(and psst…with our 20% off sale through 5/16/2014, it's only $28 so hurry!)
Let's take a peek, shall we?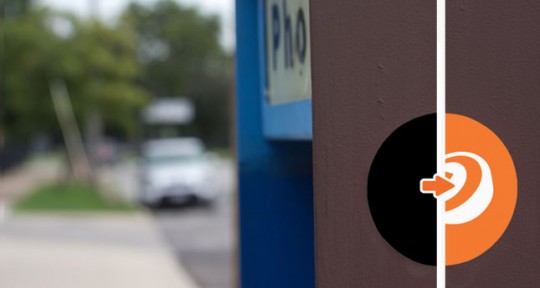 Now go! Mockup these Outdoor Advertising Templates, wow and amaze!
Your guide to a custom lettering logotype
"Typography is indeed the most essential and powerful tool a graphic designer has," notes designer Albert Trulls.  "As designers, we have the possibility to add emotional values to the messages we compose by making them, for instance, more or less complex, more or less attractive. That is the reason why choosing carefully a specific typography to represent a message or word is fundamental, as it will strongly affect its perception."
Creating a custom hand-lettered logotype.
One way a typographer can communicate a brand is through custom hand-lettering.
As Von Glitschka, Illustrative Designer of Glitschka Studios notes, "Few things can brand a product, business or service like a custom hand-lettered logotype. Illustrative lettering is the perfect balance between design sensibilities and illustration. A unique personality and identity can be imbued from illustrated letterforms that a standard typeface could never achieve."
Just what should you consider when you're creating the perfect custom hand-lettered logotype? Von and friends Jeremy Teff, Creative Director of BLKBOXLabs, Jason Carne, Martin Schmetzer, Albert Trulls Muntañà and Alison Rowan are here to share with us some ever important tips.
1. Start in analog.
"All of my hand lettered typography starts in analog and I solve the visual aesthetic in that stage before I ever attempt to build anything digitally." – Von Glitschka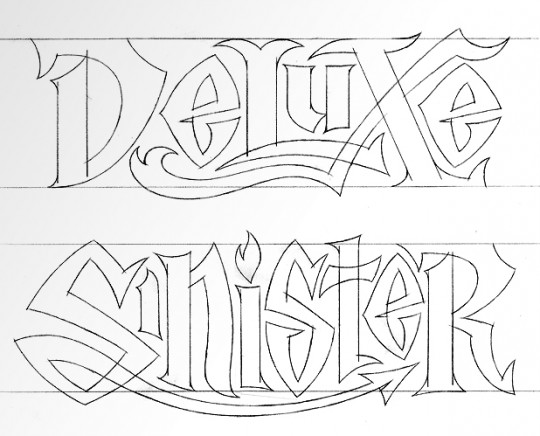 2. Break the Rules
"Custom typography is a great way to leverage illustrative skills in the context of a design oriented project. And don't be afraid to break the rules that have been created for more rigid forms of typography like complete fonts. For example, I mix and match uppercase and lowercase all the time. Some people are very strict in their approach to typography and this would step on those sensibilities. Hand lettering should always have the freedom to do what ever looks best regardless if it makes a die-hard typophile cringe." – Von Glitschka
3. Pay attention to color.
"Color is almost always last on my list of concerns when it comes to doing anything hand-drawn because it's the sole digital step in my process aside from texturing occasionally. A general color palette or amount of colors should always be in the back of your mind when brainstorming and penning your rough drafts. This way, you can at least flesh out a certain vibe to the piece you're creating. However, it's not what is going to make your design a good design. Color choice can only enhance an already sound design, it can't rescue a poor one.
In my work I try to attach time periods to my colorways to establish a visual foothold in a certain era; paints from 100 years ago had a different look to them than what you see in the stores today, and they were just as different in the middle of the last century. Researching advertising and home decor from certain decades can give you a good indication of what color styles were popular in the time period your design is trying to reflect." – Jason Carne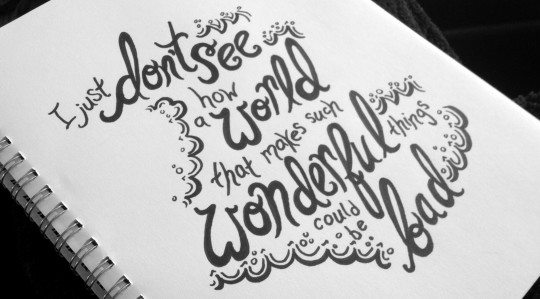 4. Explore with Pencil
"My initial explorations are done very loosely with a regular pencil. A thin lined pass to set general proportion (The bones) then I do repeated passes beefing up each letterform and refining them as a whole. (The flesh) I'll use several layers of vellum and a light box to continue to refine my design and perfect the details of it until I have a solid rough worked out.
Once I have a solid rough I'll then re-draw my designs with a mechanical pencil in what I call a refined sketch form. This will serve as my road map for vector building. I draw it like I'll build it and keep shape in mind.
I rough out pencils, refine those drawings so I know what I need to build in vector format before I begin building. My drawing always lays the foundation so I have a clear idea of what the final will look like before any bezier curve is created. I'll of course improve things along the way when needed but I try to work out my design in analog first." – Von Glitschka
5. Find what program works best for you.
"When we have a piece ready for the computer it is scanned, brought into photoshop and cleaned up. After some touch-ups in Photoshop it is brought over into Illustrator to vector. For some marks we use the live trace option to capture as much of the original artwork as we can, while other logotypes need a more polished vector feel like the Hero mark below. Depending on the use of the mark we will sometimes apply texture in illustrator but most of the time we apply texture in Photoshop if it is needed." – Jeremy Teff,  BLKBOXLabs
"I never use Photoshop for logo work. Resolution independent art is a must in visual identity IMO." – Von Glitschka
"I vectorize my hand drawings using the pen-tool in Adobe Illustrator. A funny fact is that all the designs you see in my portfolio are traced using the touchpad on my laptop. I only recently bought a Wacom Intuos board which I´m not 100% comfortable with yet, but I realize it is just a matter of practice and patience." – Martin Schmetzer
6. Get to know the company
"Understanding the company you're working for very well is a must, but understanding what certain types of letters are meant for and knowing what effective layout is consisted of is equally important. Knowing that a heavy, industrial slab serif type letter is good for a tool or machinery company and not for a lingerie company is important stuff; style dictates impression. Even variety within a certain type of lettering can impose an array of different emotions with the viewer. For example, scripts can be equally effective for an automotive manufacturer (Ford, Studebaker, etc.) or a chocolate company (Russell Stover), but for different reasons that lay within their subtle nuances. You have to understand what makes a letter style elegant, or what makes it powerful or just what makes it tick before you can effectively decide what makes a good choice for the company you're working for." – Jason Carne
7. Explore with tools
"It all starts with a pencil and paper and spirals out of control from there. We have a box full of various types of brush pens, brushes, sharpies, markers, basically anything that you can make a mark on paper with. Tracing paper is very helpful when you need to make small adjustments to sketches quickly and refine a logotype. I would say a sketchbook, sharp pencil and a decent set of Micron's is really all you need to begin with, the rest of the brushes, pens and paint are really about execution, variety, and exploration." – Jeremy Teff,  BLKBOXLabs
8. Integrate Symbolism
"Symbolism can add great value and meaning to a hand lettered logotype when done carefully and thoughtfully. A small amount of symbolism can go a long way. The supporting mark below we created for American Estates has some very simple symbolism in it, the brand is big on being American made and has a patriotic tone carried across it, we wanted to introduce that in a simple way. We sculpted the A to reflect a star, by pairing the star and the name itself the consumer instantly understands that the products are American Made and the company they are buying from is proud of that. The Onyx Coffee Lab logo was created to portray the same hand crafted feel as the coffee they roast, a small amount of symbolism can be seen in the "O" that forms a drop just over the rest of the the logotype." – Jeremy Teff,  BLKBOXLabs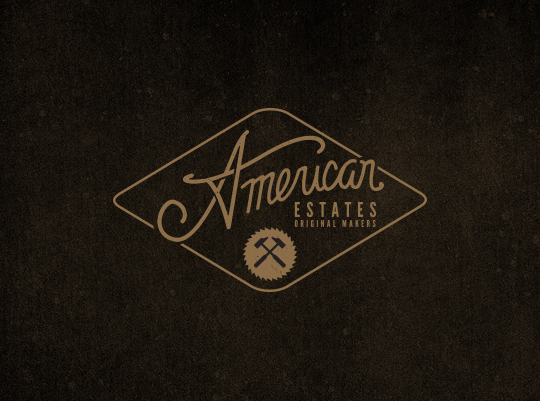 9. Weigh your options
"The weight of the letters when creating a logotype can be very important to its personality. When you are thinking of how to portray a client's image or brand you have to understand the message they are trying to convey. Thin lines can be delicate and give an image of softness, while bold marks tend to convey strength and stability. When we created the American Estates signature mark, we wanted a mark that projected simplicity and honesty, a mark that you could imagine seeing scribbled on the back of a pocket book from a generation ago. The line weight is fairly consistent but is very rough like you would imagine the signature of a man working with his hands all day would be. We felt the thinner irregular line weight really captured the essence of what we were trying to portray." – Jeremy Teff,  BLKBOXLabs
10. Keep evolving as an artist
"I turn to a huge amount of references, from classical to avant-garde periods, to find what is best for the project. I like to do this research process while I work on the concept / idea. I consider that, in this way, the concept, the references and the shapes come together seamlessly, strengthening the result.
This is just a way of working – a process among others. I firmly believe that having a creative process, being determined and self-critical, are the best ingredients to evolve, learn and find better solutions. Often, it is more important what you learn in the creative process than the final result." Albert Trulls
11. Let Ideas Steep
"When I first get a project I'll sit on it for a good week or so before I do anything. I have to let information and ideas steep. I call it slow boiling. Once I've done this I get a pretty clear picture of various directions I can go with it that would be appropriate and work well. I then start thumbnailing and drawing out ideas." – Von Glitschka
12. Find a balance between skill and imperfection
"Many hand-letterers, including myself, will tell you that the minor imperfections are what truly makes the work we do worthwhile; it's what distinguishes our craft from the work of those who rely on digital methods and software to create and design. However, imperfections due to laziness or ineptness are not what it's all about. The design should look human, not sloppy, and there is a lot of work I see that walks a fine line between those two. There's also a fine balance between being highly skilled and overly mechanical too, being too precise with hand drawn work while impressive, ultimately defeats the purpose of having the natural human element present in the work. Sometimes it's better to put down the eraser and let the design evolve naturally without trying to dictate its course at an obsessive level. " – Jason Carne
13. Observe.
"A form of research that we feel is absolutely necessary is observation, you have to experience what your client is selling, making, or creating, only then can you really understand their message. We spent an afternoon shooting photos and video in the American Estates shop and it really helped to develop their brand image. Much like the wood he uses the rough and scared hands of Jesse told his story. Their furniture is solid & strong, but not perfect and it's those small imperfections that really make their products so unique. The two hours it took to observe and be a part of their process was worth a month of research." – Jeremy Teff,  BLKBOXLabs
14. Research
"Research plays a large part in any branding or logotype project. It is a very important step in creating the vision of a brand. We research design trends for that specific market or time and try to apply our own twist on them or stay away from them as much as possible. For many clients that want a very specific look and feel, it is important to research the root of that design style. Research is best done in books and in the real world, though some research online is necessary, we feel it is best to view original sources as much as possible. – Jeremy Teff,  Blkboxlabs
15. Start with a blank page.
"Start with a blank page—no lines, no grids. Let the text influence the style you choose, and the form it takes. The most emphatic lettering isn't always drawn in straight lines, and with ruled paper we have a habit of forgetting that."  – Alison Rowan
16. Look for inspiration
"When looking for inspiration, I try to gauge style based on the specific project at hand. For this one their whole personality was geared towards Rockabilly with a sinister twist so my solution has a flair towards gothic too." – Von Glitschka
17. Value Simplicity
"Simplicity plays a major role in creating a great hand-lettered logo. Just like their super clean vector counterparts, logos that are simple and clean tend to be the most memorable. Less is always more. It is easy to over think or over draw a logo type, in the end what matters most is the mark is legible and conveys the message the brand is trying to represent. Most of the time the more simple mark will always be a better solution to the challenge you are facing." – Jeremy Teff,  BLKBOXLabs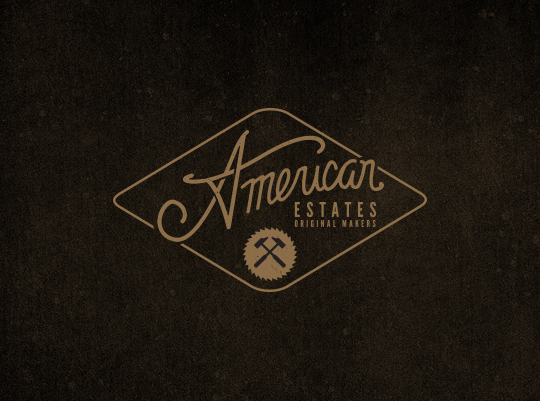 18. Experiment with graffiti
"I'm a self taught letterer and came in contact with hand drawn typography through graffiti. I believe graffiti is a very good way of experimenting with the alphabet and learning how the letters are put together. You don't have to follow any guides or rules and can twist and bend the letters 'til you tamed the word into something your own and unique.
When you draw the same name/tag hundreds, even thousands of times you also realize how you can modify/tweak each letter to make it look different every time. I´m sure this have been a big help to me in my lettering work today.
As a graffiti writer I always aimed for symmetry in my letters, something that follows me 'til this day in my hand drawn typography and logo designs, which you can see examples of in my behance gallery." – Martin Schmetzer
Last, but not least:
19. Take your time.
"Sweat the details, spend the extra time and really dive head first into your work with the intent of producing work better than anything you've ever done before. Make that serif sharper, fix the angle of your shading, get the curves smoother. Rushing your work doesn't benefit the client you're cheating out of a better design and it doesn't give you a better piece to put in your portfolio. Sweating the details doesn't mean getting crazy with ornamentation and adding anything superfluous, it just means that you should be 100% certain that every part of your design is on point, consistent, and the best it can possibly be before delivering it. Also, proofread your sketches…that should go without saying, but it still needs to be said sometimes. There is nothing worse in the world of hand-lettering than spending 4 hours inking a word that isn't spelled properly." – Jason Carne
Thank you so much to my contributors! Please check out their work below:
Von Glitschka | Glitschka Studios | Twitter | Lynda.com | Behance | Full Project
Jeremy Teff from BLKBOXLabs | Twitter | Facebook | Instagram | Pinterest
Jason Carne | Behance | Instagram | Dribbble | Facebook
Martin Schmetzer | Behance | Facebook | Dribbble | Twitter
Albert Trulls Muntañà: Albert Trulls site | Behance
Alison Rowan | Twitter | Facebook | LinkedIn
Other GoMediaZine links you might like:
Become a Master Typographer: How to Choose the Perfect Typeface
Hey Gang,
If you follow me, know me, used or seen my work you probably think of high detail illustration. Well, every once in a while you gotta change things up. From time to time I'll do something quite opposite just to keep things fresh.
Last summer, I had the idea to do something quite different and photograph my own images. I have been a fan of all the Go Media texture packs and I have used them in my work and figured out ways to manipulate them through Photoshop and Illustrator.
I started taking high resolution photos and thought about what I would buy and how I would use the textures. The set is divided into 6 categories, the first release is my Clouds Vector Texture Pack.
Soon to be released are my Ground, Plants, Rocks, Trees and Water Packs. Keep an eye out!
Now, let's chat about some of the tricks and ideas that I've used with these textures. Clouds, you're up!
Ready to follow along?
First, grab the cloud textures here, only $9!
Now, let's go!
First I'll start with an effect using the clouds. This effect is based on simple placement using a clipping mask and creativity. I'll start with the personal monogram I've been designing. I'll open the CLOUDS.eps file in Photoshop.
I'm going to just grab some of the cloud textures and bring them onto the monogram file and start placing them over the design.
Off the bat I know this is gonna be too much texture and won't show enough of the design. I'm going to start over and change the color of the design and bring in another texture.
From here I'll place the texture over the design and select a clipping mask (click on the layer for PC and right click and select Clipping Mask selection)
From here, I want to add a bit more to it with a simple drop shadow.
Now, I'll make a duplicate image of the design and set a complementary color stroke.
Next, I'll adjust the colors of the design that go better with the blue.
Now I'll select the colors of the cloud textures and change those colors.
I'm thinking I want to take advantage of this pack and add a little more texture and grit from the upper left cloud.
I'm just going to cut the middle out, paste it and duplicate the selection and just take a pre made eraser tool and get rid of certain areas.
I'll place it under the first cloud texture, adjust colors and then move the texture around a bit to get it where I want it.
From here we created a simple texture using clipping masks duplicate layers and color strokes. Simple all from a cloud, creativity and knowledge.
Try this on your own and see what you come up with!
Grab the cloud textures here, only $9!
For more of Steve's work, check him out his site or chat with him on Twitter.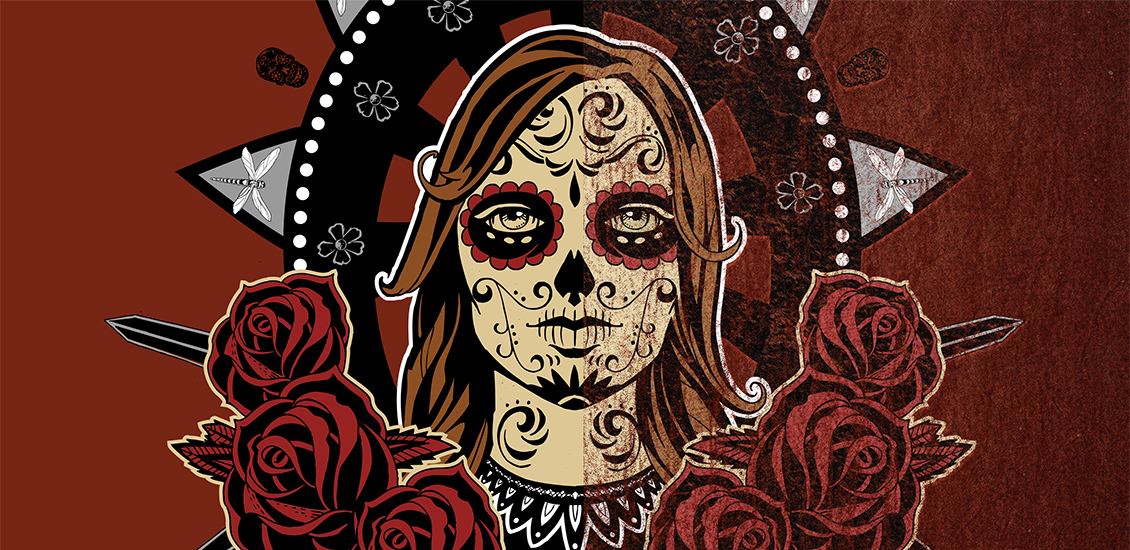 Poster Design Tutorial: How to Easily Get Non-corporate Results with our Office Interior Textures: Corporate Texture Packs!
Hello all! Simon from Studio Ace of Spade here today. I'm writing to announce the release of the corporate texture packs, volume I and volume II, on the Arsenal today! I've written a tutorial to accompany the packs. Enjoy!
How did these packs came to be?
Well, I happened to have access to one of the millions of generic office buildings around Cleveland this past winter. I couldn't help but notice the wide range of often cheap imitations of materials in all of that office furniture and decor.
The textures range from fake wood grain, wallpapers, soulless tiles, blend fabric patterns for office furniture, etc. There are a few gems here and there, and if you're looking to emulate the "9 to 5 stale job atmosphere that you could believe we're in the Office or in Office Space," these packs are your new best friends.
Hold on your horses, where's the DIY spirit?
It seems a bit contradictory to create resources from an atmosphere we creative people usually deem at best stale. I've been the first one surprised by the good surprises hidden all over. For instance, while some of the wood grains are obnoxiously fake, some of them are actually bluffing. There are beautiful noise patterns in drop-ceiling tiles. I've rarely seen so many different fabric options while not in a fabric store. And I haven't talked about carpets and wallpapers yet (although the pattern creators for some of these should probably not be allowed to design anything else of their lives).
Just have a look below:
A demonstration by the example
Rather than discuss things, I decided to show you how these two packs of textures can help us to spruce up Steve Knerem's Day of the Dead vector t-shirt design pack. Don't know what a t-shirt design pack is? Watch this:
What are we going to create?
We're going to take this great, flat colored vector piece, and turn it into a sweet poster with the help of the texture packs. We'll use some wood grain textures to build a rich background, some of the noise and scratch textures to weather the art a bit, and some of the other ones to package the whole thing in a consistent ensemble. We'll be using both Photoshop and Illustrator to accomplish this. Let's go!
Preparing our document
First thing first, let's create a brand new canvas in Photoshop. I'm using an 11″x17″ @ 300 dpi, RGB, document.
Once your canvas is there, create a few guides, so you have a basic grid in place. I've put guides to indicate the center of the frame (5.5″ and 8.5″), as well at 1″ of the edges (1″, 10″, and 1″, and 16″).
Bringing the art in
It's time to bring the t-shirt design pack into our Photoshop document. Simply copy and paste the design as a smart object into your canvas. This will allow us to keep its scalability as we work on the piece.
Copying the piece in Illustrator
Pasting in Photoshop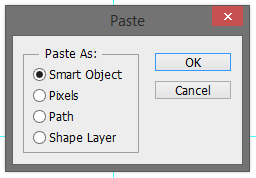 I've scaled the piece so it's approximately 9″ wide. Note that I haven't copied the background along.
It's simply easier to fill the background layer with the same gray (#454545) directly in Photoshop.
Oh, and don't forget to do some layer house-keeping.
Adding textures to the background
Our goal was to create a rich, warm, wooden background for the piece. After looking through the packs, corporate-texture-pack-volume-02-010-sbh.jpg looks like a solid starting point.
Let's place it into our document, right above our gray background layer. Scale it up so it fills your whole canvas.
The result is interesting,  but is a overbearing compared to the piece. First, let's rasterize the texture layer, and sharpen it a few times (Filter > Sharpen > Sharpen). Once that's taken care of, change its blending mode to Soft light @ 100% opacity.
The result is better, but still not very amazing.
To remedy the issue, start by desaturating the texture layer (CTRL/CMD+SHIFT+U).
Next, change the color of the background layer to a saturated, deep brown. I'm using #762514.
(Don't forget the layer housekeeping since you've changed the color)
It's better, but not there yet. Let's use the levels (CTRL/CMD+L) to fine tune the contrast of the texture.
There you have it.
A quick touch to make sure that the art doesn't fade too much in the background: let's add a drop shadow to its layer. Well, more of a glow actually. The color of the shadow is the same brown than our background (#762514). Using the Linear dodge (add) blending mode for the drop shadow, we're creating something along the lines of a very soft glow that visually detaches the centerpiece from the background, but without being obnoxious.
Here's a closer view.
Let's finalize our background with a slight vignette effect. After some investigation, corporate-texture-pack-volume-02-013-sbh.jpg seems like a solid candidate to accomplish the effect. Its center is brighter, and the edge of the texture is darker. We're going to make sure these characteristics are more pronounced thanks to the levels panel.
Start by placing the texture in your document. Note that I didn't transform it proportionally, but rather stretched it to fit the canvas.
We're going to follow the same process than we did for the wood grain texture: rasterize, sharpen, desaturate, and enhance contrast with levels.
Desaturate and sharpen.
Levels. Note how much grain this step is bringing forward.

Conclude by changing the layer's blending mode to Soft light at 75% opacity.
And we have ourselves a vignette.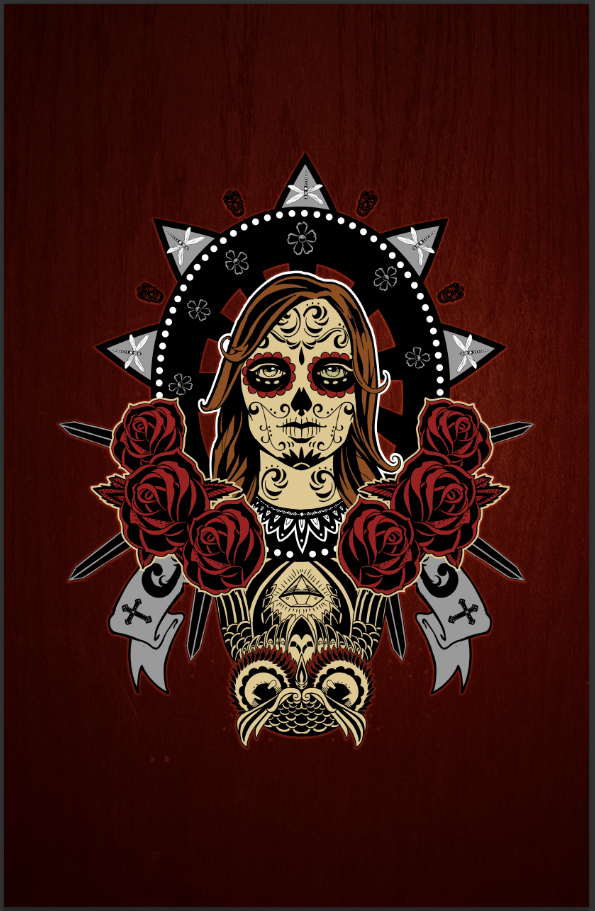 With the background done, it's time to move forward to the weathering of the centerpiece.
Centerpiece treatment
The main treatment we want to apply to the art is some kind of weathering. I'm planning on doing a regular grunge effect, and to re-apply the background's wood grain to it, so it looks like chipping paint or something. First, some "regular" grunge. What we'll do is paste textures in layer masks. Accomplishing such a thing is very easy:
Open your texture.
Copy its contents.
ALT/OPTION+CLICK the thumbnail of the layer mask you wish to paste the texture into. This will show you the content of the layer mask, and allow you to edit it. Make sure to disable the little chain link of the layer mask so you can move the texture without moving the element along
Make the edits you deem necessary (size, placement, sharpening, levels, etc.)
Admire the result
After looking through the packs, I've spotted corporate-texture-pack-volume-02-034-sbh.jpg as a very good candidate.
Start by adding a layer mask to the art's smart object. Make sure its association with the smart object is turned off.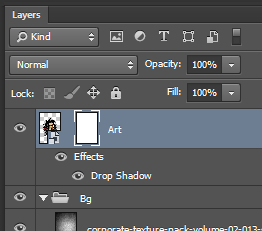 Once that's done, copy the texture and paste it into the layer mask. Make sure it covers at least the centerpiece. The whole width of the poster isn't a bad idea.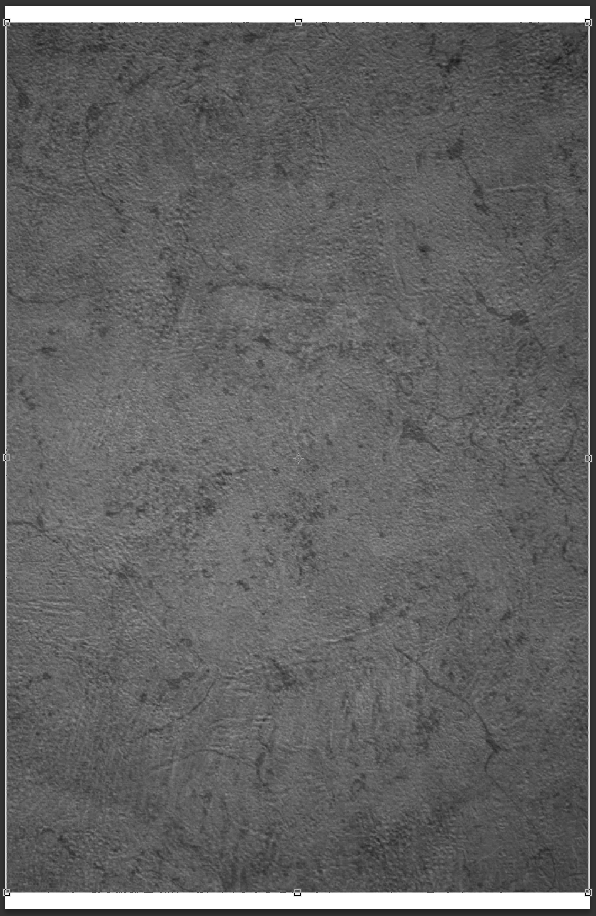 Once that's done, and once the obligatory sharpening has been taken care of, it's time to play with levels.
Because the document and the texture are high-resolution, sometimes, the levels outcome will be less contrasted than its preview. Don't hesitate to repeat the step to reach the desired result.
Click back on the layer thumbnail to admire the result.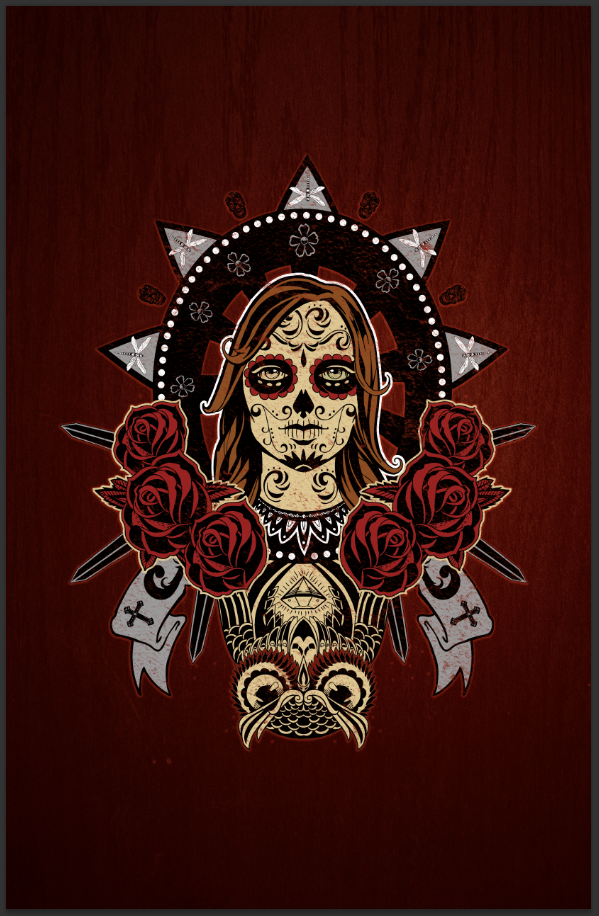 Here's a close-up. The art is well worn, which is what we wanted.
Now, let's add the wood grain to the mix. Start by some layer housekeeping. Give the Art its own layer group, along with another layer mask.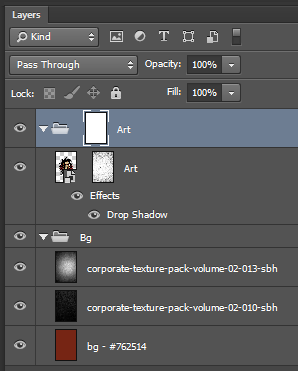 Next, turn off all the layers but bg – #762514 (the background color) and corporate-texture-pack-volume-02-010-sbh (the wood grain texture).
Copy the content of both of these layers (CTRL/CMD+A to select all, CTRL+SHIFT+C to copy-merged the visible content), turn back all the layers on, and paste the result in the Art layer group layer mask.
This is obviously too dark and will fully erase the centerpiece. Let's work some levels magic, so we only keep a faint wood grain in the mask.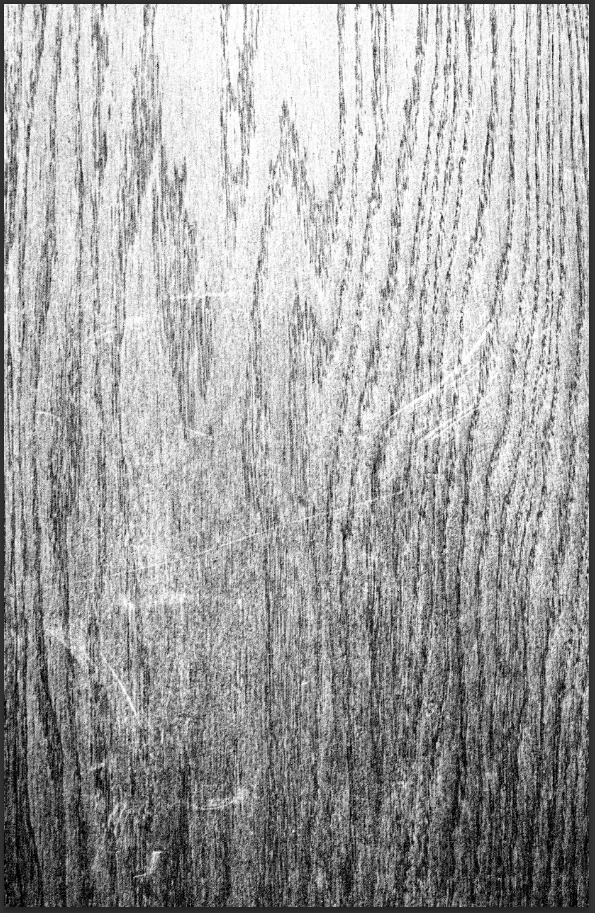 The result is a bit too intense, as the layer is still a bit too dark.
Some more levels work will fix this:
Note the double levels pass,  after the first one failed to produce a strong enough result.
And here's the result! It looks like the piece is painted on that piece of wood, and is just fading away following the wood grain.
We're going to add a texture that isn't included in the corporate texture packs, but that is available for free on Flickr. It's a brush stroke texture, and will help to reinforce the "painted-on-wood" effect we're looking for. It's called 16342_cream_over_green_detail, and it's available on Chank Diesel's Flickr stream. Don't forget to grab the biggest size available! Place it into your document, at the top of your layer stack.
Repeat the whole rasterize / sharpen / desaturate / levels process…
Levels.
Change the blending mode to Soft light @ 100% opacity.
The effect is what we're looking for, but we need to localize it to the centerpiece itself rather than the whole poster. To do so, CTRL/CMD+CLICK the Art smart object's thumbnail. This will create a selection which will include only the content of that layer. Proceed to add a layer mask to the brush stroke texture layer by highlighting it, and by clicking the Add layer mask button at the bottom of your layer palette.
As you can see, the texture is now confined to the centerpiece. The effect is still a hair too strong at this point.
Simply lower the texture layer's opacity to 25% opacity, and you'll be good to go.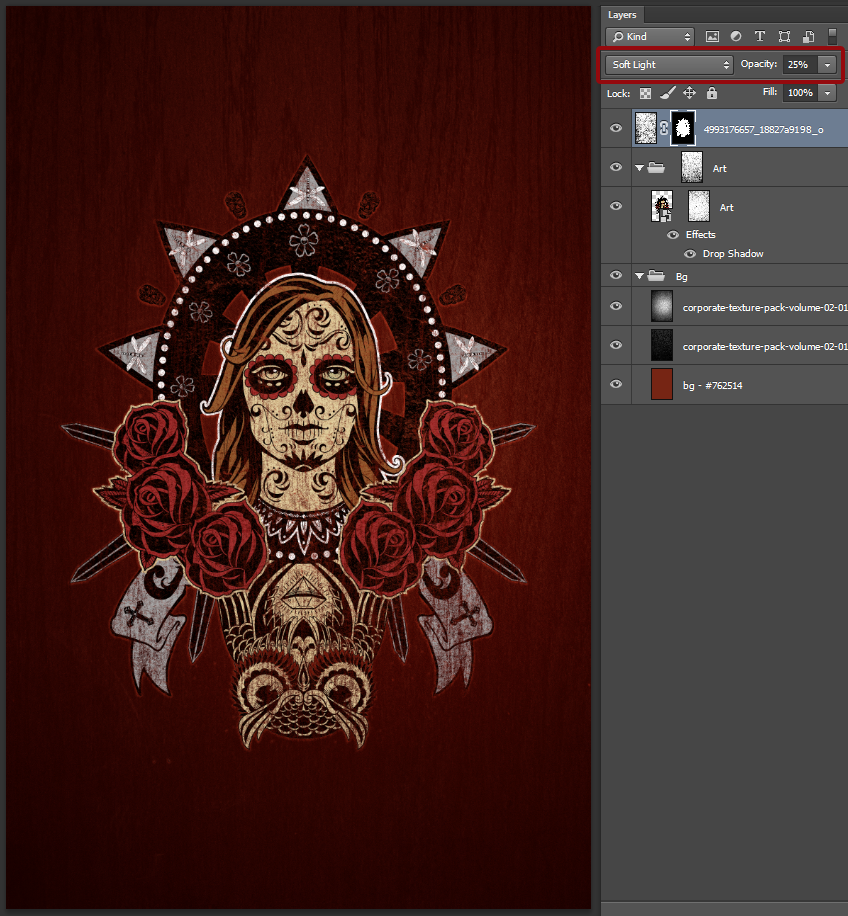 Close-up.
Global textures
In a ways, we've already started this process with the brush stroke texture. We are now going to add a few texture that will impact the whole piece (background + centerpiece). This will participate to visually make the ensemble consistent. We'll follow the same routine as before.
First on the line is corporate-texture-pack-volume-01-015-sbh.jpg, a wallpaper texture.
Start by placing it in the canvas so the darkest part of the texture is at the bottom.
Levels.
Put the texture's blending mode to Soft light @ 35% opacity, and you'll be good.
The next texture is corporate-texture-pack-volume-02-023-sbh.jpg, a scratched brushed metal texture. Our work with levels will be quite extreme, as we want to make the scratches appear in the piece as much as possible.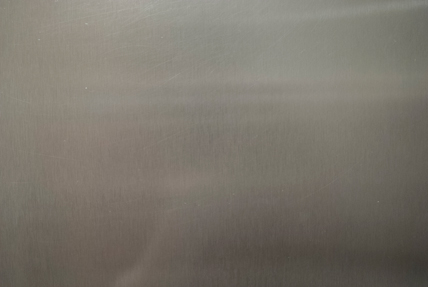 I placed the texture so as much as possible of the scratched are be in the canvas.
I also sharpened the texture quite a few times to make the scratches and other characteristics from the metal more visible.
Levels.
Change the layer's blending mode to Screen @ 25% opacity.
Finally, the last texture we'll place into our piece is corporate-texture-pack-volume-02-040-sbh.jpg. It's a concrete texture that's been captured just outside of the building the other ones come from. It participates to add a bit of a noisy quality, and reinforces the vignette effect on the piece.
Levels.
Blending mode: Soft light @ 25% opacity.
Final touches
Bear with me, it's almost the end!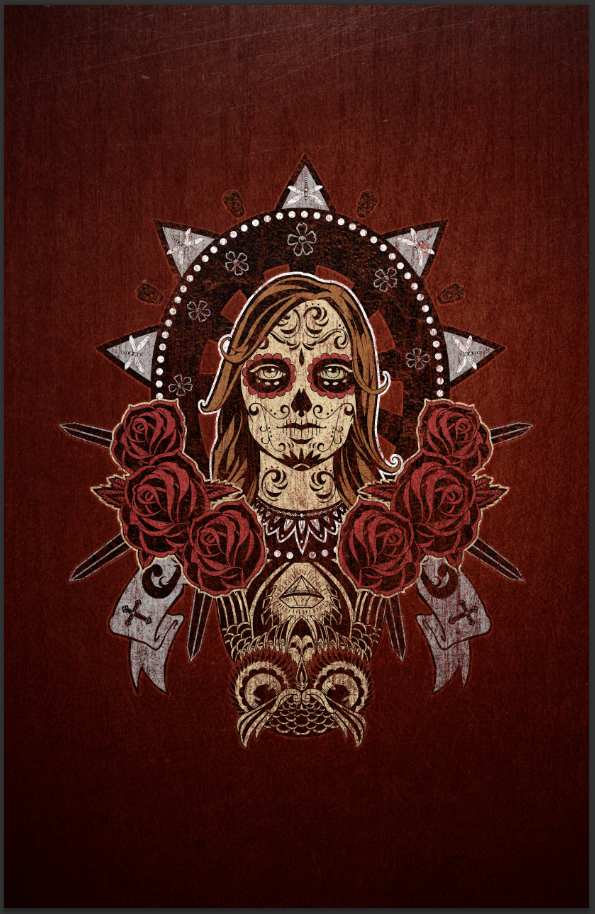 First, I'd like to make the wood grain from the background a hair more visible. To accomplish this, simply duplicate the wood grain texture once.
The effect is too strong, because our layer is so dark. To bring this back to reasonable proportions, simply lower the opacity of the layer copy to 25%.
Now that that's done, I'd like to add just a bit of noise to the piece. I'll be using photocopy-noise-textures-sbh-001.jpg, from my photocopy noise texture pack. Scale the texture so it covers the whole canvas.
Blending mode: Screen @ 25% opacity.
Since this is the last texture, it's the perfect time for a little bit of house keeping:
And with that done, you're all set to admire your beautiful piece!
You could mock it up for the world to drool over.
I hope you had as much fun following this tutorial as I had writing in. I also hope that it convinced you of the potential of both volume I and volume II of the corporate texture packs. I'm looking forward to your own takes on this how-to. Don't forget to share them in the Go Media Flickr Pool.
Don't hesitate to ask any questions you may have, both about the texture packs and the tutorial itself! I'll be watching the comments over the next couple of days. You can also find me on twitter @simonhartmann, where you should follow me.
BUY THE CORPORATE TEXTURE PACK VOLUME I
BUY THE CORPORATE TEXTURE PACK VOLUME II
Free Fonts for Designers 2014
Well hi there everyone!
One thing the fine designers at Cleveland based graphics firm Go Media knows is how important fonts are. And who doesn't love free fonts! This post, 50 Totally Free Fonts for Designers, gives graphic and web designers a variety of new fonts. Grab these free fonts for designers 2014 now!
40 Fresh, Free Fonts for Graphic Designers
They're super fun to download, play around with and use when appropriate. Here are some free fonts for designers 2014 that I've recently added to my collection. Enjoy!
Intro Condensed by Font Fabric

Farray by Adrien Coquet

Margot by Adrià Gómez

Tamoro Script on Dafont.com

Bebas Neue by Font Fabric

Nord by Alex Frukta, Vladimir Tomin & Nord Collective

Peyo by Shannon Lim

Simplifica by KAIWA

47 by Hendrick Rolandez

Adam.CC Pro by Shrenik Ganatra

Kánkin© by MRfrukta

Glide by TypeDepot (sketch free)

Gravo by Illario Strazzullo

Building by Leonardo Gubbioni

Archive Typeface by Fontfabric

Streetwear by Artimasa

Adamas Regular by Octavian Belintan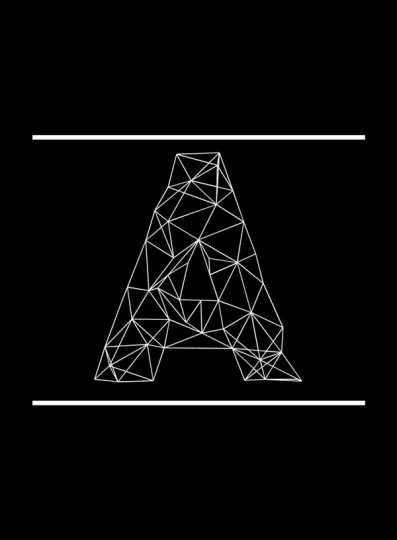 Kaiju by Anthony James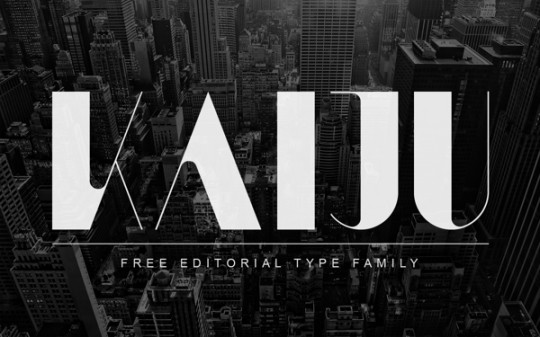 Rex by Fontfabric

Komoda by Fontm.com

Hagin Serif by Fontfabric

Glamour by Hendrick Rolandez

California by Noe Araujo

Nooa  by Antoine Pilette

Facunda by Bu!

Lovelo Inline by Renzler Design

Jokal by Sean McCabe

Prosto by Pavel Emelyanov and Ivan Gladkikh

Weston byPavel Pavlov

Hans Kendrick by Alfredo Marco Pradil

Braxton by Fontfabric

Barnstormer by Jonathan Heter

Amende by Ike Ku

Cube by Font Fabric

Nauman Regular by The Northern Block and Jonathan Hill

Lev Serif bu Leon Hulst

New Theory by Noe Araujo

Mathlete by Mattox Shuler

Muse by Nassef Khalaf

Zwodrei by Lukas Bischoff

Tetra© by MRfrukta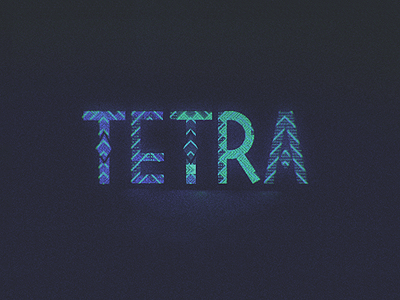 Boomtown Deco by Chris Skillern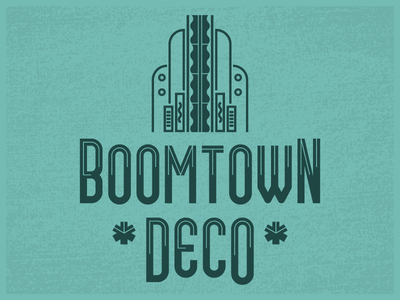 Corduroy Slab by Ryan Welch

Mocha Script by Thomas Ramey

Ostrich Sans – Heavy by Tyler Finck

Hero by Font Fabric

Native by Lori Novak

Drop Type by Filiz Sahin

Tiny Tim by Andrew Hochradel

Looking for more fonts are you? Go Media's Arsenal has the perfect solution for your font addiction. Head here to grab the best of the best, including:

Diffraction:  an experiment as to how light and type may interact with each other.

Bunker: a fusion of modern styling with a classic serif, Bunker is the culmination of form and function!
and Affliction, to name a few…!


Affliction: a vintage style font that has been put through hell. Grungy, dirty, and distressed. My heart aches just looking at it.
Apparel Design: 120+ Inspirations from Go Media's Portfolio
Today we're talking a walk down apparel design memory lane! We're  focusing on the t-shirts we've passionately designed over the years.
Take a peek at our apparel archive Bill, our President, has collected below.
Check out more of our work the best in web, print, branding and illustration, as well as apparel design, head to gomedia.us!
And for everything you've ever wanted to know about the apparel industry, make sure to pick up Thread's Not Dead by Go Media Partner Jeff Finley!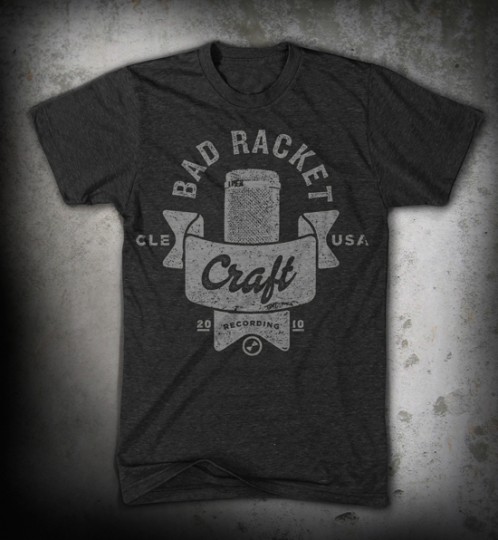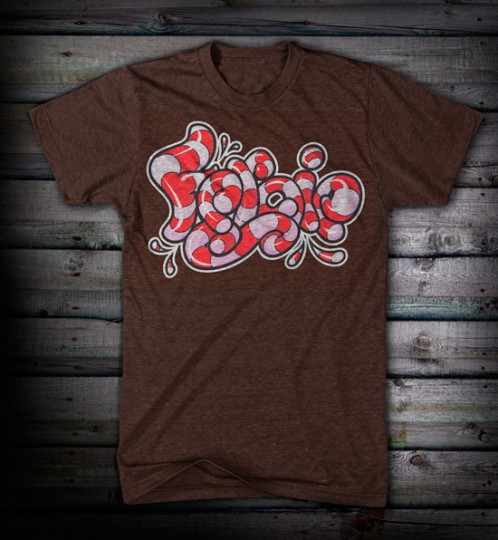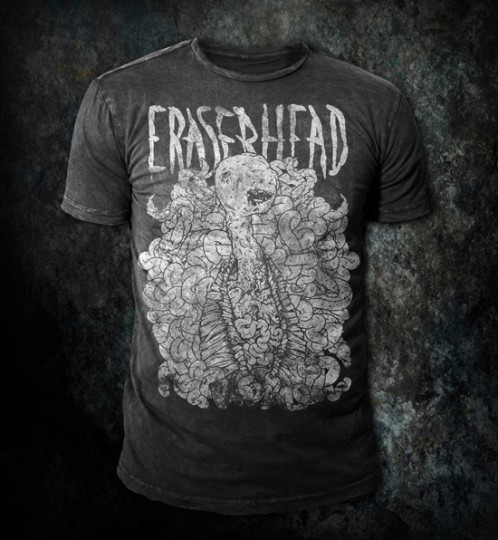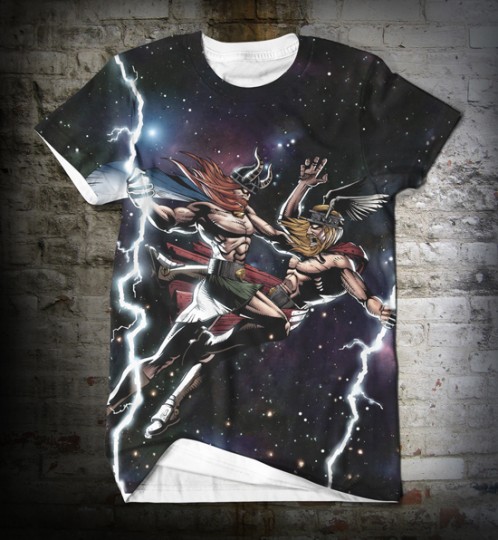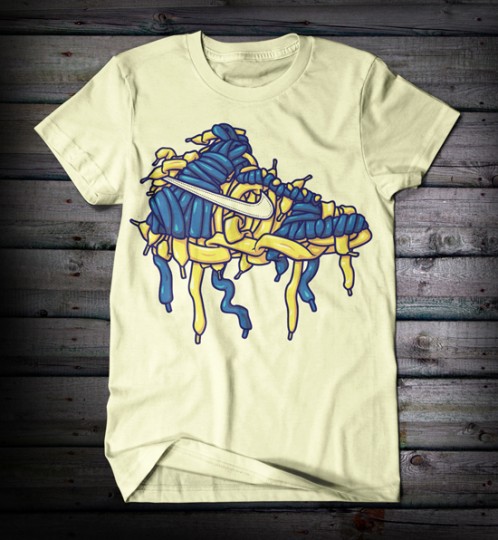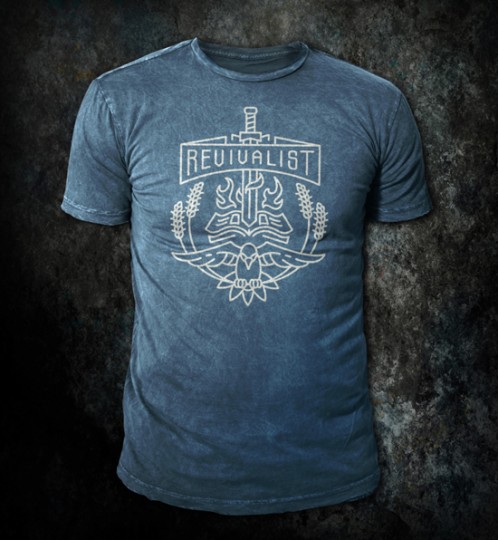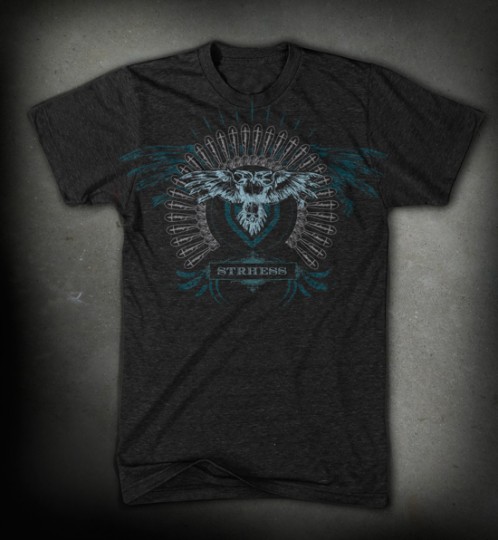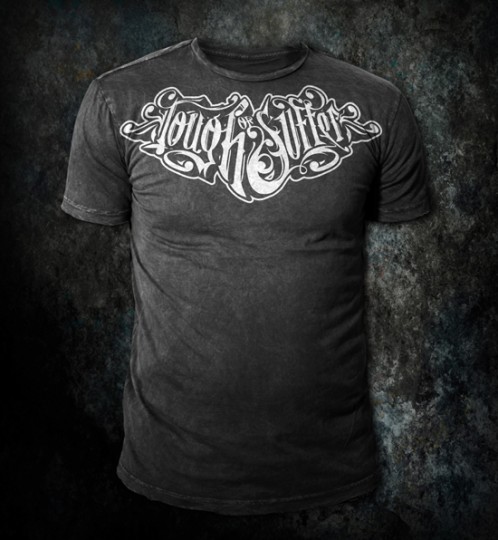 Which t-shirt design is your favorite? Please share your thoughts in the comments section below!
Design with Ease and Efficiency: Introducing the Shark Attack T-Shirt Vector Pack
What if I told you it was possible to produce a high-quality design minus all of the sweat and seemingly endless hours? It can happen, my friends. (You know I'd never lie to you.) I'd like to introduce you to a magical tool called the T-Shirt Design Pack, now available on the Arsenal! These packs, including today's release, include everything you need to design the perfect t-shirt (minus the hassle plus all the glory).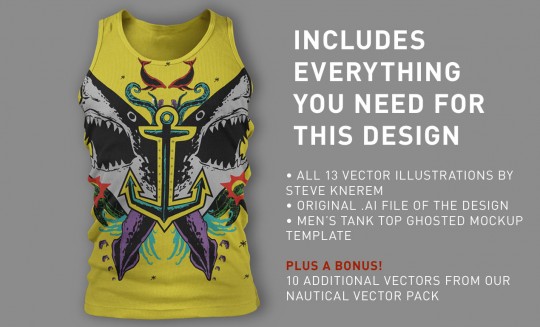 It's really quite simple:
1. Download this baby.
2. Hop into .AI (if you'd like to modify the original file and craft up your own unique design)
3. Dive into Photoshop to mock up your work, further customizing the end result to your heart's content.
4. Blow people's minds.
So, if you'd like to save time (without compromising quality), you know what to do.
Gimme the Shark Attack T-Shirt Pack – only $17
You can also check out our other t-shirt packs: HERE
Take a glance at the Shark Attack T-Shirt Design Pack: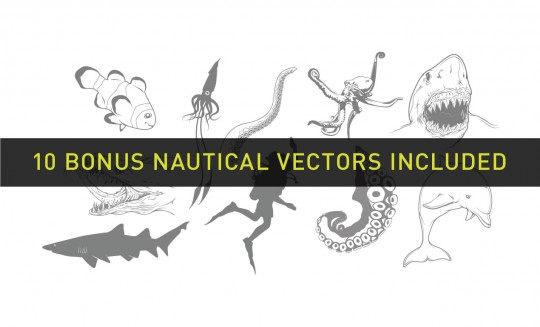 Now see 'ya! Click to buy the Shark Attack T-Shirt Pack – only $17