Articles by Month:
August 2010
Internships are an awesome way to gain experience and to learn about being a designer in the real world. Most are mainly summer internships, but there are definitely internships that extend throughout the school year. Typically, students aren't expected to score internships until their third year, but it's not uncommon to find young designers landing jobs in their sophomore and even freshmen summers. It mostly depends on you and how comfortable and confident you are in your capabilities. Don't feel pressured to find a job right away after your first year, only to take on more than you can handle.
The Portfolio
First thing's first, you'll need to get your body of work into some presentable form. It could be a website, a PDF presentation, or even a printed book of sorts—just keep it simple and concise so that your audience can fully grasp the whole idea behind the project. Remember, putting together a portfolio is a design challenge in itself. Think about typographical hierarchy for your header text, body text, and captions in terms of their point size, typeface, and color. Also keep in mind the layout of your portfolio. Designers are visual people, and you'll want to leave plenty of space to showcase your work. Make sure your images are big enough so they can see the details, and that they're at a high enough resolution to avoid any pixilation.
One quick thing: This may or may not be your situation, but some employers ask for your website in the initial email. Employers want to get a preview of your work and see if you're a right fit for their company even before they offer you an interview. In my situation, a good number of jobs I applied to asked for a website. However, coding your own website is a ton of work and a significant amount of time. If you don't have a site, don't worry! There are many portfolio sites where you can upload your work, or the next best option is to attach a .pdf presentation of your portfolio. Regardless of the format, the quality of your work will be able to give an employer a sense of your skills and capabilities.
The Hunt
So you've got your portfolio together and you're ready to roll out those emails, but where to start? The internship process usually begins around February/March, so start early. In terms of finding the job, make use of your resources—professors, local graphic designers, or even your mom's hairdresser's sister's friend. Some schools have job fairs, others don't. If yours doesn't, look up the local schools and go to theirs. I started off with AIGA's site, which is how I found GoMedia's posting.
If nothing there strikes your fancy, I'd suggest searching for design firms by city. My search this summer centered around Cleveland and Chicago, so I looked up design firms in those cities through their AIGA site and Core77. You should also research the firm: learn about their philosophy, read their blogs, and be familiar with their portfolio.
Once you have a list, start sending emails out. They should include a link to a portfolio of sorts, whether it be through a portfolio site (i.e. Coroflot, CarbonMade), personal website, or .pdf presentation. These emails should express interest in the firm's work and a desire to be a part of what they do. Don't be discouraged if you receive limited replies. I sent out 30 inquiries and received about 5 responses this summer. Some firms just aren't looking to hire, or they just might not have any work for you.
Paid vs. Unpaid
Right off the bat you should know if the internship is paid or unpaid. It will normally be included in the job description but if it isn't, don't be afraid to ask. I have to be honest though, it's pretty common for your first internship to be unpaid. My internship at GoMedia was unpaid, as well as my first internship the summer before that. However, you have to be receiving some sort of payment if your internship is unpaid, normally in the form of college credit, for it to be legal. If you haven't already, this article goes into more detail about the legalities of internships. Don't be deterred if the internship is non-paying. At the end of it all, you'll learn so much about design in the real world that it'll be worth it. Those are the kind of lessons that money can't buy.
The Interview
So you've scored an interview! High five! Interviews are normally on location or by phone (if you're too far away). In my experience, phone interviews are harder than in-person interview, just because there's a disconnect between the you and the interviewer, and also because it's so hard to find a quiet area! Nevertheless, an interview is an interview. For an in-person interview, you want to dress business casual just to be safe. A suit probably isn't needed, but a nice shirt and good pants should do the trick. You should also bring some form of portfolio to your interview—a laptop to show your website, a printed portfolio, or even samples of your work. When I had my GoMedia interview, I brought in a printed portfolio and I went through and explained each project.
Note: Be prepared for those stereotypical interview questions (i.e. "What do you think your strengths and weaknesses are?"). GoMedia didn't ask those, but other sure firms did. Also have some questions prepared for your interviewer—it's as much your interview as theirs.
That should do it! Go forth and conquer the design world, young padawans.  Good luck!
Greetings friends,
This is Steve Knerem and I'm a freelance illustrator from Cleveland, Ohio that specializes in hand drawn art used for apparel and editorial pieces.  You can view my work at www.steveknerem.com.
When asked by Go Media to write some tutorials about work I've done, I was more than excited to help others who are in the process of starting their own shirt line.  Turns out there was too much to say in just one article, so I've split it into a three part series titled "Starting a Shirt Line."
PART I – Start – Up
PART II – The creation of your art and working with a printer
PART III – Business
Let's boogie!
So you're a great illustrator, designer and master of artistic mayhem. You rule the design world and celebrities are begging for your next shirt design, right?  This is your dream, everyone loves your dream, right?  Well, let's figure out how to make your dream a reality, make the celebrities beg for your next piece, and of course, make you a big 'ol wad of cash at the end of the day.
In the Spring of 2009 I was asking myself the questions "How do I start a shirt line?" and "Where do I begin?".  In this article I will share 3 points that will help you get started:  Creating your idea, Research, and Who is Interested?
CREATING YOUR IDEA
Simply put, what do you like?  Skulls, ponies, vampire movies? The answer to this question will be the factor that separates you from the competition. Not necessarily that you draw the best looking ponies with brass knuckles, but originality.  What other questions should you ask yourself?
How about: do you design in Photoshop? Are you a vector wizard in Illustrator? Do you hand draw your art?
What about subject matter?  Do you dive into pentagrams, do you draw tattoo esq illustrations, or something else?  After you answer these few questions you're on the move.
Here is one of my shirt illustrations.  This is one of the first drawings in a sketchbook solely dedicated to my shirt line.  I had to ask myself what I like, because after doing work for clients and their content I needed to think about me and what I would like to see on a shirt.  For me it's art nouveau line art. I love following tattoo artists and seeing what they create. I also love to draw the human figure. Remember, keep it simple and have fun!  I'll thoroughly dissect the drawing in PART II, but for now here is the "The Octolady." The first image is the sketch, and the second is the final piece.
I didn't overwhelm myself with "questions of worry" such as "What will people think" or "Is it good enough?".  I approached this piece, as I do with all my work, with the more strategic question "How do I set my work apart from the competition?"  My answers have been "It's original and I'm not trying to copy or follow any specific style or look."
I have also educated myself with print locations on a shirt (covered in PART II).  I shopped developed ideas from my sketchbook around to friends and clothing stores to get some feedback as well.  This might seem like overkill, but the results of such effort lead into the next point, RESEARCH.
RESEARCH
Research is a large part before starting a successful line.  Let's be honest people. You have to know how to get your target audience to buy your shirts. Let's start looking at successful brands out there: AFFLICTION, TAPOUT, ECKO, SILVER STAR, SULLEN, TO DIE FOR, and the list goes on.
Find out the success stories of these brands and where it all started for them.  I found out I wasn't that much different; I'm just a dude with some creative ideas that wants to provide a good product.
Start researching the market of a successful apparel brand. For example, TAPOUT struck gold with the rising sport of MMA.  The point is, TAPOUT knows it's target market, they're not trying to hit every person from the soccer mom to the war vet.  Likewise, you need to find out how and where to sell.  Would you sell on-line and/or in stores?
Grab a computer and obliterate Google with your questions, it's free!  Some great sites I use are T- Shirt Forums and I am the trend. These are great resources where I probably learned 50% of my information just by reading what people were asking.  They cover business, printing, start-up costs and everything in between.
HOMEWORK: Take 15 minutes everyday for 2 weeks and research these sites, find other sites and follow the successful brands on Facebook and Twitter. You'll take yourself to school and not have to pay a dime. It's worth the investment.
Ok, we covered who to research (TAPOUT, Silver Star, etc.) and where to research (Google, Blogs, etc). What else? Oh yeah, business research.  I'll detail more in the PART III, but for now, here are some points.
Take into consideration that everybody has different backgrounds. Personally I needed to learn and keep learning about running a business.  Start with SCORE.org. This is a nationwide company that offers FREE advice, FREE counseling, FREE paperwork and FREE information.  Familiarize yourself with becoming a business person.  YES YOU THE GENIUS ARTIST; find out the paper work you need and what it will take to run a well structured shirt business.  I spent the winter months of 2009-2010 devouring the info on the SCORE website and about 50 more websites. I feel a hell of a lot more educated after all this legwork.
My overall point with research is that it doesn't cost you any money before you have to spend money.  When you know what, where, and how much money to spend you will have an educated decision that will only help you in the long run.  Let's keep moving.
WHO IS INTERESTED?
I figured everyone would like my work and want to buy my product.  Then I got a reality check. After friends and family buy, who else is interested?  A good rule of thumb is knowing your target market, who is going to be most interested, and who are you going to attract to buy your awesome shirts.
To find my answer I showed my developed sketchbook work and final designs to tattoo artists, boutique stores (not baby clothing stores but higher end fashion), skate and snow stores, other artists in film, gaming and comics.   Do you see the pattern? These groups are my target audience.  These specific people I know will be attracted to my work and say "Hell yes I'll buy one!" (That is an actual quote.)  It's not necessarily ages 14 -25 but a group of people who appreciate my style. I can shop my work around to many places and people and not handcuff myself with a certain age group.  The funniest thing to this day is I have moms buying Establish the Frontline shirts for their sons without hesitation. WHAT!?  That was another surprise niche.
Lastly, here's the truth: not everyone will like your work, not everyone will buy your shirts.  Start developing tough skin. You're a salesperson now and you are going to meet thousands of people with mixed reactions.  Be excited when someone buys and don't be a poor sport or unprofessional when someone doesn't; it's business, not personal.
WRAP UP
To recap the START-UP article we covered:
CREATING YOUR IDEA – originality, what do you like and how will you set yourself apart from the competition.
RESEARCH –  researching successful brands, blogs and t-shirts forums, score.org on how to run a shirt business.
WHO IS INTERESTED? – find your niche market,  know who to sell to and who will buy.
I hope this article helps you get started and answers some of your questions.  The night before I finished writing this article I was thinking about my past year and half and what has helped me get to where I'm at.  Rome wasn't built in a day.  Everything takes time, everything is still taking time.  Be patient, strive for quality not quantity.  Being patient is frustrating. Personally I want results immediately, even though I realize the less I rush the better the outcome will be.
Next up is the fun part, "The creation of your art and working with a printer", I can hardly wait!
READ PART 2 HERE!
BIO: The work of Steve Knerem features bold line art and digital paint used to portray imaginative creatures, the human figure and ornate objects.  Steve's work is most notably used for apparel and editorial art that combine a realistic and decorative style.
This interview was initially published in the Go Media Forum but we decided it was relevant to all our GoMediaZine readers as well.
Ray Frenden the Artist. I think it's necessary to put this all in context with a brief overview of the insane force of nature that is your work. What is it that you do, how did you carve out a name for yourself, and what are you currently up to?
The usual spiel I trot out for these sorts of occasions is that I'm a self-taught illustrator with a penchant for monsters and the macabre who draws things for money and likes to write. I was weaned on old horror comics, pulp fiction, and sci-fi. I'm a bit of an anachronistic fella. I'm not big on current pop culture and I've always felt a bit out of place and disjointed from it. That separation started as a default state when I was a kid and became a conscious choice as an adult when I moved to rural Illinois after having grown up in Chicago proper. I like seclusion and am most creative when I'm alone and distractions are at a minimum.
Outside of your work, what do you like to do, what causes are you interested in, and what do you think defines you as a person? Basically just, who is Ray Frenden?
I spend the majority of my free time working with animals. My wife operates a trap, neuter, return service for feral cats – we catch cats and get them fixed and put them back in their natural environment. She runs a cat shelter too. More info on that, if you're curious about cat overpopulation and the difference between a feral and a house cat, can be found at my wife's site, http://cattaxi.org.
Our rural shelter developed a relationship with several city shelters. They get a lot of farm animals that either are gotten as pets and abandoned or escape from live markets and are caught stray in Chicago. They have neither the capacity or resources for farm animals in the city so my wife and I snag them. Whatever we can't place on local farms ends up being an addition to our motley crew of misfit animals.
I've currently got a couple dozen chickens (reformed fighting birds and rescued laying hens), five ducks, four dogs, a gaggle of barn cats too feral to be placed into homes, fourteen house cats, three sheep, a piglet (and not some pot belly pig, a real pig that'll weigh a veritable ton eventually), and a horse.
Our latest addition, the aforementioned piglet, fell off a hog truck on a busy interstate. The little fella is barely four pounds and is covered with road rash. We've got him on piglet milk replacer and he's living in my home office. The animals make for a lot of responsibility, but I dare say they're a more rewarding part of my life than commercial illustration. If rescuing made money (rather than sucked it out of my pocket), I'd devote myself to it full time.
Current art. What currently holds your interest? What techniques are you enjoying using? What subject matter really gets your gears turning?
Inspiration-wise, I just got back from a trip to D.C. The National Gallery had an exhibit featuring the masterworks of German artists. Lots of great charcoal, wash, and ink drawings. Those fellas really appreciated preliminary work. Seeing those studies reminded me that the drawings which are important are the twenty you cut your teeth on. It's hours spent gesture drawing and drawing from life that most will never see that separate the good from the great. I'm still learning that myself. I get impatient and want to rush ahead and forego the preliminary work. Whenever I spend the time to do studies, make a maquette or take photo reference, and really plan a drawing, things go smoother. I'm continually inspired by illustrators from the golden age of illustration such as Noel Sickles, Milton Caniff, Mort Drucker, Johnny Craig (perhaps my first exposure to the sort of work I do and easily my first inspiration and biggest early influence), Alfredo Alcala, Pete Hawley, N.C. Wyeth, Howard Pyle, and Frank Frazetta. Everyone loves Frank's paintings, and rightfully so, but it's his brush and ink work that floors me. Most of these guys can be seen on the inimitable Leif Peng's Flickr account here if curious: http://www.flickr.com/photos/leifpeng/
Materially, I've been mixing up my usual Rosemary and Co. sable brush and ink work with some Japanese manga nibs from JetPens. Using the techniques in the Famous Artists Course, I've used transparent layout paper as one puts separate elements of a piece on different layers in Photoshop. If you sketch the primary elements on a transparent paper, you can arrange them for the most pleasing composition, scan them or tape them together, and print them or transfer them onto your final substrate for inking. I've been doing my spot colors this way and will have a 100% traditional process soon aside from the scanning and bundling of the file for clients. It's not too dissimilar to what the proto-illustrators of yore did to prepare "camera ready" artwork.
My work has been moving to a more realist, painterly style for some time. I've been practicing that style digitally as I've not got the ideal setup in my home office for busting out oil paintings. I'm hoping to change that and start working with real paints soon. In the meantime, I practice mass drawings and am interested in seeing where mass drawings and lineart intersect. I've done some experimentation marrying the two to varying degrees of success.
I want to be trying new things constantly. I get bored easily. If I'm bored, I create boring work. I'm not worried about confusing art directors by displaying a myriad of styles. That may be a good rule of thumb for most situations, but I can't adhere to it. It's not in me to be comfortable with, and willing to stay true to, one style.
You are the go-to guy when it comes to questions about Art Programs. Any suggestions for budding artists as to how they should approach the topic? Personally, I feel like it's better to develop the skills on paper and then find a program that helps you to more easily convey your own personal style. I know that you really explored your art mainly through the tip of a Stylus early on though. What are your thoughts on the matter?
This is tricky. I've seen both sides. I drew a bit as a kid traditionally, but I really learned most of what I know on a tablet. If you watch some of my old tutorial videos, you'll hear me wax poetic about my love of digital art.
I started to hit a few semi-local art meet-ups hosted by my friend Charlie Athanas featuring the likes of traditional heavy weights like Dave Dorman. I asked questions about traditional art supplies and the same curiosity that urged me to learn more about digital art kicked in. I didn't even know what the gradations of pencils meant. Asking Dave Dorman what a 4B pencil is is sort of like asking Lance Armstrong what a pedal is. To he and Charlie's credit, they fielded some pretty obvious questions and never made me feel stupid for asking. Dave recommend I read George Bridgman and Charlie really helped me on the art supply side of things. About that same time, I started a dialog with Coop of all people about traditional inking. Those guys are passionate about their methods and that sort of thing rubs off. I was hooked.
I learned that a five dollar synthetic brush and a two dollar bottle of ink was more accurate than my $5400 worth of MacPro and $2000 Cintiq. (http://frenden.com/buyers-remorse/) I was making prettier lines traditionally in a week. I felt good about my progress when Michael Cho (a fantastic illustrator and kindred spirit when it comes to all things linework) told me that most guys take years to get that level of traditional control. I was flattered. The digital practice carried over towards traditional skills. That's my only explanation. Muscle memory is muscle memory. A stroke is a stroke, be it via stylus or brush.
I cut my teeth on digital. I see its uses. I still employ it here and there. It's fast. But I'm pretty sold on traditional art. More accuracy, more life in the lines. They're both tools. Learn both. Each has strengths.
You're releasing some brush settings, which is very cool of you. Do you have any reservations about this at all? I remember when you first released your Manga brushes on Emptees and about 9 million people started aping you. I've met lots of artists who are very insecure about releasing their process and techniques. How do you feel about it?
I had a very open policy about that sort of thing. Before I became a full time commercial illustrator, I toyed with the idea of releasing all my works into the public domain. I'm a reluctant capitalist at best.
I offered a lot of tutorial videos and brush settings and developed a bit of renown (insofar as an illustrator can – we're talking about a pretty small niche of interest here). I was surprised at how closely some of the derived works were to my own.
I need to be in a constant state of evolving and it's petty to be threatened by those who want to learn from you. If they catch up to you, so what? Great, I say. Being scared of that is like admitting you have no more room for personal growth. I'm no advocate for finding a style and sticking to it come hell or high water. That sounds like a boring existence to court.
I'm self taught (http://frenden.com/hindsight-is-2010/). If it weren't for other artists sharing their trade, I'd be nowhere. My favorite sources of instruction are Harold Speed, Bridgman, Hogarth, Vilppu, Loomis, Will Eisner, Preston Blair, James Gurney, and, grouped together, the Famous Artists Illustration and Cartoon Course crews. With their examples of spreading vast wealths of knowledge, I'd feel pretty small for not spreading what little I do have. There's a tradition of shared knowledge that is bigger than any commercial concern or personal insecurity that one might have.
Ray Frenden the Future. What's on the horizon for you as far as work and plans? What are your future aspirations and goals? I've heard you have a large interest in designing for 2d gaming, can you tell us a little about that?
I originally got my Wacom to make pixel art. I worked in the games industry making 2D, sprite based art and UIs for a casino games company for about a year, you can see some of the work on sites like https://www.bestuscasinos.org/legal/delaware/ who feature a lot of it . I still love games and enjoy thinking up game systems be they for video games, collectible card games, or even board games. My two areas of intense interest have almost always been comic books and video games. Comics were more of my focus as a kid and games more so as an adult.
I want to move away from making art for other people and start working on my own ideas in both those areas. I hope I can do that.
Any final thoughts, tips and suggestions for aspiring artists, or general tomfoolery?
I got asked this on Formspring the other day. I'm regurgitating part of that answer here because I think it encapsulated my feelings on the topic in a more pointed way than I'm typically able.
As far as getting into the market is concerned, be patient, work hard. Put your work in everyone's face and be an aggressive advocate for yourself. Be your harshest critic but also your biggest fan. Otherwise your insecurity will eat you for lunch. You owe it to your potential to not beat yourself up and stifle your growth.
Style wise, try not to think about it. If you're drawing all the time, that will come naturally. You will make the marks that feel right to you. The ones your muscle memory has absorbed and saved and cataloged are the ones that add up to a style.
If you want to spread across the tubes and get attention, being memeful helps. Make images that are loaded in advance to appeal to one demographic or another. If you make art about video game characters, video game blogs might talk about it, etc. It's a cynical stab at self marketing at its worst, but a genuine expression of interest in a given topic at its best. I see peers having great success with jumping on the story of the moment and making art to match.
"I'M WITH COCO." That image was everywhere a few months ago.
More importantly than anything else mentioned above: do what you love. It shows in the work. That will get you more attention, more deserved attention, in the long run. We live in a plastic world that places a high value on moments of fleeting authenticity. Being yourself is the best way to stand above the pack. Knowing who you are in the first place is the hard part.
Ray Frenden the Contact. I just wanted to say thanks for taking the time to answer questions, and for helping out on this particular project.
Flickr: http://flickr.com/photos/rayfrenden
Twitter: http://twitter.com/frenden
Website: http://frenden.com
Forum/pals: http://styl.us
Not many Adobe Illustrators are aware of the plug-in functionality of Adobe Illustrator. I don't believe it's promoted very well. There's not a good one-stop shop to find plug-ins in one place, with reviews and user feedback. And it's a shame, because there are many killer plug-ins out there for Illustrator.
Today I want to introduce you to a plugin that in some ways goes beyond my notion of a plug-in, since it adds so many features that you wouldn't ever expect to be able to do within Adobe Illustrator: Phantasm CS.
Developed by Astute Graphics, Phantasm CS can best be summed up by saying it offers Photoshop-esque functionality to Illustrator. Want to apply Levels? Check. Need to access the Curves? Got it. Need to adjust Hue/Saturation? Bingo.
Phantasm CS is available for both Mac and Windows running Adobe Illustrator CS2, CS3, CS4 or CS5, and offers the user an insane array of extremely well-implemented features that you may have since long given up on having within Illustrator. To be honest, I haven't used Phantasm CS very much because my mind says "you can't do that in Illustrator". With Phantasm CS, you can.
The main feature set that is available across all three versions includes the following:
Brightness/Contrast
Curves
Desaturate
Duotone (including monotone, tritone and quadtone)
Halftone (vector)
Hue/Saturation/Lightness
Colorize mode
Invert
Levels
Shift to Color
Swap Channels
Temperature/Tint
Applying any of these is easy enough: select the art you want to tweak, then head to the Effects menu and then to the Phantasm CS sub-menu. From there you select the effect and a dialog box comes up, with the option for basic or advanced settings.
Convert your art to grayscale, whip up a color vector halftone (seriously!), convert your colors to a duotone, adjust levels, curves, brightness/contrast — everything you think you need to do in Photoshop is now at your fingetips in Illustrator and remains editable vector art. It's freaking cool.
And the effects don't stop at vector art, you can also edit and tweak embedded images if you spring for the Studio or Publisher version upgrades.
If you are a seasoned Illustrator user, trust me you will have a tough time getting used to the fact that you can do all of this right within Illustrator. As I mentioned above, your brain will tell you "can't do that" and you will need to re-learn that you now have the capability. That's probably the biggest learning curve for Phantasm CS.
Phantasm CS has a trial version which gives you basic Brightness/Contrast control as either a Filter or Live Effect. This trial version does not expire and any Brightness/Contrast Live Effects saved with your file remain completely editable in both the trial and full version.
Astute Graphics has an extensive features page on their site so you can learn in-depth about everything Phantasm CS has to offer. Pricing starts at just £49.00 (approximately $75/€58) and for what you get, this seems more than reasonable.
I highly recommend you head over to the site, download the trial and give it a whirl. I don't think you'll be disappointed.
Hey I'm Jeff Finley and I'm going to show you how to make an iconic poster using the new Vector Set 18 from Go Media's Arsenal. I sent out an email to all our Arsenal customers and the two things they wanted most were more tutorials and to show real-world usage of our products. What you are about to read and watch is exactly that!
Note: If you want to follow along with this tutorial, you will need to purchase the new set. However, if you don't, you can still get something out of watching me work in Illustrator and Photoshop as the concepts I show you are broad and you can still learn from them.
What you will learn:
Below is the 30 minute video tutorial of the creation of this poster. I walk you through everything from setting up your Illustrator document, creating pattern swatches from our Propaganda Patterns pack, using vectors as background elements, choosing an iconic centerpiece, simple and classy typography, and retro/vintage effects. This tutorial is for beginners and experts alike.
Video Tutorial: Create an iconic poster in less than 30 minutes
Written Tutorial
For those of you that prefer to take your time and go step by step, I have created a simple 10 step tutorial for you. Let's get started.
Step 1: Set up your Illustrator document
Open Adobe Illustrator (I'm using version CS5, but pretty much any version of CS or greater will suffice. Go to File>New and setup you new document. For this tutorial I created a standard 11×17 poster size. You can use CMYK or RGB color mode, it doesn't really matter. If you're printing it at Kinkos, use CMYK. If you want to get it screen printed, you probably want to use unique pantone colors.
Step 2: Purchase and Download Vector Set 18
If you haven't already, take a minute and purchase and download Vector Set 18 from Go Media's Arsenal. You can skip this step if you already have some vector images you want to use or will create your own from scratch. Remember, this tutorial is meant to show how the Arsenal vectors can be used in a professional poster design and get results rather quickly.
The benefit of using our premade vector elements from the Arsenal is that it saves you time and can help you achieve pro results. You can create an entire design with them or use them as accents or embellishments to your own design. For me, as someone who takes pride in creating my own illustrations, I use Arsenal stuff if it helps me get my point across or solves a design problem.
Step 3: Create the Background Pattern
Open up the Propaganda Patterns vector pack that you downloaded from Set 18. After you're done oohing and ahhing at the really cool patterns, choose the one in the upper left hand corner and press Ctrl+C to copy it to your clipboard.


Next go back to your original poster document and press Ctrl+V to paste it. You might have to enlarge it just a tad. Next, drag the pattern into your swatch panel to create a new pattern fill.
Create a new box that's exactly the same size as your artboard. Should be 11×17. Give it a cream color like #EFEACE. Then copy and paste in front (Ctrl+F). Now with that still selected, click on your new pattern fill swatch. This will apply the repeating pattern to your entire shape! If for some reason it doesn't work, you might have applied it to the stroke instead of the fill color.
Step 4: Find an Iconic Centerpiece
Open up the Mythology Vector Pack from Set 18 and choose one that you think looks like an iconic centerpiece. I chose the seahorse because I think it's got a moody look that's perfect for a vintage poster design. Pick one, then copy and paste it into your poster document.
Place the seahorse (or whatever image you chose) into the upper part of the poster and resize it to fit. With the object still selected, use your align toolbar to center it horizontally (make sure align to artboard is checked). Give it a nice dark brown color like #2B1F10. I wouldn't suggest using 100% black here because the idea is to keep the colors in good harmony with each other and the dark brown adds a little richness and cohesiveness with the background.
Step 5: Create the Type Lockup
This part can best be described by using some typographic principles that I've learned over the years. First of all, choose a typeface for your headline. In this tutorial I chose Knockout FullFlyweight by HF&J. I could have chose ANY typeface, but I was going for iconic, clean, simple, minimalist, bold, and classy. Give all your text the same brown color as your iconic centerpiece.
One cool trick to make your headline standout (and help with creating type lockups) is to "bar off" your type. This simply means adding horizontal bars on the top and bottom of your type. The thickness should be somewhat similar to the thickness of your type.
Next, choose an accent font. For this tutorial I chose Mercury Small Caps. I used this for my "Go Media's Arsenal" text. Another good one could have Hellenic Wide.
And lastly, choose a third typeface – one that's a good contrast from your headline. If your headline is thin, try going for a normal or extended typeface. Gotham Bold is always a safe choice.
If you'd like, here are some helpful links on pairing typefaces.
Step 6: Accent your Centerpiece
The poster is looking good already. Good typography goes a long way. You don't always have to add more to make it look cool, remember that. However, I want to make the poster a little more visually interesting as well as get an additional color in there. Remember the message and meaning of your design before you go adding in vector elements willy nilly. If you don't have a good reason for adding it, you probably shouldn't. Less is usually better. However, in this poster, it's job is to show off some of the versatility of the new Vector Set and it wouldn't be doing its job by only showing off two of the seven packs.
So my challenge is to feature more of our packs in this poster without cluttering things up. For this purpose I went to the trusty "Infographix" vector pack. The charts, bars, graphs, lines and circles are GREAT for abstract backgrounds or accent pieces. Open it up and choose one that you feel fits best. In my case, I chose the one on the lower left. It would look fantastic behind my seahorse.
After you choose, center it in your poster right behind the seahorse. Give it a dark orange color like #876527. Looking good.
Step 7: Add a Pop of Color
I want to add a "pop" of color to complete my visual centerpiece. In this case I wanted to create some very simple wings behind the seahorse. I colored them a muted pink that I would tell a screen printer to print with a metallic ink. Or it would be cool to get a deep impression from a letterpress on that infographic element in the background. But that's a different discussion.
I used the pen tool to create my own custom wings. These are easy to create, so if you're a beginner it might be fun to try your hand at this. Watch the video above to see how I did it.
Step 8: Create a unique edge and a border
To make this poster more unique, I created a unique edge at the bottom. Honestly I can't think of a reason why I did this other than it just makes the poster a little different. Using the pen tool, create an organic and smooth shape and color it white.
And finally, let's add a border to the poster to complete the look. Just create a box exactly the same size as your background (11×17). Give it a 20pt stroke aligned to the inside and NO fill.
Once you've done that, save out your image! File>Export – export as a JPG at 300 DPI. RGB color is fine for this. You can call yourself done at this point, but I want to show you a few more tricks.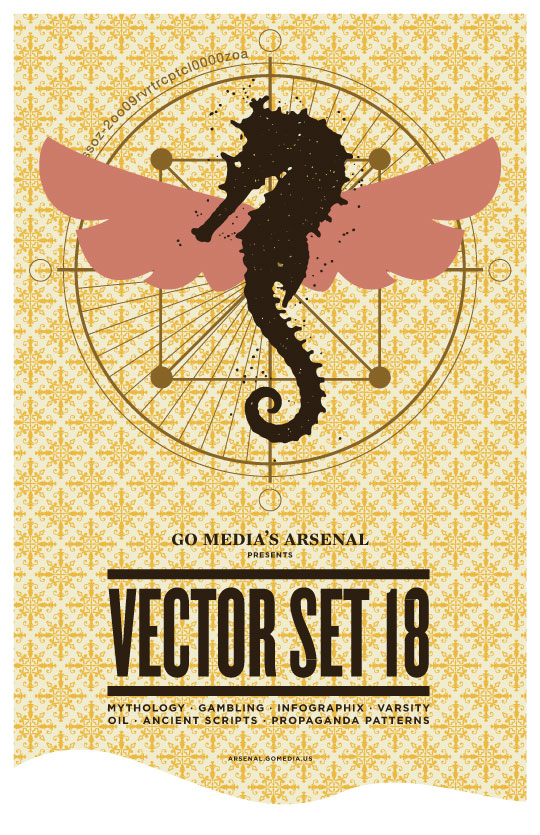 Step 9: Add vintage/retro effects in Photoshop
Open up your newly saved image in Photoshop. First we're going to add an overall grain to the image using some photographic textures. I'm using a scan of an old magazine ad, but there are plenty of good ones online.
Put this on top of your image and set the blending mode to "screen" so you make the dark parts transparent. See my video tutorial at the top of this post to see this effect in more detail.
And finally, add some dust and dirt. You can set the blending modes of these to "multiply" to make the light parts transparent.
Here's your final image!
Step 10: Mock it Up!
To help really put this poster into context, why not mock it up like a real poster? We sell some really cool Poster Mockup Templates made for showing a "real-world" context of your images. Of course, nothing beats an actual photograph of your printed design, but this is the next best thing!
Go ahead and copy and paste your image into the "your art" layer of this template and the white color layer is the only color visible. And since the poster has a white border, you might want to unlock the background group and fill the background layer with a grey color.
You'll have to scale, distort, and possibly warp your image using the Free Transform controls (Ctrl+T) to help position your poster correctly for best results. The end result here is that it looks as realistic as possible. Is this a photograph of the printed poster? Who knows!?
You're Done!
You now should have a firm grasp on how to create a professional and iconic poster design using mostly elements from Vector Set 18. And hopefully you were inspired to create your own posters using other vectors or your own original illustrations. In fact, I'd love to see them!
In case you missed it, or want to review, consider watching the video:
Show off your results
We recently launched the Arsenal Facebook Page where we want you to post your images you've created using Arsenal vectors, textures, fonts, etc. I want to see how YOU'VE used our products in the real world. It's not often I see the work our customers create, so take this as a call to action to share it with us on our Facebook page.
For more exposure, you can post your image in the User Showcase and comment on this tutorial below and link us to it!
In this tutorial you will learn how to create a glossy TV style RSS feed icon using the basic Photoshop functions like, Layer Styles, Layer Masks and Filters.
Take a look at the image we will be creating in this tutorial.
Step 1
Create a new document with 500px by 378px canvas. Set the background color to white. Create new layer, name it 'frame'. Then select the rounded rectangle tool (U) from the toolbar and draw a 240px by 193px rectangle with 5px radius. Fill it with light grey (#dbdfe3).

Step 2
Select the 'frame' layer. Then go to Layer > Layer Style > Gradient Overlay. Now apply the following layer styles.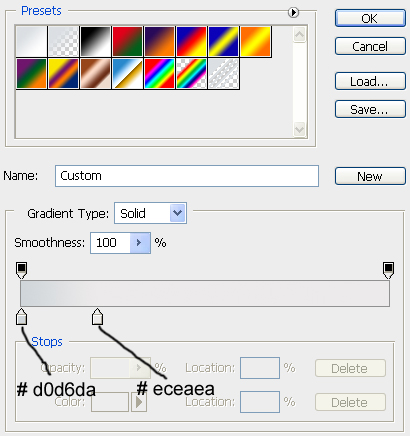 After applying the layer styles it should be look like this.
Step 3
Copy the 'frame' layer (ctrl+J). Name it 'gradient'. Then, go to Layer > Layer Styles > Gradient Overlay. Apply the following layer styles.
Click 'Add Layer Mask' at the bottom of the layers palette. Then select the gradient tool (G). Select black to white and draw a down to up gradient on the frame.
Now it should look like this.
Step 4
We have to give the frame a 3d look. So, copy the 'frame' layer, name it 'frame_back' and place it under the 'frame' layer. Now press the up arrow key three times.
Go to Layer > Layer Style > Inner Shadow. Give it the following layer styles.
After that, it should look like this.
Step 5
Let's add the screen. Create a new layer, name it 'screen'. Select the rectangular marquee tool (M) from the toolbar and draw a rectangle with 219px by 152px. Fill it with dark orange (#e9691c). Place it on the frame as in the image below.
Then, Select the 'screen' layer and go to Layer > Layer Style > Inner Shadow. Apply the following layer styles.
Gradient Overlay
Stroke
Now it should look like this.
Step 6
To make it stylish, add a glow in the screen. Create a new layer, name it 'glow'. Select the elliptical marquee tool (M) from the toolbar and draw a 127px by 127px circle. Fill it with light yellow (#fccd28).
Now go to Filter > Blur > Gaussian Blur. Set the radius to 38 pixels.
Now Control+click on the 'screen' layer thumbnail and click 'Add layer Mask' at the bottom of the layers palette.
Step 7
Now we have to add the RSS symbol. Create a new layer, name it 'symbol'. Select the elliptical marquee tool from the toolbar. Draw a 24px by 24px circle. Fill it with white.
Now go to Layer > Layer Style > Drop shadow. Apply the following layer styles.
Gradient Overlay
Stroke
Step 8
We don't have to draw the elliptical lines with pen tool, there's an another process. Create a new layer, name it 's1'. Select the elliptical marquee tool. Draw a circle of 159px by 159px.
Fill it with a white.
Now right-click on the circle. And select 'Transform Selection'.
Now make it smaller.
Now press ENTER. Then press DELETE.
Select the rectangular marquee tool. Select the half of the circle and press delete.
Delete the lower half in the same process.
Now deselect the selection and go to Layer > Layer Style > Drop Shadow and apply the following layer styles.
Gradient Overlay
Stroke
Create another line in the same process and apply the same layer styles. Then it will look like this.
Step 9
Let's give a reflection to the screen to make it glossy. Create a new layer, name it 'reflection' and select the pen tool and make a shape like this.
Fill it with white. Mask it with the 'screen' layer.
After that, reduce its opacity to 7%
Step 10
Now add a button on the frame. Create a new layer name it 'button'. Select the elliptical marquee tool and draw a 13px by 13px circle. Fill it with white.
Now add the following layer styles.
Stroke
Step 11
Now we have to draw the support. Create a new layer, name it support. Select the rectangular marquee tool and draw a rectangle of 68px by 44px. Fill it with light black.
Now apply the following layer styles.
Step 12
Create a new layer, name it 'floor' and select the rounded rectangle tool and draw a shape with 3px radius.
Then press Control+T, select skew and make it like this.
Fill it with white. And apply the following layer styles.
Stroke
Now create a new layer and select the rounded rectangle tool and draw a shape with 5px radius. Fill it with black.
Then delete the upper half of the shape. Place it under the 'floor' layer.
After that, apply the following layer styles.
Gradient Overlay
Now it should look like this.
Step 13
The last step is adding the shadow. Create a new layer, name it 'shadow'. Select the elliptical marquee tool and draw a shape like this. Fill it with black.
Then go to Filter > Blur > Gaussian Blur. Set it to 30.8 pixels. Set the opacity to 70%.
Then decrease the height of this layer (Ctrl + T) to reduce its height.
This is the final image.
Download the PSD of the files used in this tutorial: [download id="64″].
A quick round up of some interesting new and updated Mac utilities of interest to creative types.
Photoshop Automator Actions 5.0 (free/$19.95)
A package of Actions that lets you control many of Photoshop's most common functions from within Mac OS X's Automator, letting you add Photoshop functionality to your Automator workflows. If you find them useful, please consider donating at the developer's website.
From the developer's website:
Why would I use Automator instead of Photoshop's own actions?

While Photoshop's Actions palette provides a simple way to record and playback complex actions, it's functions are limited to only things you can do in Photoshop. Since Automator workflows can span multiple applications, you can easily automate entire photo and graphics production pipelines. For example, you can can use Automator and the Photoshop Automator Actions collection to batch process the manipulation of your images and then automatically upload the results to a server, archive them to a CD or DVD, build and print contact sheets – and all with a single button press.

The Photoshop Automator Actions collection also provides sophisticated logical actions, which allow you to filter your images based on many EXIF and IPTC tags, color mode, size, orientation, and more. So, you can build build workflows that only perform edits on images that match specific criteria. For example, you could build a workflow that processes CMYK images one way, but performs different actions on RGB images.

Finally, while Adobe Bridge provides a simple interface for launching batch processes, it limits you to only operating on the files within a single folder. Automator has no such limitations, so you can process images from multiple folders, or even images located through a Spotlight search. And, with Automator, you have many more ways to launch a batch process. You can save your workflows as applications, turn them into Folder Actions, trigger them from iCal, or save them as OS X Services.

What's new in version 5?

Version 5 brings compatibility with Photoshop CS5, as well as the final release of the CS4 actions. As always, there have been lots of bug fixes along the way including file naming, and image resizing – two problems that were introduced with the CS4 beta. Some actions have seen the addition of new parameters, and the v5 package ships with three new actions.

The new Diptych and Triptych actions automate the process of creating two-up, and three-up layouts. With full control over margins and spacing, diptych and triptych creation has never been easier.

The new Contact Sheet action replicates most of the functionality of the Contact Sheet script that is available as an optional install from Adobe. Of course, the advantage of having such power within Automator is that you can now automate the production of your contact sheets. Contact Sheet produces a PSD (either flat or layered) and gives you the option of displaying up to two lines of metadata beneath each thumbnail.

Free or Paid?

There are now two different Photoshop Automator Action bundles, the free bundle which includes 41 actions covering all of your day-to-day automation needs, and a $20 Pro bundle that packs 95 actions, delivering an incredible amount of high-end automation power. These two packages are available for Photoshop CS4 and CS5.

In addition to the actions, the package includes an assortment of sample workflows. The 73-page manual gives you a reference for all of the included actions, as well as an introduction to using Automator, and strategies for building Photoshop workflows.
Antetype Color Picker v1.01b (free)
An addition to the Apple System Color Picker and provides HSB, RGB and Hex support at the same time. It also allows visual picking of colors based on the HSB color system.
From the developer's site:
We decided that the standard Mac OS X color pickers are not sufficient for us. Fortunately Apple provides the possibility to extend the system with custom color pickers and that's exactly what we have done.

When working with colors in a creative way, the HSB color system is often a much better choice than RGB, since it is modeled after human perception of color rather than technical representation. However, in implementation, RGB or Hex values are usually needed and while switching between different color pickers works it is quite a hassle. So we created a color picker that shows and allows editing of those color systems and representations within one view. Combined with a well-proven visual way of picking a color based on HSB our color picker brings much-needed ease-of-use to the Apple system color picker.
Poster for Illustrator (free)
Makes it easy to convert any Illustrator file (.ai, .eps or .pdf) to Illustrator (.ai), EPS or PDF format. Just drag and drop files on the app's icon, select the desired format and it will convert for you. Note: version of final file is the same of version of Adobe Illustrator that you use.
I can't think of a use for this personally, but it's probably one of those utilities that at some point you'll be glad you know exists. One user on MacUpdate reported that the app helped in a situation where an EPS file kept crashing Illustrator CS3, and using Poster to convert to .ai fixed things up. The name of the app also confuses me, as this has nothing to do with posters…
— via MacUpdate