Articles by Month:
May 2013
In this episode, we talk about the myths of owning your own design firm and we also sit down with WMC Fest speakers Jen and Omar from These Are Things. This was also the first "live" episode of the podcast.
A little bit of history Hello all! We started releasing our photorealistic mockup templates in August 2008. Since then, we have continuously worked on releasing more of them, but also at making them better. That self improvement process brought us to…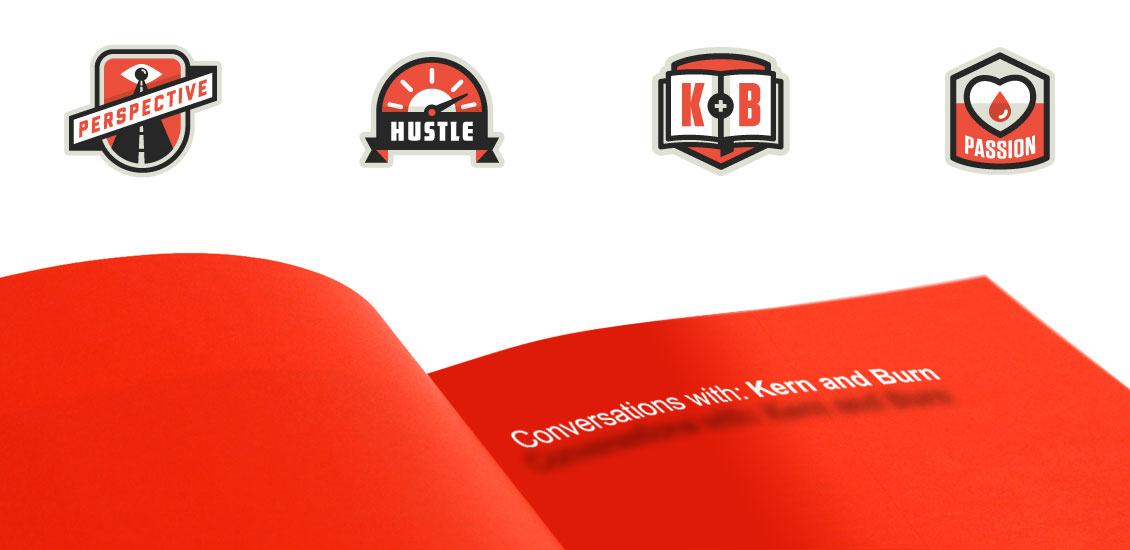 We're big fans of Jessica Karle Heltzel and Tim Hoover here at Go Media. Designers, writers and publishers, we are super honored to have Jess and Tim on our list of WMC 2013 Speakers this year.
We recently had a chance to chat with Jess and Tim about their recent success with Kern and Burn, a recently released online and print publication that curates discussions, interviews, and essays about design entrepreneurship.
Kern and Burn: Conversations With Design Entrepreneurs is a beautiful two-color book that features candid conversations with 30 leading designers who have founded startups, channeled personal passions into self-made careers and taken risks to do what they love. In this book they share their failures, successes, and perspectives. Kern and Burn's hope is that you, the reader, can learn from them — not to follow in their footsteps, but to chart your own course in parallel, one that allows you to thrive, add value to the world and love what you do. Dedicating the book to "those who kern, those who burn and those who embrace the risk of failure daily," their book is available online now on KernandBurn.com.
We are huge fans of designers, illustrators and fellow Ohioans Jen and Omar from These Are Things! Recent podcast guests and speakers for this year's Weapons of Mass Creation Fest 2013, we just cannot get enough of their inspiring story, enthusiasm and heart. We asked them to answer some questions about their very favorite things, to tide us over until we are reunited again. Enjoy!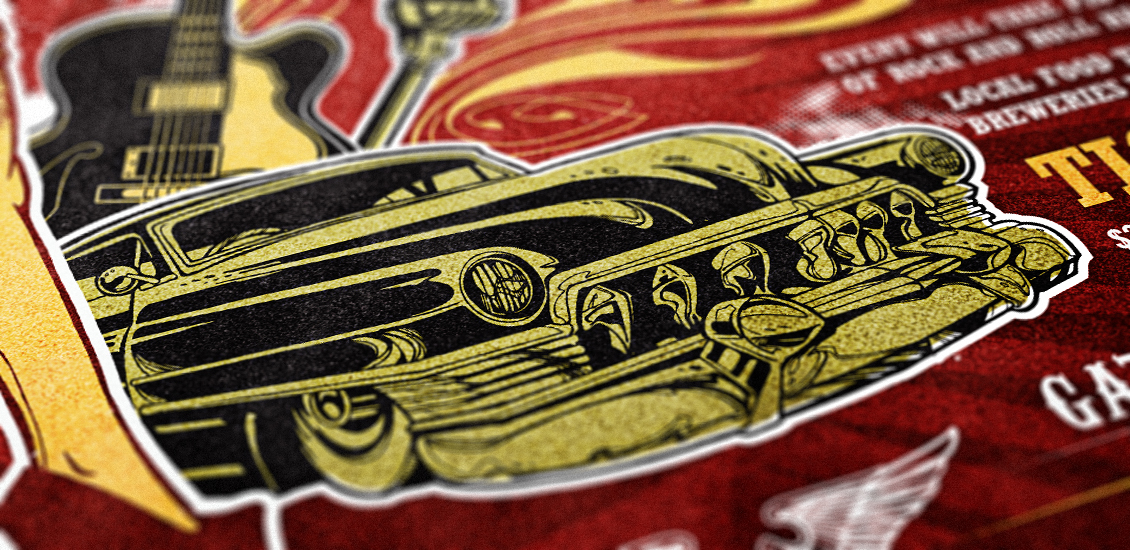 The very talented Steve Knerem is the guest artist behind a majority of the content of our vector set 22. In this tutorial, he shows us how to assemble a rad rockabilly poster using various elements of the set, a bit like what Jeff did for us when we released Set 18.
All is quiet here at Go Media – heads down, noses to the grindstone!
We'll start with the bad…well, bittersweet news. Our Community Manager, Marissa Mele, has bid us adieu. Our hearts broke as we watched Marissa leave Go Media for the very last time, but we must admit that we're happy too (read: jealous) – as Marissa is off for warmer weather! At least one of us gets to escape the Cleveland winters. We'll miss you Marissa!
While we lost one we gained two.
Joining our staff are Simon Birky-Hartmann, new Arsenal Product Manager, and Heather Sakai, taking over as Community Manager.
Filterstorm, PhotoGene, Camera+, iDarkroom, Instagram.
With a flick of a finger, a simple effect, a toasty filter can bring your dull, camera photo to life.
In the age of the iPhone, such easy access to the camera itself, combined with photo-editing software gives us power and confidence we've never had. But do all of these apps with their seemingly unlimited textures, brushes, filters and overlays come at a cost? Do they overshadow the true art of professional photography?
Professional Cleveland photographer Dan Morgan of Straight Shooter, who has been in the business for over 30 years, has embraced the recent explosive advances in his field. Go Media sat down with Morgan to talk about Instagram and related software programs.
Skidding across fresh, bright black and white tile, a very exuberant 6 month husky jumped up excitedly to greet me at the door of Yellowcake, recently renovated and expanded Gordon Square boutique. Owner and Cleveland designer Valerie Mayen was quick to follow. "Mango! Get down!"
"Sorry! She gets very excited!"
Inside Yellowcake lives colorful, custom mod women's coats, dresses and skirts, and the beginnings of a mens line including crisp ties and jackets. All of her designs crafted right here in Cleveland, Ohio, Mayen has had her roots in the city since November of 2011.
We are excited to announce that 2 Night Stand is not only expanding to multiple cities in 2013, lead by amazing creatives across the country, but also that we will be having the first, non-Chicago event in the days leading up to the WMC Fest 2013. We've had over 1000 people apply to our past Chicago events, for Trencherman's Brewing Company, the Zombie Research Society & NASA. We know that amazing people will be heading to WMC Fest and this event will open a unique opportunity for amazing people (who probably already follow each other on Twitter) to design and create side-by-side.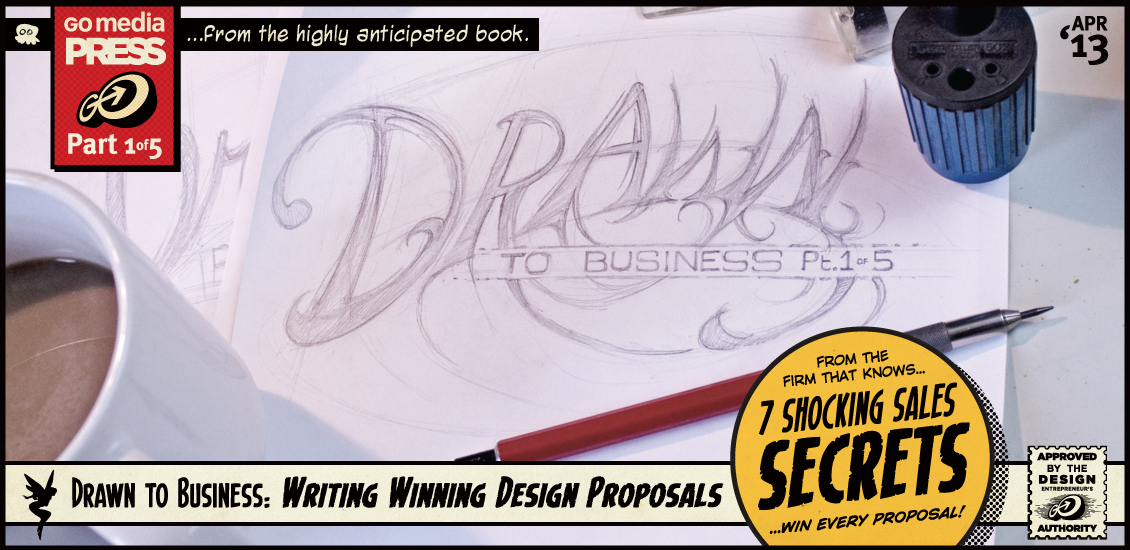 Hey Go Media faithful! Over the next few months I'll be posting five excerpts from my forthcoming book Draw to Business as a series of teaser articles here on the GoMediaZine. So, without further ado, here are seven tips on…
Finally available: the 3rd and final installment Steve Knerem's "Keep me safe" video tutorial series Hello all! I'm very happy to announce that we're releasing the 3rd part of Steve Knerem's video tutorial series today! For those of you that…
Hey Go Media faithful! Man, it feels like it's been years since I've posted anything in the Zine. These days all my writing has been focused on my upcoming book Drawn to Business, Designed for Success. I think everyone is going to love the content. It's all the nitty-gritty details about how we run our design firm, but I digress. This blog post is about a piece of art I created for last year's WMC Fest. I had this crazy idea of illustrating a portrait of my friend Heather Sakai. I wanted to try and include all of her passions in one single image, from her Japanese heritage to her love of Hello Kitty. I thought it would make a fun subject for a tutorial. Though, I've been doing so much writing for my book, that I really didn't want to write a tutorial. Instead, I thought it might be fun and interesting if I just showed you my process in a series of images. So, without further ado, here is my (nearly) wordless vector illustration tutorial.
It's Friday. I'm hungry. One of my friends recommended a new trendy restaurant and, hey, it's right around the corner. However, knowing that "trendy" can mean "a sole sprig of lettuce and a sprinkling of truffle oil" and I wasn't joking about this whole hunger thing, I head to the restaurant's site to check out the menu before making any firm plans. But, when the graphic and video-heavy site finally loads, the menu is impossible to find, as are directions to the entrance, which I've been told is hidden down some strange back alley. In fact, I can't even figure out how to enter the site, mired as I am in this gorgeous yet impossible to navigate landing page, with earthy music blaring through my speakers. Frustrated, I choose another old standby just around the corner (probably ten feet from this new restaurant, but who can tell?), just to spite the first one.