Articles by Month:
May 2013
In this episode, we talk about the myths of owning your own design firm and we also sit down with WMC Fest speakers Jen and Omar from These Are Things. This was also the first "live" episode of the podcast.
Listen to the Podcast
[powerpress]
Show Notes
We want to hear what you have to say about the podcast. Leave your comments below.
Sponsor of this Episode
This episode is sponsored by WMC Fest 4. WMC Fest is the premier art, design, and music festival in the Midwest. Uniting creative dreamers and doers since 2010. WMC Fest takes place from August 16th through 18th at Cleveland Public Theatre. 20 speakers, 20 designers, and 30+ bands.
Go Media Quick Tip: Don't Feed The Trolls.
We just posted the results of our WMC Design Contest. We thought it was going to be great news for the community, however we received a lot of unexpected backlash.
Traditionally, we curate the 20 designer list. Last year, we opened it up to the public to submit their work and we would decide. This year, we also opened it up to a popular vote. Basically, if an artist could hustle and get people interested in their work and the fest, would be in consideration, even if their portfolio isn't the strongest.
Tracy from The Daily Quipple received over 1,000 votes and showed that she hustled to get her fan base, including non-designers, to come in and support her.
What's Go Media Been Up To?
WMC's Kickstarter is underway. Still some time to help fund this year's Fest.
All speakers and bands have been booked and the full list is now available on WMCFest.com.
Bill and Jeff went to Montreal Meets, a design conference in Montreal, Canada.
Bryan has been working with Dave on improving "Lorain", our WordPress theme. We're also preparing to move development from the 1140 grid to Zurb's Foundation 4.
Bryan has also been looking into changing our wireframe process. Instead of static, graphic representations, or quick sketches, he's working towards building low-level functional prototypes with the Foundation framework.
The interns have started. Kyle and Carly joined us in May. Alex and Andrew will join us in June.
Simon has been pushing forward with the new Arsenal. Vector Pack 22 was also released.
Myths About Owning Your Own Design Business and Why It's Worth It
Myths
"I can make my own hours."
"I can work fewer hours because I have employees!"
"I'm going to be RICH."
"I can pay myself whatever I want."
Why It's Worth It
You'll learn a lot.

Life's short.
You have the opportunity.
You just might succeed.
Ownership has it's privileges.
You won't be alone.
Co-workers will inspire you and push you.
If you love what you do you'll never work a day in your life.
Respect.
Perks.
Links
Credits
Hosts: Jeff Finley and Bill Beachy
Producer: Bryan Garvin
Recorded at: Go Media
Sponsorship Opportunities
Interested in sponsoring the Go Media podcast, either episodically or exclusively? Well, hit us up at [email protected] if you are interested in advertising your business.
What Do You Think?
We want to hear what you think about the latest episode of our podcast and what topics you would like to see covered in upcoming episodes. Comment below with your suggestions.
Ready for More?
Keep learning and listening to more Go Media podcasts!
A little bit of history
Hello all! We started releasing our photorealistic mockup templates in August 2008. Since then, we have continuously worked on releasing more of them, but also at making them better. That self improvement process brought us to release one pack upgrade in the past (the men's crew neck shirt templates), but also lead us to build Mockup Everything, which has templates that go beyond just apparel.
Recently, we realized that we could make some of our templates better and easier to use, by taking advantage of one of the newer functionality of the Creative Suite: the smart object. While smart objects have definitely been around for a little while, we realized through experimentation and thoughtful consideration, that they were indeed the next step to keep our templates at the forefront of the mockup industry.
So, what are smart objects?
Adobe defines smart object the following way:
Smart Objects are layers that contain image data from raster or vector images, such as Photoshop or Illustrator files. Smart Objects preserve an image's source content with all its original characteristics, enabling you to perform nondestructive editing to the layer.
One of the articles that prompted our research is a good article written by the fine folks at Viget. It's from 2009, but still relevant. In particular, that line struck a chord:
Smart Objects are magical containers.
It's precisely because of that container property that our templates gained an ease of use. It's important to place your art within the smart object, and the template now takes care of any transformation, distortion, shading, lightning, etc.
Introducing the vinyl record mockup kits v2.0: smart object edition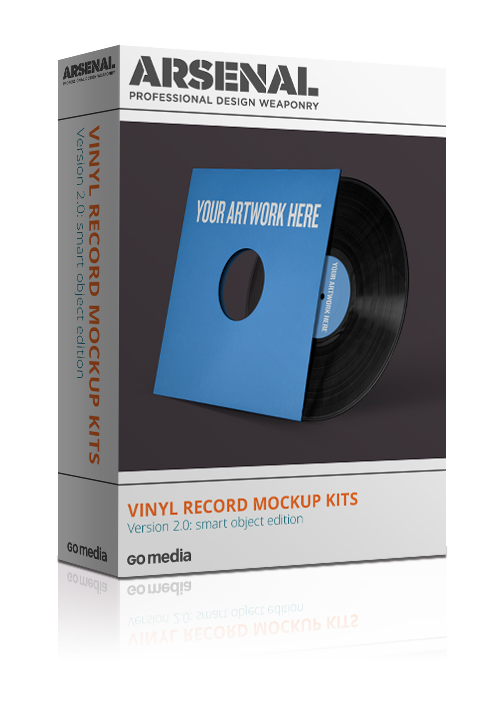 When preparing the new version, we almost wanted to label these "Smart object inside," but we were afraid of Intel's reaction.
So, what changed?
For this specific pack, we focused our efforts in terms of smart objects on one mockup file, n°4, a  file that has a perspective to it. Before, you had to manually distort your layer to give it the right perspective,  in order to make sure you didn't mess any of the clipping masks in the process, etc. Now, you just have to double click on the smart objects in the layer palette, and both the sleeve art and the label art will automatically adopt the right perspective, highlights, shadows, etc.
But that's not it!
Switching one template to smart objects wasn't enough in our book to call it a new release. So we went ahead and made sure that all of the files in the pack received an upgrade as well. In no particular order, here's what we refreshed:
We cleaned up all of the clipping masks.

We separated all of the art clipping masks and color clipping masks for a clearer layer hierarchy, and for a more realistic result.
We made sure that all the templates would have some prepared color layers for the sleeve, label, and insert (if applicable.)
We properly named and labeled all of the layers and layer groups.
We made sure that the background color and treatment would be the same throughout the whole pack.
We made sure that the background color could easily be changed or removed, which allows you to save the mockup as a transparent png for an easier inclusion in other documents.
And more little details here and there…
See for yourself:
 The full extent of what you're getting
The pack is still made of 11 PSDs that should cover most of your mockup needs if you were to work on record artwork.
All of this for only $34.99!
The celebratory launch discount
Because we've worked so hard on this and because we're very excited to share these with the world, we're announcing a discount coupon for the customers who will purchase this new version of the mockup templates. Use the code smartobjectwax at checkout for $9.99 off when buying the pack. The code is valid until sometime around the end of the day on June 7th, 2013.
So, what are you waiting for? You should go buy the pack while it's hot!
One more thing
Lastly, you should to know that these templates are not the only ones we're working on. Keep watching this space for more exciting news about some of our most popular mockup templates!

Thanks for your attention, and until next time, cheers!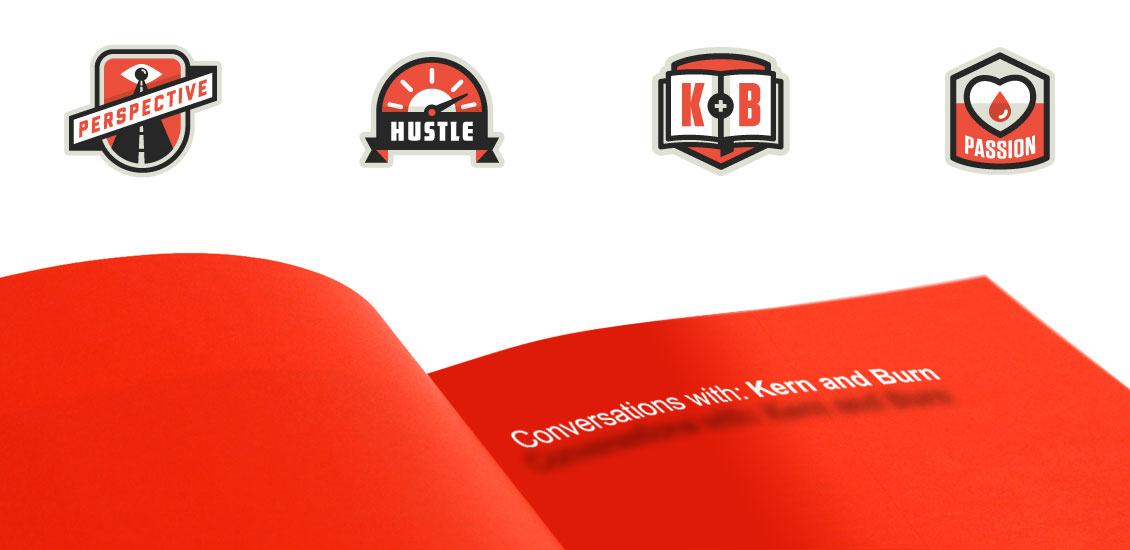 Let's Talk Kern and Burn: Conversations With Design Entrepreneurs
We're big fans of Jessica Karle Heltzel and Tim Hoover here at Go Media.  Designers, writers and publishers, we are super honored to have Jess and Tim on our list of WMC 2013 Speakers this year. 
We had a chance to chat with Jess and Tim about their recent success with Kern and Burn, a recently released online and print publication that curates discussions, interviews, and essays about design entrepreneurship.
Kern and Burn: Conversations With Design Entrepreneurs is a beautiful two-color book that features candid conversations with 30 leading designers who have founded startups, channeled personal passions into self-made careers and taken risks to do what they love. In this book they share their failures, successes, and perspectives.  Kern and Burn's hope is that you, the reader, can learn from them — not to follow in their footsteps, but to chart your own course in parallel, one that allows you to thrive, add value to the world and love what you do. Dedicating the book  to "those who kern, those who burn and those who embrace the risk of failure daily," their book is available online now on KernandBurnBook.com.
The Interview
Go Media: Kern and Burn started with the 100 Days of Design Entrepreneurship, a daily blog that curated discussions, interviews, and articles about design entrepreneurs—those who pursue self-initiated projects, think for themselves, and channel personal passions into self-made careers.  Tell us a little about how you decided to begin on this journey.
Kern and Burn: The blog started out as a process. A daily commitment for us to formulate our thoughts on all of the essays, interviews, and blog posts we were reading in school. It was a way for us to figure out what we were interested in—and we centered our thoughts around all things business, design, and entrepreneurship. When we started to gain an audience we slowly realized that the blog was our project and then we made the decision to focus solely on curating and posting the best content we could. The 100 Days was amazing. Every day we were able to reach someone new and that person would inevitably bring something valuable to the discussion and point us in an unexpected direction for a future post.  
For us, the blog is also a literal map of the places we traveled, the design communities we met, and the experiences we had over the year. We were fortunate enough to successfully Kickstart the book which led us to where we are today with Kern and Burn: Conversations With Design Entrepreneurs. It's been a great journey.
Go Media: You talk about breaking rules in order to follow your passions.  What is one rule you broke that paid off in dividends?
Kern and Burn: We collaborated on our thesis project. That's fairly unheard of at competitive graduate schools. MICA does a wonderful job of allowing students to pursue their goals full-force with thesis and thankfully they didn't have a problem with us working together.
The success of our partnership has always worked because we are different. We have different skills, priorities, work methods (and stress-levels) but those differences work in our favor because they force us to challenge one another. We love the name Kern and Burn because it represents each of us so well. Jess is the Kern—detail and execution-oriented—and Tim is the Burn—ideation and big-picture focused.
We self-published our book. That's another "rule" that we broke when we decided that we wanted complete control over the layout, the paper choices, and the content. Looking at the end product we know we made the right decision.
Go Media:  What advice would you give to designers who are drawn to entrepreneurship and are dreaming big, but are struggling at the beginning of their career?
Kern & Burn: You don't need new ideas. You need ideas executed extremely well.

Many designers, ourselves included, can get stuck at the beginning of projects under the pressure of needing to come up with the newest or greatest idea that no one has ever thought of before. We came to realize that the idea itself doesn't have to be new, it just has to be done in a new way, and executed in a great way. As designers, that's where our opportunity lies to use our expertise and skill sets to create businesses that rise above the competition.
Go Media: What do you love most about what you do? 
Kern and Burn: We love that we created an experience that asks people to think about and define their perspective. We curated 30 perspectives in the book so that readers can discover what they think about the topics we discuss. We want to encourage designers to think for themselves. There's no better way to do that then start a conversation and a dialogue and that's what we hope people do when they read the book.
Go Media: What is one word of wisdom you heard from a fellow designer that you now use on a daily basis in your career?
Kern and Burn: Definitely Christian Helm's: Ask For Advice.
The interviews in our book were our way to ask for advice—for ourselves and for our readers. For the most part, people and especially designers are super nice. Ask them for advice, wisdom, or just out for beers. Meet people and start projects. So many amazing projects are the result of one person asking another person for advice.
Go Media: What's next for Kern and Burn?
Kern and Burn: We've been thinking a lot about what our purpose is as a business, as a platform, and as a resource. We landed on Kern and Burn: For Design Entrepreneurs.

With the blog, Kern and Burn was a place for people to stop by for daily inspiration. With the book, readers can pick it up once and find insight in an interview and read that same interview again later—at a different time, in a different place in their careers—and still find meaning in the interview because they have new life experiences to bring to it.

We want to continue to grow and build a set of tools and resources that positively influence people's paths. Whether that tool is a book, a workshop, or a conference we want to design experiences that benefit others and build communities.
Want more Kern and Burn?  Stay tuned for our upcoming podcast with Kern and Burn – to be posted right here on the GoMediaZine!  Also, don't forget to purchase your ticket to this summer's Weapons of Mass Creation Fest 2013 where you can see Jess and Tim speak about their journey and the success of their new book, Kern and Burn: For Design Entrepreneurs!
Buy the Book | Kern & Burn on Twitter |  Kern & Burn on Facebook  
Jen and Omar tell us a few of their favorite things…
We are huge fans of designers, illustrators and fellow Ohioans Jen and Omar from These Are Things!  Recent podcast guests (coming soon!) and speakers for this year's Weapons of Mass Creation Fest 2013, we just cannot get enough of their distinctive and oh-so-cool maps, as well as their enthusiasm and heart.  We asked them to answer some questions about their very favorite things, to tide us over until we are reunited again. Enjoy!

Go Media: What is your favorite piece you've done so far and why?
Omar Noory: That's hard, because we've learned so much from every single one. I'd say probably the original Modern World Map, because it came from such a pure place of creation without any thought behind it. It was exactly what we wanted to make at that time with no compromises.
Jen Adrion: I'd agree. I'm also in love with our newest collection that we're debuting at the National Stationery Show. We're venturing outside of wall art and into the world of greeting cards, which has been really exciting. Stationery is totally different than wall art – it has to carry a relatable personal message on a pretty small canvas – so it's been a fun change of pace for us.
GM: What is your favorite piece of artwork (besides your own)? And why?
Jen: Pretty much anything by Sol LeWitt. I feel best about my own work when I have logical reasons for making certain artistic decisions, so LeWitt's structured, rule-based wall drawings make me happy. It's controlled spontaneity. They also have this fantastic meditative quality. We'll have to get out to Boston to see his retrospective.
Omar: Of all time?! Wow. There's no way I could pick one piece that I would consider my favorite. As far as things that have influenced me over the years, I'd have to say that comics and video games are what made me realize that art could be a career and a way of life. They've also helped me connect with other artistic people throughout my life.
GM: Where is your favorite spot in NYC to seek artistic inspiration?
Omar: So far, the most inspiring space has been our own apartment, since that's where we've spent most of the past couple of months. It's a super minimal, clean white space with great light. We have an awesome view of Brooklyn with the the Manhattan skyline in the distance. It's been the perfect space for us to shut everything else out and focus on our work.
Jen: Just being here has been such a source of inspiration. The change of scenery has been great for our work. I feel like we've barely even scratched the surface of seeing what New York has to offer, though! Hopefully we'll have more time to get out and explore once we're done with this big show.
GM: What do you love most artistically about the other? What do they bring to the table that you most appreciate?
Jen: I said earlier that I tend to be kind of rigid about my work – everything has to be a certain way for a reason – and Omar has really helped me let go of that somewhat. It's great to be precise, but sometimes my need for perfection can be kind of stifling. His style tends to be a little looser, a little more textural. I think it's really brought a lot of life to our collaborative work. He is amazing at coming up with ideas and quickly getting the overall concept of a piece down.
Omar: I always say this, but I like that she is never happy with "good enough." I always get burnt out towards the last 10% of a project and want to say ah, just get it done. But she always pushes me to work the hardest at the end of a project to take it to the next level and make it better than I thought it could be.
GM: What is your favorite medium to work with?
Jen: Of course, I love working digitally. I can tweak things until they are totally perfect. Zooming in to 6400% is my favorite thing. As far as traditional media goes, for me, it's gouache. Nothing can beat that ultra-matte chalky texture.
Omar: It's a tie between pencil and computer, but now that I have a tablet… no, it's not a tie at all. Computer, hands down. Everything is better about working on the computer. My hand is on apple-Z the entire time I'm drawing. Nothing is more frustrating to me than erasing on paper. I love layers. It's like tracing paper you don't have to keep buying! The only bad thing is that I can't easily take a 27″ iMac with me. But I'm sure they'll figure that out eventually.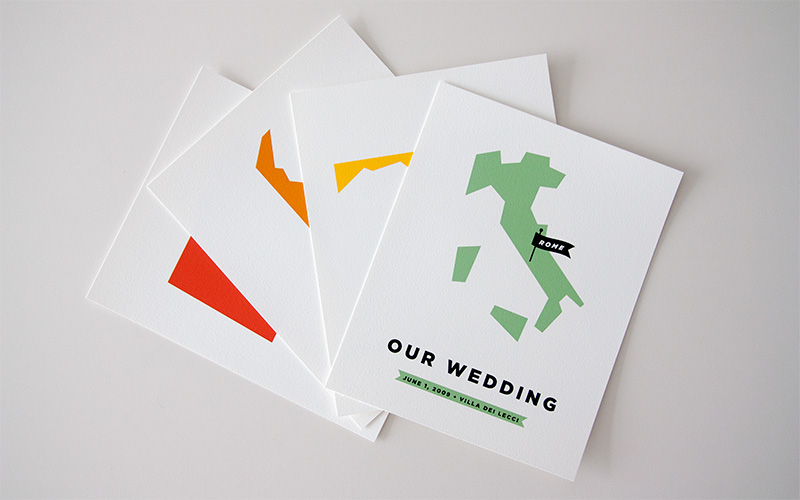 GM: You love maps! Where is your favorite place to go in the world?
Omar: It depends what kind of mood I'm in. If I'm in the mood to explore, my favorite place is anywhere we haven't been yet. If I'm in a chill mood, I want to be in quiet, serene nature – on the beach, in a field, on a mountain. And I love anywhere with good food!
Jen: Of all the places I've been so far, I think Helsinki is my favorite. My favorite memory is sitting by the water, eating fresh-caught salmon and Finnish cinnamon rolls made with cardamon. Swimming in the Mediterranean off the coast of Croatia is a close second. The beach was deserted and I felt like the only person on earth. But I'm with Omar – no matter how much I love to revisit my favorite places, there's nothing like exploring a new place for the first time.
Follow These Are Things wherever they go!
These Are Things on Facebook | These Are Things on Twitter
| Making It (Blog) | Jen's Instagram | Omar's Instagram
And don't forget to buy tickets to this year's Weapons of Mass Creation Fest 2013 (August 16 – August 18) to hear These Are Things talk entitled: "Three Weird Old Tips For Unlimited Success & Happiness!"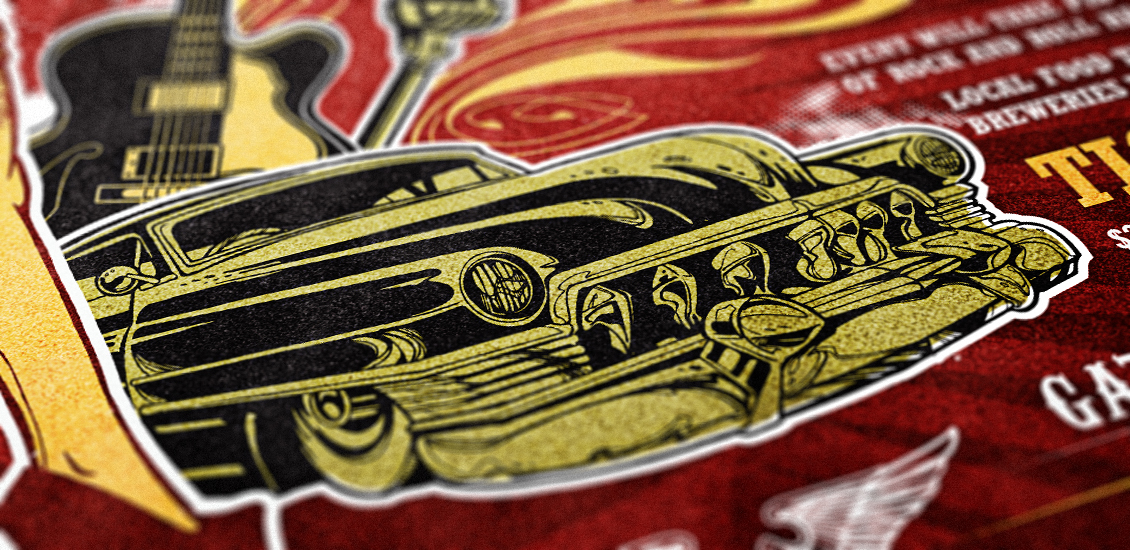 Hello all,
The very talented Steve Knerem is the guest artist behind a majority of the content of our vector set 22.  In this tutorial, he shows us how to assemble a rad rockabilly poster using various elements of the set, a bit like what Jeff did for us when we released Set 18. 
In the first part of the tutorial, Steve will be walking you through his process to design the poster, from concept to final piece. In a couple of weeks, we'll publish the 2nd part, which will infuse the composition with an even stronger rockabilly/1950s feel, by doing some additional research in terms of typefaces by digging at the source: 1950's/1960's era gig posters (as well as more contemporary material too). Finally, a few weeks after that, we'll publish a wrap-up piece that will provide additional tips and tricks to give a vintage finish to the poster, like if you had found it in your parent's/grandparent's attic after all these years.
But no more rambling, let's let Steve have the microphone!
— Simon, Go Media's Arsenal Manager
Hey Guys,
Thanks for reading my article on how I built this Rockabilly poster using the Arsenal's Vector Set 22.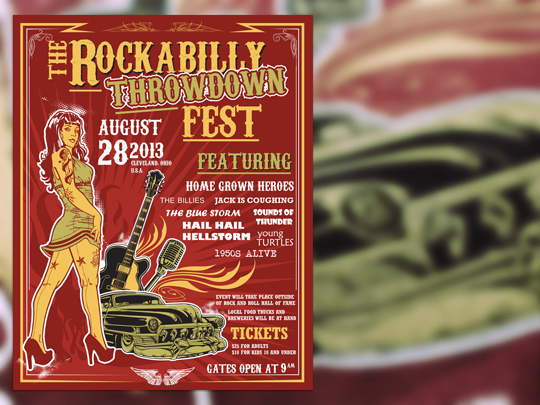 In this set you are going to notice that it's all revolved around icons from vintage 1950's U.S.A: hot rods, babes, tattoos and everything in between. As you search through the set notice I threw in a mix of styles from my hand drawn look to straight vector art (done in Illustrator). Have fun with the pack and add it to your own arsenal of goodies!
Let's have a quick look at the set's content
So let's get started!
My thoughts to create this poster are keep it simple within the realms of design and content, yet pack a punch with enthusiasm and detail. When I think of design, I definitely try not to throw in the kitchen sink, but be selective and make sure I have for this project a title focus and an image focus. In addition to that, make sure your eye flows either top to bottom, in the "Z" pattern or in what I think is helpful is a circle pattern. These are the elements the the brain locks into and make the poster reads well, creates good flow and is a successful piece.
Choosing the Color Palette
I need to think about colors. When I thought about my color palette typical Rockabilly/50's colors seem to be red, black, white, tan and a cool color. This isn't etched in stone but what seems to be the norm. I know I want to go with a vintage look as it were designed back in this era.
I did some searching and remembered one of my favorite websites when I need some inspiration or knowledge. This is what popped up after doing a search for "vintage rockabilly colors."
Thinking through the composition
Ok I have my color palette, now for design. I am setting up this design for a 16×20 4-5 color screen printed poster for a fictitious event in my home town Cleveland, Ohio, U.S.A. I worked- up a few quick ideas and am going to call this "The Rockabilly Throwdown Fest." Imagine a huge fest with all your favorite bands, hairdos, pinups and vintage styles for one day, sounds awesome!
I'll first set up a ½" bleed area around the poster. This guarantees me that anything within these borders will be printed, and I don't have to worry about it getting cut off. You could probably set up a ¼" in bleed as well.
Looking at Typefaces
I'm going to then move on to the title "The Rockabilly Throwdown Fest" and search for a font. There is an endless supply of possibilities but let's go with something that feels like it belongs.
Quick note: if I were to choose a font that seemed like it could go with a black death metal fest, it wouldn't have the right feel. Do your research.
Down to the Nitty-Gritty
Next let's piece this together.
Choosing the Centerpiece
My initial thought is to utilize one of the pin ups as the main character… Maybe the devil girl.
A Layout Change
Ok, so an interesting turn of design events is taking place. I was originally thinking of placing an image in the center, but because of the title design I am thinking of something else…Let's see where it goes.
Let's Change the Centerpiece, and Let's Add Some Supporting Design Elements
I like this pose better, and I think she goes better with the design. I know I want some sort of starburst in the background to create a sense of depth so I grab the star tool and set it to 75 points.
I want to trim the bottom and left side so I take the pen tool and make three points in at "L" shape. Make sure the color is selected in the stroke color box. Note the purple color "L" at the bottom left of the artboard.
While the "L" shape is selected, I also select the starburst then I go to the pathfinder panel and select the divide button all with my black arrow tool. Both images will look united, but then click on the part that looks cut away with your white arrow tool and delete it. The starburst might spill over the document parameters, so you will have to select those parts and delete. From here select the starburst with your black arrow tool and choose a fill color in the color box. Most likely you will see areas fill in the where your dividing "L" line was.
These are a few extra steps, but this makes the object complete. Click off on a blank area and select the parts that are spilling over and the parts that filled in with your white arrow tool and delete them. Click off on a blank area, then click on the starburst one more time and select unite in the pathfinder panel. I like to do this just to give it a final merge of the object. Now you are all set. Now we can play with different colors of the starburst and create some background texture/depth.
Remember the arrow patterns I drew once I noticed the design took a different direction? Well, I want to keep this design going and incorporate all things related to the fest. So let's grab a guitar, a microphone, and an old car. I also swapped out the pinstripes at the bottom for some military looking wings. Also, don't forget to switch the starburst's color to a red slightly brighter than the background. The yellow was too strong, and overpowered the character.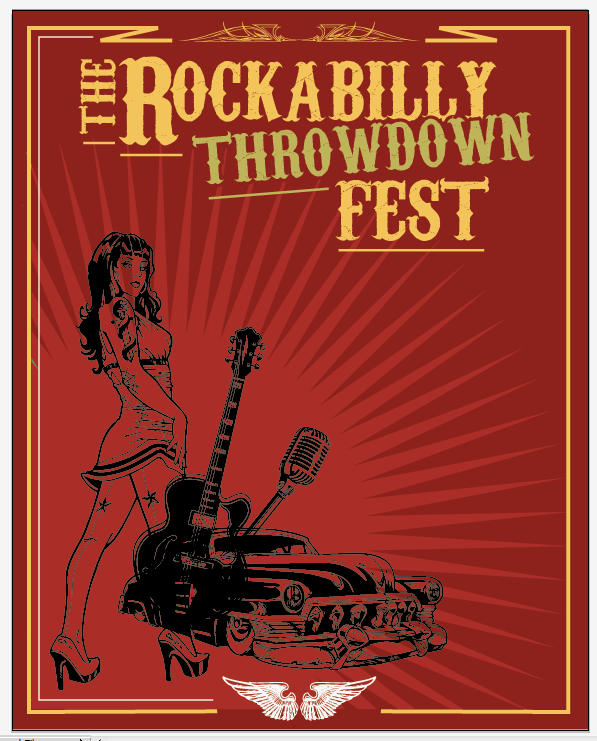 Adding More Supporting Elements
I have in mind flames also, pretty iconic piece for this scene. But something a little different… like this, from the pinstripes pack.
I know I don't want to use the whole image, only half. So, I have to cut it in half.
Here's how I did it:
Select your lasso tool, and draw around the part you DO want to keep.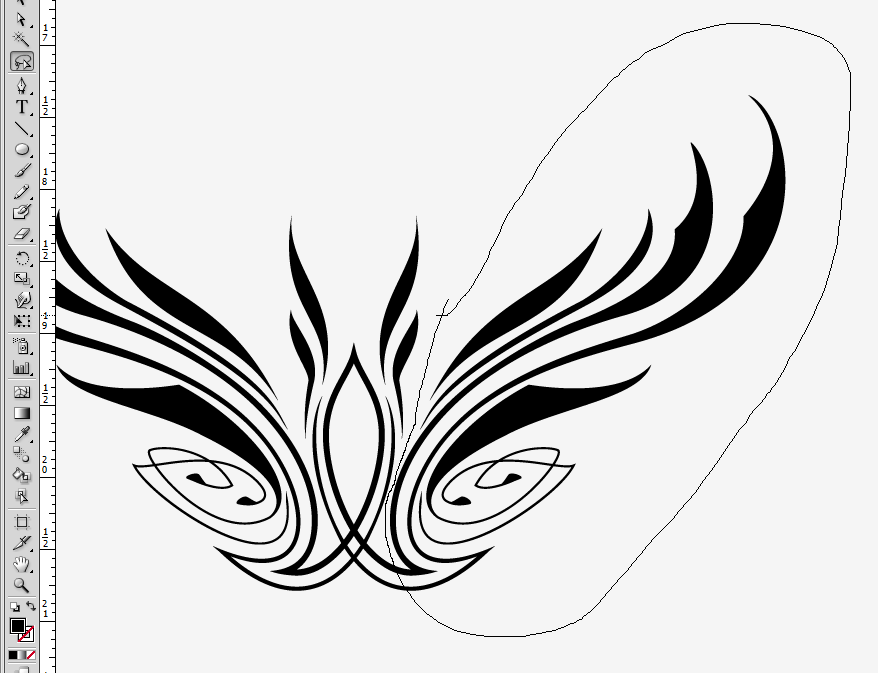 Cut it and paste it back (CTRL/CMD + X, then CMD/CTRL + V or F). Select the image and select unite from the pathfinder panel. This is so there are no open points and you can select it and change the color any time. Let's place it on the poster in a few open spots:
Quick note: the one placed left of the pinup had its color changed to the same red as the background. Since it's overlayed on the starburst that's lighter, it gives it that sweet punch through effect. One more thing to play with!
Time to Add More Copy!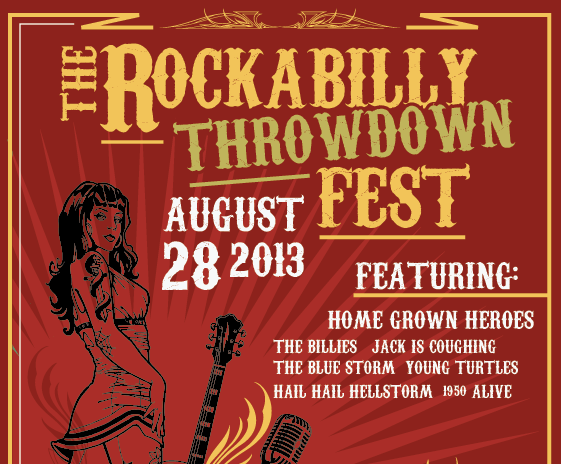 Quick note: work around the canvas and DO NOT focus in one area for a long period of time. You have to work around the canvas/design and give most areas enough attention. Say I completed this bottom left part completely and came back to it in two days. Well some of those fresh thoughts will be gone and you need to think through the design once again. If you work around the canvas little by little you can give most of it attention and develop those first thoughts.
Alright, back to the game. Keep developing the text, make parts pop, and make the fonts of the bands specific. If you look at any poster the bands will have their own text font.
Time to Make Sense Out of the Mess of Items at the Bottom Left
When coloring for a spot color project such as this poster or a tee shirt, you're limited to one color choice usually. This is where you need to be selective/creative and think this through.
All I did here is create color shapes and place them behind the character and objects.
Here is another technique that is good to use especially with my hand drawn pieces. If you know my style or if this is the first time seeing it..it's pretty detailed… Yes? So here is a time saver. Make a copy of the outlined image and place it behind the original piece. Lock the top original piece. Select the car with your white arrow tool. Select merge  from the pathfinder panel then add a fill color to the color box then unite it using the pathfinder.
Change color and we just saved 10 minutes of using the pen tool.
Do the same with the microphone and the guitar and now we can take this to the next step.
Adding a Tad More Depth, and Other Refinements
I also wanted more dimension that just the starburst in the background. So I took the flames from the pinstripe pack pack and made this into a solid image by repeating the steps we just did for the car. You just got a free vector! Take a look under the pinup at the light red flames, cool feature and more interesting things going on.
Time to add some finesse to the border. You can taper the edges by expanding the stroke of the frame, then deleting the top point of the square edge.
I also added a stroke to each image. You have to add the stroke to a solid image that is underneath all of your layers. For the car we have two layers. One is the black outlines and one is the green color. Add the stroke to the green color. Make sense? Notice I changed the black lines to red… Looking cool!
Well I'm liking what I see, title reads well, colors look cool, feels like a Rockabilly poster.
Last Touches
Last thing I like to do is add a touch of my own flair. In this case I'll grab some dot patterns from the symbol box.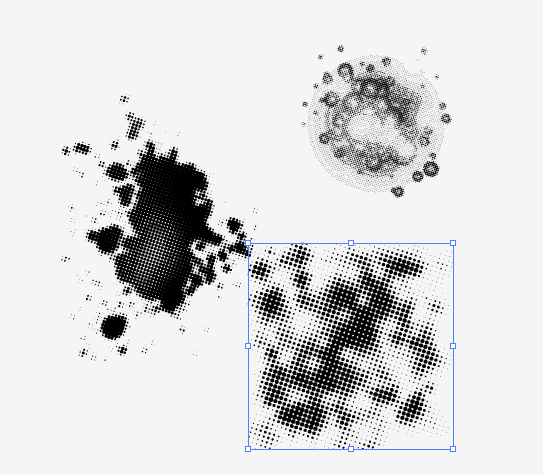 I'll just throw a few down and figure out what I like.
Next I'll expand it because I don't want to use the whole pattern just parts. So click on Object > Expand.
I'll then take the lasso tool and cut out random parts that I want to use.
Cut then paste it then unite with the pathfinder using your black arrow tool.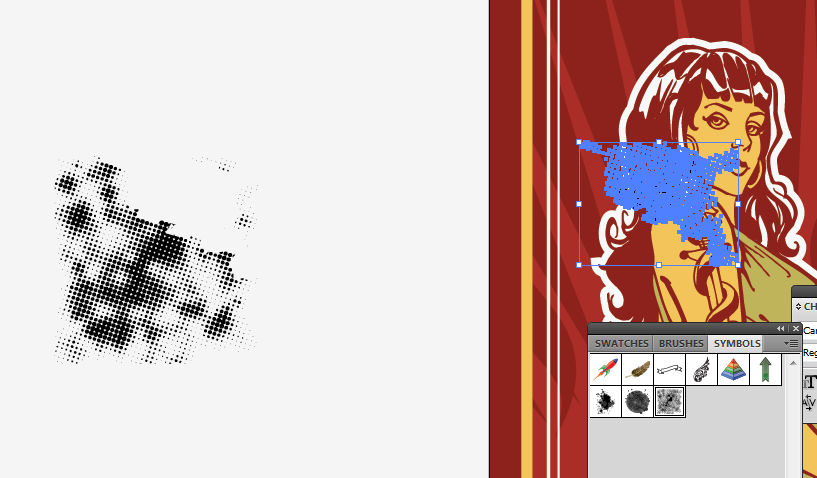 I like to place these splatters behind the white stroke and make it the color of the stroke, in this case it's white. So now we have a cool 16″x20″ – 5 color promo poster!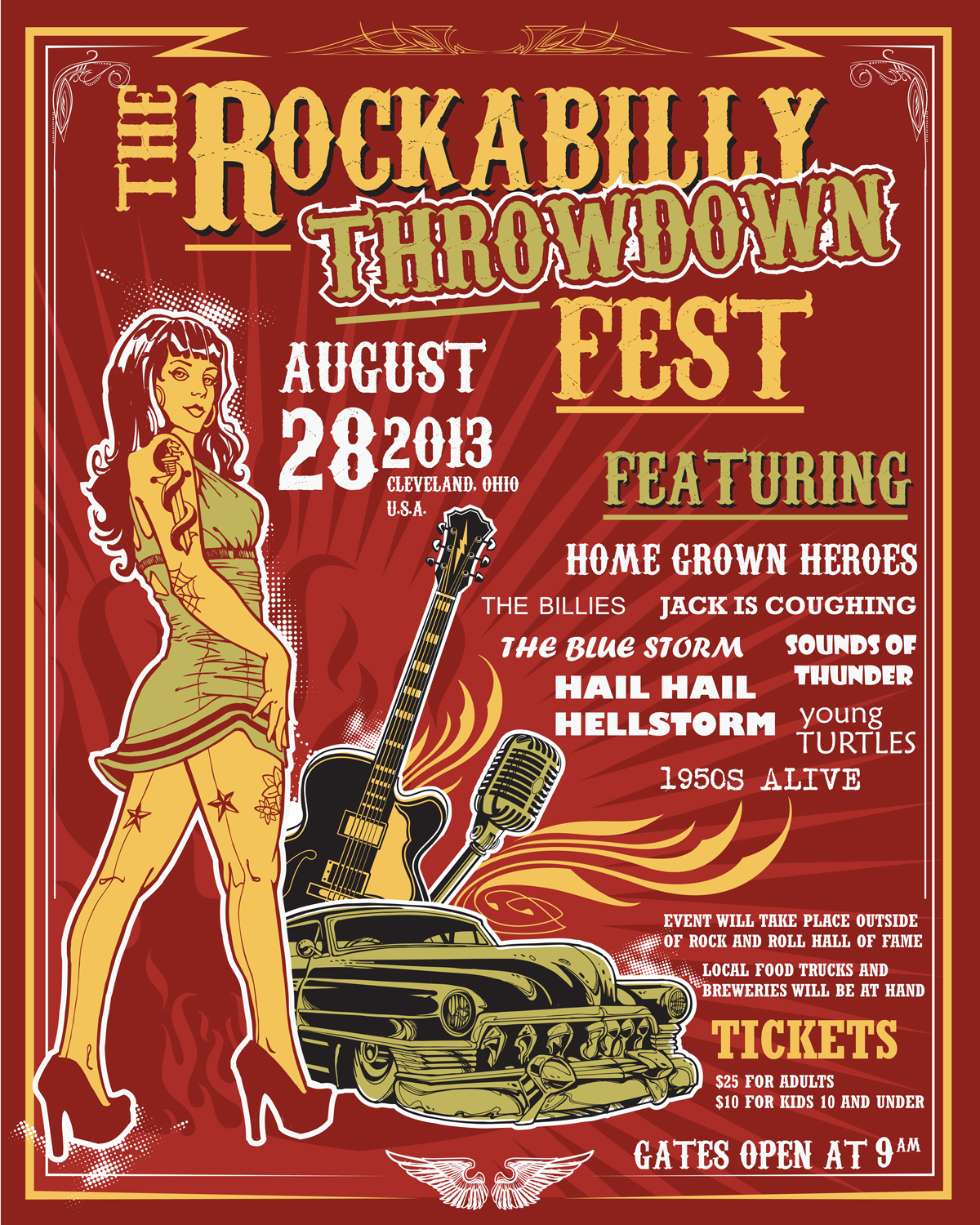 Let me know if you have any questions, go crazy with these vectors and send me your designs: put them in the Go Media Flickr Pool, and/or in the comments! One thing to add is that I illustrated a mix of hand drawn and vector/Illustrator images. This adds a really nice feel of that hand drawn look yet utilizing the strengths of Illustrator.
Enjoy guys!
— Steve Knerem
Note: find Steve online at: 
Categorized:

Illustrator, Tutorials

Tagged:

arsenal, grunge, how to, Illustrator, learn, retro, rockabilly, set 22, Steve Knerem, tutorial, vector, vintage
Well Hello!
All is quiet here at Go Media – heads down, noses to the grindstone!
We'll start with the bad…well, bittersweet news.  Our Community Manager, Marissa Mele, has bid us adieu.  Our hearts broke as we watched Marissa leave Go Media for the very last time, but we must admit that we're happy too (read: jealous)  – as Marissa is off for warmer weather!  At least one of us gets to escape the Cleveland winters. We'll miss you Marissa!
While we lost one, we gained two!
Joining our staff are Simon Birky Hartmann, our new Arsenal Product Manager and Heather Sakai, taking over as Community Manager.
Let the Sun Shine In!

As always, we have been fortunate to work with many amazing clients and for awesome events, such as Sunfest, a music and art festival held annually on the first week of May in West Palm Beach, Florida.  The state's largest waterfront music and art festival, SunFest attracts more than 275,000 attendees.  Even more are drawn to its website!  Check out Go Media's contribution!
Crash Bang Boom!

It's mighty noisy here at 4507 Lorain Road lately…but we don't mind! We have super exciting news to share!  We are now undergoing a storefront renovation!  Stay tuned here, and to our Facebook and Instagram pages for the latest updates and to watch our building transform.
The Countdown is On!
We're counting down the moments until Weapons of Mass Creation Fest 2013!  We rolled out our WMC Portfolio Contest and announced the lucky 5 entries that will be featured designers in our gallery this year!  We also announced many of our speakers and bands for the fest – the anticipation is killing us!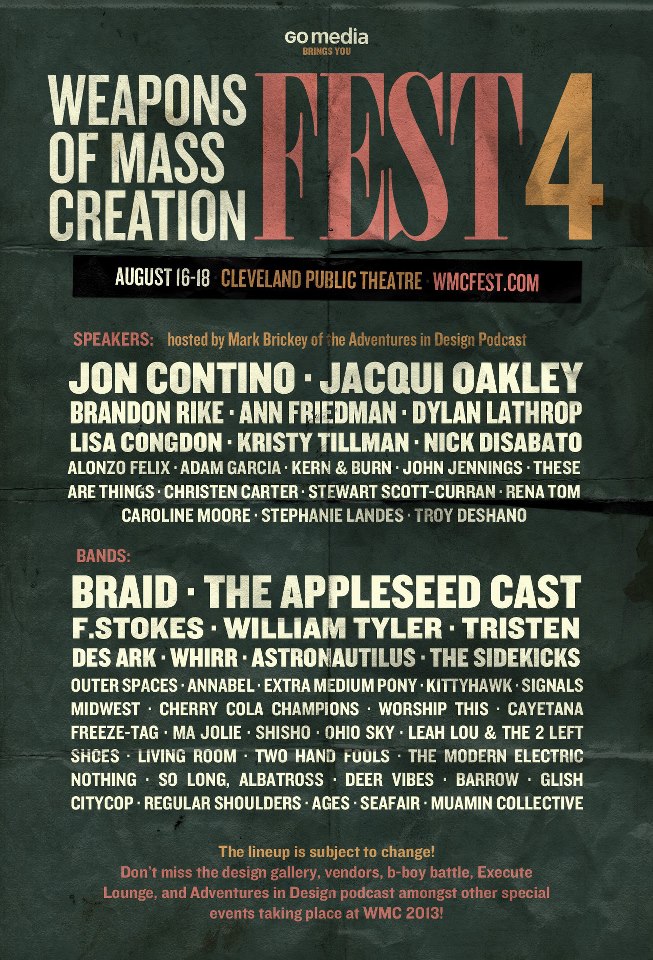 What The Team Has Been Up To:
Hello all! In the past couple of weeks, I've been up to the following:
 Point Click Tailor Suit templates
Website designs for BigBolts.com, KBK Enterprises, Motivideos & Midwest Box Company
Icon designs for Tomra's Recycling App
BattleReady Hangtag designs
Bill and I conducted about 6 interviews for our Summer Internship openings. Lots of resumes and portfolios to go through. We ended up bringing in 3 from those interviews and they all start this month.
Jeff, Bill, and I recorded GoMP008, and recorded 4 interviews with WMC Speakers in preparation for this Summer's festivities.
Produced wireframes for 6 projects in currently in motion.
Launched KelleyGreenWeb.com and WithrowEquipment.com, both sites using our WordPress theme "Lorain".
Client shenanigans, including a brand guide for a local educational institution, brainstorming names for a Cleveland bicycling initiative, and conceptualizing for a new restaurant's identity
 Preproduction for OTM Series 3
Moving my desk to a new area of the office
Arsenal customer service
Bookkeeping
Payroll
Proofreading zine posts and email campaigns
Organizing all the WMC merch into bins and shipping out merch orders
Learning how to do site maps
The number of leads has picked up since last month, so I've been spending more time writing proposals
I've been attending as many networking events as possible! Recent functions include the Image Lab Open House and the Bad Girl Ventures Graduation Ceremony
I've been working with Heather on writing the service pages for the Go Media website
Jenny Kelley and I have started a comprehensive marketing strategy that includes targeted outreach campaigns to reach new potential business opportunities
Project kickoffs for: Bike Cleveland, F.C Sturtevant Company, Pineapple Key, Cantine and KBK Foundation
Wrapped Up Projects with SunFest, BattleREADY, Withrow Equipment and Kelley Green Web
Ongoing Team & Client Communication
Compiled content requirement guidelines in an effort to streamline our processes both internally and for our clients.
Assisted our Arsenal and Mockup Everything teams with making the switch to Smartsheet ( a great program used for a variety of project planning needs)
Learned some WordPress Content Placement skills from our wonderful Bryan Garvin
Settling in in a new town, Cleveland the beautiful, very close to the

lake Erie

Settling in in my new responsibilities as Arsenal Manager here at Go Media
Launched a sweet series of new products on the Arsenal:
Finally, my wife and I moved very close to a great Irish pub, so we've been enjoying a few Guinesses
Some intriguing website development opportunities have come across my desk recently. Mostly medium size corporations, which are hopeful because they're established businesses with a budget to evolve their brands.
Wrapping up UI additions to Electricity Lab's BOLT. They've developed a pretty fantastical platform toward the write-once-run-anywhere dream anyone who has been programming for a while has had.
Pressing on with Arsenal 3. We hit obstacles that set the delivery date back. Such is the nature of the computer science beast sometimes.
Having fun with Zurb's Foundation 4 on a new Motivideos site. We've seemingly adopted Foundation 4 as our default CSS framework of choice this year.
Meet our Intern!
This summer, we will be welcoming several interns into our Go Media family.  Our first intern, Kyle Saxton, just arrived. Let's meet him!
Hi all! I am originally from Mason City, Iowa. After moving around the country for several years I ended up in Richmond, Virginia where I am currently attending Virginia Commonwealth University. I am a rising senior in the Communication Arts Department, where my skills are strongly based around illustration, drawing, and painting. I also work in a broad range of media outside of my major including: graphic design, photography, and 3-D image/movement. At Go Media I will be working with a variety of Arsenal projects, Creative Market projects, and any other projects that come my way. When I'm not designing I love riding bikes, cooking, restoring vintage Corvettes with my dad, refurbishing furniture, and watching movies.
______
That's it for now from us at Go Media. Until we meet again:
Don't forget to head over to Kickstarter to purchase your tickets to this year's Weapons of Mass Creation Fest, running August 16 through 18.
Sign up to be notified when Bill Beachy's book, Drawn to Business: How to build a thriving graphic & web design agency, is out.
Sitting down with Dan Morgan of Straight Shooter
Filterstorm, PhotoGene, Camera+, iDarkroom, Instagram.  With a flick of a finger, a simple effect, a toasty filter can bring a dull photo to life. In the age of the iPhone, such easy access to the camera itself, combined with photo-editing software gives us power and confidence we've never had.
Professional Cleveland photographer Dan Morgan of Straight Shooter, who has been in the business for over 30 years, has embraced the recent explosive advances in his field. Go Media sat down with Morgan to talk about Instagram and related software programs.
Morgan notes, "That same rapid-fast forward in technology that has made it so everyone can take pictures, has made it so professionals can take better pictures."
Spending the majority of his time as a commercial photographer, these new advances have broadened the scope of what he offers to his customer.  He tells Go Media, "The type of photography I do today I never attempted to do back in the day because I'm able to experiment more and see how things look."
Instead of simply offering catalog items, he offers varying options including food and notably, architectural photography.  In the past requiring a big and bulky 4×5 camera with very sensitive and specific adjustments made at time of shooting, Morgan can now take his digital SLR and make all changes with ease in Photoshop and other software programs.  He reports: "Architectural photography is one of my best sources of income now."
Morgan's experience capturing images of jewelry has been expanded as well. Recently published as the sole photographer for Brandon Holschuh's book "The Jeweler's Studio Handbook" where he captured stunning images of custom made jewelry, Morgan came across more advances in technology, making his process easier.  One application of note creates a reflection of the jewelry, at the click of a button. This would at one time be a frustrating, multistage process involving multiple artists.
"All the fine art experimenting that I did in the last 15 years are now, with the assistance of technology – those effects are being achieved immediately," Morgan comments, emphasizing that  this technology not only impacts the quality of his technology, but the speed at which he can produce as well.
Morgan stresses that the decisions made within Instagram and other software programs should not be made randomly.  "Those apps, all those tools that everybody can use – it's all about applying them and having a method to the madness. It's having that trained eye that's important."
He not only enjoys the options available to him in post-production, but also uses them to his advantage before he even presses the shutter. "I've been able to take pictures with my Canon Mark II, that yields a really sharp picture, into an Instagram picture.  I photograph these knowing that I would put an Instagram filter onto it.  The effect that I'm creating now by doing that same amount of work is getting me that much farther."
Morgan shared some additional photos with us, exemplifying the power of this new technology, and how it has advanced his own work.
"Here's something I concocted based on Instagram." I knew the effect that Instagram gave, but I also knew that I could apply that effect from a good quality picture to begin."
"Earlybird is my favorite Instagram filter because it doesn't take it too far away from the original look, but it darkens the photo around the corner."
"I shot this on a cloudy day so it was a really neat picture to begin with, but playing around with filters and it was the ah-ha!  I got the energy coming from the tower."
A vintage photograph of Morgan's father, "the original Mad Man!"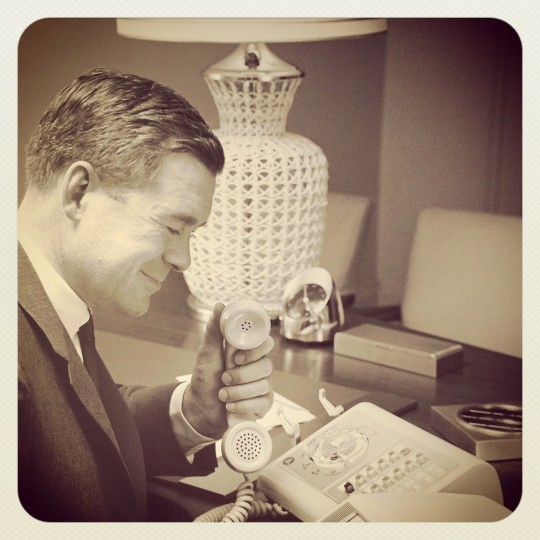 Is there downfall to all this technology?  "Having the tools," Morgan cautions, "is not enough. It's good that the tools are out there, because people are given the motivation to see that you can go places with it." But there will always be a place for professional photographers in this world.  Morgan emphasizes, "you still have to have that eye."
Find out more about Dan Morgan of Straight Shooter
Find Straight Shooter on Facebook | Instagram
Meeting the Chief of Awesome:
Skidding across fresh, bright black and white tile, a very exuberant 6-month husky jumped up excitedly to greet me at the door of Yellowcake, a recently renovated and expanded Gordon Square boutique.  Owner and Cleveland designer Valerie Mayen was quick to follow.  "Mango!  Get down!"
"Sorry… She gets very excited!"
Inside Yellowcake live colorful, custom mod women's and kid's coats, dresses and skirts, and the beginnings of a men's line including crisp ties and cool jackets.  All of her designs crafted right here in Cleveland, Ohio, Mayen has had her roots in the city since November of 2011.
Texas-native Mayen has studied at the University of the Arts in Philadelphia, worked as an apprentice at Gemini GEL in Melrose and earned her BFA at the Cleveland Institute of Art in Illustration, where she also participated in a mobility exchange program with the Otis College of Art and Design in LA.  She has also studied at the Virginia Marti College of Art and Design.
A contestant on Project Runway Season 8, she expresses herself through traditional illustration, fashion photography, pop art influenced paintings, digital media and fashion design.
Go Media had a few moments to sit down with Mayen to talk Barbie, Cleveland love, and making it work.
Go Media: I understand you have a multitude of artistic interests…which came first?
Valerie: I would say the drawing, the painting came first. When I was really little, around five years old, I used to draw my Barbies – they were my models. We had a lot of Disney movies and I would always draw the covers and try to copy them. There was also a drawing show that I always used to watch on Saturday mornings called Secret City. I used to get up every 9 am on Saturdays to draw.
How does your training in illustration and graphic design help you on a daily basis as a fashion designer?
The illustration really helps me whenever I am working with new clients, whenever I am creating new collections, making new pieces for the store, and trying to flush out new ideas.  It helps me to visualize and realize if something is going to transpire or not.
It helps me to sell the vision, too. If I'm meeting with a client and they have an idea of what they want, but they're not sure how to describe it, I can flush it out for them.  It gives me a little bit more of an advantage to communicate to them: "This is what we're going for, this is what we're doing."  They have to trust based on what they've seen in my portfolio that I'm going to do good work. So the more accurate the drawing, the more piece of mind they have in hiring me.
The graphic design definitely helped, in the beginning, when I was starting Yellowcake.  I did all of my (initial) branding and print material. It's helped given me some sensibilities that other designers might not have.
Graphic design is kind of like the icing on the cake.  No one ever gets a cake without icing. And if the icing is a hack job, then the cake isn't as appetizing.  It's like a cover of a book. People put a lot of thought and effort into the cover of a book, or a CD or a poster or anything that will be the one shot to grab someone's attention. So, we put a lot of thought into our branding. Luckily I've been able to develop those sensibilities: what I like, what looks good. What kerning and leading is. Different types and fonts, things I know work best with our brand.
What's the hardest or most challenging thing you have faced developing your brand?
The hardest thing was figuring out how to illustrate that we are clothing company – because you know, it's a big no-no to use a needle and thread, scissors, or other tools of the trade as your logo because it implies that you do alterations or other things in design.  The dress form was a tricky one because it's a tool of our trade. But because it's a tool of our trade and also a woman's form it, it was more of a metaphor, so it worked for us.
We'll always go back and forth about Yellowcake. The longer we keep the company name, the longer I think, people should just deal with it. As we develop and we credibility and notoriety, it doesn't matter anymore that people think we're a bakery.  We even thought of having a tagline that says:
"Yellowcake, we're not a bakery dammit!"
Why did you decide to establish your Yellowcake roots in Cleveland?  
It was a long line of a lot of things. At first it was friends, and then it was a lease, and then it was a grant, and then it was the guy. One year turned into four turned into six turned into twelve.  And after awhile too, I decided to set some roots down and really make the most of my time here. A friend told me that if you want to be successful do the same thing in the same city for twenty years – and that if you work hard and are kind, good things will happen.
What changed you the most about being on Project Runway?
It made me really efficient and taught me how to edit a little bit more. It also gave me a newfound respect for other designers who don't have the same aesthetic as I do.  It taught me about respecting a designer for who they are, what they do and what their vision is regardless of whether or not it is in line with mine or not. Even now I have to check myself. Just because someone doesn't design the way I do doesn't mean they're not worth their weight as a designer or artist regardless of what their level is or what their experience is.
What's on the horizon for you?
Re-strengthening our inventory and finances after the buildout. Creating new products, trying new things. We're revamping our website to capitalize on online sales. Also doing different shows and different events. We're hoping to do Hullaballo again, which was our big fashion event last October.  It was a huge success and and we are expecting double the attendance this year.  We're doing double the amount of garments in the collection and hoping for double the revenue.  Things like that will help us keep the lights on and will help us continue to grow.
Want to know more about Valerie?  Catch her at this year's Weapons of Mass Creation Fest 2013 where she'll be one of our honorary guest speakers!
Want to see her again on Project Runway? Vote for Valerie here!
Yellowcake is at 6500 Detroit Ave., Cleveland. Call 216-236-4073; www.yellowcakeshop.com. Hours: 1- 8 p.m. Wednesday – Friday; noon – 9 p.m. Saturday; 1- 6 p.m. Sunday; closed Monday and Tuesday.
Connect with Yellowcake!  Facebook | Twitter | Instagram | Pinterest | Buzz and Growl | Yellowcake Blog
Since inception, Yellowcake has contributed 5% of their profits to a charitable organization that supports the relief of hunger, homelessness and poverty. They believe in creating boldly fashioned clothing that sustains and supports a healthy humanity. Employing local, supporting our neighbors and aiming to do well by doing good.
WMC Fest 2 Night Stand
We are excited to announce that 2 Night Stand is not only expanding to multiple cities in 2013, lead by amazing creatives across the country, but also that we will be having the first, non-Chicago event in the days leading up to the WMC Fest 2013. We've had over 1000 people apply to our past Chicago events, for Trencherman's Brewing Company, the Zombie Research Society & NASA. We know that amazing people will be heading to WMC Fest and this event will open a unique opportunity for amazing people (who probably already follow each other on Twitter) to design and create side-by-side.
Obviously, we'd love to have amazing creatives request an application.
The better the crew, the more amazing the weekend.
Apply for the WMC Fest 2 Night Stand now!
Click here to request an invite. And check out the website for more info about the event.
You can also check out the twitter feed to see what people are saying about the event.
Be sure to hit up Jason Schwartz one of the Cleveland organizers, if you have any questions or just want to chat.
What is 2 Night Stand?
20 thinkers & makers dive into a weekend long creative bender.
Brilliant concepts and ideas are explored.
No deliverables are promised.
Come to think, be challenged & collaborate. The entire creative process is cataloged and posted live. We consider it a creative growth experience.
How It Works
Applicants request an invite.
Once the invitation process is closed, the 2 Night Stand crew and city leader choose a group of around 30 people to participate in the event. Once selected, those participants are notified and a waiting list of 3-5 people are notified. Tickets to event are purchased online before day of event, so no money is handed day of event and meals can be purchased.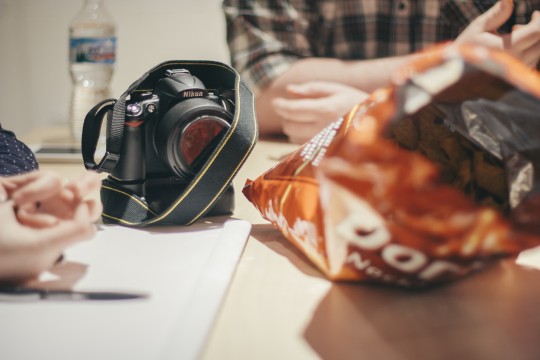 2 Night Stand events are typically held on a Friday night (5pm-10pm) and Saturday (10am-7pm). This can vary by event and coordinator. (For example, the WMC Fest event is tentatively Thursday 10am-7pm and Friday 10am-4pm).
On the day of event, a "mystery client" is presented. By mystery client, we mean one that has not paid 2 Night Stand, or any of it's organizers for free work. The event is based around sky is the limit creative with no feedback from any external sources. The jam session is posted live on our site and final work is posted by each team to Behance.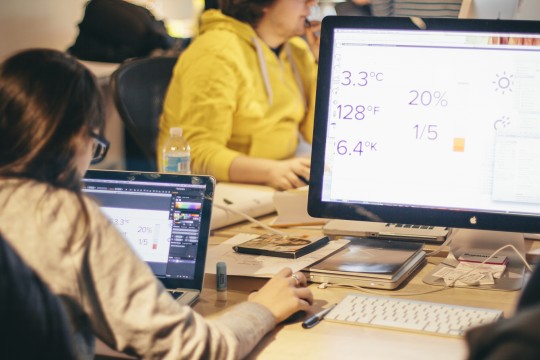 Is There A Cost/Fee?
Yes, the event costs $75/person which is used to secure space and provide meals and snacks for participants. The purpose of having these events is not to make money, but to provide a platform that is self-sustaining and has the ability to provide participants with good food and drinks.
Can People Sponsor The Events?
Yes, in the past we've had some great sponsors and are always looking for help whether it be financial around an event, or a supply donation.
Past Sponsors:
Can People Request A 2 Night Stand Event In Their City?
Yes. We are currently accepting city organizer applicants here.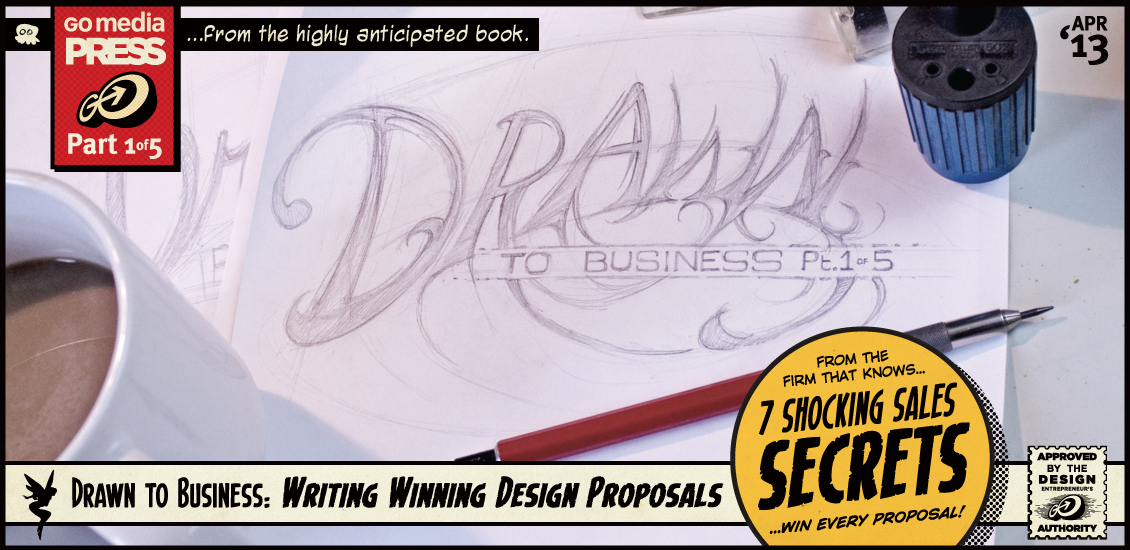 Hey Go Media faithful! Over the next few months I'll be posting five excerpts from my forthcoming book Draw to Business as a series of teaser articles here on the GoMediaZine. So, without further ado, here are seven tips on writing winning design proposals.
Regurgitate back exactly what your clients tell you. Writing a good proposal starts with listening. Ask lots of questions and listen carefully; your potential client is going to tell you exactly what they want to read in your proposal. Your first job is to listen and write down everything they say. Then you're going to write that back to them in your proposal. If a client says: "We want a highly interactive website." Your proposal should say: "Our solution for you is a highly interactive website."
Create templates and refine your message. When you sit down to write your first proposal, think of building a template. You're not going to want to write every proposal from scratch. Try to keep most of the sections generic enough so that you can reuse them with other clients.
Design your proposal. You can file this under the "duh" category. Your business documents are a representation of you! They should embody all the skills you have as a designer. This includes your proposals. So take the time to make sure that the design of your proposal will sell your potential client as strongly as the content within it. Your proposal is your portfolio! Make sure it looks amazing!

Customize the design for your client. For larger proposals, we will swap out the colors and images in our proposals to match the client's brand. In some cases we invest quite a bit of time and effort to make our proposal look like THEIR proposal. It's amazing how impactful delivering a custom designed proposal can be. The client feels like: "They just 'get' us."
Give them a few exciting ideas. It's a well-known fact that people buy on impulse. There is a lot of emotion involved in why people buy. One way to sell a client is to get them excited. This can be easily accomplished by sharing a few of your ideas with a client. This should be done in just a sentence or two. Describe something exciting you want to do with your client's design. A clever idea can make the difference between you and your competitor.
Ask for a budget upfront. Knowing a client's budget up-front is critical to writing a winning proposal. Ask your potential client for a budget during your very first interaction with them. If they act coy and won't give you one, there are ways of extracting it. (These tactics and many more in the forthcoming book).
Don't underbid the project. Another critical reason for asking for a budget is making sure that you're not underbidding the project. Believe it or not, underbidding a project is as bad as overbidding it. When you severely underbid a project you're communicating that you're either an amateur or that you don't understand the scope of the project. Both of these will scare off a customer.
Want to learn more about becoming the greatest design firm you can be?  Buy Drawn to Business, a nuts and bolts strategy guide to building a thriving design firm!
Finally available: the 3rd and final installment Steve Knerem's "Keep me safe" video tutorial series
Hello all!
I'm very happy to announce that we're releasing the 3rd part of Steve Knerem's video tutorial series today! For those of you that have followed part 1 and part 2, you're probably jumping with excitement. For the others, I'm inviting you to go read Steve's "Getting Inked" post for a quick recap.
Also, both Steve and the Arsenal team would like to apologize for the delay, but we've had to slay a few dragons fight some video issues (video flickering and sound track). When a video file doesn't want to, it doesn't want to.
So, what's in the box?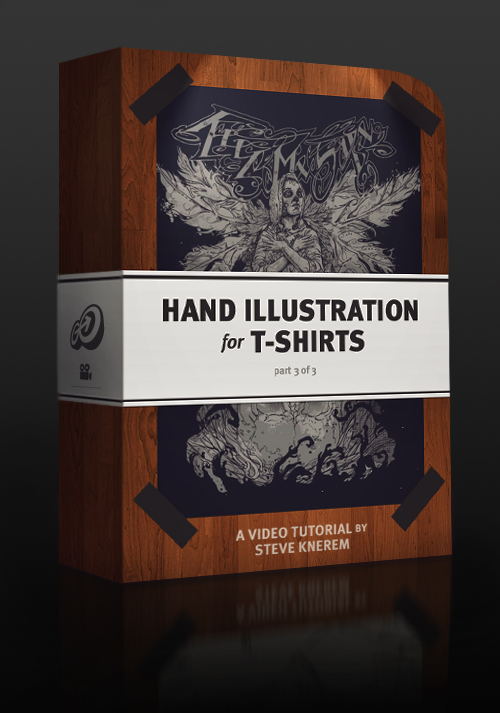 In this last installment, Steve covers his digitization and coloring techniques:
Color palette choice
How to use Illustrator's tools to add various elements that bring the place together:

Vector brushes
Halftones
Patterns

And more!
The hour-long video is as usual laced with tips, tricks, and cool music. While the tips and tricks might not be the ultimate demystification of the process, they should at least make it more of a relaxing walk than an uphill battle.
A few screenshots
A few notes from Steve
Hey Guys,
Well if you been following this tutorial you know that it's a long time coming. We're finally at the finish line and now you can on the in depth look into how I color and finalize my tees for print. I'm super pumped to get this out to you and a mega props to Go Media for being a great company to do some work for and letting me use their stage to help anyone learn something new and grow as an artist.
If you purchased the first two tutorials, you can expect more awesome music from some awesome metal bands such as Onward to Olympus. I drop a bunch of personal insight that I've picked up over the years illustrating that hopefully will help, let you in on some of my technical "secrets," and show you how I conduct business.
Lastly the tee will be or already is printed! Go to www.establishthefrontline.com. Buy a tee or five and wear it proudly and send me pics of you wearing it to [email protected]. AS A BONUS: the first 50 tees will have a labeled tag with the ETF name on it, my signature and I'll write in the order # of the tee you purchased it ( i.e. 1/50, 10/50, etc.). Finally I am getting a printed tag made up that on one side shows the final art and the other side shows the making of the art.
Thanks for purchasing and viewing, always let me know what you think, ya'll are the best!
— Steve Knerem
One, no, two, no, three, last things!
One: again, you should totally go buy that last part of the tutorial on the Arsenal. Also, if you haven't gotten any of them yet, we're making the 3 parts available at $69.99. Just buy the 3 parts at the same time. This is a $20 discount, and it won't last forever. You should totally take advantage of it while it lasts.
Two: if you follow the tutorial, we'd love to see what comes out of it! Don't hesitate to mock it up, post the result on the interwebs, and to link to your image in the comments below. Or better yet, post it in the Go Media Flickr pool, and you might be featured on our monthly showcase.
Three: like the art Steve has been designing throughout the tutorial? Well, it's available on shirts, as Steve said! You should totally purchase one in your size on Establish the Front Line, Steve's apparel line. Also, something tells me that Steve will share a few more things about that shirt yet (like production pictures, etc), so you should totally watch this space.
Hey Go Media faithful! Man, it feels like it's been years since I've posted anything in the Zine. These days all my writing has been focused on my upcoming book Drawn to Business, Designed for Success. I think everyone is going to love the content. It's all the nitty-gritty details about how we run our design firm, but I digress. This blog post is about a piece of art I created for last year's WMC Fest. I had this crazy idea of illustrating a portrait of my friend Heather Sakai. I wanted to try and include all of her passions in one single image, from her Japanese heritage to her love of Hello Kitty. I thought it would make a fun subject for a tutorial. Though, I've been doing so much writing for my book, that I really didn't want to write a tutorial. Instead, I thought it might be fun and interesting if I just showed you my process in a series of images. So, without further ado, here is my (nearly) wordless vector illustration tutorial.

A few sources of inspiration for this design.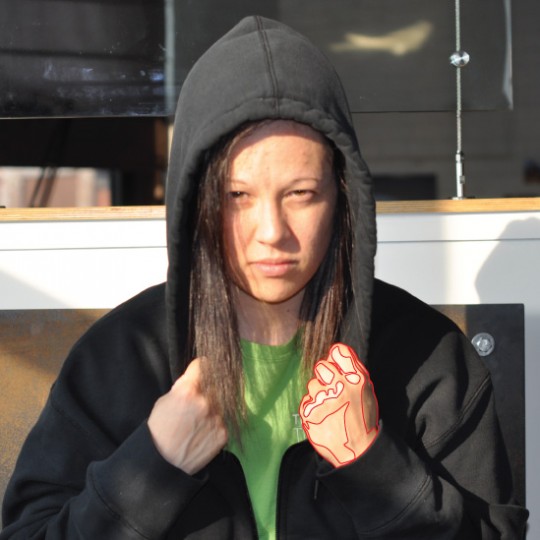 You'll notice that it looks like the dragon's body is snaking back and forth. To create this appearance, I simply copied the body, pasted it and flipped it horizontally.

I grabbed the wings and tail from Vector Pack 19.

The Sakai family crest provided to me by Heather.
It's Friday. I'm hungry. One of my friends recommended a new trendy restaurant and, hey, it's right around the corner. However, knowing that "trendy" can mean "a sole sprig of lettuce and a sprinkling of truffle oil" and I wasn't joking about this whole hunger thing, I head to the restaurant's site to check out the menu before making any firm plans. But, when the graphic and video-heavy site finally loads, the menu is impossible to find, as are directions to the entrance, which I've been told is hidden down some strange back alley. In fact, I can't even figure out how to enter the site, mired as I am in this gorgeous yet impossible to navigate landing page, with earthy music blaring through my speakers. Frustrated, I choose another old standby just around the corner (probably ten feet from this new restaurant, but who can tell?), just to spite the first one.
I know I'm not the only person who feels this way. And yet, I appreciate beautiful design just as much as the next person, and dislike those hyper-corporate sites that are all business and no personality. That's why I think it's so important to test the success of your web designs — not just to see whether or not users actually find the site compelling, easy to navigate, and even easier to buy from, but also to see how far a designer can push the envelope before that bottom line begins to suffer.
To accurately measure the success of a website, Google Analytics is a must. There's a lot to it, so I highly recommend this analytics guide for both an initial grounding in the subject and for more advanced, deeper investigations. As a start, here are just a few key things to look out for when testing the success of your web designs.
Conversion Rate
When it comes to determining the effectiveness of a website's user interface, there are few measures as telling as conversion rate. Whether it's an actual purchase or simply downloading a pamphlet, conversion rate is an effective way to gauge just how engaged in the site users are, and where in the sale funnel they might be encountering roadblocks.
Of course, basic measures like keeping a headcount of newsletter sign-ups are useful, but to really dig into the nitty gritty, consider using Google Analytic's Advanced Segmentation tool. As you can see in this case study of a company called WBC, advanced segmentation can really help you dig down into subtle measures that are powerful yet easy to miss. For example, this particular company found that, lurking within a generally low conversion rate were loyal users with high conversion rates. This lead to a redesign that displayed a greater range of products most desired by loyal customers, and established industry authority.
This tool is most powerful when paired with content experiments, which, despite the title, can be applied not just to content but to various elements of design as well. As a designer, you already know that on a landing page the most crucial information and any forms or other means of conversion should appear above the fold. But how much information should appear? Should the content be wordy and informational or highly visual? How clean is too clean, how packed too packed? With content experiments, you'll randomly send visitors two or more versions of your site while tracking conversion rates, enabling you to test everything from major layout differences to the color of a headline. Whether that creative, totally new layout works or not will entirely come down to the data.
Event Tracking
Let's say a design is working and a customer has added the desired product into the cart or started to fill out a form field. But then they get frustrated with just how long the form is, or they type something incorrectly, or the cart responds with an error message. Make no mistake: web users are fickle and these kinds of frustrations are likely to turn them away.
Google Analytics' event tracking can both identify and help mitigate the problem. With the ga.js tracking code, you'll be able to see and record just how users are interacting with website elements, and you can classify those interactions with web page objects. So, whether your forms are too long or your checkout process is too cumbersome, event tracking can help you identify user experience and sales funnel roadblocks and move them out of the way.
Site Speed
By most accounts, the average user expects a web page to load in no more than 2 seconds. Yep, all of those jaw-dropping photos and helpful videos and interactive features you've added to a site in order to up conversions and engage users (and just generally keep things fun and cool) have all of a couple of seconds to load and become totally functionally. Not only that, but they also have to work on a variety of devices; fair or not, users will blame the site for not loading on their ancient iMac, and all of that design genius of yours will be thrown out of the window.
First order of business a site speed test for every site you produce. The Site Speed menu under Content in your Google Analytics dashboard will also provide a look at specific page load times, as well as that of the overall site. If the results are disappointing and you've got a high percentage of visitors coming to you from around the world, consider hosting your site on a Content Distributed Network like MetaCDN. As the name implies, CDNs distribute storage of a site across a worldwide network, so that users will always be downloading page elements from the nearest server to them, rather than waiting for it to download from some server halfway across the world. CDNs also automatically account for the demands of different devices, making for an overall much speedier experience (and a higher likelihood that visitors will stick around).
Bounce Rate
Bounce rate analytics are easy to find in your GA dashboard both for landing pages and specific pages on your site. However, just what bounce rate means is a little more confusing. Strictly defined, bounce rate measures the percentage of users who leave the site rather than clicking links that bring them deeper in.
But if you've designed for, say, an expertise blog, this could just mean that users are finding exactly what they want and leaving. You'll know this for sure if they're staying awhile on the site — something you can see for certain when you take a look at site times in the Engagement tool. This all may mean that the content and layout in themselves might be great, but there may not be, for example, a nice display of related articles in the sidebar, or enough featuring of services to show the reader that there is more on offer. Other causes of high bounce rate might include loading and error issues, boring content and design and poor usability.
Google Experiments can again prove crucial not just in upping conversions but also in getting users to stay there in the first place. Use the bounce rate to identify and pin down the problem, and Experiments to determine just what to do about it.
Take-Away
Creativity, artfulness, and fun are all crucial elements of good web design. But users won't appreciate any of that if they can't find what they're looking for — and fast. Rather than fearing the numbers, web designers should use them as the source of their creativity. In fact, many times the most creative and inspiring solutions are those that come from within real world constraints. In that way, analytics and web design are perfectly paired.