Articles by Month:
September 2018
Some of our most popular posts have included our posts about who we suggest you follow on Instagram, such as our recent post entitled, "21 Hand Lettering Artists to Follow on Instagram." Today, we thought we would recommend our favorite graphic design agencies to follow on Instagram. We hope you enjoy!
"Brooklyn's freshest little creative agency."
A branding studio from Austin, Texas.
Only is an award-winning branding agency based in Manchester.
Huge Inc. is an experience design and digital marketing agency that provides strategy, marketing, design, and technology services to Fortune 100 companies. They have offices in Atlanta, DC, Detroit, Brooklyn, London, Singapore, Toronto, Los Angeles, and more. Follow them.

Design, illustration and animation team based in Los Angeles, California.
Design studio based in Novi Sad, Serbia.
A Chicago, Illinois based brand identity, package design and graphic design studio.
A creative agency in Melbourne.
Hey Studio is graphic design studio based in Barcelona.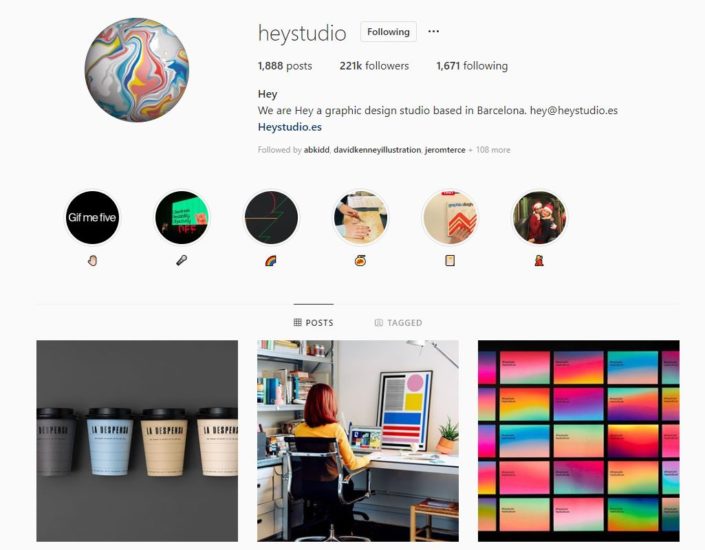 A graphic design firm in Miami, Florida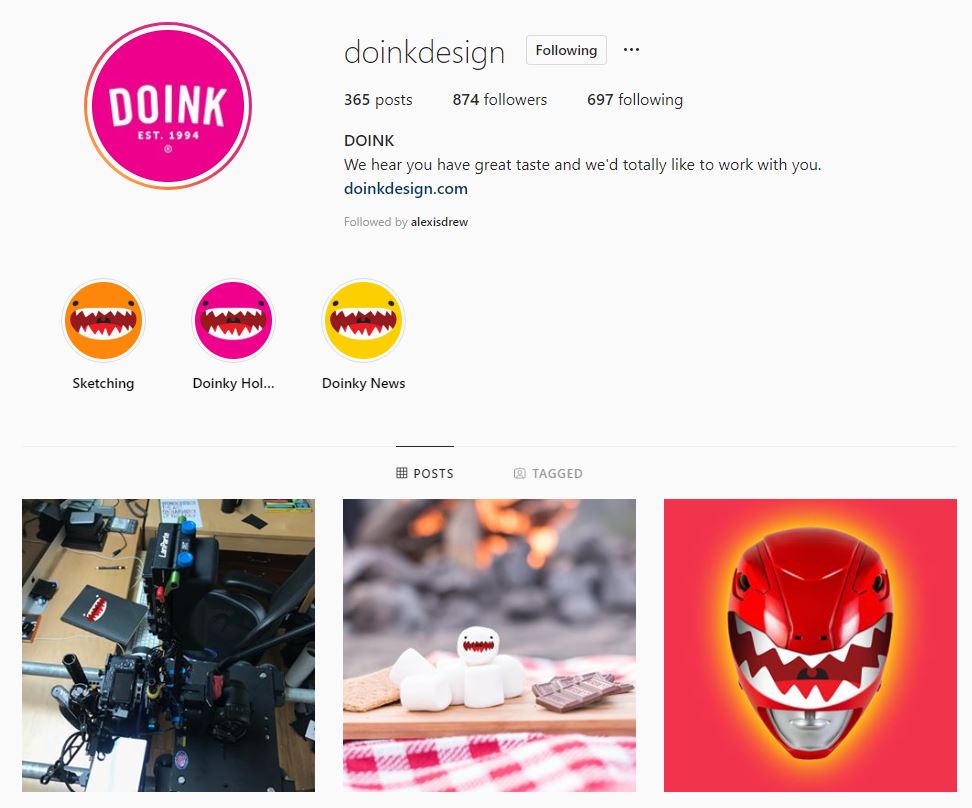 A brand consultancy & design studio in Detroit.
Impero is an independent creative agency based in London and Buenos Aires.
Flourish is an Award-Winning brand and digital agency based in Surrey and London.
and don't forget to follow us – your friends at Go Media, a creative agency in Cleveland, Ohio.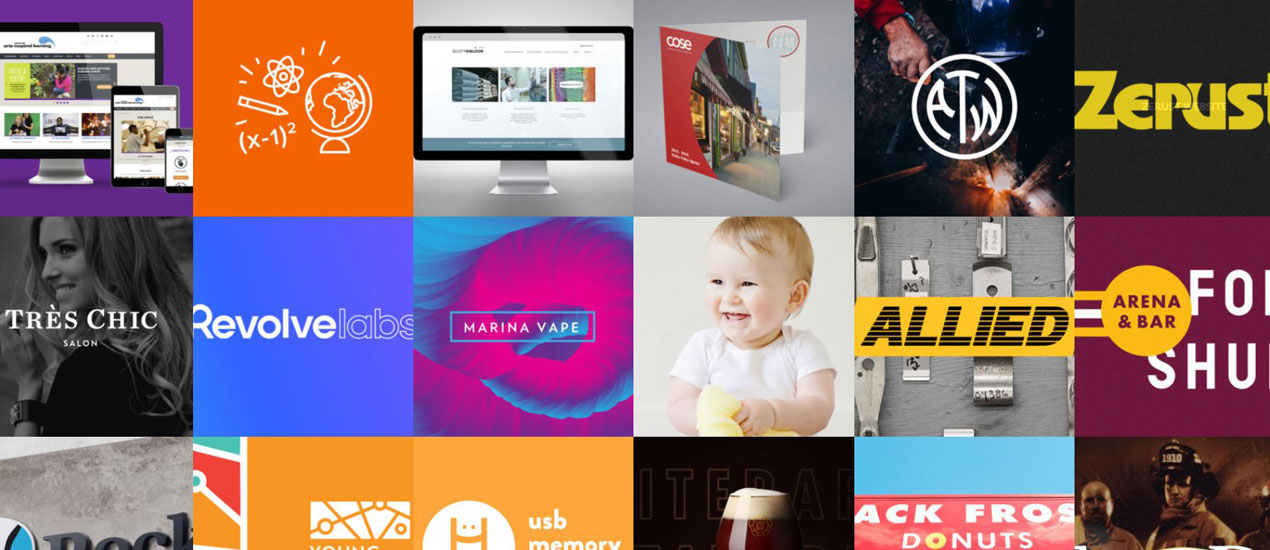 Your online portfolio is the face you present to the world that shows what you're capable of as a brand. If you want to gain new clients, your portfolio needs to show you're a professional that knows your way around a design, product or service. It isn't always easy to show people what you've worked on and all your skills in one place, but a well-designed portfolio allows you to do just that.
One of the best ways to figure out how to create a portfolio is to study others. Figure out who your competition is and assess their portfolios. What is lacking and what works well? There are eight things you should include in your online portfolio to make it stand out to potential clients.
1. Limit the Number of Projects
There is no need to share every project you've worked on since the beginning of your business. In fact, the projects or designs you complete when you first start probably aren't your best work. Instead, choose a few things you'd like to highlight. If you design landscaping and backyard retreats, then you'll want a section for each and photos that highlight a variety of your best work. For example, you might showcase backyard fire pits, a stamped concrete patio and a retaining wall.
2. Use Images to Create Categories
Studies show that people remember visuals much longer than they remember text. Hearing information has a 10 percent recall, but if a relevant image is aligned with the words, then they remember 65 percent of the information. Create categories that feature your most popular products or your best work. These images become a sort of flipbook that allows you to highlight what you want the moment a visitor lands on your page.
Moscot does a great job of highlighting the craftsmanship of its products and uses images to showcase its beautiful glass designs. This is a great example of a company that offers a product and a way to highlight it through an online portfolio. If the consumer has any questions about the quality of Moscot's work, they are answered both with words and images.
3. Highlight Your Bio
If you're the face of the brand and more of a one-man or one-woman show, take the time to share your experience and philosophy behind your business. This builds a level of trust with potential customers. Show them who you are and why you do what you do. If they sense the passion behind your work, they'll be better able to trust that you'll provide quality work. Trust is particularly important in industries such as web design or service industries.
4. Show Your Processes
Are you proud of the way you do your work? Don't be afraid to show your processes and highlight why your product or service stands out from your competitors'. This shows leads that you take pride in your work. Don't worry about competitors stealing your ideas. If something is truly that secretive, there are ways to show what you do without giving anything away.

PSI — Performance Services Inc. — does a great job showing its work in action via a project gallery. Photos are placed on a grid layout and show images of its cleaning and maintenance services in action. One image is of a man hanging down the side of the building as he cleans windows. Another is of a worker on a lift cleaning hard-to-reach beams in a college gym.
5. Extra Print Copies
One thing to do if you plan to present your portfolio in print format is to create extra copies. You may show up at a meeting and discover there are multiple people there to hear you speak. Having extra copies allows everyone to look at your work as you give them your pitch. You also never know when you might run into a business owner in the lobby of the building where you are providing services. Having an extra copy or two of your portfolio allows you to take advantage of those impromptu elevator meetings.
6. Know Your Audience
You have to know your audience when creating a portfolio. If your goal is to reach serious-minded business owners, then your portfolio will have a classic layout and photos that show your work. On the other hand, if your goal is to reach consumers and your brand has a humorous approach, you might want to include silly photos and funny points in your portfolio. You have to understand the tone that works best for your particular audience.
ToyFight is a design team that has worked with toy designers, so it makes sense that its portfolio is lighthearted and fun. Look at the screenshot above of its portfolio landing page. It shows a cowboy riding a toy dinosaur and chasing a running man. The colors are bright and eye-catching and show the humorous side of the founders.
7. Interact With Visitors
Make your portfolio interactive. Add animation as the user moves over different images or categories. Add a video in the background showing your design team hard at work. Create a game the user can play that shows what you do and how you deliver to the customer. Anything you can do to involve the user from the minute they land on your page keeps them there instead of bouncing away to a competitor's site.
8. Add Testimonials
A portfolio might not be the first place you think of for a testimonial, but adding in snippets from happy customers allows you to showcase just how well your service or product works for your current clients. You don't have to add a three-page long testimonial to each image. Instead, pick out a sentence that sums up what you did for a client, such as, "They increased our company's productivity by 50 percent in three weeks." Go for concrete, specific examples from satisfied clients.
Be Unique
One of the smartest things you can do to stand out from the competition is to study them. Figure out how you can best present yourself. Use different colors and better examples, and make your site or paper portfolio simple to navigate. Anything you can do to highlight why you're the best gives you an advantage. Remember that your portfolio is often the first introduction a potential lead has to your business, so make it the best it can be.
Check out Go Media's portfolio here and reach out to work with us on yours here!
Trademark is a valuable part of any business since it's the feature your clients will identify you with. It will stand for your reputation, products, and services, and that is why you need to protect it legally. Registering a trademark for your company will give you the power to file a lawsuit in case someone infringes your work or uses your name without authorization.
It will also allow you to present your products and services worldwide thus helping you to establish yourself on the market as a company. However, knowing how to register a trademark is also important in order to do it on time and properly.
How to Register a Trademark for Your Company: 6 Tips
Think internationally
You will have two options for trademark registration: national and international. The former will only protect you in your country and for most that are enough. However, if you plan to expand in the future, then consider registering your trademark on the international level.
Doing so this early will protect your business from any inconvenience and infringement in the future. You can do this at your patent and trademark office, just be prepared to pay the fee and file the necessary documents. In some instances, you can even do all this online without having to wait in line or deal with bureaucracy.   
Consider it a valuable asset
Even before you open a business, have your trademark in place. Trademark is a valuable asset and you have to protect it and use it to advance as a company. It offers possibilities not only to expand but also to grow and become a corporation.
Additionally, the trademark is an asset like any other property you own, and as such, it can secure your loans and investments. You can earn money and promote your brand by allowing other people to use your trademark for commercial purposes. In a way, the trademark will become the face of your company and help you win over new customers and markets.
It will make you recognizable
The best way to attract people to use your services or products is if you let them know you. And one of the most effective ways to do that is by giving them something to remember you by. An interesting logo will help people associate with your company and easily find you the next time.
This is an effective communication tool that will position you among your competitors, as well. This means that it can be a crucial part of your customer's decision to choose you instead of your competition. Customers who see your trademark will know what to expect and what kind of service to expect from you.    
Trademark lasts
As long as you use your trademark, it won't expire. For example, Pepsi and Dr. Pepper exist for over 100 years and are one of the most recognized brands in the USA. Before you decide to create a brand, do some extensive research and see what would truly fit your business.
Also, keep in mind that it is something you will be associated with any time people see or hear your trademark. So, don't rush and do an extensive research before registering it to make sure that you have created something unique and right for your company.
Choose a unique name
Just like anyone can't use your trademark, you also mustn't use theirs. In order to see whether name or logo you want is available, perform a trademark search before filing for registration. This way you will make sure you are not breaking any laws, as well as that your brand is unique on the national and global level.
When you choose a name, let it slide off your tongue. It needs to be something that people will easily remember and that can serve as a good marketing asset. Don't use the name that may remind people on another established brand, since that will only confuse them and highlight your differences.
Trademark a logo
Beside your name, the logo is going to be the things everyone recognizes you by, no matter if they are clients or partners. Just remember Coca Cola's logo and its worldwide recognition, and you will instantly understand the meaning of color, style, and words. To trademark a logo, you first need to create one and that is usually the job of a professional graphical designer or company.
Additionally, take into consideration the possibility of marketing such a logo and how it would fit into your company's image and advertising. Once you register the logo as your trademark, no one else will be able to use it without permission and it will represent your company publicly. Depending on your business activity, you can also create a trademark for each of your products and register them as well.
In the end
Before you register a trademark for your company, think about what you want to show your potential customers. The trademark is going to give your business an image that will always point out to you and your performance of services. In order to create a positive association, design a unique trademark and always do your utmost best to satisfy your customers.
After all, the trademark is a valuable asset that can help you grow and increase your revenue if you do it right.
Business Startup Costs You Need to Consider
Before you buy the first thing for your startup business, sit down with pencil and paper (or keyboard and fingers) and create a list of what you want, need, and absolutely must have. As you go through this process, you will hopefully realize maybe you don't need that super swanky office chair or top of the line MacBook Pro before you spend money on professional graphics or flesh out the marketing budget.
The bottom line is that there are some costs, as a newbie startup entrepreneur, you can put off until later – or never – and some you skimp on at your own peril. In other words…
Don't Cheapskate These 8 Critical Startup Costs
#1. Promote or Die
We carefully chose to title this section with the more inclusive term of promotions rather than advertising. In most cases, a new business will not succeed unless it promotes itself heavily, and this means more than buying lots of ads in the local newspaper or radio spots. To promote is to use every means at your disposal to put your startup's name and product into the brains and onto the lips of as many people as humanly possible, and do it quickly. The real point here is it's dangerous to simply sit back and wait for customers to come. You need to find them and that costs time, effort, and money.
#2. Debt Costs
If you think you can get your business off the ground without borrowing, more power to you. Business loans should not be taken out on a whim, but if you decide to do it, calculate into your cash flow budget the monthly interest cost paid to the lending institution. Don't get us wrong. Depending on the scope and type of business you're starting, business debt may or may not come into play. It's not automatically a bad or good thing. Keep in mind that a lot of very successful businesses got their start by borrowing money. Just remember to calculate ALL the costs.
#3. Employee Expenses – ALL of Them  
Unless you're a one man or woman show or only want to have a hobby business, you're going to encounter the necessity of hiring employees sooner or later – hopefully sooner. You should realize that the cost of hiring goes beyond the pay rate and includes things like benefits, taxes, uniforms…and the list goes on. If you plan to start your people at the minimum wage and keep them there, please reconsider. Low pay usually yields high turnover and disgruntled workers. That's not an environment where you should want to spend your time.
#4. Technical Expenses
Back at the beginning of this article we urged you not to lay out crazy amounts of cash for a fancy laptop and fool yourself into thinking it was necessary. Now we're to the point where we're going to urge you to spend money on those technical considerations that are necessary to accomplish your business mission. That most likely includes a domain name and website, computers, as well as the critical service subscriptions or software (don't forget accounting and payroll) you're going to use daily. We're going to suggest you not pay $90 million for a domain – see #14 on this infographic. At least not right away. Non-critical expenses are a startup killers!
#5. For Results, Look Like a Pro
While your oldest daughter might be a design wizard for her age – freshman in high school – but we're talking about your business here and 'good for a kid' isn't good enough. What we're saying is that all those materials that represent your company's face to the world – website, business cards, logo, signage, and the list goes on – should be created by a professional designer. Yes, this costs money than the extra $20 you planned to add onto her allowance. Once again, we're talking about your business. Get serious about it.
#6. Professional Fees – Ughh
You probably don't need to keep a lawyer on retainer or trot down to an accountant's office twice daily to ask questions but buying a few hours of a well-compensated professional's time in the planning stages of your startup is a great idea. An attorney can guide you through the legal maze of forming your company correctly, while an accountant offers invaluable advice in that area that no one likes to think about – taxes. With online payroll services becoming quite affordable, the daily chore of recording daily financial matters should be outsourced in most cases.
#7. Sock Something Away
We'll call this one the Stage One Emergency Fund. In the early days of your capitalistic endeavor you absolutely must have money squirreled away somewhere to deal with unexpected developments. Let's say you're opening a seafood market and your main freezer (that you bought lightly used for more than you'd like to admit) conks out on day three. Hard to run that kind of business without a cold place to put product, so what are you going to do? Dig into that emergency stash and get the freezer repaired, that's what. The point is not to spend ALL your money before you open the doors.
#8. Insurance and Other Maddening Costs
A single uninsured slip and fall or natural disaster can torpedo even the most carefully planned business. Insurance is expensive, yes, but it's almost always cheaper than bankruptcy. Then there are the various permits and fees that may apply to your particular business (here's where a consultation with a lawyer and accountant come in handy). You'll likely need a tax ID number from the state and one or more local business licenses. If you dabble in alcohol or firearms, expect a VERY thorough vetting process that costs both time and money.  
A Final Thought
You've likely heard reference to the bottom line at some point. Smart entrepreneurs pay attention to the top line, which means you should continually evaluate prospective spending in light of whether or not it contributes to business growth and development. If it does, make it a priority. Otherwise, put it in the 'maybe never' pile. For a business to grow, you can't be afraid to spend, just do so intelligently.
Creative types know that working day after day on various projects is taxing for even the most creative person. Figuring out ways to refill the creative well and stay motivated isn't easy. But what if you could find inspiration from the very space you work in?
One study on employee engagement found that about one-third of workers aren't fully engaged. Disengaged workers are less likely to feel satisfied in their roles and more likely to leave, causing higher churn rates for companies. While many factors play into how engaged employees feel, the overall work environment has a huge impact.
Help your employees feel engaged and inspired with the following nine ways to update an office space for creatives.
1. Get Rid of the Cubes!
Cube farms are quickly becoming a thing of the past. Dry, boring cubicles aren't inspiring to anyone. Not only that, but they separate workers, creating a situation where brainstorming is next to impossible. If your office is filled with cubicles, swap them out for flexible walls that can be moved around at will to fulfill a wide variety of needs.
2. Add Collaborative Areas
At times, your design team will need to work quietly and alone. Other times, everyone will need to pull together and collaborate. On other days, some team members will need collaboration while others need quiet space. Design a work space that allows for all of these scenarios by using small work areas, such as an office pod turned into a lounge area.
You'll want both small collaboration areas for small groups and large areas for the entire team or several teams to work together on big projects.
3. Display Beautiful Art
Take the aesthetics of your space up a notch or two by displaying art. More than likely, at least one of your designers is also a hobby artist. If you can personalize the space by using art that your employees have created, everyone will feel more connected and appreciated. Swap out the art from time to time to give everyone a chance to share what they've created.
4. Go Wireless
Ugly wires running here, there and everywhere mess up the overall design of a space. Look for ways to hide wires or go wireless. Sometimes, hiding wires is simply a matter of thinking through the placement of computers and other equipment. Get rid of wired mice and keyboards, and go for wireless options.
5. Bring in Plants
There are many reasons to add plants to your office space. Not only do they provide beauty, but they also help clean the air, creating a healthier work environment. In one university study, employees who were surrounded by plants were 15 percent more productive. Their concentration levels were higher than in offices without plants.
In addition to the productivity and health benefits, plants make a space look better and can provide inspiration by giving workers a break from drab walls and ceiling tiles.
6. Offer a Pet Day
Although certain standards are needed to keep the office pleasant for everyone, allowing employees to bring in a pet or personal item from home can provide inspiration. Few things are as fun as a puppy's antics. While it might be distracting on a daily basis, adding a puppy to the office environment every once in a while can provide a welcome break from grueling work and add an element of excitement to the day. In addition, sharing a part of their lives allows workers to become more of a community.
You may want to allow only a few pets at a time or in certain areas to accommodate co-workers who have allergies and keep distractions to a minimum.
7. Incorporate Natural Light
Today's modern office worker spends about 80 to 90 percent of their time inside. A lack of natural light and fresh air impacts employee health and motivation. When designing your office space, look for ways to bring more light inside. Doing so might simply be a matter of unblocking windows and removing blinds. The strategy could also be more involved, such as adding skylights and more windows.
If you're on a tight budget and can't afford major renovations — or you're in a building where they aren't practical — try to find some outdoor space where employees can escape for lunch or a break and breathe in the outdoor air. A rooftop garden or outdoor patio area are both simple solutions.
8. Throw Away Desk Assignments
Traditionally, workers had a specific desk that they went to each day to do their work. This setup isn't conducive to a flexible work space, and it's no longer necessary, as computers have become more portable.
It makes more sense for designers to have a variety of areas where they can work. Allow them to choose the space that feels best for them each particular day.
In practice, this strategy may look like a designer who starts off in a common area, brainstorming with other team members. They then move to the rooftop garden with their laptop to lay out the plans discussed during the brainstorming session and get a bit of fresh air. Finally, they might move to a desk in a quiet spot where they can begin the actual design.
9. Get Rid of Clutter
A space that's well-organized and uncluttered is more pleasant for everyone. Taking away the assigned desks as mentioned above allows much of the clutter to be cut from the office. Those who would keep messy desks don't have a permanent desk to create the mess, and those who would normally keep things neat aren't overwhelmed with co-worker clutter.
Add plenty of storage, and get rid of anything you don't actually use or need — sell it or donate it. Go digital whenever possible to get rid of paper clutter and the need for lots of storage.
Inspire Your Design Team
There are many ways to inspire your design team, and creating a beautiful work space is just one of them. Take the time to get feedback from your employees about what they'd like to see in their area and what would be most helpful to their design process. Even minor changes can make a big difference in the overall productivity and mood of the whole team.
Designers, illustrators and small business owners, it's almost time for this year's WMC: Off-The-Grid, the three-day, all-inclusive design retreat Go Media created just for YOU! The retreat runs October 5 – 7th at Mohican State Park in Loudonville, Ohio. This sits happily between Cleveland and Columbus and is the perfect setting for us to unplug and focus in on our craft.
But before we get there, we have a few surprises up our sleeve. Today, we are beyond thrilled to tell you that Brad Woodard, Designer, Illustrator and Co-Founder (along with his wife, Krystal) of Brave the Woods, will be speaking and presenting a workshop at this year's WMC: Off-The-Grid.
Growing up in a creative family, Brad always knew he was going to be an artist. When he "grew up" he continued his love of art through a creative career that ranged from a start up creative studio, to a large ad agency, and finally to starting his own design and illustration studio, Brave the Woods, with his wife. He pursues his creative career on the belief that you have to stay curious and you can't wait on others to hand you your dream job, a message he shares in his talks, classes and workshops around the country. His curiosity fuels the variety of styles and projects he has worked on from children's books, to murals, to animations and branding. When not working, he enjoys spending time traveling and enjoying the great outdoors with his wife and kids.
Brad will be making the trek to Mohican to facilitate one of our campfire talks, as well as teach an intimate workshop entitled, "Carvin' Critters" that will be open to 18 lucky attendees. The workshop attendees will be forced to ditch the vectors and pixels and carve their favorite animal into a piece of wood. Attendees, sign up here.
Keep in mind that you must be registered for WMC: Off-The-Grid to take part in the workshop. You can register for our event here:
Register for WMC: Off-The-Grid
Brad will also be featured as one of our Ink Wars artists, so get ready to be wow'd by his skills on the fly.
Keep in mind that WMC: OTG will afford you the opportunity to have discussions with Brad that you may not be able to have anywhere else. His perspectives on staying curious always will surely inspire all of us, and his love of the great outdoors make him a perfect fit. Here's to this exciting news!
Now get one of our very last tickets at wmcfest.com!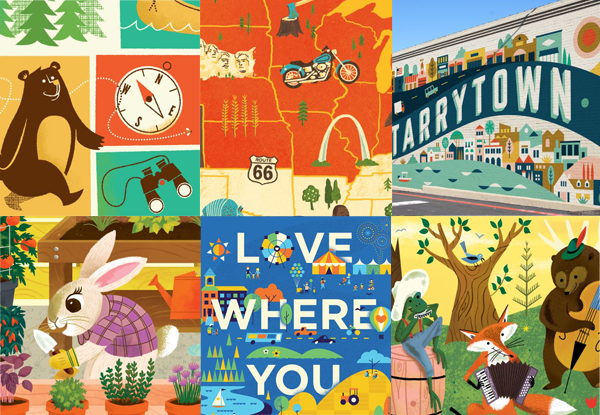 Nowadays, every business needs to have a functional website. Websites have become the face of companies and online consumers visit those pages to shop, get informed or educate themselves. That being said, businesses must meet consumer demands, expectations and needs when it comes to website browsing and experience. However, in order to do that, they must first ensure their company websites are visible, accessible and easily findable online. One of the best ways to improve website visibility in the online world is search engine optimization (SEO).
SEO is a cost-effective marketing campaign that helps websites rank high on search engines, such as Google. Still, online market is overcrowded and highly competitive. So much in fact, that SEO is now mandatory for businesses instead of just optional. Without SEO, you have no chances of becoming visible online and you'll only be overshadowed by your competitors. Also, SEO demands constant work to produce viable results, mainly because search engines oftentimes change the rules, as well as make modifications to their algorithms. Therefore, here's a complete SEO checklist for website owners.
Important SEO aspects
To better understand SEO, you have to understand its aspects. SEO consists of three main categories: technical SEO, on-site SEO and off-site SEO. These activities help you improve your website's visibility, authority, credibility and awareness online, among other things. Each category serves a specific purpose of helping both your audience and search engines understand your website and the content you produce.
Technical SEO focuses on the functionality of your website. On-site SEO focuses on optimizing your content and pages for search engines. Off-site SEO focuses on activates outside your website that help boost your reputation and trustworthiness. The more effort you place in optimizing your website, the higher rankings it will achieve.
Technical SEO
As mentioned before, technical SEO focuses on the functionality and performance of your website. Website elements, such as speed, user-friendliness, responsiveness, security and so on, all influence customer satisfaction, which is one of the primary factors for search engine rankings.
Website Speed
Speed is crucial for bot your website and your consumers. The main reason is that literally no one today can tolerate slow loading web pages. In fact, 67% of consumers will abandon your website if it takes more than two seconds to load.
In addition, 47% of mobile users will abandon the pages if they do not load in three seconds or less. That being said, website speed is a crucial ranking factor, because search engines will penalize you for having a sluggish website. And, the reason they do that is that you're unable to provide a seamless customer experience on your website, due to it being too slow.
Responsiveness
Focusing on mobile users is more important than ever. As a matter of fact, mobile traffic has already surpassed that of desktop, which means that not having a mobile-friendly website is a career suicide these days. Fortunately, you no longer have to maintain two versions of your website. Instead, implementing a responsive design that can adapt to any device and screen size will satisfy all your customers.
Security
Modern consumers are much savvier than they used to be, which means cybersecurity is one of their top concerns. Lacking proper security measures results in ranking penalty from search engines and guarantees that your customers won't be satisfied with you. Implementing security measures is therefore essential for modern websites. For example, an SSL/TLS certificate is a good way to secure your website and ensure good ranking factors for your website.
On-site SEO
On-site SEO are activities with a purpose of optimizing content and web pages on your website to be more SEO friendly. In other words, helping search engines understand the context and the content of your website and its pages. Search engines crawl your website and leverage information they've obtained to properly index and display it on search results.
Keywords
Keywords are an essential aspect of SEO. When it comes to On-site SEO, keywords help match the content on your pages and posts with user intent. In other words, you must rank for keywords your audience most commonly uses when searching for something online.
Keywords must be researched carefully, so that you ensure your efforts are well-placed. If you have difficulties managing this on your own, you can look for the best search agency that can help you out with this task. That way, you'll ensure that your website is well-ranked and relevant to your audience.
Content
Content is king in the marketing world. Content on your website needs to be excellent and relevant, in order to engage your consumers properly. Content will help inform, educate and even entertain your audience while on your website. That's why you must optimize it properly and ensure search engines can adequately display it on their results.
Titles, URLs, Metadata
Optimizing pages is important for SEO. Each page, post and piece of information must be optimized properly so that both search engines and your audience can understand it well. For example, include keywords in title tags for your posts so that it can match user intent.
Also, restructure your URLs to help search engines understand the content of your pages. In addition, include detailed information in Metadata descriptions to help your audience understand what your pages are about. Optimizing pages and their elements is essential for SEO and ranking well on search engines.
Off-site SEO
Off-site SEO are your activities outside your website. Promoting content on other sources serves a purpose of building credibility, domain authority and reputation for your website. Search engines reward websites with good off-site SEO with high rankings. The main reason is that search engines favor websites with good relevance and credibility.
Link building
Link building is an SEO activity of creating high-quality inbound links for your website. In short, the content you publish contains a backlink that leads back to your website. You accomplish this by guest posting your content on other relevant and reputable sources, such as other blogs and websites. In fact, backlinks share the first place with content as being the most important ranking factor on Google. The more quality backlinks you have, the higher your rank on search engines.
Social media
Even though SEO isn't directly involved with social media, search engines do prefer websites whose content is popular on social media networks. Likes, shares, tweets and others make your content popular and influence user engagement, which means search engines are more likely to recommend content on their results that is viral on social media. Sharing your content on your own social media pages is a good way to start. You can also leverage influencers to further promote your content and create a much-needed buzz for your posts.
SEO requires a lot of effort, time and dedication before it starts showing viable results. A lot of web owners simply give up before that happens. However, SEO can vastly increase not just your website's visibility and awareness, but also boost your organic website traffic. In other words, investing in SEO can greatly payoff if you're willing to make an effort and wait for the results to start showing.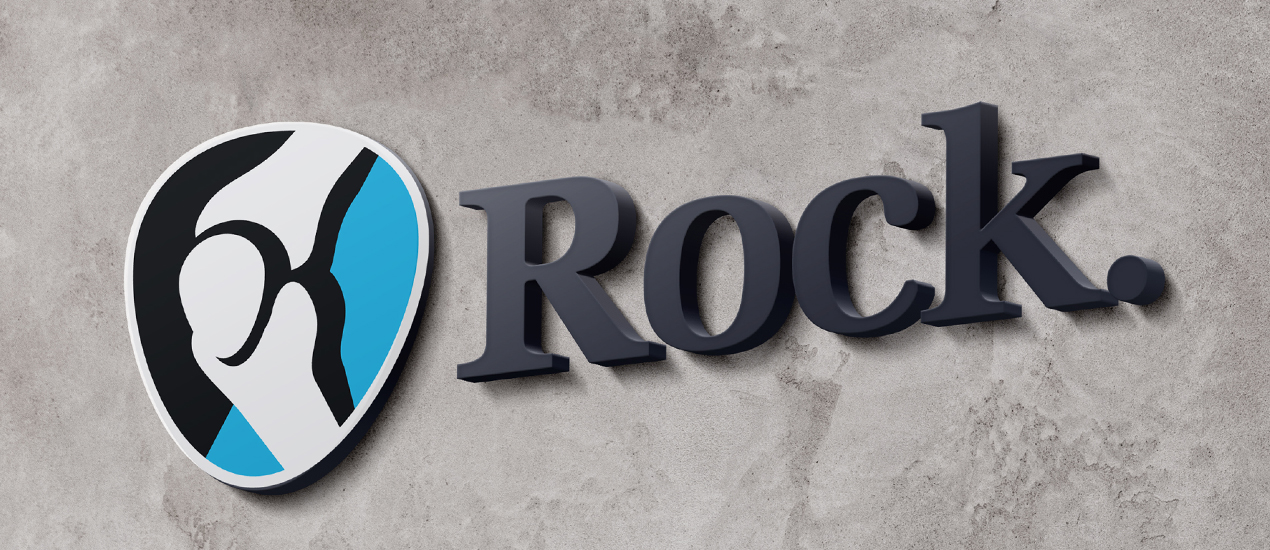 Go Media is so honored to have had the pleasure to work with Rock Medical, the premier Orthopedic Consulting Team here in Northeast Ohio, on their logo and website design.
Over the past 16 years Rock Medical has served it's mission while building from a company of one to over 35 sales and support consultants. While Rock Medical has grown, they had out grown their brand image. Rock Medical came to Cleveland web development and branding firm Go Media to overhaul their brand, marketing materials and website. It was our great pleasure working with their president Tom Ramsay on crafting a contemporary brand that properly reflected their technological sophistication and "surgeon first" company culture.
Transitional logo:
Because of Rock Medical's reputation & established recognition in the industry we needed to be sensitive in our approach to their brand transition. With the original knee logo mark carrying so much of that equity, a transition logo was created to help ease into the future plans for dropping the knee altogether.
Website Design:
Go Media used our Designer Sites platform to build Rock Medical an intuitive, beautiful and easily managed website. Running on WordPress, Rock Medical's website utilizes Go Media's proprietary Page Builder editor – featuring a front end drag and drop interface giving the Rock Medical staff total control over the layout and content of their website. Of course, all Go Media websites are built full screen, responsive and optimized for search engines. The result is a powerful tool to help drive Rock Medical into the future.
Learn more about the full project here: