Articles by Month:
June 2018
We are excited to share the website design we completed for Without Bounds Educational Services, a phenomenal education service that provides young students with the tutoring they need to master concepts and prepare for exams. They work with the most talented and qualified educators to offer tutoring in over 25 subjects. From core classes like Algebra and Grammar to 4 levels of foreign language, Without Bounds is ready to take on the unique needs of every student.
Go Media had the pleasure of helping Without Bounds grow their network by designing a website that showcased all of their offerings on a contemporary responsive platform.
Here are a few previews of the work we did. To view the full project, head to the full project.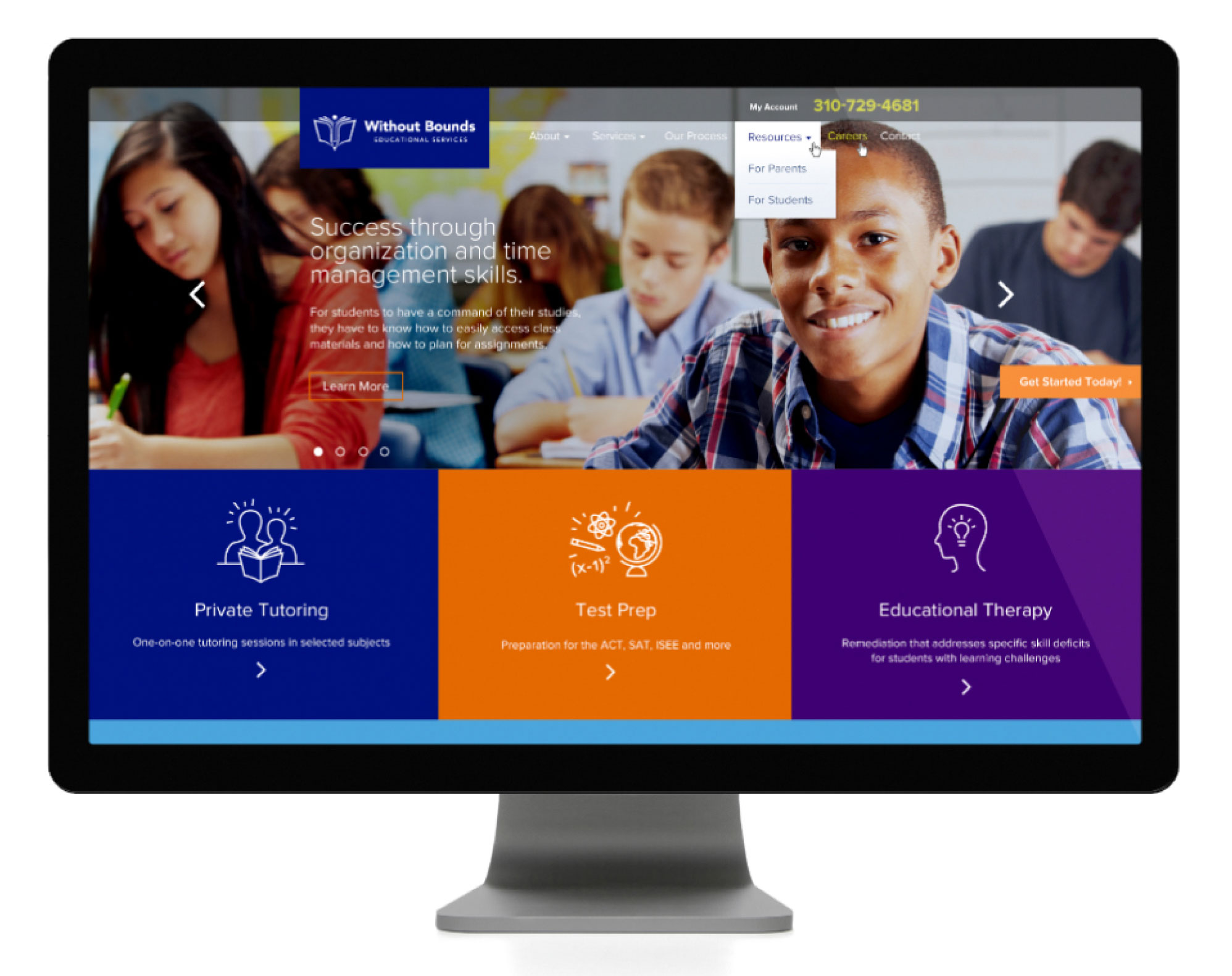 Responsive Website Design Cleveland
Icon Design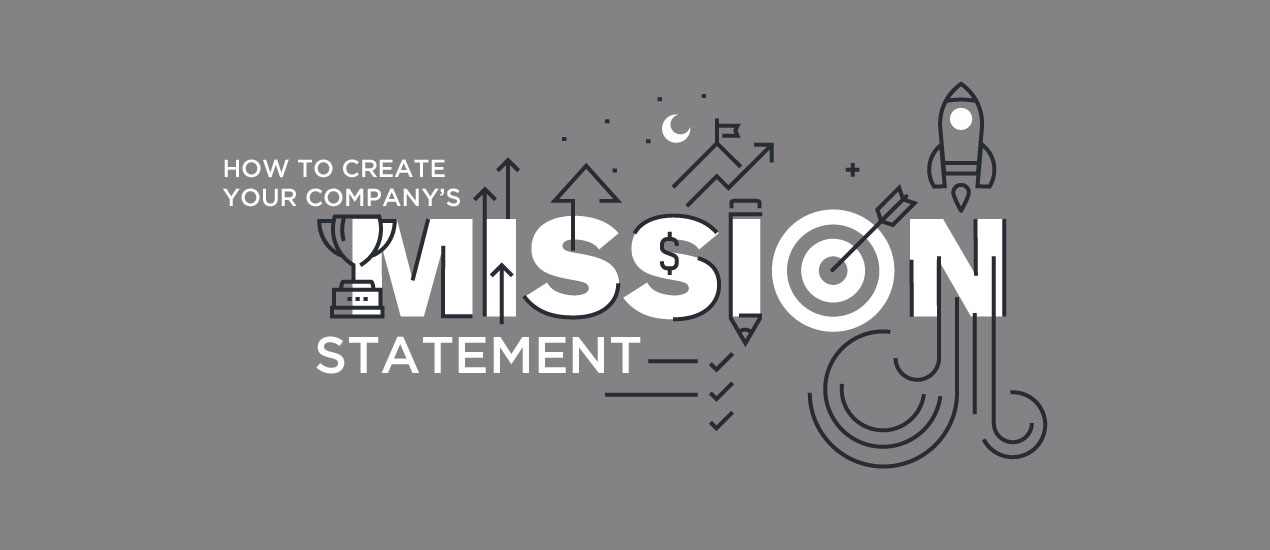 Your company mission statement shapes everything you do as a business owner. It sets the tone for how you grow, how you treat customers and what you value most as a business owner and a person. Taking the time to create a mission statement that will stand the test of time and work even years after your opening day is a good investment of time.
One study found there is a positive correlation between mission statements and performance. However, the overall impact of how a mission statement influences a brand is almost impossible to measure. There are some important factors to consider as you create your mission statement and how to show off that mission to consumers.
1. Figure Out Your Company's Purpose
Why did you want to start your company in the first place? Once you know your purpose, it's much easier to write a mission statement. If your goal is to help people in your community by providing a solution to the problem, this should play into your mission statement.
Your mission statement should explain the "what," "who" and "how" of your company. What does your company do, who does it and how do you serve the community? Answering these simple questions is a great place to start with a mission statement.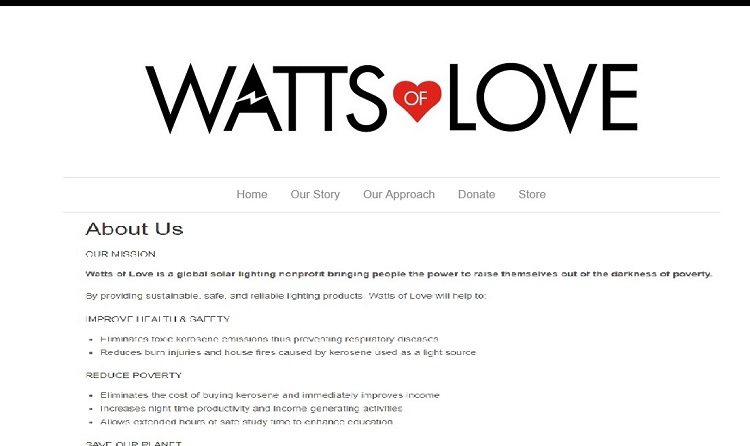 Watts of Love's mission statement reads, "Watts of Love is a global solar lighting nonprofit bringing people the power to raise themselves out of the darkness of poverty." Note how the statement tells what Watts of Love is (global solar lighting), who they are (a nonprofit) and what they do for the world (bring people the power to raise themselves out of the darkness of poverty). Everything they do will reflect back to that statement.
2. Highlight Your Mission Statement
There are more factors to consider as you create a strong mission statement, but before you finish the statement, you should also consider how you'll utilize it. If you plan to use it online and offline, then you'll want to ensure it's concise enough for print advertising.
Think through places you'll use the statement, such as social media channels as well as your own website. Does the statement fit or can you break it down into smaller points? Highlight your mission anytime you get a chance. It will also keep you focused as a business owner on your ultimate purpose.
3. Help the World
One way to figure out your mission is to figure out how your company helps the world. While it is typically obvious how a nonprofit helps those in need, it may not be as readily obvious if you run a for-profit business.
This is your opportunity to find a way to tap into what you're most passionate about. Some companies choose to take on a cause and donate a portion of their proceeds while others focus on how their very product or service helps others.
Take a look at how Mercy Corps works up a mission statement that highlights how they help the world. Their statement reads, "Alleviate suffering, poverty and oppression by helping people build secure, productive and just communities." That's a pretty strong focus on how they help the world at large by alleviating the suffering of poverty and oppression. How do you help the world with your business?
4. Study Other Mission Statements
One of the best ways to figure out your mission statement is to study the statements of other companies. Check out the missions of both large non-profits and for-profits. What do you like about their mission statements and what could be better? Take notes on which statements you like the best and why.
Once you've studied other statements and have a series of notes, take the time to study what you liked and didn't like. Really break sentences apart and look at the elements in the sentence. Do they match what you know about — as well as who, how, when and why?
5. Write a Rough Draft
Your next step should be to come up with a rough mission statement. Answer the questions about what your company is, who you are and how you help the world, or at least your customers. You may need some help brainstorming here. Pull in friends, family and other business owners and ask for their views of what your business does and why you do it.
Once you have some ideas, begin to play around with the words until you have a few mission statements you somewhat like. This is your rough draft that you can build on — more on that in a minute — and use to create something polished and well-honed.
Google's mission statement reads, "Organize the world's information and make it universally accessible and useful." They go into more detail on their About page and explain that they want to make information accessible to everyone around the world. It's simple, but they clearly show how they are making the world better for those seeking information.
6. Deepen Your Mission
Once you have gone through the steps to come up with a few rough mission statements, spend some time thinking about which one truly defines you as a company. Once you've developed your mission, take time each quarter to study how well you're delivering on that mission and figure out ways to better meet your mission goals.
Are you communicating your mission to your customers and your employees? The best way to be successful in delivering your mission is to get everyone on board with it.
The Importance of Knowing Your Purpose
While the values of your company are separate from the mission, the two are intricately entwined. Your values shape your overall mission and your mission statement reminds you — and the public — of those values. Putting your mission statement in writing is a good way to redirect your focus when you veer off the path you set for yourself in the beginning.
Once you enter the online world, you need to create content to sustain your website. Views will be generated when you provide good and interesting content. However, when you post often, you are bound to run out of ideas. How do you keep producing new content that is both interesting and relevant?
Many website owners will agree with me when I say that it's hard to generate new and exciting content. The trick behind it is an open perspective. You need to understand that things that may seem basic for you are actually interesting for your viewers. Try to see your world from their perspective, for one.
Here we provide you with some promising tips that will help you generate new content ideas.
Back and forth traffic
We cannot emphasize the importance of communication enough. Your viewer or your buyer is your asset. In order to create new deals and content for them, you can simply go ahead and ask! Yes, it is as simple as that. Not only will they offer you valuable ideas, you will build a relationship with your viewers, which will strengthen the traffic and boost conversion rates. You can connect with your viewers in multiple ways including:
Feedback boxes

that appear at the end of a purchase or on a section of your website to improve content.

Forums

where different viewers can interact with one another and suggest valuable content ideas

The survey-based collection,

where you can email viewers a quick survey to help get relevant information

Follow up calls,

try to add a feedback section to your confirmatory calls.

Record customer feedback online,

by providing online chat or online calls and review them later to get interesting concepts and ideas for future content.
Remember your viewers are the best resource to understand what they really need. You can come up with numerous topics, ways to improve your content and site significantly.
Spend time on the web
You can never undervalue the benefits of online surfing. Spend time on your phone or on the computer simply scrolling through your niche. Have a look at what your competitors are doing. You can also just scroll through the many pages and have a view of what is going on in the world. The thing with ideas is that you never know where you will find the next big thing. This is why it is always great to be on the lookout and capture an idea to create valuable content. Also, one can get a clear idea of building a website that draws a lot of traffic just by analyzing its competitor's strong and weak points, website flaws, outcomes, SEO strategies, content type, and more.
You must remember that you did a lot of research when you were initially starting as a blogger. As things get tough to maintain, many bloggers let the research bit slide. Unfortunately, that is the primary means of getting colorful new ideas. There are numerous uses of spending time online:
Get to look at your competitors and see what they are up to.

Catch different trends and find specific topics that could be of use to you.

Notice the gaps in the content of other websites and aim to fill those gaps by valuable content on your own site.

Understand what your viewers are looking for and create user-friendly, intriguing content that issue to rake in those views.
Group meetings are important
You may have a huge number of ideas, but you still one person. Your thinking capabilities cannot be compared with a group of ten. This is why you need to schedule regular meetings to avail the benefits of your colleagues. They can:
Help you come up with new ideas and trends for your content.

Troubleshoot problems with a variety of suggestions.

Contribute their share of experiences to benefit your knowledge and improve the website

Bring SEO knowledge that will make your content more search engine friendly.

Introduce different perspectives that will help give you a broad view.
Free tools can become assets
Try to take advantage of the amazing drawer of free tools in the market. Coming up with new content ideas is a primary problem and there are many valuable helping tools on the net to overcome this problem. Tools like Tools like Google AdWords, keyword planner, and HubSpot blog idea generator are incredible tools that help you construct whole topics from just a single keyword. They have multiple uses, which include:
Generate trending keywords to improve your SEO and give you a niche to start working.

Create topics from keywords, which will help you understand the diverse possibilities for your content.

Present you with statistics relating to viewership, showing different preferences of different users according to age group or location.
This can narrow down many issues and help you come up with valuable topics. All you need to do is get to the writing part, putting invaluable information to present your viewers with interesting content regularly.
The real world is just next door
You do not have to separate the digital world from the real world. Try something new and invest in real-world advertising campaigns to approach your clients through a different platform. This does require creativity and can be a little more expensive, but it certainly is an attention grabber. Here are some creative ideas you can try out
Hand out leaflets with a scalable barcode that links to your site. This will instantly boost your views and expose your interesting content to new people.

Send some mail, you can invest in mailing your website. Advertise a special article on your website, motivating users to read more.

Take part in tradeshows with a strong marketing campaign to ensure viewers.
Collect your ideas
Ideas are precious things, but sadly, they are very volatile. You could have an inspiration when taking a bath and forget all about it when you actually sit to work. No matter how hard you try, you will not be able to recollect it again. a valuable idea lost. Instead, you can collect your ideas and keep them safe for later. Here are some different ways you can do it.
Keep a small handy diary that you carry with yourself and pen thins down whenever they occur to you. This way you will never forget new ideas.

Use notes on your phone to type in new concepts. You will certainly have your phone everywhere you go which means you can write and use your ideas whenever you want.

Use cloud storage, this will make your ideas accessible wherever you are. It will also help give others a rough draft of your plan o that you can convey your thinking to your team. You can also, connect your team members and ask them to record any ideas so that you can access them as well.
Searching for new content can be tiring, but if you use the right tactics, you will not be searching for long. Use the tips above to keep your website updated with interesting content for your users. Remember, you need to think out of the box. What you like may not necessarily be what your viewers want. This is why we recommend thorough research and group analysis to find highly relevant content ideas, boosting your conversion rates!
Best Ways to Market Yourself as a Graphic Designer
Whether you are a freelancer or head of an advertising agency, there is always an opportunity to gain more exposure for your personal brand, your products and services. Here are 28 ways we think may help you.
Create a product

for Go Media's Arsenal, gaining you excellent exposure among the design community.

Create a "mini" version of your work and carry it, along with your business card, wherever you go. For example, a tiny photo book of your illustrations or a flash drive with product freebies on it.

Pay it forward. Add value to someone else's business and you'll be rewarded handsomely. Comment on your favorite designer's blog, share their content, link to their work. You never know, they may return the favor (think: retweet and mega exposure!). Or, another connection, like a click through from your blog comment, could end in an awesome relationship.

Take a deep breath, then

apply to be a guest speaker or artist at a conference

. What? You're not Michael Bierut? It's okay. Some of the very best speakers are new to the field or facing challenges in their career. 

Direct Message someone you admire on Twitter and start a real conversation. Right now. (We'll wait for you to return).

Email a fellow designer friend and ask them to give you honest feedback on your portfolio. Heed their advice.

Create a epic freebie or some other truly authentic content. Offer it on your site in exchange for a tweet or newsletter sign-up.

Find a fellow designer/entrepreneur with similar goals. Meet up with them on Skype, have a coffee date regularly. Keep each other motivated and accountable.

Identify a mentor. Treat them to lunch every month. Pay them back in whatever way you can.

Ask for referrals and refer when necessary. You'll build great partnerships that way.

Shout-out new and loyal customers, send small gifts or notes to random fans. It not only builds faithful followers and connections, it's all kinds of fun.

Set up customer chat. Connect with your customers and clients on an authentic, emotional level when appropriate. Take the time and let them teach you about where your company or freelance business needs to go.

Get in the habit of posting a piece of work, sketch, behind-the-scenes image on Facebook or Instagram. Remove any posts where blatant advertising is involved and replace them with personal posts. Show your followers who you really are.

Create fun, branded stickers or pins. Spread 'em like sunshine.

Open your own Etsy or Society 6 shop.

Make cool stuff

and get recognized for it!

Offer your expertise to fellow bloggers or podcasters. Offer to guest post or guest host.

Start a meet-up group in your area. This could be as simple as gathering some friends with pencils and pens and a bar.

Start a podcast or put yourself out there.

Volunteer to go on one or start your own. It's as easy as ordering some equipment on Amazon, you know.

Write a

really amazing tutorial

 or blog post (Hey! We're looking for writers! Email us)

. Get that content out there!

Get your

personal brand nailed down

. It's really all about authenticity. Be yourself everyone else is taken.

Start saying yes to everything you are afraid of. If you do, I will.

Start participating in your local

AIGA

.

Offer your services to your local college or university. Host a porfolio review, for example.

Answer questions on a site like

Quora

. You never know who will go there to find an expert opinion.

Learn SEO

. If your website and blog aren't optimized, you may be working hard but hardly working.

Sponsor a

design conference

, set up shop there and start meeting people who will support you and help push you to greater heights.

Come to WMC: Off-the-Grid. Learn, adventure and create some incredible relationships with creatives just like you (

shameless-plug

!)
Good luck friends!
When you create a website, everything from the theme to the fonts of the website matters. You need to optimize every little aspect and perfect the many things to ensure that your website is user-friendly. This helps you increase conversion rates and boosts your revenues. You may be wondering how a simple font can affect your website performance. Different aspects including readability, appearance, loading time and preference of clients come into play. Clearly, optimizing your fonts is an essential step in your website development process. Here we describe ways to optimize web fonts which will help you instantly boost the appeal and performance of your WordPress site.
1. Use specialized services
There are a number of different services on the web that particularly deal with web font optimization. The matter is of critical importance which is why sites like Typekit and Google Fonts work tirelessly to cater to your needs. These are third-party fonts that help you to customize the fonts on your page thanks to its vast storage of most commonly accessed fonts. You can also use different font plugins which include:
If you don't know much about CSS, this is the perfect plugin for you. You can use these fonts by opening the theme panel and using the variety of themes present. Each has its own custom fonts that help you chose the perfect font that you require. Plus, it works on different browsers, optimizing your experience.
Which has an elaborate library of fonts for you to choose from. You can also make specialized custom designs and craft special art for your website. The font plugin gives you access to a live preview so that you can have a view of your actual site before everything is updated.
These fonts provide you with the ease of access to a number of fonts. You can easily style le your custom fonts and modify the file according to your preference. They also help to incorporate the fonts into the website, boosting the entire process.
 2. Asynchronous loading of web fonts
You can get a blocking request when you are requesting fonts through font-face. To avoid this issue you need to employ different java scripts and call your fonts through them. There will be millions of different styles to choose from however, you need to act wisely. Being a blogger, you tend to find the best ways to craft a user-friendly and efficient website. Here is what you should do in order to optimize the speed of your website:
Use a variety of java scripts to call the different fonts via font-face

Use different fonts so that the website can run them simultaneously

Employ different typefaces to create a user-oriented design that will boost your website performance.
Web fonts create a key role in improving the UX as well as conversion rate of a website. Considering these two factors, even the best online business ideas may suffer from low traffic, high spam score, and high bounce rate due to bad UX and web font loading time.
3. Don't go overboard with typefaces
Where employing a limited number of typefaces is good for your website, choosing too many is hazardous. It can:
Delay the loading of your website due to the different number of sets of fonts that the website will need to load every time it accessed the page.

Decrease the performance of your website because of the burden on the browser.

Reduce conversion rates due to excessive loading time and poor user interface.
In order to improve the website performance, you need to choose a moderate number of typefaces and pair them together in order to boost your website efficiency. Don't be smitten by the millions of different styles. Burdening the host with them will result in unnecessary load on your website, considerably decreasing its performance.
4. Use a preload header
You need to be choosy when using this feature because if you add the different resources, the browser picks them all at once which makes the whole thing pointless. On the other hand, if you are selective and choose the selective fonts precisely, a preload header can be very advantageous.
It helps the browser to load all the fonts excessively fast

It also helps you easily incorporate the fonts into the site

Aids the website to load the required fonts optimizing the website performance.
5. Mach your fonts with the browser
Different browsers have different font compatibility, a wise decision is to do your research and chose fonts according to good review. Website builders incorporate a variety of font formats depending on the popularity of the browser. In short, there are 4 types of fonts. They include:
WOFF,

this is the Web Open Font Format, devolved in 2009, it is a true type of font. Developers use it with Metadata and for compression.

TTF,

also known as the True Type Font which has been around since as early as the 80s

WOFF2,

the Web Open Font Format 2 improves on the preexisting fonts and is an improved version of the font.

Embedded Open Type

, often used for the embedded codes in the website. Originally made by Microsoft, it has a major appeal for users.
If you use Google Fonts, a major part of choosing and optimization is done for you. This is because:
Google has compressed all of its fonts for ease of access

Google provides the fonts via Google's CDN improving the speed of delivery

Is already optimized, but still allows you to make the preferred changes.
6. Cookies are good
You can use cookies to store the fonts of a website so that the browser doesn't have to download them over and over again. This improves loading speed as the fonts are present in the browser cache memory already. You can also use the local storage. It is slower than cookies but it does provide a longer storage of fonts. Enabling the cookies will
Provide a temporary storage of the loaded character s of the fonts, serving as a temporary memory.

Improve website loading speeds as part of the fonts were already stored as cookies when you first accessed the page

Boost website performance and

conversion rates

thanks to better loading speeds.
7. Limit the characters
There are a ton of characters present in every font you choose for your website. So considering you used 4 fonts, this would mean that the rower will need to load 4 different sets of character. This can lead to:
Excessive burden on the browser

Excessive delays due to massive downloading every time a browser accesses the website

Slower loading time due to the large load
However, if you set the browser to load only the specific character found on the page, the website will load much quicker. Of course, you won't use the entire set of characters from every font, hence, if you chose a specific font, only the characters showing on the page will load which will decrease the ultimate load on the browser. As a result, your website performance will improve considerably.
Endnote
You need to consider the many ways you can use to optimize the website fonts. Doing so will help to boost the website performance and will optimize user experience. This will translate into higher conversion rates and increased revenues, benefiting your business. Follow the steps above in order to optimize your WordPress site fonts for better performance.
Influencer Marketing: Growing Your Brand
The era of micro-influencers is here. With the proven efficiency of the influencer campaigns in reaching the highest possible engagement numbers, no wonder that every day you see more and more people in your Instagram feed posting the pictures with more or less tangible involvement of various products.
It's in the human nature to share the knowledge, as well as to seek advice. The marketers who satisfied both cravings by bringing influencer marketing to life were geniuses. The most exciting part, though, is when marketing geniuses collaborate with the gifted artists and top talents. That's when a love child of advertising and art is born.
How brands co-create their content with influencers
When inquiring the influencers with a brief, the brand marketers usually opt for one of the three options.
Brand generated content

Co-created content

Influencer generated content
First is the most restricted option, and last is the most flexible (yet, marketers still check it before publication to avoid the risks).
As for the co-created approach, this content usually follows loose brand guidelines, but other than that influencer is free to interpret the product in a way that he or she finds most suitable for their feed, valuable for their followers, and natural for their creative self-expression.
How to pick the right influencer for your product
When you're looking for the influencers to start your content co-creation process, apply this checklist. It'll help you to pick the ones who will not only represent your brand but also add the unexpected zing that your audience will love. Your perfect co-creating influencer:
Has an audience you'd love to gain exposure to

Has a tone of content that syncs with yours

Creates content you like

Creates content that your audience would like

Good at content format you struggle with (like video or stories)

Strong on a social platform you'd like to get a better grip of
By choosing the right people and giving them wide-open, inspiring, clear guidelines, you might very well end up with the spectacular materials that you could never imagine for your brand. Below are several examples when the co-creating collabs between the products and influencers went incredibly right.

Minimalist influencer from Ukraine Velwe is quite picky about the lifestyle brands to feature in his feed. Sleek Maven watches caught his attention.
"I saw their watches, I loved the stylistics. After assessing the brand positioning I fetched some references and reached out telling that I have an idea with two girls. The brand was really eager to collaborate right away", – says the influencer.
The collab resulted in deeply intimate, subtle and touching monochrome portrait series. Just one Instagram post brought young Hong Kong brand recognition and engagement from thousands of European minimalism lovers.
Chef Jacques LaMerde (143K followers) x
Sonic Drive-in
To drive attention to their new smoothies during the Coachella event, Sonic Drive-in collaborated with the chef influencer Jacques LaMerde known for his exquisite presentation skills. The bright visuals were the eye-catcher of the campaign, enhanced with a geo-targeted delivery option and freebies-for-hashtag incentive. The campaign generated over 26K likes and increased the number of Sonic account followers from 118K to 129K – quite a neat leap for one month.
8thdamon (156K followers) x
Huawei
8thdamon specializes in stunning Photoshop creations. His space-themed intricate stylistics became a perfect background for the new Huawei smartphones promotion. Definitely a step forward from the unpacking videos and flat lay still-lifes.  
Zach King (21.7mln followers) x
Target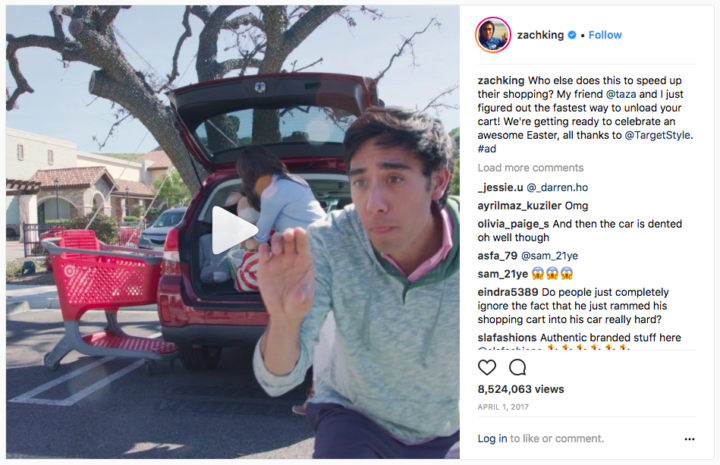 For their Easter promotion in 2017, Target ordered several promo posts from two influencers. The famous Digital Magician Zach King joined popular NYC instamom Naomi Davis aka @taza (who is an always-on brand ambassador for Target). Not only the collab brought this lovely video to life but also resulted in mindblowing 953,000 likes & 5,000 comments on Zach's video and 11,000 likes & 88 comments on Taza's two posts.
Laetitia Modine (95K followers) x
Issey Miyake
An influencer campaign launched by Issey Miyake aimed to recruit Millennials who share brand's approach to design. As the key opinion leaders were mobilized, the brand asked them to get inspired by Issey Miyake's key attributes of nature, minimalism, and architecture. Laetitia Modine, an Italian photographer, did the perfect job producing a visual that could work as a print ad for the brand right away.
Thismintymoment (164K followers) x
Issey Miyake
Minh Ty, engaged in the same campaign, came up with even more stunning photo edit, taking the product to larger-than-life dimension. Together with the previous example, this case study illustrates how one brand can get a whole variety of treatments from different artists, while still keeping in-line with the essential brand attributes.   
Designbyaikonik (91,9K followers) x
Nespresso
Flatlay guru Designbyaikonik created this shot for the Nespresso brand. Nailing a different angle from what is usually done for the beverages, Nespresso tapped into areas less discovered – in this case, the flatlay stylistics – to broaden their audience and attract new customers. Best comment: "You make coffee look sexy!"
Studio DIY (382K followers) x
Chevrolet
Chevrolet focuses on mommy bloggers as the perfect representatives of their biggest target audience. Smart move, considering that this type of influencers has the greatest engagement rates and trust levels from their readers. Moreover, a creative mommy Kelly Mindell behind the Studio DIY account brought Chevy some extra value by staging a shot so vibrant it could be used for a billboard ad right away.
Studio DIY (382K followers) x
FreixenetUSA
Chevrolet wasn't the only one noticing Kelly's talent. Her another collaboration with FreixenetUSA is crazy, funny, and fizzy – just like the drink itself. Be cautious, though. Influencers able to tweak their personality to fit different brands as good as Kelly does are a rare find. Here's an advice: check out the chosen influencer's feed carefully to see if their previous collabs make a good company for your product.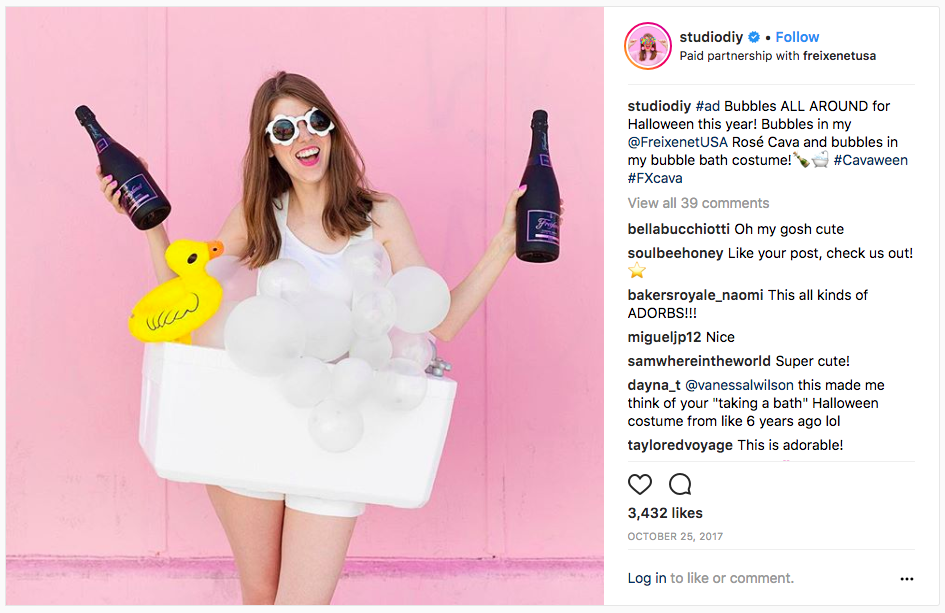 Matthew Crawford (335K followers) x
Netflix
Netflix developed a mix-n-match campaign for their show "Santa Clara Diet". Next to the billboards with celebrity Drew Barrymore, healthy lifestyle influencers were disrupting social media with controversial shots featuring blood and human body parts. This shot by Matthew Crawford was a particularly great contribution, fetching over 25K likes. No wonder the campaign brought the show follower growth of 34% in first four weeks.
Life_mirroring (7K
followers
) x
Sudio
You know a good product placement when you don't see it. The only thing that gave away the commercial background of this shot by was the fact that it was featured on the Sudio page. Lesson learned – don't stop influencers from experimenting with your product application – it can bring an emotional jackpot!
Walids (46K
followers
) x
Starbucks
Starbucks had been leveraging on user-generated content for forever now. No wonder they switched to influencer-generated content as soon as it was on the market. Brand's usual feed is made of photos of the warm and friendly atmosphere inside their cafes. Collaborations like this one, in turn, let Starbucks represent their more sophisticated, design-centered side.
Who says influencers are for beauty products only? A brand new concert hall in Hamburg organized an international instameet for the architecture photographers before its opening. One of them, Macenzo (first-time comer to Hamburg) grabbed just the right fresh emotion of the new ElbPhilarmonie on this balanced geometrical cityscape shot.
When amazing mural artist Ricardo Cavolo published collaboration with the Alexander McQueen on his Instagram, the most popular comment was "Where can I find this?" What's interesting is that his audience can hardly afford McQueen garments. But a custom scarf was exactly the product to get artist's followers hooked, and not scared off.    
Marylou Faure (48K
followers
) x
ASOS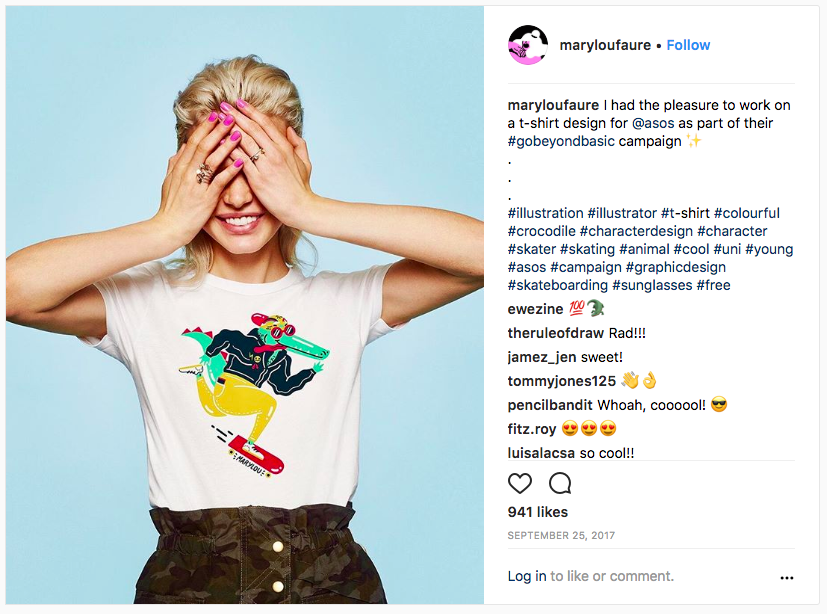 So whenever your brand is using the services from a designer, director or a photographer, make sure to leverage this partnership through a social media collaboration. Here you can see how ASOS got a perfect shout-out. A designer worked on a t-shirt design for them, and it happened so that she had 48 thousand followers needing to wear a t-shirt every day. Straightforward? Yes. Efficient? You bet.
Takeaway
Like no prophet is acceptable in his own country, no company message can impact purchase decision as massively as the words from someone other than the brand. Instead of spending money on making one-sided communication materials, it's much more impactful to co-create with influencers and offer the whole variety of views to your audience.
Pick the influencers with highest quality content and give them a freedom to create. Unleash your brand's potential. You'll be impressed.
Web and Infographics Design for Scott Sheldon
We are excited to share the work we completed for Scott Sheldon, nationally recognized supply chain consultants based out of Detroit, Michigan.
Scott Sheldon's new website needed to convey the level of sophistication and technical know-how they bring to each and every one of their clients. In conjunction with upgrading to our web platform, Go Media developed intuitive infographics to help deliver technical information with ease.
Here are a few previews of the work we did. To view the full project, head here.

Supporting graphics
Infographics Design Cleveland Ohio
Hand Lettering Artists to Follow on Instagram
Wandering around Instagram, we found some really beautiful examples of hand lettering that we thought we'd share. We thought they might inspire and ignite your next project. Enjoy the hand lettering artists to follow on Instagram and please click on each image to learn more about the artist who created the individual piece.
For more hand lettering inspiration, check out our post "Letters We're Loving: 30+ Hand Lettering and Typography Inspirations" and
one of our most popular articles, "100 Top Resources for Typography and Hand-Lettering"
Tearapart Intajak (tump_tearapart)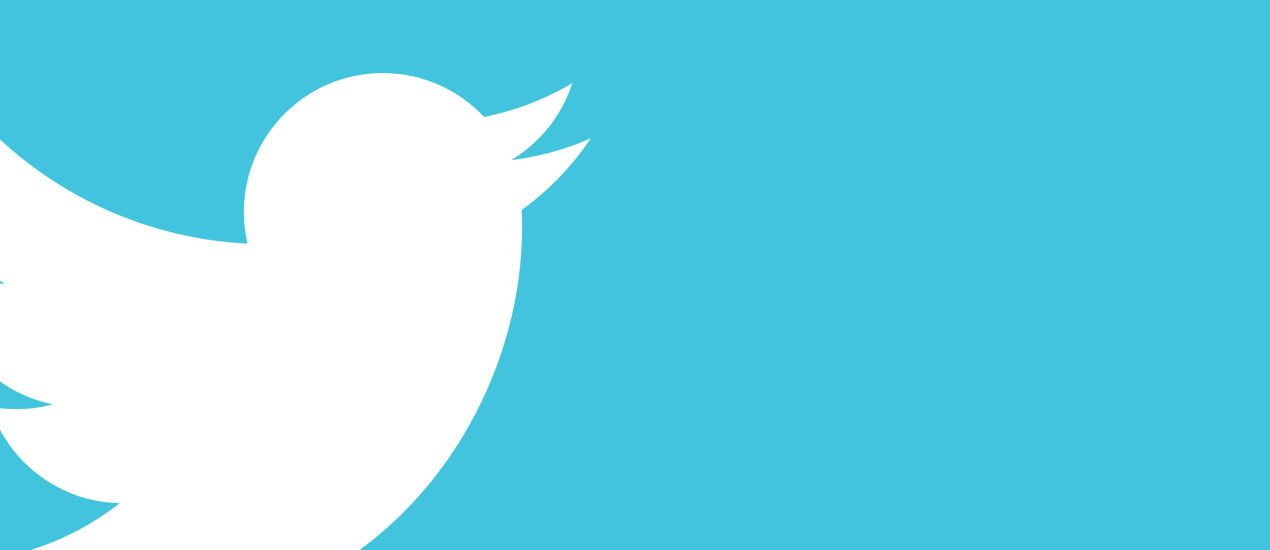 5 Tips to Help Create Your Social Media Branding Strategy
Every platform you use allows you to access a certain set of resources. This means that with your social media branding strategy, even with the same message you used a myriad of times before and the same brand image you want to create, you will still be forced to adjust to certain situational factors. When starting your online brand from scratch and planning for the long run, you might want to keep this in mind and include this decision-making process while creating a social media branding strategy. This will also help you manage and maintain it for years to come, which is yet another huge boon to your digital marketing effort. Here are several tips you might find useful here.
1. Start from your profile
Regardless if it's your own account (in a case where you want to invest heavily in personal branding) or an official account of your business, you need to learn how to set up a profile that promotes your corporate values, as well as some of the best characteristics of your company.
For instance, on Twitter, it's vital to find the right handle and learn how to write an outstanding bio, while on Instagram, your profile picture will be the key. Bio is also relevant on Instagram, although it's nowhere near as valuable on Twitter. Facebook gives you the cover feature which, due to its dominant size, gets precedence over your profile picture. Needless to say, this is also something applicable to YouTube. Ideally, you would find a way to integrate them into a single homogenous unity.
Finally, when it comes to LinkedIn, this platform requires by far the most diligence. The closest comparison of making your LinkedIn page (even branded one) would be to make a parallel with making a personal resume.
2. Picking the right platform
The next thing you should understand is that in 2018, you need to be omnipresent on social media. You need to have profiles on Facebook, Instagram, Twitter, YouTube, LinkedIn, Snapchat and even Pinterest. On the other hand, it is impossible to assume that you can achieve the same level of content-commitment on all of these platforms, which is why you should learn how to assign priorities.
For instance, the female audience is more oriented towards Pinterest, while they are also a majority on Facebook and most other networks. The teen audience usually gravitates towards Snapchat, while they also use Instagram considerably more than Facebook. Overall, by picking the demographic-appropriate platform and setting it as your main priority, you will make your overall efforts much more cost- and effort-effective.
3. Abandoning one-size-fits-all principle
As you might have noticed, there are no specific examples of what to do or what not to do so far on this list. This is mostly because generalization and one-size-fits-all solutions often backfire when it comes to branding. What's appropriate for one business can be ineffective or even counter-effective for other. What's ideal for one market, may sound offensive do other. In other words, you need to learn all the basic principles of social media branding, without adopting prejudices or myths about 100 percent effective or ineffective techniques.
For instance, the greatest problem starts when a nonprofit organization tries to implement methods used in e-commerce branding. To avoid this confusion and counterproductive mindset, try to look for branding experts specializing in nonprofit marketing.
4. Set the tone
The reason why social media marketing is so effective is due to the fact that you get a privilege of communicating with people on a personal level. In other words, regardless if you're a company or an individual, they will use that little information they have about you in order to make out your characteristics. What you need is for these to be in agreement with the message you aim to send.
This can be achieved by setting your tone and voice and being consistent. If you aim to use humor in your post, try to keep it in the same style all the time. Being a skeptic and being a pun lover don't really go hand in hand, although both of these styles can be appropriate on separate occasions. As for the attitude, writing style and opinions you represent on some hot or recurring topics, this is also something you need to figure out early on. Showing even the slightest discrepancy here can testify about internal inconsistency.
5. The format counts
Another thing you should figure out as soon as possible is your preferred format or, even more accurately, the preferred format of your target demographic. The written word may be seen as evergreen, yet, with the current attention span of the online populace, this might not be the most effective outreach method. This is why you should probably turn towards video creation and podcasting. Videos alone are a powerful social media format, seeing as how there's a statistic that claims that about 100 million hours of videos get seen on Facebook every single day.
Conclusion
At the end of the day, even with the best of guides, you still have a lot of tough choices to make, some of which will affect the future of your entire business. This is why it's so important that your decisions are based on facts, data and actionable information instead of gut feeling or someone else's experience.
When customers land on your website, they expect a particular type of experience. The human attention span is short, and people don't have the patience to figure out complicated navigation or sort through a lot of clutter. As a website owner, you must learn to look at your site through the eyes of your target audience and create an experience that's both positive and productive.
A customer who has a negative experience on your site is 88 percent less likely to revisit your site in the future. It is worth it to take the time to ensure the customer experience (CX) is the absolute best it can be every time. Here are nine tips to help you do that.
1. Offer More Than Promotions
Site visitors aren't always looking for product promotion. Sometimes they land on your page seeking resources that meet other needs. Perhaps they want specific information, to be entertained or are just browsing for a few spare minutes. Look at your content through the eyes of the consumer. What is missing that your site visitors might want?
Best Made started as a company building a better ax, but today have a line of sustainable and durable tools. Rather than only offering a link to the latest promotion, Best Made takes the time to look at what their target audience might be interested in and adds entertainment value through elements such as a suggested reading list and outdoor activity themes.
2. Focus on Emotion
When thinking about CX for your site, you must consider the emotions of site visitors — 70 percent of the customer experience is based on how they feel they are treated. If you figure out how to serve up warm and fuzzies, you'll develop a loyal customer following. Tap into those universal emotions everyone experiences, such as sadness, joy and love.
3. Meet Basic Expectations
One of the first things your site should accomplish is meeting the basic expectations of your target audience. For most people, this means your site has features such as an easy-to-find navigation bar and that they can almost instinctively find the things they want to move through your site.
Does your logo link up to the home page? Is your navigation bar near the top? One of the best ways to ensure your site is meeting these needs is to have outside parties visit and tell you how the structure and even placement of features works for them.
The Amish Outlet Store has the elements customers seek when landing on an eCommerce site. For example, there is a "customer service" option in the nav bar, which speaks to both new and current customers. If a customer has an issue with a purchase, they can easily find help. On the other hand, new customers can ask questions or feel reassured that customer service is a priority for the company.
4. Reward Loyalty
Loyal customers aren't easy to come by, but they will stick with your company through thick and thin and re-order from you consistently. Studies suggest a loyal customer is worth far more than a new lead — they're five times as likely to buy again, five times more likely to forgive errors and four times as likely to refer others to your company.
5.      Show Them How Things Work
Take the time to show your site visitors how the products and services you offer work. There are few things in life more frustrating than getting no directions for a new product. Some things aren't easy to figure out, and a video or illustration on your website does wonders to alleviate this aggravation. Take the time to instruct your customers and offer insider tips.
Fifty Three sells creativity tools, such as digital pencils. One of the best features of this site is the clear indicators of what the Pencil does and how it works. This is accomplished through images, illustrations and with a bit of text mixed in. If someone is on the fence about whether to purchase the product, seeing what it does allows them to decide between buying or not.
6. Focus on Mobile
Increasingly more people access the Internet via their mobile devices these days. If your site doesn't have a mobile first — or at least a mobile responsive — approach, you risk alienating these users and losing them to a competitor. If a site has a poor mobile design, 57 percent of consumers say they won't recommend that website.
7. Share What Others Think
Online consumers tend to seek out the opinions of others through reviews and testimonials. You can make this process easier for them by including reviews and testimonials on your site. This keeps them on your page, rather than causing them to hop to another tab and possibly never return.
In fact, 85 percent of consumers read as many as 10 reviews before deciding whether to trust a business. They trust these reviews the same way they trust personal recommendations.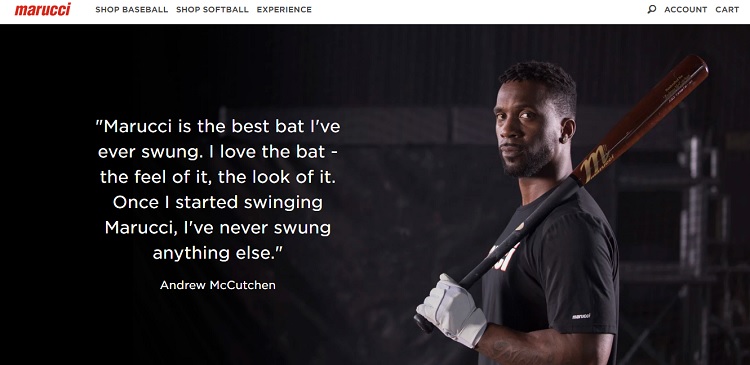 Marucci offers testimonials from professional players to highlight why their baseball bats are the best. The site is relatively simple, but as you scroll down, you'll see direct quotes from players such as Andrew McCutchen. They also offer a series of videos with baseball players highlighting why they love the bats.
8. Add Artificial Intelligence
Can you simplify a process for your site visitors by adding artificial intelligence (AI)? Sometimes this means merely walking the site visitor through registration with a bot that intuitively fills in the blanks. Today, 80 percent of marketers believe AI is going to change the way we market in coming years. Of course, how you utilize AI depends on your industry and the features of your website, but it's worth researching to improve the overall CX.
9. Go Above for Customer Service
What happens when a site visitor interacts with your customer service model? This is part of the overall experience of the customer, so you want it to be the absolute best experience possible. Make sure you have a strong, positive customer service philosophy in place and that you respond as quickly as possible to customers.
Try to connect with consumers in a variety of ways — live chat, email and toll-free numbers are all excellent places to start. If a customer orders, follow up with a thank you email and touch base from time to time. The added effort will pay off in the form of a better CX overall.
Always Strive for a Better Customer Experience
Customers who have an enjoyable experience on your website are more likely to tell their friends and revisit your site. However, word about both good and bad experiences spread across the Internet at lightning speed. Take the time to ensure your customers are 100 percent happy, and you'll see the payoff in sales and reduced customer churn.
These days, the competition on the market is way more severe than it used to be, regardless of the type and size of the business you are running. But, when it comes to ecommerce – the competition is not strong – it is cutthroat, and that is why it is practically impossible to maintain relevant unless you have implemented some clever tactics.
In fact, according to a research conducted by Forrester, we can expect that online sales in the US will reach more than 500 billion USD in the next few years. What this means in practice is that you need to do everything in your power to stay competitive on the market.
Naturally, the goal of every business owner is to increase their profits and their customer base, and the best way to achieve that is by always being one step ahead of your competitors. However, that is not an easy task and you cannot expect success to come overnight.
You need to stay patient, make smart moves, be creative and innovative, and in this article, we will provide you with some insightful tips to help you crush your competition!
Use your competitors as an example
It is said that the best way to learn is from others' mistakes. Therefore, it is advisable to do a detailed research of your major competitors and find out what didn't work out for them in order not to make similar mistakes yourself.
On the other hand, you can always learn something good from your competitors nevertheless – visit their websites to get some ideas on what your e-store might be lacking. This doesn't by any means imply that you should steal their ideas, but rather use them as an example of what you can improve.
Focus on one niche
Many ecommerce business owners make a huge mistake when they are just starting – they want to offer just about anything they can to their customers. Not only that this doesn't pay off at all in the long run, but your customers won't be sure what your expertise is.
It is way better to focus on just one niche which will be established based on your target audience's wants and needs, and to offer unique and carefully designed products or services which will meet their requirements.
Improve your supply chain
The better your supply chain, the greater the odds that you will beat your competition. That is why you need to be extra careful when choosing your wholesale distributor, and once you find the one that suits your business best, go an extra mile to establish a strong and trustworthy relationship with them.
Offer top quality customer support
It is already a widely known fact that you cannot have happy and loyal customers unless you provide them with exceptional customer support. Many e-stores that have great products quickly fail because they don't put enough emphasis on this aspect.
With so many technological solutions available nowadays, such as CRM software systems, chatbots, and live chat, there are no good excuses not to make the best use of them. You can get custom ecommerce software that fits your needs or a ready-made solution – these tools are easy to implement and use, and are a proven method for top quality customer service.
Provide your customers with different kinds of "rewards"
Every customer feels more valued when they are rewarded for their loyalty. Offering special promotions, discounts, giveaways, or any other kind of incentive that you can think of to your most loyal customers is guaranteed to motivate them to remain loyal to your organization.
Make your products even better
No matter how good your products are, there is always room for improvements. Make sure that your products are something that will differentiate your e-store from the vast number of ecommerce businesses.
Try to always offer something authentic, rather than designing products which are already available on the market. In addition, your goal should be to constantly be in touch with what your leads and customers want, and you can easily find that out through engaging surveys.  
Keep up with the latest trends
It goes without saying that you can't make it in today's digital world unless you are keeping up with the latest technological trends. While some people are hesitant when it comes to investing in new technological solutions, these tools absolutely pay off in the long run.
According to a research conducted by Innoppl, 65 percent of sales representatives who have been using software systems such as CRM have managed to reach their quotas. Moreover, such software can help you get better analytics, speed up data collection processes, and get an insight into customer trends.
Make the use of social media platforms
Being active on social networks such as Facebook, Instagram and Twitter not only gives you a chance to promote your products, interact more with your audience and show them that you care, but it can serve as a great way to gather more information about what people want, so that you can advance your products and services accordingly.
Be careful about your prices
When you are putting prices on your products, make sure to be realistic and not to overcharge your customers. However, this doesn't mean that you should offer lowest prices on the market nevertheless – just ensure that they match the quality of products. In many cases, people are willing to pay more for something that is guaranteed to be top quality.
Improve your ecommerce website's SEO
The best way to attract more visitors to your e-store is by improving your website's SEO. The process of SEO refers to enhancing the visibility of your website in organic search engine results and is an irreplaceable way to gain more visitors and potential customers.
In order to do that, you need to come up with relevant keywords, make use  of internal links, optimize your website's loading speed, and avoid creating duplicate content by any means. Creative and engaging product descriptions and articles like how to guides on your blog also fall under good SEO practices.
These 10 techniques are guaranteed to help you become a top player in the ecommerce industry and efficiently beat your competitors!
SEO Guide 2018
Web page visibility makes all the difference in the online world. It could save you a lot of money that you would have to spend on expensive campaigns in order to gather as many visitors as possible. However, due to constantly changing search algorithms it is almost too difficult to keep a website optimized down to the beat. This leads us to a conclusion that SEO is not a task that we could perform once and get it over with, rather it's a never-ending process that requires constant attention.
So let's say that you've noticed a slight drop in your website's visibility and overall SEO performance. What do you do? Here are some actions you can take in order to boost your SEO.

Website audit
There are numerous things that could be the reason behind poor SEO performance of your website. We could never know what's going on without a detailed analysis of each aspect of the site. This is especially important for those websites that are active for a while and have a lot of new content coming in regularly.
Performing a full-scale website audit is not a simple process, it can take hours, sometimes even days if the website is really massive and complex. It's not a coincidence that there are so many SEO services that offer help with keeping your website SEO friendly. There are several stages of SEO audit process that each site should go through. With each stage completed, you will have a clearer picture of what you should improve and boost your SEO performance.
Step 1 – Check for big issues (Google Index, brand ranking, website crawl, etc.)

Step 2 – Find on-site problems that are easy to fix (loading time, data errors, duplicate content, etc.)

Step 3 – Analyze organic search traffic (Use

Google Analytics

for this task)

Step 4 – Backlink analysis (check backlink issues both from and to your website)

Step 5 – Content audit and content gap analysis (remove underperforming posts and find out which keywords your competitors are using and you don't)
After a full-scale audit process, you will be able to see everything that's holding you back and fix it. For some of these steps you could use some audit tools (some of them are free, some you need to buy and we're not advertising anyone here so just Google it)
Recheck keywords
This is one of the most daunting tasks for a lot of website owners and SEO specialists who deal with optimization issues, at least that's what a recent survey says.
Nevertheless, the importance of keyword research and optimization cannot be disputed. Let's say that you run a shipping company. Up to a certain point, the most relevant keyword for your website could be "shipping" and you could create your content using this keyword as a guideline. However, a few months later, a few of the competitors could start utilizing "transportation" in their campaigns and make that term the most relevant. What happens then is that a whole lot of people are going to look for the word transportation and, since you are using a different keyword in your content, there will be none of your pages in the search results. Simply put, if you're not in the search results then you won't get any new visitors. It doesn't matter if you monetize through sales or PPC, both options will suffer from the lack of people browsing through your site.
So what can we do in order to optimize keywords to boost our SEO?
Evaluate keyword popularity
The popularity of a keyword is the reflection of the number of people that are looking for that particular keyword. However, the more popular the keyword is, it is more difficult to rank high enough on the search results page. The reason for this lies in the vast number of mature sites that already have a high reputation and thus have no problem with attracting people. It makes life difficult for less popular pages but there is a catch!
If you run or work on optimizing a more recent website, it could prove useful to search for less competitive keywords. Surely, this might sound like something you want to avoid doing, but there is a logic to this advice. While highly competitive keywords tend to attract more people they also bring strong competition. Terms that are not so attractive and yet show up as something that people are searching for allow you to rank high in the SERPs on account of fewer websites competing with you.
Optimize keyword relevance
This is a simple enough task and could prove to be of immense use. Make sure that the keywords in your content are relevant to what your website is about. In other words, if your website is about FIFA World Cup, then you most certainly don't want to use keywords such as "wedding decorations". Make sure that your keywords are always relevant to your content and the target audience.
Create long-form content that is rich with keywords
Research shows that average first page search results include content that counts around 1890 words. This means that when Google is searching for the most relevant page, those websites that include long-form content have an advantage. The reason behind this probably sits in the fact that larger content offers more information regarding the search terms.
Simply put, if you want Google to pay attention to your website, make sure your content carries some value for the visitors and gives an abundance of information relevant to the keywords that you use.
Conclusion
As we already said, search engines are frequently changing their algorithms to bring better and more relevant search results to their users. This is the reason behind the fact that there is no magic formula for SEO and there is no finite solution. In order to keep our website competitive and attract new visitors, we need to constantly work on improving our content and creating new, valuable content that Google and other search engines would notice. These were the three activities that we think should help you boost your SEO performance, what's your favorite method?

Print Design Piece by Go Media
We are proud to spotlight a recent project we completed for COSE, the Council of Smaller Enterprises, a group that has supported and advocated for the small businesses in our region since 1972. This print piece, their 2015 – 2016 Public Policy Agenda, served to compile crucial information for their client base. Because of this, delivering it in a highly cohesive and easy-to-understand way was our goal from the onset.
With content including messages from COSE's leaders, information on their new policy agenda moving forward, as well as material shedding light on their member-driven process, sticking the landing on the overall piece's presentation was crucial to the project's success.
Here are a few samples of the full portfolio item: