Growing Your Brand with Influencer Marketing: 15 Top Design Examples for Inspiration
Influencer Marketing: Growing Your Brand
The era of micro-influencers is here. With the proven efficiency of the influencer campaigns in reaching the highest possible engagement numbers, no wonder that every day you see more and more people in your Instagram feed posting the pictures with more or less tangible involvement of various products.
It's in the human nature to share the knowledge, as well as to seek advice. The marketers who satisfied both cravings by bringing influencer marketing to life were geniuses. The most exciting part, though, is when marketing geniuses collaborate with the gifted artists and top talents. That's when a love child of advertising and art is born.
How brands co-create their content with influencers
When inquiring the influencers with a brief, the brand marketers usually opt for one of the three options.
Brand generated content

Co-created content

Influencer generated content
First is the most restricted option, and last is the most flexible (yet, marketers still check it before publication to avoid the risks).
As for the co-created approach, this content usually follows loose brand guidelines, but other than that influencer is free to interpret the product in a way that he or she finds most suitable for their feed, valuable for their followers, and natural for their creative self-expression.
How to pick the right influencer for your product
When you're looking for the influencers to start your content co-creation process, apply this checklist. It'll help you to pick the ones who will not only represent your brand but also add the unexpected zing that your audience will love. Your perfect co-creating influencer:
Has an audience you'd love to gain exposure to

Has a tone of content that syncs with yours

Creates content you like

Creates content that your audience would like

Good at content format you struggle with (like video or stories)

Strong on a social platform you'd like to get a better grip of
By choosing the right people and giving them wide-open, inspiring, clear guidelines, you might very well end up with the spectacular materials that you could never imagine for your brand. Below are several examples when the co-creating collabs between the products and influencers went incredibly right.

Minimalist influencer from Ukraine Velwe is quite picky about the lifestyle brands to feature in his feed. Sleek Maven watches caught his attention.
"I saw their watches, I loved the stylistics. After assessing the brand positioning I fetched some references and reached out telling that I have an idea with two girls. The brand was really eager to collaborate right away", – says the influencer.
The collab resulted in deeply intimate, subtle and touching monochrome portrait series. Just one Instagram post brought young Hong Kong brand recognition and engagement from thousands of European minimalism lovers.
Chef Jacques LaMerde (143K followers) x
Sonic Drive-in
To drive attention to their new smoothies during the Coachella event, Sonic Drive-in collaborated with the chef influencer Jacques LaMerde known for his exquisite presentation skills. The bright visuals were the eye-catcher of the campaign, enhanced with a geo-targeted delivery option and freebies-for-hashtag incentive. The campaign generated over 26K likes and increased the number of Sonic account followers from 118K to 129K – quite a neat leap for one month.
8thdamon (156K followers) x
Huawei
8thdamon specializes in stunning Photoshop creations. His space-themed intricate stylistics became a perfect background for the new Huawei smartphones promotion. Definitely a step forward from the unpacking videos and flat lay still-lifes.  
Zach King (21.7mln followers) x
Target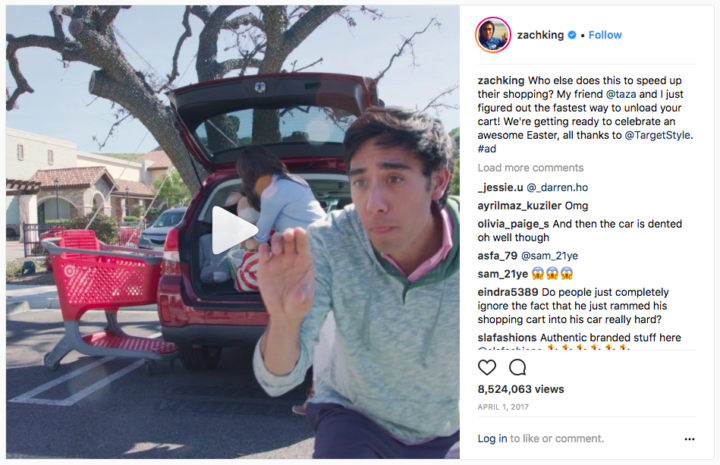 For their Easter promotion in 2017, Target ordered several promo posts from two influencers. The famous Digital Magician Zach King joined popular NYC instamom Naomi Davis aka @taza (who is an always-on brand ambassador for Target). Not only the collab brought this lovely video to life but also resulted in mindblowing 953,000 likes & 5,000 comments on Zach's video and 11,000 likes & 88 comments on Taza's two posts.
Laetitia Modine (95K followers) x
Issey Miyake
An influencer campaign launched by Issey Miyake aimed to recruit Millennials who share brand's approach to design. As the key opinion leaders were mobilized, the brand asked them to get inspired by Issey Miyake's key attributes of nature, minimalism, and architecture. Laetitia Modine, an Italian photographer, did the perfect job producing a visual that could work as a print ad for the brand right away.
Thismintymoment (164K followers) x
Issey Miyake
Minh Ty, engaged in the same campaign, came up with even more stunning photo edit, taking the product to larger-than-life dimension. Together with the previous example, this case study illustrates how one brand can get a whole variety of treatments from different artists, while still keeping in-line with the essential brand attributes.   
Designbyaikonik (91,9K followers) x
Nespresso
Flatlay guru Designbyaikonik created this shot for the Nespresso brand. Nailing a different angle from what is usually done for the beverages, Nespresso tapped into areas less discovered – in this case, the flatlay stylistics – to broaden their audience and attract new customers. Best comment: "You make coffee look sexy!"
Studio DIY (382K followers) x
Chevrolet
Chevrolet focuses on mommy bloggers as the perfect representatives of their biggest target audience. Smart move, considering that this type of influencers has the greatest engagement rates and trust levels from their readers. Moreover, a creative mommy Kelly Mindell behind the Studio DIY account brought Chevy some extra value by staging a shot so vibrant it could be used for a billboard ad right away.
Studio DIY (382K followers) x
FreixenetUSA
Chevrolet wasn't the only one noticing Kelly's talent. Her another collaboration with FreixenetUSA is crazy, funny, and fizzy – just like the drink itself. Be cautious, though. Influencers able to tweak their personality to fit different brands as good as Kelly does are a rare find. Here's an advice: check out the chosen influencer's feed carefully to see if their previous collabs make a good company for your product.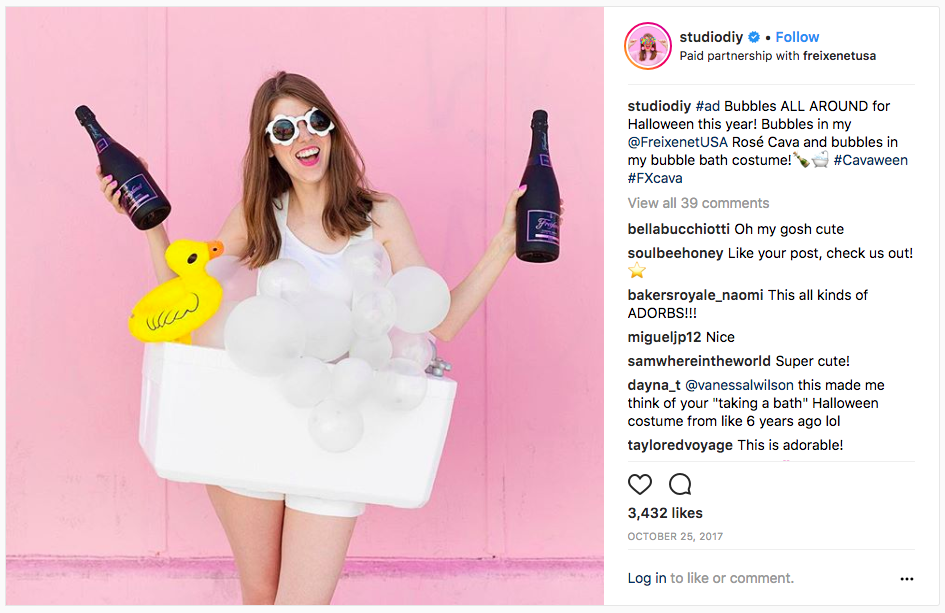 Matthew Crawford (335K followers) x
Netflix
Netflix developed a mix-n-match campaign for their show "Santa Clara Diet". Next to the billboards with celebrity Drew Barrymore, healthy lifestyle influencers were disrupting social media with controversial shots featuring blood and human body parts. This shot by Matthew Crawford was a particularly great contribution, fetching over 25K likes. No wonder the campaign brought the show follower growth of 34% in first four weeks.
Life_mirroring (7K
followers
) x
Sudio
You know a good product placement when you don't see it. The only thing that gave away the commercial background of this shot by was the fact that it was featured on the Sudio page. Lesson learned – don't stop influencers from experimenting with your product application – it can bring an emotional jackpot!
Walids (46K
followers
) x
Starbucks
Starbucks had been leveraging on user-generated content for forever now. No wonder they switched to influencer-generated content as soon as it was on the market. Brand's usual feed is made of photos of the warm and friendly atmosphere inside their cafes. Collaborations like this one, in turn, let Starbucks represent their more sophisticated, design-centered side.
Who says influencers are for beauty products only? A brand new concert hall in Hamburg organized an international instameet for the architecture photographers before its opening. One of them, Macenzo (first-time comer to Hamburg) grabbed just the right fresh emotion of the new ElbPhilarmonie on this balanced geometrical cityscape shot.
When amazing mural artist Ricardo Cavolo published collaboration with the Alexander McQueen on his Instagram, the most popular comment was "Where can I find this?" What's interesting is that his audience can hardly afford McQueen garments. But a custom scarf was exactly the product to get artist's followers hooked, and not scared off.    
Marylou Faure (48K
followers
) x
ASOS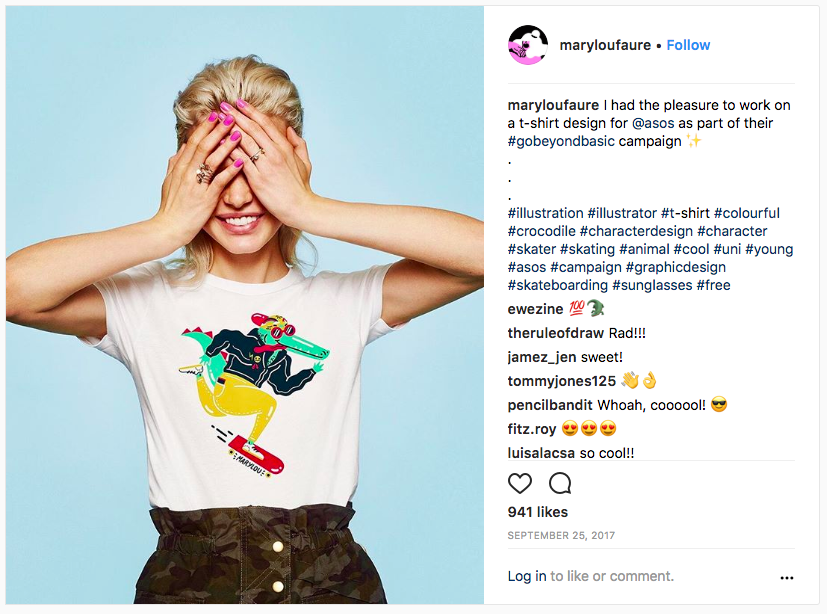 So whenever your brand is using the services from a designer, director or a photographer, make sure to leverage this partnership through a social media collaboration. Here you can see how ASOS got a perfect shout-out. A designer worked on a t-shirt design for them, and it happened so that she had 48 thousand followers needing to wear a t-shirt every day. Straightforward? Yes. Efficient? You bet.
Takeaway
Like no prophet is acceptable in his own country, no company message can impact purchase decision as massively as the words from someone other than the brand. Instead of spending money on making one-sided communication materials, it's much more impactful to co-create with influencers and offer the whole variety of views to your audience.
Pick the influencers with highest quality content and give them a freedom to create. Unleash your brand's potential. You'll be impressed.