Is Your Website Always Considering the Customer Experience?
When customers land on your website, they expect a particular type of experience. The human attention span is short, and people don't have the patience to figure out complicated navigation or sort through a lot of clutter. As a website owner, you must learn to look at your site through the eyes of your target audience and create an experience that's both positive and productive.
A customer who has a negative experience on your site is 88 percent less likely to revisit your site in the future. It is worth it to take the time to ensure the customer experience (CX) is the absolute best it can be every time. Here are nine tips to help you do that.
1. Offer More Than Promotions
Site visitors aren't always looking for product promotion. Sometimes they land on your page seeking resources that meet other needs. Perhaps they want specific information, to be entertained or are just browsing for a few spare minutes. Look at your content through the eyes of the consumer. What is missing that your site visitors might want?
Best Made started as a company building a better ax, but today have a line of sustainable and durable tools. Rather than only offering a link to the latest promotion, Best Made takes the time to look at what their target audience might be interested in and adds entertainment value through elements such as a suggested reading list and outdoor activity themes.
2. Focus on Emotion
When thinking about CX for your site, you must consider the emotions of site visitors — 70 percent of the customer experience is based on how they feel they are treated. If you figure out how to serve up warm and fuzzies, you'll develop a loyal customer following. Tap into those universal emotions everyone experiences, such as sadness, joy and love.
3. Meet Basic Expectations
One of the first things your site should accomplish is meeting the basic expectations of your target audience. For most people, this means your site has features such as an easy-to-find navigation bar and that they can almost instinctively find the things they want to move through your site.
Does your logo link up to the home page? Is your navigation bar near the top? One of the best ways to ensure your site is meeting these needs is to have outside parties visit and tell you how the structure and even placement of features works for them.
The Amish Outlet Store has the elements customers seek when landing on an eCommerce site. For example, there is a "customer service" option in the nav bar, which speaks to both new and current customers. If a customer has an issue with a purchase, they can easily find help. On the other hand, new customers can ask questions or feel reassured that customer service is a priority for the company.
4. Reward Loyalty
Loyal customers aren't easy to come by, but they will stick with your company through thick and thin and re-order from you consistently. Studies suggest a loyal customer is worth far more than a new lead — they're five times as likely to buy again, five times more likely to forgive errors and four times as likely to refer others to your company.
5.      Show Them How Things Work
Take the time to show your site visitors how the products and services you offer work. There are few things in life more frustrating than getting no directions for a new product. Some things aren't easy to figure out, and a video or illustration on your website does wonders to alleviate this aggravation. Take the time to instruct your customers and offer insider tips.
Fifty Three sells creativity tools, such as digital pencils. One of the best features of this site is the clear indicators of what the Pencil does and how it works. This is accomplished through images, illustrations and with a bit of text mixed in. If someone is on the fence about whether to purchase the product, seeing what it does allows them to decide between buying or not.
6. Focus on Mobile
Increasingly more people access the Internet via their mobile devices these days. If your site doesn't have a mobile first — or at least a mobile responsive — approach, you risk alienating these users and losing them to a competitor. If a site has a poor mobile design, 57 percent of consumers say they won't recommend that website.
7. Share What Others Think
Online consumers tend to seek out the opinions of others through reviews and testimonials. You can make this process easier for them by including reviews and testimonials on your site. This keeps them on your page, rather than causing them to hop to another tab and possibly never return.
In fact, 85 percent of consumers read as many as 10 reviews before deciding whether to trust a business. They trust these reviews the same way they trust personal recommendations.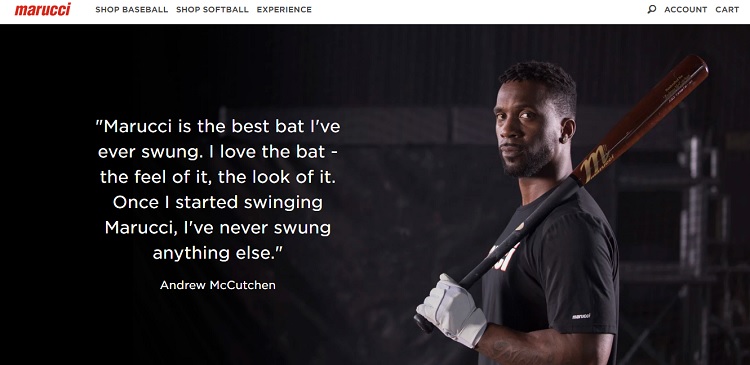 Marucci offers testimonials from professional players to highlight why their baseball bats are the best. The site is relatively simple, but as you scroll down, you'll see direct quotes from players such as Andrew McCutchen. They also offer a series of videos with baseball players highlighting why they love the bats.
8. Add Artificial Intelligence
Can you simplify a process for your site visitors by adding artificial intelligence (AI)? Sometimes this means merely walking the site visitor through registration with a bot that intuitively fills in the blanks. Today, 80 percent of marketers believe AI is going to change the way we market in coming years. Of course, how you utilize AI depends on your industry and the features of your website, but it's worth researching to improve the overall CX.
9. Go Above for Customer Service
What happens when a site visitor interacts with your customer service model? This is part of the overall experience of the customer, so you want it to be the absolute best experience possible. Make sure you have a strong, positive customer service philosophy in place and that you respond as quickly as possible to customers.
Try to connect with consumers in a variety of ways — live chat, email and toll-free numbers are all excellent places to start. If a customer orders, follow up with a thank you email and touch base from time to time. The added effort will pay off in the form of a better CX overall.
Always Strive for a Better Customer Experience
Customers who have an enjoyable experience on your website are more likely to tell their friends and revisit your site. However, word about both good and bad experiences spread across the Internet at lightning speed. Take the time to ensure your customers are 100 percent happy, and you'll see the payoff in sales and reduced customer churn.