Articles by Month:
August 2014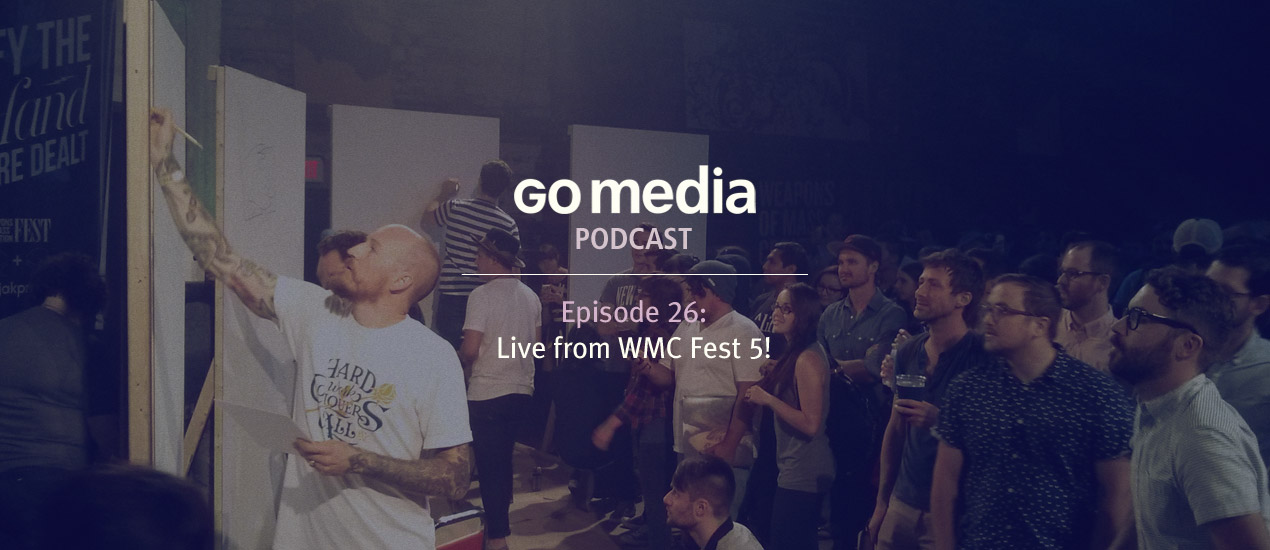 WMC Fest has come and gone by the time you're listening to this episode. Nonetheless, custom Cleveland website design agency, Go Media set up shop in the Big Cartel Vendor Village at WMC Fest 5 to talk shop with some speakers, vendors, and all around great community members.
Bring Your Hard Work to Life.
In the mood to pump up your portfolio and blow some minds this month?
We knew it.
It's easy. Just head to MockupEverything.com and pull your designs on our latest and greatest templates. (We add at least 5 new ones every month for you Pro Users, you know).
Don't have a Pro Account? It's cool. There is plenty of love to go around. Try our free templates…but just remember to give our Pro Account a go, too. The Pro Account gives you access to goodness like a growing template library (over 200 to date), larger snapshots, no watermarks and our transparent background feature.
Learn More about Mockup Everything
Enough talk…
Let's take a look at our newest templates!
Supplement Bottle

Buy this template as a Photoshop Mockup
Bandage

Buy this template as a Photoshop Mockup
White Plastic Bottle
Coffee Mug
Kids T-Shirt Modelshot (Girl)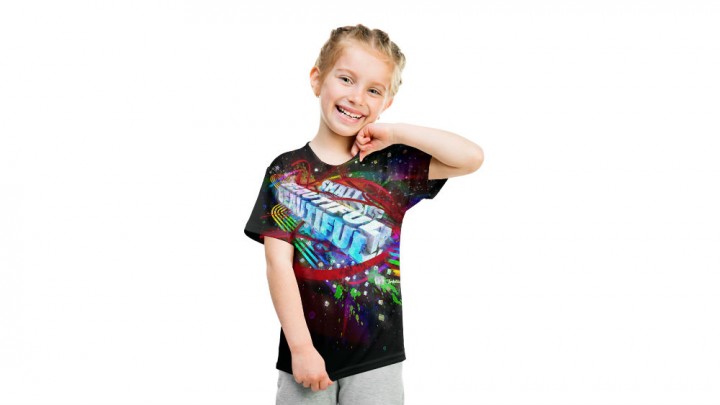 Buy this template as a Photoshop Mockup
Tell me which templates you'd like to see next by sending an email with your request.
Now go Mockup Everything!
August 2014 Flickr Pool Showcase
Hey Everyone! We're not only excited to show off our next round of outstanding Flickr Pool Showcase Designs this month, but we're ready to up the ante next month…who's game?
Enter for your chance to Win a $50 Credit to the Arsenal:
If you are new to the Flickr Pool Showcase, check out the instructions below for how to sign up.
Login to your Flickr Account (sign up if you don't have one)
Join the Go Media User Showcase Group (only group members can contribute)
Upload your designs to your own profile
Make sure to allow us to actually embed these image into a post, not just link to them. This can be done from your Flickr settings.
Click on your newly uploaded designs then click the button "send to group" above your image and choose the Go Media group.
Pro Tips and #winning
Allow your images to be shared!
Put your best foot forward! Every month, we'll be sharing our favorite designs right here, on our 'Zine.  And each and every month, we'll choose our favorite design. The artist who created that design will be rewarded with a $50 credit to the Arsenal. For real!
  * Winning designs will be chosen by Go Media's Design Team based on best use of an Arsenal product and all around inspirational awesomeness! Up your chances by noting which Arsenal product you used to create your design in the caption on Flickr.
Go get 'em tiger!
_______________________________________________
The August Showcase
Bryan
Heather
Now go create and good luck everyone!
Related articles
At Go Media, I'm a front-end developer, a podcaster, a content creator, a designer, and a maker. Just like you, I like to wear a lot of hats and I like to keep up on the current trends, tools, and resources that hit my inbox and Feedly every day. Almost once a week, I sign up to be a beta tester for a new app, or install a new extension to see if it betters my productivity on certain tasks. When I find something awesome, I share it with various members of our team, depending on what issues it's solving.
And, I figured it might be time to share that with you as well.
This Month's Resources
Here's what I found this month (and earlier, since this is the first edition) that has helped me in my daily work, both in and out of the office.
Twibble is a new service that allows you to hook up any RSS feed and tweet new posts from it. While I haven't quite worked this into my work at Go Media, I've been using it for another podcast I run. Any time we release a new YouTube video, a new podcast, or post on our Facebook page, we can promote it on a schedule to our Twitter account. Now we can keep active, and keep our followers on Twitter aware of all the content we're producing, without the "manual labor".
My Current Favorite IFTTT Recipe
I LOVE IFTTT! I use it to transfer "saved for later" articles in my Feedly to my Gmail. I use it to push content I'm creating to a Buffer's distribution schedule. I'm using it to send me an email reminder every Thursday to move $50 into a "for a rainy day" checking account. And, I also use it to push content to WordPress and our Tumblr blog.
But, a huge bottleneck in my routine is trying to also keep a growing Facebook Group I help run active. Since I do most of my reading on my phone, and the Facebook app has it's limitations, I couldn't easily do that. In comes IFTTT and this recipe. I can share a story (either from our own feed or from other sites we're reading) from Feedly to Pocket. That story is then collected by IFTTT and pushed to the Facebook Group. Now, I can start a conversation with the community without skipping a beat.
Being More Productive With Ambient Noise
We talked about the topic of ambient noise with Donald Wooten at WMC Fest 5, which you can hear on Go Media Podcast Episode 26. Ambient noise has added to music over the last 10-15 years to make it feel more authentic. A lot of us add noise to our daily lives so that we get distracted less while working.
But for me, I layer ambient noise behind music I stream over Spotify. It gives me a constant sound and keeps me moving because I'm not waiting for a song to end. Most of the time, I get so focused that I lose track of the transitions. 2 hours later, it's hard to tell how many different songs, different styles, or different artists I've listened to. Or, if my playlist ended while I was so far in the zone that I missed it.
The main source I use is Coffitivity. It started off just as a long, streaming mp3 of background noise from a coffee shop. You'd hear the low murmur of people talking, cups hitting the table, and spoons dropping into the bottom of mugs. They've also added more options, from low murmurs to bustling chatter of a lunchtime rush, to the sounds of students on campus.
Another Ambient Noise maker has entered the scene and it's a Chrome plugin that works offline.
Elmnts is an elegant ambient sound generator for improving focus and calm. Whether you're studying, working, or just relaxing, the sounds of the elements make everything better. Works offline, so you don't have to load a website to hear these high quality sounds, they're yours to listen to anytime.
Five of the six audio choices are nature-based. You can listen to the rain hit your window or sit next to a fire. You could enjoy the chirping of birds and other woodland creatures or stick your toes in the nearby creek. You could even listen to the waves crash onto the beach as you hustle towards vacation. Or make your own combination by layering the sounds together.
How To Insert Featured Images Easier in WordPress
Whether it's a new blog post or a new page, we're always uploading featured images to WordPress. And, if you do it a lot, it can become a hassle (albeit minor) to do it efficiently. But, we have a few new options now, which give us the freedom to multitask without slowing down.
What if you wanted to upload a featured image but also wanted to insert it into your post? To do that, you'd have to set the featured image first, then get back into the media menu to insert it. Why the extra step? With the Instant Featured Image plugin, you can save those clicks and just insert and set the featured image with one click.
Another personal project I have involves creating YouTube videos and sharing them to WordPress. While it's easy to upload the thumbnail to YouTube AND then to WordPress after the video publishes, that takes too much work. With this plugin, you can insert the video URL into your post like normal. Then, put your description and hit save or publish. Once saved, WordPress pulls in the featured image for you.
We all work with clients that have these HUGE PDFs filled with large images. A normal PDF we receive to put onto a site is between 5mb and 40mb. Definitely not good for the ever-growing mobile market that these sites are reaching. So, we could go back to the client and ask them to compress them, or we can try and run it through Adobe's built-in methods. But, SmallPDF can compress a PDF in the cloud for free and it does a heck of a great job at retaining quality.
This week, I used it to compress a 6mb, 2-page PDF, into a version under 1mb. HUGE improvement.
Over the last year, we've seen an increase of requests to develop an HTML email template for our clients. AND, it's becoming more clear that the client expects those emails to be responsive. Unfortunately, most of our clients are a mix of B2B and B2C, therefor Outlook is a must. And, if Microsfot used anything above Word to render their emails, we might be able to feel better about the prospect.
While HTML emails are awful to build, there are options out there to help you get through it while still making something cool. Jason Rodriguez from A List Apart put together a good run down of what you can do to make emails responsive, or at least fluid. There's also some good tutorials from MailChimp, our preferred email marketing service.
And, Zurb, the creator of Foundation, which is our responsive, front-end framework of choice, released a responsive email framework called Ink. We've used it on a few projects and have had a lot of success with them.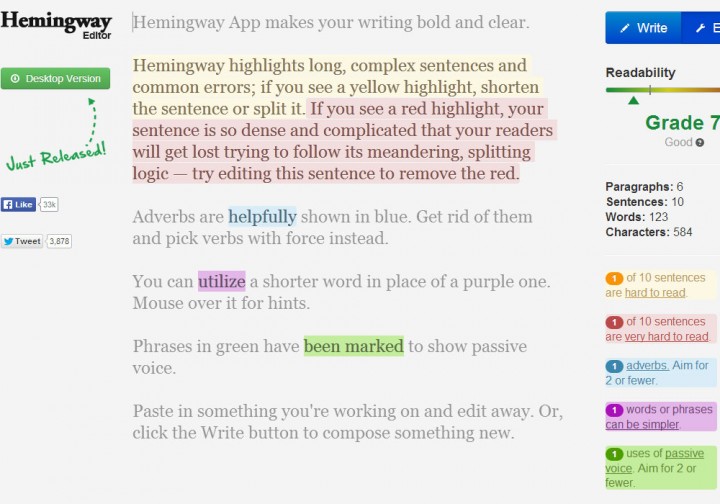 If you can figure out how to get me talking, you know I can ramble on, and on, and on. It's a similar experience when I write. Sometimes I get to the point. Sometimes, my point just isn't clear. With the Hemingway Editor, I can paste my stream of consciousness and know exactly what I need to fix before I hit the publish button.
Plus, as Earnest Hemingway taught us, "the first draft of anything is shit." We're both lucky to have a resource like this between my first draft and you.
Need a quick GIF of your reaction to something? All you need is a webcam and this site. Maybe not work-related, but still easy to use and perfect for just about every scenario.
Thanks to @skullface for sending this my way.
On My Radar
Here's a few more resources that I've bookmarked, but haven't quite found a use for just yet.
If you're an Arsenal user, you may have noticed that we've started to release some new graphic design ebooks over the last few months. We've been designing and building those with Illustrator and InDesign, however, since a lot of our content is already on Google Drive, maybe this could come in handy. I'll be playing with that idea this month.
While not a new service, I got introduced to TeeSpring.com at WMC Fest 5. We spoke with Jimmy who was manning their vendor table on the latest podcast. After doing a bit of research, I really liked the idea and started putting ideas together for the podcast.
And that's it.
That's this month's resources and tools that I've found useful during my day to day goings on. Hopefully you find them useful as well.
If you've got something you want me to check out, leave a comment here on the Zine. You can also tweet me @bryangarvin and drop me an email.
Ice Bucket Challenge
We were challenged to participate in the ALS Ice Bucket Challenge and, of course, accepted…
with a twist…
We challenge our very own Wilson Revehl and our friends at Jakprints to complete the challenge within 24 hours…or else.  Wink, wink.
We are also happily donating $160 to ALS on behalf of Go Media.
The Man Who Knew It All Illustration Tutorial
Today's killer tutorial comes to us from Weapons of Mass Creation Fest 5 Designer Daniel Nyari. You're sure to appreciate his thoughtful process. Enjoy! – Heather, Go Media's Zine editor
Introduction
Today I'm going to be sharing the process I usually go through in creating my illustrations. Not the conceptual process but mostly the technical process. For this tutorial I will be working on a recent illustration for a book on the subject of "The Man Who Knew It All". I was given this brief and told I have carte blanche to do whatever I wanted. I thought this would be a neat chance to play around with the process itself and use that as the subject matter. In short, peeling back the creative process as the concept of knowledge.
Before I begin, I would briefly like to talk about my general design philosophy so you can get a sense of why I make the decisions I do in the creative process. Firstly it's largely based on my neurosis-inspired appreciation for logo design and its systematization of form with an emphasis on equal importance on every element, big or small. Secondly, my continuing fascination with innovation in digital technology and rise of the web as a new visual language, and the idea of its amalgamation with traditional illustration.
I like to give myself limitations in which to create and this is more of a personal choice as I've always been more successful in generating ideas when I feel like I am up against the wall or in this case am limited graphically.
Follow the rule of eighths and create everything from it. (more below)
Reduce elements to their essence. Only show what you need to show.
Create depth from contrast of hues and colors only.
Rule of Eights
This is the root of my approach. It holds everything in place. Without it everything else would crumble. It's based on the idea that every general shape can be created from the circle. We can naturally split it into infinite angles but because I like to limit myself and reduce elements to their essence, I settled on a convenient enough number of eight and ended up calling this my Rule of Eights. It's very straight-forward. I take a circle and first divide it into quarters, then simply rotate it 45 degrees so we have broken the circle up into eight parts of equal size. Its angles will determine the foundation for every shape created.
Sketch to Digital
I create almost everything in Adobe Illustrator so I begin by opening up a new document, choosing a tabloid size and making sure it's set to CMYK color mode because it will be used for print. I create a basic circle with outline mode on from the toolbar and start dividing it in eights. Using the scissor tool I cut along the intersections so we get the three basic shape generators; the ⅛ circle, the ¼, and the ½ or half circle. I make sure to leave these next to my art board and have them handy as I digitize my sketch.
Next up, I import my sketch. For this project I created my composition based on Andrew Loomis' informal subdivisions which allow you to break up the page in order to more creatively imagine an interesting composition that doesn't feel repetitive. This is purely a conceptual endeavor and won't automatically give you a great composition. You still have to envision the image and play around with it until you see a composition that works for you. I recommend trying multiple compositions and don't be afraid to fail. I slightly tweaked this guideline in order to accommodate my rule of eights. In red, I laid out the structure of the informal subdivisions grid that will help me lay down the digital inks.
I begin digitizing by applying the aforementioned rule of eights shapes along the pencil lines using the red grid as a relative guide. This can look a bit cluttered and took me a while to get used to but it works for me. I lay down strokes instead of shapes to avoid any further visual clutter. In the image I highlighted the individual shapes in bold red to show how they will be placed. I repeat this process until I am done laying out the outlined part of the illustration using the pathfinder tool along the way to cut, trim, subtract, add, and merge various shapes to get as close as possible to the sketch.
Because this process can be very tedious and time consuming I try to be careful about how efficiently the strokes are laid down in how they will help serve when they are converted to shapes. There can't be any major overlaps and since these are placed in layers, I try to make sure they are all relatively close to each other.
When I am finished the final "ink" or "stroke" stage looks like this.
Coloring
Next stage is taking the strokes and converting them to shapes one by one using the stroke to fill option in the bottom left corner of your tool bar. I usually start converting everything to grayscale because I usually don't have a set color scheme in mind but it also allows me to lay down values and determine what areas should be emphasized. Since this piece will feature fill and outline portions in the final image. I collected the area of lines that will be strokes in one group while I convert everything else.
After that I begin to think about a color scheme. In this case I wanted to go for something simple and create three areas of interest. The subject sitting in the chair, the background, and the "unfinished" area around the subject's head. I wanted to make this piece feel colder as if it's set at night even though it's indoors and it's dark. As usual I make my Mike Mignola influence too overt.
Sometimes when I am not satisfied with the final color scheme, I export the image into Photoshop and apply some adjustment layers. In this case I actually ended up going a bit too cold and wanted to warm the piece up a bit by warming up the darker areas playing around with the Color Balance Adjustment Layer. Similarly I brightened the piece up with the brightness/contrast and Selective Color Adjustment Layers. I know I mentioned no gradients earlier but a trick I like to use is subtly apply a gradient layer, usually on lighten to further brighten the piece or overlay, then later bring it back into Illustrator and select a flat color from the gradient patch to give the illusion of a gradient. You can see the subtle but noticeable difference before and after color adjustment.
Finally I always like to line up the image with its original subdivisions grid and outlines overlayed.
The end!
To learn more about Daniel and his process, head to http://iamdany.com/
Free Arsenal Templates & More: Vector, eBook, Mockup Template, Font and Textures Freebie!
Hello Go Media Faithful! We have got to say, our Arsenal customers are the best around. We're constantly inspired by what you create and consistently moved to produce new products due to your brilliant suggestions. We want to say thank you with this, a small token of our appreciation. Download our free Arsenal Sampler, including Free Arsenal templates and more now at arsenal.gomedia.us!
You get:
Tennery Font (Light)
iPhone in Hand Mockup Template PSD
Right Lower Arm (for Tattoo) Mockup Template PSD
Zipper Hoodie Mockup Template PSD
6 Textures
1 Vector Sampler
Design Tools Freebie
Drawn to Business eBook Sample
As well as 2 Coupons good for: 1 Free Pro Month of Mockup Everything

& $25 Arsenal Credit (off of a purchase of $75 or more)

Go get it now at arsenal.gomedia.us!
David works for Radley, who design beautiful handbags and purses. When he's not working, he enjoys studying product and user interface design.
Designing a logo is a delicate process. The entire tone and personality of a company can be affected heavily by how you choose to create the logo. The logo is one of the most visible parts of the brand's identity, and so it's design becomes an integral part of how the company is perceived.
I'm a big fan of logo designs that make use of illustration and hand-drawn lettering. Of course, this isn't appropriate for every brand – but I personally think it's a great choice if you're trying to inject a bit of unusual and interesting personality into the piece. Hand-drawn designs often have the ability to come across as a bit more personal, and sometimes give off the impression that the brand doesn't take themselves as seriously as others. That's not necessarily a bad thing – but it is delicate, and it suits some companies much better than others.
I've brought together a selection of fresh, interesting and creative logo designs that make use of hand-drawn lettering and illustration to help give you some inspiration. Hopefully these logos will get you thinking about designs that you could try out yourself, or they might give you some inspiration for the next time you need to rework or design a logo for a brand that could do with a bit of extra personality. In either case, I hope you find this collection interesting, and I'd love to hear what you think about them in the comments below.

Source: https://dribbble.com/shots/1564428-Epic-Media-Logotype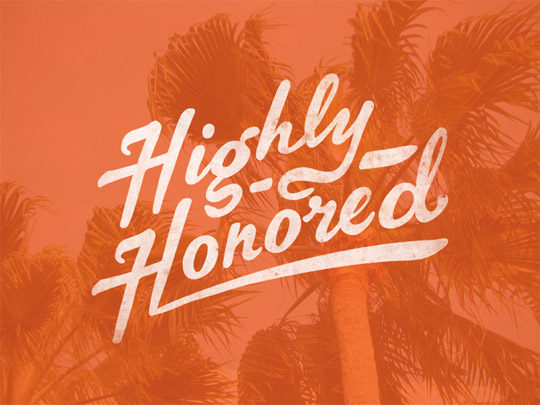 Source: https://dribbble.com/shots/1564653-Highly-Honored-B-wordmark

Source: https://dribbble.com/shots/1462798-SONOMA

Source: https://dribbble.com/shots/1336963-Fitnesslab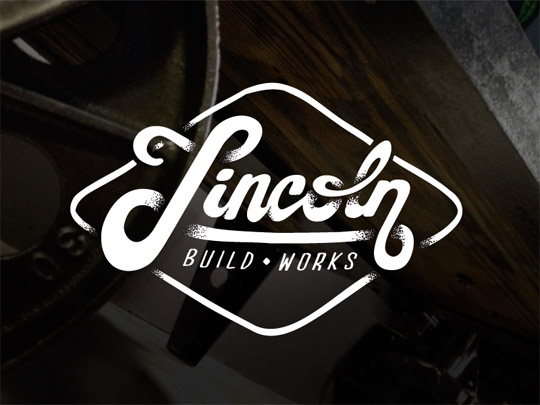 Source: https://dribbble.com/shots/1456625-Lincoln-Build-Works-Logo

Source: https://dribbble.com/shots/1548097-yeah

Source: https://dribbble.com/shots/1451452-Final-Summer-Camp-Branding

Source: https://dribbble.com/shots/1543448-Surrey-Speed-Shop

Source: https://dribbble.com/shots/1560976-Free-Spirit-Spheres

Source: https://dribbble.com/shots/1567086-Lionveil-Hand-drawn

Source: https://dribbble.com/shots/1564737-Summit-Final

Source: https://dribbble.com/shots/1553002-Photography-Logo

Source: https://dribbble.com/shots/1367711-Program-Logo-in-V2

Source: https://dribbble.com/shots/1568434-The-Hangar

Source: https://dribbble.com/shots/1568478-Rachel-Make-My-Cake-Distressed-Sticker-Idea

Source: https://dribbble.com/shots/1559305-Lighthouse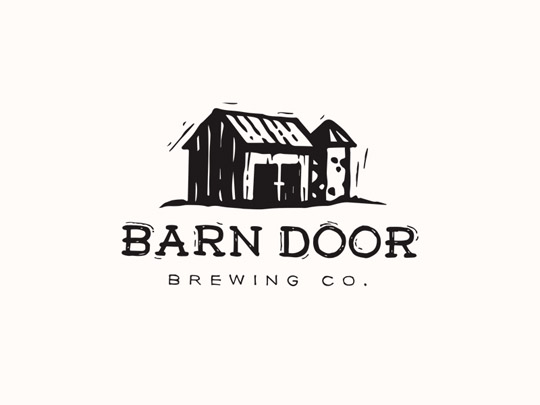 Source: https://dribbble.com/shots/1390947-Barn-Door-Brewing-Co-Logo

Source: https://dribbble.com/shots/1350320-Otis-Logo

Source: https://dribbble.com/shots/1563031-RPM-Pilots

Source: https://dribbble.com/shots/1540499-Sticker-Stamp
Which of these logo designs do you like best? Have you hand-drawn a logo that you'd like to share? I'd love to hear what you have to say in the comments below.
WMC Fest 5 is here! Take a look at our last minute reminders.
Hey all you creatives, Christmas came early this year! Thanks to all of our supporters, WMC Fest is entering its fifth year and we are so happy to be able to bring all of you together in one place right here in good ol' Cleveland, Ohio.  WMC Fest begins today, August 15, and is here to teach and entertain you until Sunday, August 17. This year's speaker line-up is curated and hosted by WMC Alumni Margot Harrington, a Chicago-based designer and entrepreneur, and Stewart Scott Curran, designer and art director at CNN in San Francisco.
In addition to 3-day passes, we also offer daily tickets for your convenience. We'd love to spend all three days with you, but we understand a three-day vacation is not in the books for everyone. Take a look at our website to find out which workshop, speaker, or band you're dying to see and reserve yourself a ticket. Nervous for a big job interview coming up? No worries – our Creative Job Hunt: Acing the Interview workshop is on Saturday from 3:15-4:15. In the mood for a comedy show? Grab a $10 ticket for Sunday's closing event, presented by Chucklefck.com. View our daily schedule here.
We have 18 (yes, 18 bands in three days!) stellar bands lined up, coming from all genres. Friday night is action packed, beginning with the 2vs2 Break Battle and a rad concert line up featuring Mr. Gnome, Urbindex, Smoke Noises, the Commonwealth, Midnight Passenger and These Knees. We know, we know, we are too good to you guys! But, we just want the best for you.
The doors open at 10:30 am on Saturday, beginning with a WMC Fest Welcome. The day doesn't come to a close until 11 pm so we have lots of time for friends, fun and activities!
Last year, our Ink Wars battle was super intense. In case you missed it, Ink Wars is a 60-minute black marker battle where 8 artists compete against each other to draw something based on a theme given at the time of the battle. The Ink Wars event is truly one-of-a-kind, and we are stoked to see what goes down on the battlefield during WMC Fest 5 on Saturday night.
Nick Butcher and Nadine Nakanishi, of Sonnenzimmer in Chicago, kicks off the Saturday speakers at 11:15 am. Then, head over to Go Media's Portfolio Review and Advice at 12:15 pm or the Good Times and Collaboration workshop. Don't miss out on Dolfish's performace at 1 pm!
What do we have in store for you on Sunday? Let's start by chatting it up with serial entrepreneur and iLTHY founder Kumar Arora at 11 am. During What Do You Want To Be When You Grow Up, explore how people find their passion and juggle multiple projects. Go Media will be in the same spot at 12:15 for anyone who would like a portfolio review and advice – take advantage of this! The second day of the 2-day Good Times and Collaboration workshop takes off at 12:15. Don't think we left the last day light on workshops, bands and speakers. It ain't called Sunday Funday for nothin'!
Cheers to WMC Fest, and to you all!
Hello Go Media faithful! Today's tutorial comes to you from our friend Kelsey Cronkhite, designer, blogger and fellow Clevelander! You'll see her work in the Weapons of Mass Creation Fest 5 gallery. It's too, too amazing, so:
Buy your tickets to WMC Fest now
Enjoy the tutorial and see you at the Fest! – Heather, Go Media's Zine Editor
Hand Lettering How-To
I'm here to help you learn how to take hand lettering sketches from your notebooks to the digital environment to be ready to use for a design. Below you'll find options for the end files to work as a vector and as a color-editable tiff file. These are the two methods that I use most regularly to integrate lettering in to my designs. If you're looking for something completely smooth and finished as vector, all you would need to do is use the pen tool to draw on top of what you import in to illustrator. This is very time-consuming, but worth it for final logos and files that need to be brought large-scale.
Step 1: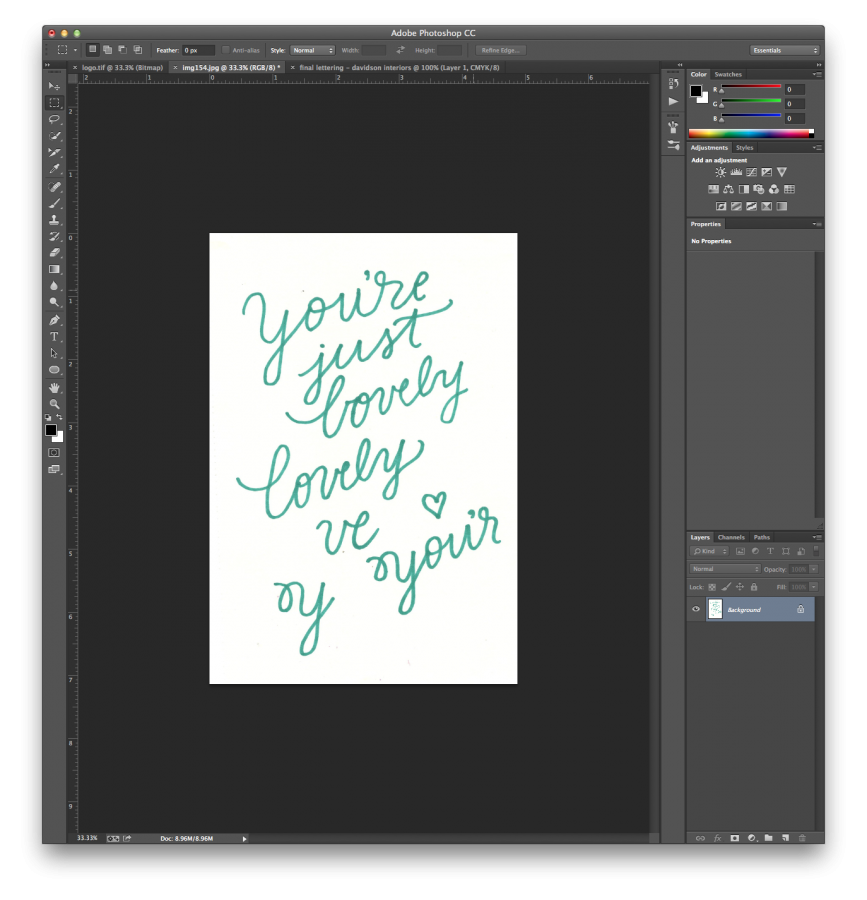 Scan in your lettering, and drag the image directly into photoshop.
Step 2:
Use the lasso tool to select the parts of the lettering that you want to use, if done in parts. Copy and paste these one by one in to a new Photoshop document using the lasso tool. If you have your lettering completely as you like it form-wise in the drawing, use the lasso tool to select your lettering and then copy and paste it completely in to a new file.
Step 3:
Arrange the letters how you would like them to appear in your final design. It doesn't have to be perfect, but you want it to be as close to the general shape as possible at this point.
Step 4:
Convert the file to greyscale [ image > mode > greyscale ] , and merge all the layers of the design together.
Step 5:
In the adjustments panel, select your levels. Move the black arrow to the right, and use the grey and white to adjust your image so it is as black and white as possible. When complete, merge all your layers together again.
Step 6:
Convert the file to a bitmap [ image > mode > bitmap ]. There, select 900 pixels/inch, and 50% threshold as your method. Crop the image to fit the design.
Step 7:
Use your brush in black and white [ toggle between the two by hitting 'x' ] and clean up the file. Use white on any specs that happened to be laying outside of your lettering, and close any gaps that were not together when you were piecing together the letters. Zoom in to fine-tune the details. I will sometimes toggle back and forth to re-draw parts of letters that are looking a little off, skinny, or thick in certain areas. Here is where you need to make it your version of perfect, as it won't be changed other than through color after this point. Once you're done, save it as a tiff file.
Step 8:
Open a new illustrator document, and drag your completed tiff in to the file.
Step 9: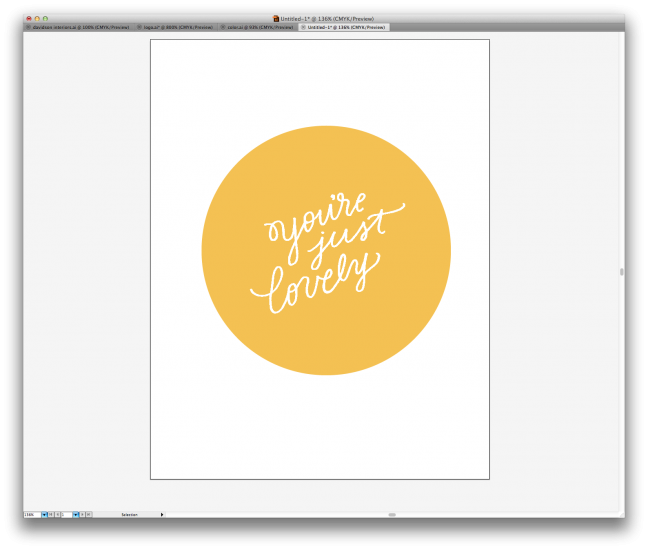 Now you are free to select the tiff and change its color. Let the design process begin with your custom lettering!
Step 10:
Alternatively, you can take the file from when you dragged it in and make it a vector. Just live paint the lettering [ object > live paint > make ], and then use your white arrow tool to select the white area around the lettering. Select the rest of the white [ select > same > fill color ] and then hit delete.
Step 11:
You are now free to scale and color the lettering as needed, without distortion.
Happy lettering!
More Kelsey: Pinegate Road | Facebook | Twitter | Pinterest | Bloglovin'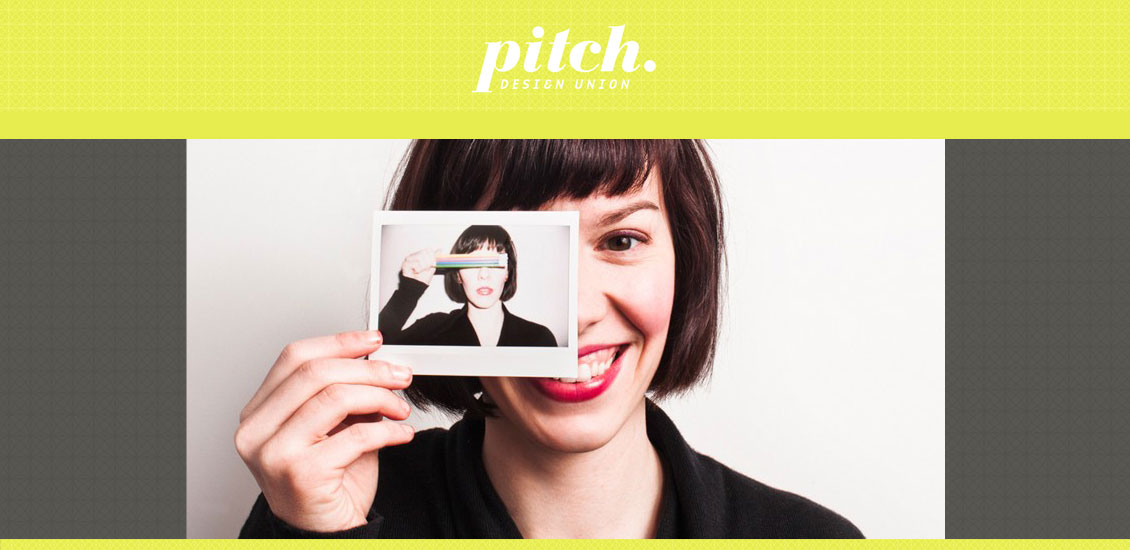 Hello Go Media Faithful! Here's a blog post comin' to you straight from Weapons of Mass Creation Fest speaker coordinator extraordinaire Margot Harrington of Pitch Union Design. She originally published the blog post you see below on her lovely blog here. We loved it so much that we asked if we could share it here on the 'Zine. Margot is so sweet that she, of course, said YES YES YES!
Enjoy! – Heather, here at Go Media
Things I'm Excited for at WMC Fest 2K14 by Margot Harrington
Why hello there, first blog post of 2014! What have I been doing, besides not publishing stuff on the internet for 8 months? Aside from participating in a tech summit at the White House (yes, that White House) on the prevention of campus sexual assault, I've honestly been enjoying keeping a lower profile for awhile. Because it's safe and easy and I've been able to maintain steady work without it. In reality, maintaining a business isn't the same as growing it. And not making writing a priority is all excuses disguising a rip-roaring case of impostor syndrome. Am I over this? Am I cured? If not forever, at least for now being able to type these words indicates yes. And I have to thank WMC Fest as a major factor in this development.
Happening in precisely one month, in Cleveland, this'll be my third consecutive year being involved in this event. The first time I went, I gave my first major public talk and to this day it's still the best talk I've ever written and this post about it is still receiving regular traffic. Last year, going as an attendee was magical for other reasons, namely how awesome it is to be on the sidelines rooting for my creative friends on stage. I don't think people give that support role enough credit. Without it there would be no festival to speak of. And this year, I'll be on stage in a different capacity as co-host with my comrade Stewart Scott-Curran. We also curated the speaker line-up as well, which we've been planning since January. It's been a pleasure and an honor to have this role. I can't wait to see this all happen again IRL.
Here's some specific things I'm excited for this year:
+ Beyond single speaker talks, we've put together two panel discussions and a formal debate. This'll guarantee some legit Real Talk™ about the race, gender, and class issues in the creative/larger world. Our moderators are pros and will ensure the discourse is balanced and productive. They will give us all clear take aways to build more equality in our day to day lives.
+ I made a WMC inspired Spotify playlist! With songs that either talk about Ohio, the Midwest, or by groups who are from Ohio/Cleveland. There's also a few songs from bands playing the festival this year, as well as some random summertime jams that are good for car trips and plane rides. Even if you can't join us this year, you can enjoy this in spirit of the event!
+ Anna in the Raw vegan and vegetarian café is catering the festival. This'll be a good balance with Happy Dog, another attendee favorite spot, which is just up the street from the venue, the Cleveland Public Theater. Not that their hot dogs (veggie or beef options) which come with a massive array of unexpected toppings and tots on tots on tots aren't delicious. They are, and I can safely say would topple almost all of the dogs in Chicago (scandal, I know! Deal with it). However my belly appreciates some fresher food as well to, uh, keep things moving.
+ This is a given, but seeing old friends & colleagues from previous years, as well as meeting a slew of new folks. I haven't subjected this to rigorous intellectual testing, but I'd wager WMC Fest has much a higher rate of return attendees over other similar design or creative conference which says a lot about the programming and the vibe. Events like this do something a little different for everyone, so it's hard to define what the result will be for you. But, if my own experience is any indication, there will be cumulative results. Might be a bit of surprise what they are exactly, but regardless, they will be awesome.
+ Another difference is that all of the events are in one location, which makes for a more immersive experience than other conferences. Obviously, I'd love for the whole world to come to the talks and panels, but it's fair if you want to check out the Rock 'N Roll Hall of Fame (recommend this, it's insane!) or Great Lakes Brewing Co., or the charming Ohio City Farmer's Market, get it done. There's also locally owned coffee shop, Gypsy Beans, two doors to the left of the theater which'll more than satisfy the joe fiends out there.
+ Check this twitter list for all WMC Fest speakers, panelists, musicians, comedians, and sponsors.
+ Hosting! A good host is like good design. If it's well done, it works without calling attention to itself.
+ Also new this year: comedy! Sunday night's a solid line-up curated by Cleveland Stand-Up Ramon Rivas.
+ Other things I'm hoping to squeeze in if I can: a visit to the historic Cleveland Public Library, which is across the street from the swanky Hyatt Regency which is also a historical landmark. Also: Cleveland's Museum of Contemporary Art!! They are showing an exhibition on graphic design legend and one of my hugest design influences, Sister Corita Kent in August.
So, will I see you there? I sure hope so. And, even if you won't be able to make it and you're reading this anyway I'd be thrilled if you said so. Just knowing that this transmission has made its way through the internet tubez to a real person would make my day.
Learn more about Margot!
Pitch Union Design | Twitter | Pinterest | Instagram | Dribbble
As with life, rules in both the lands of lettering and typography are made for a reason.
In many cases, it's best to stick to the books. However, in other cases, it's quite alright to bend (and even break) the rules.
Illustrator and Hand Letterer Darren Booth points out that following rules too stringently can negatively affecting lettering work. He says, "I fear (rules) negatively affect my hand-lettering work. I typically approach my hand-lettering like a standard drawing – with shapes and forms, and I keep going until it feels right."
Pro Tips
We asked some of our favorite hand-letterers, calligraphers and typographers which rules they love to follow and those they love to break. Read on for their pro tips and leave your recommendations in the comments below!
Do Mind Hierarchy
In any project using typography there will always be a hierarchy. Hierarchy is so important because it can completely change the context or readability of a piece if the wrong word or words are emphasized. I always look for ways to create a more visually interesting piece or try to communicate a message by using hierarchy, but you have to be careful that you are not sacrificing any readability or else your message can be lost or completely misunderstood.  – Jeremy Teff, Designer, BLKBOXLabs
Experiment
I have more of an illustrator's approach than a graphic designer's approach to lettering. My words form a picture to me and I tend to go by eye rather than follow rules of kerning, etc.! I say, start loose and experimental – play with brushes and materials, make a mess before you hit the computer – there is time to tighten things up further down the line. – Kate Forrester, Freelance Illustrator & Calligrapher
Work towards Harmony
When customizing type, be aware of each letter and its neighboring letters. Making a few small adjustments to one letter can potentially disrupt the flow and balance of the word as a whole. The goal is for all the letters in the word(s) to work together in harmony. – Bryan Patrick Todd, Graphic Designer
Think: Less is More
The idea of "less is more" works on numerous levels, but it's a rule I love breaking as often as possible. It's wise for logos and branding, it's ideal for effective speeches and slogans, and it's necessity in many ways to product design – a specialized product that does less is almost always better than something that "does it all". With all of that considered, less is not always more. When I'm commissioned for a label design or a t-shirt design, I absolutely love it when a client says to go crazy with it and make it as detail intensive, intricate and ornamental as possible. I've heard plenty of quotes that say good design should be virtually invisible and that things should be reduced to their most basic purpose and function which is fine most of the time. However, I also believe that design can and should be beautiful, toiled-over, and something that makes someone stop in their tracks when they see it. – Jason Carne, Freelance Designer
Keep it in the Family
I would say: If you're not confident yet in your ability to judge a high-quality typeface from a bad one, check to see if it's part of a type family that includes other weights or styles (Think bold, italic, light, etc.). Typefaces that have a family to back them up are not only more flexible for your projects, but they also tend to be better designed, so you're less likely to look back at your choice and cringe in a couple years when your eye for type has improved. – Alison Rowan, Graphic Designer
Understand the difference between calligraphy, lettering and typography. 
Calligraphy is the written letter, lettering the drawn letter and typography the arrangement of typefaces. Our written language has its basis in writing and different tools create different styles of letterforms, for example a chisel tip for blackletter, a brush for brush script and a pointed pen for copperplate. If you are interested in getting to know typography then the best place to start is with calligraphy, to establish what authentic forms look like and from there you can experiment with lettering and gain a greater appreciation of which style of typeface to use in a given context. – Ged Palmer, Graphic Designer
Begin with a Sketch
I always begin with a quick sketch on paper. No matter what the the project is, I find that this is the best way to establish whether an idea or composition works.  – David McLeod, Graphic Designer
The one rule I always follow is to sketch and draw the idea always. Every visual in your mind translates into a drawing. And the one I often break is not sticking to the original drawing. The mind keeps getting ideas constantly and more often than not the final outcome is quite different from what was originally in mind. – Sabeena Karnik, Graphic Designer, Illustrator, Typographer
Make it Visible
At school I remember a teacher once telling me that the best typography is that which is invisible. Maybe this might makes sense when it comes to way-finding labeling perhaps and conveying sterile information. But on the other hand, when it comes to communicating a concept or an ideas with layers of complexity through type, its treatment can enhance the communication of a particular emotion or tone which to do effectively in many cases requires that the typography be anything but invisible. – Luke Lucas, Graphic Designer, Typographer
Keep it Loose
Over the years, with practice and research I've learned some basic rules that help with readability or where a letter's thick variations should be, but I prefer to let the concept or composition drive the letters. Concentrating on rules to follow could make my work feel contrived. My one important rule to follow when it comes to lettering is to keep it loose and build a piece up more like a painting than creating perfect letters that spell something out. – Mary Kate McDevitt, Hand Letterer and Illustrator
Don't Get Lost in the Details
Try not to get so lost in the details that the lettering becomes hard or impossible to read. Believe me, it happens sometimes. It sounds silly, but zooming out periodically to see how the details are affecting the piece helps keep perspective. – Bryan Patrick Todd, Graphic Designer
Don't Stretch or Squeeze
Never, and I mean never stretch or squeeze type. Type designers by nature are super obsessive down to the smallest detail while remaining "big picture" thinkers. If type has certain proportions, it was made that way for a reason, even if it's not readily apparent to you. Think of it this way – to everyone with a good understanding of type and how it should look, your stretched type looks about as good as a stretched out collar on a shirt. If a typeface isn't working how you think it should for a certain application, either research more typefaces and find one more suitable to your needs or go the extra mile and create something custom for the job at hand. – Jason Carne, Freelance Graphic Designer
Consider cultural and historical meaning
Comic sans on a gravestone would look a little strange, no? Style of letterform carry a lot of meaning and these meanings are normally associated with the cultural and historical roots of where they came about. That said the 26 letters from the roman alphabet have gone largely unchanged in 2000 years. So by breaking down the essential nature of the forms and then experimenting with subtle changes you can adapt these 'abstract forms' to communicate an intended message. – Ged Palmer, Graphic Designer
Push the Legibility Rule
Given the opportunity I like to push legibility. As long as the message can still be read, I'll manipulate character forms or break words over multiple lines if it will add to the image. – David McLeod, Graphic Designer
So. What rules do you live by? What ones do you love to break? Share with us in the comments below!
Learn more about our contributors:
BLK BOX Labs | Dribbble | Behance | Instagram | Twitter | Facebook | Vimeo
Kate Forrester | Twitter
Bryan Patrick Todd | Twitter | Instagram | Behance | Pinterest | Dribbble
Jason Carne | Behance | Instagram | Dribbble | Facebook | Twitter | Lettering Library
Alison Rowan | Twitter | Facebook
Ged Palmer | Twitter | Instagram | Tumblr | Dribbble | Behance
David McLeod| Behance | Instagram | Facebook
Sabeena Karnik Behance | Twitter | Facebook | Instagram
Luke Lucas | Behance | Twitter | Instagram
Mary Kate McDevitt | Twitter | Instagram | Pinterest | Tumblr | Dribbble
Darren Booth | Twitter | Instagram | Pinterest | Dribbble
All cover image photos courtesy of Ged Palmer 
Stock Up with Our Ultimate Texture Bundle
The endless hunt for textures is over when you purchase the Ultimate Texture Collection Bundle, available on Go Media's Arsenal.
This download is jam-packed with the best of the best: 6 sets, one collection and one pack of high-resolution, completely unique, Go Media made textures.
That's 835 textures in total, my friends.
Originally $214, now $45 for a limited time
Here's what's included:
You get 105 high quality and detailed texture photos. Included in the set are Concrete, Wood, Paint, Rust, Oddshots, Metal, and Masonry.
You get 105 high quality and detailed texture photos. Included in the set are Paper, Bark, Earth, Grime, Stone, Geometry, and Oddshots 2. All at your disposal for wicked design awesomeness!
A set of which dreams are made. You get 105 high quality and detailed texture photos. Included in the set are Paper Stains, Rust 2, Stamped Metal, Wood 2, Ice, Painted, and Masonry 2.
You get 105 of the highest quality textures available. Included in the set are Ink in Water, Rust 3, Wallpaper, Tiles, Motion Blur, Grunge, and Skin & Fur. Take a look through the image galleries; there are some truly stand-out additions in this fourth texture set from Go Media.
We're taken things up a notch in this latest texture set, which includes 200 brand new high-resolution images inside 10 unique packs: Clouds, Dust, Fabric, Fur, Lensflare, Motionblur, Paint, Paper, Photocopy, and Smoke.
Textures are an excellent tool for adding subtle, yet effective elements like noise, visual interest, depth and definition to your designs.  So are you ready to get your hands a little dirty? Then, dive head first into the Rolled Ink Texture Pack by your friends here at Go Media. The Rolled Ink Texture Pack contains 48 textures we created using a brayer, our favorite black ink, a variety of interesting surfaces and a little elbow grease.  What resulted is completely unique and awesome if we do say so ourselves.
You get:
48 Rolled Ink Textures, from subtle to strong, straight to circular, calm to chaotic, all excellent in their own right.
We have a super cool old building here at Go Media. We went through it with a fine-toothed comb, and cameras, and captured this collection of textures. It includes 122 textures, divided in five categories: fabric, dust, grunge, noise, and wood grains. 'Nuff said.
The Go Media Watercolor Set 1 contains 45 abstract, high resolution (8.5 x 11″" at 300 DPI) watercolor washes.
Hurry! The Ultimate Texture Bundle is available for a limited time!
Poster Contest from our friends at the National Poster Retrospecticus
Let's talk for a minute about how much I love John Boilard, Producer of the National Poster Retrospecticus, a traveling show of over 300 hand-printed posters coming to Cleveland for this year's Weapons of Mass Creation Festival.
Umm.
No, I haven't met him yet, but I'm already smitten.
Why?
Because all signs are pointing to this: John is as passionate about WMC Fest as the crew here at Go Media. And that's pretty darn kick-ass if you ask me.
You see, in the weeks leading up to the Fest, John has been nothing but enthusiastic. He's gone above and beyond to share everything he can about his poster show with us here on the 'Zine. As the editor, that makes my heart go pitter pat.
Don't miss these posts:
"50 Inspirational Posters from the National Poster Retrospecticus"
"WMC Fest Insider's Guide: John Boilard & the 300 Hand-Printed Posters Coming to a City Near You"
Look! There's More!
Guess what, my friends.
John is here with the treat of all treats, if you asked me.
The National Poster Retrospecticus Poster Contest
To celebrate the National Poster Retrospecticus coming into town August 15 – 17, John has kindly offered up three sets of posters to you, my dear readers.
How do you win? It's easy. Simply comment down at the bottom of the post and let us know why you're dying to attend this year's Weapons of Mass Creation Festival.
Three winners will be chosen at random on Monday, August 11.
I recommend that you come back and see if you've won, just in case my Facebook message gets sent to your other folder, or such nonsense. Good luck everyone!
Here's What You Can Win:
Prize 1:  National Poster Retrospecticus Full Poster Set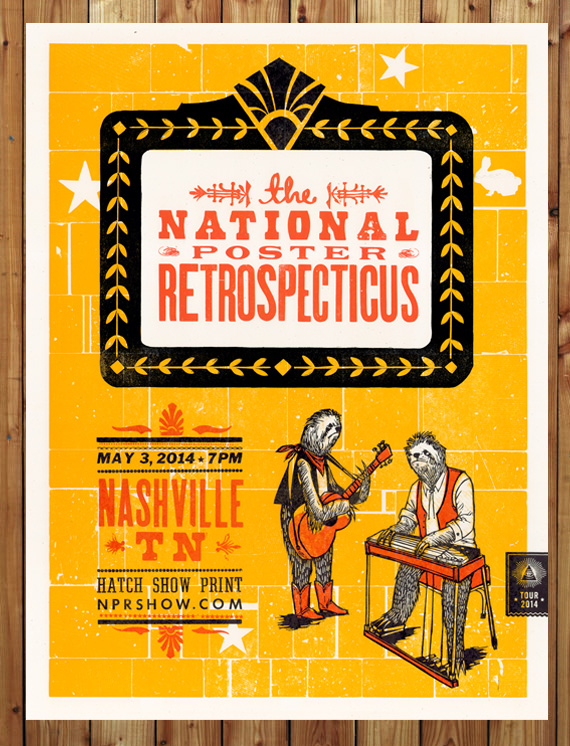 Prize 2: Spring 2014 Set
Prize 3: Little Friends of Printmaking Poster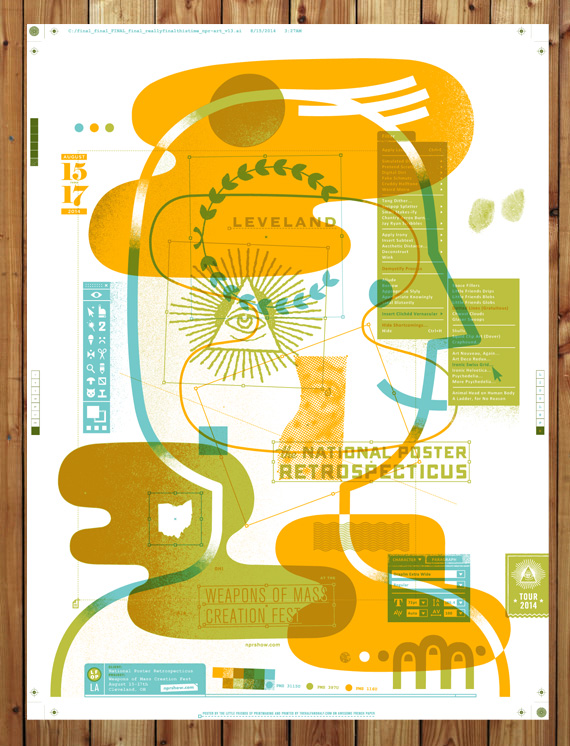 Further connect with JP and the NPR:
National Poster Retrospecticus | NPR on Facebook | Twitter | Instagram |Supermarket | JPB
Related articles