Hand-Lettering Tutorial: From Sketch to Digital Design
Hello Go Media faithful! Today's tutorial comes to you from our friend Kelsey Cronkhite, designer, blogger and fellow Clevelander! You'll see her work in the Weapons of Mass Creation Fest 5 gallery. It's too, too amazing, so:
Buy your tickets to WMC Fest now
Enjoy the tutorial and see you at the Fest! – Heather, Go Media's Zine Editor
Hand Lettering How-To
I'm here to help you learn how to take hand lettering sketches from your notebooks to the digital environment to be ready to use for a design. Below you'll find options for the end files to work as a vector and as a color-editable tiff file. These are the two methods that I use most regularly to integrate lettering in to my designs. If you're looking for something completely smooth and finished as vector, all you would need to do is use the pen tool to draw on top of what you import in to illustrator. This is very time-consuming, but worth it for final logos and files that need to be brought large-scale.
Step 1: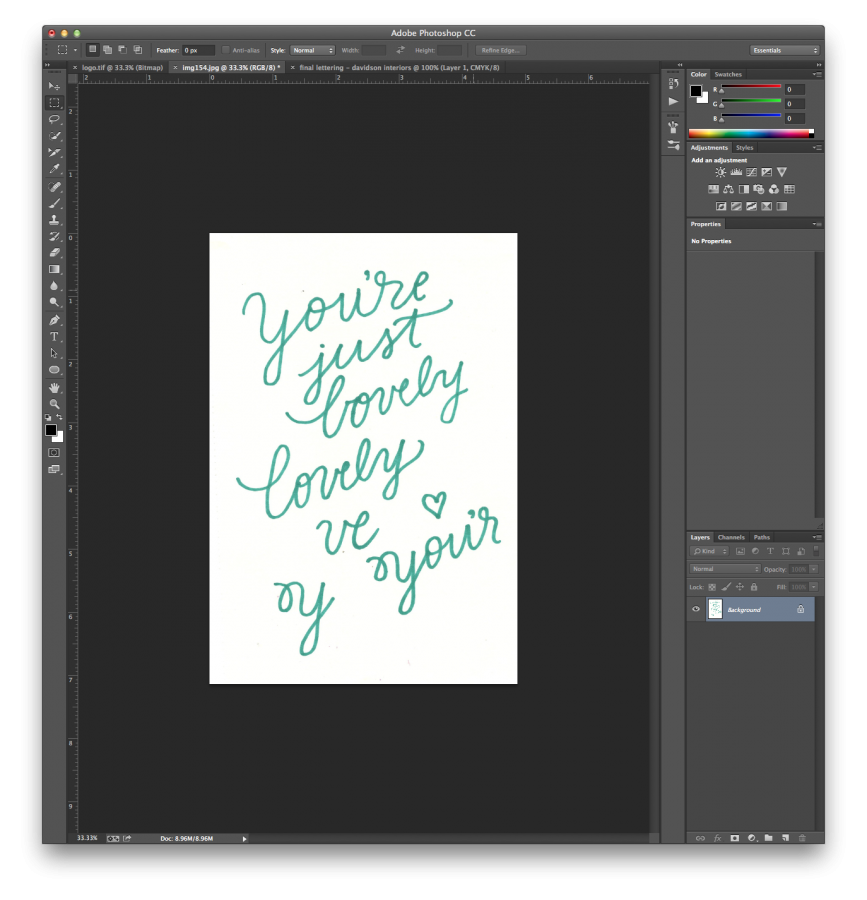 Scan in your lettering, and drag the image directly into photoshop.
Step 2:
Use the lasso tool to select the parts of the lettering that you want to use, if done in parts. Copy and paste these one by one in to a new Photoshop document using the lasso tool. If you have your lettering completely as you like it form-wise in the drawing, use the lasso tool to select your lettering and then copy and paste it completely in to a new file.
Step 3:
Arrange the letters how you would like them to appear in your final design. It doesn't have to be perfect, but you want it to be as close to the general shape as possible at this point.
Step 4:
Convert the file to greyscale [ image > mode > greyscale ] , and merge all the layers of the design together.
Step 5:
In the adjustments panel, select your levels. Move the black arrow to the right, and use the grey and white to adjust your image so it is as black and white as possible. When complete, merge all your layers together again.
Step 6:
Convert the file to a bitmap [ image > mode > bitmap ]. There, select 900 pixels/inch, and 50% threshold as your method. Crop the image to fit the design.
Step 7:
Use your brush in black and white [ toggle between the two by hitting 'x' ] and clean up the file. Use white on any specs that happened to be laying outside of your lettering, and close any gaps that were not together when you were piecing together the letters. Zoom in to fine-tune the details. I will sometimes toggle back and forth to re-draw parts of letters that are looking a little off, skinny, or thick in certain areas. Here is where you need to make it your version of perfect, as it won't be changed other than through color after this point. Once you're done, save it as a tiff file.
Step 8:
Open a new illustrator document, and drag your completed tiff in to the file.
Step 9: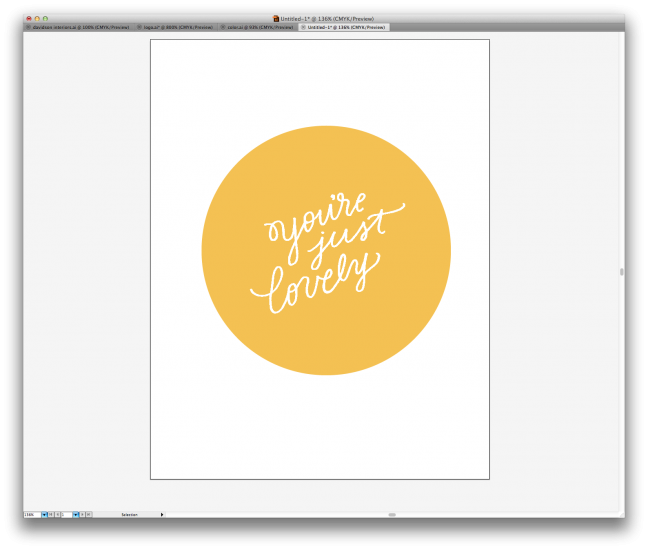 Now you are free to select the tiff and change its color. Let the design process begin with your custom lettering!
Step 10:
Alternatively, you can take the file from when you dragged it in and make it a vector. Just live paint the lettering [ object > live paint > make ], and then use your white arrow tool to select the white area around the lettering. Select the rest of the white [ select > same > fill color ] and then hit delete.
Step 11:
You are now free to scale and color the lettering as needed, without distortion.
Happy lettering!
More Kelsey: Pinegate Road | Facebook | Twitter | Pinterest | Bloglovin'