What's Go Media Been Up To?
Well Hello!
All is quiet here at Go Media – heads down, noses to the grindstone!
We'll start with the bad…well, bittersweet news.  Our Community Manager, Marissa Mele, has bid us adieu.  Our hearts broke as we watched Marissa leave Go Media for the very last time, but we must admit that we're happy too (read: jealous)  – as Marissa is off for warmer weather!  At least one of us gets to escape the Cleveland winters. We'll miss you Marissa!
While we lost one, we gained two!
Joining our staff are Simon Birky Hartmann, our new Arsenal Product Manager and Heather Sakai, taking over as Community Manager.
Let the Sun Shine In!

As always, we have been fortunate to work with many amazing clients and for awesome events, such as Sunfest, a music and art festival held annually on the first week of May in West Palm Beach, Florida.  The state's largest waterfront music and art festival, SunFest attracts more than 275,000 attendees.  Even more are drawn to its website!  Check out Go Media's contribution!
Crash Bang Boom!

It's mighty noisy here at 4507 Lorain Road lately…but we don't mind! We have super exciting news to share!  We are now undergoing a storefront renovation!  Stay tuned here, and to our Facebook and Instagram pages for the latest updates and to watch our building transform.
The Countdown is On!
We're counting down the moments until Weapons of Mass Creation Fest 2013!  We rolled out our WMC Portfolio Contest and announced the lucky 5 entries that will be featured designers in our gallery this year!  We also announced many of our speakers and bands for the fest – the anticipation is killing us!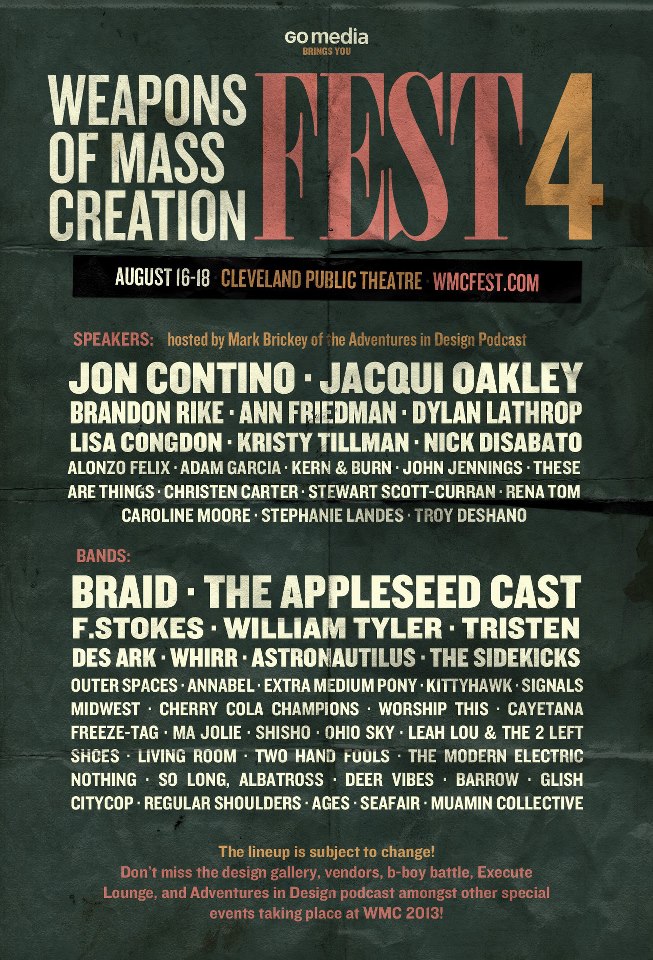 What The Team Has Been Up To:
Hello all! In the past couple of weeks, I've been up to the following:
 Point Click Tailor Suit templates
Website designs for BigBolts.com, KBK Enterprises, Motivideos & Midwest Box Company
Icon designs for Tomra's Recycling App
BattleReady Hangtag designs
Bill and I conducted about 6 interviews for our Summer Internship openings. Lots of resumes and portfolios to go through. We ended up bringing in 3 from those interviews and they all start this month.
Jeff, Bill, and I recorded GoMP008, and recorded 4 interviews with WMC Speakers in preparation for this Summer's festivities.
Produced wireframes for 6 projects in currently in motion.
Launched KelleyGreenWeb.com and WithrowEquipment.com, both sites using our WordPress theme "Lorain".
Client shenanigans, including a brand guide for a local educational institution, brainstorming names for a Cleveland bicycling initiative, and conceptualizing for a new restaurant's identity
 Preproduction for OTM Series 3
Moving my desk to a new area of the office
Arsenal customer service
Bookkeeping
Payroll
Proofreading zine posts and email campaigns
Organizing all the WMC merch into bins and shipping out merch orders
Learning how to do site maps
The number of leads has picked up since last month, so I've been spending more time writing proposals
I've been attending as many networking events as possible! Recent functions include the Image Lab Open House and the Bad Girl Ventures Graduation Ceremony
I've been working with Heather on writing the service pages for the Go Media website
Jenny Kelley and I have started a comprehensive marketing strategy that includes targeted outreach campaigns to reach new potential business opportunities
Project kickoffs for: Bike Cleveland, F.C Sturtevant Company, Pineapple Key, Cantine and KBK Foundation
Wrapped Up Projects with SunFest, BattleREADY, Withrow Equipment and Kelley Green Web
Ongoing Team & Client Communication
Compiled content requirement guidelines in an effort to streamline our processes both internally and for our clients.
Assisted our Arsenal and Mockup Everything teams with making the switch to Smartsheet ( a great program used for a variety of project planning needs)
Learned some WordPress Content Placement skills from our wonderful Bryan Garvin
Settling in in a new town, Cleveland the beautiful, very close to the

lake Erie

Settling in in my new responsibilities as Arsenal Manager here at Go Media
Launched a sweet series of new products on the Arsenal:
Finally, my wife and I moved very close to a great Irish pub, so we've been enjoying a few Guinesses
Some intriguing website development opportunities have come across my desk recently. Mostly medium size corporations, which are hopeful because they're established businesses with a budget to evolve their brands.
Wrapping up UI additions to Electricity Lab's BOLT. They've developed a pretty fantastical platform toward the write-once-run-anywhere dream anyone who has been programming for a while has had.
Pressing on with Arsenal 3. We hit obstacles that set the delivery date back. Such is the nature of the computer science beast sometimes.
Having fun with Zurb's Foundation 4 on a new Motivideos site. We've seemingly adopted Foundation 4 as our default CSS framework of choice this year.
Meet our Intern!
This summer, we will be welcoming several interns into our Go Media family.  Our first intern, Kyle Saxton, just arrived. Let's meet him!
Hi all! I am originally from Mason City, Iowa. After moving around the country for several years I ended up in Richmond, Virginia where I am currently attending Virginia Commonwealth University. I am a rising senior in the Communication Arts Department, where my skills are strongly based around illustration, drawing, and painting. I also work in a broad range of media outside of my major including: graphic design, photography, and 3-D image/movement. At Go Media I will be working with a variety of Arsenal projects, Creative Market projects, and any other projects that come my way. When I'm not designing I love riding bikes, cooking, restoring vintage Corvettes with my dad, refurbishing furniture, and watching movies.
______
That's it for now from us at Go Media. Until we meet again:
Don't forget to head over to Kickstarter to purchase your tickets to this year's Weapons of Mass Creation Fest, running August 16 through 18.
Sign up to be notified when Bill Beachy's book, Drawn to Business: How to build a thriving graphic & web design agency, is out.