New Arsenal Release: Hand Illustration for T-Shirts, Part 3 of 3
Finally available: the 3rd and final installment Steve Knerem's "Keep me safe" video tutorial series
Hello all!
I'm very happy to announce that we're releasing the 3rd part of Steve Knerem's video tutorial series today! For those of you that have followed part 1 and part 2, you're probably jumping with excitement. For the others, I'm inviting you to go read Steve's "Getting Inked" post for a quick recap.
Also, both Steve and the Arsenal team would like to apologize for the delay, but we've had to slay a few dragons fight some video issues (video flickering and sound track). When a video file doesn't want to, it doesn't want to.
So, what's in the box?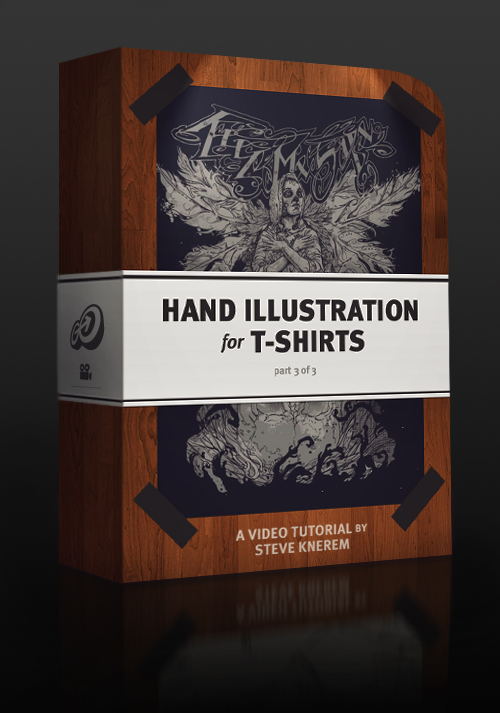 In this last installment, Steve covers his digitization and coloring techniques:
Color palette choice
How to use Illustrator's tools to add various elements that bring the place together:

Vector brushes
Halftones
Patterns

And more!
The hour-long video is as usual laced with tips, tricks, and cool music. While the tips and tricks might not be the ultimate demystification of the process, they should at least make it more of a relaxing walk than an uphill battle.
A few screenshots
A few notes from Steve
Hey Guys,
Well if you been following this tutorial you know that it's a long time coming. We're finally at the finish line and now you can on the in depth look into how I color and finalize my tees for print. I'm super pumped to get this out to you and a mega props to Go Media for being a great company to do some work for and letting me use their stage to help anyone learn something new and grow as an artist.
If you purchased the first two tutorials, you can expect more awesome music from some awesome metal bands such as Onward to Olympus. I drop a bunch of personal insight that I've picked up over the years illustrating that hopefully will help, let you in on some of my technical "secrets," and show you how I conduct business.
Lastly the tee will be or already is printed! Go to www.establishthefrontline.com. Buy a tee or five and wear it proudly and send me pics of you wearing it to [email protected]. AS A BONUS: the first 50 tees will have a labeled tag with the ETF name on it, my signature and I'll write in the order # of the tee you purchased it ( i.e. 1/50, 10/50, etc.). Finally I am getting a printed tag made up that on one side shows the final art and the other side shows the making of the art.
Thanks for purchasing and viewing, always let me know what you think, ya'll are the best!
— Steve Knerem
One, no, two, no, three, last things!
One: again, you should totally go buy that last part of the tutorial on the Arsenal. Also, if you haven't gotten any of them yet, we're making the 3 parts available at $69.99. Just buy the 3 parts at the same time. This is a $20 discount, and it won't last forever. You should totally take advantage of it while it lasts.
Two: if you follow the tutorial, we'd love to see what comes out of it! Don't hesitate to mock it up, post the result on the interwebs, and to link to your image in the comments below. Or better yet, post it in the Go Media Flickr pool, and you might be featured on our monthly showcase.
Three: like the art Steve has been designing throughout the tutorial? Well, it's available on shirts, as Steve said! You should totally purchase one in your size on Establish the Front Line, Steve's apparel line. Also, something tells me that Steve will share a few more things about that shirt yet (like production pictures, etc), so you should totally watch this space.