The Vinyl Record Mockup Templates Get an Upgrade!
A little bit of history
Hello all! We started releasing our photorealistic mockup templates in August 2008. Since then, we have continuously worked on releasing more of them, but also at making them better. That self improvement process brought us to release one pack upgrade in the past (the men's crew neck shirt templates), but also lead us to build Mockup Everything, which has templates that go beyond just apparel.
Recently, we realized that we could make some of our templates better and easier to use, by taking advantage of one of the newer functionality of the Creative Suite: the smart object. While smart objects have definitely been around for a little while, we realized through experimentation and thoughtful consideration, that they were indeed the next step to keep our templates at the forefront of the mockup industry.
So, what are smart objects?
Adobe defines smart object the following way:
Smart Objects are layers that contain image data from raster or vector images, such as Photoshop or Illustrator files. Smart Objects preserve an image's source content with all its original characteristics, enabling you to perform nondestructive editing to the layer.
One of the articles that prompted our research is a good article written by the fine folks at Viget. It's from 2009, but still relevant. In particular, that line struck a chord:
Smart Objects are magical containers.
It's precisely because of that container property that our templates gained an ease of use. It's important to place your art within the smart object, and the template now takes care of any transformation, distortion, shading, lightning, etc.
Introducing the vinyl record mockup kits v2.0: smart object edition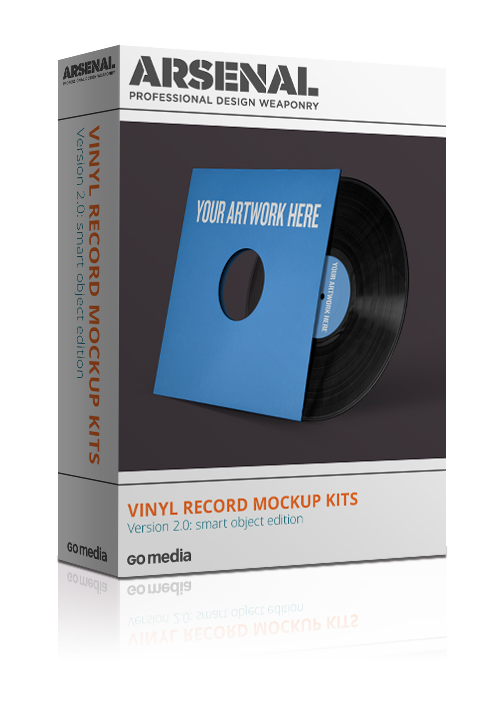 When preparing the new version, we almost wanted to label these "Smart object inside," but we were afraid of Intel's reaction.
So, what changed?
For this specific pack, we focused our efforts in terms of smart objects on one mockup file, n°4, a  file that has a perspective to it. Before, you had to manually distort your layer to give it the right perspective,  in order to make sure you didn't mess any of the clipping masks in the process, etc. Now, you just have to double click on the smart objects in the layer palette, and both the sleeve art and the label art will automatically adopt the right perspective, highlights, shadows, etc.
But that's not it!
Switching one template to smart objects wasn't enough in our book to call it a new release. So we went ahead and made sure that all of the files in the pack received an upgrade as well. In no particular order, here's what we refreshed:
We cleaned up all of the clipping masks.

We separated all of the art clipping masks and color clipping masks for a clearer layer hierarchy, and for a more realistic result.
We made sure that all the templates would have some prepared color layers for the sleeve, label, and insert (if applicable.)
We properly named and labeled all of the layers and layer groups.
We made sure that the background color and treatment would be the same throughout the whole pack.
We made sure that the background color could easily be changed or removed, which allows you to save the mockup as a transparent png for an easier inclusion in other documents.
And more little details here and there…
See for yourself:
 The full extent of what you're getting
The pack is still made of 11 PSDs that should cover most of your mockup needs if you were to work on record artwork.
All of this for only $34.99!
The celebratory launch discount
Because we've worked so hard on this and because we're very excited to share these with the world, we're announcing a discount coupon for the customers who will purchase this new version of the mockup templates. Use the code smartobjectwax at checkout for $9.99 off when buying the pack. The code is valid until sometime around the end of the day on June 7th, 2013.
So, what are you waiting for? You should go buy the pack while it's hot!
One more thing
Lastly, you should to know that these templates are not the only ones we're working on. Keep watching this space for more exciting news about some of our most popular mockup templates!

Thanks for your attention, and until next time, cheers!