Articles by Month:
April 2015
T-Shirt Mockup Design App
We here at Cleveland's premier graphic design firm, Go Media are proud to offer fellow designers yearning to mock up their kick-ass work a few different options.
Two are subscription services for those wanting to mock up designs quickly without even having to enter Photoshop:
The other offering the World's Best Mockup Templates – high resolution PSD mockup packs:
Today we're here to talk specifically about MockupEverything.com, a subscription mockup app which offers not only t-shirts, but yep – you guessed it. Just about everything you might imagine – and might want – to mock up. Whatever we're missing, we're hoping to add. In fact, we add at least 6 new templates to our library each and every month. Don't see something you're craving? Email us your suggestion.
Sure, you can use our 12 free templates, but if you want to dive into our over 225 Pro templates >>>
Try a 7 Day Pro Membership Trial Today
Let's take a peek at our newest templates, just released on MockupEverything.com, now. If you're a Photoshop user, we go just yet. These templates are available as PDS's individually for only $2.99. Just click on the button below each to purchase each one.
Women's Triblend Long Sleeve V-Neck T-Shirt – Ghosted, Front
Buy this as a PSD Women's Triblend Long Sleeve V-Neck T-Shirt – Ghosted, Back

Buy this as a PSD
Women's Triblend Raglan Pullover – Ghosted, Front
Buy this as a PSD Women's Triblend Raglan Pullover – Ghosted, Back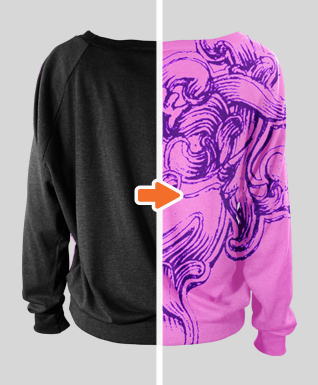 Buy this as a PSD
Men's Triblend Long Sleeve T-Shirt – Ghosted, Front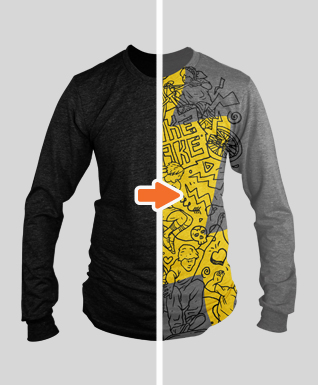 Buy this as a PSD Baby Onesie, Flat Front, Version 2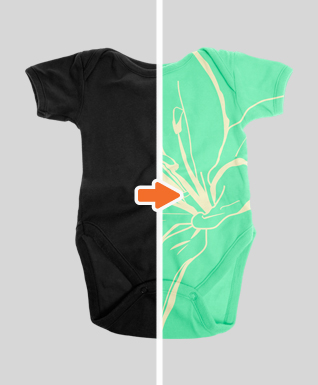 Tagged:

arsenal, baby onesie, men's shirt, mockup, mockup app, mockup everything, mockup templates, onesie, raglan, shirt mockup, v-neck
The Weapons of Mass Creation Fest team had the pleasure of talking to Adventures in Design Podcast host, Mark Brickey, in his Episode 174, about the big changes coming to WMC Fest 6.
Talking Points of AID 174
– The process of public speaking and emceeing a live event.
– The decision to keep Weapons of Mass Creation alive for it's 6th year.
– Big changes in this years festival.
– Focusing on what you're known for and being the best at what you do.
– Learning about the new and improved home of WMC Fest.
– New attractions added to WMC Fest 6.
– The return of Ink Wars.
– Adventures In Design Live On Stage at WMC Fest 6 (brought to you by Cleveland logo designers, Go Media).
In The Circle of Trust (Paid Subscriber Content)
– Creating a business within your business. Managing large scale projects without bankrupting the parent company.
– Keeping a balance between day to day projects but still finding time to work on large scale productions.
– We breakdown the math of WMC Fest and talk about what it takes to make a event profitable.
– The contagious excitement of Aaron Sechrist and his work.
– Using a beard to hide your double chins.
Connect with the Podcast Participants:
@aidpodcast | @markbrickey | @okpants | @sakaipower | @bryangarvin
'Custom' Type Treatments for the Lazy Designer
Custom hand-drawn type treatments are quite popular these days. Nothing says hipster-cool like hand lettering your client's chalkboard coffee shop menu. But let's face it – hand lettering requires a certain amount of artistic skill. And time. Lots and lots of time (and we all know not every client has a big budget).
So, what do you do? You want a custom type treatment for your client but you lack either the skills or time to do it right. You need a shortcut. You need a cheat. You need the gurus of Cleveland graphic design services Go Media's (semi-) patented Custom Type Treatment for Lazy Designers technique!
Here's how it's done: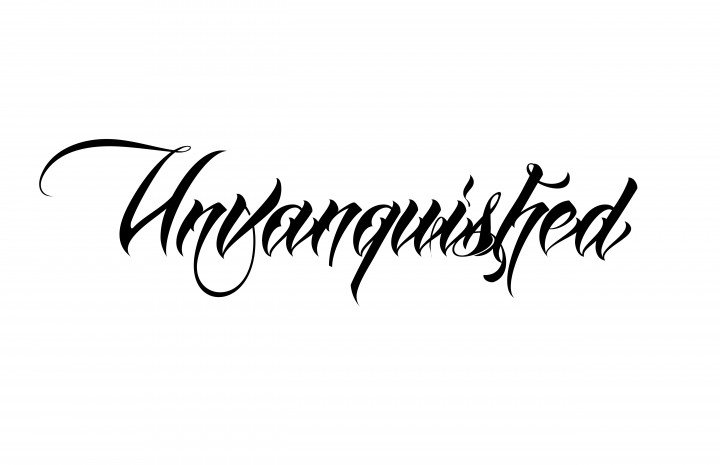 Step 1. Select a font.
This is where all our time savings comes in. Your final product is going to be 85% font, 15% customization. While selecting the font will feel like the easiest step, it's also the most important. Don't rush through this step of the process! I will often times spend over two hours just trying to find the perfect font. Remember the font you select is 85% of the final product and picking a font will be SAVING you tons of time hand lettering – so go slow!
In this case, the project was for a close friend of mine who asked for a tattoo of the word "Unvanquished." While I'm a great illustrator, I'm not great at hand drawing type, so I knew my best result would be to start with a font. I probably spent about three hours finding this one font (Anha Queen VMF Pro).
Step 2. In Computer Modifications: Kerning
At this point I start by converting my type into 'paths' in Illustrator. I will be modifying my letters as vector shapes from here on out.
In my experience, no font's kerning is perfect for every single word. So, once I've typed out the logotype I'm going to make, I fine-tune the letter spacing. When creating a word-mark I've found that you generally want the kerning tighter than what is comfortable for reading – this changes the word into a mark. You can see the adjustments I made with the kerning above.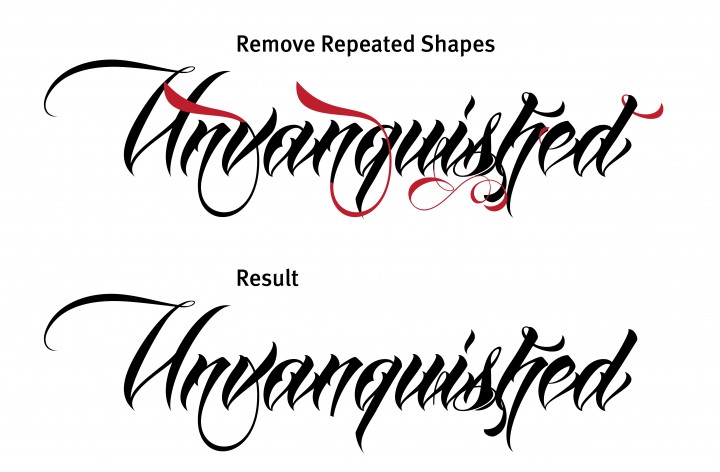 Step 3. In Computer Modifications: Eliminate Redundancies
Frequently fonts will include lots of repeating shapes. Sometimes these can be ugly and a dead giveaway that your type treatment is a font and not original. It's ok if you keep one of these shapes, but remove any redundancy that stands out. I'll also usually use this step in the process to clean out anything that I don't like. This font has a lot of messy flourishes, so I'll clean those up too.
Step 4. In Computer Modifications: Play with Ascenders, Descenders and Letter Size
Fonts tend to have a certain-size perfection. All lowercase letters are pixel-perfect height, line thicknesses are exactly the same, etc. I like to play with all of this stuff to give the type treatment a bit more originality.
Step 5. Hand Drawn Modifications
While hand-drawing this font from scratch was beyond my skill level, adding some hand-drawn modifications is a fun and easy way to further refine your type treatment. For this step, I simply print out my type onto an 11×17" sheet of paper, pull out a pencil and start playing! If you mess up, just throw it away (sorry, I mean recycle it) and start over. Once I've got something I'm happy with I will scan that back into the computer and 'vectorize' the elements that I drew.
In this particular case, all my flourishes made the art a little too tall for my friend's arm, so his tattoo artist modified my design a bit.
Step 6: Sit Back and Enjoy the View
After you've finished vectorizing the elements you've lazily hand-drawn, sit back and enjoy the view. Sarcasm aside, appreciate how, relatively quickly, you've been able to construct a pretty hip custom type treatment. Your client will be equally impressed and their pocket book will thank you, too.
Categorized:

Graphic Design, Illustrator, Tutorials

Tagged:

bill beachy, hand lettering, Illustrator, shortcuts, tips, tricks, typography, William A Beachy, William Beachy
Go Media Podcast Episode 029:
Podcast for Graphic Designers by Go Media
In this episode, Bryan sits down with Bill, captain of the Go Team aka Go Media (the best website design company in Cleveland and beyond) to talk what we've learned after a year of collecting metrics. Plus, we announce with Heather Sakai that WMC Fest tickets are now on sale. And, we profile Go Media designer Carly Utegg.
Squiggliepoo
[Skwig-il-e-poo]
Noun
1. useless marketing detritus, usually handed out at conventions or trade shows
Synonyms: junk, tchotchke, futile doodads
You've put in the time and effort to get your company space at the big trade show – good job. Next, you're prepared a checklist of must haves for convention success:
Booth – check
Chairs – check
Branded tri-folds – check
Business cards – check
Product samples – check
Key chain ice scrapers with your company logo on it – …why?
Take a quick survey of your desk right now. How many promotional stress balls do you have emblazoned with random company logos? Are your keys currently attached to any functionless keychains? Breweries know what's up, my Bell's key chain is a bottle opener.)
If you're like most people, coming home from a convention is when the Great Unloading Ceremony takes place; when you – unceremoniously – toss all the useless garbage you've accumulated. So why even make this type of item? Is "trash" the thought you want associated with your brand? We both know you're better than garbage!
At Jakprints, we are all about having cool booth stuff to give away. We do a number of large shows every year (SXSW, HOW Design, etc.) and as printers we have tried it all with the best of intentions (and some of it has been marketing chaff, sorry plastic Inky).
You want your brand to add value to a customer's convention experience, and in turn have them associate you with that value. Doing this is simple, give them something they can use right away.  At shows, we have started giving away our pocket notes, so that attendees had something to write on that looked way cooler than a normal pad. When they got home, instead of our marketing handout being tossed in the trash, it stuck around with all of their valuable show notes in it. Now, every time they go back to look at something they committed to paper, they're also reminded of our brand. So far, these little books have been the most successful item we've handed out — more so than some of the design kits or sticker packs (don't worry, we love our sticker too much to stop passing those out). Judging by the way pocket notes fly off our tables, they should be a convention staple for us for a long time to come.
We've got it made with these little books because they promote our brand and show off one of our favorite products at the same time. We realize not everyone has this opportunity, but as a rule of thumb, try to get your swag as close to the product or service that you offer while still keeping the item useful. Cleveland graphic design firm Go Media gives it's new clients a branded Moleskine. It relates to their business, as many designers use it to sketch their ideas, but is also useful to any business owner.
Everyone has a stockpile of branded bank pens on their desk or lost somewhere between the drivers seat in your car and a cup holder full or change and other miscellaneous items. However, in either your house, or your parents (depending on your generation), I bet you will find at least 1 calculator with a bank logo on it. While no one really associates banks with writing, back in the day, balancing a checkbook required a calculator (so I am told) which made it useful and easy to link it to a bank.
[Tweet ""The best way to be remembered is to provide value." – Jakprints"]
So for your next convention checklist, keep in mind the best way to be remembered is to provide value. Don't get too gimmicky and be lumped in with all the other cheap, off the rack companies. Stand out with useful giveaways and watch your hard work pay off with increased leads from your next show.
Keys to Project Management Success
As one of Go Media's newest members, I am excited to share with you three important tips to rockstar Project Managing.
In another a life, I worked in the construction industry, and project managed a very custom product line.  My obstacles basically derived from the very nature of the product – simple change in one feature would impact other features, or limitations to the product, both in form and function. These changes would also impact the data I needed to collect from the client, the steps I needed to fulfill and resources required to get the project done. The list goes on.
Working at Go Media, a graphic design firm in Cleveland, has definitely changed some of the the nuances that I face – different deliverables, industry and customer base.  However, regardless of the specifics of the project type, the key components (such as structure and methodology) of project management remain the same.
Here are my Top 3 Key Components of Stellar Project Management:
1) Simplify. Too often we have entirely way too many gadgets, apps, and calendars.  Ask any good project manager out there and they'll likely agree. So much time is wasted when you spend your time toggling between a plethora of devices, and/or programs.  What doesn't create a super time suck for us just provides another loop hole of missed detail, or worst yet, deadlines.
Try condensing working documents, and simplify or limit devices and software tools wherever possible. This will help to eliminate wasted hours and will allow you to keep focus on what matters. This will help you to ultimately get the job done correctly, and on time.
2) Develop a process. A good process maintains your sanity when dealing with complex deliverables.  It should be flexible enough to accommodate specific nuances, but rigid enough that it builds a path to a successful end product.
A good process:
…involves steps – when we make personal goals for ourselves, we often baby step the process without even realizing it, breaking it up to smaller goals. This applies when we power through our mornings to make it to work on time, make an incredible dinner, or create a killer art piece. How successful we are at accomplishing the smaller steps determines the success of the outcome. Project management is no different, and good process will be able to identify those smaller tasks that inevitably lead to the end of a successful project.
…is mindful – it acknowledges the small key components required in order to produce the best outcome. For example, this might be points of quality control or perhaps signals the need for further content/information gathering conversations. All of these are key to progressing to more significant steps in the process.
…helps with time management – a good process keeps us on the correct path, and helps us recognize areas that are typical time sucks along the way.

…is consistently organized – a huge part in process development is creating consistency in the order of which you tackle the steps, and how you organize details of the project.  With consistency you eliminate extra effort to maintain file organization, contact information, shared documents, etc.
3) Don't over promise, but do deliver in a timely fashion. Here is the number one obstacle we face – we always want to please our clients.  Sometimes requested dates are unattainable, or not possible based on current workload.  It is in your best interest and in the best interest of your company and your client to express any concerns before it becomes a problem.
So what defines in "timely fashion?"  There are three main factors:
Industry standards. What is the rest of the industry doing? What promises are your competitors making? Or, what was your clients' previous experience?
What 'we' told them.  What promises did you or your sales team make? What expectations have we built for them?
Personal objectives. The deliverable is important to accomplishing their personal or business goals/needs.  Therefore, in a "timely fashion," ultimately is defined by your client's needs.
It is in the client's best interest to push us for the best timeline. However, they have confidence that what we say will happen, and what we deliver is what they want, at the quality level they expect.  Breaking of these unsaid promises means losing the trust, and ultimately any future business with the client, so be confident to push back when necessary.  However, honesty is still always the best policy.
So there you have it, now you are ready to project manage with the best!  Dont forget to stay tuned to Go Media's 'Zine for similar topics, and other articles for creative, and educational inspiration!
Peace.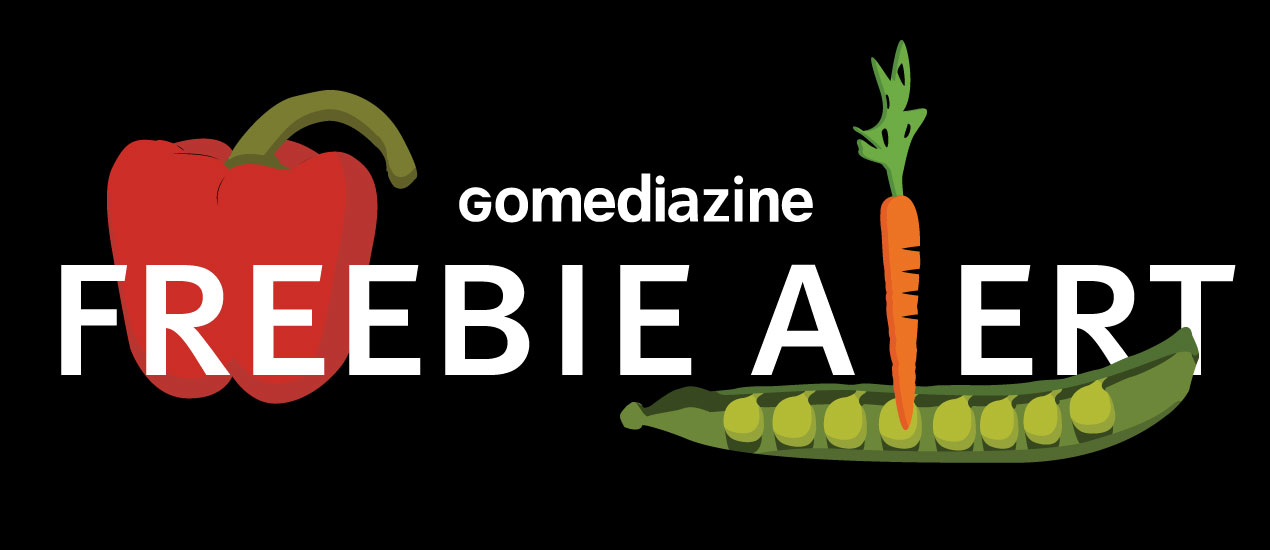 Vegetable Vector Freebie
My Go Media experience has been full of firsts. This winter proved to be no exception – as during this time, I was granted my first intern, Phil Thomas. Phil, a student at Edinboro University, was a complete joy and pleasure. He not only jumped at every opportunity given, but he did so with a wink and a smile.
When asked to create a vector freebie for Go Media – the one available for you to download today, Phil enthusiastically suggested,
"VEGGIES!"
And he proceeded to create the broccoli (and associated vectors) with more enthusiasm than you'd ever believe.
Download the file and consider it a gift. This kid is going places.
I think one of my favorite things about being a theatre person is discovering ways I can incorporate some aspect of theatre into my projects. Recently, I created a self-promotional piece that incorporates my three favorite things – Theatre, Graphic Design and Typography. It's a play off of the old super-awesome decoder glasses and hidden messages and all that awesome stuff I remember getting in cereal boxes. Using stage lighting gels and layering type, I managed to do something like this:
This process is super easy so don't worry! And I'll be right here with you to guide you through this. *cue angelic music*
The difficulty is knowing what colors work well together and what light gel you need to reveal those colors. I know because I have done this already, that Red and Cyan will work and I will get a result that I am looking for…but let's take this step by step instead of jumping ahead.
First: We'll have to set up the new Illustrator (or Photoshop, it will work in either program) document. The cards that I was making were 3.5 in x 6 in, but for this guide we'll make slightly larger cards – 5 x 8 – in CMYK mode at 300 ppi. Though we will be using additive color theory, the piece is still going to be printed (well, I printed these, so I'll be in CMYK RGB will work but you won't be seeing the same thing as I am.) Now we'll have a little better idea about how the colors are going to look like printed.
Next, I'm going to create a text box that says what I want my viewer to read first. In lieu of coming up with something witty and interesting for the sake of being witty and interesting, I think I'm going to use a couple lines of lyrics. Let's start with what's playing in my headphones…or wait until something a little more interesting than the movie score of "Interstellar," and has lyrics to type.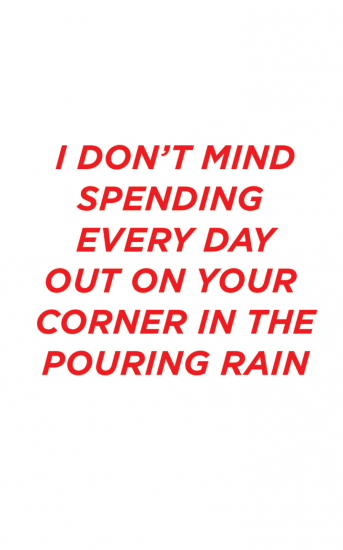 Sweet, some Maroon 5. I suggest using a bolder typeface. You'll get some pretty rad shapes when we get through the next couple of steps. I am going to also have my text centered and aligned to the center of the card. I personally think centering it this way gives some nice shapes in the negative space. It's also how I did my cards and I had a lot more content then some lyrics. Moving on….
After I set in the type, I went to get the highest value red that I could get, and since we are working in CMYK it was 100% Magenta and 100% Yellow. Boom. I'm ready to move on to the next lyric of whatever is playing in my headphones now. This text is going to be set to 100% Cyan.
Prince. Also nice. A guilty pleasure I suppose, but it works! I should have mentioned I copied my original red block of text so I knew the leading, type size, and all that was similar. Then I changed the color. Then I moved my red layer back to ye-ol'center. Oh no! What's this? I can't see anything…AHHH!
Is what one might say if they didn't complete this tutorial.  Of course we can't see what's overlapping. The blending modes are normal and opacity is set to 100%. We need to fix that…Now I'm going to change the blending mode to multiply on the red layer. If you are in Illustrator and have a hard time finding the blending modes you have two (maybe three) options: 1) Click on Opacity in the top bar and click on the drop down. 2) Click on the Appearance panel (if you don't see that, go to Window / Appearance). 3)There is no third option to my knowledge.  This will darken the overlapping areas and give the lighting gel information to complete the text..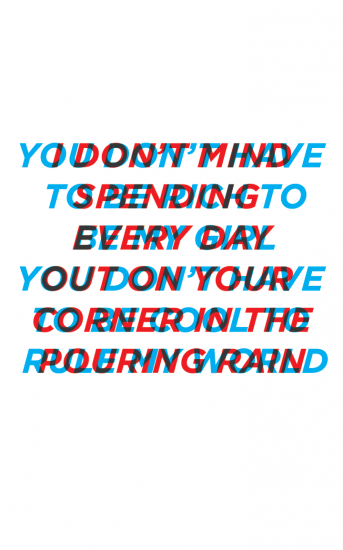 So, this is a little hard to read the red text. My goal is to read the red text first, then apply the light gel to read the cyan text. I'm going to bring the opacity of the cyan down a bit until I get something that works.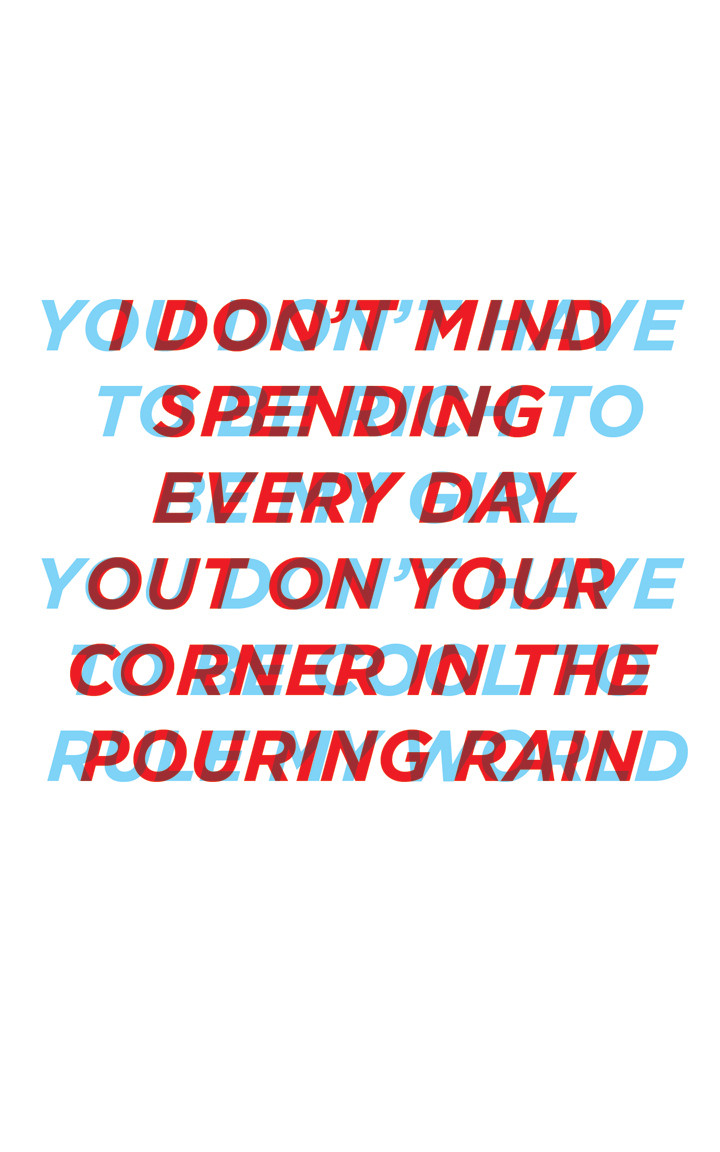 I brought the opacity down to 45%, I think this works better. The red text can be read and the cyan cannot – for now. You might not want the text to be placed on top of each other. If you go back to my example, the text is offset a little from each other. That is more of a personal preference.
If you want to check out if the colors you selected have potential to work there are two options. 1. You can make a box and fill it with the color of the color you want to get rid of. In this example, we want to absorb the red and darken the cyan to make it legible. So I made a red box and set it to multiply (seen above). Option 2 is, if you're like me and have a Roscolux Stage lighting gel swatch book, you can hold up different swatches to the screen and see what's working. In this case it's Rosco #26 Light Red.
Fun Facts with Phil: You can order the gels online, so I'm also sure you can get a swatch book online as well. So there's that.
Here are a couple other color solutions:
Productivity Tips for Designers:
5 Ways You're Screwing Yourself
No one is perfect, not even the graphic designers here at Go Media. Faults are what makes us human, after all. But there are definitely some things that we do to ourselves that we definitely don't need to and being able to stop these thoughts or habits in their tracks will make us better designers and will help us to stop being a jerk to ourselves.
1. Procrastination
Everyone procrastinates. It's a fact of life. But it seems that creatives procrastinate more than others, and it's probably due to overactive imaginations. Creatives tend to dream up situations in which what they need to do will somehow go negatively. Putting it off or not doing it altogether seems like a better option than having a negative experience.
It's difficult to give up a habit that seems to get you what you want now. Procrastination is almost like instant gratification, which is way better versus the long term satisfaction of not having a burden on your shoulders in a procrastinator's eyes. You think, "I have a ton of time to do that. I'll definitely be able to get this project done in the amount of time that I'll leave myself to complete this project," which typically, is pretty optimistic.
But what does procrastinating really get you? Stress, anxiety, loss of sleep, and you're being a jerk to yourself. If you don't feel like doing something and you put it off to tomorrow, it's almost like you're thinking that tomorrow it won't necessarily be you that will be doing it, but someone else. You're expecting the tomorrow you to clean up your mess, do your homework, and get that project done.
But is tomorrow you really that different from today you? Will a night of rest really be all that you need to motivate yourself to do what needs to be done?
Giving up procrastination is easier said than done, especially if you're surrounded by other procrastinators.
Some tips:
Don't give in to your own excuses, and don't let other people help you in those excuses, either.
Reward yourself when you complete your task; the thing that you're using to put off the job at hand is a good start for a reward. Or, you could even reward yourself with something from the Go Media Arsenal.
Change your negative thoughts with positive ones on future happenings; there's a 50% chance of things going wrong, but there is a 50% chance of things going well, too. Why not focus on the positive thing that might happen instead of the bad?
2. Not Getting Enough Sleep
Sleeping isn't what it used to be. Before it was a societal norm for people to have to report to a job, most people slept in intervals. People would go to sleep when the sun would go down, go through a REM cycle, wake up, maybe read a book, then go back to bed and wake with the sun. It wasn't uncommon or seen as a problem if you didn't sleep through the night. I'm sure many of the designers at Cleveland Design Firm Go Media do this on the weekend!
In fact, some highly creative and intelligent people didn't even get a full 8 hours of sleep. Leonard Da Vinci followed the Uberman sleep cycle in which he would take 20 minute naps every 4 hours, equating to 2 hours of sleep per day.
But that's not how we sleep now, and many people seem to have trouble having a restful night sleep.
It's easy to think that you'll catch up on sleep later. Unfortunately, that's not how sleep works. Once you lose sleep in a 24 hour period, you don't "catch up" on it. The effects are felt, and oversleeping won't help you fix it. Essentially, you're just screwing yourself out of sleep.
Some tips:
Go to sleep the same time every night; yes, even on the weekends, if you can. This way, you develop a healthy sleep pattern and can fall asleep around the same time every night.
Avoid electronics an hour before bedtime. The light from electronics can sometimes mimic morning light which forces your body to stay awake.
Create a habit that you only do right before bed, such as reading a certain book or doing a certain activity. Your body will start to get sleepy when you keep up the habit.
3. Talking to Yourself Negatively
You believe the things that you say to yourself, especially if you say them to yourself all the time. But do you remember where those things that you think about yourself came from? A majority of the time, you weren't the first person to tell yourself the negative thoughts that you put in your head. There's a difference between knowing what your faults are and actively trying to fix them, and bashing yourself down for things that probably aren't even faults. Talking yourself down isn't necessarily the first or healthiest step you should take in becoming a better and well-rounded person and graphic designer.
What are some of the things that you say to yourself on a regular basis? If a friend were to say those things to you as often as you said them to yourself, how long would you stay friends with them?
If we don't want our friends to talk to us in this fashion, then why do we allow ourselves to drag us down? It probably has a lot to do with habits that we learned from adults as we were growing up, or other people's comments that we've heard over the years. Either way, those negative pep talks that you give yourself aren't making you more humble or perform better. You're just bringing yourself undue stress and anxiety for thoughts that probably had nothing to do with you in the first place, and what a jerky thing to do to yourself.
Some tips:
Talk back to your negative thoughts with positive back talk. If you talk back to your thoughts, you can almost personify it into something apart from yourself. At first, it might be difficult to come up with things to say back to your negative voice, but after some practice, you'll be able to talk it down to the point where the negative voice no longer has anything to say.
Be kind and generous. If you do good actions and say good things, typically, that makes you a good person. If you're actively pursuing being a good person, negative thoughts about yourself are easier to push aside or ignore.
Be grateful. Instead of focusing on things that you can't do, focus on things that you're grateful for. With gratitude, a general sense of positivity follows. Keeping track of things that you're grateful for can also make it easier for you to combat negative thoughts about yourself that can come your way.
4. Not Practicing Enough
You've heard the old adage, "Practice makes perfect." There's a reason that people say it, especially among creatives. If you don't practice your craft, you're likely to lose it, and if you're making a career out of your creativity, it's something you need to keep up. I'm sure you've also heard that to be considered an expert at something typically takes 10,000 hours or 5 years doing it full time. Luckily, that isn't necessarily true. Psychologists haven't actually been able to agree on broken down numbers or time spent on an activity to be considered an expert.
But, practicing does needs to be deliberate. If you're going to practice something, you need to be sure you're practicing the right habits, or you won't be able to move past your current skill level. So why wouldn't you?
Some tips:
Take 15 minutes a day to brush up on something you need to get better at. A quick 15 minute sketch can help you place what you need to work on.
Ask for some help or critique. Sometimes we just go on our merry way without getting input from others, but asking for an honest critique and being able to take that critique can open you up to things that you might not have realized you were lacking in.
Ask others how they practice or what they think they need improvement on. This is a good practice because people are more likely to be more honest on things they can improve upon and ways to do it than if you're strictly asking for feedback on something you've done. A good place to start is with the Go Media Arsenal's video tutorial section.
5. Not Trying New Things
A creative's career, especially a graphic designer's career, depends on staying current. Knowing trends, the newest tricks, the best ways to get peoples' attention now, are all skills that we need to constantly keep updated. Along with practicing our skills, we need to learn new ones.
But it's so easy to just come home, be lazy, go out, relax. And we all know, procrastination is easy for us creatives. Now, don't get me wrong, relaxing is a necessary part of being healthy and happy, but, learning new skills keeps your brain young, and can help you to live longer. Learning new skills can have a huge impact on things that you don't even realize; you can adapt to your career, help your self-confidence, decision making, and much more. So really, new skills don't have a downside.
Some tips:
Read and/or watch a tutorial once a week on something you don't know. Ohio branding company Go Media has plenty of tutorials that you should take a look at!
Take a class on something that you don't know anything about. There are plenty of discount or coupon sites that can help you find classes on things such as glass blowing or even beer education.
Ask someone you know to teach you something that they know. It's a great way to bond with people by creating a common interest and shows interest in them as a person. Plus, it's free!
If you follow even some of these tips, you'll be well on your way to stop screwing yourself.
Jeff Finley's (VP of Cleveland Web Design firm, Go Media) new book Wake Up: The Morning Routine That Will Change Your Life comes out Tuesday, April 14. In anticipation for the big release, here are 11 ways artists and designers can benefit from waking up early every day.
Time to Draw

Finally, give yourself some quiet time to draw and let your right brain do the work. This is especially convenient that you can start drawing immediately after you wake up from some vivid dreams. Before you get started with the left-brain, logic oriented work-day, start off the day illustrating your dreams and imagination!

Uninterrupted Time Without Distractions

As creatives, we flourish when we are left alone to focus intently on our work. What better way than to get out of bed before everyone else and tackle that difficult task without anybody bothering you. Don't forget to turn off distractions like email, social media, or wi-fi!

The Sunrise is Beautiful

Take time to bask in the beauty of the planet. Sip your coffee or tea as you watch the sunrise without any pressure to rush off to work. Realize that this happens every single day and you're missing out most of the time. As artists, we are especially attuned to recognizing beauty and letting it inspire our work. Start the day off by breathing in some fresh air and watching mother nature wake up.

Get Your Exercise Out of the Way

If you're like me, exercising doesn't make it high up our priority lists. I'd rather be making music or working on my creative projects. However, waking up early lets you get your workout in early so you don't have to think about it for the rest of the day. I found myself enjoying yoga in the mornings as it went well with my other morning routine habits like meditation and journaling.

Reflect on Your Life

The mornings are a wonderful time to reflect on your life. Are you on track to your goals? Are you happy with where your life is headed or are you spinning out of control? Do you like your job? The habit of journaling is one that has allowed me to become a better writer and pave the way for realizations, aha moments, and astonishing life lessons. I use Day One app for Mac to write in my journals and I've logged over 1,000 entires since I started two years ago.

Reduce Stress and Anxiety

Waking up early sets the tone for the rest of the day. Not only do you get more done, which allows you to feel more at ease the rest of the day, but the early mornings are calmer and more peaceful. Combine this with mindfulness meditation, I recommend 5-10 minutes per day, and you will notice more clarity and inner peace throughout your day.

Establish a Morning Ritual

One of the best parts of waking up early is creating your own morning ritual. What does your ideal morning look like? Here's mine. What activities would you do? Would you wake up and check your email right away? Would you make a big breakfast? Go for a walk, ride your bike, meditate, write in your journal, plan the trip of a lifetime? Use your mornings as a launch pad to creating the life of your dreams.

Stop Procrastinating

The mornings are often the most predictable parts of our day. Look at your current morning routine, you probably do the same stuff day in and day out. If you woke up early, you could add a 90 minute distraction-free focus block to work on your important projects. Finally finish your website that you've been putting off! I've notice that I get more done when I tackle the important stuff right away before I check email or social media. Check out my 2 hour podcast episode on Procrastination!

Be More Productive

When you're not procrastinating, you're being more productive. Combine this with silence and eliminating distractions and you'll be getting more done before 8 AM than most people do during an entire day. Spend the morning taking action on your biggest goals and aspirations.

Discover Your True Self

One of the most life-changing results of my wake up early habit was the discovery of my true self. In other words, I woke up to a deeper sense of meaning and purpose in my life after practicing meditation, journaling, and yoga combined with my voracious appetite for learning – a whole new world opened up. Waking up early can help you begin a path to self-discovery and self-mastery.

Learn Anything You Want

When you're up early enjoying the sunrise and sitting in silence, why not read those books you've been putting off? I think I read something like 30+ books during the my first year waking up early. It was insane! I also listened to audiobooks and podcasts while I worked out or took walks in my neighborhood. Follow your curiosity, what do you want to learn that you've been waiting for "the right time" to learn? Practice your guitar, learn a language, watch 100 documentaries, etc. You get the idea!
Bonus: 12 Get into Lucid Dreaming or Astral Travel
This is a personal favorite of mine. If you start waking up early and keep a dream journal, you increase your chances of having lucid dreams, out of body experiences, or astral projections. Say what? If you don't know what this is, I'll let you look it up. I had my first out of body experience by accident. It got me totally hooked on the topic! As creative types, we have a proclivity to explore the dream realm. If this resonates with you, I really encourage you to follow your curiosity here!
Are You Ready to Wake Up Early?
That's 12 ways you can benefit from waking up early. What if you woke up early for a week straight? Or a month? Or a year!? Imagine what you would get done or how your life would be different? I woke up early for a whole year and it drastically changed my life!
Jeff Finley's new book 'Wake Up: The Morning Routine That Will Change Your Life' comes out April 14th. It will teach you how to establish the wake-up-early habit for yourself, build the perfect morning routine, and help you begin your path to self-discovery and self-mastery. Look for it on his website MakerMistaker.com or on Amazon.
Introducing our Night Advertising Mockup Templates
…just another in a line of World's Best Mockup Templates. All this, from your favorite Cleveland graphic designers here at Go Media. This pack hooks you up with 4 templates, created in response to our best selling City Advertising Mockup Templates Pack.
The Night Advertising Mockup Templates Pack, much like our City Advertising Mockup Packs, contains 4 PSDs, 3 of which are smart object enabled. This means that that with just double click on the smart object's thumbnail in the layer palette, and a little bit of pasting and re-sizing, your art will automatically adopt the correct perspective, lighting, shadows, etc. Read more about smart objects here.
Here are the templates that take your designs out of the dark:
Billboard in Night City
Night Advertising Light Boxes
Night Billboard
Night Street Advertisement
Let's take a closer look
Billboard in Night City
Night Advertising Light Boxes
Night Billboard
Night Street Advertisement
Brewing Company Branding: Boss Dog Brewing Co.
Brothers Josh and Jason Czernek (and Mom) visited Go Media looking for a Cleveland design firm who could help bring their dream brewery to life. Their concept revolved around the name Boss Dog Brewery — Discovering how best to visualize the brand's voice, aesthetic, and most literally how the dog looks, was the first step in getting this brand up and running (no pun intended).
Go Media's Art Director, Chris Comella, reflecting on his work, which encompassed everything from mascot, print and logo design, to branding and illustration, typography to brand management, noted one of his biggest rewards connected with the Boss Dog Brewing Company project.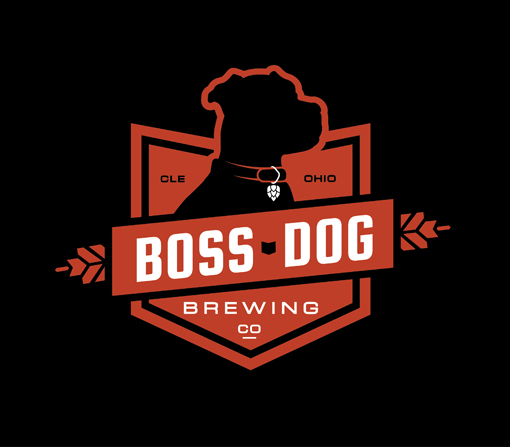 "One of the things we focus on in our design process is presenting multiple concepts. This allows us to get really creative, while at the same time vet different approaches to achieving our goals. With this project in particular, the three concepts approached visualizing the dog (which was a main focus for this brand) in different ways. The final product is a photo-realistic stance, whereas the other two options were a more iconic version, and an illustrative version. Although it's simply one facet of the brand at large, being able to guide the client through those options and end up in a place that's custom tailored for them is a very enjoyable experience."
Designer Carly Utegg reflects on the project fondly, "We started off the project with a photo shoot of the clients beloved dog Stella. Once we were certain that Stella would become the face of the brand, this unique opportunity to bring her into the studio was one we couldn't pass up."
While this experience filled the office with laughter, Chris admits, "In terms of what was most challenging specifically, I'd have to say the photo shoot. It's not easy under those bright studio lights, but Stella pulled through and got us some great shots to work with."
At the end of the day, the tight-knit team was proud of their results.
"One of the main goals with the Boss Dog brand was to portray our canine mascot in a way that wasn't overly masculine, notes Carly. "Finding this balance was something we worked through during the branding process, exploring a range of styles until we decided on a silhouette as the best solution. What we have as a end product is a brand that while it has a workman or firehouse feel to it doesn't cross the line of being overly bold and masculine. I think this identity will serve them well and I'm excited to watch the identity grow as we continue to work with the clients on applying it to their various applications in the near future."
From all the tail wagging, we can tell that Stella is happy with the results. The Boss Dog crew and Go Media can certainly cheers to that.