Articles by:
Marissa Mele
Photography Innovator: Ian Ruhter
Last week, one of our fans pointed us to the article on Fast Co. Create about photographer Ian Ruhter. The article featured a video showcasing Ian's process and his incredible hand-built camera. Through some online digging I found numerous videos and articles, chronicling the photography process of Ian Ruhter. He actually built his own camera in a truck that looks similar to the ones you ran after as a kid, hoping to spend your saved lunch money on a Screwball or Choco Taco.
His handmade camera has been dubbed the largest in the world and it involves a photography process called collodion, which is a wet plate process that creates a unique look to the photographs (as you will see below) as well as the ability to develop these large scale photographic plates from any locale. This has led Ian to traverse the good ol' US of A capturing America through his own visual lens.
American Dream from Ian Ruhter : Alchemist on Vimeo.
The Interview
The GoMediaZine was lucky enough to get to speak with Ian Ruhter about his process and what his hopes are for the future.
GoMediaZine:
How did you come up with the idea for doing wet-plate photos in a truck?
Ian Ruhter:
As my career progressed, "technological advances" in the digital image-making process replaced the "old" way of making images and I ended up spending all of my time in front of a computer editing code rather than capturing life.  I began to lose all connection to the search for the most important component of the photographic art. This all changed when I began working with the wet plate collodion process.  The silver used in this 19th Century process reflects light in a way that no other film can.
GoMediaZine:
How did you learn about the collodion process and what drew you to this method of photography?
Ian Ruhter:
I was searching for the old film that I had once loved. I realized that it was no longer available. When I found the collodion process I realized I would be able to make my own film and no one would be able to take that away from me again.
GoMediaZine:
I know you said in the video "silver & light" that what draws you to the collodion process is that you get to use your hands, are/were there other artistic mediums that you also practice?
Ian Ruhter:
When I started in photography I was shooting with black-and-white film. I learned to develop the film and make prints using my hands.

SILVER & LIGHT from Ian Ruhter : Alchemist on Vimeo.
GoMediaZine:
What draws you to photography as a medium?
Ian Ruhter:
As a child, I had a hard time communicating my thoughts and feelings to the world.  My dyslexia left me feeling like I didn't have a voice.  I was treated differently than other kids.  The moment I found photography I found the missing piece I was looking for my whole life.  This was the moment I began sharing my feelings with the world.
GoMediaZine:
In your portraiture, what do you hope to capture within the person being photographed?
Ian Ruhter:
In my portraiture I tried to tell a story about the subject I'm Photographing. Sometimes I do this through a series of photos. One example of this is the homeless man I photographed in Los Angeles.  The series starts out with the photograph of the LA River. The LA River shows the geographic location of where this man is from. The bridges are used to link his story to another person's. In this photograph there is a shopping cart in the right hand corner. Then in next photo a man is shown with a shopping cart. The last photo is an up close portrait of him. This photo allows the viewer to become more intimately connected to the subject. The idea behind the series is you look at something from a distance and you slowly become drawn in closer and closer until you meet the person face-to-face.
GoMediaZine:
I know you are travelling around taking photos throughout the US, what are some of your favorite stops so far and why?
Ian Ruhter:
Los Angeles is my favorite so far because it took me 2 years to build the camera truck. I was living in LA at the time walking around picking out locations to photograph. I didn't even know if the camera truck would work.
GoMediaZine:
What stops are you hoping to make in the future?
Ian Ruhter:
As of now I'm focusing on the south. I would like to go to New Mexico, Texas and Louisiana. I have a few leads for good stories out that way. With the winter months coming we want to go where it is warmer.
GoMediaZine:
What do you see for the future of your photography adventures?
Ian Ruhter:
I would like to keep pushing myself to create better works of art.
GoMediaZine:
Do you ever step in front of the camera?
Ian Ruhter:
The silver in my project gained so much attention that magazine and TV networks wanted to come out and take my photo and tell my story. This has been quite an interesting experience.
GoMediaZine:
Who are some of your favorite artists?
Ian Ruhter:
Leonardo da Vinci, Chuck Close, Richard Avedon, Carlton Watkins, Robert Frank to name a few. These are the books I have laying out on my coffee table today.
GoMediaZine:
Where do you draw inspiration from?
Ian Ruhter:
I draw my inspiration from my dreams and the dreams of others.
GoMediaZine:
What are some of your favorite images that you've captured?
Ian Ruhter:
I'm really attached to the LA skyline photo. To tell you the truth I like them all, each image is a part of me.
Links
Not Long Ago I Was New to Cleveland
Almost a year ago, I received the book, New to Cleveland: A Guide to (Re)Discovering the City from the amazing Go Media gal, Liz Hunt! I had just begun working at Go Media at that time, and she had the unfortunate (haha) honor of picking me for the X-mas "secret santa." Because I was "new to Cleveland" she aptly chose my gift after attending a book  signing at the incredible Cleveland hotspot, The Happy Dog. I knew shortly after that Lizzy and I would be fast friends and that this book would be my guide to the coolest places in Cleveland.
What's This Book About?
Whether you're new to town or a longtime resident, New to Cleveland is your complete guide to exploring the city. Inside you'll find:
Descriptions and walking tours, with maps of 12 Cleveland neighborhoods (and Lakewood and Cleveland Heights);
Listings of restaurants, cafés, stores and cultural institutions;
Advice on where to send your kids to school;
Insights on the Cleveland real estate market and help deciding whether to rent or buy;
The best neighborhoods for students, artists, professionals, retirees and those who want to live car-free or car-light;
And the answer to the age-old question, "Can I live in a cool old industrial building?"
With more than 50 illustrations by local artist Julia Kuo, and text by writer and urban planner Justin Glanville, New to Cleveland will have you looking at the city with fresh eyes – even if you've never lived anywhere else.
100% Local! Written, designed and printed in the City of Cleveland
Julia Kuo: WMC Fest Alum
Julia Kuo is a Taiwanese-American illustrator from Los Angeles. After earning her BFA from Washington University in St. Louis, she moved to Cleveland to work for American Greetings. Since then, she has gone on to work as a full-time freelance illustrator, creating a wide range of images for greeting cards, album covers, children's books, and more. Her clients include Universal Music Group, Capitol Records, the New York Times, and Hachette Book Group. She is also part of a design collective, The Nimbus Factory.
Julia was also one of our featured speakers at the 3rd annual WMC Fest!
Below are some details about her talk, and check out the video to watch her presentation.

Talk Title: All I want to do is make cute things
Description: I became an illustrator just so I could draw whatever I wanted, but this path has taken me down a few surprising turns. I'll talk about starting a stationery company, illustrating for the New York Times, and my "100 Days in Cleveland" blog (which recently became the book New to Cleveland).
The Neighborhoods of Cleveland
The book begins with a history of the city, a section called "the lay of the land" and "expect the unexpected",  and continues with the following sections: population & demographics, housing types, and renting vs. buying. The book is then divided into different chapters that correspond with different neighborhoods in Cleveland including:
Downtown
Tremont
Asiatown
Ohio City
Detroit Shoreway
Old Brooklyn
Slavic Village
University Circle & Little Italy
Edgewater
Shaker Square, Buckeye & Larchmere
North Collinwood
West Park
Lakewood & Cleveland Heights
At the beginning of each chapter, you will get a little history on that particular neighborhood as well as an infographic complete with a map and information such as: "who should live here?", amenities & community features, population, and walk score.
Afterwards, the chapters are broken down in the following headings, giving you detailed descriptions of what you will find in each of these neighborhoods:
Housing
Transportation
Groceries & Shopping
Health & Recreation
Eating & Drinking Out
"The Once Over"
New to Cleveland ends with a summary chapter called, "Settling In", which gives you information on transportation in Cleveland, arts & culture, Cleveland for Artists, shopping: an overview,  the weather, crime & safety, friends & relationships, gay life in Cleveland, and education in Cleveland.
So as you can see, this is a must read for anyone moving to, living in, or visiting the wonderful city of Cleveland.
Where Can I Get this Book
Now that you have a taste of what you will find in the book, New to Cleveland: A Guide to (Re)Discovering the City, you are probably asking yourself, "where can I get this book"?
You can of course buy it online at the New to Cleveland Big Cartel Store, but why not help support local businesses in Cleveland by buying it there. Here is a list of the Cleveland retailers selling this book:
On The Map – Cleveland
Now that you are fully immersed in the glory that is Cleveland, why not stop by the 2nd annual On The Map Screening Party held at the Go Media Headquarters. If you are unfamiliar with On The Map, it is a video series featuring the people and places that make Cleveland a creative, culturally rich, and inspiring place to be. So come out and join us at this year's event and checkout the event details below:
WHO: Go Media
WHEN: Friday, November 9th, 2012, 5:00pm – 9:00pm
WHERE: Go Media, 4507 Lorain Ave., Cleveland, Ohio 44102
CONTACT: Chris Comella, Go Media | 216-939-0000 x229
On The Map (OTM)
If this is the 1st time you've heard of the On The Map (OTM) series, then you are missing out on seeing videos featuring the hottest businesses in Cleveland. On a personal note, this was the event where I met my current boss, William Beachy and found out that Go Media was looking to add another person to their team. One of my 1st assignments when I joined the Go Media family was to interview the creator, director, and innovator of the On The Map series, Chris Comella. So it seems fitting that I would be writing an article on the 2nd annual OTM viewing party for the GoMediaZine almost a year after being hired.
OTM Series 2 Trailer
For a sneak peak at this year's screening, check out the video below.

On the Map Series 2 Trailer from Go Media on Vimeo.
On The Map Series 2
Putting Cleveland 'On the Map' – the Go Media Video series shines a spotlight on innovative entrepreneurs and organizations.
Find out why Cleveland is 'On the Map' – from food to furniture, our city resonates with creative thinking and furious pride! Join us Friday, November 9th for our second annual On the Map video series screening and party – come celebrate our city and the people that are working tirelessly to make it rock.
Go Media proudly calls Cleveland home. Like so many lifelong residents and transplants, we revel in the cultural, architectural, and natural amenities our great city has to offer. We see potential in what some would call blight, and we recognize opportunity for change. Therefore, Cleveland businesses are in a prime climate to create sustainable growth in the local economy.
And we aren't alone! On the Map highlights a handful of other businesses and organizations that are following their passions and making Cleveland a better place to live, work, and visit.
We invite you to celebrate with us at our warehouse offices in Ohio City on Friday, November 9th. Join us to eat, drink, watch the video release, meet fellow Clevelanders, and even put your business or organization on the map!

OTM – Screening 2011 from Go Media on Vimeo.
Event Info
WHO: Go Media
WHAT: 2nd Annual On the Map Video Series Release Event
WHEN: : Friday, November 9th, 2012, 5:00pm – 9:00pm
WHERE: Go Media, 4507 Lorain Ave., Cleveland, Ohio 44102
CONTACT: Chris Comella, Go Media | 216-939-0000 x229
On The Map CLE, starring:
Behind the Scenes
On The Map Series 1
For those of you who missed last year's event, below is a list of the businesses that were featured in the video series complete with links to the videos for your viewing pleasure:
James White: WMC Fest Alum
I am sure most of you readers out there are know who James White is, but if you don't you need to start following his work. He is an incredible illustrator and graphic artist and is also a WMC Fest alum, speaking at this past year's event.

Here are some details about his talk, and check out the video below to watch his presentation.
Talk Title: Design Renegade
Description: In order to reach our goals in the upside-down world of graphic design, you need to be a rogue. A misfit. A renegade. James White from the Signalnoise Studio has based his career on doing things outside of the ordinary, turning his back on boardrooms and creative briefs in order to chase his design dreams with vengeance and rock n' roll. He will be telling his story while discussing personal projects built from love and ambition in his small home office in Dartmouth, Nova Scotia. These led to him working with respected people all over the world, from his favourite metal band to film juggernaut Kevin Smith. James will talk about chasing your creative path, building your personal body of work, the value of supporting friends, and never forgetting the artist inside. Being "different" isn't enough anymore. You need to be a renegade!
Remember bubblegum cards?
From James White's site
Back in the 80s, my friends and I were collectors. You name it, we collected it. Robots in disguise, anything in camo and all that action figures turned cartoon kind of stuff. Of these kid collectibles, one was a constant around the playground, cheap pieces of cardboard depicting a generation's favorite movie characters, cartoon heroes and then scary monsters. Bubblegum cards. We would trade with one another to build our sets, bragging when we got that rare one nobody else had.
This led to James creating Gum Cards.
Gum Cards
GUM CARDS is an ever-expanding set of limited edition, screen-printed trading cards focused on artists and designers who are rocking the creative design industry.
Each GUM CARD is a limited edition release of 250 plus 50 color variants, hand-signed and numbered by James White for authenticity. All GUM CARDS are screen-printed on double-thick, French Muscle-Tone Black 140lb. cover stock by the amazing crew at Mama's Sauce in Orlando, Florida.
Fundraising for the Project
The project began with a fundraising effort through indigogo and a big thank you to the design community for helping James reach his goal!
The funds raised through the Indiegogo initiative went towards the supplies needed to produce and ship the GUM CARDS. Below is a list of the kinds of items required in order to get the project started:
800 screenprinted GUM CARDS
Custom printed gum
Ziplock packaging bags
Individual card sleeves
Printed bag tops
Backing boards
Stickers
Buttons
Shipping envelopes
Gallery
Check out the Gum Cards James created and start collecting and trading, just like the old days. I know we all miss collecting and trading pogs, garbage pail kids, and baseball cards, so why not step back in time and start reliving the fun of our youth.








Gum Card Accessories
Links
Cards Against Humanity
Go Media was lucky enough to receive a copy of a brand new game called Cards Against Humanity. It was created by a group of Highland Park High School alumni as a party game for a New Year's Eve celebration, and it was financed through the website Kickstarter. According to Wikipedia, Cards Against Humanity (CAH) was created by the following designers: Josh Dillon, Daniel Dranove, Eli Halpern, Ben Hantoot, David Munk, David Pinsof, Max Temkin, and Eliot Weinstein.
We here at Go Media were all very excited about trying out the new game, and we recently took a break from our busy day (and damn, we've been busy lately, just check out our latest "What's Go Media Been Up To?" post to see), to try out the this super fun game!
A Little Info About The Game
My 1st impression of this game is that it is a down-and-dirty version of Apples To Apples. The premise of the game is similar and the rules are comparable, but what sets Cards Against Humanity apart is the tongue-and-cheek verbiage on both the packaging/rules and the cards themselves. Even small details like the barcode have hilarious text, i.e. "Mark of the beast." Or the inspection sticker that states: "Inspected by 204 for the greater glory of our capitalist overlords." Or even the Disclaimer on the back of the Rules: "Cards Against Humanity is a work of satire. Please address all complaints and legal threats to: Former Vice President Dick Cheney, The American Enterprise Institute…" This game is intended to cause uproarious laughter (and as you can tell from the photos below, it did for us too!).
How to Play
Cards Against Humanity is for ages 17+, you will need 4 to 20+ players, and it will take anywhere from 30-90 minutes. Game play begins with each player taking 10 White Cards. Then 1 player per round picks out a Black Card and they are called the Card Czar (CC). The CC reads the question or fill-in-the-blank phrase on the Black Card, out loud to the group. After that, the remaining players turn in one of their White Cards to the Card Czar. Once all cards are collected the CC reads all the White Cards aloud and picks the one he or she likes best. Whoever's card is chosen wins 1 Awesome Point. Play continues until you can't breath anymore from laughing (or you've got to get back to work, like we did) and whoever has the most Awesome Points is declared the winner!
Fully Customizable
One of the neatest aspects of this game is that it is distributed under a Creative Commons BY-NC-SA 2.0 license. That means you can use and remix the game for free, but you can't sell it without their permission. Their website even has a FREE downloaded PDF version of the game and blank cards for you to enter in your own funny answers, questions, and fill-in-the-blanks.
Are you a loner, a loser, a drink-alone-boozer? Well, you can always play online at the convenience of your home, your bathroom, or your den of inequity. Who needs buddies when you can play with yourself? Now if this game only existed during your childhood, you wouldn't have had to waste all your lunch money trying to buy friends.
Where to Buy
If you don't feel like downloading the FREE PDF, you can always buy the snazzy tangible version for only $25. Plus there are 2 expansions each for $10 a piece. Right now the game is only able to be sold in the US and Canada (the Canadian version has some bonus cards and Canadian jokes), but never fear international gamers, you can download and print one of the FREE fan translations that are available in Spanish, French, Hebrew, Pirate, Portuguese, Italian, German, and Danish.
The 1st Expansion includes:
20 Black Cards
80 White Cards
12 Blank Cards
40% More Brand Synergy
The 2nd Expansion includes:
25 Black Cards
75 White Cards
12 Blank Cards
Now Dolphin-Safe
Go Media Plays Cards Against Humanity
So as I told you before, some of the Go Media guys and gals (obviously the coolest ones), took a much needed break from our work day to test out the game. Dave Romsey quickly bowed out stating that if he played he would totally win, and didn't want to show us up (sounds like some BS to me since he didn't play). Some people questioned whether or not this game was "work appropriate", but in the end we are all adults with low-brow senses of humor, so it was all good fun. We did have a clear winner, but I will keep their identity private so as to not reveal how truly talented they were at picking the funniest and crudest card combinations. If you really want to know, please send Chipotle gift cards to:
Go Media
Attn: Marissa Mele
4507 Lorain Avenue
Cleveland, OH 44102
Check out some of our answer combinations to laugh your arses off! And guess which one won out (answers at the end of the post)
1.  "But before I kill you, Mr. Bond, I must show you ____________.
Passive-aggressive Post-it notes.
Lunchables
Being a motherfucking sorcerer
My relationship status
2.  What helps Obama unwind?
Bitches
The Chinese gymnastics team
Morgan Freeman's voice
Destroying the evidence
3.  I drink to forget ______________.
Saxophone solos
Lady Gaga
Guys who don't call
Sweet, sweet vengeance
4.  War! What is it good for?
Firing a rifle into the air while balls deep in a squealing hog
Chunks of dead prostitute
Getting so angry that you pop a boner
Another goddamn vampire movie
5.  What gives me uncontrollable gas?
Concealing a boner
Switching to Geico
AIDS
Being a dick to children
6.  The Smithsonian Museum of Natural History has just opened an interactive exhibit on _______________________.
A bleached asshole
Farting and walking away
The Tempur-Pedic Swedish Sleep System
Wiping her butt
7.  When I am a billionaire, I shall erect a 50-foot statue to commemorate __________________________.
Home video of Oprah sobbing into a Lean Cuisine
Powerful thighs
MechaHitler
The invisible hand
8.  Coming to Broadway this season, ______________________: The Musical.
An erection that lasts longer than 4 hours
Catapults
My genitals
Natural male enhancement
9.  What do old people smell like?
Sexual tension
Wet dreams
Christopher Walken
Fear itself
10.  What am I giving up for Lent?
Pictures of boobs
The true meaning of Christmas
Bees?
A falcon with a cap on its head
Answers
My relationship status
Bitches
Saxophone solos
Getting so angry that you pop a boner
Concealing a boner
A bleached asshole
Home video of Oprah sobbing into a Lean Cuisine
An erection that lasts longer than 4 hours
Sexual tension
Pictures of boobs
Links
Brand Building: From Simple Logo to Full-Fledged Brand in 8 Easy Steps
Go Media founder and designer, William Beachy will be conducting a workshop for the 2012 Small Business Convention presented by COSE. The convention is on Thursday, October 25th and Friday, October 26th, and Bill's workshop will be from 10:15am-11:15am on Friday. The title of his talk is "Brand Building: From Simple Logo to Full-Fledged Brand in 8 Easy Steps."
Here is a short description:
Many entrepreneurs associate brand building with a simple logo and a slogan, but successful brands infuse a distinctive voice and style in everything they do. Bill Beachy of Go Media and Jackie Bebenroth of Muse Content Group share the stage to discuss the two key dimensions of branding – messaging and visuals – to help entrepreneurs define their brand position and express it in a meaningful, consistent way. Presentation attendees, whether building a new brand or refreshing an existing one, will walk away with a new perspective on what it means to attract and retain customers with a well-rounded brand presence.
What is COSE?
Description taken from the COSE website
The Council of Smaller Enterprises aka COSE is the region's largest small business support organization and provides cost-effective group purchasing programs, advocacy on legislative and regulatory issues, and networking and educational resources to help Northeast Ohio's small businesses grow.
With nearly 14,000 members, COSE is a driving force in advocating for the priorities of Northeast Ohio's small businesses.
COSE has a long history of fighting for the rights of all small business owners, whether it's through group purchasing programs in healthcare, workers' compensation and energy or advocating for specific changes in legislation or regulation.
As COSE enters its 40th year, it is positioned more than ever to take charge and fight for small business rights throughout our region, the state and across the nation.
COSE's Mission Statement
COSE's mission is to serve, advocate and lead on behalf of the small business community…
Serve our members by understanding the needs of our market and providing superior programs, services, information and benefits.
Advocate the interests of small business to influence public opinion and policy and promote the important role of smaller enterprises on our economy.
Lead through innovation, expertise and actions.
2012 Small Business Convention
The seventh-annual Small Business Convention (SBC) is the premier small business event in the country. This two-day experience is packed with 48 educational workshops, six national keynote speakers, a business-to-business tradeshow and unique networking opportunities.
The 2012 SBC will take place at the Kalahari Convention Center, a location that provides attendees with the retreat they need to take a step back to work ON their business instead of IN it. The Center is Ohio's largest convention facility and features state-of-the-art amenities and more than 200,000 square feet of meeting space. The move to Kalahari also makes it easier for small business owners from areas such as Detroit, Toledo and Columbus to attend… meaning you'll meet even more people who  you can connect with and learn from.
Are you ready to discover your small business' path to success? For more information and to start your journey, visit www.smallbizconvention.com.
Keynote Speakers

Don't miss the Small Business Convention, the premier small business event in the country. This year the Convention features six national keynote speakers!
Rhonda Kallman: Co-Founder, The Boston Beer Company (maker of Samuel Adams) and female pioneer in the industry.
Desi Williamson: Inspirational speaker who overcame adversity and found success.
Kelly McDonald: Multicultural marketing expert and author of How to Market to People Not Like You.
Jeff Slutsky – Expert in "Street Fighting" – results-oriented, low-cost marketing tactics.
Dennis Snow – Customer Service Pro who helps organizations create "walk-through-fire" customer loyalty.
Troy Hazard – Author of Future-Proofing your Business, learn his powerful lessons from the edge.
Video
Small business owners from across the region are blazing new trails at the 2012 Small Business Convention. Want to learn more about the new venue, national keynotes and powerful networking opportunities? Watch our video to see how you can start your journey to small business success.
Learning Labs
Have a question that's been keeping you up all night?  Look no further than the 2012 Small Business Convention. The event features five hands-on learning labs where you can meet one-on-one with an expert in their field.
Learning Labs include:
Sales & Marketing: Branding experts, Sales Strategists, Social Media Coaching, Marketing Advice
HR & Legal: HR Coaches, Lawyers
Personal & Professional Development: Business and Personal Coaches and Consultants
Technology: Website Development Tips, Database Management
Finance: QuickBooks, Financial Planning Coaching, Energy Audits
 Networking Opportunities
Looking to build connections, find new business contacts and make new friends?  Look no further than the 2012 Small Business Convention!
NASA Plum Brook Kick-Off Event: Start your Small Business Convention experience off right by connecting with other attendees at our Kick-Off Event! Experience the power of NASA at the 6,400-acre remote test installation site, the NASA Plum Brook Station. Attendees will be guided through the facilities and even step inside the world's largest vacuum chamber, which has tested parts of rockets, Mars landers, space centers and was a filming site for part of the Avengers movie!
Choose-Your-Own Networking Dinner: Customize your convention experience by choosing the networking dinner that interests you the most. Whether it means making new friends over dinner and drinks, bonding over the thrill of a haunted house, or learning what's happening in cinema, there is something for everyone!
 Last Chance to Register
Have you registered for the 2012 Small Business Convention? It's not too late! Don't miss out on your chance to be part of the premier small business event in the country! Register today at www.smallbizconvention.com/register.
The Thank You Economy
My name is Marissa Mele.  Many of you probably don't realize that you already know me.  I am the person that answers your tweets on Twitter, comments on your posts on Facebook, and repins the awesome pictures you find on Pinterest.  So you see in some ways we know each other. Now I have had years of experience with social media, but it wasn't until starting my job at Go Media that I had the opportunity to hone my skills in a professional setting. So as the months passed, and I read more and more about the power of Facebook, Twitter, and Pinterest to help grow a business, I decided it was time to read what the experts had to say on the matter. I wanted to see if my instincts were right and that I was on the right track. I spoke to Jeff and he recommended some books, one of which was Gary Vaynerchuk's "The Thank You Economy."
Developing & Fostering Customer Relationships
This 5 part book discusses why businesses have to be and need to be on social media platforms, how to effectively structure messages on these platforms, and how we all need to get back to our grandparents way of doing business: developing and fostering customer relationships.
According to Vanyerchuk, "There is financial gain for any size company that is willing to open the lines of communication with its customers and market to them in a personal, caring way that makes them feel valued."  Like the business owners of yesteryear, we all need to care more, and not about just our bottom line (although that should always be in our rear view), but about making meaningful connections with our customers.  We can't be afraid to expose our hearts and souls, and we have to show that we care about each and every one of our customers.
"There is financial gain for any size company that is willing to open the lines of communication with its customers and market to them in a personal, caring way that makes them feel valued."
The Need for Businesses to Shift Back to the Good Ol' Days
Business has shifted in the last 30 years.  Many of us aren't old enough to remember the good ol' days, but we all can remember the stories our parents and grandparents tell us about how things used to be.  Vanyerchuk reminisces about the services businesses used to offer like baggers that brought your groceries to your car or gas station attendants that filled the tank for you (well, except you, New Jersey).  Wouldn't it be nice to have those things again?  Wouldn't it be nice for a business owner to care that you had a bad experience, instead of dismissing your complaint because you aren't important or impactful enough to affect their bottom line?  I think the answer is we all want some old fashioned manners to creep back into the consciousness of business owners.  Vaynerchuk tells us, "What pays off most is your willingness to show people that you care about them, about their experience with you, about their business."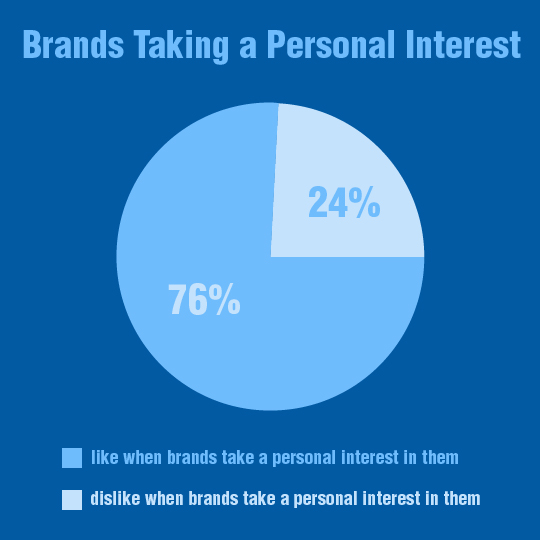 How Social Media Sites Give Consumers a Voice
We have all been subjected to bad service at one time or another.  Maybe it was a rude hostess at a restaurant or a dismissive clerk at a retail store.  Many of us can even recall with great detail these interactions and have no problem voicing them loudly to our friends.  Before the Internet, these bad interactions were only shared with the people who were around us physically or with a person that was a phone call away, so business owners could slough off a few bad interactions as their reach was only a few people wide.  Now with sites like Yelp, Urban Spoon, Trip Advisor, etc. people have a sounding board to voice their complaints and those bad interactions can now reach to the farthest stretches of the world.  And those sites aren't the only ones that house these complaints; Facebook and Twitter with its billions of users aren't keeping quiet about their horrible reactions to your business or product.
The Power of the "Like"
Vanyerchuk tells us that "when given the choice, people will always spend their time around people they like" and that "more and more people are making business and consumer decisions based on what they see talked about on social media platforms."  Now doesn't it seem silly that these business owners are dismissing the power of social media?  As a business owner you need to be on the forefront of these complaints, putting out the fire and rectifying the situation.  Sometimes that means offering your services or product for free, but more often than not, a "thank you" or a heartfelt "sorry" can fix the situation for you.  However, under no circumstances is it appropriate to berate the complaining customer, that is very opposite of the "Thank You Economy."
How to Value the Importance of Customer Feedback on Social Media Channels
There are many ways that "The Thank You Economy" direct business owners to better handle difficult business situations and how to value the importance of customer feedback on social media channels:
 "Valuing every single customer is mandatory."
"All businesses need to start treating their customers as though they are big spenders."
"[Business owner] is going to have to do their damndest to shape the word of mouth that circulates about them by treating each customer as though he or she were the most important customer in the world."
 "Only companies that can figure out how to mind their manners in a very old fashioned way – and do it authentically are going to have a prayer of competing."
"Social media allows us to get fresh, visceral, real-time feedback, not stale focus-group opinions."
Now let's break this list down.
Valuing Every Single Customer Is Mandatory
Numbers 1 & 2 go hand in hand.  Every business owner must treat each interaction as if they were their highest paying customer.  And you know what, they might be.  What if a company like Adobe pissed off the AIGA?  Would AIGA recommend their products?  Not likely.  If you don't treat each person with respect and feel genuine concern for their complaints, chances are you might lose their business.  And what if that business is 10% of your revenue or 50%?  Could you afford to lose that business now?  Chances are "no" you can't afford to lose that kind of $$$.  The only smart answer then is to treat each customer like they are your highest spending customers.  Treat them like kings/queens, lay out the red carpet, and speak to them like they matter.  If you do this, you are guaranteed to not lose major income because of bad customer service and interactions.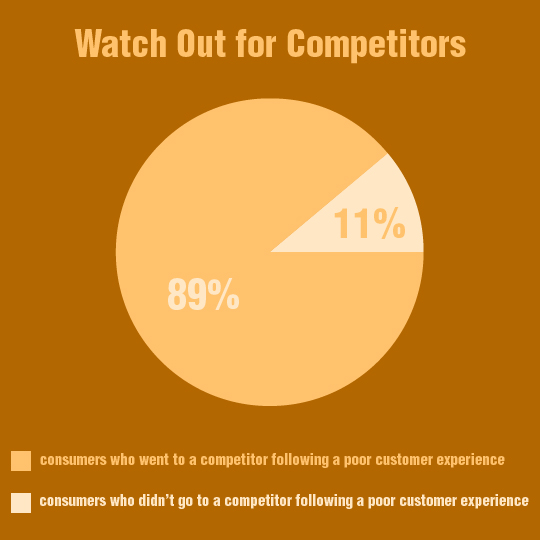 Shaping the Word of Mouth
Number 3 demonstrates how you can have control over what is being said about your business by following numbers 1 & 2.  If you follow the first 2 items on the list, then people are going to trust you more, care about you more, and tell their friends/family about you more.  Hasn't there ever been a time in your life, when you were given incredible customer service?  I think most of us are primed and ready for someone to be rude to us.  We've all called a customer service number after running into an issue or problem, and we probably had to spend a good 20 minutes scouring the site for a number to call, knowing an email complaint is going to take too long to hear a response.  After we find the number, we have to sit through a series of prompts, pressing button after button, until finally, if we are lucky, we get to talk to an actual person.  By that time, we are frustrated and are greeted with a canned "hello, my name is _____, how can I assist you."  We try to describe our issue and are usually told we are contacting the wrong department and have to be transferred.  Of course, the transfer fails and you are left hearing this noise, and have to hang up and start all over again.
Customer Service Comes In Many Shapes & Sizes
Now on the flip side, excellent customer service comes in many shapes and sizes.  Maybe you were offered a free "something", maybe they gave you a priority membership, or maybe all they did was sincerely care about your issues and talked to you kindly and not like you were bothering them.  Nothing is worse than calling a customer service number and the person who is on the other line acts like you are interrupting them.  Customer Service professionals might seem like they are a dime a dozen, and maybe they are, but not all are created equal.  Over the course of my time here at Go Media, there have been a few instances where customers needed support.  Go Media lady, Kim Finley to the rescue!  She is a rockstar when it comes to dealing with customer support issues (well, and really anything she has her hands in).  She never raises her voice, she never loses her cool, and she never ever treats the person on the line like they are "less than" or disrespects them in any way.  Kim knows how the "Thank You Economy" works and ensures that any issue, however minor, will get her full attention and she will do everything in her power to resolve the problem.
Old Fashioned Manners
Number 4 reminds us to mind our manners.  Please, thank you, you're welcome, how can I help you, sir, and ma'am: these are the words and phrases to tattoo on your brain when you are dealing with customers.  Pretend it's the 1950s, address each customer by their name, offer your condolences when they are frustrated with a concern, and express that you are happy to hear from them and that you are there to help.  I am a southern girl.  My mom is a southern woman.  If you are from the south, you know the importance of having good manners.  You'll get run out of town if you don't remember your manners words.  I think many people have forgotten how to do little things like say please and thank you.  How many times have you gone out of your way to do something nice for a stranger and they can't even muster the words "thank you?"  It's annoying, it pisses you off.  The lack of manners is ruining relationships not only with strangers but with customers.  Why would you shop at a store where you are treated like crap?  No one wants to spend their hard-earned money in businesses that don't value their customers.  I know I won't.  If you treat me like you are too good to be nice to me or that I am not the right kind of customer for your establishment, well, then I am too good to hand you my money.
Real-Time Feedback, Not Stale Focus-Group Opinions
Finally, number 5; this item shows us that any feedback we receive on social media channels like Facebook, Twitter, Yelp, etc. is FREE.  And if it's free, it's me.  As it should be for all of you.  Why spend thousands upon thousands of dollars on focus groups?  That takes a ton of money, energy, and manpower.  When all you have to do is pay attention to what is being said in the social media sphere.  What if Suzie from Salt Lake City, UT said, "Ugh, the hostess at [fill in the name of your restaurant here] was so rude to me.  I'm never going back there again."  When you saw that hostess again, would you look at her the same way?  Would you possibly watch how they interact with customers?  Now the hostess might have had an off night, but it could also be that the hostess isn't the right person to be at the forefront of your business, greeting clients and such.  It might be time to let the hostess go or reassign them to a position they are better suited for.
Examples
On the other hand, what if Jack from Madison, WI says, "I love the product you offer, but when I am using it I run into these problems…"  You didn't have to hold a focus group and spend months of time preparing to survey your customers.  They are right there, offering their opinions for free.  All you have to do is open your ears, your eyes, and your minds, and the only way to do that is to jump in head-first to the social media waters.  The water may be cold at times, but nothing can be gained from non-participation.
"There are only 2 things that will convince consumers to pay more for something when they could pay less.  One is convenience, and the other is an outstanding customer experience."
One of the tenets of Gary Vaynerchuk's book that really stuck out for me was, "There are only 2 things that will convince consumers to pay more for something when they could pay less.  One is convenience, and the other is an outstanding customer experience."  I have been thinking a great deal about this concept and realize that in my own consumer behavior I often will pay more for a better experience.  Recently I was at the Steelyard in Cleveland, OH.  The Steelyard is a shopping center with many of the box stores and they have both a Target and a Walmart.  Below is a breakdown of some of the basic differences between these 2 stores.
Target vs. Walmart
Target is:
Clean
Organized
Bright and vibrant
Their employees are friendly and helpful
Creative advertising
Walmart is:
Messy
Cluttered
Dark and dingy
Their employees aren't usually helpful or accommodating
Bland advertising
Convenience & Customer Experience
Now both of these stores are in the same shopping center so the convenience factor is the same.  Therefore the mitigating factor is the customer experience.  So how come, I (and I am sure many of you) would prefer to shop at Target?  The answer is because Target offers a better customer experience.
The customer experience isn't just for brick-and-mortar stores; it also applies to ecommerce stores as well.  Shopping online is convenient as all heck, but we all know that there are ecommerce stores that do not provide a good customer experience.  When sites aren't easy to navigate, when there are system failures, and when customer service numbers are impossible to find on the site or when you do find them that the person on the other line isn't a "real" person or if they are a flesh-and-blood human that they treat you like dirt.  These are all ways in which the customer experience with online shopping can affect customer behavior.
Go Media's Ecommerce Store – The Arsenal
Here at Go Media, we have an ecommerce store called the Arsenal.  The Arsenal sells design products and tools to design students and professionals alike.  There have been many iterations of the site and we are currently working on a complete redesign.  The process is ongoing and what contributes to that is our customer feedback.  We are committed to providing an excellent customer experience so when someone calls saying that they are a customer in Singapore and the download link isn't loading, we look at the issues they might be having and realize we need to host our files on a different cloud server so that people in foreign countries can easily download our products.  Or when we receive customer feedback and they say that they would like to buy one of our products but aren't sure how it could be of use to them, we create a video tutorial on how to use the product.  So you see we are constantly and consistently improving the process and experience so that after people make purchases at our site, they are satisfied and would want to shop with us again.
Stop Finding Excuses Not to Change
People always find excuses for not changing.  Staying stagnant can cause you to be the last person in the race.  When businesses refuse to adopt new marketing and sales techniques they can be left in the dust by companies that are willing to innovate and improve their processes.  So if you are a business owner who doesn't believe in the power of social media to drive sales and increase your brand power, take a look at the data and graphs throughout this post; I am positive you will be convinced once you see the numbers.
Now This Is Where You Come In
I would be remiss if I didn't reach out to all of you to ask how we can make your customer experience better. What sort of products would you like to see more of on the Go Media Arsenal? What makes for a great customer experience in your opinion? What sort of great experiences have you had in the past when working with design companies? Tell me about them, I would LOVE to hear from you so email me at [email protected] or give me a call at (216)939-0000 ext 337.
Links
A Collection of 34 Inspiring Typography Designs featuring some of our favorite designers and WMC Fest Alums. If you like what you see, why not follow us on Pinterest.
We have a brand new vector pack on the Go Media Arsenal called Gears. It contains 30 high-quality vector illustrations. They are fully editable and customizable and they are contained in one easy to download Adobe Illustrator file. The Gears Vector Pack was created by designer and illustrator Steve Knerem. He is the mastermind behind past Arsenal releases in the steampunk vector series: Pipes and Vents & Whistles.
If you are unfamiliar with steampunk, read below for more info about this genre:
What Is Steampunk?
Steampunk is a genre that originated during the 1980s and early 1990s and incorporates elements of science fiction, fantasy, alternate history, horror, and speculative fiction. It involves a setting where steam power is widely used—whether in an alternative history such as Victorian era Britain or "Wild West"-era United States, or in a post-apocalyptic time —that incorporates elements of either science fiction or fantasy. Works of steampunk often feature anachronistic technology, or futuristic innovations as Victorians might have envisioned them, based on a Victorian perspective on fashion, culture, architectural style, and art. This technology includes such fictional machines as those found in the works of H. G. Wells and Jules Verne, or the contemporary authors Philip Pullman, Scott Westerfeld, and China Mieville. Steampunk also refers to art, fashion, and design that are informed by the aesthetics of steampunk literature.
A little bio from Steve's website:
Who Is Steve Knerem?
I'm simply passionate about becoming the best illustrator I can be. I believe I am born for this purpose and plan to leave the biggest mark in history I can before my days of being immortal are over. My training officially began once I graduated from The Cleveland Institute of Art in 2004 with a focus in Illustration. Since that day I haven't stopped learning and pushing and gaining ground.
I always say to myself and in blogs that I write or talks that I give, that we all have to find our own path. I believe this is true. I hope to always produce something you have never seen before and provide the best solution possible for every need presented before me.
Check out the images below for what you will find in the pack and click on any image to access the Gears Vector Pack
Want More?
Want to see more images of the Gears Vector Pack? Then check out the Go Media Arsenal page and the Go Media Arsenal Facebook page.
Have questions or concerns regarding the Arsenal, email [email protected] or contact Arsenal Product Manager, Liz Hunt at [email protected]
Oh, and before I forget, if you haven't already, register for a FREE Arsenal account here.
Howdy Readers!
Welcome to the 1st edition of the "Go Media Guest Pinner Gallery Showcase." If you aren't a fan of ours on Pinterest click this link to start following what we pin. This showcase features the best pins from our Go Media Guest Pinner Gallery, so these images are the ones that you all found and shared with us. If you would like to be added to the gallery send me an email at [email protected] Happy Pinning! :)

Applying for jobs can be a daunting process, but it is important to remember to put your best foot forward when sending out your applications. Employers get tons of submissions every day, so make yours stand out by not making any fatal errors. Read below for the top 10 mistakes designers make when applying for jobs and what employers are looking for in resumes, cover letters, and portfolios:
1.  Sending resumes in .doc instead of .pdf
It's surprising how often designers send resumes in the .doc format. Microsoft Word is not the program designers should be using when laying out their resume, and may result in an immediate rejection. We recommend using InDesign or Illustrator to design your resume. Your application is a great chance to show off your design ability so use design programs to layout a beautiful resume. One of things you will often do as a designer is creating logos, letterheads, and business cards, use the opportunity when you are applying for a position, to showcase those skills by creating your own brand identity for the documents you send to potential employers.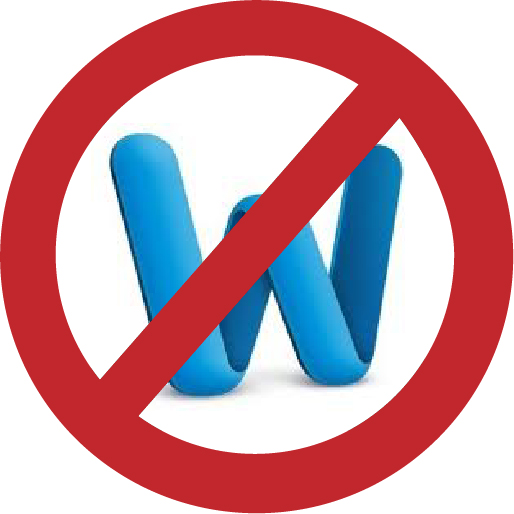 2.  Sending form cover letters
Employers can tell when you have cut and pasted a form cover letter from the web. The jargon is always the same. Your cover letter is your opportunity to show your personality to the company you are applying to, so use the opportunity to demonstrate why you are the best person for the position. Use your own words, not the words of others to illustrate why you are the best candidate for the position. Include ways in which your style blends with theirs or call out specifics about their company like their company culture or artistic style as the reasons why you want the position. Don't make it seem like you just want any position.  Show that you want their position because you want nothing more than to work at their company. When you are applying, you are asking to be a part of their team so show you have some team spirit and you have taken the time to research the company and care about working there specifically.
3.  Not following instructions/directions
Most companies will immediately reject your application if you have not followed the instructions they have outlined in their "help wanted" post or ad. Read the requirements carefully and make sure that you have followed them to a tee and have sent the requisites in the correct format.
4.  Not showing a diversity of work in portfolios
Every portfolio should include work in the following categories: branding, illustration, print design/layout, and web design. If you also have work in other categories include those as well, but you'll want to have at least 2-3 examples within each category listed above. If you are fresh out of school and don't have much client work, create spec work to show you have the skills necessary to land the design job you want. If you only show you can illustrate and provide no work that exhibits your skills in designing brand identities, a company will not know you can complete work in those areas. Show a company you are a jack-of-all-trades designer and you can handle any client project that comes your way.
5.  Spelling/Grammatical errors
If a potential employer can spot a spelling or grammatical error within seconds of looking at your resume, cover letter, or portfolio then you haven't checked your work. What would happen if you made a spelling error in a clients' project and sent it to print? Who would pay for the mistake? The answer is probably you or the company you work for. After you have completed your resume, cover letter, and portfolio, send it to friends, family, teachers, etc. and have them check over your work. If an employer can catch the mistake within mere moments of opening your documents, then your friends or family will be able to as well, saving you a potential rejection email for your carelessness.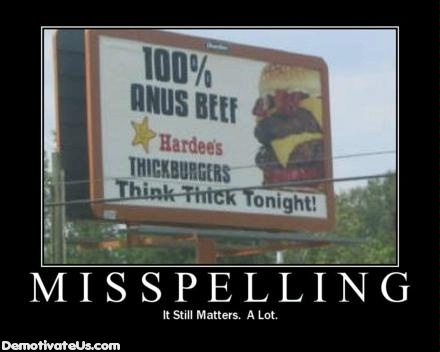 6.  Not having an online portfolio
We live in the digital age and every designer whether you are a web developer or not should have an online portfolio. Sites like Behance make it a breeze to customize your own portfolio site, so take the time to create one before applying for jobs. The best option is to have your own website so you can truly stand out amongst other applicants.
7.  Obviously cutting and pasting from past resumes or cover letters
This is an egregious mistake. If your cover letter has 2 different fonts that might also be different sizes, it is obvious to them you cut and pasted and didn't take the time to consistently format. I know searching for jobs can be a laborious process and many times you are applying for multiple positions at once, but the employer shouldn't know that, all they should see is you are dying to work for their company and want nothing more than to be apart of their team, don't get upset and frustrated, just know that there will be an opportunity for everyone out there, even for those who have had legal problems in the past, they can look for a job at https://www.felonyfriendlyjobs.org
8.  Asking potential employers for recommendations or help in job search
When you apply for a position and are not awarded the position, you should not ask the employer for recommendations for other companies you should apply for. It is not the responsibility of the employer to aid in your job search, so don't ask them for suggestions of their competitors. The web is a great resource to find job openings and design firms in your area. Take the time to look for them and don't ask a potential employer to help you.
9.  Not taking your time
This has been covered slightly in the other rules, but it should be iterated again. TAKE YOUR TIME applying for positions. Check your spelling, have someone proofread your resume, cover letter, and portfolio, carefully craft your cover letter to reflect your personality and interest in the company, and make sure it isn't obvious to the employer that you have hastily put together your application. These little mistakes make it easy for an employer to not consider you as a serious applicant because you didn't take the application seriously.
10.  Applying for multiple positions in a company
When you apply for multiple positions in a company it shows that you don't have a specialty. If you aren't qualified for the position then don't apply for it. Apply for the one you are most qualified for. If you are trying to branch out or gain a new specialty then apply for the position you are most apt for and once you have the position, pair up with the person who does what you want to do next and learn from them. It is much easier to move into a new area of expertise within a company than coming in cold.
As many city dwellers know, each neighborhood in their city has a culture and feel all its own.  And as any designer knows, it is important to infuse the specific culture and artistry of each client, company, or organization into the design project they are working on.  That is what Steve Shanabruch of The Chicago Neighborhood Project knows all too well.
Go Media recently had the opportunity to converse with Steve about his project and we would like to share it with all of you, our readers.
GoMediaZine:
What inspired you about Chicago and how did that lead to starting this project?
I'm a Chicagoan, and if you must know one thing about Chicago (aside from deep dish pizza), it's that this is a city that is all about neighborhoods. Each one has its own identity, feel, ethnic makeup, and so on and so forth. Because of this, I have challenged myself to design a logo/brand for each 'hood in the city. So far I have close to 90 logos posted, and who knows how many more I'll end up doing (there are 215 or so) before its over. It's been fun so far, a lot of work, but it is a labor of love.
I started the project as a creative outlet. I'm employed at my 9 to 5 as a designer, but it's more marketing and corporate design, driven by our brand standards. I wanted to combine two of my passions: design and Chicago. So not only was this was a way for me to learn more about the city that I love so much, but it also has pushed me to try new things creatively. I definitely think this journey has made me a better designer, and that makes me happy. I thought I knew Illustrator pretty well before, but I have learned or figured out so many new tricks and techniques since I started, so much so that I look back at logos I designed at the beginning and kind of cringe…I see what I could have done better or differently, and I want to change them. But for the time being I am focused on working my way through the rest of the neighborhoods before I revisit the ones I have already worked on.
GoMediaZine:
How has this project evolving and what can our readers expect to see in the future?
I have posted somewhere around 85 logos to date. I started out posting one every Monday, Wednesday and Friday, but have since slowed down to two a week. Chicago has roughly 215 neighborhoods…or it could be more, depending on how specific you want to get. Each neighborhood has its own personality, feel, ethnic makeup, landmarks, and so on and so forth, and because of this, I thought it would be fun and challenging to give each one a logo or brand. I do the best I can to research each area before I start a design, and while I know I can't please everyone, I think I have done a fairly good job representing either the historic aspects of a particular neighborhood or capturing the current landscape in the 'hood.
Below are some of Steve's favorite images as well as little blurbs about these particular images and neighborhoods: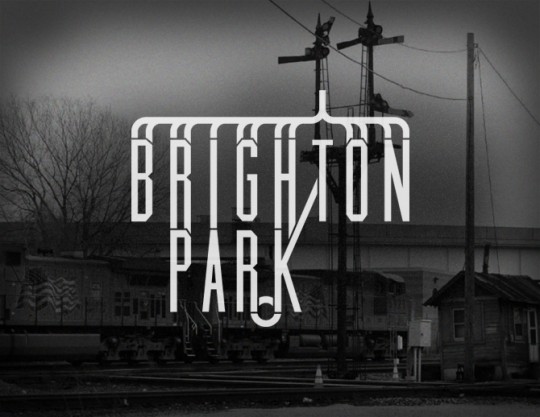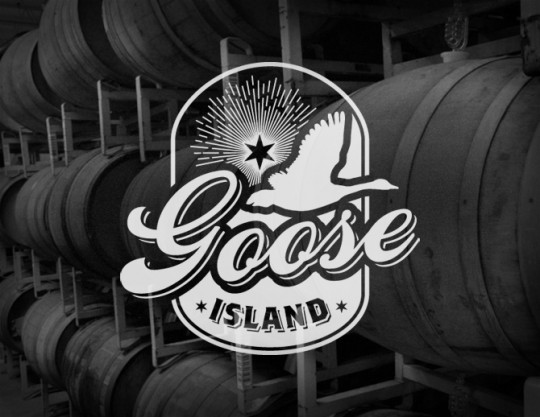 Links
If you want more updates about The Chicago Neighborhoods Project and/or Steve's work, you can check the following links:
Everyone at Go Media has let out a big WHEW now that we have wrapped up the 3rd annual Weapons of Mass Creation Festival.  We spent all year planning the fest and we couldn't be happier with how well it went.  We had a record turnout this year and the Reinberger Auditorium was overflowing with attendees sitting, standing, or squatting as they watched talks from: Johnny Cupcakes, Kate Bingaman Burt, Chuck Anderson, James White and many more.  Some of the highlights from the fest included the B-Boy Battle; bands such as We Are Public Radio, Bethesda, the Cherry Cola Champions, and so many more it's hard to pick just a few; and of course, the amazing artwork of all the designers.
The variety of bands was absolutely amazing.  Styles covered the entire spectrum of musical genres.  There was something for everyone from punk to hip hop to indie pop to folk and everything in between.  The same had to be said of the designers.  Each artist had a style all their own.  As you walked around the Ilthy Gallery, the uniqueness of each designer was so apparent.  WMC Fest brought out the best of the best, the cream of the crop, the pick of the litter, *insert another cliche here*.  It was so wonderful to be surrounded by such creative and talented people who were so passionate about graphic design and about advancing and growing the design community.

GFDA / WMC Fest 2012 from Alexander Catanese on Vimeo.
Below are some of the things people have been saying about the fest:
"The beauty of Weapons of Mass Creation is how it inspires and energizes the design community. It's a three day fest that everyone can afford to go to but not afford to miss. " (courtesy of Pixel Thought Foundry)
"WMC is definitely growing and gaining some serious momentum. It's just proof that there's such great strength and energy in the creative community, and that 'if you build it, they will come.' So if that doesn't give you a swift kick in the ass to get your latest project off the ground, I don't know what will. There isn't anything we can't accomplish with our passion, networks, and relentless hard work." (courtesy of Shore Society)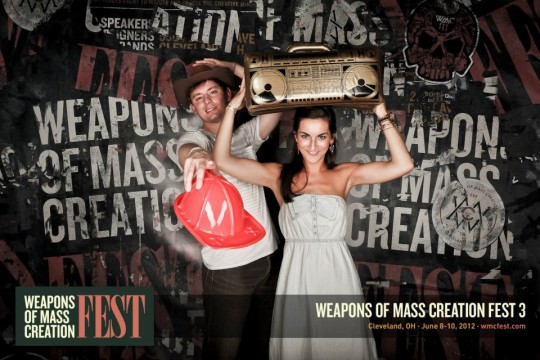 "If there's one thing I can say I brought back from Cleveland last weekend at Weapons of Mass Creation Fest, it was a kick-in-the-pants to do something more.  Not only to do more, but to do more of what I love." (courtesy of Orbit Media)
"All in all, it was the best $40 I've ever spent on a design event. It was so refreshing to surround myself with more artwork and less advertising. " (courtesy of Brian Stephens)
"I guess the concept that I'm taking away from WMC 2012 is the fact that this camaraderie in the design community is rare, and this is an opportunity to connect with a bunch of creatives that spend most of the year with their heads down, grinding out great work, but can get a change to converse with other creatives who actually know what each other is talking about." (courtesy of Brandon Rike Design)
"Overall, WMC Fest was a blast.  I met some great people, saw some incredible speakers, and soaked up all the creative energy floating around Detroit Avenue." (courtesy of Bound Custom Journals)
"Seeing, listening, tasting, and smelling creativity is exciting… it's exciting to see other people excited and inspired… it's inspiring to see the chain reaction of creativity and excitement… and that is what Weapon of Mass Creation Fest does. Even if you are a wet blanket like myself, this is an event everyone creative and non-creative needs to go to learn from and enjoy. Just the fact that people are willing to share their experiences is an invaluable gift that can be applied to anyone in many different aspects of their life. " (courtesy of White Space Creative)
"The cool thing about WMC Fest is that it's not just a bunch of Photoshop nerds talking about light effects and typefaces. The event is more like an art festival, with designers, illustrators, writers, musicians, and lots of creatives from many industries, which made it an amazing melting pot of fun and talented people. I was completely overwhelmed by the breadth of knowledge and experience among the attendees and speakers, very inspiring to say the least." (courtesy of Nick Hess)
Thank you to all the designers, speakers and, bands for their contributions and everyone that helped make this the best WMC Festever!  Thank you to all the volunteers for taking time out of their busy lives to help the fest go off without a hitch. Thank you to Todd Gauman of NEO Ventures for his logistical assistance with the fest.  Thank you to Joseph Hughes for working to deliver an amazing roster of speakers. Thank you to Jesse Sloan for securing such amazing bands and all his planning leading up to the fest.
And of course an extra BIG thank you to Jeff Finley, the mastermind behind WMC Fest, for his many hours of hard work and for bringing the city of Cleveland and the worldwide design community together.
Want to check out recap posts, blogs and photos, well click here for memories from the fest.  And check out the gallery below for more pictures from the event!
Want to see what you missed?  Check out the lineup from this year's fest:
Johnny Cupcakes
Kate Bingaman Burt
Chuck Anderson
James White
Tad Carpenter
Jeff Finley
Margot Harrington
Jennifer Daniel
Rachel Novak
Friends of Type
Nate Utesch
Tuesday Bassen
Jen Myers
Matt Stevens
Mike Kubinski
Julia Kuo
Austin Kleon
Brian Andrew Jasinski
Glen Infante
Jackie Bebenroth
Ryan Clark
These Are Things
Jon Contino
Evan Stremke
Pete Gamlen
Erin Fuller
Alonzo Felix
Joel Miller
Ryan Brinkerhoff
Go Media
Three Bears Design
Studio Ace of Spade
Sawyer Hollenshead
Garrett Weider
Fizz Creative
Vaughn Fender
Andy Hendricks
Chad Tibbits
Mike Jones
Carolyn Sewell
Eluvium
Gregory and the Hawk
Cloud Nothings
Algernon Cadwallader
Tristen
Into It. Over It.
Blueprint
Pomegranates
Cheap Girls
Empire! Empire!
Annabel
Saintseneca
Cut Teeth
Cherry Cola Champions
Hop Along
She Bears
Total Babes
Two Hand Fools
ESQ
Worship This!
Signals Midwest
Bethesda
Northwestern
Public Radio
Worlds Scariest Police Chases
Dowsing
Humble Home
Ashley Brooke Toussant
En Garde
Metavari
Lighthouse and the Whaler
Lowly the Tree Ghost
Afternoon Naps
The Nitch Pickens
Two Knights
Harvey Pekar
Communication
The Ground Is Lava
Goodmorning Valentine
First off, let me start off by saying, I am a lover of Album Cover Artwork.  And I don't mean some dump-ya-after-3-dates kinda lover, but a put-a-ring-on-your-finger kinda lover.  ;)  I have read a crazy amount of books on the subject, studied designers and artists that I love, and now I am attempting to build a shrine in their honor and using this post as my medium.
Album cover artwork has come a long way throughout the years.  We all are probably used to the computer made designs of today, but we can't forget the album cover artwork created before technology made things easier.  My attempt with this showcase, is to illustrate that album cover artwork has been awesome for decades, so check out this post for album cover artwork from the 1940s to present day.
1940s
1950s
1960s
1970s
1980s
1990s
2000s
For further reading, check out these publications:
Hi there, I'm Marissa Mele. I was recently hired as the new office assistant at Go Media and I wanted to introduce our readers to a new initiative going on at Go Media called On the Map.
By definition…
On the Map is a video series featuring the people and places that make Cleveland a creative, culturally rich, and inspiring place to live and work.
Just prior to getting hired here, I attended the On the Map (OTM) event at Go Media. I am going to write about OTM from my perspective as a fresh hire at Go Media and also a brand new Clevelander. Being new to Cleveland, and not knowing much about what was happening in the city, I was thrilled to find out I was at an event that highlighted the businesses that make this area great! As the lights dimmed and the crowd quieted, I watched a stellar series of videos that showcased some places that I had already been to and others that would then be on my list of places to check out.
How did OTM Come to Be?
I recently contacted Go Media's own Chris Comella, the mastermind behind the On the Map series to discuss how this project came to be and what his hopes were for the future of the project. In a nutshell, OTM is a video series that features different businesses in the Cleveland area and the people behind them. The videos highlight what the companies do and a little about the back story of how they came to be as well as what aspects of the city worked for and against them.
These videos engage the community by showing the cool things around town as well as informing viewers who were interested in starting their own businesses. As a new hire at Go Media, I realized the support of Chris' initiative is evidence of the firm's commitment to community building, and OTM is an ideal vehicle to engage with the people in the community that we admire and appreciate.
One of the distinguishing features of working here at Go Media is that employees are encouraged to think about personal and professional goals and are supported in fulfilling passion projects such as OTM. Part of our philosophy is to actively pursue ideas that we find compelling and to go out and achieve those goals, rather than waiting for opportunities to explore and take advantage of what is possible right now.
This philosophy extended to Chris when he began the OTM project and he was encouraged throughout the process. When I asked him about how he got the idea to start the project he responded with, "For me personally, meeting and working with people in the immediate community was something I wanted to pursue. When it came time to start planning for our yearly open-house, I saw an opportunity to do just that. Everyone was super receptive to changing the format. We wanted to sell people on the idea that Cleveland is 'on the map', and to make a point of sharing it with the world."
OTM – Go Media from Go Media on Vimeo.
Let Passion Lead the Way
Now that I'm part of Go Media it's obvious we are a different kind of design firm. We distinguish ourselves by pursuing projects that we were truly passionate about and that passion would lead to good things down the road. Chris told me that the mantra he heard over and over again was "pursue side projects." The Weapons of Mass Creation (WMC) festival, held in the summer, was another project that exemplified this belief.
The decisions about what businesses to target for On the Map came out of striving to showcase the diversity of arts and culture found in Cleveland and wanting to learn more about the businesses that were impacting the city. For Clevelanders, the video series gave citizens a vehicle to build support and appreciation for their city. For outsiders, it gave them a glimpse of the benefits of living and visiting the city of Cleveland.
I asked Chris how he felt OTM impacted Go Media and he replied with, "It would be to further show that we're a group of people who are passionate about what we do. The fact that this is a passion project, produced on our own steam, shows the kind of motivation we have to create and reach out to like-minded people."
So far, Chris' initiative has paid off and the reception to the project has been great! People have responded with "more please!" He informed me that he was already scheduling the next run of videos and was exploring some unique opportunities that arose after the first round.
I've even overheard talks of producing a feature length documentary some time in the future. Who knows what's next!
OTM – Screening 2011 from Go Media on Vimeo.
Even though I am a new member of the Cleveland community, one thing that I noticed time and time again was that Clevelanders were the biggest cheerleaders for their city and it seemed no surprise that the community would rally around something like On the Map. I asked Chris to elaborate on what in particular made Clevelanders interested in OTM and he said, "The people in this city are quick to adopt exciting things happening here. It's an unusual mix of attitude though…
The people here are quick to defend their hometown, but at the same time are almost apologetic when talking to people from other big cities.
It's like the confidence level here needs to rise above blind defensiveness, and up to a point where we actually believe in where we're at and are going. By putting videos like these all in one spot, we hope we can start to show people that we really have something going on here. To not only provide some confidence to the locals, but to also show the rest of the world what's going on here. I think Cleveland's story is becoming more and more relevant these days. Young people are looking to start their own thing now more than ever I feel like, and a place like Cleveland has a lot of unique opportunities for them to take advantage of."
Care Harder
The thing that has been glaringly obvious about this city is that the people here care about making their city better. The arts and business communities support each other and work together to make Cleveland a better place to live and a destination for art, design and of course cuisine.
Unlike the competitive vibe of cities like New York and Los Angeles, Cleveland is an actual community that supports each other and works together towards a common goal. I feel lucky to have moved to this city and even luckier that I get to work at a place like Go Media. This is a special place, unlike any other city, and community building initiatives like On the Map demonstrated how Cleveland and Go Media care about collectively building a better city.