Articles by Month:
May 2012

A little bit of background
If you're into design, you may have an interest in photography at least on a basic level or if you're like me, you love photography (I specialize in family portrait photography). Some of you may have started a passion for photography when film was still the most popular medium. Some may have just picked up photography in the last year or so now that digital is the predominant medium. Either way, there will be some helpful tips in this post for you.
We live in the era of Photoshop which makes it easy to think we don't have to worry about what the image looks like in our camera, but that does take some level of satisfaction out of the process. If you're interested in challenging yourself in the photography arena, I recommend learning to love your images SOOC (straight out of camera). Others may disagree on this, especially anyone who is extremely proficient with Photoshop photo editing, so this is purely one photographer's opinion. Feel free to decide what is best for you, but for the purposes of this post I will be sharing tips to create the best image SOOC. Cool?
1st tip – Read your manual
Seems obvious, doesn't it? Your camera comes with a manual, so perhaps it contains some helpful information? Yet, for some reason it took me quite a while to actually crack that sucker open. Why? It might have something to do with my tendency to avoid directions of any kind. If something looks simple enough I will try to put it together on my own or I will try to figure it out without consulting the directions (and no, I am not a dude).
Here are some important basics that you can learn in your manual (I will talk about these items in additional posts):
Aperture, f-stop settings
Shutter speed
ISO
White balance
Focal points
Each of these items can really help you get to a place where you are satisfied with your SOOC images.
In my case, much of what I had learned when shooting with film transferred over to digital. However, my figure it out ability reached its limit and I couldn't learn anymore just by playing with my DSLR. I decided it was time to turn to my manual to discover the best way to white balance my images (this is one area that is very different in digital v. film). Once I spent the time learning how my specific camera handles white balancing, I was once again excited to see what she (my Canon 50D) could do. In my experience, this was one important step in the process of being happy with my SOOC images. When you get to that point with your images, any post processing is minimal. The images I included here were shot in full sunlight with the ISO set at 200 and the f-stop set at 18. The white balance and exposure were spot on, so the only post processing I performed was slight hue/saturation and curves adjustment and increased sharpness. We'll discuss ISO and Aperture more in the next post, so bring on the questions!
What have you done to improve your knowledge of your camera? Is your manual your best friend? Or are you still trying to figure out how to get out of auto mode? Let's chat!
Jeff spoke to one of our clients, Lauren at Disciple Clothing, and asked some questions about her experience running an apparel company. Here are her responses, enjoy!
Can you tell our readers about Disciple, how it started?
Disciple started with a vision to bring faith based designs into mainstream fashion.
What are you working on currently?
I just finished up an entire children's line ranging from sizes 6m-youth sizes. I have been branching out into retail establishments and selling wholesale to expand marketing the line. I revamped my website to include some lifestyle shots, so that people could envision themselves wearing the clothing. I recently participated in a fashion show here in NJ and have another one coming up June 1st that is set to travel around the country to other major cities!
As an entrepreneur/business owner, what do you think about the role that design plays in your business?  When did you start paying attention to design and when did you feel like you needed to hire a designer?
Design has been at the forefront of Disciple. What sets a brand above another is the artwork, quality of the product, and branding behind it. Today the market is flooded with so many clothing brands that you need something to set yourself apart from everyone else, which is the design and finishes that are used to make them.
You started a clothing line in the era when everyone seems to have a clothing line, has this been a burden or has it helped?
It can be challenging at times, but I am confident that I bring the highest quality to my customers and bring the most up to date fashion trends to the marketplace. I really can't pay attention to what everyone else is doing otherwise I find it gets distracting. The one good thing about it is that blanks are becoming more readily available and in a wide variety of colors and fabrics which is nice!
Any advice for folks either wanting to start a clothing line or those that already have one and how they can make it better?
I think people have to be realistic when starting a clothing company. It takes money to do it. I have had people who want to start a line, but don't want to put out money to do it. With the competition out there it will be difficult to start a company and be profitable considering the costs are SO high for printing small quantities of shirts. For existing business, I always find it helpful to really talk to my customers and get their feedback and make adjustments based off of that. Otherwise, I would say to stay true to your brand and not try to chase after every new thing out there.
What has your experience been working with other designers?
I have been very blessed to work with a lot of great designers. I always look at portfolios of different designers. For my line, I like different looks, so I use different designers based on their style of work.
What do you like/dislike about working with other designers?  What are things that you think could improve the process?
I think the most important thing is for designers to understand the brand they are designing for. This helps with a lot of design issues. For the most part I love giving a designer a concept and then see what their interpretation of it is! Sometimes it can be frustrating when you are communicating a design and it's not exactly what you expected, but for the most part I've been very happy with all the design work I have contracted out. One final thought is taking a design to actual print can sometimes be a challenge! It can look great on a mock up, but when the printer looks at the design sometimes it cannot be printed like you are thinking due to size, print location, etc…so I feel it is important for the designers to have an understanding of what type of media the design will be going on and design accordingly.
What are your plans for the future of Disciple?
In the future, I plan to branch out more into the wholesale markets to get Disciple's brand awareness out in the retail markets. I also plan to do more social media advertising and continue to do grass roots marketing as I have done already. I am working on some new accessories and a denim line to complete what Disciple has to offer to it's customers. Above all else, I strive to provide the latest fashion trends along with the highest quality!
First off, let me start off by saying, I am a lover of Album Cover Artwork.  And I don't mean some dump-ya-after-3-dates kinda lover, but a put-a-ring-on-your-finger kinda lover.  ;)  I have read a crazy amount of books on the subject, studied designers and artists that I love, and now I am attempting to build a shrine in their honor and using this post as my medium.
Album cover artwork has come a long way throughout the years.  We all are probably used to the computer made designs of today, but we can't forget the album cover artwork created before technology made things easier.  My attempt with this showcase, is to illustrate that album cover artwork has been awesome for decades, so check out this post for album cover artwork from the 1940s to present day.
1940s
1950s
1960s
1970s
1980s
1990s
2000s
For further reading, check out these publications:
Lately we've been noticing a lot of watercolor inspired designs floating around. Watercolors have been around a long time and have made their presence known in everything from fashion to stationery design and everything in between. It seems to be making a reappearance in the design world and can be seen in advertisements, packaging and website design. Maybe it's because of spring's arrival or just because of its timeless qualities, but many designers are experimenting with watercolor.
Where have we seen this trend?
Watercolors have been seen in many places lately and used by some big names. Some examples we've seen have come from Hillshire Farms, The Heads of State, Herbal Essences and the Discovery Channel's show 'Deadliest Catch'. With these big names experimenting with these trends,  you shouldn't miss out on the opportunity to try them out while they're still hot.
'Solo' Book Cover by 'The Heads of State' in Philadelphia
The design shop The Heads of State created this beautiful book design using watercolor as the background. The watercolor bleed is subtle on the background, but used strategically can bring emphasis to certain parts of the design. There is a faintly darker stain right around the author's name, which highlights it and brings it more attention.
_____________________________________________________________________________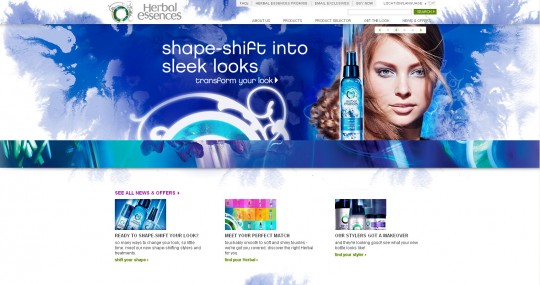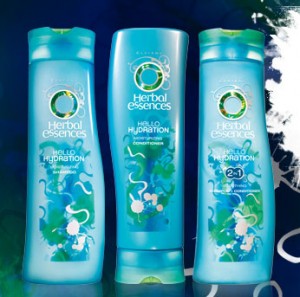 The Herbal Essences website uses a large blue splash of watercolor in its background. There is some variety within the hues, but it is mostly a dark blue. The watercolor design also changes as the main ad on the page changes. This watercolor feel is also carried into some of their packaging, as seen on the 'Hello Hydration' bottles. This helps streamline their campaign by integrating their packaging with the overall design and feel of their website.
_____________________________________________________________________________
This ad campaign for the Discovery Channel's 'Deadliest Catch' is a great example of integrating the watercolor to be part of the design – not just a background or decorative element. Plus it's especially appropriate because it relates to the real water and waves that are seen crashing down on the crew. Creative Overflow did a great case study on the process of creating this ad. See it here: http://creativeoverflow.net/discovery-channel-deadliest-catch-case-study/
_____________________________________________________________________________
Boompa (music blog )
If you really want your watercolor designs to shine, this website is a great example. The main focus of this site is on the vibrant and creative little illustrations using watercolor. This would be a great technique for illustrators to experiment with. Now, these watercolor designs look like they were created and customized just for this site, so creating something similar would require some actual watercolor work. That doesn't have to be difficult either, just make sure you have a plan. Sketch out your design until you have it just right, and then start painting with the watercolors. I'll go over some tips later on how to create some of your own watercolor textures.
_____________________________________________________________________________
The Hillshire Farms commercial is an animated video of watercolor illustrations mixed with real photos. You watch as scenes of food are painted to life. The background is a soft cream, which is a perfect base for the watercolors. These great illustrations are painted in with watercolor but are defined with darker drawn outlines, helping them stand out more.
_____________________________________________________________________________
This fashion website uses a feminine pink and orange combo as the color scheme for its watercolor background. You can see some of the watercolor paper texture through the paint, which makes it much more interesting and not so flat. There is even a light wash of pink over the whole thing, so it doesn't just turn to white. It makes up the whole background rather than just being an element within it.
_____________________________________________________________________________
The Croquis (personalized fashion illustrations)  – This website uses a big block of watercolor as an element in the background. There is also a faint trace of watercolor on the top of the site. Each page of the website changes the color scheme of the large watercolor block, making each page unique. This is a beautiful way to use watercolor and it's integrated well into the design of the site.
_____________________________________________________________________________
Sasha Prood lettering – One technique I love that uses watercolors is Sasha Prood's watercolor lettering. Sasha uses watercolor textures in hand-lettered typography, which makes the lettering even more beautiful and unique.
_____________________________________________________________________________
Special K Campaign  'What will you gain when you lose?' design by Nomoco
Not too long ago, Special K launched a campaign that used watercolors as the main design theme. This is an example of an ad where the design consists mainly of a watercolor illustration. The artist Nomoco uses overlapping and transparent colors blending together to create a beautiful and soft design, resembling a bird. Some watercolor elements of the campaign can still be seen in a few places, as in here on their website: http://www.specialk.com/Promotions/WWYG#
_____________________________________________________________________________
Bear by Alvaro Tapia Hidalgo
This is an art print on Society6 by a graphic designer and illustrator based in Granada. It combines minimal geometric shapes and some type on top of a few splotches of organic watercolors. The watercolors are vibrant and messy and start to run into each other creating an interesting look. The artist's pairing of watercolor is unexpected here and balances out the emotion of fear that the bear's face imposes on the viewer.
How to use watercolors in your designs
One important thing to remember when creating watercolor inspired designs is balance. Watercolor designs seem to be most effective when used with the mindset 'less is more.' Traditionally, watercolors have been intended to be soft, subdued, and give a calming feel to a design. However, if you want to try loud & crazy, vibrant watercolors, go for it! Be creative, see what new spin you can put on this classic technique. Often times, they are a great background to display text and other images on. As I showed in some of the examples above, simply placing a watercolor texture in the background of your website will change the feel of it. But it's always good to integrate it into other areas so it feels cohesive. In other instances, a big colorful watercolor might be the main focus of a design. This is shown in the 'Bear' print. You might become really inspired by watercolors and want to create a design based solely on that.
Techniques to create watercolor designs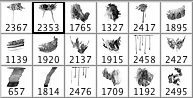 Brushes
There are many ways that you could go about creating your own watercolor designs. One way would be to create or download watercolor brushes for Photoshop. Brushes take a little more time and have a similar trial and error process as when using real watercolor. You can set the brush to a lower opacity and paint just as you normally would with a brush. This technique will be even more effective if you use a background that looks like watercolor textured paper or a stained paper. Here is an example of a stationery design I created myself using a stained background and watercolor brushes.
Textures
Another approach you could take would be to use photos of watercolor textures. You can use these in a variety of ways.
Simply take a colorful watercolor splotch and use it as the background for your design. Experiment with layering different textures on top of each other and change the layer states to things like 'Multiply', 'Darker Color' and 'Lighten' to come up with different results.
You can also change the blending modes on a texture while it's on top of a picture. This will give your photo an interesting watercolor effect on top. Try adjusting the opacity to make it even more subtle.
You can change the intensity of the color by saturating it, or if you don't like the color scheme it's in, change the hue in the hue/saturation panel.
To fill a shape with the texture, make the shape on the layer of the texture using the pen or marquee tool. Once you have the shape you want selected, press CTRL + SHIFT + I to select the inverse selection, & delete it! (com + shift + i on a mac)
One interesting effect to make the watercolor more intense is to place the texture layer over a black background layer. Set the watercolor to 'Linear Light' or 'Hard Light' and it instantly appears more vibrant.
Create your own textures
If you want to get really 'hands on' with this technique and use something that isn't out there, you could try creating your own textures. Watercolor designs are different every time, so you will come up with something all your own.
Here are some tips on how to do it:
The main thing is if you're creating a design, have an idea of what kind of watercolor texture will suit it best. Look around the internet for inspiration and find something similar to the kind of texture you want. This will save you time rather than you having to painting a bunch of watercolors and then trying to fit one of those into your designs.
Get some watercolor paper – the thicker the better so it doesn't warp as much. More textured paper will help your watercolor look more authentic.
Get a variety of watercolor paints. The more colors you have, the less you will have to mix paints to create unique colors. Your textures could get boring if your designs are limited in color.
Have a few different brushes. A big fat one, a medium, and a small one are probably all you need. But you can really experiment with different techniques if you try different brushes, like a fan brush.
Start painting. Just get a feel of how the watercolors work, and how much water you want to use. Set aside a few test sheets so you can experiment.
If you really want that flowing or drippy watercolor look, first take your big brush, dip it in water and paint a big square swatch on the paper. Putting water down before you apply color will help it spread better. Then dip your smaller brush in water, load it with some paint, and apply it with some pressure onto part of the paper. The color should start to spread out, so you could let it work on its own and see what design you end up with, or you can keep adding paint to other sections. It's especially interesting if you add a few different colors at once and see what happens when these colors bleed into each other.
Once you have some designs you like, you can scan them into the computer. Set the resolution to 300 dpi or higher (I set mine at 600) to get even bigger images. Here you can also play around with the 'Histogram Adjustment' or 'Levels' if your scanner allows it. If you lower the middle greys and the highlights, it should blow out some of the background texture of the paper to a bright white. This way it doesn't include the texture of the paper around your design. You also still want the colors to be vibrant and not fade, so don't lower it too much. If your scanner doesn't allow you to do this, you can always do it in Photoshop after you scan them.
Crop the design so any extra paper around the border is gone and you're pretty much done! You can start using your textures the way I described above.
While creating your own watercolor textures could be a fun break from working on the computer, not everyone has time to take a whole day and paint. Coming up with the right design, scanning it in and editing can take some time, so we want to let you know that we've already created some awesome textures for you. They are available
here
for purchase and download…making your life easier!
Happy watercoloring!

Ask A Pro at the 2012 WMC Fest
This year's WMC Fest will feature an "Ask A Pro" table where students, young designers and freelancers can have their design industry questions answered. The table will feature a number of local creative leaders that have years of experience and insights to share with you. So, bring your portfolios, bring your questions and most importantly – bring your passion!
What: Ask A Pro: Portfolio Review and Industry Insights
Where: Saigon Plaza, 5400 Detroit Ave., Cleveland, Ohio 44102
When: Saturday and Sunday June 9th & 10th
Time: Noon – 2pm. *Only 2 hours each day!*
Subjects covered: Portfolio Reviews, Design Tips, Illustration Instruction, Tips for Getting Hired, Legal/Accounting questions, Freelancer Business Questions, Layout tips, Art Direction,
The Pros
William A. Beachy, President of Go Media Inc.
William is a lifelong illustrator, professionally trained graphic designer and serial entrepreneur. William earned a Bachelor's of Science in Industrial Design from the Ohio State University. Upon graduation he started Graphic Odysseys, an illustration studio. After two years, he took a job with Cleveland Coin, where he worked as lead designer, webmaster and assistant to the marketing director. In 2000 William re-launched his company with a focus on design services. In 2002 Graphic Odysseys merged with Next Level Multimedia to become Go Media. Over the last 10 years, as president, William has grown Go Media to 13 employees and purchased a warehouse office in Cleveland's historic Ohio City neighborhood. Their web properties include a successful design blog, a project management system, a design mock-up application and a store of digital products which boasts over 75,000 customers. Go Media's design clients include American Greetings, Adobe, Progressive, Jim Beam and Ubisoft.
Bill's areas of expertise: Illustration, Branding, Adobe Illustrator, Print Design, UI/UX Design, Ergonomics, Web Design, Business Strategy, Business Management, Entrepreneurship, New Business Development, Brand Strategy, Social Media Marketing.
Connie Ozan,
Connie is the founder & creative director of Twist Creative Inc.
Todd Saperstein
Todd is the Graphic Design Department Chair, Digital Media Department Chair Virginia Marti College of Art and Design.
[He] is a graduate of the Cleveland Institute of Art with a Bachelor of Fine Arts Degree in Illustration. He recently completed his Master of Arts Degree at Full Sail University in the Education Media Design and Technology program, which focused on new media and technology for use in education and business communication. He specialized in virtual learning environments and social networks, both personal and professional.

Charity D'amato


A graduate of Syracuse University with a BA in Communication Design and Art Education, Charity is the founder of Chartreuse and works alongside each and every client to ensure the best experience and design outcome. "I really adore the fact that I get to come to work everyday and be creative." If she had to pick her favorite typeface is would be Mrs. Eaves and the more glitter in a project the better. Charity is a Cleveland Bridge Builders graduate as well as the 2010 Inside Business Athena Young Professional Award Winner.

Weapons of Mass Creation Fest: J-25
Ladies and gentlemen, Weapons of Mass Creation Fest 3 is less than a month away! This means that the frequency of Fest-related content published here will slowly but surely increase in the next couple weeks. We'll be introducing the speakers, designers and bands that will be part of this exciting adventure.
Music, music, and more music!
Today, we want to share with you a solid preview of the bands you'll be able to hear this year. Like last year, Jeff contacted the bands that will be playing to put together a sampler album. It's available to download for free on Bandcamp! How cool is that? There are 23 tracks of awesome music on this release, ready to punch your bad mood in face and to get you pumped through your next all-nighter on that personal project of yours.
But if you don't want to download the music, you can also stream it straight from Bandcamp (or here). And if you're still not happy, we also asked the good peeps at Designers.MX to host a smaller version of the sampler.
We hope you'll enjoy this fine sounding compilation, and hope to see you all around the stages at WMC Fest!
We recently had a chance to talk with one of our clients, Textile Republic, about their business and their experience with web design. We thought you might like to read their responses…
Tell us about the history of Textile Republic and how it was started?
The concept came about from Kim's merchandise development experience. She kept running into a lack of unique and bold fabrics. Most lines had become stale and more corporate in style. Brian recommended a platform for inviting textile designers to join a community to connect the textile designers to the merchandise. The new printing technology took about two years to be developed. It now allows TR to create products on demand, and the client is able to customize the product with a unique pattern and make it their own.
At what point did you decide that good design could help TR?
Since we are a consumer facing business, and the business revolves around design, we needed a website that communicated our commitment to design. We also needed experts to help make the user process very friendly and easy to use. 'Good design is everything' – Kim Osborne Milstein.
How did you select your design firm?
We specifically researched design firms located in Cleveland. We randomly came across a website that we really liked and wondered who designed it – that's how we found Go Media.
What has your experience been working with designers?
You either have it or you don't. Designers who stay up with trends, understand what's happening in the marketplace, those are the designers who impress us. A bad design process can be like banging your head against the wall. Good designers can bring new ideas to the table. Go Media is very good at getting up to speed and knowing what we want even when we're not sure what we want. Understanding the concept, delivering a solution that fits our vision, that's what makes the process a great one.
How has good design aided you in your business?
We've received a lot of great feedback about the website. If a customer has hesitation about purchasing from a start-up like ours, when they come onto our site they can tell immediately that this is a professional company and they like what TR is about. The site doesn't deter potential customers. It's the first impression online and we have to have a solid impact.
How did the design or development process shift your goals for TR?
The process didn't shift our goals, but rather it helped focus our goals and vision.
What are the future plans for TR?
TR is always looking for emerging talent to build on the existing base of talented designers we partner with. We have some great products in the pipeline that we will be adding in the near future. Our goal is to keep a focus on the artists and give credit where credit is due. We're exploring the idea of rolling out a retail location as well.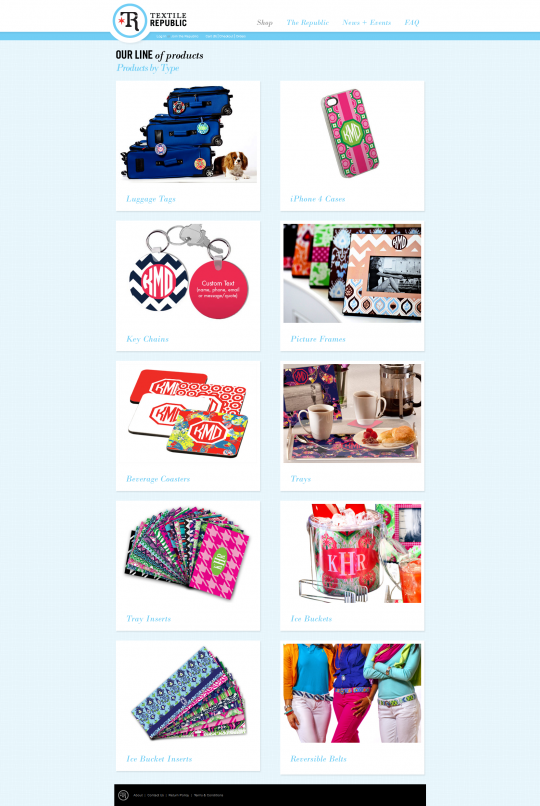 A little bit of background
What's Old and New?
Old & New is a collaborative design project based on Biblical passages. The project was created and is curated by Jim LePage and Troy Deshano.

— From the Old and New about page
That's the quickest way to present Old and New. If we read more in details, here's what we found:
About

Old & New provides a platform for contemporary graphic artists to exhibit works themed on Biblical stories and passages. It also aims to introduce a new online audience to Biblical art, attempting to replace popular, yet sometimes low-quality, contemporary Biblical artwork with the kind of accessible and honorable work that has historically been associated with the Bible.

The website will be a curated collection of single designs by a variety of international illustrators, artists and designers. The collections will be released in an indefinite series of rounds. The goal of these rounds will be to bring new light to well known Biblical passages as well as introducing less familiar (or comfortable) content.

In the Beginning…

Back in early 2010, Jim LePage began a project called Word, where he created at least one design for every book of the Bible. During the project he connected with Troy Deshano, a designer in Michigan who had a similar interest in the Bible and design. An online bromance followed.

When the two met face to face for the first time at  the Cleveland-based grassroots design conference WMC Fest, they quickly realized that they shared an idea for a collaborative design project based on the Bible. After a several months of emails, Old & New was born in late 2011.
The Old and New Project – Anne Ulku – God Creates Man for Woman
Why are we talking about it here?
Old and New is a particular project for us here. Not only does it feature some cool peeps that we know well (we talked about Jim's Word series on this very blog), it's also born thanks to Weapons of Mass Creation Fest, the design fest put together by Jeff and the Go Media team. Which is exactly what WMC Fest is all about.
The other cool thing is that they're not making $$$ from the project, as the proceeds from the sales of the first round of prints go to blood:water mission.
Jim and Troy were pretty nice and took some time to answer in a rather lengthy fashion to our questions, giving us a bunch of insight about the project. Enjoy the interview!
The Old and New project – Lisa Romero – Judah & Tamar
The interview
GoMediaZine: Jim, Troy, could you introduce yourself to the Zine readers as they might not know you?
Jim: I'm an artist/designer currently in St. Paul, MN, but soon to be in Bellingham, WA. The people on the internets who recognize my name probably know me from my Word Bible design project (which I talk more about below).
Troy: After enduring a variety of difficult circumstances through my twenties (cancer, autism, layoffs), I started a blog called Strong Odors, a magazine-style site with original content, including original editorial illustration—something which didn't really exist at that time—with the hope that sharing brutally honest stories from my own life (and psyche) might offer hope to anyone able to identify in some way. Suffering after all, is one of life's greatest binding agents.
After a couple years trying to promote myself as an illustrator I found more people familiar with Strong Odors than "Troy DeShano," so I scrapped any advertising & half the content and the site became more of a portfolio, creative outlet and brand.
The Old and New project – Cassie McDaniel – Jephthah's Daughter
Can you give me some background on the Old & New project itself, what sparked it and how it works?
Jim: In January 2010 I began a personal design project called Word. During the 2 year project I created designs for each book of the Bible. At the time, I was really getting into some of the collaborative design projects that were happening, specifically Evan Stremke's Momentus project and Dan Cassaro's State Mottos Project. As I got into the final 6 months of Word, I decided that once the project was over, I wanted to start a collaborative design project based on passages in the Bible.
I knew Troy via Twitter and we'd emailed a few times, but I finally met him face to face at WMC Fest 2011. We quickly discovered that we shared a similar vision and after a couple months of emailing back and forth about it, Old & New was born.
As far as how it works, basically we connected with 22 awesome artists who were willing to contribute, Troy picked out all the passages and did original write ups for them. We had artists choose their top 5 and then we made the assignments. We post a new design every Monday, Wednesday and Friday, with a few other posts thrown in as well. We're now nearing the end of our first round of 24 designs.
Troy: I actually have an undergrad degree in Bible/Theology, but hadn't had much professional use for it (imagine that) in many years. My faith is pretty apparent in my blogging, but Strong Odors isn't a "christian" blog. So I'm always looking for opportunities to exercise the theological part of my mind. Over the past several years I've read through the Jesus Storybook Bible a few times with my kids and absolutely love Jago's fantastic illustrations. At one point a light bulb went off, and I got a vision to create a classic book of illustrated Bible stories—only written for adults rather than kids.
After meeting Jim at WMC Fest and hearing his idea for a collaborative project, I realized if I tried doing this book myself it  would never happen. So after hemming and hawing and trying (secretly) to keep this idea "mine," I finally recognized how much better the whole thing would be if Jim just did it anyway. So I told him to take it away, and he graciously offered to still include me to whichever extent I was willing to participate.
So that was the start of what's turned out to be a fantastic partnership. I really enjoy working with Jim and our strengths complement each other so well it makes the project totally fun.
When Jim suggested that I do the writing for the project is when I really got excited about it. Rewriting these stories concisely enough for web readers has been an enormously fun challenge. Selecting just 24 passages across the entire Bible turned out to be an incredibly difficult process. I had at least three dozen options before I was halfway through Genesis! My goal was to choose passages that communicated the larger narrative of the bible somehow, while still including those weird, unfamiliar, uncomfortable tales that are fundamental to this project (but often ignored in sunday school).
In fact our commitment to Honest over Propriety is one of the core values that we took the time to write down and have really given shape to the project as a whole, including our decision to donate print proceeds to charity.
The Old and New project – Dan Christofferson – Elijah and the Prophets of Baal
Did you give any constraints to the roster of designers?
Troy: We both agreed that having a variety of voices from across all walks of faith was important to this project and to include some lesser known artists with those more popular. We also made a conscious effort to make sure that women designers were well represented.
With the guys we usually got a pretty quick "yes," but many of the women we asked were too busy. We had to literally work twice as hard to get as many women involved in the project as men.
I mention in the introduction to Michael Cina's interview how much thought we put into art constraints. I felt pretty strongly that we should limit the color palette the way Evan and Dan did with their projects, but eventually we both realized that trying to keep everything "similar" with a project of this (potential) magnitude would be a huge pain and entirely claustrophobic in the long run.
I'm glad we left it open because it's really been awesome to see the contributors employ their own styles and artistic interpretations in a way impossible if only a few color options were available.
Jim: Like Troy mentioned, we wanted to get folks with a variety of faith perspectives. That was a really huge thing for me. The last thing I wanted was to have was a project where all the submissions were from church-going artists and designers. Don't get me wrong, I'm sure that still would have been great. It's just that, and maybe this is just me, there seems to be a common mindset that the Bible is only for churchy or religious people or, even worse, that those types of people somehow "own" the Bible. I didn't want to perpetuate that mindset because it's complete bullshit.
Anyone can dig the Bible. There are a ton of amazing stories and characters that the most hardcore atheist or agnostic can enjoy and appreciate without needing to pray a sinner's prayer. Plus, artists and designers outside the religious/church system are going to be able to see these passages in a fresh, honest and unique way. And that is a perspective that folks within the religious/church system (like me) need, whether we realize it or not.
Sorry for the sermon. It's something I'm passionate about :)
The Old and New project – Andrew Lyons – Gadite Warriors
Any pieces/contributor you'd like to highlight?
Troy: I've loved every single one! Seriously I was hyperventilating with joy the night of our deadline as all the submissions were delivered. I was personally super stoked when Dan Christofferson agreed to participate, and his illustration for Elijah vs. the Prophets of Baal totally exceeded my expectations!
Jim: Yeah, I've really loved them all too. Personally, I love the experience of being surprised by art. By that I mean that the artist handles the subject in a way which I never would have thought to myself OR in a way that I would never have expected based on what I know of them and their work. In that sense, the submissions by Scott Allen Hill, Anne Ulku and Jeff Gill really stick out to me from the ones that have been posted so far. But, like I said, all of them have been amazing.
The Old and New project – Lydia Nichols – Nehemiah Confronts God
Did this curation work nurture you as a designer? If yes, how?
Troy: One of the great lessons I took from WMC Fest last summer is the power of collaboration, and that is definitely being realized throughout this project. I'm convinced that if either of us had attempted it on his own Old & New never would have happened. We needed each other to get off the ground and we needed dozens of willing contributors to really build something worthy of its nature.
Jim: Yeah, initially I was pretty resistant to working with Troy on this. Nothing to do with him, but I knew that bringing anyone else in may complicate things and make the process longer. That is exactly what Troy did, but in a way that added a ton more depth to the project. There are so many things he's added that I would never have been able to do and we ended up having very complementary skill sets. Plus, it's just been fun to get to know Troy better. He's an incredibly cool guy.
Troy: This has been a huge nurturing process for me, as I'm pretty self-absorbed and like to do my own things. Much of my frustration in my design work is around doing it all myself, so it's been exciting to see the difference it makes when you surround yourself with other individuals each bringing something special to the project. I really need to do more of that!
Jim: I don't know that I'd say the curation part has nurtured me as a designer. The growth area for me in all this is learning how to lead and curate a project that involves a lot of people and deadlines. I'll be spending a few hours creating my design for the first round, but I've spent countless more hours scheduling, communicating, planning, strategizing, etc. As weird as it sounds, all of that work has been really fun. I like the process of creating a well-planned setting where art like this can happen and be seen.
The Old and New project – Michael Cina – John the Baptist Beheaded
What's coming up next? Like, art wise and for the series itself? A store à la 50 and 50?
Jim: We've actually got a store up now. Every design is available as a print on Society6 on the same day it's posted to our site. One of our core values on the project is "Reaching Out" and we want to use the project as a way to help others so proceeds from first round print sales will be donated to Blood:Water Mission to provide safe drinking water for the village of Lwala, Kenya.
There's a lot of boring and bland Biblical art out there and I think that's a shame. No matter what you think about the Bible, you've got to admit, it's weird, violent, beautiful, offensive… anything but boring or bland. Visually, there is so much to draw from. Love, war, ancient symbolism, plus there's the whole supernatural aspect with things like angels and demons. As a visual artist, what more could you want for inspiration? Long-term, my hope is that we can do multiple rounds of Old & New, where we involve a bunch of great artists who create a bunch of awesome Biblical design and raise a bunch of money for good causes.
Troy: We've got high hopes for the future of the project. One idea is to release designs indefinitely in a series of themed rounds—like a round of miracles, one of women's stories, heroes' mistakes, visions, etc. Excited about the endless possibilities of this!
Personally I am looking for an illustration agent right now so that I can really concentrate on more appropriate client work over the next year. I'm also putting a lot of focus into my artwork—I do limited edition giclee prints in handmade frames from recycled materials, and this summer I'll be doing a series of paintings using the same methods as these frames. I'm planning a trip to Chicago and Grand Rapids to find some galleries to be a good home for my illustration prints and paintings.
Any other things you want to mention that I didn't ask about?
Jim: Neither of us have ever curated a project like this before. Early on and all throughout the project, I've connected with people who had led collaborative design projects before and asked them for advice. I know people are busy so I didn't really expect to hear back, but I ended up getting some great advice and encouragement from Evan Stremke (Momentus), Alex Greindling (Raygun52) and Eric Smith (Live Now). Evan and Eric even ended up as first round contributors (and Alex is on our list to get for a future round). I guess the lessons there are 1) it never hurts to ask and 2) people are usually awesome.
Troy: Another cool aspect to the project is the blog. We're able to share interviews and processes from our contributors, which is super rad. It also has interesting behind-the-story information like period maps and even some greek/hebrew lessons. In addition to that we're soliciting guest posts from established authors and experts in biblical fields.
A goodbye note?
Jim: I just want to recognize all the first round artists who have donated their time and their work. This project would not exist without them. Being invited to participate in very first round of a "collaborative Bible design project" is probably not the sexiest sounding thing in the world, so a big thanks to artists who took a chance on us and the project.
Another big thanks to folks who have been spreading the word about Old & New. If you like the project we appreciate any type of buzz or sharing we can get, like this Go Media interview (thanks Simon and Jeff!). In the end, we hope it leads to more awesome Biblical art and more money being raised for good causes.
You can keep up with us on Twitter, Facebook and by subscribing to the RSS feed.
Troy: Please buy prints! I visited Kenya last year and have seen the both the devastation of HIV/AIDS and the life that better access to water can bring. Rad prints for your walls = clean water for Africa. I can't think of a better win-win than that!
Links recap