Articles by Month:
January 2012
Go Media president Bill Beachy sits down to give you some daily inspiration and advice. Bill shares his years of experience building Go Media into the company it is today. Topics in this video series include Getting Started, Happiness, Humility, Patience, Flow, Focus, Productivity, Business Systems, Courage, Eating Well, Obstacles, and Creativity.
For more information about Bill Beachy, check out his bio on gomedia.us. Bill is currently accepting opportunities to speak at your event, university, or business.
View all episodes of Daily Inspiration here
Sponsored by Prooflab
The Daily Inspiration video series is brought to you by Prooflab – a client and project management app built and used by Go Media for designers.
Hope you enjoy the video!
Or download the podcast
[powerpress]
Categorized:

Business Philosophy, Design Community, Graphic Design, Graphic Design Inspiration, Small Business

Tagged:

advice, art, cleveland, complacent, courage, focus, happiness, help, humility, leadership, lull, patience, podcast, productivity, starting out, strategy, tips, Video, Weapons of Mass Creation, William Beachy

Today is giveaway day!
Hello Zine readers! We've got an awesome giveaway today for $100 in free custom stickers, from Sticker Mule. If you're a designer, the folks at Sticker Mule are good people to know. They make awesome die cut stickers, in any shape and size. And their ordering system is really simple. Just upload your artwork and they'll take care of the rest. They'll make your artwork print ready for free, and provide a free online proof with every order.
Here are some examples of what you could win: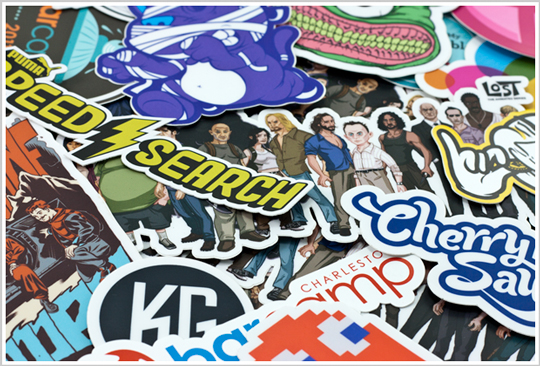 Here are some shots of their other products:
How to enter?
It's dead simple: Just comment on this post. We'll chose 1 winner at random on Monday, January 30th.
Bonus!
Sticker Mule is giving all GoMediaZine readers 15% for the next week. Just use coupon code "gomedia" when you order. The code will be valid until February 6th.
It's been about 8 months since I launched my first ebook entitled Thread's Not Dead: The Designer's Guide to the Apparel Industry. We've sold over 1,000 copies of the ebook and we recently celebrated the launch of the hardcover edition. It gives me goosebumps to think of my book sitting on the coffee tables or bookshelves of people across the country and even overseas. I wanted to take a little bit of time to tell the story about how Thread's Not Dead came to be and hopefully it will inspire you to maybe make your own book or do something you've been holding back on.
The Conception
The idea to write a book came to me after reading Tim Ferriss' book The Four Hour Workweek. If you've read it, you know how appealing he can make some of his suggestions! He makes it sound so easy. From what I recall, "all you had to do" is figure out that specific thing you know a lot about, write the book, and sell it digitally on your website. The point was to be specific. Everyone can be an expert in something right? According to Ferriss, in order to be an expert, you just have to know more than the person reading it. He also made it sound easy when he said to reach out to other experts, interview them, and use their answers as content for your book and give them a cut of the sales. He literally made it seem like the book would write itself.
Boy was he wrong though!
The Production
I totally underestimated the time it would take to produce Thread's Not Dead. First, choosing a topic for me was easy – I know a lot about designing t-shirts and have written tutorials here and made video tutorials of my process. I already had an audience that would be interested, so it was a no-brainer. An in-depth guide on everything I know about designing for bands and clothing companies and eventually starting your own line would be a natural progression. I had lots of "expert" contacts in this area from my time on Emptees/Mintees that I was one email away from solid nuggets of insight in areas I wasn't totally familiar with (like printing, retail, etc). From the very start I was amped and saw myself releasing a digital ebook in less than a month.
It took about 9 months instead.
Before I started writing, I researched ebooks. I read guides on how to make good ebooks and provide real value. I also paid $97.00 for a copy of "How to Launch the Shit Out of your eBook". That's an affiliate link by the way, but I highly recommend that book anyway. It got me seriously inspired, despite it being the most expensive ebook I ever bought.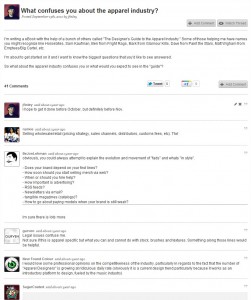 When I started writing, I kept getting ideas of what I should put into the book. What about the printing process? What about working with big bands? What about working with overseas production houses? How much to charge for my shirts? For my designs? The questions never seemed to end, so I reached out to my "expert contributors" and posted on Emptees (RIP) asking what they wanted to know the most. Of course, questions were all over the board and there were quite a few things I didn't actually know the answer to. So I had to do a lot of research and reading. If I was going to write the definitive guide to the apparel industry, I better know what I'm talking about!
What I quickly realized is there is WAY TOO MUCH that goes into the apparel INDUSTRY that I'm totally unfamiliar with. I had to admit to myself that I couldn't feasibly write the freaking bible of the industry as a whole. I was overwhelmed and getting burnt out already and I had just started writing.
But I don't give up easily so I limited my focus to just the indie t-shirt design scene where there really are awesome stories to tell. Bands and indie clothing companies made up a lot of my clientele and most of my peers from the community were just like me. I started envisioning Thread's Not Dead to be the book that came out of this scene and shined a light on the underground movement of this sub-genre of the apparel industry.
Everyone wants to know how to be the next Johnny Cupcakes. The idea of starting your own clothing company was cliche already, but the desire to do so hasn't been going away. People continue to do it and it's reached a point where having a line of tees on the side is just "another thing" that artists and designers do as part of their brand. I knew my audience was mostly artists and graphic designers, not fashion tycoons. So once I narrowed my focus, the writing became much easier.
Surviving Burnout
I tried to write the book at my desk at Go Media which included all my conveniences and distractions like Twitter, Facebook, Email, and oh yeah, clients and running a business. I'd write for 15 minutes then jump into email, then write a little more and get distracted again. Meetings, phone calls, and my general laziness sometimes got the best of me. Writing a book is NOT a short thing you can do in a couple hours, it took months of writing and editing. So I had to find tricks to keep myself focused.
Focusing Tricks
There's this other computer that we have in our office that's hooked up to our scanner. It's a really old PC with Windows XP still on it. It had no distracting apps and was away from my comfort zone, so every morning I brought my coffee and headphones to this new desk and zoned out.
I actually discovered focus apps like Focus Booster and Ambiance to create some zen-like sounds in my headphones to cancel out office chatter. My goal was to write for 20 minutes a day at the very beginning of every day before I did anything else. This worked like a charm! What actually ended up happening was I would get in a zone and end up spending 2-3 hours writing before I even realized it. I didn't even think about emails or twitter or shit like that. Sorry to swear, but seriously I hate that stuff sometimes. It's like a drug.
I did this for a few months and had Thread's Not Dead completely written in Microsoft Word. My ebook was done! Ahhh, not so fast Jeff, this looks like every other piece of crap ebook out there. That's what I thought to myself. Former Threadless CCO Jeffrey Kalmikoff told me that the book should be designed well, as it's for designers. That made total sense to me, so my work wasn't done yet!
Designing the Layout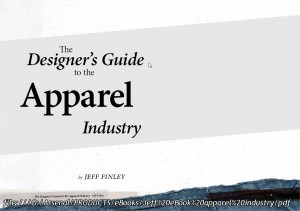 I knew the book had to look better than any ebook you've ever seen. Since I was planning on charging $50 for it, it'd better look like $50. And my design reputation is on the line here, I can't let a product with my name on it go out into the market looking like crap, so my internal quality quotient wasn't being satisfied. Since I didn't know InDesign very well, I asked a few of my peers for tips and pointers and I eventually checked out the book layout templates on Graphic River. I purchased a template which gave me a good starting point for my general layout.
I honestly won't go too in depth here because I literally stumbled my way through this process and it was really painful. I made the mistake of using low-res images because I thought it'd only be viewed on screen and not in print, but as you know I ended up putting out a hardcover edition which required a complete overhaul of everything I did. I wanted to put cool art on every page and inspire people with the images that inspired me. I wanted to make this book a work of art in and of itself. I found a local designer named Kathy Kovacic who helped me tremendously convert my ebook into a print-ready book file. The cover art was of course my favorite thing to do, which is when I decided on the name Thread's Not Dead.
Coming up with the Name
For the longest time my working title was simply "The Designer's Guide to the Apparel Industry." Which was probably ok, but I wanted a snappier name with more of a personality. Most of my favorite authors' books had shorter, catchier titles but I worried because most ebooks I know tend use a more literal "How to XXXXXX" title. So I dug deep and had a ton of different names for the book including cute ones like "Ink, Cotton, Cash" and "Don't Thread on Me" to the more direct "How to Become a Famous T-Shirt Designer" or the extreme salesy approach "How to Dominate the Apparel Industry and Get Rich and Famous Doing So."
I decided on Thread's Not Dead because it's a reference to Punk's Not Dead, the common phrase you might see spray painted on brick walls in the 80's when everyone was crying about the death of punk rock. My book takes a very DIY approach and I've been into punk since I was a teenager, so I felt like it fit with my personality. Not only that, but it was a reference to the fact that starting an apparel line has been considered cliche by many designers in the community and many consider it to be a fad. Much like punk rock was in the 80's. But the truth is, we're seeing the democratization of the apparel business just like we've seen it in the music business. Personal t-shirt lines are popping up everywhere and we'll all eat our words in the next decade as the t-shirt still hasn't gone out of style.
Selling the eBook
When the book was finished, I had to come up with a plan to sell this thing. We already have a platform on The Arsenal to sell digital files, but I wanted to create it's own site dedicated to it. One single page with the sole purpose of selling the book. With my knowledge of designing landing pages to sell products, I knew we'd get more sales this way than simply uploading it to our crowded storefront on the Arsenal. So I designed the site from scratch and used ejunkie to handle the payments and deliver the digital files.
Prior to launching the site, I created a temporary landing page with LaunchRock to build an email list of people interested in buying the book. So when I launched the book I'd have people already waiting to buy. This is a good plan when launching any product, an ebook especially. Don't just launch your ebook without any sort of pre-launch hype or promotion. All this stuff is discussed in that How to Launch the Shit Out of Your Ebook guide I linked to above. Without reading these tips I probably would have rushed the release of this thing and not made as much of an impact. In fact there are lots of things I am not doing and have never done because I simply don't have time to write accompanying blog posts related to every section in my book or guest post on apparel industry related blogs. I try, but there is only so much time in the day. But if you make your ebook, these are good strategies to keep in mind!
The Audiobook and Extras
One thing that makes digital products cool is you can bundle it with other digital files and provide extra value. If I was going to charge $50 for this ebook, I'd better make it worthwhile. So I grabbed a bunch of our Arsenal products like vectors, textures, and t-shirt mockup templates and bundled it with the book. In addition, I spent the time narrating every chapter to create an audiobook version. (my preferred method lately for consuming books) My colleague and former-bandmate-turn-sound-engineer Adam Wagner recorded and edited it for me and my buddies in the pop punk band Spraynard let me use their music. Some have told me they've listened to the audiobook over 5 times and it continues to inspire them. This makes me happy because that's how I feel when I listen to some of my favorite authors. I love hearing from people who valued what I had to say and I love even MORE to see people make cool stuff as a result. Anyway, I digress…
The Hardcover Edition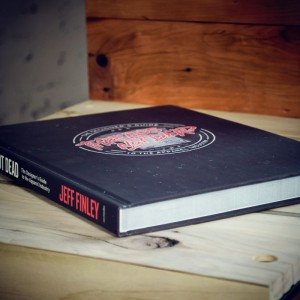 Digital products are great; they have no overhead and can be sold a million times over without having to make more products. Isn't the Internet amazing? But the design of the ebook felt much more like a print book in digital form, so naturally I got lots of requests for a hardcover version. My first answer was to tell them no, it's not in the plans. But the more I got requests from readers, the more I considered it. I even had some good twitter conversations with Laurence King, a publisher of some of my favorite design books. In the end LK chose not to help me produce and distribute a hardcover because I had already released the content via ebook and it would probably kill their sales. That seemed completely reasonable and they were super cool regardless, but this answer inspired me to look into self publishing options.
I poured over reviews of Lulu, CreateSpace, Lightning Source, Blurb and others. It was exhausting and my new friend Kathy Kovacic was very helpful in helping me decide. Ultimately we ended up going with Lightning Source because they had the largest distribution network for print-on-demand book publishers. Honestly, working with LS was kind of a pain because there was a lot of paperwork, contracts, and red tape. However, they produce an amazing quality hardcover and get my book major online retailers like Amazon, Barnes & Noble, Books a Million, etc. They also allow those big-box brands to order books wholesale to stock their brick and mortar stores. The book has an official ISBN number and could potentially get on the NY Times Best Seller list if it happened to sell a million copies :-).
Now the downside to all this stuff is that the profit margins on the hardcover book are extremely thin. I was already selling my ebook for $50, so it didn't make sense to sell my hardcover for anything less. But anything more seemed like too much for a book! In this case, $50 was pretty much the minimum I needed to charge in order to not LOSE money on sales because of the high production costs of print on demand, shipping, and wholesaler discounts. It's a crazy world of publishing, I must say.
The Launch Party
In October 2011, we decided to host an official launch party and book signing at local indie book store Visible Voice Books here in Cleveland. I was joined by TND contributors Adam Hendle of I Am the Trend and Brandon Rike in addition to local inspirations Steve Knerem, CLE Clothing, and Glen Infante of iLTHY. The video at the top of the post sums up the experience, which was kind of like an odd dream come true. I never really dreamed of writing a book, it just kind of happened.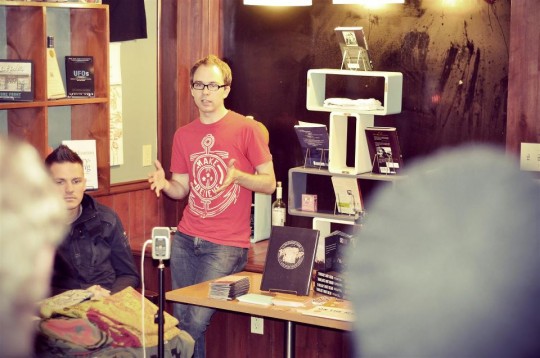 The Future
I plan on writing more books. I have to. I need to put all the things I learned writing Thread's Not Dead into practice and do it better next time. The next book I write will likely be about what inspired me to create Weapons of Mass Creation Fest and how this energy has inspired others in Go Media to pursue initiatives like Bad Racket, 2nd Shift, and now On the Map. It will be about being a creative entrepreneur and about our passion for building community around the things we love and making them work together. I'm not sure when that will be, as right now my focus is on redesigning the websites for Go Media, The Arsenal, and GoMediaZine to reflect these ideals.
Wrap Up
I hope this has given you a good look into what it was like making my first ebook. And I hope this has inspired you to perhaps make your own or start something fresh. If you want to buy my book, you can over at threadsnotdead.com or if you want, get the first chapter below:

Written & Designed by: Raji Purcell
Edited by: Jon Savage
Alex Cornell is a man after my own heart, and one I look up to. A young, modern, renaissance man whose creative branches reach not only to design but to film, photography, writing, music, and entrepreneurship. Alex's work has an incredible level of cohesiveness that spreads through every medium he touches. His success made all the more sense after listening to his talk, and the great amount of wisdom he had to share.
Heres what happened:
When introducing himself, Alex told the audience he used to be a psychologist with the goal of becoming a very famous musician. And as many other designers do, he found his way to design through music and bands. He spent a lot of time trying to become a famous musician, and did a lot of design work along the way. In San Francisco he met Scott Hansen and began writing for his design blog ISO50, helping run his studio, and starting a print shop together.
After discussing his history and showing us his work, Alex started his talk by comparing our lives as creatives to being in an adventure video game named Kings Quest 6. Along your journey you constantly find things that you put into an infinite backpack of storage. Maybe some you don't need now, but look like they might come in handy later.
This acts as a very good metaphor for Alex's theory of storing "kernels of advice". You may know that it resonates with you now, but may not know how to use it yet. However you can go back and use it in the future. With this in mind Alex planned to share with us the things he'd found through this theory.
Be Ready:
The first kernel of advice Alex shared with us was one given to him by Chuck Klosterman, a pop culture author Alex admires. While Alex was attending his talk at Duke, an audience member asked Klosterman how he reached where he is now. Alex was surprised at his almost annoyed response, when Klosterman said "That's the wrong question to ask. I can tell you how I got here, I can tell you exactly what I did step-by-step. I can write a book about it, I can tell you every single thing that you need to do, if you want to do what I did. But it'd be futile because it'd be impossible to replicate some of the serendipitous moments that happened to me along the way".
Instead, his advice was just two words: "Be Ready". This may seem really basic, but it's of the utmost importance. At any point in your career you need to be ready to show your stuff. If you're a musician you'd want to have original songs recorded and ready to let someone listen to. You never know who you might meet thats a fellow musician or has big connections.
Being ready will allow you to seize any opportunity that arises. Alex thought to himself "I'll have my portfolio, I'll have my online presence, I'll have all of that ready to go. I'll have my business card in case I meet somebody. If one of those crazy things happens I'll always be ready to take advantage of it". Feeling that was really important. Alex took it to heart and feels that it's helped him out often throughout his career.
The Ever-Illusive Mentor Relationship:
For Alex his mentor was Scott Hansen at ISO50, whom he felt taught him more than school ever did. However Alex says that this desired mentor relationship is a hard thing to come by because its a mutual relationship. Scott Hansen is a successful musician and designer and Alex wanted to be the same, so the only way he could think of to do that was to work with him.
"For young designers especially, [a mentor] is a great thing to look out for, and if you're already an experienced designer, its the kind of thing where you should be aware you really could make a difference in someone's career by participating in that way."
In school, everyone can be really nice; people can be almost too nice. Alex experienced this when he began design school. This was an experience I could relate to when I went to a smaller college, and that radically changed when I started attending art school.
"It drove me crazy, because I would come in having no idea what I was doing. I put a piece of work up, and I knew it was terrible. I could look at it and tell you it was horrible, because I either hadn't spent a lot of time on it, or it was the first thing I'd ever done. And people would look at it and say 'Yeah looks good. I like the color blue, that's awesome'. I'd be so frustrated because I was trying to learn and the critique I was getting was so timid and so nice. And while that felt good, I wasn't learning at all. So I said 'how can I fix this?' I will try to critique as I would like to be critiqued. So I started saying 'Wow that sucks a lot. That's terrible'. Then suddenly I'm the asshole. Everyone says 'Woah, woah, calm down! What's your problem?'. Then I say 'No no no, it's bad because that color doesn't go with this color, and that typeface is Papyrus'."
It's more important to be more helpful to be more forward and more honest because it's just going to help.
The Taste & Ability Gap (Doing More Work)
In art school Alex spent a lot of time doing personal projects. A practice passionately backed by every speaker at Weapons of Mass Creation. Even if you have a 9-5 job your hours spent after work or school can be extremely valuable for doing personal projects.
"When I say personal projects I don't just mean freelancing, I mean using the time that you have to do something completely insane. I mean that in the truest possible way; something completely fucking crazy. Because that's what gets noticed. That's what I want to write about when I'm looking for work to put on the blog. I will say, that I spend a lot of time these days scanning those portfolios and looking online. And I'll spend sometimes hours looking for someone to write about. It's not that easy anymore to find, and it's because not that many people I think take advantage of having the time to do something completely nuts."
Alex gave a piece of advice that hit home, as I'm a design student and someone who is going to be looking for a job soon. In school, it is important to benchmark yourself outside of your school's community. For the people that have a job, they should benchmark themselves outside of their office walls. You should really be benchmarking yourself against is the work of the people you respect, and yourself — A sentiment I can agree with fully.
Your school is such a small microcosm of the design world, it's rather short sighted to care about being as good as people there. In the arena of design education you see a lot of students only caring about their grades. This makes sense in any academic environment, you want good grades, and maybe your parents that put you through college want that, too. And it's hard to separate yourself from the mentality that having an A means your work is better than someone who got a B. However in design school grades really don't matter. Alex attested "I've been to a lot of interviews and I've interviewed a lot of people where the last thing on earth thats ever looked at is their grades. The title MFA, or the title BFA, GPA, any of that stuff, doesn't matter in design at all. It's all about your work and portfolio".
Alex told us his favorite piece of advice he's ever heard that came from Ira Glass (This American Life). Summing up Ira Glass' advice; when you start out a creative field you're probably doing so because your taste is pretty good; however, your ability to make things that match up to your taste falls short. This can be very frustrating because your work usually wont be very good when you start. This can be very discouraging, however the most important thing to remember is that this happens to everyone. At least for a couple of years, maybe even longer. The only way to rectify the taste and ability gap is to just do a lot of work. It's important to realize the gap exists and to figure out what you can do to fix it.
Alex gave an anecdote about his process of creating:
"These days when I like something I'll usually like it for probably about two weeks. I have, kind of like a decreasing return on how much I like my work. The longer I like it the better I think it was. Some things I'll say 'wow that's amazing' then I'll come back two hours later and actually it's terrible."
He further gave the advice that if you become really specific and dissect what isn't working about what you're not satisfied with, and if you find out what it is that you really like about work that you admire, you can improve your work significantly.
A great set of three kernels of advice. Ones that I kept with me ever since leaving Alex's talk.
There are some great questions and answers at the end of the bootleg recording that get a bit too wordy to transcribe. Give it a listen, download at the link below.

Listen to the Talk
As I watched every talk, I kept Garage Band open on my MacBook and recorded everything I could. The quality of the mp3 below may not be the best, but you can get an idea of what it was like from my perspective in the front row. Bootleg version!
[download#82#nohits]
Written by: Scott Strohmaier
Advertising a car in these hard economic times can be very challenging, so creating a magazine ad that will effectively sell an ambulance might be deemed an impossible task. That is, unless you're Vetor Zero — an award-winning commercial animation studio in São Paulo, Brazil.
When Vetor Zero got the job of helping Fiat sell their ambulances, they knew the ads had to be something special. The car company's ambulance line was about to be announced in a Brazilian magazine and it was Vetor Zero's job to help them do it in a way that grabbed people's attention. Daniel Sian, a 3D generalist/illustrator with Vetor Zero brought the ads to life using a combination of software. Maxon's Cinema 4D was used for modeling, lighting and rendering. Sculpting was done with Pixelogic's ZBrush and Photoshop was a key post-production tool.
Layouts created by Leo Burnett's Brazilian office made clear the benefit of Fiat's ambulance line with the slogan: "You never know how big the problem will be."
After receiving the original conceptual layouts from Chicago-based Leo Burnett's Brazilian office, Marco Furtado, the illustrator working with Vetor Zero on the project, developed new concepts based on the original idea and proposed improvements. With both ambulances and hospitals not being particularly funny, the creative team opted to focus on ways to convey the benefits of ambulances, says Sian, who joined Vetor Zero in 2010 after being the lead Cinema 4D instructor at Brazil's CAD Technology Sistemas, (a Maxon distributor) for several years. (See more of Sian's work here)

Illustrator Marco Furtado expanded on the agency's original ideas and enhanced the look with color and detail.
"The illustration and advertising market in Brazil is promising for good professionals and after some years of studying, I decided to venture into the market, combining 3D techniques with my previous experience as an artist focused on drawing and painting," he says.
Base meshes for each concept were modeled in C4D and exported to ZBrush, where they were sculpted.
The making of an award-winning campaign
As the team mulled over the possibilities for the Fiat campaign, they started asking themselves what some of the funniest examples of mishaps and accidents that could possibly happen in real life might be. A guy gets his outstretched tongue stuck to a giant slab of ice. Another guy somehow jammed his head into a cannon, and a kid (going after a ball) gets his head stuck in the bars of a metal fence. Artfully drawn, modeled and executed, the project's humorous outcome earned Vetor Zero one silver and two bronze awards and Cannes Lions, as well as one bronze Clio Award in 2011. (Check out Vetor Zero's site)
Once the artwork was approved by the agency, Sian led the CG creation while Furtado handled art direction. (See more of Furtado's work here). In order to match the modeling to the original concept art as closely as possible, a locked-off camera was used in conjunction with the concept images in the actual Cinema 4D viewport. "The modeling was all done by switching between the fixed camera and the editor view to assure a good match to the art," Sian explains.
Vetor Zero CG artist Daniel Sian used Cinema 4D for modeling, lighting and rendering on the Fiat project. ZBrush was used for sculpting, and Photoshop for post-production.
Sian used ZBrush intensively for the first time while working on this project. "That was biggest challenge because I had to generate a texture for the models as if they were handmade of clay or something," he says.
But before moving the mesh to ZBrush for refinement, Sian created the basic polygon models in C4D and prepared the quality UV maps that ZBrush requires. Sian had some experience with Headus' UVLayout, since it is widely used by VetorZero. But for this project, BodyPaint's UV tools proved to be the best choice.
ZBrush was used to create the soft clay-like surfaces Sian used to match the concept artwork.
Because the models were high resolution, each one was broken into sections to make working with them easier. Models were then exported to to ZBrush where the complex surfaces were refined and sculpted. Once back in Cinema 4D, Sian started experimenting with Displacement and Normal values so the models would be exactly the same in appearance as they were in ZBrush.
In the final image,  ZBrush texturing and C4D's global illumination work together to create the illusion of a real-life clay model.
Finally, the scene was rendered with Global Illumination at very high resolution, and C4D's multi-pass render feature was used to get the various passes necessary to have broad latitude in the post work done in Photoshop.

Final compositing was done by Sian and Furtado with colorization by Andre? Souza and Claudio Di Bernardo.
Because there was literally no scenery, Sian's only choice was to enhance the lone character in each ad. To make the absence of scenery irrelevant and heighten each character's highlights, he enhanced the lighting that Furtado proposed in the rough. When talking about the attention the campaign has received, Sian is quick to emphasize that it was only possible through great teamwork. In particular, he credits Furtado with whom he worked closely for the duration of the two-month project. "I'm very happy we won the awards, which were the result of a lot of hard work and dedication," Sian says.
Scott Strohmaier is a writer living in Los Angeles living with his wife and son.

A short introduction
This summer I released an eBook called, The Wall: Modern Day Music Posters. It contains some of the posters seen below, with 91 designers contributing some of the best posters of the last 3 to 4 years. But coming up with 100 of the greatest music posters was no easy task. First priority was to narrow the range down and focus on the last half a decade; otherwise it would be impossible to ensure any truly great posters weren't missed out. There's no shortage of books available that cover older posters many times over. Secondly, I needed to acknowledge that these will be based on my own opinion and personal taste in poster design. Nonetheless, I had to try not to let my attraction to certain posters be the sole reason they are a part of this list.
What is a great poster?
A great poster is one that makes you kick yourself that you didn't or couldn't think of an idea quite like that. Where no matter what the band is and your previous feelings towards them, you cannot help but enjoy the visual feast that they have more than likely commissioned for us to enjoy. But a great looking poster isn't necessarily a successful one. Music posters need to put their message across and put it across well. Whether it's advertising a gig, a tour or a new album, you need to get the information across to the viewer quickly and clearly. While putting the book together, I came to see that to do a great music poster you don't necessarily have to be a seasoned professional. Even some newer, up and coming designers can get it just right as long as they know what they are doing. But being an experienced designer in the field does help, as a lot of the posters below will testify.
Personally, I find that some posters, while the idea behind it might not be groundbreakingly original, can still look fantastic. When the imagery and type come together and are done just right, either in a subtle or plainly obvious way, in theme or color, it can turn a good poster into an amazing piece of design.
The selection
Here are 100 examples of the amazing work being made from around the world today.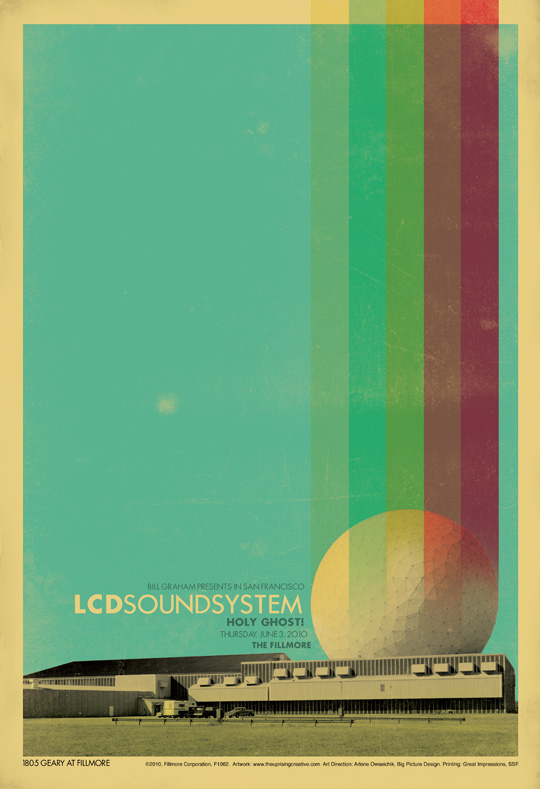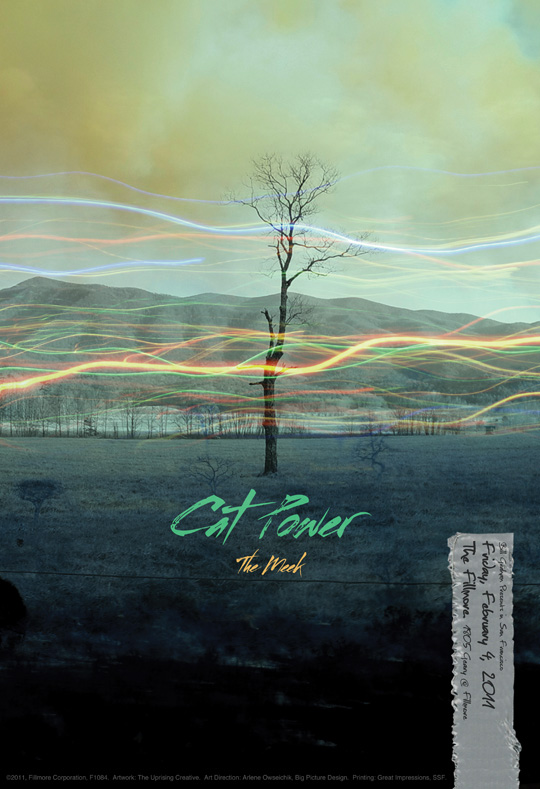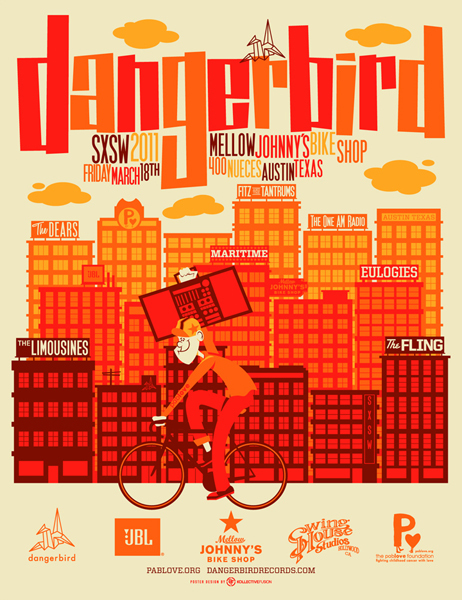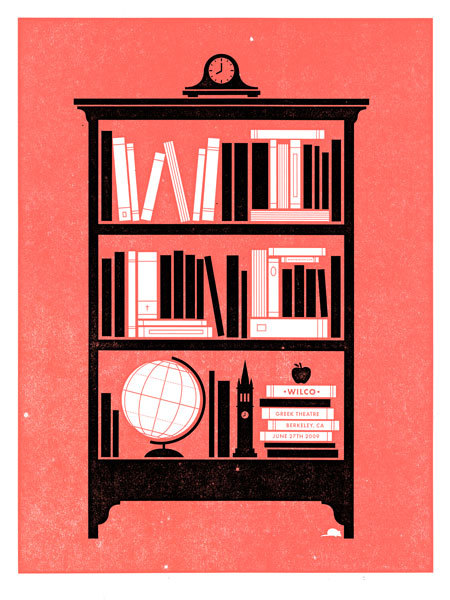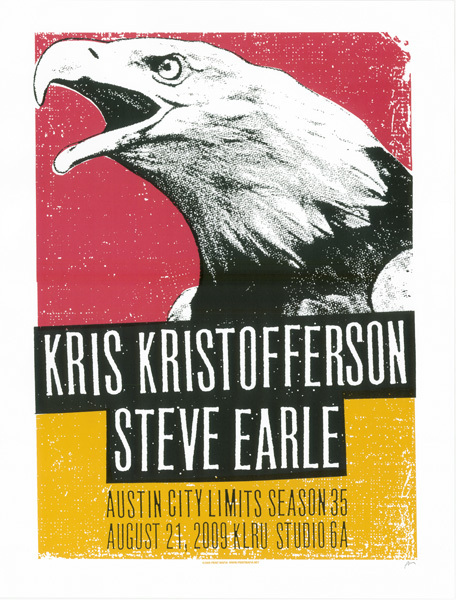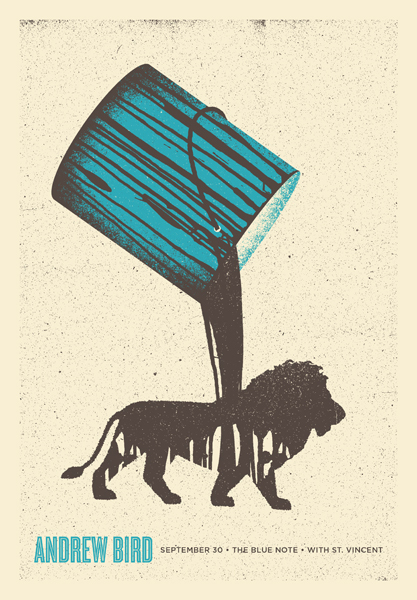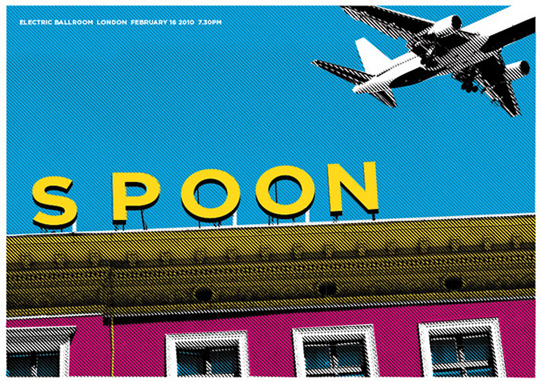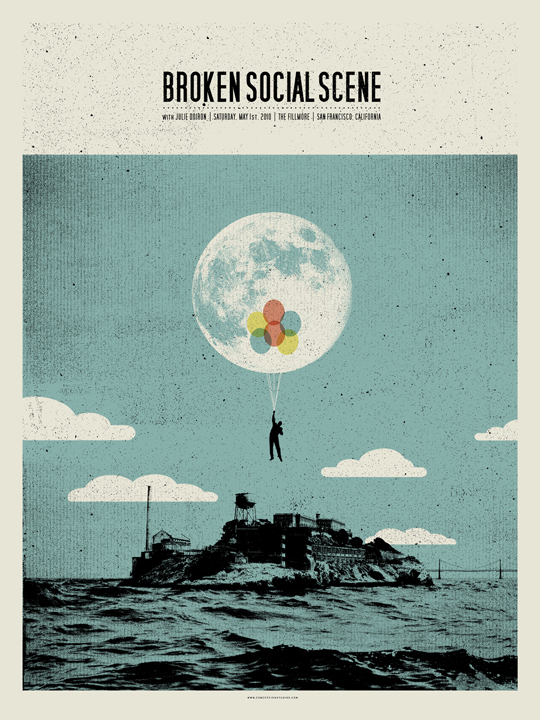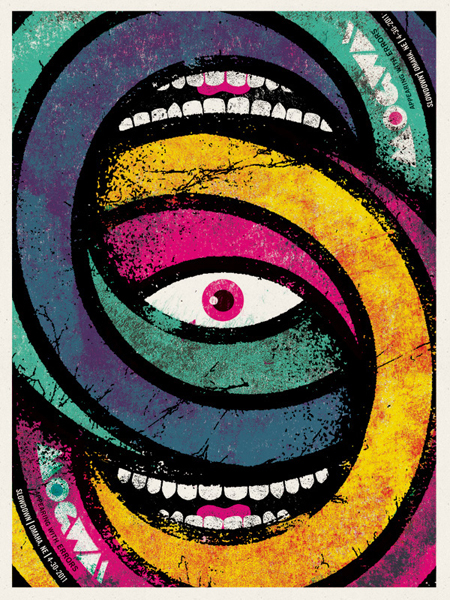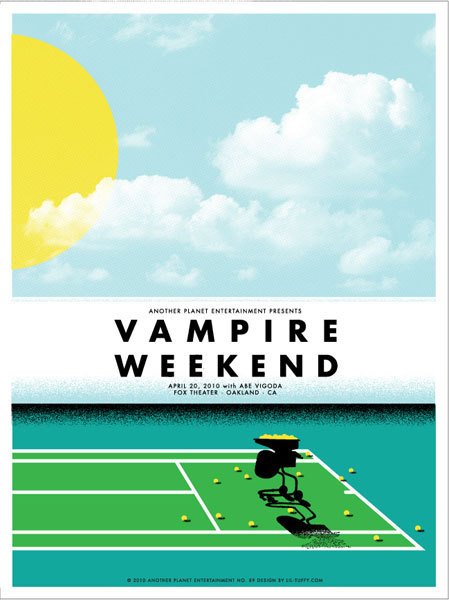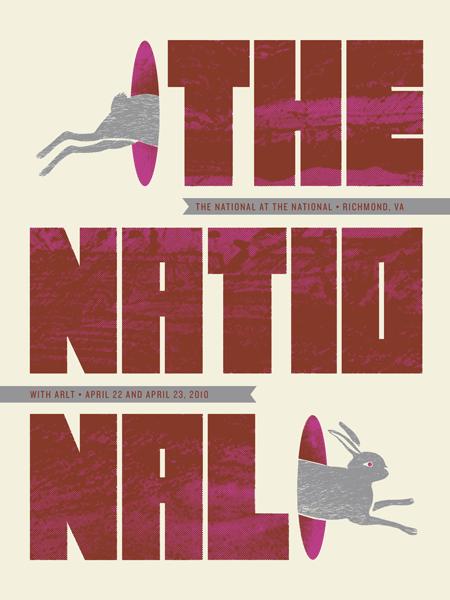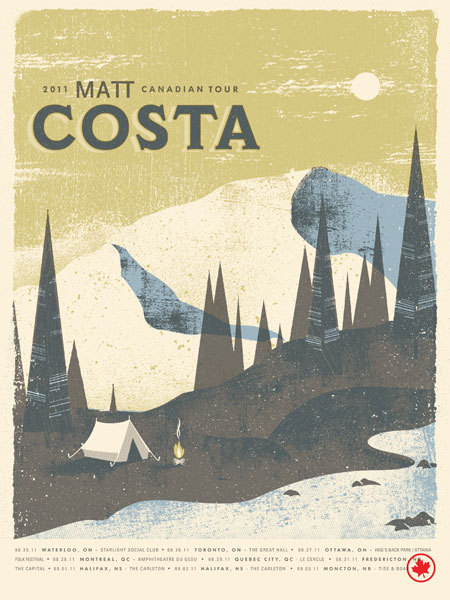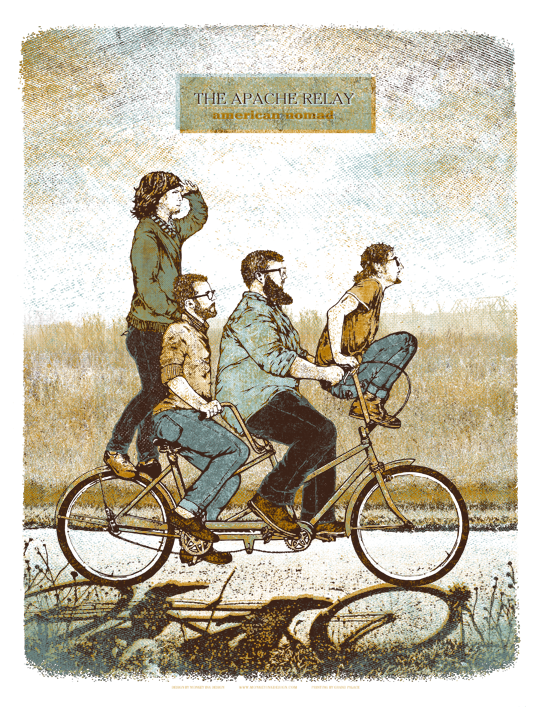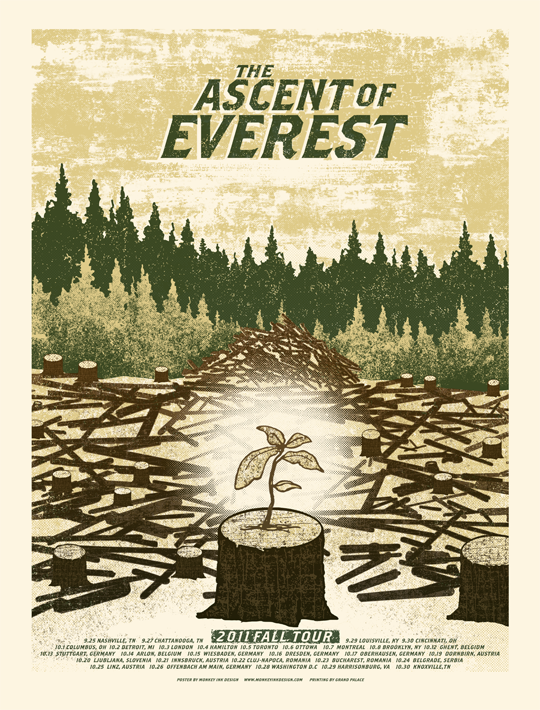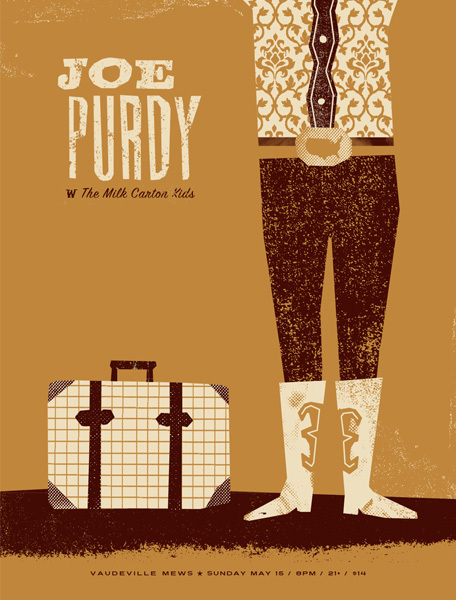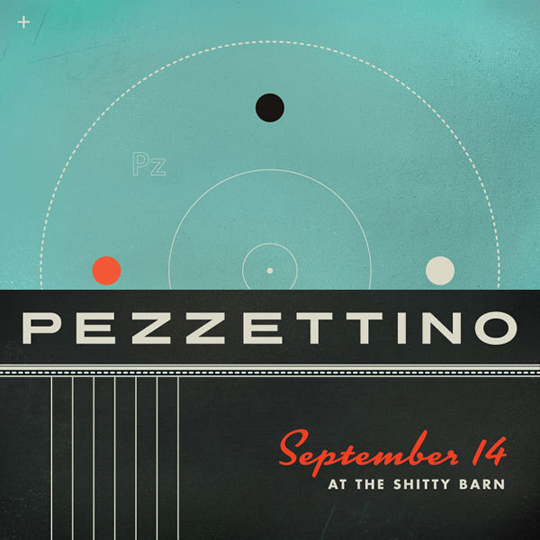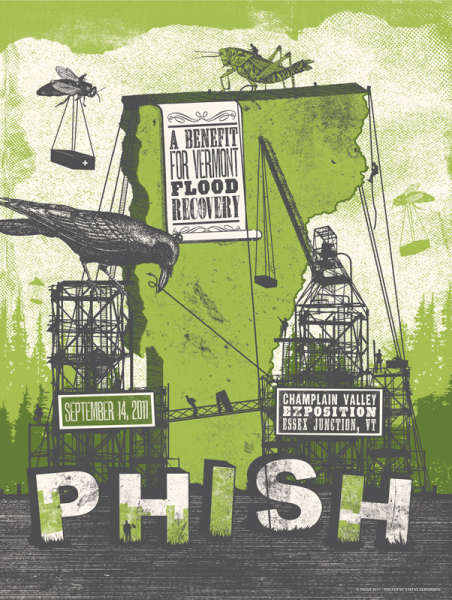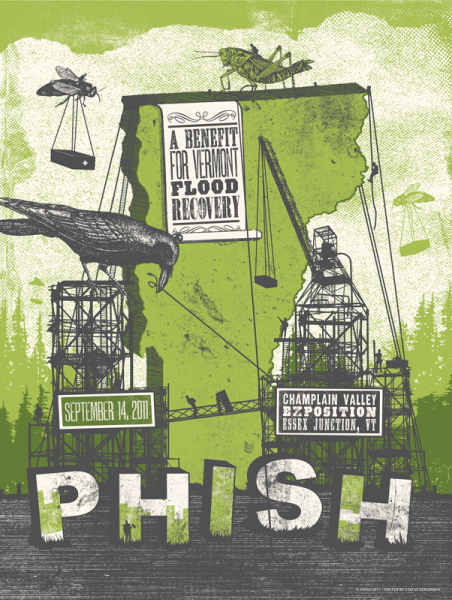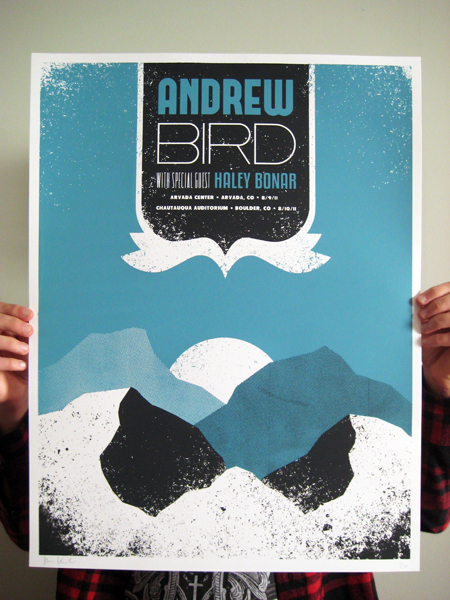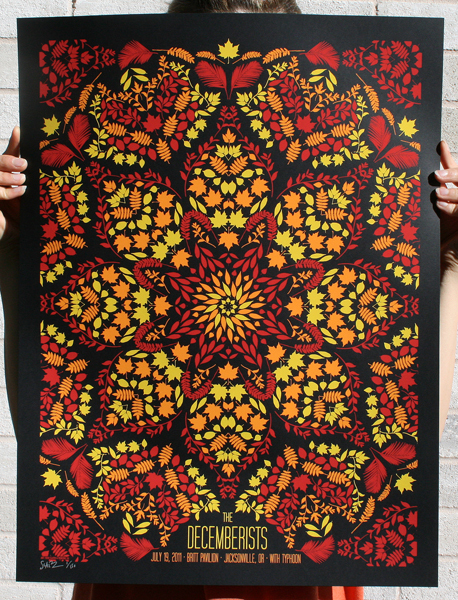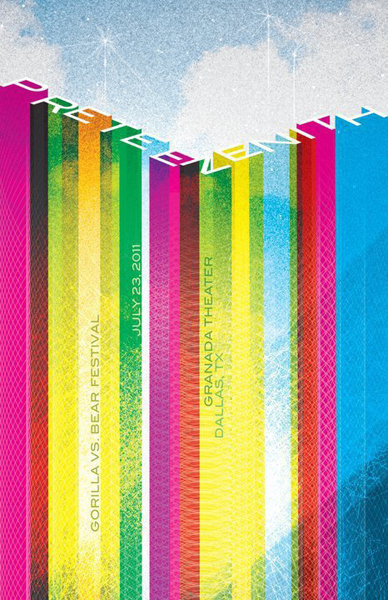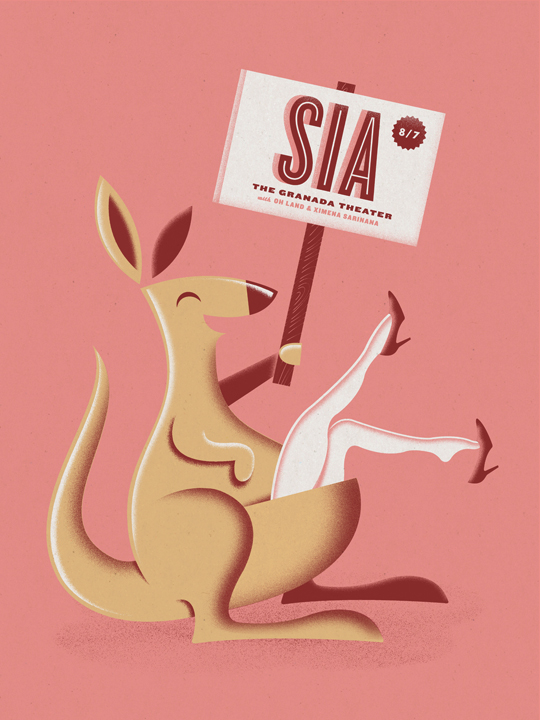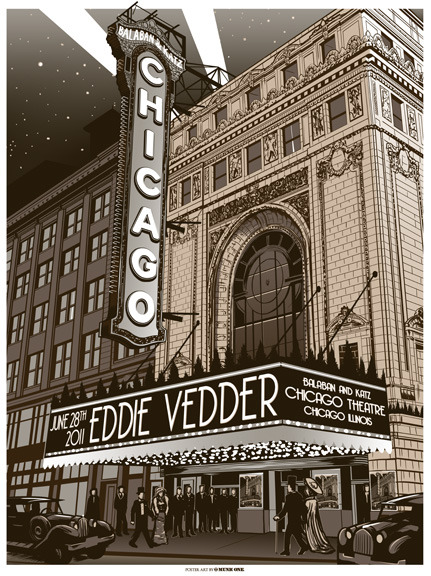 Written by Tom Booth. (Slightly) edited by Simon H.
Hi there, I'm Marissa Mele. I was recently hired as the new office assistant at Go Media and I wanted to introduce our readers to a new initiative going on at Go Media called On the Map.
By definition…
On the Map is a video series featuring the people and places that make Cleveland a creative, culturally rich, and inspiring place to live and work.
Just prior to getting hired here, I attended the On the Map (OTM) event at Go Media. I am going to write about OTM from my perspective as a fresh hire at Go Media and also a brand new Clevelander. Being new to Cleveland, and not knowing much about what was happening in the city, I was thrilled to find out I was at an event that highlighted the businesses that make this area great! As the lights dimmed and the crowd quieted, I watched a stellar series of videos that showcased some places that I had already been to and others that would then be on my list of places to check out.
How did OTM Come to Be?
I recently contacted Go Media's own Chris Comella, the mastermind behind the On the Map series to discuss how this project came to be and what his hopes were for the future of the project. In a nutshell, OTM is a video series that features different businesses in the Cleveland area and the people behind them. The videos highlight what the companies do and a little about the back story of how they came to be as well as what aspects of the city worked for and against them.
These videos engage the community by showing the cool things around town as well as informing viewers who were interested in starting their own businesses. As a new hire at Go Media, I realized the support of Chris' initiative is evidence of the firm's commitment to community building, and OTM is an ideal vehicle to engage with the people in the community that we admire and appreciate.
One of the distinguishing features of working here at Go Media is that employees are encouraged to think about personal and professional goals and are supported in fulfilling passion projects such as OTM. Part of our philosophy is to actively pursue ideas that we find compelling and to go out and achieve those goals, rather than waiting for opportunities to explore and take advantage of what is possible right now.
This philosophy extended to Chris when he began the OTM project and he was encouraged throughout the process. When I asked him about how he got the idea to start the project he responded with, "For me personally, meeting and working with people in the immediate community was something I wanted to pursue. When it came time to start planning for our yearly open-house, I saw an opportunity to do just that. Everyone was super receptive to changing the format. We wanted to sell people on the idea that Cleveland is 'on the map', and to make a point of sharing it with the world."
OTM – Go Media from Go Media on Vimeo.
Let Passion Lead the Way
Now that I'm part of Go Media it's obvious we are a different kind of design firm. We distinguish ourselves by pursuing projects that we were truly passionate about and that passion would lead to good things down the road. Chris told me that the mantra he heard over and over again was "pursue side projects." The Weapons of Mass Creation (WMC) festival, held in the summer, was another project that exemplified this belief.
The decisions about what businesses to target for On the Map came out of striving to showcase the diversity of arts and culture found in Cleveland and wanting to learn more about the businesses that were impacting the city. For Clevelanders, the video series gave citizens a vehicle to build support and appreciation for their city. For outsiders, it gave them a glimpse of the benefits of living and visiting the city of Cleveland.
I asked Chris how he felt OTM impacted Go Media and he replied with, "It would be to further show that we're a group of people who are passionate about what we do. The fact that this is a passion project, produced on our own steam, shows the kind of motivation we have to create and reach out to like-minded people."
So far, Chris' initiative has paid off and the reception to the project has been great! People have responded with "more please!" He informed me that he was already scheduling the next run of videos and was exploring some unique opportunities that arose after the first round.
I've even overheard talks of producing a feature length documentary some time in the future. Who knows what's next!
OTM – Screening 2011 from Go Media on Vimeo.
Even though I am a new member of the Cleveland community, one thing that I noticed time and time again was that Clevelanders were the biggest cheerleaders for their city and it seemed no surprise that the community would rally around something like On the Map. I asked Chris to elaborate on what in particular made Clevelanders interested in OTM and he said, "The people in this city are quick to adopt exciting things happening here. It's an unusual mix of attitude though…
The people here are quick to defend their hometown, but at the same time are almost apologetic when talking to people from other big cities.
It's like the confidence level here needs to rise above blind defensiveness, and up to a point where we actually believe in where we're at and are going. By putting videos like these all in one spot, we hope we can start to show people that we really have something going on here. To not only provide some confidence to the locals, but to also show the rest of the world what's going on here. I think Cleveland's story is becoming more and more relevant these days. Young people are looking to start their own thing now more than ever I feel like, and a place like Cleveland has a lot of unique opportunities for them to take advantage of."
Care Harder
The thing that has been glaringly obvious about this city is that the people here care about making their city better. The arts and business communities support each other and work together to make Cleveland a better place to live and a destination for art, design and of course cuisine.
Unlike the competitive vibe of cities like New York and Los Angeles, Cleveland is an actual community that supports each other and works together towards a common goal. I feel lucky to have moved to this city and even luckier that I get to work at a place like Go Media. This is a special place, unlike any other city, and community building initiatives like On the Map demonstrated how Cleveland and Go Media care about collectively building a better city.