Articles by Month:
June 2012

Go Media prides itself in brand-building.
We're adept at tapping into the core identity of our clients' brands and helping them find ways to reflect their values.
So why would we hire an outsider to help with our own brand?
It ultimately comes down to two key points:
A process of leadership introspection
The value of a fresh perspective
As a professional design firm building on nearly two decades of experience developing imagery for companies of all sizes, our knowledge of the brand principle is refined. When we begin a new project, we are viewing the client and their company with fresh eyes. Usually, they understand that what they're doing is not working. They realize their current branding is either stale or simply ineffective. It is our responsibility to fix it for them.
But we struggled when it came to making this evaluation of our own brand. When we started the company, our look and messaging worked. But as we expanded, the brand grew in random directions. It was like we planted a nice little tree in front of the house. Then the tree grew up and now branches threatened the roof and the power lines! Do we cut branches? Do we uproot the thing and move it? We were stuck on how to address it.
Not gonna lie, we were somewhat neglecting our own landscape maintenance. We saw it day in and day out. We knew we needed something to reflect all the innovation happening within our walls. We pruned it here and there, but we were unable to settle on a single look or direction. And that was part of the problem too. We were moving in so many different directions, and there was a general lack of cohesion.
In 2006, we launched a new product line, the Go Media Arsenal. Those familiar with it will know this is where we sell products to the design scene. However, that market is predominantly not the same as where our design clients are coming from. We reasoned the Arsenal deserved its own separate brand.
Then, we kicked off this here 'Zine. This was partially corporate with news related to our design services. However, the tutorials offered are primarily to support the Arsenal and design community. So we started to explore a different design here as well.
The bottom line is: We were having an identity crisis. Were we a design firm? Were we a design product company? Were we also artist advocates with our Weapons of Mass Creation festival?
Some of our staff believed we were cheapening our design services by selling stock graphics. On the flip side, the fact that we were a working creative firm fueled most of our product ideas – and bolstered the legitimacy of those products.
We were divided. We had lengthy debates, some of them quite heated. It's no wonder the brand was off-base. Our whole identity was confounded.
It went on like this for years.
Finally, what we began to realize was, we were simply too close. We were too close to our own concept, too familiar with our own brand, to really address the issues from a standpoint of solid logic. We needed an expert, but we also needed someone who could be objective.
Enter multi-talented brand strategist Jackie Bebenroth. We met her at the 2011 WMC Fest. We were impressed and enamored by her talent from the onset. If anyone could help us solve this branding conundrum, it was Jackie. Fortunately, she was thrilled for the opportunity to tackle the challenge. We went to work immediately.
Over the course of several meetings, we let Jackie in. Everyone in the firm had a say as we discussed the projects we're passionate about. We showed her our everyday work environment. We allowed her to see our company culture firsthand.
Jackie commented more than once we were doing everything right: Maintaining a robust blog, developing ancillary products, nurturing a unique and exciting culture, promoting our city and the art community at large. Our major malfunction was we simply weren't touting it. In fact, we were hiding it! She realized despite our multi-pronged efforts, we were a fragmented company. We were one firm and we needed one voice to take full ownership of everything we do.
The new Go Media Website
This was the a-ha moment we needed. What we've been internally referring to as "our brand unification" is now fully underway. We've styled our print materials with a fresh & clean cut. And the real flagship of this exercise, our corporate website, has just gone live. We're proud to announce the launch of the all new gomedia.us! The aim was to bring together Go Media's smörgåsbord of activities into one place, to better say what the heck it is we do all day and night. You'll see artwork first with a portfolio carousel right at the top of the page. Also note the responsive CSS, allowing the layout to adapt to your screen size on mobile, tablet, laptop, or desktop browsers. Other amenities include a quote request form, social network & content syndication, and a copious footer. We even hired a fanciful photographer to try and make a bunch of beatniks & geeks look presentable for the staff page. Moreover, our new site does a better job of bringing together what Go Media has to offer in a way that is clear and concise.
This will be the first of many redesigns our websites will undergo. New versions of the Zine, Arsenal, Mockup Everything, and Proof Lab are in the pipeline.
As the vice-president and co-founder of Go Media, I take immense pride in making this company successful. In this case that meant listening to and embracing someone else's perspective. It meant having some difficult discussions about who we are and where we're going. And it meant stepping aside and temporarily handing the reigns to someone I trusted to take a hard look at us from the outside and show us what we needed to show those looking in. In the end, it made us a stronger, more unified firm.
There's an old saying, "sometimes you can't see the forest from the trees", that might be spot-on for what happened to us. We were so caught up in the details and our own ideas of the way to go, we couldn't take a far enough step back. We felt like experienced hikers. But pride may have been preventing us from admitting we were lost. Frankly, we might still be wandering the wilderness if we had not run into Jackie who offered a map of the way out.
When it begins to feel like you're juggling different companies with different brands and different agendas, take a moment to reevaluate.
Here's an exercise to help redefine your brand:
Define your company in two sentences or less.
List all the feelings you want your customers to have when they come to you.
What makes your firm unique? Are the "other brands" spinning off actually what make you unique? Can they potentially complement each other?
If you answered #3 affirmative, wouldn't it make sense to bring those spin-offs back into your core brand?
Obviously if you're operating an auto garage & a restaurant, they might not be brands you can combine. But even that example leaves room for the imagination. Maybe the restaurant takes on a classic car theme and then they can share a family brand name. Those same diner patrons are bound to need car maintenance sooner or later!
If it seems like your current brands are meandering or you're spending too much time juggling what could possibly be unified, stop and try to reframe the problem. If you've let it go too far in different directions and your team can't see a way out, don't hesitate to ask for help. We're glad we did.
Good Brief…
Any good packaging project starts with a creative brief that is well written and clearly lays out the objectives of the project. This document should give the designer precise information about the brand's values and the brand's promises to the consumer. It should establish the level of change desired by the client from their current packaging. (evolutionary vs revolutionary) General information about the target consumer's demographic as well as any relevant lifestyle details should be included. It needs to establish the communication hierarchy and desired messaging as well as identify the characteristics of the product that make it special and unique in it's market. Without having this information clearly stated at the onset of the design process, the project will most likely run into problems.
Analysis Paralysis
Good research is essential to developing great packaging, but it's not the be-all and end-all of the designer's decision making process. It should serve as a tool in making your choices, but it should not dictate your design. This is due to the fact that research isn't perfect, and it can be influenced by unforeseen factors. Sometimes a new, innovative idea may not test well with focus groups. You must encourage a client that a smart design that shakes up the competition may be exactly what their brand needs. Convince the client that as a designer you possess the correct insight and understanding of the target consumer better than a randomly selected focus group of non-designers.
Avoid Parity
Parity is the degree of similarity between two competitors' packaging within a particular product genre. Avoid parity at all costs. It's a proven fact that innovative and unique packaging can boost a product's sales even if nothing about the actual product has changed. How are you going to help a company achieve greater sales if their product looks exactly the same as the product next to it on the shelf? In this way, parity is a death punch to profits. The point is to get a product to pop off the shelves, not to camouflage it.
Be Proactive
The best packaging design is a design that looks beyond the current trends to what is next. A designer must help the client understand this concept. Don't be afraid to try something new and different. Again, it's clear and measurable that good packaging can improve a product's sales. We must not wait for the competition to take the next step, we must beat them to the finish line. Be innovative!
Production is Key
Having a good relationship and good communication with the production artists that are working on the packaging is something that should never be overlooked. They should be involved in the process early and often. This can help a designer avoid serious mistakes due to printing and packaging limitations. Not only that, but the production artists often have great ideas that can take a packaging project from good to great. Find a person you are comfortable with and trust their expertise.
ISO
ISO is one aspect of photography that is not exactly the same in the film and digital realms, but they are related. In film, ISO referred to the films light sensitivity or speed. This meant  shooting 100 film would allow for a finer grain than shooting with 800 film. Typically the recommendation or guideline I followed was to shoot with 100 film in daylight and 400 film inside or in lower light (evening) like the image below.
In the digital age, ISO is still related to light sensitivity, but since you are not dealing with film it is the image sensor that is sensitive to light. The numbers mean the same thing in digital as they do in film, so the higher the number, the more grainy the image. Not too confusing once you start experimenting and comparing the images with different ISO settings. Many photographers don't recommend going over 1600 unless you are purposely going for the grainy look. When photographing families and kids as I enjoy doing on evenings and weekends, I aim to keep my ISO between 100-400. If I'm shooting indoors, I'll bump it up to 500-800 if needed.

This article does a great job explaining ISO as well.
Aperture
Aperture is possibly one of my favorite settings to play with when I take proper time between shots because it can impact an image in dramatic ways. Aperture refers to the size of the lens opening which dictates how much light reaches the film (SLR) or image sensor (DSLR). Aperture does not impact an image on its own, it works in combination with shutter speed. Shutter speed is another very important component because it governs how long the shutter stays open, exposing light to the film or image sensor. When I studied film photography in high school and college, the general rule of thumb for shooting without a tripod was to not go below 1/60 for your shutter speed (1/60 refers to 1/60 of a second). Anything below 1/60 could be blurry from camera shake, you know since we're human and all. Currently I don't shoot with that low of a shutter speed when photographing kids, have you noticed how fast they can move? Staying higher than 1/100 is usually a good bet for me. I don't mind some good motion blur, but if I'm going for a focused shot I don't want that blur on every image.
Back to Aperture… Once you have your shutter speed determined, you can go about setting your aperture or vice versa if you're shooting in aperture priority, the A setting. I tend to shoot in aperture priority mode when photographing kids because I like to make sure that the my depth of field is exactly as I want it for my subject. Depth of field is directly related to aperture – the lower the aperture, the shallower your depth of field, the higher your aperture, the deeper your depth of field. The following image is an example of a wide depth of field.
In simple terms, when your aperture or f-stop is low (f-stop 1.8, 2.2, 2.8) the items in the background are blurry, and when your aperture is high (f-stop 11, 16, 22) the items in your foreground and background are both in focus. For example, this photograph of a newborn was shot with a low aperture setting to ensure that anything in the background would not distract from the main focus, the baby's head and hair.
When I'm shooting a group or a family, I will often increase the aperture so that one person is not out of focus and another person is in focus. I'll often ramp up that aperture if the background will add more interest to the image as well.
So there it is, a crash course on ISO, Aperture, depth of field, and shutter speed. What part has confused you the most since you picked up your SLR or DSLR camera? What is your favorite setting to lead with ISO, aperture, shutter speed? Are any of these settings still a mystery?
Everyone at Go Media has let out a big WHEW now that we have wrapped up the 3rd annual Weapons of Mass Creation Festival.  We spent all year planning the fest and we couldn't be happier with how well it went.  We had a record turnout this year and the Reinberger Auditorium was overflowing with attendees sitting, standing, or squatting as they watched talks from: Johnny Cupcakes, Kate Bingaman Burt, Chuck Anderson, James White and many more.  Some of the highlights from the fest included the B-Boy Battle; bands such as We Are Public Radio, Bethesda, the Cherry Cola Champions, and so many more it's hard to pick just a few; and of course, the amazing artwork of all the designers.
The variety of bands was absolutely amazing.  Styles covered the entire spectrum of musical genres.  There was something for everyone from punk to hip hop to indie pop to folk and everything in between.  The same had to be said of the designers.  Each artist had a style all their own.  As you walked around the Ilthy Gallery, the uniqueness of each designer was so apparent.  WMC Fest brought out the best of the best, the cream of the crop, the pick of the litter, *insert another cliche here*.  It was so wonderful to be surrounded by such creative and talented people who were so passionate about graphic design and about advancing and growing the design community.

GFDA / WMC Fest 2012 from Alexander Catanese on Vimeo.
Below are some of the things people have been saying about the fest:
"The beauty of Weapons of Mass Creation is how it inspires and energizes the design community. It's a three day fest that everyone can afford to go to but not afford to miss. " (courtesy of Pixel Thought Foundry)
"WMC is definitely growing and gaining some serious momentum. It's just proof that there's such great strength and energy in the creative community, and that 'if you build it, they will come.' So if that doesn't give you a swift kick in the ass to get your latest project off the ground, I don't know what will. There isn't anything we can't accomplish with our passion, networks, and relentless hard work." (courtesy of Shore Society)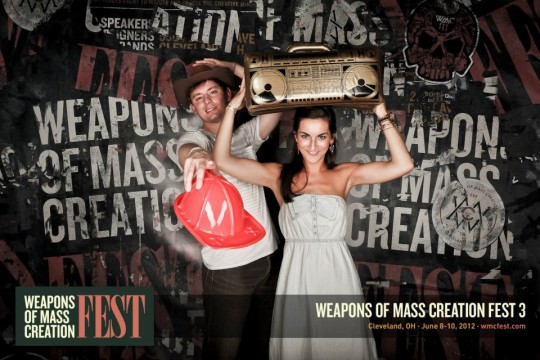 "If there's one thing I can say I brought back from Cleveland last weekend at Weapons of Mass Creation Fest, it was a kick-in-the-pants to do something more.  Not only to do more, but to do more of what I love." (courtesy of Orbit Media)
"All in all, it was the best $40 I've ever spent on a design event. It was so refreshing to surround myself with more artwork and less advertising. " (courtesy of Brian Stephens)
"I guess the concept that I'm taking away from WMC 2012 is the fact that this camaraderie in the design community is rare, and this is an opportunity to connect with a bunch of creatives that spend most of the year with their heads down, grinding out great work, but can get a change to converse with other creatives who actually know what each other is talking about." (courtesy of Brandon Rike Design)
"Overall, WMC Fest was a blast.  I met some great people, saw some incredible speakers, and soaked up all the creative energy floating around Detroit Avenue." (courtesy of Bound Custom Journals)
"Seeing, listening, tasting, and smelling creativity is exciting… it's exciting to see other people excited and inspired… it's inspiring to see the chain reaction of creativity and excitement… and that is what Weapon of Mass Creation Fest does. Even if you are a wet blanket like myself, this is an event everyone creative and non-creative needs to go to learn from and enjoy. Just the fact that people are willing to share their experiences is an invaluable gift that can be applied to anyone in many different aspects of their life. " (courtesy of White Space Creative)
"The cool thing about WMC Fest is that it's not just a bunch of Photoshop nerds talking about light effects and typefaces. The event is more like an art festival, with designers, illustrators, writers, musicians, and lots of creatives from many industries, which made it an amazing melting pot of fun and talented people. I was completely overwhelmed by the breadth of knowledge and experience among the attendees and speakers, very inspiring to say the least." (courtesy of Nick Hess)
Thank you to all the designers, speakers and, bands for their contributions and everyone that helped make this the best WMC Festever!  Thank you to all the volunteers for taking time out of their busy lives to help the fest go off without a hitch. Thank you to Todd Gauman of NEO Ventures for his logistical assistance with the fest.  Thank you to Joseph Hughes for working to deliver an amazing roster of speakers. Thank you to Jesse Sloan for securing such amazing bands and all his planning leading up to the fest.
And of course an extra BIG thank you to Jeff Finley, the mastermind behind WMC Fest, for his many hours of hard work and for bringing the city of Cleveland and the worldwide design community together.
Want to check out recap posts, blogs and photos, well click here for memories from the fest.  And check out the gallery below for more pictures from the event!
Want to see what you missed?  Check out the lineup from this year's fest:
Johnny Cupcakes
Kate Bingaman Burt
Chuck Anderson
James White
Tad Carpenter
Jeff Finley
Margot Harrington
Jennifer Daniel
Rachel Novak
Friends of Type
Nate Utesch
Tuesday Bassen
Jen Myers
Matt Stevens
Mike Kubinski
Julia Kuo
Austin Kleon
Brian Andrew Jasinski
Glen Infante
Jackie Bebenroth
Ryan Clark
These Are Things
Jon Contino
Evan Stremke
Pete Gamlen
Erin Fuller
Alonzo Felix
Joel Miller
Ryan Brinkerhoff
Go Media
Three Bears Design
Studio Ace of Spade
Sawyer Hollenshead
Garrett Weider
Fizz Creative
Vaughn Fender
Andy Hendricks
Chad Tibbits
Mike Jones
Carolyn Sewell
Eluvium
Gregory and the Hawk
Cloud Nothings
Algernon Cadwallader
Tristen
Into It. Over It.
Blueprint
Pomegranates
Cheap Girls
Empire! Empire!
Annabel
Saintseneca
Cut Teeth
Cherry Cola Champions
Hop Along
She Bears
Total Babes
Two Hand Fools
ESQ
Worship This!
Signals Midwest
Bethesda
Northwestern
Public Radio
Worlds Scariest Police Chases
Dowsing
Humble Home
Ashley Brooke Toussant
En Garde
Metavari
Lighthouse and the Whaler
Lowly the Tree Ghost
Afternoon Naps
The Nitch Pickens
Two Knights
Harvey Pekar
Communication
The Ground Is Lava
Goodmorning Valentine