Articles by Month:
June 2013
Another hit on the list!
Hey folks, there's been another hit on the list. I'm happy to announce the release of the upgraded version of our distressed poster mockup templates.
The goods
There are still 15 templates in the pack. They are all:
Cleanly layered,

At least 1200×1000 pixels,
Smart object enabled,
With a customizable level of "grunginess"
Either in a poster aspect ratio (4:3, 10 of them) or in  a CD/LP aspect ratio (square, 5 of them)
What do they do?
People who know my design work might know how much of a textured, grunged out, and worn look lover I am. And people that do that know how long it can take to build up that textured feel. How many hours spent in Ps moving layers around, tweaking blending modes, etc?
Hate or like it, sometimes you don't have enough time to do that. This is where these templates come in. One of the usage scenarios for these is when you're wrapping up some art in Ai, and you need to quickly simulate the textured look the final product is going to have.
Below is an example of what the templates can do on the poster resulting from Steve tutorial's based on our vector set 22:
The good news
We're having a promo code to celebrate the update of the templates! Just use distressedsmartobjectposters at check out to get $9.99 off the purchase of the pack.
On that note, keep your eyes peeled for an Arsenal release of a new contributor, and for the long announced Arsenal survey. Both should drop next week.
— Simon, Manager for Go Media's Arsenal
Hello Readers! My name is Kim Finley, and I have worked at Go Media for many years, but don't usually post on the zine. Some of you may know me as the person who replies to your emails when you submit a contact form on the Arsenal website. In addition to Arsenal customer service, I also spend my time at Go Media doing payroll, bookkeeping, proofreading zine posts and proposals, and various other tasks including packing and shipping all the merch orders. You probably guessed from my last name, that I am Jeff Finley's wife (going on five years now)! You can also see that I am not a designer here. And that's good because my artistic claim to fame is that my famous bag of popcorn drawing is one of the vectors we sell in the stars and hearts vector pack!
Yes, the cat and sun were also done by me. Don't be jealous, that little kid drawing style took years to perfect.
Anyway, I am here today to discuss the differences between QuickBooks and FreshBooks, and which you might want to use for keeping track of your business finances.
MAJOR DIFFERENCES
At Go Media we have used QuickBooks Pro for years, so it is what I am most familiar with. QuickBooks is a software program that is installed on your computer. FreshBooks is web based and can be used via your desktop, laptop, tablet or even smartphone.
QuickBooks has updates that must be installed manually. FreshBooks is automatically updated.
FreshBooks only allows for expense tracking. With QuickBooks you can track both income and expenses to get a more complete view of your business finances.
FUNCTIONALITY
QuickBooks can do income and expense tracking, payroll, and create and send estimates and invoices. You can also create reports such as profit and loss, balance sheet, trial balance, and many more. If you are working with an accountant, these are all reports that they may need from you.
FreshBooks can do time tracking, invoicing, and expense tracking. They do have a limited amount of reports available as well. At this time FreshBooks is only set up for expense tracking, which can be done with their automatic expense import.
Both allow your customers to pay their invoices online with a credit card, but with QuickBooks you are charged $14.95 per month for use of the online payment system, which is called Billing Solutions. With FreshBooks you simply choose your payment gateway that you have already set up such as PayPal, Google Checkout, Authorize.net, etc and this information would be available when your customer goes to pay the invoice.
You can mail or email invoices from FreshBooks. When you create the invoice you can either choose "send by email" or "send by snail mail." They give you two stamps when you sign up for your account and you can purchase more at $1.79 per stamp. I think it's a bit confusing that they call it a "stamp" because technically you are paying for them to print the invoice, include a return envelope, mail it, and put a stamp on the envelope. (After reading about this feature on their site, it looks like they have partnered with a company to do the mailing so it is not actually done by FreshBooks.)
If you were to purchase stamps from the post office, they are currently 46 cents each. So you can certainly print the invoice yourself and mail it if you have to, which would save you over $1 per invoice. Most clients will likely prefer an emailed invoice so they can receive it faster, but it is nice to have another option available.
QuickBooks allows you to email an invoice. They are not set up with a mailing service like FreshBooks is, but if you need to mail an invoice, you can simply print it out yourself and put it in an envelope!
PRICE
The cost of the software varies depending on how many licenses that you need. At the time this article was written, QuickBooks Pro 2013 for a single user was available on Amazon for $175. The retail price is $250. Adding another user will raise the price of the software between $150 and $200 more per user, and you can have up to three users with the Pro version. QuickBooks also has a Premier software version which allows up to five users to access the software.
FreshBooks has a free 30 day trial which is a great way to see if their "cloud accounting" will work for you. You can actually continue to use the service for free if you have no more than 3 clients. For between 4 and 25 clients, you can use the Seedling Plan at $19.95 per month and from there you have the Evergreen plan at $29.95 per month and then the Mighty Oak plan at $39.95 per month. The Evergreen and Mighty Oak plan both allow for an unlimited amount of clients. All of the accounts through FreshBooks are set up for one user and you can only have an additional user in the Mighty Oak plan. To have more than one additional user in that plan, you will have to pay $10 extra for each.
If you are just interested in which is cheaper, it is hard to tell at first glance, since QuickBooks is a one time fee, and with FreshBooks you are billed monthly. Let's just say you are only one person who needs to access it. With the new version of QuickBooks you would pay approximately $175, plus $14.95 per month if you want the online payment system, so that would come out to $354.40 total for one year. With FreshBooks, it depends on how many clients you have, but let's say you have more than 3, so you would be on the Seedling Plan, and that would cost you $239.40 for one year. BUT something to keep in mind is that QuickBooks is a one time purchase. So if you use the software for at least two years, it will come out to be cheaper than FreshBooks.
Another option!
While I was wrapping up writing this article, I discovered that QuickBooks recently released QuickBooks Online which looks fairly similar to FreshBooks. They offer a free 30 day trial and after that the price starts at $12.95 per month. They have this handy chart on their website that shows the different online versions and what is included with each, plus the price. Their most expensive plan is $39.95 per month, which is the same price as the most expensive FreshBooks plan.
SUMMARY
At Go Media we have always used QuickBooks and I doubt we will switch any time soon because it is all set up with all of our vendors, customers, accounts, invoices, and everything else. We send our file to our accountants every year and that is how they generate our business tax return. QuickBooks is great for small businesses, but if you are very small (one or two people), I think FreshBooks is a lot more simple and easy to understand. I checked out FreshBooks and found that it only took me five minutes to set up before I was able to generate an invoice. I don't know how long it takes to install QuickBooks, but it is definitely more than five minutes. Plus after you install QuickBooks, you have to separately add your customer details and then your invoice line items and create an invoice template if you wish. With FreshBooks, once you start to create your invoice, you can add your client details and tasks without even leaving the page. Of course there are many more differences between QuickBooks and FreshBooks, but hopefully this article has given you an overview and helped you to decide which you would like to use!
For more information, check out their websites:
QuickBooks | QuickBooks Online | FreshBooks
Find them on twitter:
QuickBooks | QuickBooks Online | FreshBooks
Kern and Burn: Conversations with Design Entrepreneurs, A Book Review
Opening the new book by Kern and Burn feels like Christmas.  The collaborative effort between Jessica Karle Heltzel and Tim Hoover, a soft copy of Conversations with Design Entrepreneurs arrived on my desk in crisp brown paper wrapping, so perfectly packaged it pained me to open.  Diving into several layers of protective packaging and postcards, I uncovered their masterpiece, its cover design by The Heads of State simple, clean and inviting.
Dedicated to "those who kern, those who burn and those who embrace the risk of failure daily," Conversations, copyrighted 2013, is available on Kern and Burn for $30. A digital version is also available for $15; files support the iPad, iPhone, Kindle and Nook.
The book was inspired by 100 Days, during which each day for 100 days, the two posted an inspiring article, story or interview on design entrepreneurship in order to share their process and research for what was to be their pièce de résistance.
Filled with illustrations by 12 talented designers, including Nate Utesch, Invisible Creature and Scotty Reifsnyder, Conversations with Design Entrepreneurs features Heltzel and Hoover's interviews with 30 entrepreneurial-minded designers who have, as stated in the Foreword by Keenan Cummings, "found their vision and pursued it with force."
Heltzel and Hoover have collected a wealth of knowledge and pearls of wisdom from some of the industry's key players including design leaders and innovators at startups like Twitter, Airbnb, and Kickstarter, founders such as Khoi Vinh and Cameron Koczon, designers that craft products like Peter Buchanan-Smith and Studio Neat, those who champion side projects like SwissMiss and Christian Helms, and those who believe in the importance of writing and self-publishing, like The Manual.  Celebrating their hustle, perspective and passion, they ask these designers the "hard questions and use design to discover the answers."
Through the interview process, Heltzel and Hoover aim to motivate and inspire the reader, noting, "our hope is that we can learn from them – not to follow in their footsteps, but to chart our own course in parallel, one that allows us to thrive, add value to the world and love what we do."
The Scoop
Ben Pieratt kicks off the series of 30 interviews, each offering a unique perspective into the lives and work of the designers, their history, motivations and insights.  With each chapter under 12 pages, interviews are easy to nibble on when one is in need of a mid-morning coffee break.
Kern and Burn have done a nice job of choosing a wide array of resumes, making each designer's perspectives enjoyable and refreshing.  What's also special is that tying them all together, however different their paths to success, is the genuine, unpretentious advice they have to share.
Underneath it's perfect packaging, if you, too, are willing to delve inside, Kern and Burn: Conversations with Design Entrepreneurs offers 274 pages of hope, insight and inspiration. What more could you ask for?
Ever wanted to see your art on a bus? Or in a subway station?
Well, let us help you get one step closer to that goal. Simon here, I'd like to introduce you to the latest addition to the ever growing list of Arsenal mockup templates. Readers, meet the city mockup templates. City mockup templates, meet your future users.
What's in the box?*
The template pack features 4 urban scenes. We have a subway station entrance featuring a big poster like art zone, a bus, one of these gigantic billboards, and a bus stop ad.
This is for sure a smaller pack than usual. Consider it the 1st volume of a series maybe? This is why we decided to price it at only $9.99!
* It's okay, this isn't Se7en or Saturday Night Live, so it's safe to look inside.
Smart objects inside
Now that we've (finally?) jumped on the smart object band wagon, all of these templates are smart object enabled. This means that with just a double click on the smart object's thumbnail in the layer palette, and a little bit of pasting and re-sizing, your art will automatically adopt the correct perspective, lighting, shadows, etc. I wrote more about smart objects and their advantages when we launched the 2nd version of our vinyl record templates.

A soft price for the launch
We're happy to have these finally ready for the Arsenal (our MockUpEverything pro customers probably already saw and/or used these). So to celebrate, here comes the celebratory discount! Use the code smartobjectcity when checking out for $4.99 off. This coupon is valid for the city mockup templates only, and will be active until June 25th, 2013. That means the template pack will be only $5. C'mon, you know you should grab that.
That's all folks!
Until next time, cheers!
So Long, Reader
The countdown has begun.  Google is set to drop its RSS aggregator, Google Reader, on July 1, 2013.  According to the Google Reader blog, the usage of the site has declined and the company wishes to put its energy into other products.  Google offers Google Takeout for those needing to download a copy of their data stored from Reader.
For those married to RSS, there is life beyond Reader. Leading the pack in RSS, a favorite news aggregator here at Go Media, is feedly.com. First released in 2008, feedly is gaining momentum and popularity due to Google Reader's recent announcement, building from 4 million pre-Reader retirement to 12 million users through the end of May.  Making it easy for those in transition and available on a variety of platforms, those wanting to crossover to feedly may simply log in to Reader and have all of their subscription information magically sync over.  Just how easy will it be?
Introducing Feedly Cloud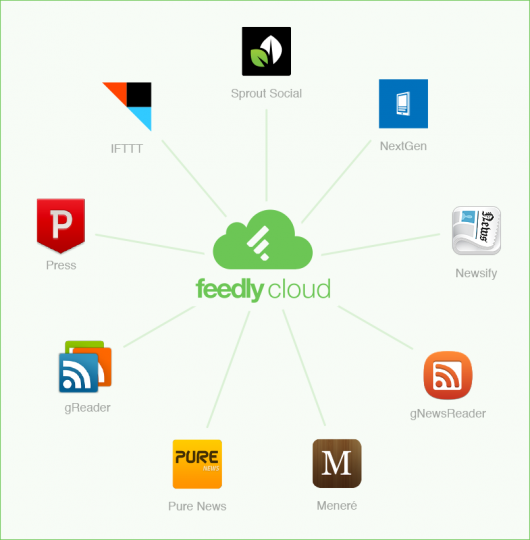 More good news from the feedly community as of yesterday.
The transition, through feedly cloud, announced yesterday, will be seamless.  Per our conversations with Tim Smith, representing feedly, this new platform will provide one-click migration path from Google Reader, as a "fast and scalable infrastructure to serve as the backbone to feedly."  Fast and built to scale, feedly cloud will also power a standalone Web version of feedly, making feedly available from any browser, including Opera and Internet Explorer.  Having an open API, feedly has also been working with third party developers to "enhance the feedly experience," and has announced the first of the feedly cloud following applications including:
IFTTT is a service that lets you create powerful connections with one simple statement — if this then that. With the IFTTT Feedly channel, you can connect your feedly account to 63 other services

Sprout Social

is a social media management platform that offers engagement, publishing and analytics tools for businesses.

Nextgen Reader

for Windows 8 and Windows Phone, is a fast, clean and beautiful reader app inspired from Metro UI and packed with powerful features.

gNewsReader for BlackBerry 10

and 

for Symbian/MeeGo

are two elegant and versatile readers providing full feedly support for BlackBerry and Symbian devices.

Press

is a wonderful reader for Android that is all about the reading experience. It's designed with the purpose of making your news easier to read. Also providing full offline support.

gReader

is a simple, fast and intuitive reader for Android, featuring beautiful themes, podcast support and full offline support.

Newsify

is an awesome reader for iPhone or iPad, with an amazing newspaper-like layout. It supports offline reading including image caching, and the use of multiple feedly accounts.

Pure News Widget

is a scrollable and actionable reader widget for Android, with multiples skins.

Meneré

is a Windows Desktop client to Feedly showing all items, filter them by read state, feed label and content and brings Snarl notifications
Log into feedly at 8 p.m. tonight, Wednesday, July 19th, to experience feedly cloud!
The future of Feedly
Feedly's outlook on the future is bright, reports feedly co-founder Cyril Moutran to Go Media. "We're very excited to see third-party innovation happening on top of the feedly API. This will help drive RSS feed adoption to many more users.  We have developers looking at integrating feedly in their business applications, others looking at content consumption in cars, even some developers looking at news consumption with Google Glass."
RSS, Moutran and the feedly team, feel, will not only survive but also thrive come July 1. Says Moutran, "Google dropping reader does not mean RSS is dead.  On the contrary, Google's announcement has invigorated innovation in the space. Since we announced the feedly API in mid-March, we had over 150 requests from companies who wanted to build innovative RSS reading experience on top of our API.  We are seeing renewed interest from publishers that are looking for alternative ways to deliver content to their most faithful readers.  When user's subscribe to their content on Twitter or Facebook, their content get lost in the noise of the user's single feed."
Their focus now?  Per feedly.com, adding newer, faster hardware, releasing weekly incremental updates to make the transition to Google Reader seamless and to continue to draw users to its site.  But most of all, Moutran stresses, "At the moment, all the focus is on making sure the ex-Google Reader users are having a good experience with feedly."
5 Ways to Befriend Feedly
Joining the feedly.com revolution?  Here are some simple ways to make the site work for you.
 1. Stick to the Basics

Feedly offers the viewer four different viewing experiences: title, magazine, card and full-article. If you want a quick and dirty view of all the blogs you've subscribed to, stick with the basic title view by clicking on the first icon on the top right hand corner of your screen and clicking on "Title Only View," or by going into your preferences  and choosing the default "Titles Only" view, which assures that you'll stick to the format closest to what you might have used over at Google Reader.
2.
Bookmark It
Say goodbye to stars and hello to bookmarks. Hover over an article that you'd like to read later and click on the bookmark icon, turning it green, to save it for later.
3.
Get Speedy
Gain super-speed by getting familiar with the shortcuts in feedly. You can find them but simply typing a ?.
4.
Choose A Theme
Choose a theme that you like to look at. Feedly recommends white if you want to keep close to Google Reader's color theme.
5.
Be Seen
Build up your own network by checking out feedly's Publisher tools, where you can create your own feedly button, request your own hashtag, get featured on feedly and optimize your feeds, to name a few.
Don't forget to sign up for our RSS feed!
______________________________________
If you haven't found that feedly is for you, here are some other options to consider:
Hi Go Media faithful!  Bill here! I'm back to deliver another teaser article from my book, Drawn to Business.  Today we'll cover a topic vital to operating a thriving design firm: Customer Retention.
Take good care of your customers. Nothing will replace good service. No amount of holiday cards, phone calls, discounts or anything else will make up for poor service. When a client brings you a project, you need to treat them like royalty. Be nice and supportive. Hit your deadlines. Do amazing design work. Stay on budget. Follow through. Say thank you when they pay. Give them legendary service with a smile on your face. If you do this, you've at least ensured that they'll trust you for future projects.
Make a good first impression. Take particularly good care of your customers at the beginning of the relationship. Getting off on the wrong foot can ruin a good relationship.  How you perform on the very first project is absolutely critical. More specifically, your first set of proofs will establish in the mind of your customer whether they can relax and trust you to do great work, or if they're going to have to look at everything you do with a critical eye. If you're working with a new client, the first project is the most critical time in that relationship.
Resist the urge to over-promise. Establish reasonable expectations with your customer then out-perform those.  Under-promise. Over-deliver. If you think delivering what you promise makes a good impression, just wait till you see how your customers respond when you give them a little bit more.

Be an advisor to your customers, not just an order taker. An order taker is dispensable, but an advisor is invaluable.  Of course, it takes more work to be an advisor than an order taker. You certainly can't just upsell your client on a bunch of services they don't need. You have to get to know them, understand their business and know which services you can provide that make sense for them.

Stay in touch with your customers. Nothing else will give you as big a return on your time than doing something simple like dropping your client an e-mail or giving them a phone call.  This is one of the simplest and yet most powerful ways to generate ongoing business. Just stay in touch. It's so simple. Don't pester, don't annoy, just make sure you stay on your customer's mind. Make sure they know that you're ready and eager to help them with their design needs.
Offer cheaper rates to your best customers.  For almost the entire existence of Go Media there was only one pricing model. Our prices were broken down hourly, based on service type. We charged all our customers the same amount.
To qualify, the customer has to have completed enough projects with us that we feel comfortable with the way they work. They can't be a customer that meanders off-scope, pushes our hours over budget and then complain about additional costs. They have to be easy to work with and they have to pay their bills on time. This strategy is one I learned from a peer who works at a much larger corporation. They have great success with it.
__________________________
Want to learn more about becoming the greatest design firm you can be?  Buy Drawn to Business, a nuts and bolts strategy guide to building a thriving design firm!
In this episode, we sit down with WMC Fest speakers Tim and Jess from Kern and Burn. We talk about their upcoming book, the entire writing process, and how they overcame some of the roadblocks of self-publishing.
Listen to the Podcast
[powerpress]
Show Notes
This is a short episode of the podcast, which is part of our WMC Fest series. In it, we interview Tim and Jess from Kern and Burn, and play "Sunflower" by Extra Medium Pony, one of the 30+ bands performing at this year's WMC Fest brought to you by your friends at Cleveland's best website design company, Go Media.
Sponsor of this Episode
This episode is sponsored by WMC Fest 4. WMC Fest is the premier art, design, and music festival in the Midwest. Uniting creative dreamers and doers since 2010. WMC Fest takes place from August 16th through 18th at Cleveland Public Theatre. 20 speakers, 20 designers, and 30+ bands.
Links
Credits
Hosts: Jeff Finley and Bill Beachy
Producer: Bryan Garvin
Recorded at: Go Media
Sponsorship Opportunities
Interested in sponsoring the Go Media podcast, either episodically or exclusively? Well, hit us up at [email protected] if you are interested in advertising your business.
What Do You Think?
We want to hear what you think about the latest episode of our podcast and what topics you would like to see covered in upcoming episodes. Comment below with your suggestions.
Ready for More?
Keep learning and listening to more Go Media podcasts!
We've got the goods!
That's right! We're back once again with more awesomely updated mockup templates from the Arsenal! Say hello to the Poster Mockup Templates! Now with smart object functionality, these templates allow you to view that artwork you've worked so hard on realistically creating, in the perfectly right perspective, with just a few clicks! Yep, it's that easy! Never heard of a smart object? It's okay, we'll get you up to speed!
And why are they so good you ask?
Well, for starters we've taken all the hard work of creating the perfect clipping mask and turned it into a simple double click process. You click twice on the smart object, add your artwork, hit save and just like that your art adopts the perfect perspective, highlights, shadows and everything else!
Wait, there's more!
We didn't just add a few smart objects and call it good; we did a complete and total file makeover.
We've got cleaner and more precise clipping masks.
We've reorganized the layers for a better ease of use and a more realistic end result.
We've loaded a variety of prepared colors for the poster backgrounds.
We made sure the backgrounds of the files were all of the same color and easily removable to allow for transparent PNG exports (when applicable.)
We fine-tuned so many more little details here and there.
Now, after all that we can call it good! I would even go as far as to call it great!
So, what will I get?
The pack consists of 9 PSD files, four of which are smart object enabled and one display scene template!
All of this for just $34.99!
Because we've worked so hard on this and because we're very excited to share these with the world, we're announcing a discount coupon for the customers who will purchase this new version of the mockup templates. Use the code smartobjectposters at checkout for $9.99 off when buying the pack. The code is valid until sometime around the end of the day on June 21st, 2013.
Now that's a good deal if I do say so myself! Better snatch it up before it's gone!
But wait! If you think that's a good deal you're going to love this…
It's bundle time!
With the re-release of our poster templates, our object mockup collection is fully updated. We're partnering up with the good folks at MyDesignDeals to offer that object mockup collection for at an AWESOME VALUE, for a limited time only!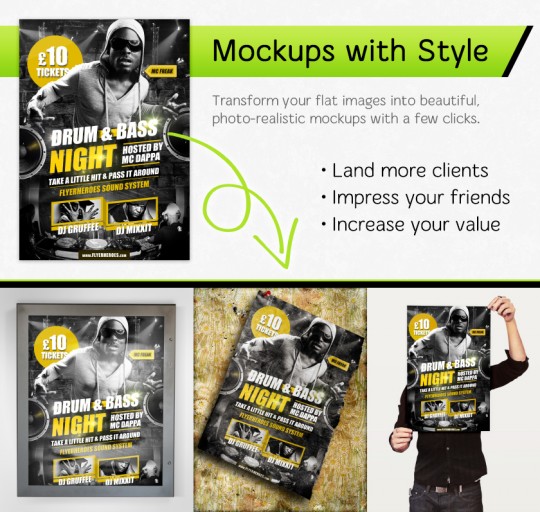 The deal will go live on June 18th, 2013, and will be live for a week. It'll include the record mockup templates, the CD mockup templates, and the poster mockup templates, all in their updated versions.
Oh, and why did we choose to work with MyDesignDeals you ask? Well, John, the guy that runs MDD, blew us out of the water when he showed us that he created a video tutorial on how to use the CD mockup templates for his customers. That guy cares about doing things right. Check this out:
He absolutely convinced us. In order to know when exactly the deal will go live on the 18th, you should subscribe to the Arsenal's newsletter, as we'll send some reminders about when it'll go live and when it will be taken down.
Once the deal is over, the collection will be available on the Arsenal.
And that's it for today. Until next time, cheers!
Proudly made in Pittsburgh, Pennsylvania…
A fresh new copy of Rustbelt Almanac just arrived on my desk, the pages crisp, clean and full of goodness about all makers, doers and dreamers.  This, the first issue by producers Noah Purdy and Michael Artman is being passed around and poured over by all of us here at Go Media.  Just great stuff.
We're proud, too. Rustbelt recently interviewed our very own Jeff Finley about this year's Weapons of Mass Creation Fest.
We recently had a chance to talk to Rustbelt Almanac about their recent issue, their road to copy, why they believe print is alive and well and the vast sprawling rusty region that they call home.
__________________________________
Photographer Noah Purdy and Graphic Designer Michael Artman were young creatives whose lives collided in Twitterspace in the fall of 2012. Hitting it off immediately, they quickly discovered they had much in common.  States Artman, "We've got family in the same small town outside of Pittsburgh, we had been to a number of the same local music events  – and more importantly, we both knew that a little hard work goes a long way. As a photographer and a designer looking at a pretty uninviting job market, it seemed almost natural to just start doing something fun. You wonder 'if I'm not going to make much money, wouldn't I be better off making no money doing something I'm really passionate about?'"
One crazy idea turned into another and soon, Purdy and Artman's brilliant plan unfolded: The Rustbelt Almanac, a quarterly magazine about the industrious people of their region.  A nod to America's sprawling Rust Belt, an area stretching from the Northeast across the Midwest, and into parts of the Upper South, is inherent not only in the title, but also the theme of their publication.  Artman characterizes their community by its work ethic: industrious people who "value hard work and aren't afraid to take risks to do the things they love to do."
But where to start? The two immediately began brainstorming about what and whom to feature in their first issue. " There are so many great things going on in the region that it was admittedly hard to decide on what to feature in our inaugural pages."
Enter Brandon Rike. "We took trip to Columbus, Ohio in January – a particularly cold day in January with wind chills below zero. Brandon Rike was kind enough to bring us in out of the cold and tell us his story over some nice warm lattes. He was the second person we interviewed, and the timing couldn't have been better. That guy is one of the most passionate artists we've ever met. The amount of work he gets done in a single day is impressive, and his drive certainly kept us inspired in the coming months."
They also found Pittsburgh based company Fiks:Reflective, who manufactures passive safety gear for cyclists, and does so with style. The rest fell in line reports Artman, "We've got grocery store owners, musicians, photographers, and even folks who recently opened a new brewery. So yeah, there really is something for everyone in the first issue. These are people that value hard work and aren't afraid to take risks to do the things they love to do. These are stories that resonate with anyone, and they are stories that need to be shared."
These industrious makers from their community whom they featured not only gave them great content, but wonderful support as well.  This backing from the community, as well as from family, friends and artists all over the country, who came together to fully fund Rustbelt Almanac through Kickstarter, was huge, stresses Artman. "We think folks in the community are just excited to see us out there shining the spotlight on people who deserve recognition for their hard work. So in that regard, we've been blessed and have avoided a lot of stress. Relatively speaking, the ride has been a lot smoother than it really should have been. "
A spotlight on the Rust Belt region is due too, because of the opportunity it gave Artman and Purdy.  Compared to bigger cities – New York, L.A., Altman feels "the opportunities that await driven individuals is unparalleled. So many media outlets focus on the dilapidation, but what we really have is opportunity. If you can rent some studio space in an empty warehouse or renovate an old storefront for the fraction of what it would cost in say, New York City – you've got that much more money left over to fund the things that actually matter."
Artman continues, "Beyond that, as more people open businesses in these cities, you get a lot of camaraderie. If you and your neighbor both opened up shop within the past few years, its like, 'we're in this together'. Competition goes right out the window. No one is going to visit a neighborhood with one business in it. Helping your neighbors succeed brings more people around, and the more people, the better. The sense of community that this resurgence is fostering is fantastic."
Like any new venture, they ran into some challenges. "Admittedly neither of us knew the first thing about independent publishing," reports Artman, and "from delays on shipping supplies, to ruining entire rolls of film, to trying to find financially viable methods to manage our subscriptions… we've had some trying times. But we have yet to run into any issues that are insurmountable, and that's mainly thanks to all the great people we've met through this process. Almost every time we hit a snag, someone is willing to jump in and say "Hey, I've dealt with this issue before, lets solve it together."
So now that Issue 1, is out in the world, on coffee tables and design studios like Go Media, what can we expect? What are the challenges involved with a print publication like Rustbelt Almanac in the age of the iPad, when major titles like Newsweek and SPIN are choosing to stop their print editions?  Artman and Purdy aren't worried, stating simply, "We definitely don't believe print is anywhere close to dead."
Although they do offer a digital copy of their publication, they are focusing on the hard copy of Rustbelt Almanac because they believe in the content. "Plenty of publications suggest the shift to digital is because people don't buy magazines anymore. Call us crazy, but we wouldn't buy magazines that has more advertising than content, either. Maybe it's not so much that people don't like printed goods. Maybe it's that printed goods just aren't as good as they used to be. I've read plenty of studies that say consumers still prefer physical media. How accurate those studies are remains to be seen, anything can be skewed one way or the other. However, the cost of producing digital media is near zero. From a business standpoint, it is hard not to go that direction."
Call them sentimental, but Purdy and Artman really value the hard copy.  Adds Artman, "Thirty years from now, when our kids or grandkids are sitting around asking what life was like in 2013, we'll have to rely on our senile old minds to tell mis-remembered stories. Gone are the days of handing down your 100 year old pocket watch, or pulling some old polaroids out of a shoebox. All we know is that we prefer holding something physical in our hands, and we aren't the only ones. Here at Rustbelt Almanac, we value longevity. It's not even about tradition in any romantic sense. It's simply a fact – print lasts longer. It's kind of depressing living in a throw-away culture where every two years you toss your computer or phone or tablet in favor of the latest and greatest. Technology changes too fast, and it's far too easy to accept that everything on your hard drive is expendable."
"We believe in documentation – journalism – photography – storytelling."
Continues Artman, "We want to make a product that is going to sit on people's bookshelves. So years down the road when the paper is nice and aged, and the inks have begun to fade, you can open the magazine, and read the stories that your iPad 15 has long forgot."
To get your own copy of Rustbelt Almanac :
and to find out more:
Anyone will agree that color has power. It affects how comfortable you feel in your environment, influences your opinion of the way clothes look, and is a key characteristic in describing objects. What some people don't know, however, is that color can sway the way people perceive a brand, and even influence their buying decisions. The study of the way that color affects viewers' states of mind is known as
color theory, and knowledge of this subject can greatly enhance the effectiveness of your work as website designers. Tapping into the power of color opens the opportunity to develop a solid brand with a website that thoroughly communicates its identity to users.
Using Color Theory
Those who have studied color theory have categorized color into a logical structure, known as the color wheel; it is from this that color combinations are formed. The key to using color to your advantage in web design is to understand the different effects colors have on viewers, and to create a harmony among your color choices. Here is a breakdown of the different impressions colors have on most viewers.
Red

Classically associated with passion, urgency and anger, this hot color can promote quick action or excitement in a design, or act as a powerful and eye-catching accent.
Orange

With much of the same vibrancy as red, orange is a bit more subdued and can indicate energy, change and vitality. It is often used to emphasize calls-to-action.
Yellow


Thought to be the most energizing color, yellow can invoke a feeling of happiness, youth and hope; it is often applied to websites dedicated to children's brands.
Green

Green represents health, growth and renewal. Its cool hue can provide a great balance for more vibrant colors, making the viewer feel relaxed and peaceful.
Blue

On the cold end of the color spectrum, blue is often used in websites that need to uphold a sense of trust and reliability, as it reflects integrity and advocates calmness.
Purple

Traditionally associated with wealth and power, purple can be implemented into designs to be soothing or to convey creativity.
When designing a website, take stock of the foundation that the brand is built on: its mission, values, goals and principles. Make your color choices based on the subconscious effect they have on viewers and the visual stability they create together. Some color harmony formulas include analogous, complementary and triad. When you achieve color harmony in your designs, you create a pleasing arrangement to the eye. Harmony engages the viewer, and allows the mind to create an inner sense of balance and order. When users enjoy the colors in your design, they are more likely to continue interacting with your site – leading to more conversions and improved user experience.
Sites That Use Color Well
Melonfree features a scheme with color that has been toned down in vibrancy to reflect a natural and comfortable atmosphere. Harmony is created in the complementary balance between the orange and green. Orange is used to guide the eye around the page by calling attention to different aspects, while green provides a softer, cooler hue that colors the more subtle elements. The colors are held together with a cream background that further softens the pop of the accents without detracting from their effectiveness.
This digital security guide uses a bold, full color background to immediately attract the attention of the viewer. It dulls an otherwise bright color – yellow – to be easier on the eyes, since it's used in such a large amount. This design is successful because the content creates a stark contrast with the background, making it readable. Plus – because the yellow is effective on its own – no other decorative colors are needed. The page is bold, but not chaotic.
Works Medical has gone the opposite direction by choosing a scheme with several different colors. Representing a large portion of the color wheel, the design portrays a fun, creative feel. The risk of looking messy is overcome by prominent color blocking. The layout also makes the colors pleasing to the eye by showing a gradual change, instead of drastic contrasts.
Many contemporary web designs are using color very sparsely, which emphasizes how much power it has in even small quantities. Like
Kitchen Sink Studios, a beige or gray and white background forces the user to focus on the page's content. The intentional accents of color are extremely successful in placing importance on certain elements, as well as guiding the eye's path so that it sees everything.
Tools to Help You Implement Color
You're not on your own when it comes to choosing your color scheme. There are plenty of tools to help you gain color inspiration, brainstorm and implement them into your design.
Unlike other stock imagery sites, this one has an interactive interface that allows users to discover images based on color, which differs from typical search queries based on keyword phrases. This tool is particularly helpful in the brainstorming phase of design, and it can take you to new areas of ideation with real-time feedback.
If you already have an image in mind for your design, this is a great tool for building a color scheme by extracting colors from the image. It finds the main colors and fills in the hues between them to develop a solid, cohesive palette. It provides you with the Pantone numbers of each color, so you can be sure to apply them accurately to your design.
This hands-on tool enables you to search images and graphics with corresponding palettes for inspiration. You can also browse gradients, patterns and images to extract a palette from yourself, which you can then manipulate to your liking. Colrd is perfect for ideation and experimentation, because it allows you to have control by editing and saving your work as you go.
Color theory facilitates a whole new realm of intentional design. Now that you know the basics of the psychological effects that color has on viewers and how to build a solid scheme, you can be confident that your choices accurately reflect your brand to achieve your goals.
Other posts you may enjoy: The Colour Wheel: Using Colour Theory in Design
Abracadabra!
I'd like to introduce to you the newest member of the Arsenal's smart object family… drum roll please… let's welcome the CD Case Mockup Templates! These templates have nifty "magical containers" in them. Call them "smart containers" if you don't want to play along. Don't know what a smart object is? Well then before we get started let's go back in time and fill you in on the total upgrade! Now, take a seat and enjoy the show!
So, What's new?
Not much, what's new with you? Oh wait, you meant with the product! Well for starters with this specific pack we worked to incorporate the smart object function twice into one file! For example, in file n°12 (see above), with just a double click on each of the smart objects, you'll be able to realistically customize the entire product by inserting your artwork into both the CD label and case cover art. Just hit save and tada! Just like magic your art adopts the perfect perspective, highlights, shadows and everything else!
That's not all folks!
We said total upgrade, meaning every file got a face lift!
We've got cleaner and more precise clipping masks
We've reorganized the layers for a better ease of use and a more realistic end result
We've loaded a variety of prepared colors for the cases, booklets, and discs
 We made sure the backgrounds were all of the same color, and easily removable to allow for transparent PNG exports
And we fine-tuned so many more little details here and there
Finally after all of that we are most excited and ready to present them to you!
So, What will I get?
The pack consists of 14 PSD files, 7 of which are smart object enabled.
All of this for only $34.99!
Because we've worked so hard on this and because we're very excited to share these with the world, we're announcing a discount coupon for the customers who will purchase this new version of the mockup templates. Use the code smartobjectcds at checkout for $9.99 off when buying the pack. The code is valid until sometime around the end of the day on June 14th, 2013.
So what are you waiting for? Better catch this deal before it disappears! Poof!
And now for our next trick!
That's right, the show's not over! We've got other updated mockup templates on the way! Keep an eye on this space for news about what's next!
Until next time, cheers!
The Interview
Sean McCabe's passion for hand lettering and typography can be traced back to middle school, his homework littered with typographic illustrations.  While others doodled, Sean shaped and sculpted his own unique letters, seeing them as shapes and curves full of beauty.  His fascination with typography grew into a career, with Sean now doing what he loves most.  His love for meticulous detail, attentive eye for precision, balance and composition are all in a days work.
Go Media had the opportunity to chat with Sean about his love of letters and how he made it his life…
Go Media : Hi Sean! Can you tell us a little about how you got started as a designer?
Sean McCabe: I started learning and practicing design as a creative outlet 9 or 10 years ago in high school. In the beginning, it was something I did in my spare time, but gradually grew from part time gigs to full time freelance work. Eventually I partnered with a developer friend of mine to form a web firm which we ran for a few years. It was through web design that I developed a keen interest in typography. I started really focusing on type design and lettering and applying myself toward honing that craft in my nights and weekends.
I now concentrate solely on custom type commissions and producing various products featuring my lettering.
Go Media: You stress doing what you love! What is the most satisfying part of your job?
Sean: The most satisfying thing is crafting something to the best of my abilities. In the beginning, these were usually self-initiated projects, but over time I learned to be selective in what clients I work with. The clients I do take on now are very on board with my process and come to me solely for my expertise.
I was jaded early on in my design career because at the time, I did not know how to be a professional. It always felt like an uphill battle trying to convince clients that I was making the right decision or that I knew what I was doing. I came to learn that you can't shove good design down someone's throat.
So where do you start?
You start by ensuring the clients you DO take on are willing to invest in good design, and are willing to trust you based on your track record. You're only able to be selective by practicing selectivity. You're never going to get to that place unless you start paving the way by turning down bad leads. Your efforts should be spent pursuing good leads from the start rather than trying to convert bad leads.
Do a ton of self-initiated work until clients are practically knocking down your door to hire you based on the immense portfolio you've developed. My clients want the quality results I deliver, so I plainly explain that adhering to my process is how those results are achieved.
You'd be surprised how smooth it is once you get to that point. Since these clients are cream of the crop, there's little-to-no friction in terms of me being enabled to do what I do best. They're invested in my professional results and what I am able to deliver, and less about trying to tell me how things should be done.
It comes as no surprise that the work produced from these types of projects receives the greatest recognition and appreciation from a general audience when published.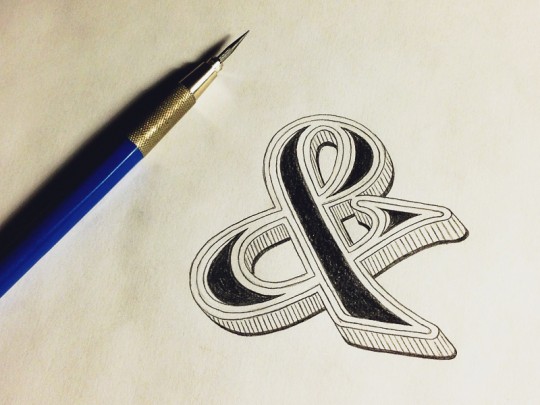 Go Media: Tell us about an average work day. What does it include?
Sean: My wife used to be a barista and now makes me espresso drinks in the morning before work, so I'm super spoiled. I drive her to work and get in to my home office at around 8:15am. On an ideal day, I'll have 3 or 4 tasks that I've prepared the night before that I try to tackle first, but I'd be kidding myself if that was always the case.
My efforts are typically split between administration and actual working. For the product-selling aspect of my brand, I try to stay engaged with my audience on various social platforms every day. As far as actually creating, I usually have a list of self-initiated works I want to make that I curate throughout the week, and also active client commissions to work on.
The mornings are usually spent trying to respond to (or more often turn down) the incoming requests for work and handling customer support inquiries and other emails. I usually get my quality lettering work done in the early afternoon and later evenings. I pick up my wife, and do a little more work before dinner and a TV show, then I usually do a couple more hours of work in the evening.
I say "work", but really the evening is typically spent on projects I WANT to work on, and not so much the ones I HAVE to work on. Because I do what I love for a living, it's pretty much indistinguishable from an outside perspective. I may seem like a workaholic (which I probably can't honestly deny), but though what I do after-hours appears to be more "work", it's actually a different kind of work. It's much the same as playing video games or reading a book for some.
Go Media: You described yourself as "pretty strange" in your younger years, littering your homework with beautiful type (we can relate…to the strange part at least!).  Was there someone in particular who inspired or mentored you at that time, encouraging your career as an artist?
Sean: Yet again, I feel odd saying that I never had any sort of mentor figure. I hear many others share that they had someone to help guide or mentor them, but that was never a part of my story.
I've always been very self-driven and motivated. The worthwhile things in life require discipline, so as one who very highly values those things, I came to love discipline. Whether it was learning piano, or teaching myself anything from guitar to design and typography, I trained myself to enjoy the process as much as the results.
I'm very long-term oriented. I like the slow-progressing steps toward vast goals. I suppose that's what enables me to accomplish things because I see the big picture and don't get discouraged by small defeats.
My family has always been supportive of my ventures. When I started my first business in early high school, they were very encouraging. I thrive on words of affirmation, so even if they never thought in their minds that I could be successful at it, the words they spoke were enough to fuel me.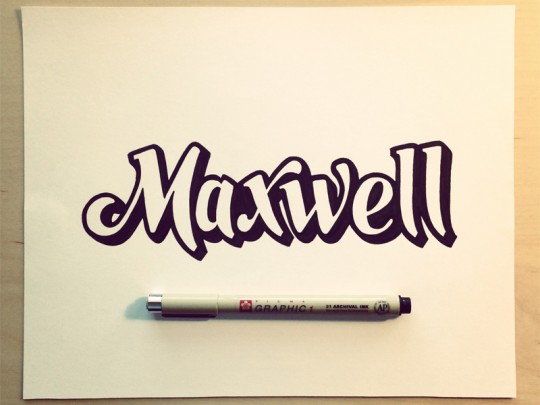 Go Media: How do you continue to learn and grow as an artist?
Sean: I was home-schooled growing up. My mom was a great teacher, though as I was the oldest of 12, there was only so much 1-on-1 time you could really get. This resulted in a lot of our education being very self-propelled. We were given the curriculum, but really we could go as fast or slow as we wanted to. I could see this being a good or bad thing, but for me it was very beneficial because it didn't slow me down the way a traditional education likely would have.
I devoured every book in our house and then took to libraries. I think if being home-schooled gave me anything, it was an insatiable desire for knowledge and learning.
I got about 1/5 of the way through a computer science degree, but at that time I was already running two businesses. I recognized that in both industries I had companies, experience was equal to education.
I stopped pursuing the degree.
While my formal education ceased, my self-initiated education continued all the more and with renewed focus and vigor. I wanted to learn music production, so I spent 30 hours watching YouTube tutorials, and making things. I wanted to learn Adobe Premiere, AfterEffects, Photoshop, illustrator, etc., so I simply did.
The internet is a phenomenal wealth of resources. The vast majority of information is freely accessible, and what quality material is available is very affordable. The internet merely amplifies what inclinations we already have. If you want to learn, there's no stopping you. The sky's the limit. If you want to waste it all away, there's no cap on how long you can play video games, and there are enough cat gifs on Reddit to fill the rest of the time you have on this planet.
I always say if you go to school and didn't learn to learn, you've learned nothing.
Go Media: Is there a piece you are most proud of? If so why?
Sean: The works I'm most proud of are usually the most recent. This is because I visually tear apart any of my work that is older than my recent one or two pieces to the point of strongly disliking it. All I see are the flaws and what can be improved.
Perfectionism is somewhat of a curse, but it also pushes me. It keeps me innovating. As annoying as it is, the reason I see the weaknesses and flaws in my previous work is because I'm growing. I'm improving. That's always a good sign, and it's enough to keep me going.
 _________________________________________
Visit Sean's Store
When you used the coupon code GOMEDIA at Sean's Store (through July 4, 2013), you will receive 10% off of Sean's t-shirts, posters, pins, mugs & stickers, just for being a GoMediaZine reader.  Thank you, Sean!


For more Sean: SeanWes.com | Facebook | Dribble |
Instagram | Twitter
So You Want to Learn Hand Lettering: By Sean McCabe
A moment of inspiration with Cleveland artist Angela Oster
Cleveland artist and illustrator Angela Oster cultivates and creates a world of whimsy, filled with criminally cute, odd and wonderful beings. A graduate of the Cleveland Institute of the Art, Oster gave Go Media a glimpse into her life, her art, and some of her lovely work.
Go Media: Hello Angela! Tell us a little about yourself and how you got to where you are today!
I took a very circuitous route to drawing – in art school at CIA I was into sculpture, video and performance art. When I got out of school and had my daughter, I found that my audience shrunk! That was a good thing – it was just me and my pencil. It is now totally stripped down to what I feel is essential – lines on paper.
Everything starts out as a pencil drawing. I usually work back into the drawing with a crow quill pen and ink – I just started using some Micron art pens. I do add watercolor with varying degrees of success!
Go Media: What mediums do you work in most often?
Everything starts out as a pencil drawing. I usually work back into the drawing with a crow quill pen and ink – I just started using some Micron art pens. I do add watercolor too!
Go Media: I understand that social issues often impact your artwork…why/ how so?
I've worked for many years at Ohio Citizen Action – it makes me realize how vulnerable human beings can be. Chemicals are entering our bodies without our permission – companies are allowed to put poison into our air & water… that's just not right. If I can find ways to express this through art, I'll do it!
Go Media: What in everyday life is most inspiring to you as an artist?
Images that explore buoyancy – both physical buoyancy in water and the ability to recover quickly from setbacks. I think resiliency is one of the most important skills you can develop. Many of the characters that I draw are alter-egos – autobiographical snippets that deal with happy memories of childhood, and also with awkward moments.  I want the audience to be entertained and maybe look at their own insecurities with compassion. What I really try to capture is the beauty of the bitter-sweetness of life.
Go Media: I love the whimsical nature of your watercolor paintings, tell us a little bit about how hard or easy it was to develop your style or niche as an artist.
Thank you! It took me my whole life to develop my style – it's an amalgamation of all of the artists that I like to look at. Everyone had a hand in what my stuff looks like – from Dr Seuss to Edward Gorey to Graham Annabel.
Go Media: Tell us about the challenges you face as an independent artist, and about what you love best about it.
The challenges are many – sometimes I thank people who buy my stuff for supporting my art habit. I heard someone say that art is half "doing it" and half "telling people about it". You really do need to have some kind of business sense and maybe a little luck. I still have a day job that I enjoy, and I have to manage my time well between work, family and art. Honestly, I'm pretty bad at it, but I'm making it work somehow and having fun.
Go Media: What advice would you have for other illustrators/designers who are starting out and trying to make it on their own?
I saw a great speech by Neil Gaiman, whose message was "Do good work". That is a big part of it. Do good work and the rest will follow. I think it helps to have other artist friends to help buoy you up when you start to sink down. There is a really great blog post that I love to revisit now and then – Super Obvious Secrets That I Wish They'd Teach in Art School… Words to live by.
Go Media: What is it like being an artist here in Cleveland?
The Cleveland art community is extremely supportive. It is small, but it seems to be gaining momentum – new galleries keep popping up. There are a lot of groups around town that draw from live models like Dr. Sketchy or the Murray Hill group and some events like Drink & Draw at the Lava Lounge and Buck Buck Gallery has a weekly drawing night. It's a good way to meet other artists. Go to openings – see what other people are doing.
Go Media: What's next for you?
I am currently showing my work at the Still Point Gallery through June 20.  I am curating my first show in July. It's at Arts Collinwood. The show opens on July 5 and it's called CRUNCHY: Sugary Cartoon Art for Big Kids. I'll be selling my stuff at the Summer Market on July 26 & 27 in Avon Lake and at the Berea Arts Fest on  September 8.
For more Angela Oster | Twitter
contact: [email protected]