Introducing Feedly Cloud + 5 Tips and Tricks
So Long, Reader
The countdown has begun.  Google is set to drop its RSS aggregator, Google Reader, on July 1, 2013.  According to the Google Reader blog, the usage of the site has declined and the company wishes to put its energy into other products.  Google offers Google Takeout for those needing to download a copy of their data stored from Reader.
For those married to RSS, there is life beyond Reader. Leading the pack in RSS, a favorite news aggregator here at Go Media, is feedly.com. First released in 2008, feedly is gaining momentum and popularity due to Google Reader's recent announcement, building from 4 million pre-Reader retirement to 12 million users through the end of May.  Making it easy for those in transition and available on a variety of platforms, those wanting to crossover to feedly may simply log in to Reader and have all of their subscription information magically sync over.  Just how easy will it be?
Introducing Feedly Cloud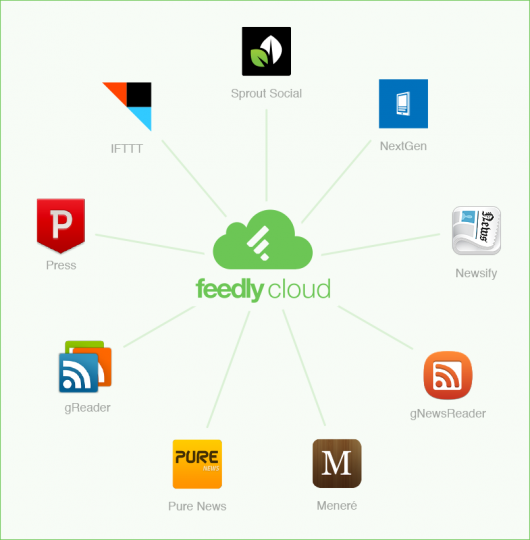 More good news from the feedly community as of yesterday.
The transition, through feedly cloud, announced yesterday, will be seamless.  Per our conversations with Tim Smith, representing feedly, this new platform will provide one-click migration path from Google Reader, as a "fast and scalable infrastructure to serve as the backbone to feedly."  Fast and built to scale, feedly cloud will also power a standalone Web version of feedly, making feedly available from any browser, including Opera and Internet Explorer.  Having an open API, feedly has also been working with third party developers to "enhance the feedly experience," and has announced the first of the feedly cloud following applications including:
IFTTT is a service that lets you create powerful connections with one simple statement — if this then that. With the IFTTT Feedly channel, you can connect your feedly account to 63 other services

Sprout Social

is a social media management platform that offers engagement, publishing and analytics tools for businesses.

Nextgen Reader

for Windows 8 and Windows Phone, is a fast, clean and beautiful reader app inspired from Metro UI and packed with powerful features.

gNewsReader for BlackBerry 10

and 

for Symbian/MeeGo

are two elegant and versatile readers providing full feedly support for BlackBerry and Symbian devices.

Press

is a wonderful reader for Android that is all about the reading experience. It's designed with the purpose of making your news easier to read. Also providing full offline support.

gReader

is a simple, fast and intuitive reader for Android, featuring beautiful themes, podcast support and full offline support.

Newsify

is an awesome reader for iPhone or iPad, with an amazing newspaper-like layout. It supports offline reading including image caching, and the use of multiple feedly accounts.

Pure News Widget

is a scrollable and actionable reader widget for Android, with multiples skins.

Meneré

is a Windows Desktop client to Feedly showing all items, filter them by read state, feed label and content and brings Snarl notifications
Log into feedly at 8 p.m. tonight, Wednesday, July 19th, to experience feedly cloud!
The future of Feedly
Feedly's outlook on the future is bright, reports feedly co-founder Cyril Moutran to Go Media. "We're very excited to see third-party innovation happening on top of the feedly API. This will help drive RSS feed adoption to many more users.  We have developers looking at integrating feedly in their business applications, others looking at content consumption in cars, even some developers looking at news consumption with Google Glass."
RSS, Moutran and the feedly team, feel, will not only survive but also thrive come July 1. Says Moutran, "Google dropping reader does not mean RSS is dead.  On the contrary, Google's announcement has invigorated innovation in the space. Since we announced the feedly API in mid-March, we had over 150 requests from companies who wanted to build innovative RSS reading experience on top of our API.  We are seeing renewed interest from publishers that are looking for alternative ways to deliver content to their most faithful readers.  When user's subscribe to their content on Twitter or Facebook, their content get lost in the noise of the user's single feed."
Their focus now?  Per feedly.com, adding newer, faster hardware, releasing weekly incremental updates to make the transition to Google Reader seamless and to continue to draw users to its site.  But most of all, Moutran stresses, "At the moment, all the focus is on making sure the ex-Google Reader users are having a good experience with feedly."
5 Ways to Befriend Feedly
Joining the feedly.com revolution?  Here are some simple ways to make the site work for you.
 1. Stick to the Basics

Feedly offers the viewer four different viewing experiences: title, magazine, card and full-article. If you want a quick and dirty view of all the blogs you've subscribed to, stick with the basic title view by clicking on the first icon on the top right hand corner of your screen and clicking on "Title Only View," or by going into your preferences  and choosing the default "Titles Only" view, which assures that you'll stick to the format closest to what you might have used over at Google Reader.
2.
Bookmark It
Say goodbye to stars and hello to bookmarks. Hover over an article that you'd like to read later and click on the bookmark icon, turning it green, to save it for later.
3.
Get Speedy
Gain super-speed by getting familiar with the shortcuts in feedly. You can find them but simply typing a ?.
4.
Choose A Theme
Choose a theme that you like to look at. Feedly recommends white if you want to keep close to Google Reader's color theme.
5.
Be Seen
Build up your own network by checking out feedly's Publisher tools, where you can create your own feedly button, request your own hashtag, get featured on feedly and optimize your feeds, to name a few.
Don't forget to sign up for our RSS feed!
______________________________________
If you haven't found that feedly is for you, here are some other options to consider: