Articles by:
Wilson Revehl
What's the Best Project Management Software for design firms?
Part 2.
In this second part, we conclude our Basecamp VS. Podio comparison. If you missed the first piece, you can find it here (you can always find archives of our design articles through our blog). The standings on the first seven topics gave Basecamp the edge, in our opinion of course, 5 to 2. Let's see how things shake out in our last seven.
Topics We'll Cover
Learning Curve & Usability
Task Management
Project Management with your Team
Project Management with your Clients
Proofs & Client Reviews
Calendar Integration
Email Integration
File Management
API & Third-Party Integration
Automation
Pricing
Vendor Support
Conclusion
File Management
It's truly a wonderful thing, how "paperless" the modern workspace has become. I hate to age myself but when I started in this industry, the norm were actual physical project folders with sheet after sheet of details, reference materials, you name it. We even had project status bins to toss these prosaic piles into. And don't get me started on "Change Orders". Wow. I don't miss those days. Alas, we still need to manage "office documents" in the process of meeting client objectives.
Basecamp
The standard approach in Basecamp is to attach files to a project or todo. We've all attached files to emails or filled out forms. Pretty self-explanatory. Browse for them locally and upload. There's now a copy on your Basecamp account.
You can also decide how to send a notification with a reference to the attachment.
Associate the files directly with a todo. This can be very nice for deliverable accountability when details matter.
But do any of us expect Basecamp or any other Project Management application to also serve as our document management platform? Of course not. File management is an extremely complex and nuanced concern, especially in the age of cloud applications. For example, you've heard of Version Control. Working with the latest version of a file, or NOT, can mean the difference between the success or failure of a client engagement. Here's where 3rd party integration plays a pivotal role. Google Docs has quickly become a leader in collaborating on files in the cloud. Basecamp has done a fine job of looping Google Docs into the mix of their file attachment features.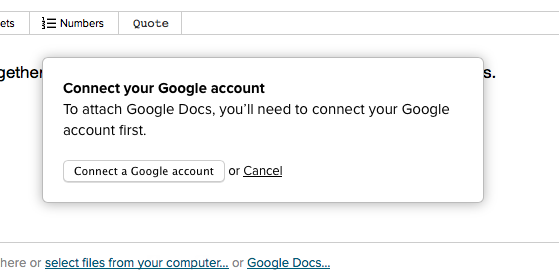 A few other niceties from Basecamp, you can download all the attachments on an item in one fell swoop.
Basecamp also provides easy to use sorting features in their "All files" list view.
Podio
Podio's unassuming "Choose a file" button opens up to a variety of possibilities.
As does the Attach file, they behave the same way opening up a Files dialog unlike any out there.
Yes, you can upload files to Podio just like you would in Basecamp. But Podio has taken things further to accommodate the age of cloud computing. They offer integration, not only with Google Docs, but with Box, Dropbox, Evernote, ShareFile, Ubuntu One & SugarSync. An easy and consistent search field lets you find what you're looking for and fast. Their connection with these services doesn't seem to miss a beat. It seems nearly instantaneous, as soon as a file becomes available on your file service, it can be found through the Podio file dialog and associated with an item.
File representation in the Podio Apps and Items is clean and consistent regardless of where the files are associated from. You can replace and, in some cases, see the history of previous file versions depending on the file service in use.
The similar "All Files" view gives you access to all the files associated with the workspace. Advanced search gives you the ability to filter it down to the narrowest of attributes. This even includes all the files associated using the third party file management services.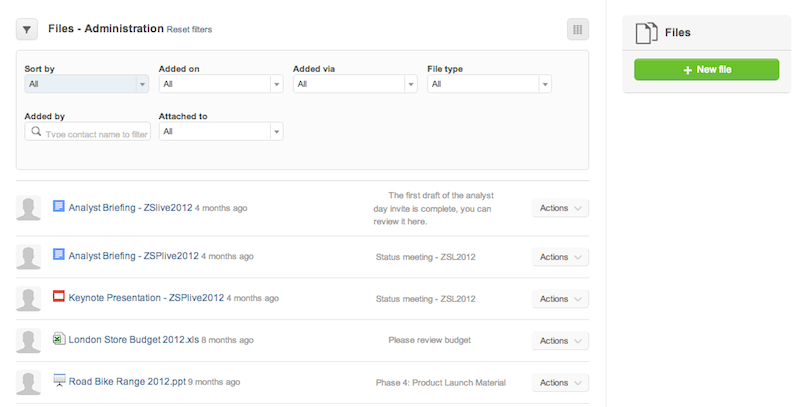 Who delivers the File Management advantage? Podio
API & Third-Party Integration
I mentioned earlier we're in the era of cloud computing & collaboration. The fact we're comparing two Software as a Service (SaaS) providers is a prime example of that. More than ever, companies need to be highly specialized, especially in the SaaS arena. There aren't enough hours in the day and enough programmers on the planet to develop every possibility into an app. And it wouldn't make sense to do so anyway. The information age is more like a barrage and if your app is cluttered trying to be something to everyone, everyone drowns in the complexity and nobody wins. This is where the API & Third-Party Integration comes in.
The short about APIs.
If you're not familiar, an API is a publicly available way to interact with software using code. We'd be getting carried away to cover the technical concerns of either Basecamp or Podio's APIs. They both work in essentially the same way. HTTP based GET/POST/DELETE/PUT calls using JSON. Basecamp is built in Ruby and they've produced a Ruby SDK for developers to get a head start from. I'm not sure what programming language is behind Podio, but they've done a generous job of producing SDKs for all the most popular web dev ones. Podio also has a dev community receiving a lot of support from the vendor, as evident in their docs and support channels.
Third parties use them to often integrate data from an application into their own or allow actions in their application to effect another. The commonality of Google Docs integration, we discussed earlier, is a prime example of third party integration through an API. In that example, Basecamp & Podio are both using the Google Docs API to enhance their apps, not the other way around. We'll cover both sides of API usage below.
Basecamp
Thanks to Basecamp being a market leader and an early innovator in the space, it enjoys over one hundred published third party add-ons applications with some degree of integration tapping into it. The categories cover Mobile and Desktop Apps, Time Tracking, Invoicing, and Accounting, Reporting, Charts, Planning, File Backup & Synchronization, Software Development, Marketing, Design, and Asset Management, Customer Service and Support and Contracts and Proposals. Having looked at nearly every one of these apps, they vary in usefulness and practicality for our particular industry. I won't try to point out any specifically, but there are some excellent ones. There are also a whole lot of flops. Basecamp may want to consider a quality control purge. I can't help but think a lot of these vendors did the bare minimum integration just to get a free banner on the site.
As far as, what are often called, "Official" integrations by Basecamp INTO 3rd party apps, there are hardly any. Google Docs comes to mind and they did an adequate job with it. They have Android, iPad and iPhone native apps that are all top-notch.
Both apps do the iCal thing for calendar integration. It's pretty much a standard.
Podio
Similar to most of the Basecamp's "3rd Party Add-Ons", the Podio Extensions section can give you a preview into the momentum this young startup is garnering from outside app teams. Admittedly, I haven't tested the majority of these. Many of them seem a bit hokey. But a noteworthy difference is the volume of apps specifically created for managing your firm within Podio. A lot of them are sort of "helper" extensions. I won't try to conclude whether that's a good sign or not. Nevertheless, the buzz in the industry about Podio certainly has a lot of developers watching. Speaking of developers, Podio promotes who they refer to as Development Partners. They're creating opportunity for 3rd party teams to help businesses integrate existing systems with Podio. This will likely accelerate the extensions library as these firms become the future Podio ecosystem.
From where Basecamp has just one, the Podio Official Integrations bring many of the most popular tools into the system and with the authority of, well, being 'Official'. Dropbox, GoToMeeting, Excel, Google Drive, Sharefile, Google Calendar, Zendesk, Hightail, Onedrive, Microsoft Exchange, Evernote, Campaign Monitor, Mailchimp, SugarSync, Box, Freshbooks and other platforms. Most have integration built into the app or you can find them in the integration directories of each service provider's.
Beyond all this, here comes the "killer app", the Podio App Market. This doesn't use an API at all. And it's only third party in the sense outside individuals created these "apps". These thousands of apps are designed and created by users of Podio, who wanted to share them with the community. These are made possible by brilliant engineering at the core of what makes Podio exceptional, the Podio App Creator.
I talked about the Podio App creator in Part 1 under Learning Curve if you're interested in hearing more about it. You can easily use it to design your project management  concerns into informational objects you can manage in the way you work! And if you're proud of what you've created and want to share it with the Podio community, you can through the App Market. Oh, and they're all free to use!
Considering it is only a couple of years young;
We have to give the API & Third-Party Integration edge to, you guessed it: Podio
Automation
The march of the robots continues! Artificial Intelligence will soon take your job. Okay, maybe not YOUR job. But the hope with automation is to train a computer to do remedial tasks for you, so you can focus on more important challenges. Behind the scenes, in development, this is commonly referred to as conditional logic. These are the "if this, do that" commands which give operational value to most of the procedures run in any software program. The trick is, can a system be created which is sophisticated enough for a lay user to play a role in writing logic? Historically, this was the realm of writing your own Macros in Excel or setting up Filters in Outlook or Gmail. Nowadays, savvy businesses want Automation out of the platforms integral to their workflow. This is an especially prevalent demand in the Project Management realm.
Before we get into whom offers what in terms of automation, we need to give credit where credit is due to Zapier. Zapier does an amazing job delivering a platform for automation in the era of cloud computing. You can find Zapier support for both Basecamp and Podio. You can point any of the dozens of Zapier integrations to or from either service and do wonderful things. Long live Zapier! That said, we give major props to Basecamp & Podio for having excellent APIs to give Zapier something to interact with. Respect.
One last thing. We're not going to consider email notifications, due date alerts and calendar integration as a factor in our automation evaluation. Those are pretty much standards, so both are closely tied in those areas.
Basecamp
At the time of writing, Basecamp Project Templates were a relatively new feature. They allow you to replicate the attributes of an existing project. This is great for teams who work on nearly identical types of projects on a regular basis. You can replicate the team, to-dos, comments, files, even due dates. Due dates are especially remarkable because to-dos can be set to have a delivery expectation relative to the project start date.
By and large, Project Templates are the noteworthy automation feature of Basecamp and they did one hell of a job with it.
Podio
The core nature of Podio is very different, as mentioned earlier. Where Basecamp has a single minded focus on general project management, Podio offers one of the most flexible platforms ever built. The fact they were able to add the Advanced Automated Workflows feature on top of such flexibility should make any software developer offer up a nod.
Podio's Advanced workflows allows you to write your own if-then-do-this logic right within the app. It currently offers up a trigger method using what they call "categories". These are fields, typically dropdowns, where you're declaring a status of sorts about your project. For example, say you have a project app with a category called Status and it reaches a state you call "Ready for Invoicing". You could setup an Advanced Workflow to listen for that status and tell Podio to spawn a new item in your "needs invoicing" app.
Advanced automated workflows give the Automation edge to: Podio
Pricing
Don't need to preface that one!
Basecamp
Basecamp's pay model is based on the number of projects you manage and the file space you consume. This is unique in the segment as we all know most PM apps are priced per-user. Basecamp, on the other hand, gives up unlimited users regardless of the account package. Unlimited users really comes in handy when you're inclined to collaborate with a lot of clients and vendors within Basecamp. It would be cost detrimental if you had to pay for every short cycle client user or have to manage the up and down of it. This has been a huge boon to Basecamp's success in our industry.
We've always felt Basecamp's pricing was very reasonable and competitive in most areas.
Podio
Unlimited projects? Unlimited items? Unlimited file space? It isn't exactly clear with Podio. Maybe that's due to the unique app builder paradigm they're under. Or they're still trying to figure those limits out. Who knows? We're going to assume those are unlimited until we hear otherwise. Podio charges per-user, with a different fee depending on the type account. They offer more advanced features, the most noteworthy being the Automated Workflows I just mentioned, for the Plus and Premium accounts only. If you're a firm with even just a handful of employees, this can make Podio get expensive very quickly.
Who has the edge on pricing? Basecamp.
Vendor Support
When you hit a point using the application where you're unsure how to use or find a feature, encounter a bug or are wondering if something is possible, how much can you count on the service provider to answer your questions in a timely fashion?
Fortunately, both Basecamp & Podio are extremely well documented with self-help guides covering every single feature of their respective applications. If you're willing to read, the information is available. But we all know how hard it can be sometimes to spare the time to comb through docs to find an answer. This is where a timely response from the vendor adds value to your subscription.
Basecamp
At the very bottom of the Basecamp screenshot below, you'll see the sentence "We've been responding to emails in 4 minutes lately,…" Basecamp puts customer support at the top of their priority list on a daily basis and clearly wants the world to know this. Basecamp is headquartered in Chicago, IL USA with remote contributors across the world.
They also offer an "instant reply on Twitter". Basecamp is known for their focus on speed. Whether it is the speed of their app or the speed of their courtesy, they don't want to keep anyone waiting.
Basecamp also offers free online classes.
Sure, but how satisfactory is their service? Well, Basecamp is not ashamed to publish a tangible metric to the World. Below, you'll see a screenshot where they declare how the customers have rated their service after a request. I have confidence that 89% is not skewed in their favor. They're clearly self-evaluating the quality of service, on a daily basis, and using the responses to seek ways to improve.
Podio
We mentioned earlier, Podio is "the new kid on the block". They were a startup founded in Denmark and have since joined the Fort Lauderdale, Florida USA based Citrix family. Can we expect them to have as stellar of a support infrastructure as Basecamp's 15 year old one? Maybe. We haven't given them a handicap for the other comparison topics. Has the reality of their origination and newness effected their ability to provide timely support, yes. We've experienced 12+ hour delays in support inquiries. We're not sure if our rep was stateside or in Denmark.
They do indeed have very good self-service channels and a community. We've all tried to receive support through forums. It is rarely ever faster than the vendor, except maybe in the case a vendor provides little-to-no support at all, which is rarely a good thing.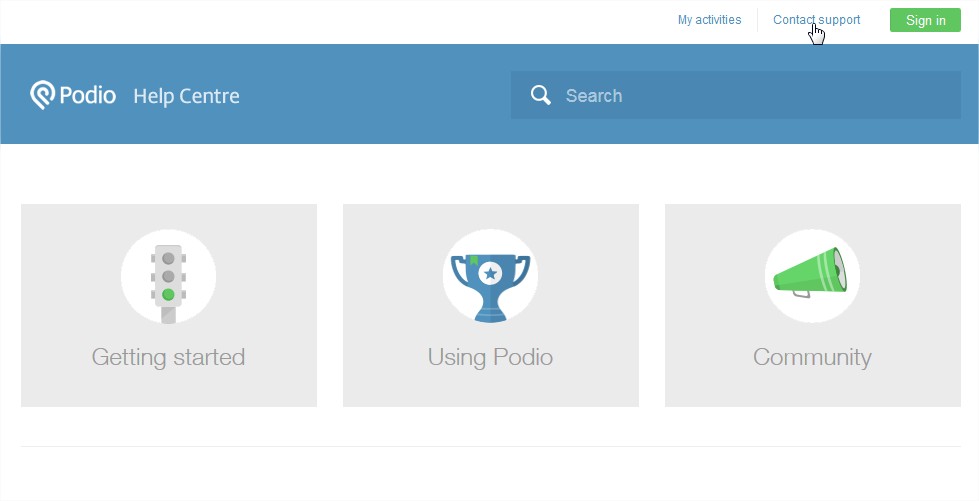 Podio does, however, give you a dedicated Account Manager when you join. But, for some reason, the "instant" messaging with the rep, was rarely ever instant. It wouldn't be unusual for a message to go unanswered for an entire day.
Podio is so new. They appear to have the resource intent to provide customer service at a very high level. We recognize there are only so many hours in a day. That training and competent staff is needed to deliver on service expectations. We're also a pretty self-sufficient bunch and the tools are easy enough to figure out. So we'll allow them leniency on this topic for now.
Who delivers the best Vendor Support at this juncture? Basecamp.
Conclusion
It would not be fair to consider this review and comparison the most exhaustive possible. I evaluated them within the silo of our usage, in our specific industry of creative services. There are also many features and benefits both platforms offer which we did not cover. And this is software. Not just any software either. This is software as a service in the burgeoning cloud computing era. That means these applications improve and evolve every single day and instantly for every user. It would be naive of me to assume these services won't change. We must fully expect the points made in this article to be contradicted within a pretty short time window. If you use or support one or the other, we encourage you to point out those changes in the comments section below. Please share your thoughts, experiences and findings with the community.
If you are on the Basecamp or Podio teams, we hope you will find our review to be objective and fair. More importantly, we want to thank you for the obvious hard work you have invested to develop two of the most extraordinary web applications on the internet today. We wish you both the most continued success you can earn and offer our sincerest respect and admiration.
As for the final "edge" numbers.
Basecamp: 7
Podio: 5
Technically, Basecamp is the deserving winner, of the topics we looked at, merely in our opinion. That said, Basecamp started more than a decade earlier than Podio and only surpassed "the final score" by two points. This makes Podio a formidable competitor in the upper echelon of online Project Management platforms 37 Signals (the company behind Basecamp) has dominated all these years. Will this keep Basecamp on their toes? Maybe not specifically. If you read the latest letters from 37 Signals on their site, you'll learn Basecamp is on the verge of more relentless progress than ever before. Basecamp won't be unseated anytime soon.
What project management software does Go Media use and why?
Podio.
It was a grueling decision to decide to forgo Basecamp. Our decision process covered more than the topics here and really helped write this article for us. We decided on Podio because we're confident they're in it for the long haul. We believe they'll correct the shortcomings. If you get a chance to test drive Podio, which I highly encourage, I have no doubt you'll be thoroughly impressed with the quality of the software. It speaks volumes about the talent of their leadership, design teams, and engineers. They clearly have an exceptional team with World Class standards and ambition.
A pivotal factor in our decision to go with Podio is the flexibility of the app builder. Go Media is different than many design firms because we actually operate several different subsidiaries of the design service company. We have our annual Weapons of Mass Creation creative conference we host in Cleveland. We also have several product and platform services, such as the Arsenal and Mockup Everything. These other departments of our operation have different needs and workflows. We felt Podio offered the most flexibility to be able to manage our small enterprise within one platform. So far so good.
So there you have it. I hope we've provided enough of the pros and cons to help you make an informed decision about which platform is the right fit for your business. Thank you for taking the time to experience our review. I have no doubt in my mind, if you choose either, keeping your projects on track with these innovative and powerful solutions will be a success.
All Basecamp screenshot images are copyright ©2015 Basecamp. All Podio screenshot images are copyright ©2015 Citrix Online. Content, designs, pricing & other implied features are subject to change.
What's the Best Project Management Software for design firms?
Part 1.
There's a cool new kid on the Project Management block, and her name is Podio. Podio has been receiving a lot of attention from our industry lately. Creative professionals are wondering if Podio has what it takes to unseat the old guard. That old guard being, you guessed it, Basecamp.  In this two part series, we'll discuss how these two stack up. Why? Because Go Media has been a Basecamp consumer for nearly a decade. And we just may have started to hang out with someone new. Which is the best project management software for our needs? Yours?
Before I get started with our review, please note this is Basecamp VS. Podio within the context of design & creative service professional workflows. Therefore, this can't be considered definitive, because other industries will have different needs and some of those needs could sway the argument toward one or the other. These are the findings at the time of writing this. We don't retroactively go back and edit our articles when new features are added. If you're from the future and find a discrepancy, please share it with the community by leaving a comment. Also, most of us have worked in Basecamp already. So I'm not going to scrutinize it as much as "the new kid".
Topics We'll Cover
Learning Curve & Usability
Task Management
Project Management with your Team
Project Management with your Clients
Proofs & Client Reviews
Calendar Integration
Email Integration
Part 2 (Coming Soon!)
File Management
API & Third-Party Integration
Automation
Pricing
Vendor Support
Conclusion
Learning Curve & Usability
Basecamp
For most intents, the ease of use has been the defining factor in Basecamp's success. Basecamp did an impeccable job of implementing a User Interface which hides the more advanced technology, allowing newbies to dive right in. When you found yourself wanting more, it usually just takes hovering over a subtle label and, voila, Basecamp DOES do that.
Basecamp did a superb job making their interfaces clean, straight forward and familiar. They took a lot of cues from traditional Word Processing, while elevating the UI with well designed controls, typeface selection and sizes. The information design and layout were clearly well-thought-out for maximum usability. Nearly every text field can be edited right on the spot. Basecamp truly set the bar for software-as-a-service through web applications with their attention to speed and prolific use of AJAX.
Podio
Not unlike Basecamp, Podio is indeed clean and uses AJAX to the max. The usability comparison pretty much stops there. I don't mean to elude Podio is a usability failure; not by any means. But Podio definitely has a much steeper learning curve when compared to Basecamp because of how it is built for flexibility. The core of Podio is an application builder where you design (or import from the Podio community) your very own "Apps". Podio apps are actually more like templates.  You can design your app using unlimited fields, such as Text, Categories, Dates, Application Relationships, Contacts, a variety of numerical fields and more; at the time of writing there are 14 different field types to choose from.
Once you've created your Apps in Podio, then you can get to work. The Podio UI & UX offer a lot of controls, some of which can be confusing. Apps are created under "Workspaces" which are discreetly tucked away in the corner. It's a tad off putting if you jump around Workspaces constantly. I suppose it's a lot like Basecamp's Account switcher mixed with their Projects, but the rationale for Podio Workspaces is more centered around the perspective of traditional business departments. In that sense, Podio Workspaces make more sense than Basecamp Accounts if your company is indeed operating more than one department.
The biggest UI/UX complaint is Podio's strange representation of "Contacts". They have what they consider Podio Users or Members which are your team users/collaborators, but they label them Contacts and mix them with what they call "Workspace Contacts" which are NOT Podio Users, but rather a basic sort of contact address book. More on Contacts later.
The default App View/landing page in Podio has a learning curve as well. Podio did an excellent job with AJAX throughout their app, but didn't keep those same standards here. Although powerful, it can be a tad jarring to navigate the different Views & Reports and then effectively save them appropriately. This is an awesome feature. Basecamp's filtering/reporting is nearly non-existent, Podio's is just a bit convoluted.
Who has the edge in Usability? Basecamp.
Task Management
Basecamp
Tasks are referred to as To-dos in Basecamp. There's a "Your open to-dos" feature which gives you a bird's eye view on everything ahead. It's easy to delegate to-dos to your colleagues. You can even assign to-dos to your clients.
To-dos can be expanded to reveal notification settings and attach files. Notifications are associated with email alerts. You can drag & drop to re-order them.
 Podio
Tasks have been put at the forefront of Podio. If you're reading this article, you obviously know from experience, project management starts and ends with deliverables and deliverables are built on tasks. The global Task view gives you a bird's eye into your tasks across all Podio Workspaces. This has an advantage over Basecamp if we try to consider Workspaces analogous to Basecamp Accounts. In Basecamp, you would need to navigate across Accounts to truly see all of your tasks.
Reminders, files, labels, hierarchy and inline editing is essentially comparable to Basecamp. The only noteworthy addition in Podio is Task Comment Threads and Descriptions. These two more robust fields really improve the collaboration and accountability factor. Basecamp "Discussions" pickup where Todos leave off, but alas it is a separate feature. And we all know, in project management, system fragmentation is the mother of human error.
There's also a sort of All Tasks view where you can see all of the tasks across an entire Podio Workspace. It's under the Activity log's little wrench icon.
Who has the Task Management edge? Podio.
Project Management with your Team
Basecamp
We have to give credit, where credit is due – Basecamp wrote the book on modern project management. Simplicity is, well… NOT simple. The brilliant folks behind Basecamp managed to boil down the process of project management into its very basic, fundamental parts. They made it so easy to do, and left out their opinions about how to do it, in such a concise way; virtually any type of organization can effectively put Basecamp into their workflow. It's a cinch to on-board your team, delegate tasks, have discussions, share resources and stay organized with Basecamp.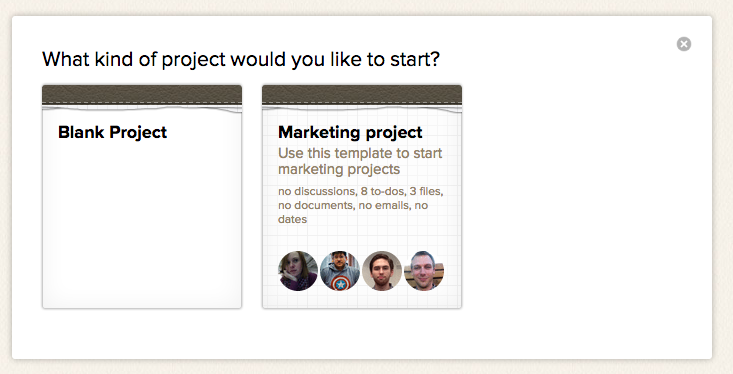 You can absolutely manage the vast majority of projects using Basecamp. It's a veritable collaboration and communication hub which, at the end of the day, is the crux of teamwork. These screenshots say it all.
Podio
Podio can indeed do almost everything Basecamp can, in it's own way. Keep in mind, this only happens after you contend with the learning curve. Once you have your "Project Management" app created, it could easily cover the same fundamentals. Discussions leave a lot to be desired (more on that later), but descriptions, tasks, files, due dates and team collaboration are all well accommodated. After the learning curve, Podio's amazing flexibility with custom apps can be a huge advantage over Basecamp depending on your organization's needs and ability to manage the tools. Podio Reports & Views are also very advanced. That said, it might be clutter for many particularly smaller firms.
Who has the Project Management with your Team edge? Podio, by a slim margin for features & flexibility.
Project Management with your Clients
 Basecamp
Basecamp has clearly made outward facing client engagement a priority in its application. You can easily bring a client into their project, giving them nearly all the same tools as your team and without an additional fee to make them a "user". Basecamp is very easy for a client to sign up with and their client invitation emails and entry points make it easy to get the hang of.  You can control what clients gain access to and can see, down to a granular level.
As we all know, trying to rope clients into collaborating with us on a platform in the fashion of how we each work, is never a given. Most clients really only want to deal with us through email. Basecamp has a tremendous advantage over Podio with their Discussion threads. Discussions do not require the client to become a Basecamp user. You can simply loop a client into an email conversation which is routed through Basecamp Discussions. The email correspondence is automatically parsed and mapped to the appropriate sender's Basecamp profile whether or not they ever login.
Basecamp has the advantage of being a market leader, making it much easier to bring a client into the fold because they likely already have an account.
Podio
I mentioned, earlier, the convoluted "Contacts" model Podio uses. The weirdness doesn't stop there. They have what they refer to as "External Users" which are Contacts… or clients, or something like that. These are different from Workspace Contacts, which are a more powerful means to organize your clients. But alas, they're completely separate! The External Users are mixed in with your team, which can be very annoying. Podio claims to be working on streamlining all the Contacts nonsense, but right now it leaves a lot to be desired.
Inviting External Users into Podio is a higher bar because of the learning curve with Workspaces and how Views are designed. It is not intuitive for the lay person and they don't have market share to rest on their laurels. This topic is probably THE Achilles's Heel for Podio right now.
That said, you can indeed share a Podio App item in several ways with the outside world.
Invited users will still have to contend with Podio's learning curve. Being the new kid on the block will hinder client's willingness to take the time to sign-up.
Trying to loop non-Podio users into a Podio workflow is nearly impossible. They have nothing adequately competing with Basecamp Discussions. There's a 3rd party service called Globimail, but Podio's API won't allow proper Email threading where senders are accurately cited. All the threads get lumped into one. More on this in the Email Integration topic.
Who has the Project Management With Your Clients edge? Basecamp.
Proofs & Client Reviews
Seeing as this is a review geared toward creative professionals, a very common need is the ability to collect feedback on images or graphic designs. It's very useful to have that feedback recorded directly alongside the files, so you can cross-reference every detail. This feature is an easy comparison.
Basecamp
Has it going on.
Podio
Doesn't.
That might not be completely fair. Obviously Podio has a file manager and files can be shared with users. In fact, the file manager rivals some of the best I've seen in the SAAS segment.
But collecting feedback on Podio item files, in an intuitive manner, is virtually non-existent.
It's probably obvious who has the Proofs & Client Reviews edge: Basecamp
Calendar Integration
Calendars are tricky business in project management. They can easily become overwhelmed if you start putting every little task onto them. Another common problem is when you try to squeeze projects which span an extended period of time over them. You often end up with what you'll see in the Basecamp screenshot below. Neither platform has come up with an innovative UI solution to this problem.
Basecamp
Likely thanks to it's maturity, the Basecamp calendar covers just about every usage scenario you could think of. Events are easy to create, invite users to, and edit. Deadlines, events and to-dos can all be assigned to a calendar. Basecamp creates a unique calendar for each project and gives you the ability to create and share even more. This gives you a nice way to divvy up assignments and toggle what you're looking at. We all know how busy looking a calendar layout can become when managing several projects.
Color label each of the multiple Basecamp calendars. Calendars can be shared outside of Basecamp using the iCal XML feed format.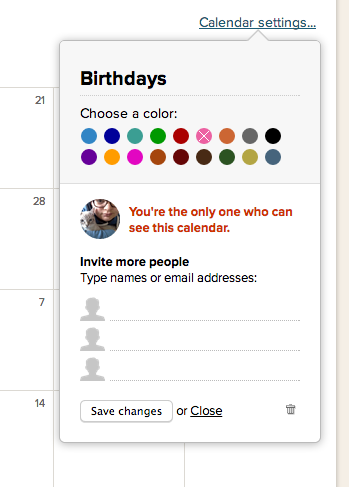 You can invite internal and external contributors to a calendar. This can be a great way to share deliverables & milestones with a client.
Aside from the inline ease of use Basecamp is known for, their integration with the famous Basecamp Discussion threads can be spawned from just about any item, including Calendar events!
Podio
Podio has a ways to go with their calendar. It works well for what it does, but far from as feature rich as Basecamp's. What you see is pretty much what you get. It offers iCal sharing, gives you pretty common usability features. There's no inline (ajax) editing like in Basecamp. You'll leave the calendar to try and edit something. But it's clean and covers the basics.
One nice feature differentiating from Basecamp's is the ability to sort of mute a project from the calendar. You do this at the project level, which is a different paradigm from Basecamp. In Basecamp, you would toggle a project calendar view, similar to how it works in Google's. Because Podio doesn't spawn unique calendars for each project, this is fundamentally different, but at least useful in its context.
Another setting to toggle what you're looking at, on the single Podio calendar, is how events & tasks relate to you. This is neat, because it lets you silence items you're really not involved with on a weekly basis. This is useful for Producers who might not need to be actionable on a project until a certain phase is complete or for Art Directors who want the bird's eye in one place but maybe not muddying up their own calendar.
At this juncture, we have to give the Calendar Integration edge to: Basecamp
Email Integration
Despite the futurists who've proclaimed the looming demise of email, email continues to be a cornerstone in the modern business system. Sure, some innovations have tried to replace email. Asana and Slack come to mind. The challenge with such an ambitious goal; most businesses don't operate in a bubble. Most businesses rely on a lot of interactions with a lot of stakeholders, namely other businesses, consumers and vendors, to successfully serve those stakeholders. If you're reading this, you know how difficult it is to get your clients to adopt YOUR system. Your clients have their own operations to be concerned with. They're not going to make a substantial effort to accommodate yours.
This is where email integration must come in. And to cut to the chase, Basecamp does this better than anyone out there.
Basecamp
Project activity email notification controls, check. You can be very granular with who's notified and with what.
You can also control your own. Set an email which might even be different than that of your account.
Basecamp recently added a Gmail support feature where a link to the item is automatically shown.
We talked about Basecamp Discussions  earlier. One of the most powerful and useful features is the ability to loop a non-user into the thread. This means a client or customer doesn't need to ever signup and into Basecamp to be a part of their project conversation. Any adopter of Basecamp knows how incredibly useful it can be to keep correspondence within the context of a project. Basecamp clearly agrees and makes it incredibly easy.
You can also send content INTO Basecamp through Basecamp "Email In". The below infographic says it all.
Podio
Podio's email integration is a bit of a mixed bag. There are some unique and excellent features which align to its tremendous flexibility. There are some seemingly obvious integration missteps leaving a lot of the community scratching their heads.
Podio notifications are reliable and work well. The settings are quite pragmatic.
Podio's remarkable flexibility is at the core of its value. You can essentially design your "apps" to suit your workflow. They did a fantastic job aligning an Email to App feature where you can map emails sent to Podio to automatically create items in your custom app. This is one of the stronger email integration features in the topic.
Podio also offers features similar to Basecamp's Email In. You can email to a unique Podio addresses for Apps, Items and a few other features like Messages and even a Facebook like Status.
The area I've seen the most complaints about Podio is it's lack of Email integration for actual conversation threading. You know, what email is designed for. Yes, you can indeed rope non-users into becoming "External Users" where they can learn how to use Podio and you can try to get clients into your workflow. I'm beating a dead cat here. Podio doesn't offer anything remotely close to Basecamp Discussions for non-users. It's so bad, a third party developer took it upon himself to create a product called Globimail. Globimail does the best they can to try and help add decent email threading into Podio. It's pretty rough, but we're thankful for their service to the community.
This one is light's out. The Email Integration winner is clearly: Basecamp
Part 1 Wrap Up
"The Edge" by the numbers, Basecamp: 5. Podio: 2. Is Basecamp running away with this? Maybe. Check back soon for Part 2 of this review. We'll update the links in this post when it's ready or you can find it on the zine's homepage.
All Basecamp screenshot images are copyright ©2015 Basecamp. 
All Podio screenshot images are copyright ©2015 Citrix Online. 
Content, designs, pricing & other implied features are subject to change.
On Oct. 1, the federal government formally rolled out the Affordable Care Act, also known as "ObamaCare," beginning with the launch of online healthcare exchanges.
It was disastrous.
I'm referring not to the federal government shutdown that ensued as part of the bitter politics involved, but rather the system design and hosting failures that led to the site to crash. Millions of people were staring at an "error" message, causing many to offer further criticism of the healthcare initiative itself.
According to various media reports, the Obamacare website received 7 million unique visitors in the first two days of its launch. Some 4.6 million of those arrived in the first 24 hours.
While some have commented that a glitch-free unveiling of the site was an "impossible task," given the scope, intensiveness and concrete deadlines involved, I disagree.
The complications that arose from the launch of this site were foreseeable and avoidable. Those behind the controls should have planned properly and effectively leveraged the modern cloud.
The truth of the matter is, there are countless websites that manage daily traffic volumes far exceeding what the healthcare site was required to handle – and they do it without a single hiccup.
With proper planning, any firm can effectively tailor their website to fit all their capacity needs, both at the time of launch and well into the future. Any experienced web developer will tell you that there are a number of well-tested methodologies and approaches that are effective in shouldering major spikes in traffic – so long as they are done correctly.
Part of it is the responsibility of the business. Business owners and operators should have a solid grasp on the consumer base, which will allow a fairly accurate estimate of traffic volumes.
Of course, you want to be prepared for the unexpected too. If Oprah one day decides you're one of her "favorite things," you want your site be ready!
There was a time when this might have seemed an extreme challenge. Historically, companies basically had two options: dedicated servers and commodity hosting. The first option limited users to the amount of computers to which it could connect. The latter involves shared hosting. There are limitations to that option as well because any one of those users had the potential to bring down large swaths of that network.
In the last decade, we've seen a game-changer in the form of something called cloud computing. It's a complex form of technology that allows vendors to offer highly-advanced hosting that can expand and shrink as necessary. The software and hardware is specifically designed for maximum elasticity with regard to traffic volumes.
The beauty of cloud computing is that in addition to being superior technology, its developers also made the system available to "pay-as-you-go." That makes it accessible to those with smaller budgets too.
Compare that to dedicated hosting. For that, companies were on the hook to pay for whatever capacity they had estimated they might need, even if those estimates turned out to be inflated.
As great as cloud computing is, it still isn't everything. It won't replace good design when it comes to a smooth launch. You still need experienced system administrators who can put into place the proper design and configuration to ensure your website will be ready.
At Go Media, we offer managed cloud hosting and system design as a value-added service for our clients. We're not a public web hosting firm – and we're not trying to be one. We do, however, want to make sure our web customers are housed on a stellar system that's going to perform well at every turn.
Many of our clients have praised this as a major benefit during a launch because it helps to eliminate surprises. When we've designed the stack, we know what's in it. We know its capabilities. We know we've got certain monitoring systems in place to be able to react immediately if there is a problem with high volumes. We design our systems so that the mission-critical components are going to operate without a hitch, regardless of how many people flood your site.  It's a process we've been perfecting for well over a decade.
Choosing a competent web design and management firm is the first step toward ensuring a problem-free launch of your new website.
There are other steps your firm can take too.
As I mentioned earlier, proper planning is essential. Know your consumer base. Know the kind of capacity you can generally expect. Make sure you clearly communicate this with your web developer. Also inform your developer if at any point you anticipate a marked increase in web traffic. There may be preemptive ways the developer can address these potential issues.
Another thing I've learned over the course of unveiling hundreds of web applications and campaigns for a variety of brands is this: Go to market with the most basic version of what you consider a viable product. This is particularly important if you are on a deadline.
If you try to shoot for the moon and get every single thing in there and do it on an extremely limited timeline, you may find yourself, your staff, and your consumers disappointed.
It's worth noting that many clients ultimately come to the realization within the first year of launch that many of the bells and whistles they considered to be "must-haves" were not truly necessary.
Know that more can always be added later.
Deadlines should be realistic. However, good system design need not take an inordinate amount of time if you are working with a skilled web developer who already has good tools in place.
One of your primary goals in launching your new site should be to avoid alienating your users. Establishing a positive first impression will go far in keeping your consumers coming back again and again.
Subscribe to the GoMediaZine newsletter |  Get Goodies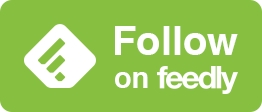 This is Part 2 of a 2 part series, Why a Custom Website is so Expensive?  Check out Part 1.
The Big Ticket Why
So, why can't you just have what you want, for cheap? Your website idea seems simple. Maybe it is simple in the grand scheme of computer science. Or maybe it is a truly difficult problem you're trying to solve. Either way, Go Media is being tasked with getting you there. For us to be able to do so at a world-class level, in a reasonable amount of time and stand behind our work, we have honed a process over the years. It has become so defined, it almost much delineates the departments of our firm.
Account Services
UX Planning
Design
Development
Deployment
Payroll
The teams at Go Media have become highly specialized. They're not bogged down by having to juggle all of the above like a freelancer. This allows us to engage with many clients, at once, in various stages of their projects. Each process in this system is devised to ensure quality, client satisfaction and accountability.
To give you an idea of how time and costs add up, I'll touch on what each project phase entails.
Account Services
The Account Services team interfaces with our clients from inception to completion. They're on the front lines in the battle for customer satisfaction. When a client reaches out for their next campaign, the Account Managers work up an assessment, make recommendations and conclude a project outline. They collaborate with department managers to communicate client expectations, identify solutions and analyze feasibility. We are then able to provide a comprehensive proposal and fee estimate. Negotiations and changes to the scope of work are common until we find the best alignment between client goals and budget. It isn't unusual for this process to take several hours a day for days or weeks at a time.
Once an agreement has been reached, Account Services kicks things off with the production teams. Meetings and conference calls bring all parties up to speed as to the project details and any noteworthy items that may deserve additional scrutiny. Here, Account Management reiterates timelines, deliverables and gives you a good understanding of what to expect from us. From this point forward, your Account Manager keeps everyone focused and on point. This includes things like cross departmental communication, tracking asset needs and serving as the client advocate. And then there is the proverbial cracking of the whip.
UX Planning
Now that we have a full sense of what you need accomplished, we begin with the end in mind. What are your business objectives? What are your user's objectives? How do we align your goals with theirs in a way that is intuitive and engaging? All this and more is fleshed out during User Experience (UX) Planning. We identify your priorities and allow them to inform the user experience. We achieve this through Storyboards, Use Cases, Sitemaps, Information Architecture, Wireframes, Effects Planning, Interactive Prototypes and more. The results provide a nearly complete visual representation of what we'll be designing. This process helps clarify many things for our clients and the designers. In many ways, it becomes like a roadmap of how we'll get there.
Design
With all of the UX directives in hand, the design team is able to begin concepts quickly and not let nuanced business objectives stifle their creativity. They get to focus on branding, themes, concepts, UI, photo manipulation, typeface selection and all sorts of other visual concerns that make your custom website or web application design stand out. Designs are crafted to meet the specifications for how they'll be delivered and proofs are provided as each piece comes to life. Clients are given ample opportunity to provide feedback on each version along the way. The design team makes revisions accordingly until awesomeness is achieved. High fives are then exchanged.
Development
By and large, development is always happening. It starts almost as soon as your deposit check clears. Modern Web Development is essentially Software Engineering, a discipline of Computer Science. It seems to become more complex by the day. The expectations of the marketplace typically mean most custom web development projects include features or functions that don't exist yet, or don't quite exist in the way you have in mind.
Web Development typically includes two major workloads, Frontend Development and Backend Development. The Frontend portion is what you see in your internet browser. It is predominantly HTML, CSS, Images & Javascript. This is the User Interface (UI) and UX you interact with. Often our clients are presented with static versions of the frontend as it comes together. Static means it isn't "wired up" to the Backend yet.
The Backend resides on the server. It is the logical brains and database that give your site functional value and allow it to scale. The Backend is the software behind Content Management, Ecommerce and just about every purpose-driven system online. Web Software, more commonly referred to as Web Applications, are built to leverage Databases. They access the data using Programming Languages, such as PHP. Each special feature of your website may require a new component to be developed. Each new component might entail a handful of files and a few hundred lines of code or potentially hundreds of files and thousands of lines. This code must be carefully crafted to serve its purpose.
Every component of the Frontend and Backend must play well with others as they're typically only a part of the bigger application. This requires immersive, critical thinking every step of the way. The development portion of custom web projects is almost always the most workload intensive. It isn't unheard of for development of one project to take thousands of hours. Innovative websites like Facebook or Zillow, spend thousands of hours in development every single month, year after year.
Deployment
"Going live" may seem like a trivial matter after everything we've mentioned, but it is another one of those steps that adds time to your project. You've likely heard it said; You never get a second chance to make a first impression. This concern is a big deal when it comes to your new website. Everything has to be just right. If you have features like News, Ads, Products, Ecommerce, Video, Blogs, Slideshows, Carousels, or something new, it can mean a lot of brand messaging, photography, multimedia or any number of other assets need to be prepared. This equals hours of content population. We also may have to concern ourselves with a launch strategy such as a marketing campaign. Even something as simple as welcoming your new visitors or inviting them with a newsletter can take a bit to put together.
Next, the servers and domain need to be ready. They must be properly configured to ensure a seamless migration. If this is replacing an existing site, proper considerations need to be given so systems like Email aren't interrupted. We continue to stand ready after deployment because you never know what may be in store. Oprah could name your product one of her favorite things and throngs of fans could trample your website. It will sink or swim in success only if it is done right. And to do it right takes a lot of time and care.
Payroll
When you boil this all down, what you're really financing to have a custom website designed & developed is payroll. Service business' most significant overhead is paying their professionals. Creative and Technical Knowledge workers command wages in the upper spectrum of income. You're buying chunks of their expertise and that time is money. For example, a nice custom website with relatively common features, such as a CMS with custom component integration, takes between 150-300 hours from start to finish. This is real, nose-to-the-grindstone production time specifically applied to your project. In addition to those hours, there are people who indirectly contributed by allowing our specialists to focus on serving you better and faster. These are the team members behind the scenes who handle IT, HR, processing, bookkeeping, marketing and other expenses of doing business. All said, the operating costs for a service business like ours might be around $75/hr. If we were to only break-even on a 200 hour custom website, we need to command $15,000 for it. And if you know anything about the ebb and flow of business, you can't just charge enough to break-even.
So there you have it. Like I said in the beginning, it is because these things take a long time. I touched on a lot in this piece and really only skimmed the surface. There are many talented individuals that play a part in producing an attractive and functional custom website. Each phase is riddled with nuance and obstacles that have us starting early and working late. It is really about the people who care enough to do exceptional custom work and stand behind it. The very talented and dedicated team at Go Media embrace the challenges of each day and do so with poise and professionalism. That's really what this is about. You may pay a lot more to have exactly what you want, but when you hire the right people, they get it done right.
Why is a custom website so expensive? In short, because it takes a lot of time. More time than most outsiders can imagine. But why?
Web 1.0
Go Media's founders started building custom websites in the 90's. In those days, a typical website was comprised of the standard Home, About, Services & Contact. This is commonly referred to as a brochure site. It was often static html and rarely changed in a year. There was very little thought going into SEO. There were rarely contact forms. It might have had five graphic images, total. Publicizing your email address was considered perfectly safe. JavaScript, on the other hand, was feared by the industry.
Web 2.0
Times have changed. Today, content is king, JavaScript is required and sites are more complex than ever. Each new one is competing for attention in a field of nearly 1 billion. Did I mention the internet is everywhere? For all you know, I might be writing this from my phone… at a cafe… in Timbuktu. Or, at the least, someone in Mali might read this article and hundreds of others on gomediazine.com. Articles made possible by dynamic, database driven content management systems that no longer require a 'webmaster' to deploy. Desktop publishing has a new meaning thanks to the internet. The lines between broadcast and the web continue to blur. Nearly every form of communication is being virtualized for websites, and everyone wants it for their own.
How Much for a Website?
We often muse at Go Media about folks who call wanting a new site, saying things like "Ya know, like Ebay but with that Facebook feature but more like how Google does it…"… 'Um, yeah that's a great idea. Did you have a budget in mind?' "Oh, well… we were thinking in the $1,000-$2000 range." Hmmm, well… CLICK! Ha, no, we don't actually hang up on people. We courteously try to explain that computer science is complex and those examples provided spend millions of dollars on research and development every year to make those features possible.
We can imagine some jaws drop when they receive a quote from us. We have had people become irate, as if we were trying to bamboozle them. Why the confusion? Or rather, why would anyone assume what they're asking for wouldn't cost tens of thousands or even hundreds of thousands of dollars? The internet products and services marketplace is almost an anomaly in the way it skews perspectives about what things should cost. I'll explain some of the reasons why.

First, computers are systems and systems can be automated. For example, you can find e-commerce platforms, such as Shopify or BigCommerce, for which you pay a small monthly fee, fill out some forms and have your own store in no time. Or you can sign up on WordPress.com and start publishing your own blog in minutes, for free! You could do any number of things online with services like these, all without ever talking to a single human being. These are known as software-as-a-service or SaaS. Many can be quite robust. Their business model is built upon a one-to-many equation where they need a volume of customers to spread the costs of developing this one service.

Not unlike automation, templatization is reusing the same parts over and over again. Here, a website developer has to sell their templates enough times to cover the cost of production. You can find website templates AS-IS, typically cheap file downloads with little-to-no technical support. You can also find SaaS services where you pick the template for your website and go live for a nominal monthly fee. This is a huge segment of the marketplace because a lot of entrepreneurs are thrifty and cavalier enough to be "DIY" and do the work.

Then there is the amalgam of commoditization. This is where companies give away a "free website" as a value-add to their actual product or service. You'll find this offered by major hosting companies, search engine providers, telecoms, publishers, etc. where their primary revenue comes from elsewhere. They're willing to eat the cost of producing SaaS systems like the aforementioned as a way to keep their customers hooked into them. These offerings are typically ugly and the service abysmal, but you can't complain for the price.
Free, inexpensive and nominal monthly fees for "a website" make for a conflated marketplace riddled with confusion, bordering on delusion. However, we can't blame the lay observer. People have no idea how much time goes into developing a great website. Consumers have unprecedented means to publish their thoughts, photos, videos and more online. It all seems so easy to them. But it is far from the reality. The technical complexities and demands of the modern website only continue to expand. I'd love to say my job as a web developer has never been easier, but it is quite the opposite. Those SaaS offerings and templates continue to become more powerful and competition in general is fierce. The internet is global, meaning my competition has no borders. We must always be innovating.
With all these options, why would anyone need or want a custom website built anyway? And with all that competition, why the heck is a custom website still so expensive?! For starters, one-size-fits-all doesn't necessarily mean it fits your organization's needs. With almost a billion websites online, businesses don't want to show up to the party wearing the same thing as everyone else. A lot of companies also value control. You're different. You want to exude that. You might have a niche or some market differentiator you want to emphasize and need the right platform to do so. Maybe you need a system that suits the way you operate. Perhaps you have devised a unique new way to engage with your audience. There is so much out there, but that doesn't mean everything already exists. This is where the real work begins…
___________________________________________

Go Media prides itself in brand-building.
We're adept at tapping into the core identity of our clients' brands and helping them find ways to reflect their values.
So why would we hire an outsider to help with our own brand?
It ultimately comes down to two key points:
A process of leadership introspection
The value of a fresh perspective
As a professional design firm building on nearly two decades of experience developing imagery for companies of all sizes, our knowledge of the brand principle is refined. When we begin a new project, we are viewing the client and their company with fresh eyes. Usually, they understand that what they're doing is not working. They realize their current branding is either stale or simply ineffective. It is our responsibility to fix it for them.
But we struggled when it came to making this evaluation of our own brand. When we started the company, our look and messaging worked. But as we expanded, the brand grew in random directions. It was like we planted a nice little tree in front of the house. Then the tree grew up and now branches threatened the roof and the power lines! Do we cut branches? Do we uproot the thing and move it? We were stuck on how to address it.
Not gonna lie, we were somewhat neglecting our own landscape maintenance. We saw it day in and day out. We knew we needed something to reflect all the innovation happening within our walls. We pruned it here and there, but we were unable to settle on a single look or direction. And that was part of the problem too. We were moving in so many different directions, and there was a general lack of cohesion.
In 2006, we launched a new product line, the Go Media Arsenal. Those familiar with it will know this is where we sell products to the design scene. However, that market is predominantly not the same as where our design clients are coming from. We reasoned the Arsenal deserved its own separate brand.
Then, we kicked off this here 'Zine. This was partially corporate with news related to our design services. However, the tutorials offered are primarily to support the Arsenal and design community. So we started to explore a different design here as well.
The bottom line is: We were having an identity crisis. Were we a design firm? Were we a design product company? Were we also artist advocates with our Weapons of Mass Creation festival?
Some of our staff believed we were cheapening our design services by selling stock graphics. On the flip side, the fact that we were a working creative firm fueled most of our product ideas – and bolstered the legitimacy of those products.
We were divided. We had lengthy debates, some of them quite heated. It's no wonder the brand was off-base. Our whole identity was confounded.
It went on like this for years.
Finally, what we began to realize was, we were simply too close. We were too close to our own concept, too familiar with our own brand, to really address the issues from a standpoint of solid logic. We needed an expert, but we also needed someone who could be objective.
Enter multi-talented brand strategist Jackie Bebenroth. We met her at the 2011 WMC Fest. We were impressed and enamored by her talent from the onset. If anyone could help us solve this branding conundrum, it was Jackie. Fortunately, she was thrilled for the opportunity to tackle the challenge. We went to work immediately.
Over the course of several meetings, we let Jackie in. Everyone in the firm had a say as we discussed the projects we're passionate about. We showed her our everyday work environment. We allowed her to see our company culture firsthand.
Jackie commented more than once we were doing everything right: Maintaining a robust blog, developing ancillary products, nurturing a unique and exciting culture, promoting our city and the art community at large. Our major malfunction was we simply weren't touting it. In fact, we were hiding it! She realized despite our multi-pronged efforts, we were a fragmented company. We were one firm and we needed one voice to take full ownership of everything we do.
The new Go Media Website
This was the a-ha moment we needed. What we've been internally referring to as "our brand unification" is now fully underway. We've styled our print materials with a fresh & clean cut. And the real flagship of this exercise, our corporate website, has just gone live. We're proud to announce the launch of the all new gomedia.us! The aim was to bring together Go Media's smörgåsbord of activities into one place, to better say what the heck it is we do all day and night. You'll see artwork first with a portfolio carousel right at the top of the page. Also note the responsive CSS, allowing the layout to adapt to your screen size on mobile, tablet, laptop, or desktop browsers. Other amenities include a quote request form, social network & content syndication, and a copious footer. We even hired a fanciful photographer to try and make a bunch of beatniks & geeks look presentable for the staff page. Moreover, our new site does a better job of bringing together what Go Media has to offer in a way that is clear and concise.
This will be the first of many redesigns our websites will undergo. New versions of the Zine, Arsenal, Mockup Everything, and Proof Lab are in the pipeline.
As the vice-president and co-founder of Go Media, I take immense pride in making this company successful. In this case that meant listening to and embracing someone else's perspective. It meant having some difficult discussions about who we are and where we're going. And it meant stepping aside and temporarily handing the reigns to someone I trusted to take a hard look at us from the outside and show us what we needed to show those looking in. In the end, it made us a stronger, more unified firm.
There's an old saying, "sometimes you can't see the forest from the trees", that might be spot-on for what happened to us. We were so caught up in the details and our own ideas of the way to go, we couldn't take a far enough step back. We felt like experienced hikers. But pride may have been preventing us from admitting we were lost. Frankly, we might still be wandering the wilderness if we had not run into Jackie who offered a map of the way out.
When it begins to feel like you're juggling different companies with different brands and different agendas, take a moment to reevaluate.
Here's an exercise to help redefine your brand:
Define your company in two sentences or less.
List all the feelings you want your customers to have when they come to you.
What makes your firm unique? Are the "other brands" spinning off actually what make you unique? Can they potentially complement each other?
If you answered #3 affirmative, wouldn't it make sense to bring those spin-offs back into your core brand?
Obviously if you're operating an auto garage & a restaurant, they might not be brands you can combine. But even that example leaves room for the imagination. Maybe the restaurant takes on a classic car theme and then they can share a family brand name. Those same diner patrons are bound to need car maintenance sooner or later!
If it seems like your current brands are meandering or you're spending too much time juggling what could possibly be unified, stop and try to reframe the problem. If you've let it go too far in different directions and your team can't see a way out, don't hesitate to ask for help. We're glad we did.
Greetings & Salutations
My name is Wilson Revehl, Co-founder, CTO, and Vice-President of Go Media. When William Beachy and I founded the firm in 2003, merging our respective freelance businesses, I would not have imagined we'd become a publisher. And lord knows I haven't done much to advance that cause. Jeff Finley, our first principle partner, deserves most of the credit for advancing our readership. The last time I wrote a Zine article was in 2007, about Flash, which has since become irrelevant.
I built my first website in 1996 on Yahoo's GeoCities wysiwyg. I've been immersed in the world of syntax, curly braces and for loops ever since. Today, I can read and write in all the major web programming languages, but still prefer PHP & Javascript. My skill-sets are perpetually in high demand. That's great, except maybe I've been using it as an excuse to put article writing on the back burner. I'm hoping to change all of that. I want to contribute more knowledge to the design community moving forward.
With that said, this piece isn't my prodigal son homecoming to the Zine. I didn't carefully consider the topic in any painstaking manner. It simply came up during a recent project when I wanted to point out some things about homepages to the design team. A Google search on this topic produced less-than-satisfactory results. I was scheduled to produce something for the Zine anyway, so there ya have it – practically wrote itself! Usability for the modern web seems like common sense. On the other hand, I could write a brick of a book on the topic. Now that most of what we designers do faces the internet in some fashion and many of our readers haven't been designing for the web as long as this old dog, it's only fair we start with the basics.
Usability fundamentals of modern website design
Months after we launched a brand-new site design for our client, they returned. They wanted a new homepage. They were a market-savvy bunch who had tracked visitor click-through and retention. The idea was to alter the layout to rev up visitor engagement. I wholeheartedly endorsed the endeavor.
An organization who has the means and is willing to test differing user experiences will find that it offers constructive insight into their marketplace. However, most small businesses don't have the budget to refresh their website design or layout whenever they want. That is why it's crucial to design a thoughtful website user experience the first time.
Here, we'll cover some usability basics for modern websites. The goal is to show you pragmatic dos & don'ts to ensure you're taking advantage of best practices and conventions.
The Navigation System
No, we're not talking about your GPS. But you might glean some perspective from the consumer products all around you. Long before the internet (or GPS) was mainstream, industrial designers had been honing and advancing user interfaces for manual operation. Whether it was the car stereo or the VCR, they recognized that comprehensive controls were pivotal in making their products viable. Things are starting to come full circle (who knew?!) with the advent of touchscreen and the desire to develop & design responsive websites for displays of various device types. The new norm will soon be conforming your site for display on car stereos! Until then, let's focus on what you need to consider today to create a compelling website navigation system.
Use conventional placement
Why? Humans are creatures of habit. There is a reason you see top-of-the-screen navigation on the majority of websites. It is functional because people read from the top down. It is effective because it communicates a lot across a wide piece of real estate without hogging it up. Logically, you can't go wrong with a menu at the screen's top because people are looking for it up there by default.
No design works unless it embodies ideas that are held common by the people for whom the object is intended.

– Adrian Forty
Top Navigation
The National Public Radio site does a superb job in demonstrating the top placement of the main menu in a clean, high contrast enclosure with cozy margins to add weight.
Starbucks pulls off a tasty top menu without the high contrast enclosure like that of npr. The lack of contrast has no negative impact on the usability but rather draws you into the slideshow below.

Conservation International, one of the largest environmental NGOs, has a great example of two-tier (dropdown) navigation. This is the ideal way to expand the reach of a top menu while keeping the interaction requirements down. Sites abundant in content can get visitors to their destination faster without much eye movement.
Skype's top menu and subsequent overlay is oh so simple. And yet, they're giving you direct access right out of the gate to their multifaceted offerings. Skype has usability fundamentals down to a science. You'll see them mentioned again in this article.
All written languages (on Earth anyway) are read from the top down. The majority are also read left to right. The second most conventional navigation is a vertically stacked column aligned to the left. I don't speak or read any Asian languages, but I would imagine this approach is the same but aligned right.
The Marussia F1 Racing site does a great job driving traffic to their navigation system racing down the left of the screen. Too much?
Go Media went all-in with a fixed position left navigation on the 2010 site. Although our new one (in the works) might deviate from this, it is still a very accessible approach.
Panodora's new UX is a cool example of using left navigation when it really counts. Something like a playlist would not have worked in a dropdown nav from the top. Their vertically scrollable list stays easy and unobtrusive no matter the length of items.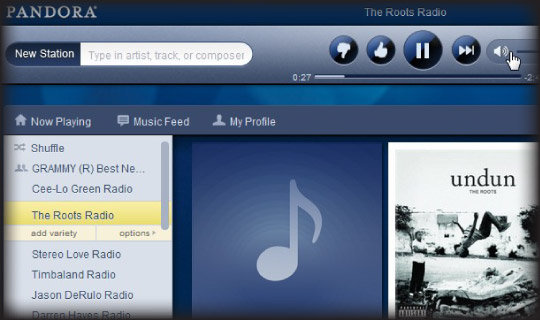 Newegg carries an absolutely massive inventory of electronics. They manage to gracefully route customers from left navigation onto a clever multi-column overlay that will get visitors quickly into the right category. This style of expanded navigation is quickly becoming a user friendly convention for complex taxonomies.
Use it! No really, really use it!
Why?
Because it is the piece of real estate everyone who makes it to the bottom of the page will see. Most sites do not affix primary navigation to make it available all the time. If you're ready to explore another part of a site after reading down through it, the shortest distance to that next click could be a friendly, even robust, footer. Often, you can make what would otherwise be secondary or tertiary sections available here. A thoughtful footer strategy can be more potent than third-tier menus or sitemaps.
The White House has a straight forward 6 column footer with an additional base line of ancillary links.
Rackspace has continued to deliver distinct, comprehensive website user experiences for what is typically the very complicated industry of server colocation. The way they lasso their offerings into clever, succinct categories allows them to be listed neatly in the footer.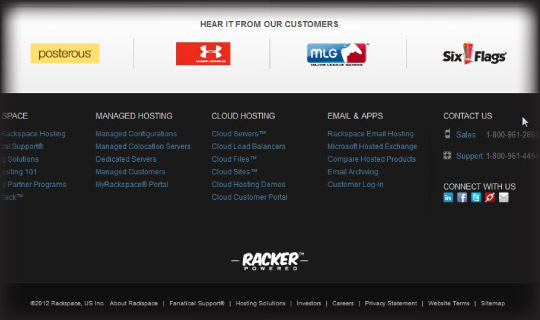 Commonalities of a good navigation system
You'll notice a few characteristics emerge when you step back and evaluate the previous examples.
Clear & concise menus – Reduce your navigation hierarchy into a small amount of choices or categories. Present sub-categories in a way that feels logical. If it doesn't make the cut as an important section or sub-section, maybe it can find a home in the footer or fringe menu.
Base your color contrast on priorities. The font or background decisions you make will impact where the viewer's eye travels.
Allow room to breathe. Line-heights, padded enclosures and the margins between different elements help make navigation stand out as interactive.
Establish styles that show state changes. These are effects like changing text or enclosure colors when a mouse hovers over or an active state to act as a visual reminder of what site section they're in.
The Content
Focus – Keep it simple
My daughter is 5 months-old, and already, she possesses an intuition into user interfaces. I say this not because I'm merely a boastful father of a genius baby, but to illustrate that it can become instinctual at a very young age. Whether it is a bright, noisy button on one of her (too many) battery-powered toys or an interactive story on her granny's Nook, she knows when she pushes a button, she gets a reaction.
Upright travelers of the information super highway are a tad more evolved than a baby, but anyone who has worked in our industry for more than a moment knows it ain't by much. Kidding aside, the internet is a barrage of media & messages all vying for attention. If you're going to command enough to capture that ever elusive click-through, you need to give your audience a reprieve from the clutter and go as far as making it an instinctual interaction.
Put what is important "above the fold"
In the newspaper industry, editors will place the most important, eye-grabbing content up high on the page – above the fold. This is an effort to grab eyeballs and lure in readers.
The same basic principal applies in website design. I don't want to get into the more technical above the fold/below the fold subject in this article, but basically the most common display size (dimensions) of your audience on desktops and laptops is currently around 1440px wide by 900px high. This means you have 900px available in the view port before the vertical scrollbar kicks in. The bottom of the immediately visible area is your 'fold'. Anything below the fold is out of sight, so the viewer will need to engage the scrollbar to see more. Try to keep your most important content and actionable items within that 1440×900 border to gain maximum exposure. If you're not sure how to design for common browser dimensions, google 'css grid systems' and you'll find many tools to help you in the process.
That's been one of my mantras – focus and simplicity. Simple can be harder than complex: You have to work hard to get your thinking clean to make it simple. But it's worth it in the end because once you get there, you can move mountains.
Apple is renowned the world over for the innovative industrial design of their products. If you're reading this, you've probably had at least one customer who's referred to the Apple website when describing a goal. Apple does an impeccable job of filtering things down to the most basic relevance and hiding as much technology as possible behind a spacious, contemporary facade. In the Steve Jobs biography, he's said to have had an obsession for wanting Apple to 'focus like a laser' on its goals and not get distracted with other markets. You'll see below their website release of the new iPad, where Apple is visually swaying its visitors to focus like a laser on that one single product.
Adobe sells a wider variety of software products than any other enterprise vendor. This might not be a business subscribing to the aforementioned 'focus like a laser' (possibly the crux of what made Mr. Jobs dislike Adobe Flash) but Adobe does a solid job of condensing such a broad range of topics into a top navigation system and above-the-fold slideshow as their centerpiece.
Help your audience focus on your focal points
You may recall the search engine battle for supremacy of the last decade. Everyone knows who prevailed. If you think it was because one had a more advanced algorithm than the other, or it was brand disaffection, you're fooling yourself. It was simply because it was just that damn simple. Over the years I watched countless layman internet users sign into their Yahoo or Hotmail email, keep one of the two news aggregators as their homepage and still jump right over to Google to do their searching. Was it because they preferred the results better? Nope. Google was such a nice break from the content clutter, it became the De facto search utility where people would go to clear their minds and just search.
Imagine if the information super highway were an actual highway. And all the homepages are billboards asking you to pull off now and explore them. Picture there are thousands of billboards on that one road in every direction everywhere you look all contending for your concentration. And let's not assume everyone is stuck in rush hour. Traffic moves pretty well along on the internet.
How are you going to be seen in a sea of signage?
How are you going to get your point across succinctly enough to keep the attention of each visitor?
No one knows exactly how many websites there are. Some place it upward of 1 billion. And this number is increasing exponentially. This is terrific news for our industry but has side effects. For the topic at hand, we're going to see more and more distracted, impatient users. Whether your website's goal is to sell something or provide useful information, if you don't give the visitor exactly what they're looking for in the shortest amount of time possible, they're leaving just as fast. Like I said before, make it instinctual. Don't make them think.
I think design covers so much more than the aesthetic. Design is fundamentally more. Design is usability. It is Information Architecture. It is Accessibility. This is all design.

– Mark Boulton
The real estate sector leverages the internet quite well. As it should. It is a perfect fit with the complexities of info, rapid pace of resale and the very visual nature of displaying a listing. Zillow delivers right out of the gate with a homepage that places their two visitor priorities in a perfect triangular focus map. Top down. Left to right.
AVAAZ gives citizens a voice with the tremendous help of a well conceived homepage. Your eyes are drawn from their forceful logo into the slideshow and immediately across to the call-to-action.
Rhymesayers keeps things smooooov with a clear cut, high-contrast headline juxtaposed to a heavy slideshow. The mp3 player draws your eye because it is the only splash of color up top and calls you to action with large familiar controls.
Once again, Skype shows us they understand the archetype. This slideshow is clever in that the call-to-action (CTA) pulls you easily into the location you expect to see its content and then provides that next CTA only a short diagonal distance from the direction your eyes were already headed in. Well played Skype, well played.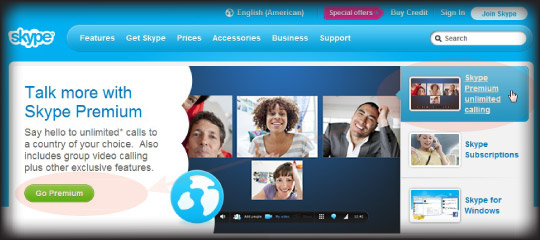 Vimeo's primary 'Sign up' CTA is very traditional but they throw a few more in the mix such as the massive ad banner and a reinforced 'Join' in the top navigation. We can assume the valuable real estate given to the ad space was to meet a business priority and that they're reaching the objective of attracting clicks with such a large banner where it is.
This week's award for 'focusing like a laser' goes to Dropbox. I had to illustrate a cause & effect image below so you can see just how concise their homepage is. They give you two options, watch a video and download. The video starts in place without compromising the ever present download button. Can't get much more focused than this.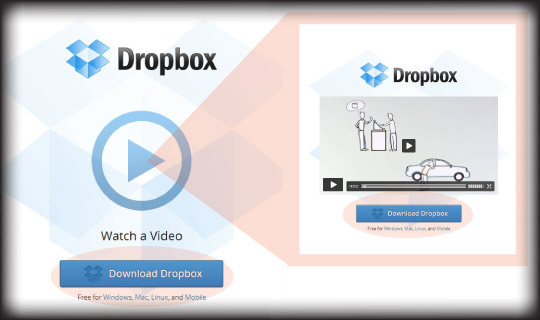 Another start-up you'll see impeccable design focus from is SeatGeek. Ticketmaster must be groaning in their grave being yet-again reminded that there is still room for innovation in event ticket sales. When you can acquire seats faster online than in line at the box office, you're looking at industry disruptive technology. And that technology here is usability.
Do we really need another online retailer of electronics? Decide thinks we do and shows us that despite market saturation, you can quickly differentiate yourself with a brilliant UX and high-tech interactivity. Look how they take you from search, to result, to a matching CTA with a graceful color palette & layout that accentuates what is most important.
Usability Best Of
This is far from a definitive list of impeccable homepages, there are entire websites & awards devoted to that. I rather wanted to showcase a handful of sites that demonstrate the best of website user experience based on the topics discussed in this article.
Design is a plan for arranging elements in such a way as best to accomplish a particular purpose.

-Charles Eames
As obnoxious as auto sales can sometimes be, Ford steers visitors clear of any usability bumps in the road. They start with an unobtrusive logo and ancillary menu that sits well atop a full screen background. The medium contrast top navigation is frictionless drawing you right into a brilliant photo composition that showcases three different car calls-to-action without a seam between them. They place an additional row of focal points just above the fold. There is a lot to interact with here without feeling like there is.
AudioVroom is an up and coming website to build your own personal radio stations. You'd think this has been done many times before but AudioVroom makes usability so effortless, they're already working their way up the veritable charts.

The Obama Administration shows us that tasteful design doesn't need to end at the edge of the private sector. The Whitehouse's site employs all the classic and modern usability best-practices.

We should expect nothing less than intelligence from the paragons of spreading original thought. TED Talks brings attention to their wealth of video lectures with straight forward controls and an immediately accessible video gallery. The navigation is busier than I would prefer, but the light background palette helps them get away with it.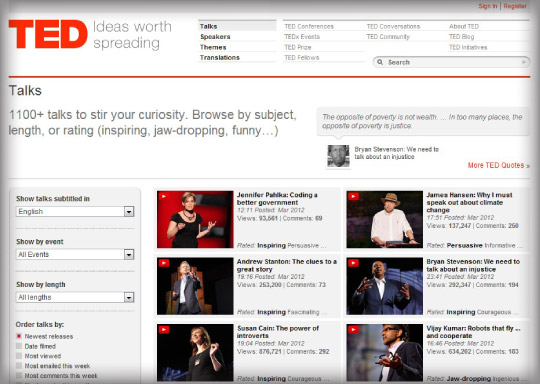 Yeah, it's a shameless plug for my favorite city in America, but Positively Cleveland pulls off an exceptional case in point of form following function.
A grid system should keep you on track but sometimes designs get trapped in those boundaries and designers have a hard time breaking through to make things original. SHFT pulls off a creative use of background imagery to give personality to the brand. The top menu and header text elements seem to float above the various depths taking nothing away from the focal points.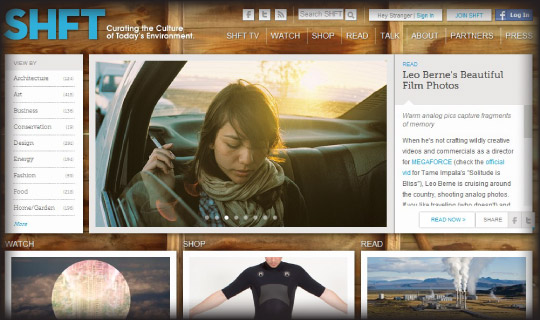 Usability DON'TS
Another way we can learn how to implement better usability is to explore what not to do. I could point to countless DIY websites built by non-professionals, but that would be too easy. Instead, we'll show you how even professional designers – paid large sums by successful organizations – can become misguided.
Our opportunity, as designers, is to learn how to handle the complexity, rather than shy away from it, and to realize that the big art of design is to make complicated things simple.

– Tim Parsey
The New York Times is arguably America's greatest newspaper, packed full of hard-hitting journalism and diverse, enjoyable reads. But the designers here aren't capitalizing on the vast number of readers who peruse their site. It's an industry-wide truth that hard copy sales are down. The advent of the internet, though, allows the publication to reach a wider audience than ever before. In looking at their site, the entire top section is squandered with a gaudy name plate & ad banners. This has the adverse effect of shrinking the left side navigation. Content above the fold is further impacted by the inappropriate layout. Efforts to generate a wealth of digital subscribers will be hindered here because of ineffective usability.
Anthem is one of the nation's top insurance providers, but any claim they have of a top quality website should be denied. The users are going to be a very broad demographic perhaps than most. The No. 1 goal here needs to be ease of use. The company directs people to the website because over-the-phone, human resources are expensive. But by approving an unconventional navigation system, they are just asking for confusion – and higher call volumes. What's more, their design is too wide for the broader range of browser dimensions.
Simple usability seems to have flown right over the heads of the designers for Sky Mall, the prolific seller of air travel novelties. The business model for the magazine, always found neatly tucked in the seat back in front of you, is targeting impulse shoppers. However on this homepage, the one thing that seems to be missing above-the-fold is the most important: the merchandise. Plus, priceless portions of the page top are being hogged by un-important ancillary section links. Now that internet access is becoming increasingly available a mile high, Sky Mall needs to realize the impetus to optimize for traveler viewing on laptops & tablets or it will be forgotten on the tarmac.
Major League Baseball has three major strikes against its homepage. The first, and most obvious, is the game scoreboard. It's so dark and heavy on the screen – it cannibalizes the entire left side. All the while, it is hard to read and the interactivity is sorely lacking. They could do so much more with it. Second, the news feed off to the right feels like an afterthought. Third, all the above-the-fold content decisions appear poorly thought out. The combination of the bulky scoreboard, oversize slideshow, banner ads and news feed panel fail to deliver a home run of content to dive into. Hardcore or fair-weather baseball fans alike are being denied a user experience worthy of America's Favorite Past Time.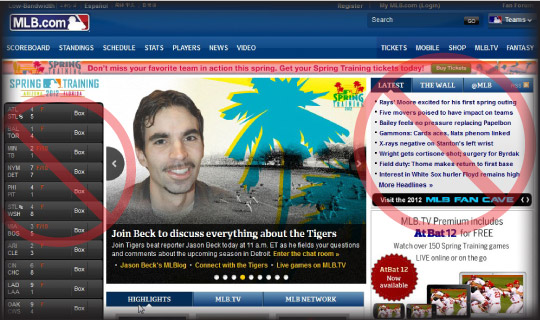 Brembo is one of the most iconic aftermarket auto parts companies. However, the website designers should have been red-lighted on their navigation decisions. The brand is envied by competitors, but the site needs tuning. The design is quite clean and stylish. But by going with an unorthodox main menu, barely atop the fold, they are detouring potential direct or retailer interest. You're instead drawn toward what appears to be top navigation but represents sections that maybe should have been relegated to the footer. Experimentation with abstract menu systems can lead to bold, innovative design – but it has to be done well. The bottom of a website's homepage might not be the place to go full throttle with it.
Bill Smith appliances site screams laziness. It almost looks like they literally copied-and-pasted a tacky, newspaper classified ad. Aside from the tired and outdated motif, there is no immediate focus on featuring products. In today's competitive consumer goods market, the core of any product retailer site has to be selection and price. Everything else is secondary. Here, the designer gave too much space to promoting the vendor's name across the entire top. Additionally, the bulky menu system to the left offers questionable value.
South By Southwest – We love SXSW… the event. But event invitations almost always follow a set of rudimentary basics: Who, what, when, where, why and sometimes how. Here, Austin's flagship mixed media conference, a widely-acclaimed and expensive affair, appears to have made some missteps on usability. As nice as it looks, the homepage design does little to sell new potential attendees on the event. Any swelling enthusiasm will quickly wane for uninformed visitors, who are forced to click an inordinate amount of times to figure out what this is, who will be there and why they should join in the fun.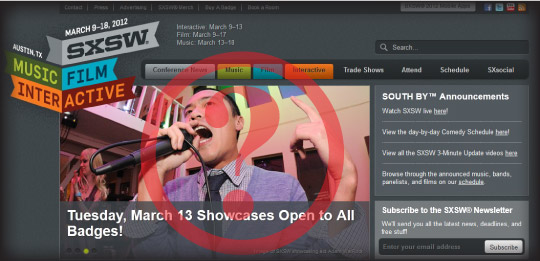 Excite's seemingly antiquated site is anything but exciting. Seriously – did they toss in the towel circa 1995? It looks like it belongs in a time capsule. If their main goal is to have you click on ads and leave their site – congratulations. That's about all they have succeeded in doing. They do have a high-contrast color scheme. That could work well. However in this case, the accent color is wasted on borders and legends, which only serves to further distract anyone from engaging with the search and content.
The thing that makes CVS successful is convenience. Their website, however, is anything but. Maybe it's just me, the red "buttons" don't really feel like click-able buttons. Not only that, the heavy blue calls-to-action that flank the site content are redundant – both for prescription services. Even if pharmacy is a large part of what brings people to the site, that topic can easily be consolidated to free space for other priorities.
Fark's design is almost as laughably bad as the outrageous news stories that are its bread-and-butter. It is worth noting, however, that the site has actually improved over the last few years. But it still has quite a ways to go. The first available menu is unimportant to the goal of keeping eyeballs on the page. The next thing that draws your attention are the story excerpts. This would be good, except that the element that has the most weight is the source – not the cleverly-written headlines. What's more, the poor branding destroys whatever emotional connection the reader could have made with the site's greater mission.
ICPlaces.com is an online entertainment site for local & regional producers. But you wouldn't quite know that by looking at it. There is no main menu system. There is nothing on the front page to tell you what the site is or where to start your search. And a video begins blaring before you ever really get your bearings. No one is amused.
Dilbeck is one of the most recognized real estate companies in Los Angeles. But I'm not sold on the website design. Almost every aspect above the fold is a roadblock to property searching – which is the whole reason people visit.
Conclusion
Most designers inherently know what conventional usability looks like. Admittedly, if you cross examine some of my do's and don'ts, you'll notice I applaud the use of an element in one place only to later berate it in another. There are countless subtleties in color selection, interactive states, margins and layouts that can make or break the aesthetic. There are nuances behind when and why you should use a certain navigation orientation or where you place a call-to-action. We always recommend designers take a step back before diving into mockups and work through the information architecture and wireframes so you and your client gain an expansive view of the content and layout potential. Predetermining taxonomies, business priorities, design boundaries, and user experience goals can be an arduous process. But planning ahead will ultimately lead to a better user experience resulting in more immersion, visitor retention, conversions, brand recognition and so much more. As a website designer, you possess a great power. Even if it is by way of the meager mouse, you have the power to influence the decisions of others. Those clicks can lead to measurable success for everyone involved. So use your power wisely.
GoMedia_Vector_Freebie_An-Angel-Grows-Wings (INCLUDES THREE FREE VECTOR DESIGNS!)
Introduction
Like most Flash Motion Graphics designers, I am regularly perusing the web for design inspiration. I don't know about you, but when I saw complex design elements like plants and tribal shapes grow on screen right before my eyes, I wanted to know how they did it. I assumed they were really good with shape tweening, but if you've tried to execute a complex shape tween, I'm sure you discovered quickly that Flash's current shape tween renderer is about as predictable as Ohio's weather. So the next best bet was masking a finished design and then revealing it magically as if it were being illustrated in real time. Sure enough, after testing some theories, we zeroed in on this process which we'll now share with you!