Articles by Month:
April 2016
Advice from Bill and Wilson, Founders of Go Media
There is no perfect recipe for growing a thriving design firm. But through our share of failures, we have learned what works more often than not. Here are some lessons we have learned since Go Media's inception in 1997.
1.Don't quit your day job.
Keep it for a reliable source of revenue in the early days. Use this to set up your home office, portfolio, business structure, books, your company website, and marketing materials. Then, when you need extra hours for sleep, then you can quit that day job and take on your design work full time.
"I worked a lot of what I refer to as "survival jobs" on my road to freelancing. For two summers I was a Basement Waterproofing Technician. By "technician", I guess they meant "do you know which way to point a shovel"? We'd start our days at 5am and dig houses down to the footer. The days were long and grueling, often into the night. It was common to only work on design over the weekend. I began to seek jobs that would allow me more flexibility. I signed up for temp work through a staffing agency. I soon learned "temp work" was abundant because it was often shit nobody else wanted to do. I'll never forget power-washing industrial oil tanks from the inside wearing a yellow rubber suit and having to wipe my goggles every minute as oily water would laminate them. Temp work turned out to be a fascinating glimpse behind the scenes of so many industries in Northeast Ohio, ala "Dirty Jobs". It also allowed me to set my own schedule and decline jobs when I was busy designing." – Wilson
2.Build a passionate team.
You need to make sure you're finding and hiring the very best employees. If you've got some bad energy, get rid of it.
"What's the old saying? "Fire fast and hire slow". I would start with that. I used to hang onto bad employees way too long. These days I can see more clearly when someone isn't a fit and I'm quick with the trigger to get them out of my company.  As for the hiring slowly part… I actually have another saying that fits with my current hiring methodology: "Try before you buy".  These days I hire interns almost exclusively. There is nothing quite like having a potential employee working in-house for three months to get a real sense of who they are. Interviews are fine… but let me watch you working. Let me get to know your personality." – Bill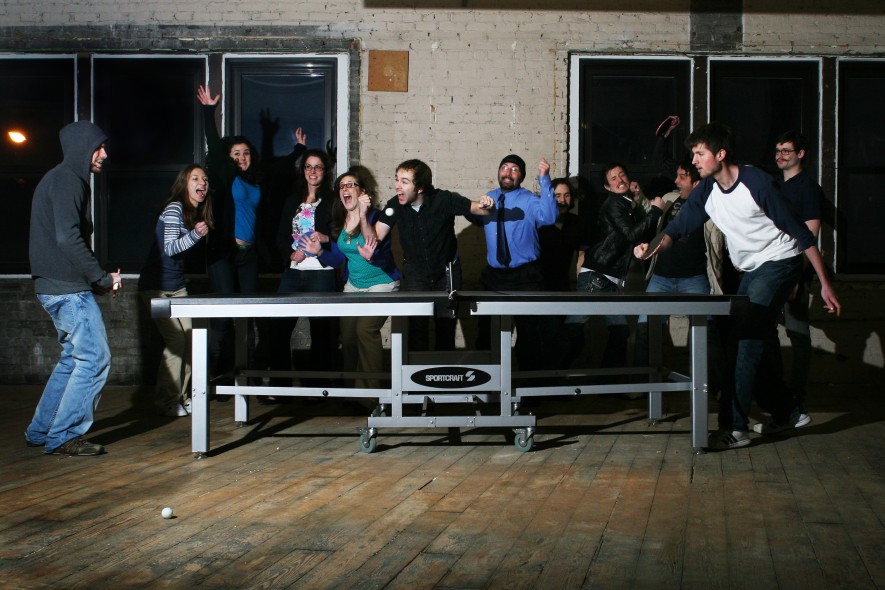 3. Track your metrics!
Consider what the key measurable components of your business are and start tracking those metrics on a spreadsheet on a regular basis.
"I've learned how important metrics really are. You must have data to understand what's happening with your business. Once you have data to show you the reality of your business (not just the feeling of what you THINK is happening) you will realize immediately how you need to fix your business. Metrics are at the core of our business. Give me stats and I will better understand what's working and what's not. Whenever we have some new activity I immediately ask myself: "how can I track this." I'll give you a few examples of metrics we track on a monthly basis: per-employee-profitability, per-project-profitability, employee billable %, # Sales leads, Sales close %, Site visitors, Hours networking. In total we probably have about 50 metrics for our company." – Bill
"SYSTEMS are so important! You must stay organized. Fortunately, since those days, the advent of SaaS (software as a service) AKA Web Apps came into being. FreshBooks, Quickbooks Online, Basecamp, Podio, Trello, Salesforce, you name it – even Google Apps for Business can be transformational. There are so many web apps you can leverage to keep your business information in order. Use them." – Wilson
4. Decide on your own unique self promotion strategy and stick to it.
Get away from your desk! Knock on doors, host events, network, find a marketing vehicle, be creative.
"Rave flyers were something that really worked for us. The rave scene was a very reciprocity minded culture, a lot like the hippie festivals of Jerry Garcia days. It was a great big colorful family, it was all love and everyone knew each other. It was full of counterculture people and they celebrated zany creativity. Bill's an immensely talented illustrator. I did some wild stuff in 3D and prided myself in typography and type treatments. We were able to tag our designs with a logo and contact info reaching out to anyone who might also need a flyer. A typical show might have anywhere from 5,000 to 100,000 flyers printed. That's a lot of exposure! Our flyers were zany, but conceptualized well enough (before we really understood advertising), to spread allover the place. We had stark raving fans! We soon were being hired to design flyers for ravers in California, Texas, New York, PA, Florida and Canada. There also happened to be civilized business owners among the glow-sticks and baggy pants who hired us for whatever they had going on." – Wilson
5. Build a strong sales team.
If you can't do that yet, set aside an allocation of time and resources for proactive sales. Have a measurable, repeatable sales process that runs regardless of how busy you get because the last thing you want is the feast or famine lifestyle of the designer who only sells when she's not designing!
"When the phone would ring, that was our reason to celebrate. An opportunity might be on the other end. Sometimes those calls would carry on for an hour and they might happen several times a day. It's hard to get paid for the time you spend selling, we had to produce. So we'd count our blessings and catch up on the time spent not producing by working late to stay on track. We'd work until 2 am if we had to." – Wilson
6. Say goodbye to busters.
Keep an eye out for red flags and understand that if it sounds too good to be true, it probably is.
"In my early years when we were more desperate for cash, I would let a jerk of a customer push me around. This would result in many wasted hours, feeling stressed and feeling mad. These days we have a no-jerk policy. If a customer is mean, insulting, demeaning or extremely annoying to work with – we don't. We 'fire' them. Fortunately, we've gotten very good at recognizing this in advance so we usually avoid these individuals before a project even begins. But on the rare occasion that we need to sever a relationship – we do it quickly and as nicely as possible. Life is too precious to spend it dealing with jerks. And the life energy a jerk will sap from your soul is better spent finding your next client." – Bill
7. Be frugal.
The one thing that can put you out of business is running out of money! Protect it carefully!
"Watch your money. Be frugal!  Don't rack up a bunch of debt. Keep your business as lean as possible and prove that you can SELL before you go buying fancy equipment and moving into a fancy office." – Bill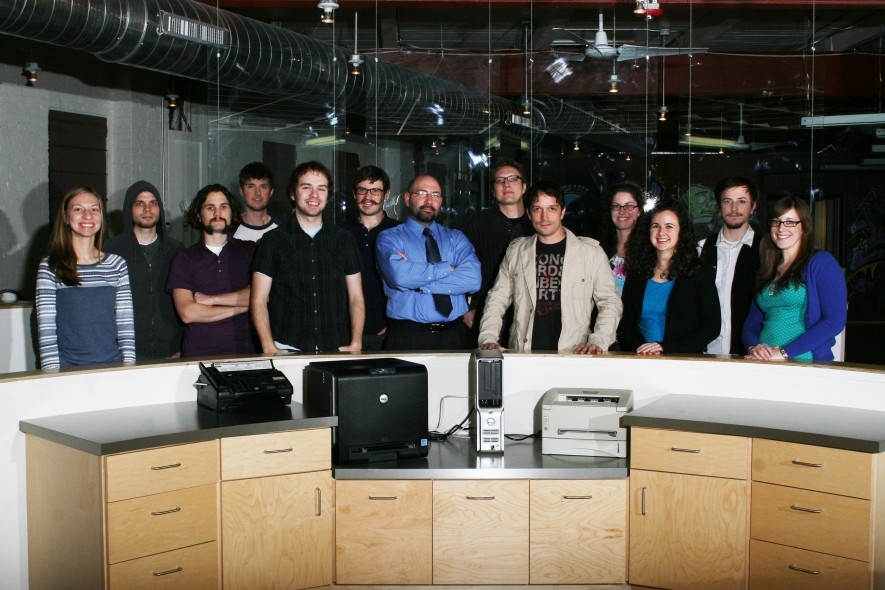 8. Learn from your mistakes and move on.
Bounce back from mistakes and don't be afraid to take risks. Each challenge is an opportunity for growth.
"As for an early mistake of ours, it didn't take long to learn the hard way that some people will hustle ya or some people just don't have the means to pay for what they want when you need paid. We adopted a policy of 50% down for projects under $2K and 25% increments above that total. Collect printing costs in advance because there's no un-printing those sheets of paper." – Wilson
9. Don't go it alone.
Having a partner is a great way to grow your company. Find someone who demonstrates equal responsibility and motivation, as well as a complimentary skill set.
"The year Bill Beachy reached out to merge our freelance studios, he was working at Starbucks and I was working for a civil engineering company. I moved into his apartment to cut expenses and work from one place. Combining efforts was a turning point to where we are today. We still had to strap ourselves onto a roller coaster to make it. Maybe that's the lesson of the story, find someone else crazy enough to try and launch a business with you. It took a lot of supporting each other to get through the famine, feast, famine of starting this thing." – Wilson
10. Enjoy the ride!
Celebrate every success and consider every misstep a valuable lesson learned.
"Having fun is important when times get tough. The best way to have fun is to stop and simply focus on the task you are doing now! For a moment, don't worry about the future or the past. Let yourself enjoy all the aspects and challenges of running your own firm. Slow down and breathe and fall in love again with the day-to-day work. Don't treat it like a means to an end, but enjoy the process itself." – Bill
For more ways to grow your design firm and the tools to do so, pick up Bill's book, Drawn to Business, the ultimate guide to growing a thriving design firm.
Work Hard. Live Easy.
We had way too much fun working with The Finch Group, local Cleveland real estate company, on their latest endeavor and we want to shout it from the rooftops, pun intended.
Designer Chris Comella comments, "Innova was a special project because not only did we get to walk the construction site months before its completion, and not only did we get to collaborate on some level with the architects and interior designers, but to us it represented a growing part of a community. Being able to work on that brand was a great opportunity, and we're proud to see it standing tall in one of Cleveland's most vibrant neighborhoods."
Go View the Full Portfolio Item Here
The Project:
The Finch Group sought Go Media to assist with brand development to help them establish a solid foundation on which to build their company in the Cleveland market as well as launch their new property. The newest addition to their portfolio is a 400,000 square foot multi-phase mixed income property in the Upper Chester Neighborhood of Hough – called Innova.
The Outcome:
The Finch Group was in need of assistance with brand development, logo design, collateral print material design, building signage, exterior marketing design and print marketing design.
Go View the Full Portfolio Item Here
Go View the Full Portfolio Item Here
Contact Go Media about your next project!
Bryan, Bill, Heather and Cindy (friend of Go Media) headed down to Georgia a week ago to check out Creative South, a design conference wrapped up in a whole lot of southern hospitality.
Creative South, the brain child of Mike Jones, is a weekend of creative thinking, collaboration, and exploration in Columbus, Georgia. Attendees enjoy workshops, talks focused on process and experience, and meeting old friends as well as making new ones. Their goal is to connect folks in the industry and the design community. Their motto: "Hug necks! Come as friends and leave as family. Word!"
Here's our play-by-play of the fun-filled weekend.
Earlier this month, the L.A. Clippers hatched a new mascot design in the form of "Chuck the Condor," to represent a team with two of the best leapers in the NBA. Sadly, the reception was foul.
"Chuck is a schmuck," blurted The New York Daily News. The Rolling Stones declared, "Everyone hates" the mascot. L.A. Times Columnist Bill Plaschke ranted that the "stupid bird" was a "Fruit Loop reject" and an "ornithological nightmare."
Ouch.
More recently, Kanye West – known for his epic (if ill-conceived) Twitter rants – tweeted Clippers Owner Steve Ballmer, asking if he could launch his own mascot design for the team. Initially, ESPN reported, the mascot responded from a "Chuck the Condor" account, saying, "I miss the old Kanye," a riff on one of West's own lyrics. A few hours later, Ballmer chimed in on his own, saying the team "loves Chuck," but also admires Yeezy's creativity- and invited him to lunch, an offer West accepted.
Whether any of Kanye's new mascot design specs will be embraced is yet to be seen, though it's unlikely the team would initiate a tweak so soon. And as ESPN Senior Writer Arash Markazi reported, the bird was never about those loquacious cynics – or even those who could read their blustering rhetoric.
"This isn't for the die-hard NBA basketball fans," said California-based mascot design company owner David Raymond. "It's about developing new fans. The Clippers want to develop young fans."
While Raymond and other mascot design experts know there are many traditionalists who simply refuse to see the value of a mascot, the fact is there are a huge number of teams – and businesses – that successfully employ mascots to their advantage.
Raymond told ESPN that while some people see a mascot like Chuck and think the team isn't being serious enough, the opposite is true. He aptly noted that the business of sports is about more than what happens on the court. It's about the entertainment value.
Mascots can be a strong symbol for an organization or event. It's often an animal, but it could be a person or object – anything believed to bring luck or to represent a common identity. Children especially become endeared to mascots in a way that establishes loyalty and brand equity for the team.
Still, it can be tough to hit the mark with a kid-pleasing, crowd-rousing mascot. There is a danger, of course, of looking too silly or soft. The Cleveland Browns, for example, caught flak for the 2015 new Dawg Pound logo, with a mascot design that some referred to as "cute" – not necessarily the image you want to portray in a gladiator-like sport. Still, the team stuck with it.
But there has also been the risk for some mascots of seeming to scary, strange or oddly sexual. Think:
Hip-Hop, The Philadelphia 76ers' urban bunny in the late-1990s. (The team later told fans he got married and hopped away to happily ever after.)
Crazy Crab, the San Francisco Giants' googly-eyed crustacean.
Boomer, the Columbus Blue Jackets mascot that unfortunately looked like a weird, gray phallic symbol.
Although some mascot design efforts have indeed been lamentable, there is no doubt a well-planned Cleveland mascot design can help launch or revitalize a brand.
In the Clippers' case, Chuck the Condor has already inked a shoe deal with Converse for, of course, Chuck Taylor All Star footwear. And in the home stretch, the goal is to get those cartoon-obsessed fans to flock.
Jack Frost Donuts' new Cleveland Logo Design – and brand new building – was unveiled to the public in a grand, re-opening over the weekend, complete with green screen fun, a new menu display, festive red and yellow balloons and upbeat music.
Steaming cups of fresh, hot coffee complimented the dozens of delectable delectable donut options for new and loyal patrons of the Old Brooklyn mainstay.
Customers clustered in the parking lot to catch a peek at the newly-renovated store, complete with exposed stone walls, sparkling quartz counter tops, spotless tile floors and a merchandise rack that stretched to the ceiling.
"Despite the windy and cold weather, the turnout was fantastic," said Lauren Hudac, Go Media's Account Services Manager. "We waited in a 30-minute line outside – totally worth it!"
The Pearl Road store, now emblazoned with a newly-updated bright new red-and-white logo design from Go Media, prides itself on the motto, "Every Batch Made From Scratch." The baker has been in business since 1937, though it's changed hands a few times. Fred Borkey is the man now at the helm.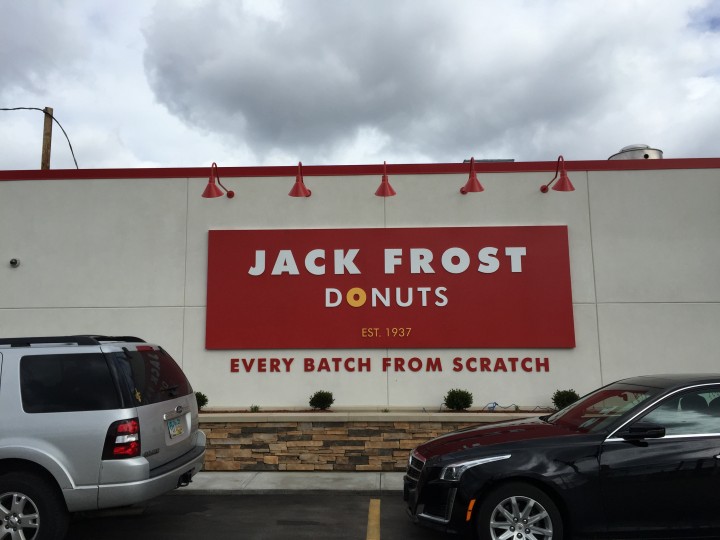 Erin Rodeno, spokeswoman for the family-owned shop, said the store remodeling and the logo design brand refresh was an opportunity to ensure the entire atmosphere reflected the quality of the product.
"The branding and logo design needed to change because we've really grown as a company," Rodeno said. "But we want to make sure people know: with Jack Frost, you're going to get the same quality ingredients. New logo, but same taste."
The grand re-opening showed the many different ways in which small businesses and retail stores rely heavily on logo design. It was incorporated in almost every facet, including:
New Menu Screen
Print Menus
Business Cards
Staff T-shirts
Staff Hats
Storefront Sign
Signage on Store Siding
Boxes
Coffee Mugs
Napkins
Merchandise Mugs
Merchandise T-shirts
Merchandise Hats
Merchandise Coffee Pots
Chris Comella, Go Media's Art Director, said even though the store is venturing into new territory, it was important that the logo design remain true to the identity of the store – which is one customers have come to know and love. That's called brand equity, and it was important not to lose it.
"If they had simply dropped every element they had before, it would have come as a shock to the community – and that's not what we wanted," Comella said. "From a strategic standpoint, we really didn't want to stray too far from what they had. Our role is to help make their business better – not arbitrarily change it."
The donut shop operated out of a re-purposed pizza shop nearby while the renovations were ongoing.
Rodeno said the hope is this will be the start of a revitalization trend in the neighborhood.
The grand re-opening took place on April 2. The store has since resumed its regular hours and operations, which is 6 a.m. to 8 p.m. Monday through Saturday and 7 a.m. to 8 p.m. on Sunday.
Learn more about Jack Frost Donuts at 4960 Pearl Road by checking out their Facebook page or by calling (216) 351-3638.
Contact the Cleveland brand refresh experts at Go Media by calling 216.939.0000 or contact us online. 
Hey Arsenal Fans! Today we're going to show you how to use vector graphics in Illustrator to create this repeating pattern using Vector Set 25, just released on our Arsenal.
In this edition of the Go Media Podcast, Bryan and Bill sit down with Paul Jarvis to talk about how he prices his work and how to get paid what you deserve.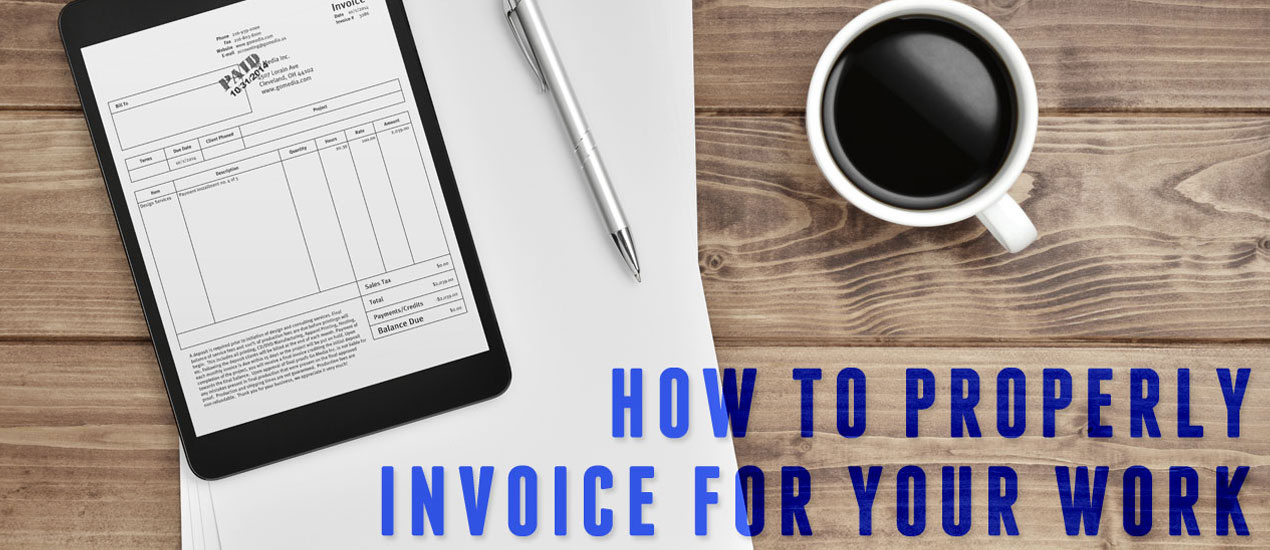 with Example Invoices from your friends here at Go Media
Invoicing for graphic design work is just one of the many processes we have to sort out when starting our own business.
Our newest video tutorial release is a extraordinary journey through the thoughts of illustrator Katia Oloy, Senior Concept Artist at Scopely and former art direction team member for Disney's It's a Small World, the animated series.
In this 1 hour and 18 minute video tutorial, Katia walks you through how she created a series of princess paintings while she was working at Disney.
Find these ethereal paintings below.
These paintings were featured on the Oh My Disney blog and are still incredibly popular on Tumblr to this day. Katia will also walk you through her entire conceptual process – how she finds inspiration, organizing a PS document, layering, color blocking, the intricacies of illustrating humans, bringing your character to life and much, much more. As a bonus, Katia provides brushes to accompany the tutorial.
Katia leaves no stone unturned as she walks you through every thought she has during her intimate process.
Learn Katia's Magical Process Now
In no time, you'll be making magic like this…
Onto the Painting Inspiration!
All paintings by Katia Oloy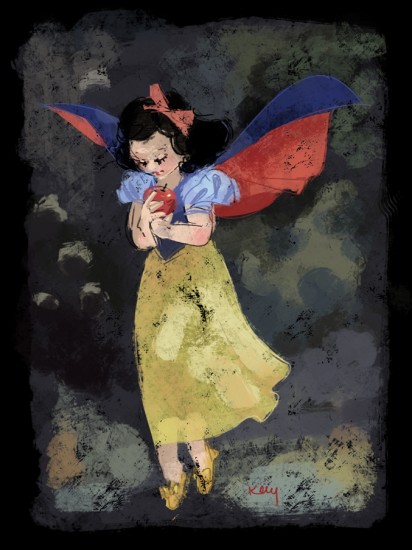 More about virtual storyteller Katia Oloy on her official site and
Facebook | Twitter | Dribbble | Behance | LinkedIn
My Two Cents:
Big news here in our home city of Cleveland, where the Indians have just announced that their official demotion of the Chief Wahoo logo. This caricature, created in 1947, has created much controversy through out the years, with protesters making their voices heard against a logo fueled with stereotypes.
The controversy reached a head in 2014, when the Plain Dealer's editorial board called for its removal due to "racial insensitivity."
But inside "Progressive" Field, the Indians held still onto the profitability of the Chief. After all, the home cap with the Chief Wahoo logo, for example, ranked in as a top seller in 2015.
The Indians, however, finally submitted to the pleas of the Native Americans and their supporters. Sort of. As of this past Friday, the Block C will become their primary mark, with Chief Wahoo playing a secondary role. We'll still see his teethy grin on the sleeve of the player's jerseys until, hopefully one day, he's phased out completely.
It is possible, after all. Check out these 40 teams who managed to do it.
Until then, I'll file this under "how to know when to change your branding." And shake my head until the job is completely done.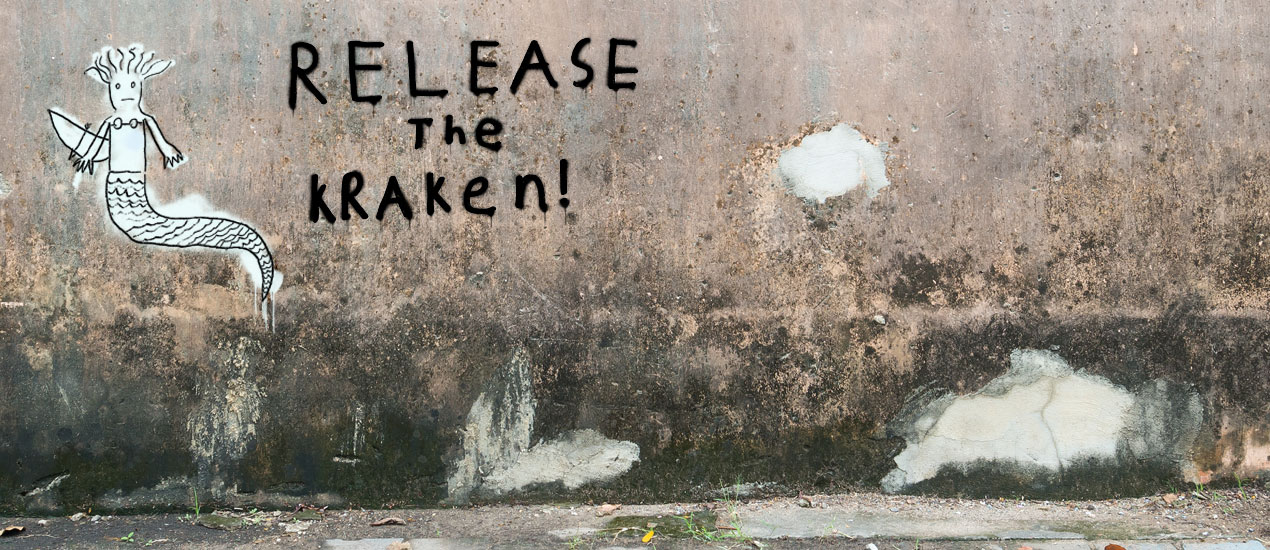 We were lucky enough to grab a couple moments with Cleveland's hottest underground artist, Ben Sakai, last week.