Articles by:
Michael Miller
A New Marketing Strategy 2018
As a small business owner, you too have your share of new year's resolutions. You begin each year with the best intentions. But, let's face it, some resolutions are easier to keep than others. Take your marketing strategy, for instance. You've managed to keep it alive over the years with an action plan that can be described as arbitrary at best.
Thankfully the digital frontier makes marketing your small business a little easier these days. And so as we begin anew this year, we'd like to offer you a few simple tips on launching a marketing strategy for your small business in 2018.
First, a damage assessment:
a. The content on your website is no longer relevant. It needs to be either re-written, edited, or scrapped entirely.
b. Your website is not responsive, which means it doesn't translate to mobile devices. Translation: you're missing out on a load of potential business.
c. Your Social Networking skills are just sad:
Your

Facebook

feed is starving, because you haven't fed it all year.

Your

Twitter

page doesn't tweet, it coughs.

Your Instagram isn't instant, it's so 2013.

Resolve to jumpstart your marketing strategy in 2018 with these 7 useful tips:
New website, new you.

Rebuild your website, one that's fully responsive (meaning it will translate nicely to the mobile environment (i.e.,

iPhone

,

iPad, Samsung Galaxy, Google Pixel

, etc. ) and built on a current content management system (CMS) like

WordPress, Joomla, or Drupal

.

Keep your front end clean and your backend stocked.

Say Wha??? Think of your website like a virtual bricks and mortar store. Located on the corner of Revenue Street and Potential Avenue, your website is open twenty-four hours a day. And just like any store, the pages on your website (

aka

the "front end") need to look inviting. You can achieve this by seeking the professional advice of a web design firm [like yours truly] to furnish your company's website with a better user interface (UI) which will, in turn, provide your customers with a better user experience (UX). As for the back of your store (

aka

the "backend") you have to keep it stocked with the right inventory. This is achieved through Search Engine Optimization (i.e., the process of improving the search rankings of your website through a series of metrics and procedures such as keyword analysis, code optimization, onsite optimization, and link building). In other words, if you imagine your company website as an actual concrete thing, then it's not enough to just leave the lights on these days. You've got to treat it like an actual physical extension of your business, whether you see yourself as a shopkeeper or not, keep your shop clean, the shelves stocked, and the lights on.

Blah. Blah. Blah. or Blog. Blog. Blog.

It's all good. Blogging is a great way to maintain a regular dialogue with your customers. Your blog is the space on your company website that can undergo regular updates without disrupting it's more stationary aspects. Regular content updates improve the overall rank of your website. Blog proactively…about your business. Blog about your employees. Blog about your promos. Blog about your company history. It doesn't have to be exhausting or very in depth. The slightest blip on the radar, in the form of a little blog post, combined with a series of regular blips, will up your company's online profile.

Treat 'em like pen pals.

Maintain regular correspondence with your customers with marketing tools like

Constant Contact

and

MailChimp.

Send out regular eblasts, promotions, and newsletters. Use giveaways, grabbing goodies from sites like Couponobox.com, to peek your customers' interest to keep them subscribed. These marketing platforms are effective, easy to use, and they come with built-in metrics that allow you to measure customer behavior. Not bad.
Feed your social network on a regular basis

. After all, they don't call it a feed for nothing. If you don't already have a

Facebook, Twitte

r, and/or

Instagram

page for your business, resolve to launch one of each in 2018. If you've already got one but they've been lying dormant, now's the time to dust them off and get them working again. Don't be intimidated. These platforms are inherently designed to be fun to use. So have a good time with them, and keep it simple. Take your company content and slice it, dice it, and tailor it to the digital marketplace. Once you're done with those three platforms, considering adding another to your cadre of apps like

YouTube, Reddit, Pinterest, or Google+

. The more the merrier.

Be an opportunist.

The biggest commitment you need to make when managing a successful marketing strategy is time. Always be on the lookout for opportunities to promote your business. The digital space has essentially turned everyone into a potential guerilla marketer. But marketing can be ephemeral and pretty fickle. Your marketing strategy will dry up unless you care for it on a regular basis, and sometimes that means stealing time when you can get it, and not just during regular business hours. Stay inspired, and always be on the lookout for new opportunities to promote your business in different, unconventional ways.

Get a contact buzz!

Sponsor a high profile event in your area. Popular events often promote themselves organically. People attend the event, they check in, take pictures, and tag the room from head to toe with potential customers. The buzz spreads like wildfire. Get buzzed by proxy by sponsoring events that are consistent with your business model.
Resolve to build a better marketing strategy for your business in 2018. Contact Go Media, your Cleveland marketing specialists through the power of design.
Happy New Year! Now get back to work!
Hello everybody! Mike Miller here, Copywriter at Go Media. Today I'm going to talk to you about meeting deadlines as a professional copywriter. But first, a little disclaimer:
I used to follow the old Jack Kerouac/Hunter S. Thompson approach to churning out copy – on a healthy diet of absolute debauchery (cue Ian Dury & The Blockheads, please). I'm not gonna lie. It was a hell of a lot of fun for awhile. But unfortunately it wasn't the healthiest way to meet deadlines. Luckily I wised up and figured that, if I wanted to survive and make a decent living, I had to develop a healthier, less self destructive approach. I soon discovered after cleaning up my act that my inherent weirdness shone through regardless of my routine.
So here are some tips for aspiring copywriters on meeting deadlines without losing your edge (aka The Reformed Person's Guide to the Writer's Life).
Tips for Meeting Deadlines
Visualize the Finish Line. Paint a mental picture. Keep your deadline at the front of your mind, like a beacon of light at the end of a tunnel, or the end of a demanding race with a cheering crowd waiting for you at the finish line.
Know your subject. Investigate. Do your homework. Get acquainted with your client and the market they serve. This process is much like having a conversation with someone you've just met. Usually there's a preliminary phase when you're fishing for small talk. Eventually you find a common thread to follow. The same applies when writing for hire. Schedule a couple days for total immersion in your subject matter, relative to your deadline, and dive in. Give yourself the opportunity to effectively learn the lingo and body language of a specific market so that you can convincingly talk the talk and walk the walk, both figuratively and literally. To paraphrase Bob Dylan, "know your song well before you start singing."
Take note of things that pique your interest and grab your attention while investigating your client's goods and services. It's precisely the little things that grab your attention early that might help move your narrative forward should you get stuck attempting to communicate an idea further on up the road.
After you've done your homework, find an angle – a thematic hook – from which to intuitively get some traction. Dig in your heels and use it as a launch pad to get started. [Note: If this sounds a bit abstract, just stick with me here. The creative mind often relies on intuition to carry it forward. Finding a hook means trusting your instincts and letting intuition be your guide.]
Get some exercise. Nothing frees the mind better than a long walk, jog, or bike ride. I had a writing instructor in college who taught me the importance of physical exercise to open the mind and generate ideas. Over the years I've found that it's a tried-and-true, effective way to shape ideas. But don't go out there empty handed. Be sure to bring along your phone or a voice recorder to capture your ideas while on the move. [Side Note: I've established a few physical routines over the years to fortify my writing. First, long runs: I often start a run with my mind all scrambled; but by the time I finish, everything is all sorted out. Works like a charm. Second, I prefer to commute to work each day by bike. I find it provides a great opportunity to get inspired and focus on conquering creative road blocks. On top of that, a morning or evening walk is always a winner. After all, walking is the most essential form of exercise. And since running and biking isn't for everyone, walking is a relatively safe alternative. I actually dictated the first draft of this article on my morning walk. No kidding.]
Get started. Freestyle. Don't be cautious. Don't ease into your first draft. Charge! Like a bull in a china shop! It's the best way to combat all of the emotions that stifle writers at the start of any project: trepidation, apprehension, consternation, and most importantly, procrastination – all those -ation words. They're a bummer. But you can beat them by being bold and a bit daring with your first draft.
Take, for instance, the toughest of them all: Procrastination! You're inevitably going to procrastinate. Everybody does. It's human nature. In fact, some of you out there (myself included) might swear to writing better under pressure. To heck with that. Don't let your deadline control you. Know your timeline inside and out and stay on top of it.
The sooner you get something down on the page, the closer you are to the finish line. And, as an added bonus, the sooner you begin, the more time you free up for dilly dallying later on [dilly dallying: verb dil·ly·dal·ly-ing  \ ˈdi-lē-ˌda-lē-ing \ : 1. writer's speak for engaging in a bit of frivolity to give yourself a break. 2. a technical term for screwing around on the job.]  
Drafting. Hit the ground running with what I like to call the "word vomit" or "brain dump" phase of copywriting. Sounds kinda gross, I know. And it can be, depending on how your mind works. But it's rewarding nonetheless because this is the point in composition when you just go for it by leaning into your hook or your angle, pounding out ideas on your typewriter (or pc, tablet, or whatevs) like an old newspaper man. Your first draft doesn't have to be pretty. It doesn't even have to make sense. Let it run wild. To heck with punctuation and proper diction, or even rational thought for that matter! Your first draft is your most organic and primordial – where your best ideas are born and begin to take shape. Keep it raw.
"The rain in Spain looks strange from the plane. And it's downright insane." No.
" The rain in Spain drains like a water main on that godforsaken plain?" Not quite.
"The rain in Spain stays mainly on the plain?" Yeah! That's it!
Editing is fundamental. Proactively read and re-read what you've written. Make changes and adjustments to your copy by reworking and rewriting your text as you read through it. Be diligent. Take notes. Doublecheck your deadline, and keep carving until you're sure you've shaped your text to your liking. You'll know it when you see it. [Note: I recommend a three draft minimum for any project, and I don't mean "barley pops" either. Save that for when you're done.]
Cutting room floor stuff. One of the biggest stumbling blocks that writers encounter is the fear of letting go – letting go of a good idea that doesn't quite fit thematically with the rest of their work; letting go of a bad idea that just doesn't cut it. Point is, don't get precious with your work. Don't be afraid to leave content on the cutting room floor. You can always keep track of any unused ideas by simply cataloging them in a separate file. Good ideas are recyclable. An idea that seems unfit for today might come in handy tomorrow.
So those are my tips for meeting deadlines for aspiring copywriters. Remember to stay busy. Stay healthy. Stay weird!
For more information on a complete list of communication services for your business including copywriting from Go Media, Holla!
-Michael J. Miller
You don't have to be hip, trendy, or in an arrantly dynamic new market to pique our interest here at Go Media. We love the challenge of working with clients who have a long history in business but are in need of what I like to call a Marketing Makeover. This could amount to any number of things: from re-imagining a logo, to a complete brand refresh, to freshening up your communications with copy that sheds new light on your business while adding a singular twist to the ongoing dialogue you enjoy with your customers.
Fact is, there are many seasoned and vibrant company's out there looking for a little TLC, commercially speaking. From re-introducing you to the world with a beautiful, new, fully responsive website, to employing a comprehensive inbound marketing strategy [complete with SEO and social media marketing], the potential for engagement with your audience is staggering nowadays.
And from our perspective here at Go Media, there are few things more rewarding than taking the scattered brand assets and outdated communications of what we like to call a legacy company with a notable history and updating them for today's marketplace. The process is kind of like treating you to a long weekend at the spa while we rummage through the attic of your house for old family photos, heirlooms, and clues to your family history.
As a copywriter, I particularly enjoy the challenge of updating a company's overall communication strategy. The task of casting a company's vision in a new light with a fresh new narrative is one that I relish. And no matter how conventional, or seemingly mundane the subject matter, the prospect of making a company's communication strategy comprehensible and appealing across new and different platforms (website, blog, social media, etc.) is exciting and should be handled with gusto.
Case in point, Allied Tool & Die [a 70+ year old, Cleveland-based manufacturer of metal stampings for Automotive, Medical, electronic, and commercial industries worldwide] approached Go Media in early 2017 requesting a marketing makeover themselves: new Web Design, Inbound Marketing services (SEO), Upgraded Logo Design, and comprehensive Copywriting Services. Fortunately, the good people at Allied gave us the keys to their "attic" and free reign to rummage.
The Go Media team went for a more acute, contemporary approach to an otherwise fixed industry traditionally accustomed to staying in their own lane. And like a duck to water, we dove in and delivered punchier communications for the pages on their website (Capabilities, Services, Equipment, etc.). Then we launched it all on an intelligently designed, fully responsive Go Media Designer Site complete with artful photos and video presented on a cinematic scale. Phew! Now that's one stunning Marketing Makeover!
If you know of a company that you'd like to recommend for a Marketing Makeover, or you suspect the company you work for could benefit from one too, give us a nudge!
The Best Hoodie Mockup Templates on the Market
The Arsenal remains committed to providing designers of all stripes with world-class tools to present their work in the best way possible. So in this installment of Arsenal insights we're going to cut through the clutter and call out the 7 best hoodie mockup templates currently making waves in the Apparel industry. Check it out!
1. Advanced Hoodie Mockup Template Pack
We had to put this one at the top of the list, not only because it has all the standard bells and whistles you've come to expect from the Arsenal (multiple ghosted [front, back, and side] and flat options, plus numerous preset options), but also because it has the unique distinction of allowing you to simulate various intricate textures that are otherwise hard to authentically recreate like Houndstooth, Herringbone, & Zebra Print! That's certainly enough to earn it a place on the list. But this one also goes above and beyond with 10 unique Zip Hoodie option, 93 Tiling Patterns, 7 Print Zones (not bad), Easy-to-use clipping masks, and 8 Present Colors for each Hoodie.
Download the Photoshop Advanced Hoodie Mockup Templates Pack today and elevate your design work to a whole new level.
2. Classic Tri-Blend Pullover Hoodie Mockup Pack
Our choice for Number Two makes the list because it has a bit of stealth AND a touch of class. First, the Classic Tre-Blend Pullover Hoodie Mockup Pack allows users the ability to change hoodies to any color of the rainbow and beyond – that's the stealth part. But it also allows users to present their work to clients so effectively in eye-catching 3-D that the extra burden of pricey printer bills is no longer an issue. Up the ante!
3. Ladies Ghosted Hoodie Mockup Pack, V2
Booooh!! Spooky stuff. So sharp, it'll give you the shivers…
Coming in at number 3, one for the gals – The Ladies Ghosted Hoodie Mockup Pack, V2. Includes all the features that made V1 the industry standard, but with features like 14 professional templates in total, 6 back views, 2 side views, 4 front views, & 1 model shot [each with its own single clipping mask in place], V2 raises the bar even further.
Note: All ladies pullover and zipper hoodies include front and back photos, cropped sweatshirt formats, Fleece Zipped, and Sleeveless Hoodies formats – all fitted to form. Plus the easy to use color palette allows for switching up your color scheme fast!
4. Ladies Ghosted Hoodie Mockup Templates Pack
An obvious choice to follow number three on our list, the original Ladies Ghosted Hoodie Mockup Pack, the one that started it all. Still a shining example of the Arsenal as a source for World Class design tools. Complete with Pullover Hoodie Version (Ghosted Front & Back), Tri-blend Zipper Hoodie Views (Ghosted Front & Back), and Zipper Hoodies (Ghosted Front, back, and side). 13 Templates total (6 back views, 2 side views, 4 front views, 1 model shot). Revolutionary stuff for the ages.
5. Lightweight Tri-Blend Pullover Hoodie Mockup Pack
Next up, coming in at Number Five on our list, the Lightweight Tri-Blend Pullover Hoodie Mockup Pack. With both Men's & Women's lightweight tri-blend Ghosted Pullover Versions included [Front and Back], this pack could best be described as the equal opportunity hoodie mockup pack. Get the best of both worlds: 4 templates total, front, back, ghosted, with a new easy to change hoodie color layer!
6. Pullover Hoodie Mockup Templates Pack
Number six on our list of top Mockup Templates is the Pullover Hoodie Mockup Template Pack – the set it and forget it pack. Why? Well, it includes the Arsenal's patented easy-to-change color layers and a drawstring layer for all of the templates, with front and back views with clipping masks in place for a start! But – in addition to that – it also allows designers access to smooth, realistic lighting, drop shadow & shading effects in a realistic 3-D format without hassle. Thanks to these easy to use innovations, you can spend less time on the technical stuff, and more time growing your client base. No muss, no fuss. Here it is.
7. Stringless Pullover Hoodie Mockup Template
Finally, Number seven caps our list for a couple of reasons, not the least of which because it removes one of the great annoyances of the apparel industry – one that has plagued designers for ages – those darn hoodie drawstrings. Apart from that, the Stringless Pullover Hoodie Mockup Template Pack is a shining example of a product born out of pure community. Designers demanded a stringless option, and The Arsenal responded with what can only be described as a revolutionary time saver for designers everywhere who are actively working in the Apparel industry.
(Remember if you have a design request, please tell us yours by emailing us here)
In this article, we're going to tell you, in no uncertain terms, "DON'T QUIT YOUR DAY JOB!", but we promise not to be cynical about it. We offer this advice because we understand that, for a lot of creative professionals, sometimes you've got to take that crumby day job in order to fund your broader aspirations.
Juggling the demands of your day job with your long term goals is an art in and of itself. It takes tenacity, some level of stubbornness, and a heck of a lot of faith. You certainly develop a kind of dual lifestyle, and for some, even a dual personality. This, too, has its rewards depending on how you let this weird dichotomy manifest itself in your art. Sometimes you find yourself working at the right place but under the wrong title. Sometimes, the title suits you, but the pay doesn't match. Sometimes, it's all wrong, and you literally feel like a stranger in the wrong house.
Many a brave soul have succumbed to the temptation to pack up their tent and throw in the towel when faced with this professional dilemma. To those of you out there on the brink of folding, we're here to tell you that you're not alone. Sure, things seem pretty rotten right now. You come home at night feeling pretty let down, uninspired. Your true calling feels light years away, and so you end up surfing Snapchat all night instead of dedicating time to your art. To those of you out there struggling with this sinking feeling, remember this: Holding a crappy day job is simply a means to an end. It's a tough gig, but sticking it out has its rewards. In the words of the great Ringo Starr, "You've got to pay your dues if you wanna sing the blues. And you know it don't come easy."
We recently asked a group of successful creative professionals to share with us some of their own remarkable horror stories of doing time in a lousy day job while chasing big dreams at night. How low can you go, you ask? There's no telling until you hit rock bottom. And so, for those of you out there currently stuck between a rock and a hard place [creatively speaking], we'd like to share with you three inspiring stories from the artistic trenches.
—
Andre Espinosa, Exhibitions Designer, Cincinnati, OH:
I design exhibitions for a well-known museum, and I'm pretty happy with my job these days. But it wasn't always like that. I've worked at this museum for seven years, but I spent the first five years here slogging it as a security guard. It wasn't my dream job, but I kept at it and worked hard, day and night. Eventually, I figured it would serve me well in my long-term goal to work in the Exhibitions Department. It was a long road, I was the low man on the totem pole, and I almost quit on a number of occasions. I bumped into an awful lot of trouble along the way and had my pride hurt, and my head chopped off on a number of occasions. But I never quit. I watched people get promoted ahead of me, but I just kept working. I watched them bring in people from the outside to fill positions instead of promoting from within. Ouch! Still I kept working. I even watched as they implemented some of my ideas around the museum without a single nod of acknowledgment. I was never bitter. I just kept working.
Perhaps my darkest hour happened on a lonely Sunday afternoon in December a couple years back. My nine-year-old daughter was performing in a local production of the Nutcracker and, try as I might, I just couldn't get the day off. [That's another story altogether. You'd put in a time off request and, like a game of roulette, hope for the best. Sometimes you'd win. Sometimes you'd lose. I suppose I could've called in sick, but, remember, I had big aspirations. I was no deadbeat. I wouldn't call in sick unless I WAS sick. It's just not how I'm built.]
There was only one thing left for me to do, short of quitting, and that was to request early dismissal that afternoon. Early dismissal was an honest alternative, and harmless enough. It happened during the changing of the guard, between the first and second shifts, and only if the museum was dead quiet. Well, it was late in the afternoon on a Sunday in early December, and the museum was completely abandoned. You could hear a pin drop. I thought I was a shoo-in to head home early. But still, I was denied. So, with no other option available, I went to the floor supervisor and put in my request. I beseeched, petitioned, pleaded, and practically begged him. But he wouldn't budge. I felt betrayed, though I didn't hold it against him. I knew that someone else was pulling the strings.
I was eventually set free that day after a hair-raising stand-off between myself and the powers that be. I made it to my daughter's recital by the skin of teeth. But the damage had been done. The next day I was called into my boss's office and reprimanded. I was treated like a real troublemaker. It stung, but I held my tongue and took the beating, trying to toughen up for better days that surely lay ahead. After all, I figured, it couldn't get much worse.
Time passed, and I weathered many a storm – including a complete shake up from top to bottom within the organization. I guess I just outlived them all.
Eventually, a position would open up in the Exhibition Department for an Exhibition Designer. I jumped on it and got the job. It's all good now. I'm doing what I love, and I've got most weekends off too. I hung in there. It was bleak, it was humiliating, and I almost gave up. But, today, I'm glad I didn't.
—
Shirley Matusak, Graphic Designer/Poster Artist/Punk Rocker, Rochester, NY:
I took a job as a junior Sales rep at a big corporation, selling software to car dealerships. It was a lot of cold calling, fact finding. Lotta hangs ups. Pretty grueling stuff. Hours were 8 to 5, Monday through Friday. On the job, I was buttoned down, conservative. I never betrayed a thing about my secret artistic life, or at least that's what I thought. On the clock, I felt like a different person. Sometimes I'd catch a glimpse of myself in the mirror in the bathroom, and I didn't even recognize myself. But as soon as five o'clock rolled around, I'd transform into a bold, prowling punker. I sang lead in a local band, The Sh*ts. We gigged around town on the regular. It was great. My day job bankrolled the whole thing. I'm grateful for that.
The fact that I had to keep my true self under wraps, that was challenging. It started to feel like a Jekyll & Hyde routine. Juggling these two personalities would eventually take too much effort, and teach me a very valuable life lesson. The more attention I gave to my art, the less I could give to succeeding at my day job. I had to strike a balance, and, when the time was right, strike out on my own and pursue my dreams.
It all came to a head one year when after the Christmas holiday I came back into the office and discovered that my entire department had flown to Orlando for the annual Sales & Marketing retreat. I was told to answer the phones until everyone got back. That hurt like hell. I hadn't been invited to the party. I felt like a loser.
The chips were down, and I was tempted to quit. But thank God I didn't. I needed that job to finance my art, to keep me sane, more so than I needed a trip to Orlando, watching clips of Braveheart, doing "breakout" sessions" with a bunch of ex-football players in pleated pants and Brylcreem. The whole experience taught me that the only one you can trust in life, no matter what your path, is yourself. I was an oddball, and no level of covering up my true self during the day was gonna work. The artist inside me needed to show through, and, eventually did, in spite of myself. I was an outcast by nature, and it was time to come to terms with that.
I eventually left that place altogether and said good riddance to those squares. The coast is clear. My true self is now allowed to come out and show itself, day and night. I still sing in bands, but I now work for an advertising agency as a designer, and I also make my living designing gig posters professionally. My clients are mainly people I met while leading the dual life of a junior sales rep/corporate lackey by day, and punk rocker by night. That job forced me to fight for what I love, to have faith in what I believe in, and to appreciate the true person lurking beneath the phony exterior of a lousy day job. I'm glad I didn't give up.
Maintaining a dual lifestyle wears you down. If you're not true to yourself, eventually you're going to crash, one way or another. But if you remain true to your dreams, no matter what life throws your way, your true self will eventually make its big debut. Be true to you.
—
Brad Castille, Marketing Director/Web Entrepreneur, New York, NY:
I worked for five years at a local nonprofit as an Administrative Assistant to the Marketing Department. My hope was that I would eventually move up within the ranks.
This particular organization was known for holding high profile events, and these events offered a great opportunity for employees to prove themselves. Lots of media and celebrities were always in attendance. But never one to be star struck, I could usually be found on my feet working the night away. I kept things very professional and never got distracted by all the glitz and glamor. But one year, my professionalism was questioned, and I nearly cracked under the pressure.
It all happened during one particular fundraiser when we hired an outside PR firm to help manage the often delicate world of media relations that surround these kinds of events. The PR firm sent a group of mostly young, college-aged girls, and I was partnered with them for the evening. Everything seemed to go down without a hitch. We spent the entire event hustling between the press box and backstage, seating guests, playing gopher to whoever needed a hand, you name it. Everyone worked tirelessly and gave one hundred and ten percent. No star gazing. No partying. We kept our noses to the grindstone.
But come Monday my boss called me into his office. He said that one of the undercover police officers who had also been assigned to help with security that night had reported that I (or someone closely matching my profile) had been spotted bringing "girls" out onto the floor during the event, and spending much of my time "entertaining" these girls. I informed my boss that these "girls" were in fact members of the PR staff that we had hired that night, and everything was strictly business. After a lengthy interrogation, I was let out of his office. A number of the regular staff vouched for me and even went on the record to say how well I'd done that night. But something fundamental between my boss and I had been breached, and we never fully recovered one another's trust. It sucked.
I weathered this storm, and eventually found my way out of this situation altogether. Most of my off hours are spent these days focusing on my lifestyle/ecommerce website which I launched thanks to money from my day job. I still hold a day job, too, working as the Marketing Director for a well respected creative firm where I enjoy the trust and support of my coworkers and my boss. It's a charmed life, and sometimes you just never know how things are going to turn out.
——
So there you have it, folks. What doesn't kill you, only makes you stronger. Never giving up, and not giving in, only serves to sharpen your creative edge. Hang in there!
Note: This blog post is a combination of facts and certain embellishments. Some names and identifying details have been changed to protect the privacy of individuals.
Furthermore, names, dates, places, events, and details have been changed, invented, and altered for literary effect. The reader should not consider this blog post anything other than a work of literature.
Yeah yeah yeah, you've heard the old cliche a million times – "ABC – ALWAYS BE CLOSING!" If only it were that simple. True, when selling your design services, you want to maintain a clear objective, and follow every deal to its proper conclusion, but not at the expense of honest-to-goodness interpersonal relationships. Take time to stop and smell the roses, together. But always be conscious of other people's time. And when it's all said and done, heck, you might even want to send your clients a dozen roses.
On that note, maybe the old adage should be updated to better suit the times: "ABC – Always Be Courting." Hmm. Now there's a novel idea. Court your clients. Show them some love. Hear what they have to say. Get to know their goals, aspirations, and concerns. Let them feel like you're taking care of them, and get them to home plate, safe and sound. We know, we know, it sounds a bit kinky, and we're certainly mixing our metaphors here a bit. But, bottom line is, you're not going to succeed at either of these approaches unless you train yourself to be a closing pitcher. And your objective as a closing pitcher is not to strike 'em out, but to ensure that all parties involved are swinging for the fences, and heading for home! OK. Now we're double [maybe even triple] mixing our metaphors here. Just bare with us.
Here are 3 useful training tips for you on how to be a closing pitcher in design sales, courtesy of Go Media, your Cleveland Design Service experts.
1. The Wind Up – Have a clear objective going into any negotiation. Keep the tone of the meetings brisk and the preliminaries brief, but don't rush it. Keep your story fresh, and avoid using the same anecdotes every time. Don't bring hooch to a baby shower as it were, or caviar to a Super Bowl party. Adjust your pitch to suit the situation. Every client is a little different. This doesn't even require that you memorize your own schtick. On the contrary. You don't want to be too scripted. But you certainly don't want to sound one dimensional either. Clients can pick up on tired, worn out yarns. It's more about paying attention to where the conversation is going, following your own lead, looking for signs & shifts in the conversation and making it work. Always leave a little room to shoot (or

Pitch

) from the hip.
2. The Pitch – OK. Now everybody's settled in and it's time to get down to brass tacks. Wind it up and let 'er rip, slingshot! Have your value proposition buttoned down, and simply articulate how you intend to deliver. Introduce a level of collaboration to the proceedings too, but not to the detriment of closing the deal. It's important to give your clients the impression that you're in the driver's seat, and they can just enjoy the ride if they so choose. Somebody has to drive. Might as well be you.
3. The Wrap Up – Okay. Party's over, and all signs point to a decision. This is not a pressure tactic. This is reality. Time is tight, at a premium, and very precious in any negotiation. So get to the point. If the meeting ends with an "

I'll get back to you

", there's a 50/50 chance you're sunk. The narrative should always be pointing toward the finish line, home plate. Be the narrator. Take the lead. Any good closing pitcher worth his or her salt intuitively understands this. Avoid loose ends during the wrap-up, and minimize the number of unanswered questions before everyone hits the showers. Don't let the deal hang out there like an unsolved riddle, and don't encourage your clients to take the time to think it over. One common way closing pitchers succumb to this pitfall is by giving their clients too much wiggle room and too much homework at the end of a meeting. This is just an invitation to stall.
People want to feel like you're taking care of them. They want to hire you to handle the heavy lifting. If you depend on your clients for too much additional information, you're just encouraging them to drag their heels. This is not to suggest that you should be pushy, no. Simply keep your eyes on the ball, steer things home as much as you possibly can, and remain conscious of other people's time.
Give your clients the tools they need to seize the day, swing for the fences, and make a commitment. Deliver the right pitch, custom made for their business, for everyone's sake. Good Luck!
The Eccentric's Guide to Cold Calling in 5 Simple Steps….
Last month we discussed the oft forgotten virtues of peddling your wares door to door, a daunting enough task to be sure. In this installment we'll explore the redheaded stepchild of marketing, the black sheep of self promotion, the dreaded cold [phone] call. They don't call it the COLD call for nothing either. It's true. Everybody dreads it. You do. They do. I do (And I love to "BS" with people).
There's something about the process that feels unnatural for both persons on either end of the line. It's cold, indeed. Cold enough to give both the caller and the person being called the shivers. It's the Mt. Everest of sales tactics. You could be the most outgoing, confident person in the world, but picking up that phone and finding the strength to dial that number takes some doing. Here at Go Media, Cleveland's premier Design firm, we believe in you. Your will is strong, and you've already got the know-how. You just need some motivation. So here we go…follow our lead!
Today we're going to add warmth and personality to the cold call process in 5 simple steps. We'll debunk some of the mysteries behind it, get the skunk on the table, look it in the face, and overcome our fears together to help you get your foot in the door and grow your business.
Fear is the optimum word here, people. More specifically, fear of rejection. It's at the core of our collective dislike over cold calling. That, and it just seems unnatural. No one likes to have their day interrupted with a phone call from someone they hardly know. Being the person who has to make that call can be intimidating. If you're like me and you hate being solicited, then you're going to hate being the solicitor. You're bound to feel some bit of self loathing, maybe even self hatred. To this I say, resist the temptation. Keep your chin up. You've got something valuable to share. And, besides, it has to be done. You can hide behind a smokescreen of emails forever. But pretty soon you'll find that your business is suffering. There's always room for some good old fashioned one-on-one conversation with people to perk things up a bit. We're only human after all. It's okay to feel some trepidation with the process. But it's that personal touch (the very humanity of it all, if you will) that makes it such a reliable form of communication.
Step 1: It's all about overcoming objections. Cold calling is a contact sport. You're going to run into a lot of resistance. Just remember that you're not a shyster, and you've got something important to offer.
Q: How does one overcome objections?
A: With confidence.
Q: How does one gain confidence?
A: Well, you either got it, or you don't.
But if you've got it, and it's hiding under a layer of uncertainty, then do your homework. Learn as much about the company you are attempting to reach before you make that call. Seek to understand what it is that the company does. Get to know them inside and out. Identify possible needs that they may have, and fill in the gaps with the value that you bring to the table. This will help build confidence. And nothing thwarts resistance more than exhibiting confidence.
Step 2: Develop a personal approach. Conversation is an artform. You can talk AT people, past people, or wait until the other person is done talking, so that you can start talking too. None of this makes for good conversation. Be prepared to let people speak. Learn to savour the silences and pauses in a conversation. They're gifts. In a world full of noise and distraction, it's nice to let things fall naturally. Resist the temptation to fill in the gaps, and don't worry if the person on the other line is about to interrupt you or dump you down the booby hatch. Throw caution to the wind. You're not a snake oil salesman. You've done your homework. You understand their business, and you've identified a need. Share it, naturally. And, by all means, let the other person have the last word.
[Note: Here's an extra bit of oddball advice for further instruction…Check out some old Youtube videos of the great talk show hosts, like Johnny Carson, Dick Cavett, or Tom Snyder. This may sound highly unorthodox, and it may even strike you as being a bit silly. But, fact is, these were three of the world's' greatest conversationalists, able to naturally shift gears and effortlessly follow the rhythm of any conversation with just about anyone. And how did they achieve this? By being genuinely curious about other people. So open your mind. Get over yourself. And get ready to do more than just talk. Get ready to listen, learn, and share. Before you know it, you too have become a brilliant conversationalist.]
Step 3: The yogic approach. No kidding. One of the biggest hurdles to the cold call is physical tension and nervousness. Nothing calms the nerves more than simple breathing. And nothing jumpstarts breathing more than a little physical activity. Try doing some stretches before you call, some forward bends. Get the blood flowing, and let it rush to your head. If if helps, and you have the mobility, get up from your chair, and walk while you talk. It's more natural than sitting at a desk with a phone glued to your ear.
Step 4: Get passed the gatekeepers. You will encounter them over the phone. Some of them are downright suspicious of everybody. Most of them, however, are ordinary people just doing their job. Don't be discouraged. And, for goodness sake, don't be rude. Talk to them the way you yourself would like to be talked to. Show them the same courtesy you would to the receptionist at your dentist's office. Chances are they'll warm up to you.
Come clean with who you are and why you're calling. You're seeking a moment of someone else's time. Be up front about it. It's nothing to be ashamed of. The gatekeepers are trained to sniff out the sneaky ones. Don't be sneaky. And most importantly, always remember, before they connect you, to ask for the direct extension of the person you are trying to reach. That way, next time you call in, you can bypass the gatekeeper entirely. Unless of course you hit off. If so, more power to you.
Step 5: So you've had a nice brief chat with the gatekeeper/receptionist, and it has been determined that you do not pose any imminent threat of wasting anyone's time. Congratulations! The finer attributes of your personality have really shown through! "I'll connect you now," says the receptionist. And just like that, you're in.
That went well. Before you know it, you're on the air. And it's not a voicemail, but an actual person you're speaking with. Remember to pace yourself. Your cold call is getting warmer. Speak in a manner that reassures the person on the other end of the line that you're not a kook. Tell them upfront, right out of the gate, who you are, why you're calling, and ask them if now is a good time to talk. Regardless of their response, this is your cue to provide a little bit more detail behind who you are and the purpose of your call. The person on the other end of the line is listening. You've got their attention. Deliver a short pitch, ask a question or two about their business, and settle in for the conversation.
At this point the conversation could go just about anywhere. If they insist on speaking with you at another time, accept it. Be prepared to offer a specific alternate date & time to follow up with them. In the meantime, offer to send them more information on your business. This will illuminate your next conversation.
So there you have it. You've cleared the biggest hurdle in the process – finding the motivation to pick up the phone, get passed the gatekeeper, make that personal connection, and establish familiarity with your clients. The rest is up to you. Good luck!
Peddling Your Design Services the old fashioned way in 6 simple steps…
There are a million different ways to market your design services nowadays, and countless tools to connect with potential clients. Thanks to the advent of technology, the conquest of the internet, and the proliferation of the social network, connecting with people across multiple boundaries, real or imagined, is just a hashtag away. Sure, the search for new markets can often feel like a search for life on other planets. But in the celestial spheres of business, niche markets be damned. The possibilities are endless. The potential for new business, boundless. The ability for an enterprising young designer to plot a course through the far corners of the galaxy, and penetrate sectors of the marketplace once deemed too remote, have become a heck of alot easier. Sadly, however, much of this technology has rendered our communications with one another soulless.
You can email, tweet, instagram, WHATEVER your clients to death. But, sometimes, nothing moves the needle more than simple, honest-to-goodness human interaction.
And so, today, we re-examine the importance of connecting with clients through the lost art of the dreaded cold call.
Part One: Going door to door. It's a necessary approach to doing business that can solicit dread among even the most ambitious among us. But it doesn't have to be that way. The following is a kind of instruction manual designed to help you overcome the dread, find the joy, embrace the challenge, and master the art of the cold call in six simple steps:
Determine a need in the Marketplace. Identify your Target Market
Maybe you've already done your homework and identified your target market. You've catered to them for years. Your loyalty is charming. But let's face it, you can't live in a bubble forever. It goes against the natural order of things. You run the risk of stagnating. Sooner or later, you're going to have to expand into new territory and hunt for bigger game. Take stock of what it is that you do best. Then take a moment to think outside the box, step outside your bubble. Think of the most popular item in your portfolio, then do a complete 180, aesthetically speaking. Imagine your work being applied at opposite ends of the commercial spectrum. There are a lot of companies out there, for instance, whose brand and marketing collateral could use a re-boot, an upgrade. On the surface, it may appear that they are part of the "old economy". Not as glamorous, true. But that's beside the point. They have the means. They just lack strategy and guidance. Like treasure on a map, you can find them. Make it your business to educate them on the importance of getting their house in order.
After you've determined a need in the marketplace, a void that you can fill, get excited about it! In fact, get very excited! It's okay. Thanks to this article, you've just accomplished – within the span of only a few short minutes – what a lot of designers have struggled their whole lives to figure out. And now you just can't wait to get in touch with your new clients, and show them what you can do. Develop a ground game. Prepare a list of companies that meet your new target market criteria. Map these companies out in your area, and break them up into manageable, geographic segments, or territories. But be sensible. If you have an opportunity all the way on the other side of town, identify opportunities that surround it. Build your day around tackling them together. Identify key players within the organization, and, if it's public record, gather the necessary phone numbers and email addresses of those individuals. Reach out. Provide a friendly heads up, and inform them that you'll be in their area soon and you would appreciate a moment of their time to tell them about your design services. [*Note: we will explore the art of cold calling by phone in more detail in Part Two of this series.]
Get all your ducks in a row. Gather your collateral.
Of course you don't want to  go out there empty handed. But don't overdo it. Travel light. Keep your message lean. Don't overwhelm potential clients with too much information. Distill your message down to a small sample of bite sized collateral describing your business, and put them in a sales folder with the usual suspects (and maybe even a few surprises): Business card (because it's more than a calling card, it's a badge of honor), a one page description of your services, a special "for your eyes only" promotion, exclusive to the recipient. And, by all means, be sure to include some swag from the office if you have it. But no junk. Make sure it's useful. Something as simple as a pencil or pen with your company name & logo on it goes a long way in breaking the ice. It's important to make clients feel like they're getting something they can use for giving you the time of day. People appreciate it, and it makes for good conversation.
Get scripted, but don't tell anybody, sort of…
You may look good on paper, but it won't mean a thing if you can't speak with confidence to the value of your design services. No one appreciates a message more than when it comes from the horse's mouth. Be the horse. Get scripted. Formalize your message into a brief set of talking points, but don't sound so formal. Keep it simple. And avoid language that sounds too insulated, or trade specific. Think about what you're saying and who you're saying it to. Grab a thesaurus if you have to. Never mind the tricks of the trade, because people hate feeling like they're being tricked. Clients want to hear about solutions. Respect your audience. You'll earn their trust a whole lot faster.
And now the moment of truth, the moment you've been waiting for. Time to hit the streets. Get your map. Grab your collateral. Get in your car. Hop on your bike (they don't call it peddling your wares for nothing). Whatever it takes. There's gold in them there hills. Now go get it. And let your conscience be your guide if dropping by unannounced. Let's face it, you wouldn't like it if someone popped in on you and demanded time out of your busy schedule. Always go in with the courtesy of a deliveryman, but be prepared to have a conversation. Bare in mind, for every nine people that are just too busy to engage with you, there's always that one individual with a genuine need, and a little time to spare to talk about your design services. Know when to split and when to stick around. Follow the performer's maxim: always leave your audience wanting more. Deliver the script. Pass the collateral. Confirm a time when it's appropriate to follow up, and move along.
It's important to maintain regular communication with your new target market. After all, you've already invested a great deal of time and effort in them, and you've only just begun. Take heart. You've worked hard in the old school tradition. And now's the time to take advantage of all that new school technology. Revisit your new target market regularly from the comforts of your office through inbound marketing, and other appropriate forms of communication available to you these days (email, LinkedIn, whatever works). And when going out again in search of other opportunities, be sure to leave room in your calendar to touch base again when you're in the neighborhood. Just be sure to give advance notice. And, no matter what, always be willing to get on the horn and reach out with a simple phone call. You can't beat the human touch. 
Tune in next month for Part Two: The Phone Call
Go Media Designer Sites – The practical, affordable web solution with the Artist's touch. Beauty made simple.
This is the epic tale of Designer Sites, the agile, accurate, utterly gorgeous, and affordable new web solution from your friends at Cleveland Web Design firm, Go Media.
Go Media has always maintained a keen eye for quality design. We built our reputation on it, and it remains at the core of our business. But years ago, when we first set out to build websites, the results were mixed.
Like our designs, our early websites were handled with the utmost care. And, true to form, they looked beautiful. But with this attention to detail came a price. Each site to go live from our Cleveland based Design studio was fully customized and looked as if it had been meticulously handcrafted. Gorgeous but inefficient.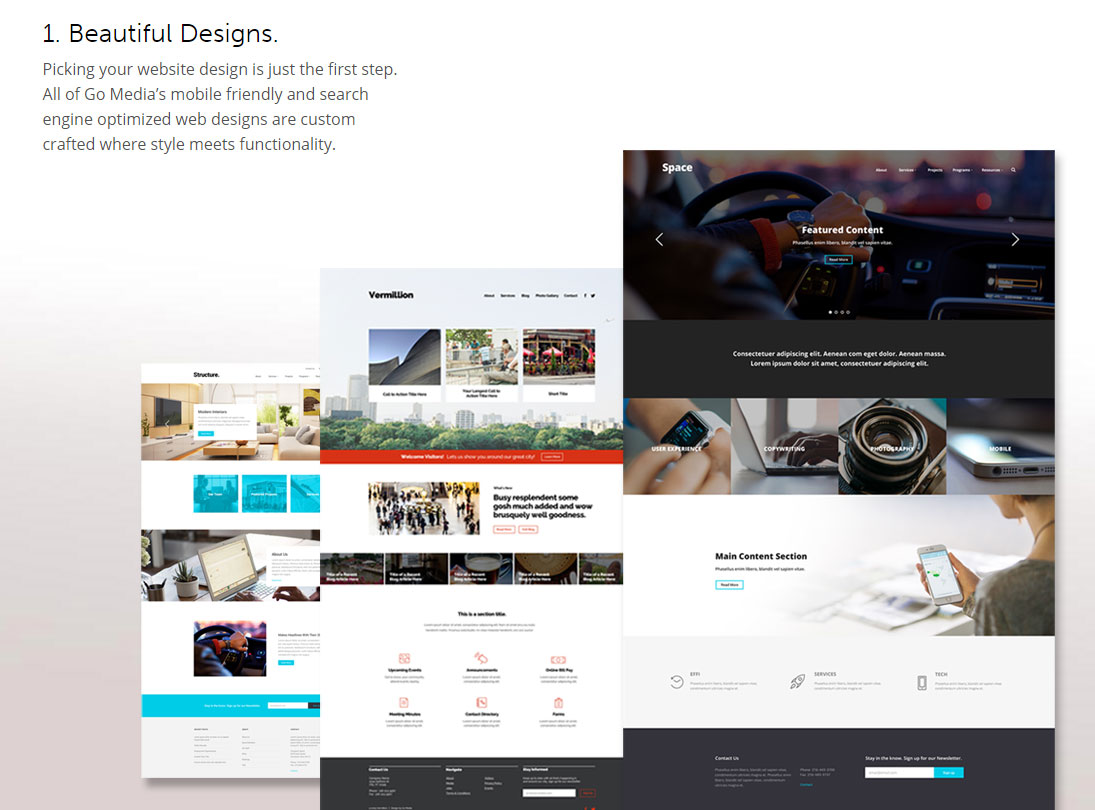 We had to find a sweet spot between beautiful designs and affordability. A little less Elon Musk, a little more Henry Ford – strange bedfellows indeed, but if anyone was capable of bringing the business acumen of these two giants together in spirit, it was Go Media.
So we went on the hunt for pre-built web themes, and found that the internet was littered with them. That was part of the problem, and probably should have raised a red flag early on. But this was years ago, and the internet was still a little bit like the wild west. The landscape was punctuated by one gold rush town after another. Some were built to last AND pretty to look at, while others were abandoned almost as quickly as they'd been settled. The market was just beginning to pick up steam, and already moving at a breakneck pace. Things were happening fast.
We soon learned that websites are a perishable product that require regular maintenance,  and an awful lot of pre-built web themes spoil fast. The world of pre-built web solutions seemed to us like a clandestine, nether region where orphan themes – created by deadbeat developers who'd long since flown the coup – were left to die on the vine. Every time we'd pick a theme, the thing was obsolete within a matter of months.
It seems that the authors of these web themes – maverick web developers – approached their work with nomadic conviction. As a result, these web themes didn't get the support they needed. This ultimately led to a bonanza of web solutions with very short shelf lives.
So we decided to build our own. Sure it needed to cost less, but not at the expense of a beautiful user interface and an intuitive user experience. We had to achieve a balance between agility and accuracy for all of our clients, big and small. There were allegiances to support. And it had to have integrity.
Long story short, we did it! Have a look. Go Media Designer Sites. More a '65 Mustang than a Model T. Not so much a Roadster as a Tesla Model 3. Beauty made simple, and built to last – everything you've come to expect from Go Media at an affordable price.
Contact us today to learn more.