Articles by Month:
November 2016
Let's Create a Text Portrait Poster!
In today's tutorial, we are going to be creating a text photo poster created by combining the image of our choice with related text. I'll create mine based on my favorite book of all time, The Catcher in the Rye. Which book will you choose?
Peddling Your Design Services the old fashioned way in 6 simple steps…
There are a million different ways to market your design services nowadays, and countless tools to connect with potential clients. Thanks to the advent of technology, the conquest of the internet, and the proliferation of the social network, connecting with people across multiple boundaries, real or imagined, is just a hashtag away. Sure, the search for new markets can often feel like a search for life on other planets. But in the celestial spheres of business, niche markets be damned. The possibilities are endless. The potential for new business, boundless. The ability for an enterprising young designer to plot a course through the far corners of the galaxy, and penetrate sectors of the marketplace once deemed too remote, have become a heck of alot easier. Sadly, however, much of this technology has rendered our communications with one another soulless.
You can email, tweet, instagram, WHATEVER your clients to death. But, sometimes, nothing moves the needle more than simple, honest-to-goodness human interaction.
And so, today, we re-examine the importance of connecting with clients through the lost art of the dreaded cold call.
Part One: Going door to door. It's a necessary approach to doing business that can solicit dread among even the most ambitious among us. But it doesn't have to be that way. The following is a kind of instruction manual designed to help you overcome the dread, find the joy, embrace the challenge, and master the art of the cold call in six simple steps:
Determine a need in the Marketplace. Identify your Target Market
Maybe you've already done your homework and identified your target market. You've catered to them for years. Your loyalty is charming. But let's face it, you can't live in a bubble forever. It goes against the natural order of things. You run the risk of stagnating. Sooner or later, you're going to have to expand into new territory and hunt for bigger game. Take stock of what it is that you do best. Then take a moment to think outside the box, step outside your bubble. Think of the most popular item in your portfolio, then do a complete 180, aesthetically speaking. Imagine your work being applied at opposite ends of the commercial spectrum. There are a lot of companies out there, for instance, whose brand and marketing collateral could use a re-boot, an upgrade. On the surface, it may appear that they are part of the "old economy". Not as glamorous, true. But that's beside the point. They have the means. They just lack strategy and guidance. Like treasure on a map, you can find them. Make it your business to educate them on the importance of getting their house in order.
After you've determined a need in the marketplace, a void that you can fill, get excited about it! In fact, get very excited! It's okay. Thanks to this article, you've just accomplished – within the span of only a few short minutes – what a lot of designers have struggled their whole lives to figure out. And now you just can't wait to get in touch with your new clients, and show them what you can do. Develop a ground game. Prepare a list of companies that meet your new target market criteria. Map these companies out in your area, and break them up into manageable, geographic segments, or territories. But be sensible. If you have an opportunity all the way on the other side of town, identify opportunities that surround it. Build your day around tackling them together. Identify key players within the organization, and, if it's public record, gather the necessary phone numbers and email addresses of those individuals. Reach out. Provide a friendly heads up, and inform them that you'll be in their area soon and you would appreciate a moment of their time to tell them about your design services. [*Note: we will explore the art of cold calling by phone in more detail in Part Two of this series.]
Get all your ducks in a row. Gather your collateral.
Of course you don't want to  go out there empty handed. But don't overdo it. Travel light. Keep your message lean. Don't overwhelm potential clients with too much information. Distill your message down to a small sample of bite sized collateral describing your business, and put them in a sales folder with the usual suspects (and maybe even a few surprises): Business card (because it's more than a calling card, it's a badge of honor), a one page description of your services, a special "for your eyes only" promotion, exclusive to the recipient. And, by all means, be sure to include some swag from the office if you have it. But no junk. Make sure it's useful. Something as simple as a pencil or pen with your company name & logo on it goes a long way in breaking the ice. It's important to make clients feel like they're getting something they can use for giving you the time of day. People appreciate it, and it makes for good conversation.
Get scripted, but don't tell anybody, sort of…
You may look good on paper, but it won't mean a thing if you can't speak with confidence to the value of your design services. No one appreciates a message more than when it comes from the horse's mouth. Be the horse. Get scripted. Formalize your message into a brief set of talking points, but don't sound so formal. Keep it simple. And avoid language that sounds too insulated, or trade specific. Think about what you're saying and who you're saying it to. Grab a thesaurus if you have to. Never mind the tricks of the trade, because people hate feeling like they're being tricked. Clients want to hear about solutions. Respect your audience. You'll earn their trust a whole lot faster.
And now the moment of truth, the moment you've been waiting for. Time to hit the streets. Get your map. Grab your collateral. Get in your car. Hop on your bike (they don't call it peddling your wares for nothing). Whatever it takes. There's gold in them there hills. Now go get it. And let your conscience be your guide if dropping by unannounced. Let's face it, you wouldn't like it if someone popped in on you and demanded time out of your busy schedule. Always go in with the courtesy of a deliveryman, but be prepared to have a conversation. Bare in mind, for every nine people that are just too busy to engage with you, there's always that one individual with a genuine need, and a little time to spare to talk about your design services. Know when to split and when to stick around. Follow the performer's maxim: always leave your audience wanting more. Deliver the script. Pass the collateral. Confirm a time when it's appropriate to follow up, and move along.
It's important to maintain regular communication with your new target market. After all, you've already invested a great deal of time and effort in them, and you've only just begun. Take heart. You've worked hard in the old school tradition. And now's the time to take advantage of all that new school technology. Revisit your new target market regularly from the comforts of your office through inbound marketing, and other appropriate forms of communication available to you these days (email, LinkedIn, whatever works). And when going out again in search of other opportunities, be sure to leave room in your calendar to touch base again when you're in the neighborhood. Just be sure to give advance notice. And, no matter what, always be willing to get on the horn and reach out with a simple phone call. You can't beat the human touch. 
Tune in next month for Part Two: The Phone Call
Advice to Young Designers
The Creative Kids Academy visited Go Media to gain some insight on what makes this great multimedia company great, advice on starting a company and some one on one brainstorming with some good ole drawing. Go Media talked to the young creatives about developing your skills as a designer, being able to adapt to your client needs and how to stay relevant in this ever so changing market.
The overall vision of Creative Kids is to provide disadvantaged at-risk youth with the beneficial resources to develop the necessary skills that will introduce them into the creative field. We provide a solid visual educational experience by guiding youth in developing the capacity for challenging their sense of imagery and creativity, systemic critical thinking, and preparing them for client-based practices. They also learn about social awareness, marketing, branding, promotions, and present their portfolio on Behance. Youth are engaged through educational social media platforms, interviews on their creative process, speed art tutorials, and field trips. Creative Kids are encouraged to think as business-minded individuals, and realize that entrepreneurship does not have to wait until the completion of a higher education.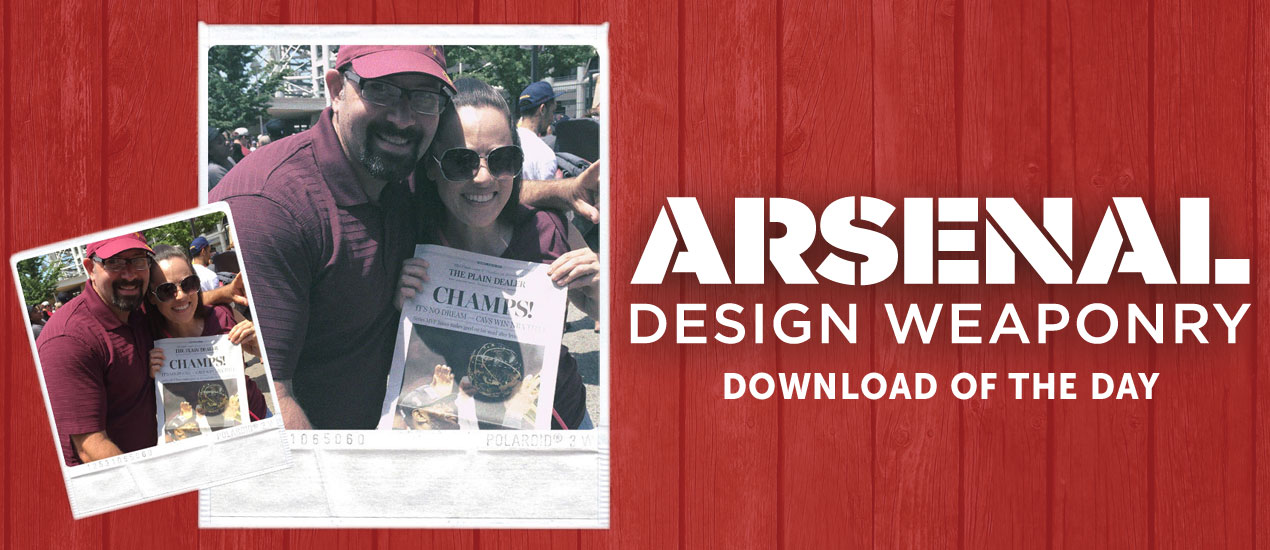 Polaroid Photoshop Tutorial: Simplified!
Join us every Thursday, when your friends here at the Arsenal take over the Go Media blog to share insights, tips, freebies or other fun to brighten your work day.
Today we're talking about how to get an authentic photoshop effect for your photos. To get this effect, you'll need a photo, the Photoshop template we've created just for you, and a few moments to follow the steps you've provided for you. We promise it will be worth it!
Love our products? Access our huge product library ($11k in resources) and exclusive content for only $15/mth. Yes, seriously. Learn more now.
To get started, please download the Polaroid Effect Template. This template was created with resources we found on line including this awesome photo from akinna-stock on Deviant Art. Thanks Akinna!
The Download: Polaroid Photo Effect Template by Go Media
STEP ONE: Open your template in PS. Make sure the "Place your Art Here" layer is selected. File > Place your photo into this layer. It will place your art into the mask like so.
———————
STEP TWO: If you'd like to add some vintage effects to your photo, let's proceed. Right click on your photo > Rasterize Lazer.
Here are some tools you can use to age your photo. Feel free to play around with these in order to get the look you're after >
The first: Head to Image > Adjustments > Hue and Saturation (Shortcut Ctrl + U) – now, under present, try selecting Sepia or Old Style
My photo using the "Old Style" preset
———————
STEP TWO: 
Try Filter > Texture > Grain – Experiment with adding grain here!
———————
STEP THREE:
Try to play with your curves. I suggest working with Red, Green, Blue, as well as your RGB setting separately. This will adjust your colors in order to give it the vintage effect you're after.
———————
STEP FOUR: 
Try to play with your curves. I suggest working with Red, Green, Blue, as well as your RGB setting separately. This will adjust your colors in order to give it the vintage effect you're after.
———————
STEP FIVE: 
You can further mute the colors in your image by going to Image > Adjustments > Brightness. I chose a contrast of -20 to achieve this affect.
———————
STEP SIX: 
Want to make some last minute color changes, head to Layer > New Adjustment Layer > Color Balance. Clip your Color Balance layer to your photo by selecting both layers then putting your cursor between the layers and right clicking to "Create Clipping Mask." Use the RGB selections to achieve our final vintage look.
You're done!
Here is my before and after.
100+ Poster Design Inspiration
Hey designers, want way more inspiration? Attend our all-inclusive soul-fulfilling three-day design retreat, WMC: Off-The-Grid, this October 5 – 7th. To learn more, head to wmcfest.com.
Every Wednesday, we scour the web for the best in inspiration from designers killing it at their craft. Please enjoy this incredible art and join us on Pinterest, where we're dedicated to collecting our own work, as well as the work of those we most admire.
Today, our focus is poster design inspiration. For more, check out our past posts, including:
50+ Gig Poster Designs We're Obsessed With
Instant Inspiration: Exceptional Gig Poster Designs
40+ Cool and Inspiring Poster Designs
50+ Inspiring Poster Designs
Enjoy!
Click on each poster for more information >>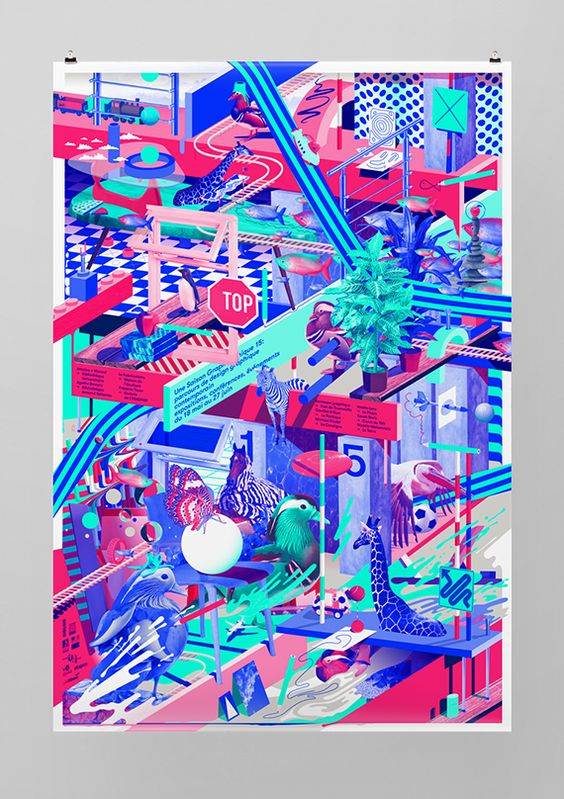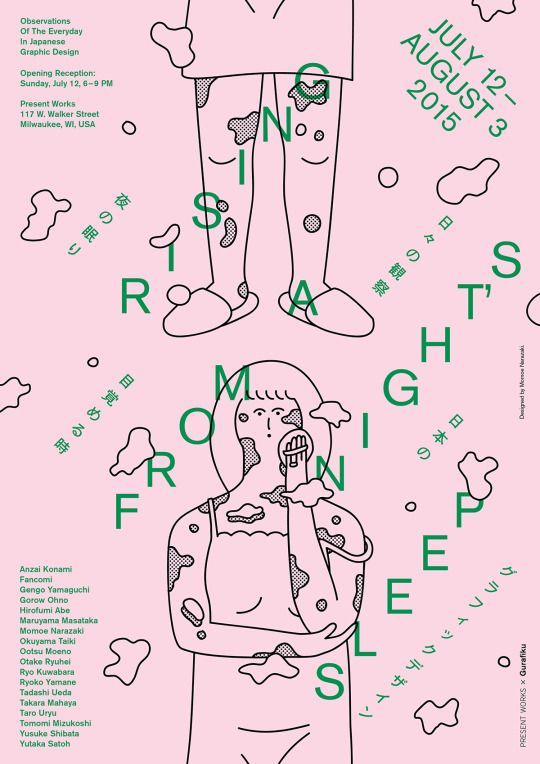 Which poster was your favorite? Let us know in the comments section below!
On today's podcast, Heather sits down with designers Jason Carne and Lenny Terenzi to talk about what happens when your passion for art and design is dampened by a stretch of creative burnout.
Free Hand Drawn Crystal Vectors
Join us every Thursday, when your friends here at the Arsenal take over the Go Media blog to share insights, tips, freebies or other fun to brighten your work day.
Today we hope you enjoy the free hand drawn crystal vectors we've made available for you.
Love our products? Access our huge product library ($11k in resources) and exclusive content for only $15/mth. Yes, seriously. Learn more now.
Here's what you get with today's download:
Here you go, guys! Download away >> Hand Drawn Crystal Freebie from Go Media
Have a great day, everyone!
Pin Inspiration
Every Wednesday, we scour the web for the best in inspiration from designers killing it at their craft. Please enjoy this incredible art and join us on Pinterest, where we're dedicated to collecting our own work, as well as the work of those we most admire.
Today, our focus is pin inspiration. Enjoy!
Cover Image by Alexandra Cook
From time to time, Go Media faithful write and ask us for advice. They want to which printer we recommend, how to bill appropriately, or how to work that pesky Wacom. When we recently got questioned about a bad client, William Beachy – Go Media President, couldn't help but respond immediately.
Here was the question we received:
Go Media Fan: Hello Go Media! I need some advice for billing a particular client. He would like for me to go from hourly to a flat rate for my work. He also does not want the responsibility of final approvals for her printed products. I would like to create a "Job Order" form or convince him to stay at hourly. I need to cover myself here. He wants no approval and also if a mistake is made he expects me to pay for it. (I am a very small business and can't afford that.) Any advice?
Bill: My first instinct is just to let you know – this sounds like a bad client. Sometimes you gotta work with bad clients to pay the bills, but drop this client if they're making you unhappy just as soon as you can.
Project-based billing is quite normal. Go Media does project based billing on 95% of our projects. We gather all the info, write up a 'scope of work' (detailed list of what we're going to do) and put out a price that we will stick to so long as the project doesn't change scope. If you've ever only done hourly billing – it would probably be good for you to learn how to do project based billing. It's a skill you'll need. Clients want payment options! If you only do hourly billing you will lose potential clients. You need to be flexible and offer billing options. Go Media works up all kinds of billing options: flat-fee, hourly, subscriptions, leases, extended payment terms, etc. Here are some tips about project based billing:
1. It takes a while to learn how long things really take you to get done… so, you may occasionally screw yourself by under quoting a job. BUT! You also get to KEEP the extra money if you come in under hours! So, over time it works out… NOTE: DO NOT REFUND a client if you come in under hours. This is the deal with project based billing! The client gets a choice – pay hourly, or agree in advance what my work on this project is worth, no matter how long it takes me. Some clients want it both ways – they want a price cap that we won't exceed and they want to be refunded if we come in under hours. No. Not fair. They get one or the other – not both.
2. Adjust your pricing based on the client. Some clients are VERY easy to work with, projects go fast… you can lower your estimates for them. Some clients are nightmares to work with… you need to bump up your pricing for them. And consider this… without hourly billing you've freed up those nightmare clients to become even more demanding – because they now aren't worried about hours! For this reason, it can be helpful to put in terms like "6 rounds of revisions" – so you have something to fall back on if they just keep asking for more.
3. Payment terms should include a deposit in advance of getting started (usually something between 25% – 50% of the project total), then split up the remaining payments over the course of the project… this way, you're still getting paid as you work! Don't wait till the end to get paid – that puts you in a TERRIBLE position. You will have no leverage. If they miss a payment you need to be brave enough to stop working. If they're being jerks – you need to be one too.
As for this client that wants you to be responsible for all proofing pre-printing, not proof anything, then make you pay if there is a mistake that they find on a final printed piece. This makes NO SENSE. The client is going to look at it sooner or later… why would they wait until AFTER it's been printed?!?! This is insane. Are you working for Donald Trump? I would NEVER NEVER NEVER accept these terms. I've never heard of any designer taking on this kind of responsibility. This sounds like a lazy demanding client. Bad clients suck your will to live. The sooner you can get away from them, the happier you will be, and you will free up your time and energy to go market yourself and find good clients!
Again – this sounds like a bad client to me. Dump them.
Go Media Fan: Also, does your company have a scope of work or job order estimate type of template? I am having a hard time figuring out where to start with this particular client because I really need to cover my butt! 
Bill: Regarding our scopes of work – they really vary from project to project. Some are just a 2-3 sentence description in a Quickbooks estimate, some are spreadsheets with incredible details, others are lengthy proposals. There is no format that's ever going to be perfect. I've been doing this for 20 years and miscommunication between seller and buyer are always going to be a challenge. Just think of it like this… you're putting down in writing your best understanding of the work you're accepting and detailing the terms of the agreement. Even if this is just in an e-mail… that's all you need. Official documents with signature lines really don't help if something goes wrong. Waving a contract in the face of a client and saying: "I've got your signature" will not resolve the situation.
Think of the exchange with your client as "I just want to be clear about what we're agreeing to…" and not "I need an official document that will hold up in court."
Once you shift that perspective, you may relax about what format your scope of work needs to be. It doesn't really matter – send a simple text email.
Consider this… hiring a lawyer and trying to take a client to court will cost you thousands, if not tens of thousands of dollars and untold time and emotional energy. It's rarely a winning proposition. And even when you 'win' in court – payment is not guaranteed. So, once you take that off the table – it clarifies that you're on your own. The scope of work is just for you and your client. This also reinforces why the payment terms are so critical. Get paid in advance!
So here is what a typical scope of work looks like on a branding project:
Go Branding Package:
Full Branding Process
Step 1: Kickoff – Meeting between you and design team to discuss ideas and creative direction
Step 2: Concepts – Three designers will work on 3 typed concepts accompanied with style boards; 6 revisions
Step 3: Graphic Designs – 3 proofs; 6 revisions
Step 4: Refined Proofs – 2 refined proofs; 6 revisions
Step 5: Final Files Delivered – Final design files delivered (visual brand elements: logotype, mark, colors, fonts – delivered as .ai, .jpeg, .pdf and .eps in both rgb and cmyk color format)
Brand Standards Guide
A brand standards guide is a valuable asset for your company! It ensures that your brand mark is being applied accurately and consistently, which is critical in maintaining a strong brand presence. The final deliverable is a PDF document that contains the following guidelines:
Clear spacing guidelines
Minimum sizing and use standards guidelines for both print and web application
Typefaces: primary & secondary headings, body copy
Colors: primary & complimentary
3 Collateral examples & use cases (note: these are 'mockups' to demonstrate recommended sizing and placement of logo. Final print ready files are not include)
Go Media Fan: Thank you again for all of your help! She owes me money so I feel like I can't dump her until I get that check in the bank, you know?
Bill: When you let a client fall behind on payments, or give them payment terms like "due in 30 days" or "due in 60 days" you are in a BAD NEGOTIATING POSITION. You get desperate… you jump through hoops trying to please them because you're desperate to get that payment.
Bad clients use this leverage to extract more work from you than what's agreed upon. This is the exact position you need to avoid! (Stuck with a client because they owe you money.) Good luck!
For more business advice from Bill, check out Drawn to Business, his nuts and bolts strategy guide to building a thriving design firm.