Articles by Month:
September 2008
We didn't get a chance to beta test Photoshop CS4 here at Go Media, but it looks like a worthy upgrade. Here's a collection of previews & feature lists of the latest & greatest Adobe Photoshop.
If you're in a rush here is the meat of what I gathered from picking through these previews:
Photoshop CS4 will..
use the graphics card more aggressively, allowing for smooth zooming, canvas rotation, and other cool 3D effects with good performance
have the same UI enhancements as the rest of the creative suit: tabs, frames, etc.
include intelligent scaling, like the kind we've ooo'd and ahhh'd about for the past year
be more flexible because of non-destructive editing via new adjustment options
may possibly have multi-touch support
have better masking.
Previews & Feature Lists
Camera Town Preview
This is one of the best previews I could find. Really comprehensive, but long. Looks to be straight from the horse's mouth.

Pop Photo Hands On
A nice down-to-earth look at some helpful features.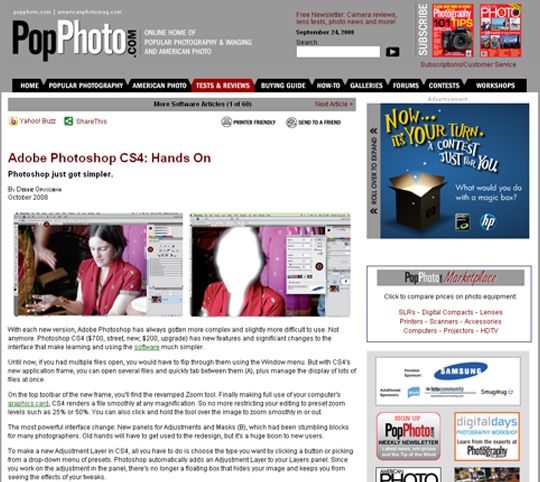 Macworld previews the content-aware scaling
Macworld talks about how cool this feature is. Does anybody remember that this technology was developed a year or more ago, and bought by Adobe?

MacNN Multi Touch
MacNN lets us know that Photoshop will support multi-touch with certain hardware. Cool. Useable?

ZDNet Photoshp CS4 First Look
The ZDNet flavor of Photoshop CS4 preview. Nice, but could use some screenshots.

Videos
Sneak preview from Photoshop World Orlando

New 3D Effects

Content Aware Scaling (yawn)

Smooth zooming & rotating

Thirteen versions and twenty-one years after the very first Illustrator, Adobe is rolling out beta versions of Illustrator CS4. After so many iterations, you might wonder what Adobe could possibly do to make Illustrator CS4 worth the cost of the upgrade. In this preview, I am going to highlight the most noticeable changes with big scoops of screenshots and video to give you a real taste of the new Illustrator. Note: this preview is done on the Windows version of Illustrator CS4 Beta.
Lets start with the obvious:
You could hop on ebay and bid on some anatomical skull models (which run between $20 and $80).
Or, you could just download these complete reference photos prepared by jimiyo exclusively for the Go MediaZine. They're awesome! Inside there are 15 high res skulls at different angles and cut out from the background. So get your Wacom tablet set up and spend an evening drawing over these reference photos. It's fun and really great practice.

Also an update: Thanks in part to your votes, jimiyo is in the final five over at the DBH competition! That is really an accomplishment. The votes have been reset so make sure to say thanks for these great resources with another vote. Good luck jimiyo!
[download#26#nohits]
I got an email from Barton Damer, a loyal GoMediaZine reader and author of the Badass Bling Effect, Intricate Patterns in Illustrator, and Ink Bleeding Motion Graphics tutorials.
In the wake of the debate over good/bad use of our Arsenal products – Barton shows me a really great use. We all know we can't dictate what our customers do with the stock we sell, but there are certain times we get excited when we see it put to good use. This is one of those times.
Barton used our Water Color textures and I could barely tell he did. That's how nicely he blended his own artwork with our stock. Here's the email he sent me which explains the design brief and how he tackled it.
Hey man! Just thought I'd drop you an email with some pics one of the skate decks i did. the Gomedia watercolors took it to another level!!!!

the project was a challenge because the owner of the company found a low res-pixelated-hard shadows-old mexican revolution poster from the 50's and asked me to recreate it for a deck. my first thought was… CRAP! how do you do a hard shadow political piece of artwork without looking like the Shepard!? that's where Gomedia water colors came into play! the board debut at the trade show in San Diego last week with legendary Kareem Campbell reppin' the company! here is a detailed pic of the board where you can see i've used your watercolors. there's also a blurry pic of kareem talking to someone as the iphone snapped his pic with the boards in the background.

you guys rock and your stock stuff is great (when used properly). hopefully i did it justice on this one. it was very well received at the trade show.
There's a new game coming out this month called Baja: Edge of Control. They're calling it the Gran Turismo of off-road racing. We were asked to be a sponsor probably over a year ago, and I had totally forgotten about it until I was emailed yesterday about it.
I'm not exactly sure how Go Media is represented in the game, since I haven't played it. If I remember correctly, I think we were asked if players could decorate their vehicles with artwork from our vector packs. But then again, I could be totally wrong. I know there is a "sponsorship" aspect to the game where big name sponsors like Red Bull offer you cash to race with their logos on your truck. So Go Media could very well be one of those sponsors. So you might be able to plaster a big Go Media logo on the hood of your truck. How cool is that? You can go to their website and check the Partners page and you'll see our logo in the middle of a ton of other sponsor logos. We're stoked to be included in the game! This is a first for us. I'm going to have to go out and get myself a copy.
Anyway, you can pre-order the game at bajagame.com. Check out the videos and such:
Trailer:
http://www.gametrailers.com/player/32547.html?type
Video with Robb Rinard:
http://www.g4tv.com/thepile/videos/27880/Baja_Edge_of_Control_Designer_Interview.html
IGN video exclusive:
http://xbox360.ign.com/articles/899/899703p1.html
First of all let me say how difficult it is to pick just two pieces out of all the new and beautiful entries to the User Showcase. I'm pretty sure it came down to what I ate for breakfast this time around. The showcase keeps growing; it's currently up to 630 members and 1142 submissions. By the way, I use the PicLens Firefox plug in to get a good look at all the entries and see which stand out to me.
Okay, here we go. This first highlight has nice colors, lighting effects, concept and awesome texture layering. It definitely stood out in the gallery.
justinvg

This second piece is simple, clean and purposeful. I really like how the style pervades the whole design. Even the overused wrinkled paper effect actually looks right at home. Sharp. This highlight is also a good example of how limiting your colors and fonts can result in a cohesive design. Check out Neal's gallery if you have the chance.
Neal McCullough

Congrats to justinvg and Neal_McCullough! If you've got some sweet stuff waiting to get noticed, submit it to the Go Media User Showcase!
I talked with Marc Hemeon, one of the brilliant minds behind the t-shirt design contest site Design by Humans. If you can remember, they were the only company able to pull off the impossible Bold is Beautiful shirt a few months back. Oliver had also won Shirt of the Month with his Concentric Downpour tee.
So, just how does one go about making winning tees at DBH? Marc gives us 5 tips to give yourself the best chance of winning the next Shirt of the Day.
1. Prepare Artwork at Final Production Size.
On our design submission page we have a footnote which reminds artists to have a high-res print ready version of their artwork ready to go if their artwork is selected as a winner. We get pretty bummed out we contact a winning artist only to find out he or she does not have a high-res version of their artwork ready for print.
Many artists work exclusively in Illustrator or other vector based program which allows for the greatest flexibility when it comes to sizing and placement of the artwork without losing quality of the design.
If you are designing exclusively in a pixel based program like Photoshop then you really need to ensure you are designing your artwork at the correct resolution. For example, if you were to design a center chest graphic and the design was 12 inches wide by 14 inches tall then your Photoshop file should be set to 300 dpi (300 dpi is the minimum resolution we will accept for final artwork) or 3,600 pixels wide and 4,200 pixels tall.
Double check how your artwork will be represented on various t-shirt sizes (view the size chart of the tees you are designing for). The canvas size varies greatly between a small girl's shirt and a XXL men's shirt. Occasionally we will create a separate set of screens for the girl's shirts to shrink the artwork to accommodate the smaller t-shirt size. Producing your artwork for the largest t-size allows us to easily size the design down to create a second set of screens for the girls version. Sizing up low res artwork creates a big hot pixilated mess.
2. Push your design with the reasonable use of mixed media.
There is a huge trend right now in graphic tees to include various mixed media elements to enhance the underlying illustration. Mixed media is a broad term to include the various bonus techniques currently offered by the more advanced t-shirt printing companies. Some examples include burnout, discharge, embroidery, appliqué, metallic and foil inks.
One caveat, using mixed media in addition to your illustration is a bit like learning how to make drop shadows with Photoshop – meaning just because you CAN use mixed media does not mean you necessarily SHOULD.
Mixed media should enhance the artwork and drive home the theme and feeling of the design. One effective way of calling out mixed media is representing the shapes, lines and placement in a separate layer when working with Illustrator or Photoshop. Use one layer for each type of mixed media, labeling your layers by the mixed media type.
For example your design could call for an appliqué a of a silk screened heart on top of a silk screened t-shirt attached with thick embroidery. The embroidery stitching can be displayed to represent brush like strokes and texture into your designs. So, say you have a cool illustration of Tom Selleck on a tee, you could use embroidery for his hairy chest, giving a nice tactile feel.
3. Know and call out your colors (Pantone please!)
Bottom line, if an artist has not called out their specific pantone colors then we are left to match against the artwork we see on our computer screens. For the most part we are pretty good at getting colors correct when we have to interpret the colors for the artist (well we should say our color separator, Dan, is excellent at identifying color).
Not everyone has access to a pantone book, we get it, but do your best to identify your colors so there is no misunderstanding. Sometimes we have to make a judgment call based on the design submission and what we think the artist would have wanted. If artists can be very specific in their desired colors then our job of producing their vision is a bit easier.
4. Have your own style
Artistic expression is awesome. We read quite a bit in the blogs and forums about where a design "fits" in regards to finding a home for the design. For DBH we are really excited when we see a fresh voice and style and an artist being true to themselves and not catering to what they think will get the votes. Our suggestion is to use the DBH contest as a forum of expression and to explore yourself as an artist and create meaningful artwork for yourself – we find these pieces resonate more with the DBH community rather than something stereotypical of the latest winning designs. And of course, do not under any circumstances copy someone else's design (its okay to be inspired by someone, but make it your own).
5. Be Awe-and-then-Some
This last point isn't regarding art prep per se, but a reminder to spend the time necessary to make your piece as awesome as possible to speak volumes at first impression. T-shirt designs are judged in a split second when they are first seen and for most people there is a bit of a love it or over it mentality when it comes to t-shirt design.
We have seen many great concepts which fall short with the execution of the artwork. Get feedback on your designs in the various online forums and subject yourself to the critiquing process. You and your artwork will only get better.

I had some spare time at home last week and thought I'd submit something to Design by Humans' 10K contest. I tweaked another piece from 2006's Concentric Series into a tee. I actually think it will make a better shirt than the design that won shirt of the month in June,which is currently sold out. I'm in buried under an avalanche of student loans, so help me out and send some votes my way. It would be the nice thing to do. I realize that some people might not agree with this submission after I won last time, but it's a series. You need more than one. Tell your friends about it. I'd really appreciate it.

A recent comment by "Smutek" inspired me to ask this question. His comment was on Dave's tutorial about designing on a budget. The tutorial covered the use of stock artwork (specifically Arsenal stuff) to create a pro-looking design in less than an hour for that client that wanted it yesterday and doesn't have the budget to pay for a total custom job. Smutek's comment was:
I used to smirk at stock art myself.

Then I got a job.

I am the only artist at my company. Stop by desk on any given day and you'll find 15, sometimes more jobs in various stages of progress or waiting to be started. If I were to try and hand draw every job I would quickly find myself the victim of a client lynch mob.

This is a deadline driven industry. It isn't about sitting in the basement in a haze of pot smoke, making something "rad". It's about more than drawing a "wicked" picture.

It is about juggling multiple projects, time management, asset organization, communication, talent and creativity all working under pressure in some kind of beautiful chaotic harmony to interpret the clients vision and provide them with the best possible product in the required time frame.

It's about staying fresh and being creative, not just wen you *want* to, but when you *have* to.

There is a huge difference.

Whether you are creating completely from scratch, using clip art to compliment an original piece, or doing an entirely stock art driven piece, stock art is a tool, just like stock photography and just like fonts.

Embrace it. Or don't.
So that brings up a great point. There are times when I feel like I should be in a basement drawing something rad every day (minus the pot smoke). But then on most occasions, there are just so many things going on, too many clients asking for stuff to be delivered asap and with a discount. Most of us are not drawing every single day. We spend hours every day in our email, twitter, or WordPress trying to build relationships with potential clients and define our roles within the design community.
I look at customers who are buying stuff from our Arsenal and I see big names like Nike, MTV, Adidas, VH1, etc. You would think companies like that would have the budget to pay their designers to do 100% custom jobs every time? Then why are they buying our stock?
So what do you think?
Are vector packs just a cheap cop-out or are they a saving grace?
I thought I'd repost the recap of the interview I did with Vectips that took place over Twitter on Wednesday, August 27 at 1:00 pm EST. The interview was pretty fun, and definitely interesting to hold over twitter. Read on for some of my thoughts on designing and illustration. If you got a chance to watch the interview live over Twitter we'd love to know what you thought about it!
The Interview
I was screen spying on Go Media's Chris Comella as he was working on a Smashing Pumpkins design in which the dense black typography was exploding shards in every direction. He placed every particle by hand (and it shows). I wondered if scatter brushes could be used to get a similar effect.


Sometimes I get the feeling that Scatter Brushes don't get enough attention in Illustrator. They are actually a pretty powerful tool, especially if you're trying to achieve a complicated look that could take awhile to make by hand.
So here are 14 free brushes, but let's first take a look at the anatomy of a scatter brush. A new Scatter Brush starts with any vector object you think would look cool scattered along a path. For simplicity's sake, let's assume this is a circle with a black fill and no stroke. Drag this circle onto the brushes panel and choose "New Scatter Brush" from the available options.
You should now see a window with four major options. When adjusting these options, it is best to have a sample stroke on your artboard and the "preview" box checked so you can immediately see the effects of your changes.
All of these major options have a drop-down menu to the right that selects how the parameter will react. The default setting is "fixed". The remaining options are Random, Pressure, Stylus Wheel, Tilt, Bearing, and Rotation. A little explanation on these options first.
Parameter Settings
1. Random: Creates a brush that varies randomly within a defined range. Now you'll see two sliders instead of one, and the brush reacts randomly along the path between that range.
If you don't have a wacom, then you're going to have to settle for Random settings for variety. (Also, get your Wacom set-up properly by following this guide) Otherwise, check out all these ways to get some more expression out of your Scatter Brushes:
2. Pressure: Creates a brush that varies in response to how hard you push down with your Wacom. This setting is really only useful with the Size parameter, and can give really confusing results when used with other parameters.
3. Stylus wheel: This one is pretty confusing. From what I understand it changes the diameter of the brush in relation to the stylus wheel on a digital pen. Does anybody have a Wacom with a scroll wheel? Am I missing something? I would just stay away from this setting.
4. Tilt: Creates a brush that varies in response to the angle of tilt between your Wacom and the tablet surface.
5. Bearing: Very cool! This setting is great to use with the rotation parameter, and varies the brush based on where the tip of the brush is pointing.
6. Rotation: Also a good option to use with the Rotation parameter, it varies the brush based on how you are twisting the wacom pen along the 'z' axis.
Ok, on to the parameters themselves.
Parameters
1. Size controls the size of objects along the stroke.
2. Spacing controls how much space there is between objects along the path.
3. Scatter controls how much space there is between objects perpendicular to the path.
4. Rotation controls how the objects are oriented relative to the page or the path.
I usually start settings each to random and with ranges similar to the screenshot below. Then I go back and experiment with the pressure and tilt settings for the Wacom.
Okay, let's get back to creating your Scatter Brush. A good first attempt at getting the settings right is to set all parameters to Random and a medium range. How does that look? The two parameters that I find need the most fine tuning are Size and Spacing. If your scatter brush looks too thin, try moving the range of sizes higher and moving the range of spacing lower.
In the free download there are 14 Scatter Brushes to get you started. One of coolest brushes in the freebie is a splatter brush, which allows you to paint a splatter along a path; that's a lot of control. You'll also find circles, shards, sticks, squares, little pills, chunks & petals. Also included is the little particle explosion from the preview image made up entirely of the scatter brushes in the freebie.
Double click the brushes to see each one's settings. The way I have them is just a starting point – go ahead and customize them to your own style. You might be surprised how different a brush can look with a few changes to those sliders.
When trying to make something crazy with scatter brushes my best advice is to layer, layer, layer. For the preview image I laid down a bed of dark colored brushes, then some white ones on top, then some more dark. I'm sure you'll come up with something cooler and show it off in our User Showcase.
Good luck!
[download#24#nohits]