Articles by Month:
March 2016
We're always looking for inspiration, so today we're hitting up Dribbble for some new eye candy. Here are our recommendations for illustrators creating some pretty remarkable stuff. Which Dribbble artists inspire you? We'd like to follow them, too. Please leave their names in the comments section below!
Freelance Illustrator
Visual Storyteller
Illustrator
Illustrator
Designer | Illustrator
Designer | Illustrator
Illustrator
Freelance Illustrator
Illustrator and Educator
Designer | Illustrator

Designer | Illustrator
Children's Book Illustrator
Designer | Illustrator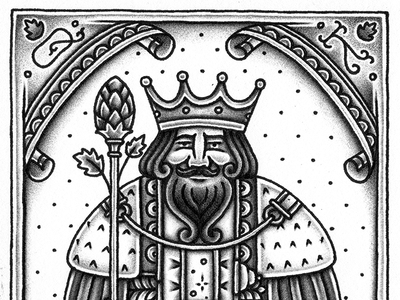 Designer | Illustrator
Designer | Illustrator
Hand lettering artist | Illustrator
Creative Geek

Illustrator | Animator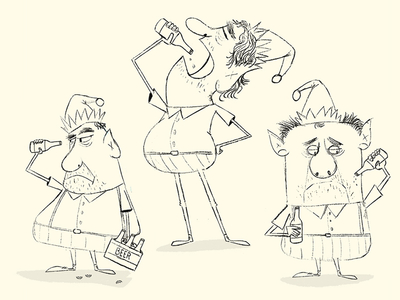 Illustrator
Illustrator
Concept Artist | Illustrator
Designer | Illustrator
UI/UX Designer | Illustrator
Illustrator
Design Studio
Concept Artist | Illustrator
Freelance Designer | Illustrator
Illustrator
Artist, Illustrator
and don't forget your friends at
What's better than sitting down to illustrate with a freshly sharpened pencil in your hand?
In honor of National Pencil Day, we're celebrating this classic experience with some of our favorites.
Staedtler Mars® technico 780
Leadholder for drawing, sketching and writing
We love feeling the weight of this pencil in our hands.

Staedtler Graphite 925
Classic mechanical pencil for writing and drawing
We love the comfy grip zone on this pencil.

Staedtler Mars Micro 775
Mechanical pencil for writing and drawing
The Micro is super light weight and pocket safe.
Prismacolor Premiere Soft Core Colored Pencils
Brilliantly colored pencils, perfect for blending and shading!
And also:
Staedtler Mars® 502
Must have if using the Staedtler Mars® technico 780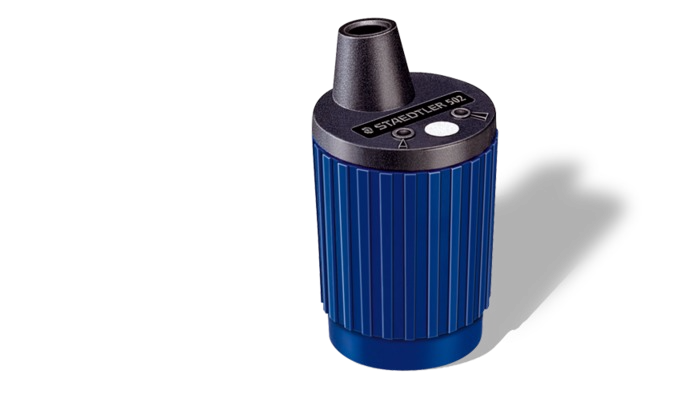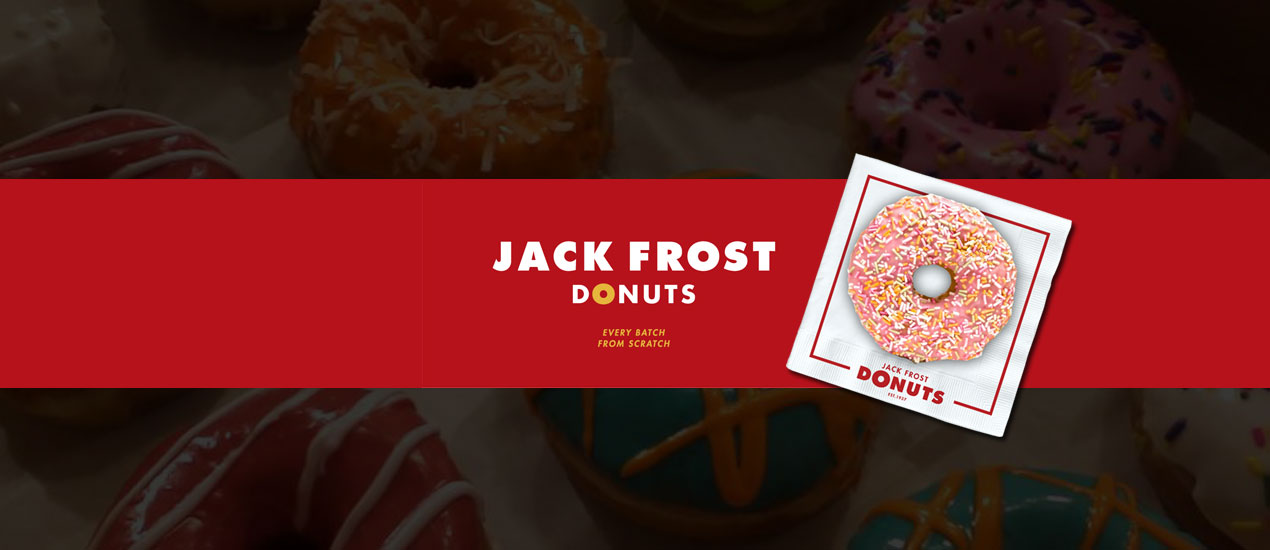 A treat as dazzling as a Jack Frost donut deserves a logo that reflects its pure, sugary awesomeness. The Cleveland graphic designers at Go Media recently collaborated with the family-owned shop – an Old Brooklyn fan favorite since 1937 – on a brand refresh that modernizes the overall look while maintaining the iconic red-and-white that regulars recognize.
"People have come to know and love this brand because it's been a neighborhood staple for so long," Go Media Art Director Chris Comella said of the brand refresh strategy. "With that kind of an anchor, you want to revitalize, while keeping a part of the past alive."
The brand refresh is being unveiled just in time for the shop's grand re-opening party April 2nd, said Jack Frost Spokeswoman Erin Rodeno.
Every morning for nearly 80 years, the pastry artists have been busy baking fresh delicacies daily inside the same Pearl Road location. The old spot had been described by even the most supportive patrons as "funky," "industrial" and even "weathered."
"The building definitely needed an updated, new look," Rodeno said. "We wanted to the store rise to the same level of quality as our donuts."
And now, the sleek new shop mirrors the greatness of the goodies inside – more than 200 fabulous flavors in all. Going beyond the simple glazed, these confections are known for their creativity – festive themes, ornate decorations – and LOTS of creamy frosting!
"It's still going to be the same great donut, "Rodeno said. "Everything is still baked fresh on a daily basis – nothing sitting overnight. But when you walk in, there are brand new tile floors, beautiful quartz counter tops, stainless steel shelving, a flat-screen television, a new coffee station, exposed stone on the walls. It truly looks beautiful – almost as beautiful as the donuts."
It's a restoration effort owner Fred Borkey Jr. hopes will spark the first of many local Cleveland business renovations on the block. While waiting out the construction, his crew has been selling their donuts out of a nearby re-purposed pizza joint.
Yet even with the storefront revamp, the brand refresh didn't come without some reservations.
"There was a fear that if the branding changed, people would think the donuts were going to change too," Rodeno said. "But in the end, it was really just time to do it, especially because of how much we have grown as a company."
Go Media, she said, was "wonderful"  in bringing that vision to life – while still keeping the look recognizable.
"All the work they have done – everything we've asked for – has just been beautiful."
One element Jack Frost knew they needed to alter was swapping the prominence of the word "Donuts" for "Jack Frost." Many decades ago, one could rightly argue the word "Donuts" was more important; People needed to know right away what the store was selling. Today, "Jack Frost" is a household name that people immediately associate with delectable, artisan-quality donuts. The branding needed to show that shift.
The "O" in particular got special treatment, an obvious play on its donut-like shape. In the previous brand, the "O" was white on the boxes, but gold on the outdoor sign. It was a large, standout feature in both variations.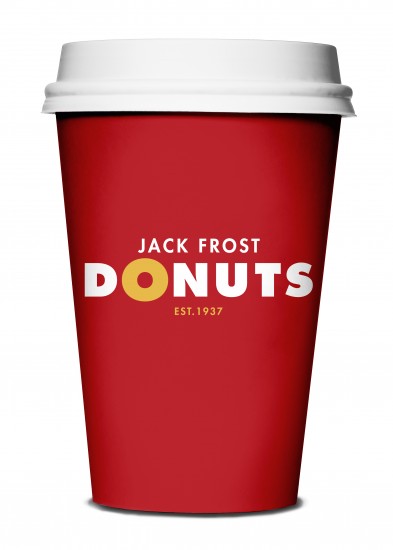 "We knew this was an aspect we wanted to keep," Comella said. "So we just gave it some love. They really wanted to stick with a more classic image."
It's this classic take on doughnuts, after all, that has won Jack Frost the avid affection of the neighborhood where the shop has so long resided. It was recently voted one of Cleveland's Best Small Places by the Cleveland Plain Dealer in 2016, No. 1 for Best Donut's on Cleveland's HotList in 2015 and NEO's Best Donuts in 2014.
"This was really a special project for us, "Comella said. "I've lived here a long time, my friends and I go there and Jack Frost really does have the hands-down best donuts in town."
If You Go
What: Jack Frost Donuts Grand Re-Opening
Celebrate: Green screens, music, balloons and lots of sweet treats
Where: 4960 Pearl Road
When: Saturday, April 2
Time: 9 a.m. to 12 p.m. (Open for regular business that day from 8 a.m. to 7 p.m.)
Call: 216-351-3638
Contact the Cleveland brand refresh experts at Go Media by calling 216.939.0000 or contact us online. 
All of this political fighting is giving us a headache. The only way we can imagine getting through it all is by checking out all the witty work by you, our community. It makes us smile and (if only for a moment) forget what is a very weighty time for our country.
We're enjoying these designs in good fun. We hope you do, too! (Hero image by Steph Werning on Dribbble)
Click on each to be taken to the design and learn more about each artist.
Pizza Party by Danielle Podeszek
How to Create Watercolor Brushes in AI
If you're like us, you've got art laying all around the studio just begging to be used in unique and wonderful ways.
Video & Motion Picture Techniques for Web Designers
Video integration is becoming a popular web design trend in 2016. From simply embedding videos to creating alternate realities, here are a few of the techniques used to incorporate motion available to web designers:
In this edition of the Go Media Podcast, Heather and Bryan sit down with CEO and Founder of Design Cuts, Tom Ross.
An excerpt from Caroline Moore's Punk Rock Entrepreneur, available Fall 2016 from Microcosm. Learn more now.

I can't remember the exact moment I decided to start a business. I have always done work on my own, outside my regular employment. Before I even graduated from college with my design degree, I had started picking up freelance work that I could use to pump up my portfolio for when I later applied to agencies. Despite a solid resume and a shiny new MFA, I couldn't overcome a saturated job market. Friends already working in the field reported receiving some 200 resumes for one job posting. There were simply far more designers than there were jobs, and I ended up working whatever day job I was offered. I cut out felt letters for hockey jerseys at a factory, provided tech support over the phone, and worked as a veterinary technician.
All the while, I sought out design clients—less to impress hypothetical agency types and more to do the work I really loved. It was work that I felt compelled to do even at the expense of sleep and social outings. Later, I started offering photography as a service, primarily wedding and portrait work, and eventually I realized that I needed a space online to show people what I did. I set up a basic website to display my photography and design work, and detail my services. It's been growing steadily ever since.
At the time, I didn't think of it as a business, though I was making money and logging as many hours as I did at my day job. It was just a sort of side-hustle thing that I was doing–something that I wanted to do, was skilled at, and had enough equipment to get started.
I grew up around people who were always working on projects. If a friend wanted to produce a zine, she would draw one up and distribute it. If she didn't have all the skills herself, she would collaborate with other kids–authors, artists, publishers–to get it made. Other friends wanted to go on tour, so they'd call venues, hook up with other bands, and ask their dads if they could borrow the old van. When I would ask my friends what made them do these things, they'd just shrug. Because I wanted to or because I can or because I can't imagine any other way of living. They couldn't picture a world in which they DIDN'T approach life that way.
I grew up in a coal patch in southwestern Pennsylvania, which is not generally considered a hotbed of innovation and creativity. Still, I spent most of my time in high school and college around people who made things—music, venues, zines, art. If my friends had an idea, something that they wanted to put out into the world, they figured out the next steps to make it happen, and then they did it. I met people who believed in doing it yourself, in carving your own path, and in questioning established rules and systems. It's easy to hit an obstacle in your plan and stop there, to declare things to be impossible or, at the very least, just not doable at the moment. But punk kids, and successful entrepreneurs, don't jump straight to no. Instead of making excuses, they ask, what do we have to do to get this done?
The most important business lesson I learned from the DIY punk scene is that mindset. Punk kids have an attitude about, and a certain perspective on, the way the world works. I learned how to get things done, and quickly. I learned how to connect to people and how to be creative in a lot of ways–—not only in the things I make but in getting my work out there. I learned that it's generally better to ask for forgiveness than permission, that is, if anyone even notices your bold move. These are the things I hope to impart.
You are going to run into obstacles. Whatever sort of business you're trying to create, whatever work it is that you want to do, will not be smooth sailing. How you handle those obstacles can make or break you. There are plenty of grim statistics about how many businesses fail in their first years and how few make it past five years. Failures generally boil down to a lack of planning (there's no market for your product, you've drastically underestimated your operating costs) or an inability to handle hardships when they arise. This attitude that I've picked up, thanks to hanging around DIY types, has fundamentally affected how I handle problems. Now, when something goes terribly wrong, my immediate reaction isn't oh shit, we're boned but what can we do about this?
Get all the facts before you decide that you can't do something. I can't is an excellent excuse not to do scary things. It's vague, so you can't really argue with it. It sounds as though you've thought the situation through. I can't is just the first roadblock your brain throws out there when faced with a scary task. (It's right up there with this is the way we've always done it.) Usually, my counterargument is what's the worst that could happen? This is generally a rhetorical question, but considering what is the worst thing that could happen can help you to figure out exactly what is at stake. I can't lose this job is an immovable roadblock, but I'm worried about how losing this job will affect my budget is a concrete problem that you can begin to solve. Alternately, you may realize that something is an extremely bad idea that you should run in the opposite direction of (i.e. the worst thing that could happen is I fail at this stunt that I'm in no way prepared to perform and end up in a full-body cast.) The idea is not to jump straight to no but to carefully consider where saying yes might take you.
The next time an obstacle or an opportunity presents itself, and your immediate thought is I can't do that, try to follow it up with . . . but what if I could? In the end, you may still find that your initial response is correct, that a project just won't work out. But you may find yourself with a plan that allows you to overcome that obstacle or achieve that goal, and that's certainly worth the time it takes you to ask a few questions.
______________________________________
Reserve Caroline's book at http://www.mooredesign.us/book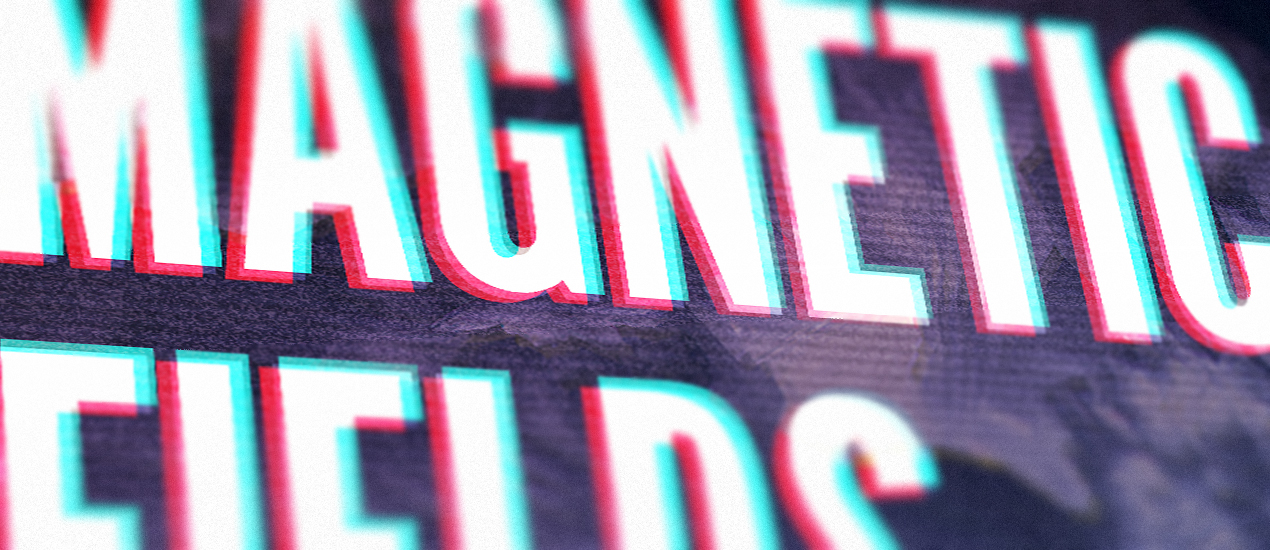 Introducing the cosmic fractal storm texture pack
Hello everyone! It's Simon again on this end of the keyboard. I'm returning for another tutorial, and boy, do we have a treat this week. Dustin Schmieding gifted us with yet another fantastic texture pack, the cosmic fractal storm texture collection.
The set is composed of three-dimensional scenes, resembling cloud formations, or landscapes. Each texture is 4,000×2,700 pixels @ 150 ppi. This gives us plenty of pixels to work with, even for big size print applications (posters, flyers, and more).
DOWNLOAD THE COSMIC FRACTAL STORM TEXTURE COLLECTION
Arsenal Members, you get this pack at no extra charge! (Feels like your birthday, doesn't it?)
Using the pack: let's play!
These assets are at home in a variety of contexts. They can be used as stand-alone assets, as background elements, as textures… We will explore some of these uses while we embark on the creation of a poster for a (fake) EDM event called Magnetic Fields.
The tutorial will have us explore tips and tricks to recreate a "VHS-like" effect, for all that analog glitch goodness.
We'll use primarily Photoshop for this tutorial, as manipulating textures is easier with it, and because we won't engage in complex type manipulation.
We are going to work extensively with textures. It's a good time to remind you guys of a few base rules, and processes:
Don't know what a clipped layer is? Glad you asked! This means that the layer is only visible/applies to the layer directly below it. You can very quickly do this by holding ALT down on your keyboard and clicking between the two layers. Here's a quick demonstration.
Every time we'll work with textures, we'll follow this simple process: place as smart object, sharpen1, desaturate, enhance contrast with levels, and modify the blending mode.
Placing the textures as smart objects, and using adjustment layers to tweak them, allows us to stick to a non-destructive workflow. We've explored in depth the numerous pros and few cons of such a workflow in this past tutorial: "How to Use Textures The Right Way."
Notes: 1 – accessed through the Filter > Sharpen > Sharpen menu.
With this in place, it's time to get started!
The concept
As hinted at during our walk-through of the product, these textures feature digital "landscapes" that make no mysteries about how they have been generated. In order to stick to the theme, we are going to give this poster a "Lo-Fi," CRT-like screen effect. Think of VHS artifacts: scan lines, slight warps, etc.
The concert is being branded as Magnetic Fields, and will take place at the Tate Modern gallery in London, and more specifically in the Turbine Hall. It's a beautiful industrial space, and hosted a Kraftwerk performance in the past. It's perfectly fitting.
(Images via Tate.org/Marcus Leith/Tate Photography – © all rights reserved)
We'll split our document in two columns to fit all the text (one side main event announcements, one side for the band names). The copy will read "Magnetic Field – 02.06.16 – Tate Modern – Turbine Hall – London, UK," "Performances by chp_tnes – nu_drds – cbalt – qwerty – & lw_ram," and "Tickets & information at www.magneticfields.com."
The two typefaces we'll use for the poster are League Gothic, and Droid Serif. They are both free for commercial use, so grabbing them is a no-brainer. They even feature an extended set of weights, for even more flexibility.
All of our band names are inspired by electronics/robotics/computer science jargon:
chp_tnes (chiptunes)
nu_drds (new droids)
cbalt (cobalt)
qwerty (look at your keyboard)
lw_ram (low RAM)
The event is to take place on February 06th, 2016.
Photoshop Abstract Texture Tutorial
Document setup
Even though our event will take place in the United Kingdom, we will use an 18″x24″ canvas. Designers in the UK would typically use ISO paper sizes, like pretty much the rest of the world. Let's just say that the performing acts all come from the USA, and that the poster is put together by an American concert promoter.
As mentioned before, we'll split our canvas in columns, three to be exact. We'll also mark a one inch security margin around the edges of our poster. Photoshop CC's New Guide Layout feature is priceless to generate these rapidly (View > New guide layout).
Note: if you don't have the CC version of Photoshop, you can leverage the power of GuideGuide to accomplish the grid-related tasks quickly. The current version isn't free, but older versions are.
With the preparation work done, we can finally start to tackle the real thing.
The background
The background will be the base for our VHS effect. The first asset we need is GoMediaArsenal-CosmicFractalStorm-03.jpg, from Dustin's texture pack.
It needs to be placed as a smart object at X: 0.5″, and Y:12″, scaled up to 135%, and sharpened (Filters > Sharpen > Sharpen).
Once in place, it looks like this.
Starting the magic
The VHS-like effect that we will create in a few steps rests on the power of levels, and of blending modes. First, we need three copies of our texture smart object.
Using clipped levels adjustment layers, we are going to "kill" the output of selective color ranges for each of the copies. Let's start with GoMediaArsenal-CosmicFractalStorm-03 copy. Using the clipped levels adjustment layer, we are going to change the output of blue hues to zero. This will result in a layer turning to yellow hues. Pro tip: note that the additional copies have been hidden for clarity each time.
Using the same technique, the second copy GoMediaArsenal-CosmicFractalStorm-03 copy 2 will see its greens disappear, leaving us with a set of saturated purples.
Finally, we'll get rid of the reds on GoMediaArsenal-CosmicFractalStorm-03 copy 3.
With that done, here's our layer stack so far.
Next, we are going to create a few layer groups: one is for the copies and their adjustment layers, the other one for the background elements in general.
Now, we are going to change the blending mode of each copies to exclusion @ 100% opacity (the copies only – not their adjustment layers!).
The result is slightly underwhelming at the moment, but we are going to address that shortly.
Out-of-synchronization frames, part one
Next, we need to carefully offset each of the copies from the original smart object. For instance, instead of GoMediaArsenal-CosmicFractalStorm-03 copy being positioned at X: 0.5″, and Y:12″, it should be positioned at X: 0.55″, and Y:12.1″.
GoMediaArsenal-CosmicFractalStorm-03 copy 2 can go from its original spot to X: 0.495″, and Y:11.95″.
Finally, GoMediaArsenal-CosmicFractalStorm-03 copy 3 can migrate to X: 0.485″, and Y:11.97″.
The effect is taking shape: we just established the basis for out-of-synchronization frames, or tape damage. To make things more legible, we are going to lower the opacity of the copies to 50%.
Out-of-synchronization frames, part two
To make the effect more believable, we are going to alter a portion of it. Let's start by creating a merged copy of everything so far (CTRL/CMD+ALT/OPTION+SHIFT+E), at the top of our layer stack. The generated layer should be called Shear.
We are now going to apply a shear filter to it (Filter > Distort > Shear). The effect is controlled through the small curve in the effect window. Clicking on the grid adds controls points (but no handles). Holding ALT/OPTIONS allows you to reset the manipulation. Wrap around loops disappearing image parts on the opposite side of the canvas. Repeat edge pixels stretches the pixels at the limit of the canvas to the image's edges.
After creating a curve directed to the bottom right corner of the canvas, our result is pretty dramatic.
Using our guides, we are going to create selections that we'll use to mask parts of the sheared layer.
With the selections active, we can head to Layer > Layer Mask > Reveal selection.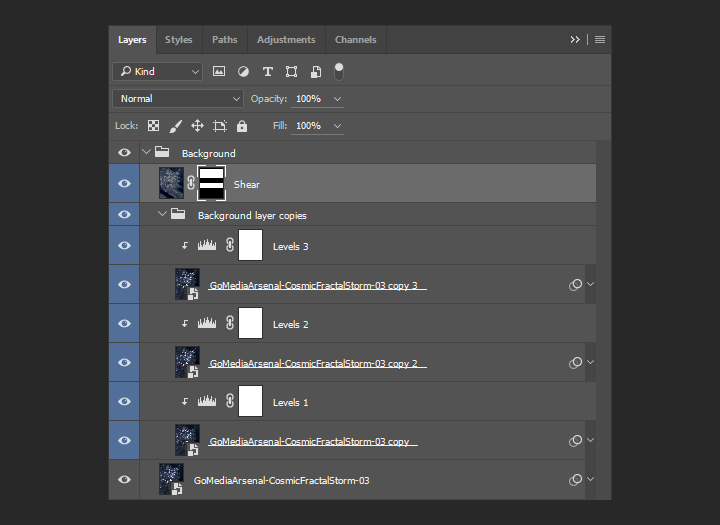 With that done, we can change the blending mode of the Shear layer to color dodge @ 35% opacity.
Additional touches
To complement the effect, we are going to add some thin horizontal lines at the edges of our selections. These lines will each be 1 point thick, run the full width of the poster, be colored in 50% gray (#808080), and perfectly aligned with the edges of the visible parts of the Shear layer. These lines should be created with either the pen tool (P), or with the line tool (U).
The settings options offered by Photoshop CC 2016 allows to customize the stroke. It should be noted that aligning the stroke to the outside produces the best result.
Once one of the lines is created, it can be duplicated and positioned to the appropriate locations.
Once in place, the lines' blending mode can be changed to screen @ 25% opacity.
And after some layer organization, our background layers start resembling something.
Icing on the cake
Because our background needs to not compete with our type elements later, we are going to darken it. We'll use a levels adjustment layer for that.
After one last look at the layer stack, we're ready to move onto type!
Type
The foundations
Now that our background is in place, we can start shaping our text blocks. The first one is the main one: "MAGNETIC FIELDS / 02.06.16 / TATE MODERN / TURBINE HALL / LONDON, UK."
The type is set in League Gothic Condensed, that is 300 points tall, with a line spacing of 272 points, colored in white, and with kerning set to optical. These settings make the copy fit the two left columns of the grid, leaving the right column for the additional information blocks.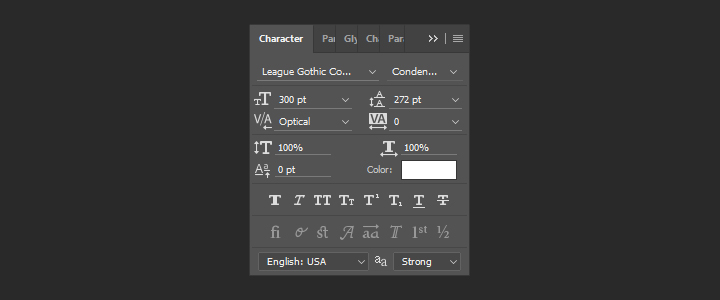 The next block is "Performances by // chp_tnes / nu_drds / cbalt / qwerty / & lw_ram." The type is set in Droid Serif Bold, that is 54 points tall, aligned to the right, colored in white, and with kerning set to metric. These settings make the text block fit snugly in the top right corner of the poster.
The third and last text block is for the miscellaneous information: "Tickets & information at www.magneticfields.com." It is set in Droid Serif Bold, that is 30 points tall, aligned to the right, colored in white, and with kerning set to metric. These settings make the text block fit snugly in the bottom right corner of the poster.
The result is interesting, but it lacks depth.
In order to address that, we are going to replicate the VHS effect we gave the background to the main type block. Let's start by creating three copies of the type element.
Instead of using levels adjustment layers, we are going to assign hues directly to each type elements. This works because the type is a solid color object, as opposed to the visually complex texture we applied the effect to earlier.
The bottom copy, MAGNETIC FIELDS 02.06.16 TATE MODERN TURBINE HALL LONDON, UK copy 3, should be assigned the base blue color #0000ff.
The middle copy, MAGNETIC FIELDS 02.06.16 TATE MODERN TURBINE HALL LONDON, UK copy 2, should be assigned the base red color #ff0000.
The top copy, MAGNETIC FIELDS 02.06.16 TATE MODERN TURBINE HALL LONDON, UK copy, should be assigned the base green color #00ff00.
The top text element (the original one) should stay white.
From there, we can change the blending mode of the three copies to exclusion @ 100% opacity, and of the original element to overlay @ 100% opacity.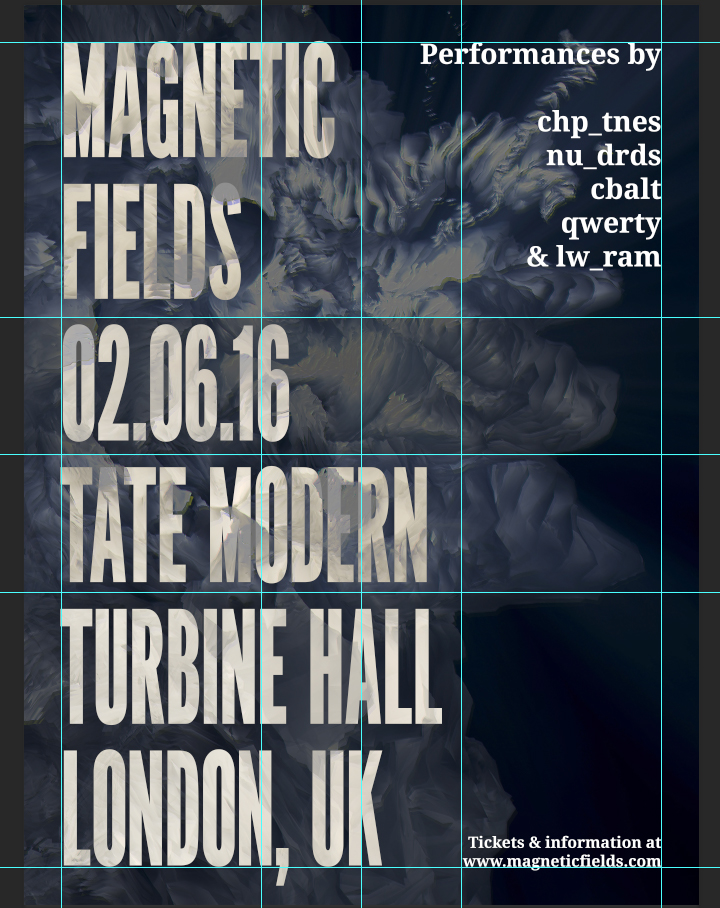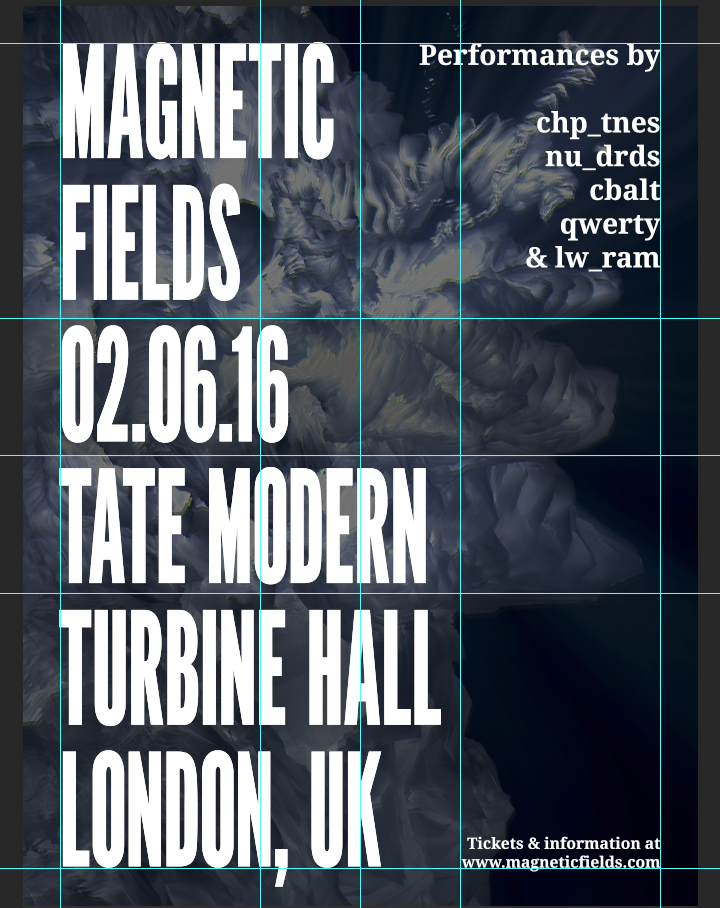 Now, in order to complete the effect, we simply have to offset the three copies in separate directions, using the arrow keys on our keyboard.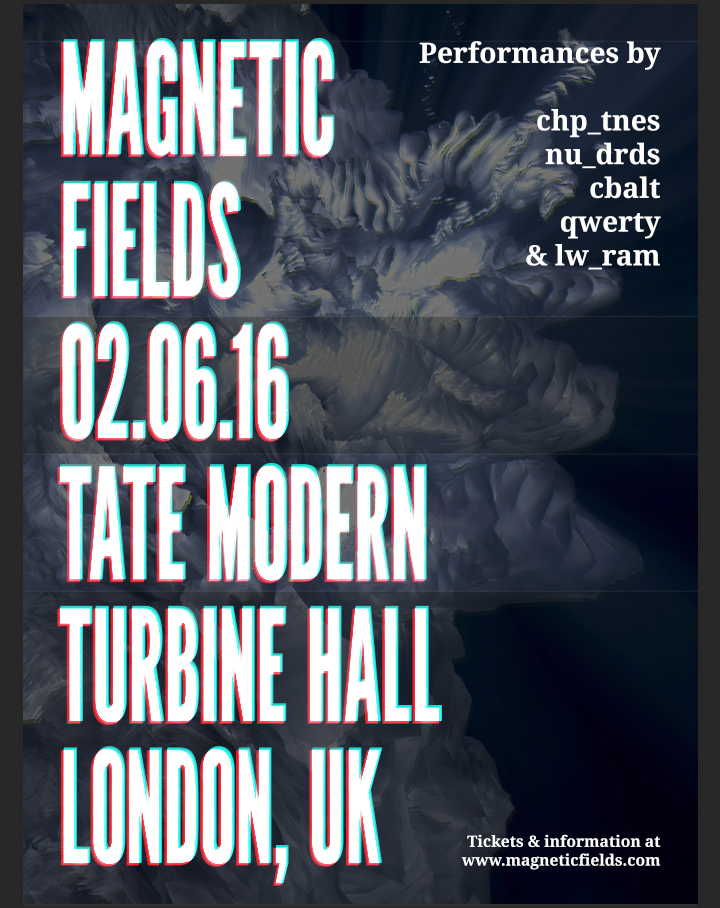 And with that done, we can move on to the last step: textures. Below is a look at our layer stack so far.
Textures!
Things to grab
Before we get moving, here are three assets to grab. They are all free. The first one is photocopy by clarisaponcedeleon, via DeviantArt.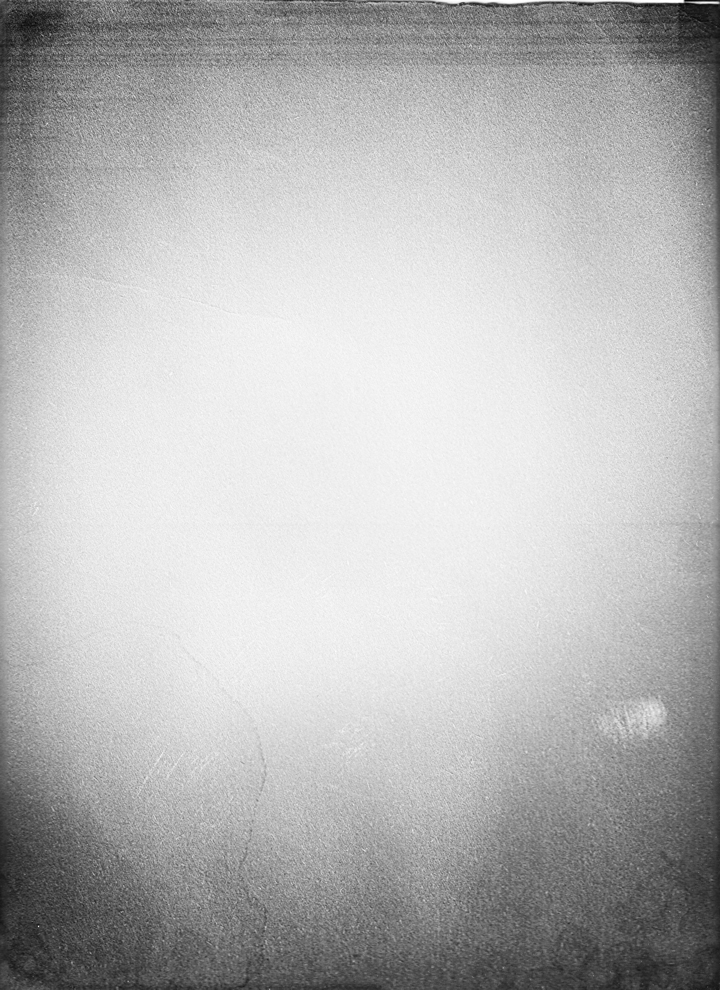 The second is Film texture – grain explosion by JakezDaniel, on DeviantArt.
The third texture is vintage-paper-textures-volume-01-sbh-005, from the Vintage Paper Textures, Volume 1 set. It was made available through the "cute robot" book cover tutorial freebies.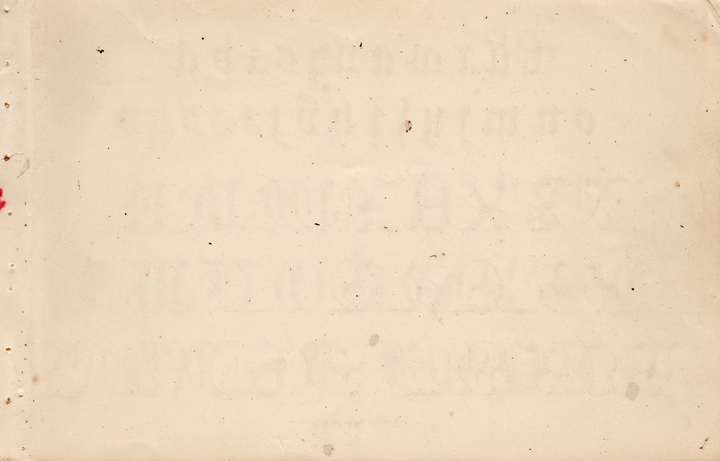 DOWNLOAD THE CUTE ROBOT TUTORIAL FREEBIE ARCHIVE
The last asset is this pattern tile, that we'll use for scan lines. You should download it by right-clicking on it, and using the Save image at menu.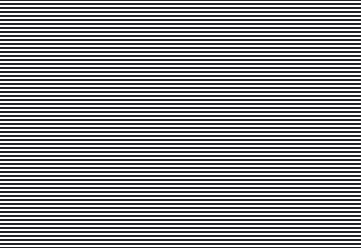 Putting things in place
The first texture we'll use is the film noise texture, film_texture___grain_explosion_by_jakezdaniel-d37pwfa.jpg.
It needs to be placed centered in the canvas, rotated of 90° clockwise, and scaled down to 80% so it covers the whole piece.
From there, we can change its blending mode to color dodge @ 15% opacity.
The next texture is the scanline pattern. Let's open the file.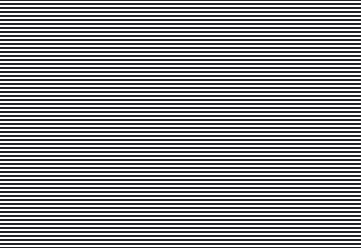 With the file open, we need to head to Edit > Define pattern. This will ask us to name it, and to validate. Once that is done, our pattern will be ready to use in our piece. Let's close the pattern, and head back to our main file.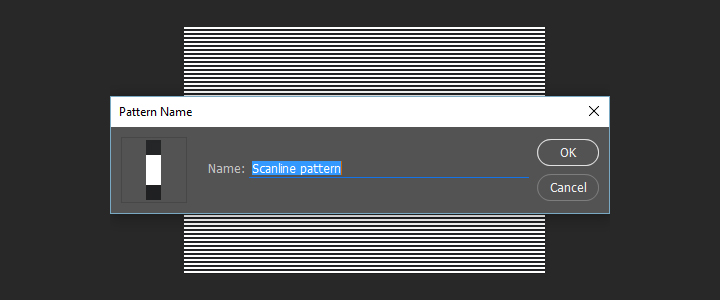 Back in the main file, let's create a new, empty layer at the top of our layer stack.
We are going to apply the pattern using a layer style. First, we need to fill our layer with a solid color. Which one won't matter, it is just to make sure the effect shows up. 50% gray is a good default choice in these cases (#808080).
Next, we can open up our layer style palette by double-clicking on the layer thumbnail in the layer panel.
Let's navigate to the pattern overlay section. It's a simple interface. We can control the pattern tile roughly the same way we can control a layer: blending mode, opacity, scale, etc.
Let's use the drop-down menu to select our scanline pattern.
Finally, we can dramatically scale the pattern up to make sure the lines are visible (900%).
Our pattern is applied, but we need to give it an additional touch for more veracity. Let's convert the layer to a smart object (Filters > Convert to smart filters).
Next, let's assign a 2 pixels gaussian blur to the pattern layer/smart object (Filter > Blur > Gaussian blur).
Finally, let's change the blending mode to overlay @ 10% opacity.
With the scanlines in place, we can move to a slight color alteration. We are going to use a gradient overlay for it. Just like before, we'll need a layer filled with 50% gray (#808080).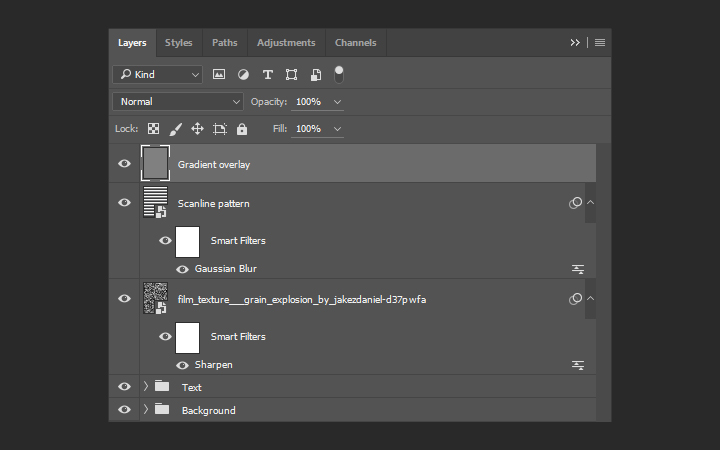 Next, we are going to change the layer's fill to 0%. This allows to hide the layer's pixels (the gray), but to let any effects applied through the layer style panel to shine through.
Let's open the gradient overlay side of the panel.
In the gradient drop down menu, let's select the spectrum gradient.
Let's change the blending mode of the gradient to overlay @ 15% opacity, and change the angle to -50°.
This gives us a nice added depth to the colors of the piece.
The next to last texture is vintage-paper-textures-volume-01-sbh-005.jpg, from the cute robot tutorial freebie archive.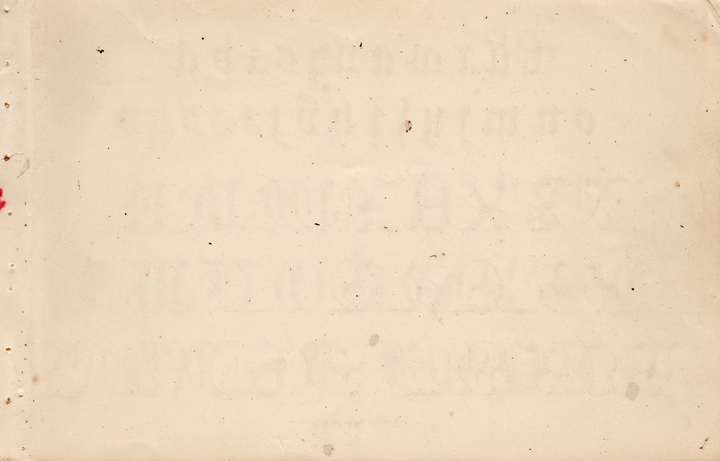 It needs to be placed centered in the canvas, rotated of 90°, and scaled up to 440%.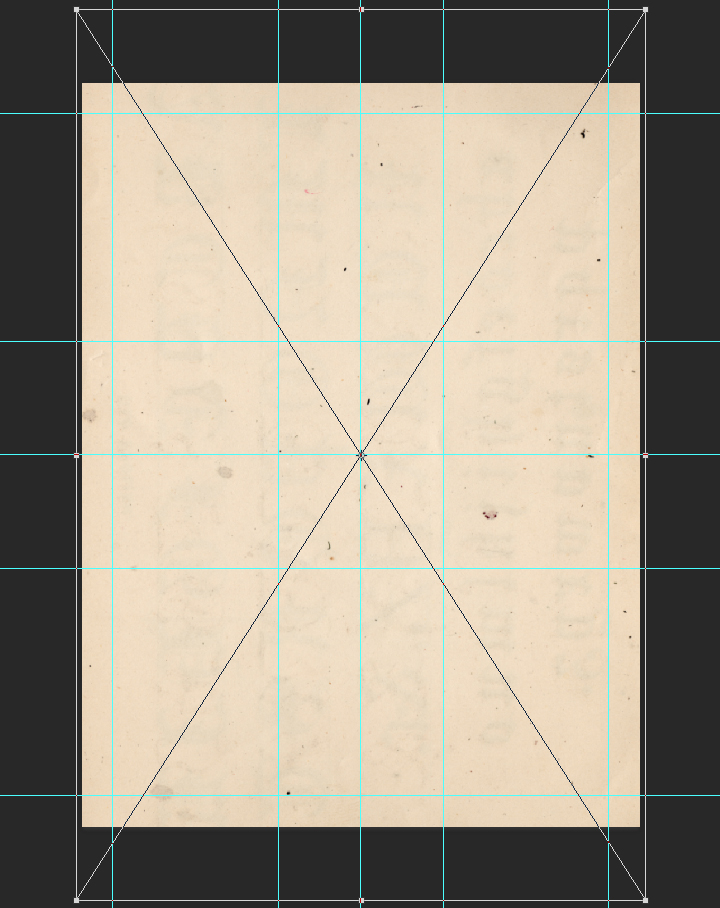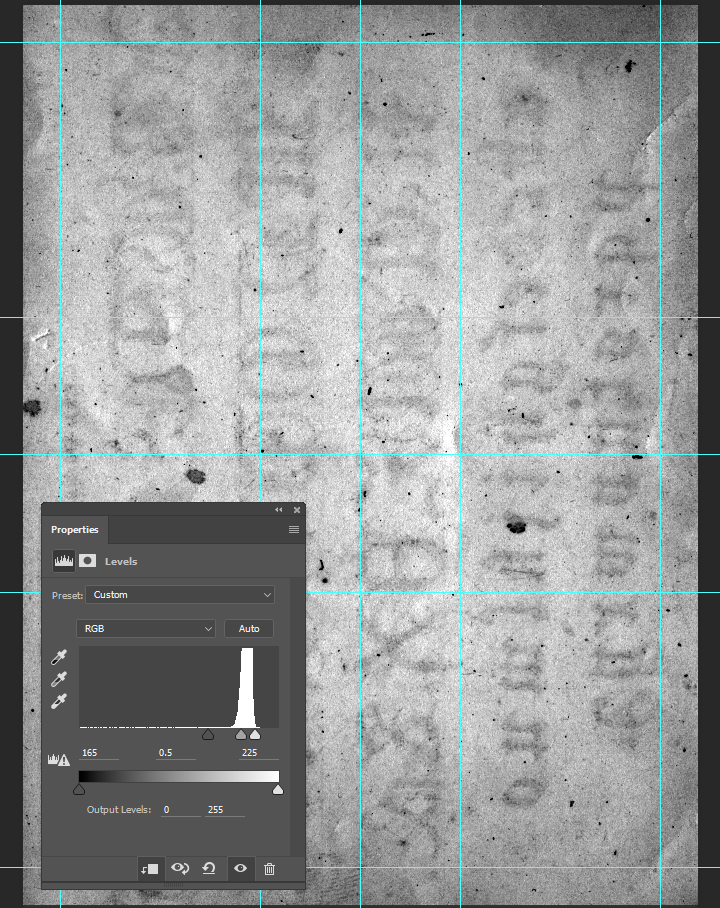 Blending mode: soft light @ 25% opacity.
The last texture is photocopy_by_clarisaponcedeleon.jpg.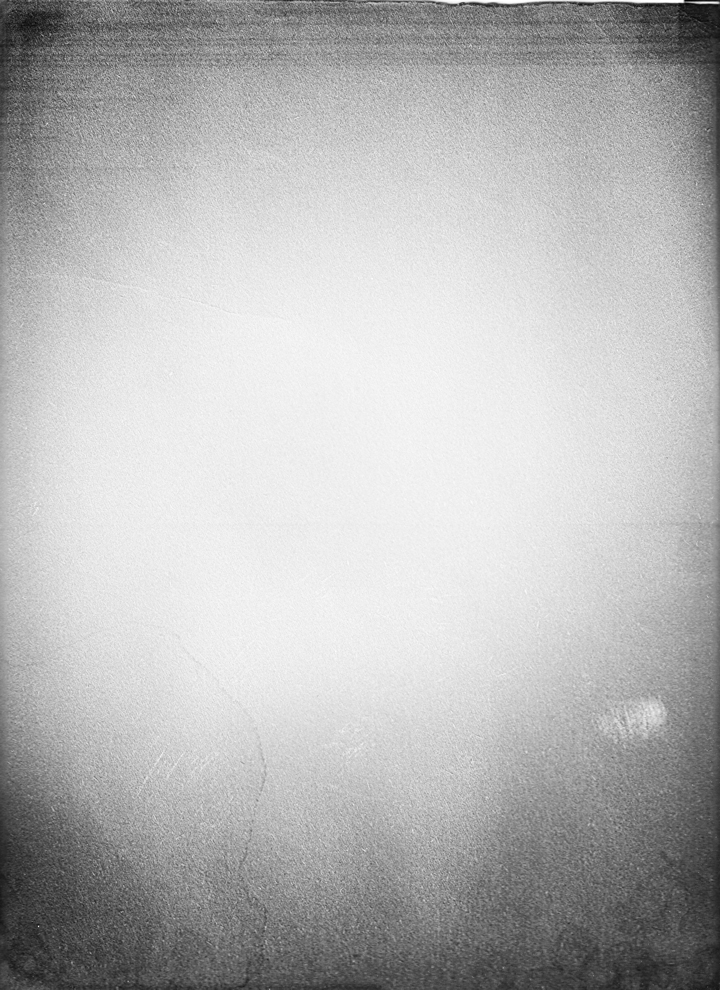 This one needs to be centered in the canvas, and slightly distorted (width: 212%, and height: 208%).
Levels adjustments.
Blending mode: soft light @ 75% opacity.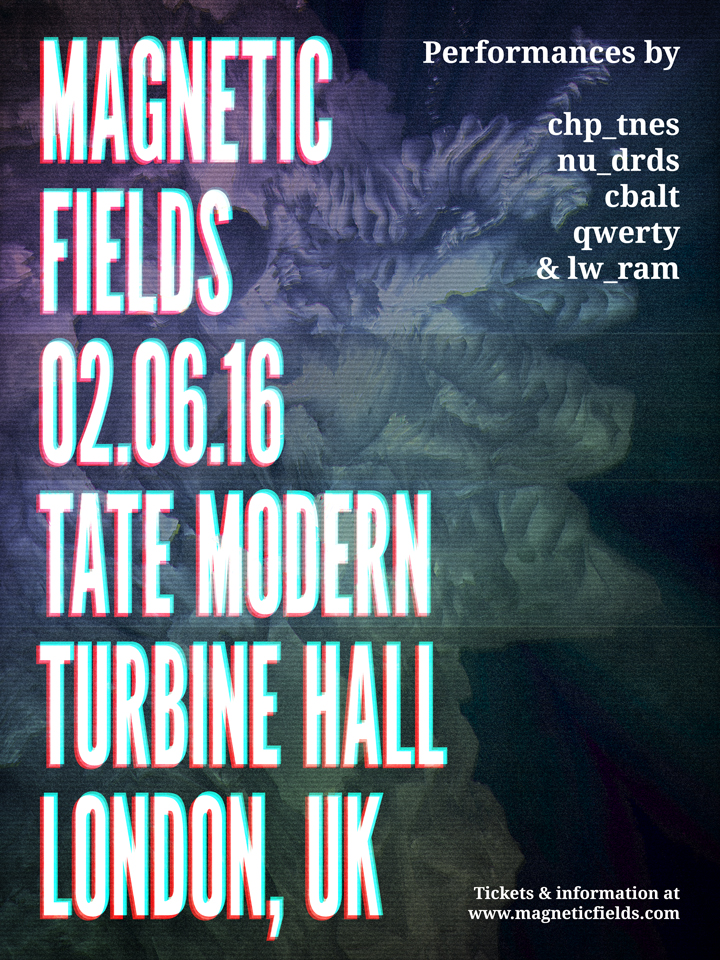 And with that, our piece is complete! After a last go at organizing our layers, here's the full layer stack.
Wrapping things up!
Phew, that was a long one! I hope that you enjoyed following along with the tutorial as much as I enjoyed creating it, and that your outcome matches the goals you set for yourself before diving in.
Did I leave anything unclear? Any suggestions? Don't hesitate to reach out in the comments below! I'll be happy to help out.
We'd love to see your tutorial outcomes! Please share them with us on the Go Media Facebook page, or on Twitter at @go_media.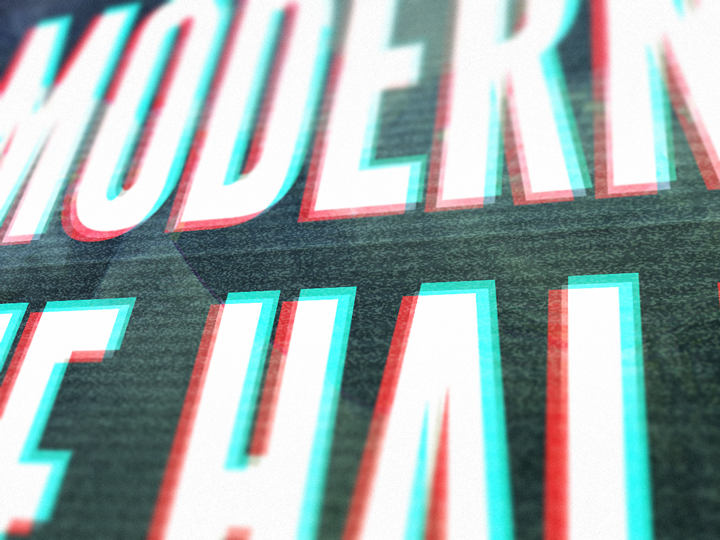 And finally, I hope that this gave you a preview of the cool things you can achieve with the cosmic fractal storm texture pack, by Dustin Schmieding. The pack is available for download now!
On that note, that's all for me today. Until next time, cheers!
Categorized:

Go Media's Arsenal, Photoshop, Tutorials

Tagged:

1980s, 80s, Adobe Photoshop, Dustin Schmieding, EDM, education, glitch, Photoshop, poster, poster design tutorial, print design, retro, SBH, scan line, textured, The Shop, tutorial, VHS, vintage
Give Us More Colors!
As graphic designers, we're always gushing over Pantone's luscious color system. They're now treating us to 112 new colors, courtesy of their Pantone Plus Series. 
The recent, radical rebranding of Uber had many wondering if the company had taken wrong turn.
Millions scanned their smartphone screens last month for that familiar black-and-white icon to access the ride-sharing network. But overnight, the mark vanished. What they discovered instead were one of two geometric shapes: Circle for riders and hexagon for drivers.
Black, white and gray tones were scrapped for an array of vibrant colors and a wide range of dynamic patterns, tailored to each of the 65 countries in which Uber operates. For example, in the U.S., the logo is now dark teal. In China, it's red. In Ireland, it's green (of course).
CEO Travis Kalanick told Wired.com the tech firm wanted a more flexible brand experience that could evolve as it attracts new customers and develops new products.
It was a major shift in gears for a company that has built a fervent following in recent years. Many derided the choice. At the same time, Uber had somewhat of a unique challenge in that its brand is both global and local. The ride-sharing market in Shanghai is much different than that in Cleveland, and the brand needed to reflect that.
So, how do you know if your company will benefit from a rebranding or if you should just ride it out with the one you have?
The very first step to answering that question involves meeting with the experienced Cleveland web design team at Go Media. We can help offer direction. The fact that you are launching a new website or an updated product line doesn't necessarily mean you need a total overhaul. Still, it's a good time to hit the brakes and consider whether it makes sense.
Every situation is going to be different, but in general, we recommend a rebranding in cases where:
Your brand fails to reflect your current vision. This is fairly common. What seemed like a good choice for a name 10 years ago is no longer doing your organization justice. Other times, there is a shift in the cultural context of the name or symbols or colors. The bottom line is the brand should be propelling you forward, not dragging you down.
It's tough to differentiate your firm from the competition. If all your branding is too similar to the competition, you may want to consider branching out. After all, the whole idea of branding is to carve out a competitive edge.
You shy away from doling out your business card or website address. If your website is stale and outdated or the brand just looks unoriginal or boring, you should probably consider an update.
The business strategy or model has changed. Evolving technology and previously unforeseen opportunities can alter the way your business operates. You should make sure your brand is aligned with those changes.
You're in the midst of an acquisition or merger. Anytime there is a merger or acquisition, it should be seen as an opportunity to consider a rebranding effort.
Your current brand carries a negative connotation. In this age of digital media, a single social media misstep can result in serious consequences for the brand. In some cases, rebranding is the cleanest remedy.
And of course, don't overlook the possibility that your firm might benefit from a brand refresh versus a total rebranding effort. A brand refresh allows you flexibility to:
Shift the look, but keep the logo.
Update the colors and add messaging.
Expand the design system.
Update, yet still retain visual connection.
If you are considering rebranding, our skilled team of designers will advise you of the best route.
Contact the Cleveland brand experience experts at Go Media by calling 216.939.0000 or contact us online. 
Poster Design Inspiration 2016
Today's Poster Design Inspiration comes to us from our friends at The National Poster Retrospecticus, who produce The Fifty-Nine Parks Print Series. This series is a celebration of our National Parks. The strength of the series comes from an eclectic mix of artists and the unique beauty of each park. Every screen printed poster is created by a prominent poster designer.
Scroll down to view this beautiful series, featuring Daniel Danger, Dan McCarthy and Eric Nyffeler.
More parks will be added soon, so stay tuned!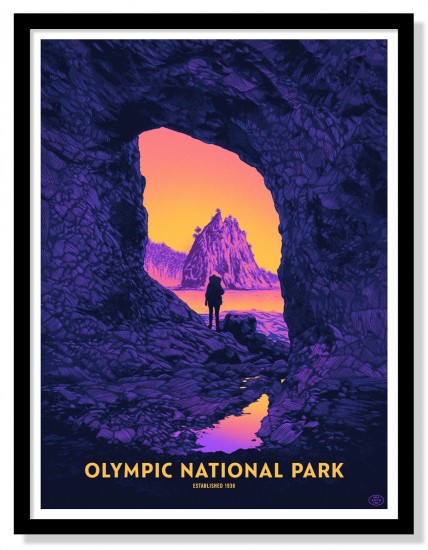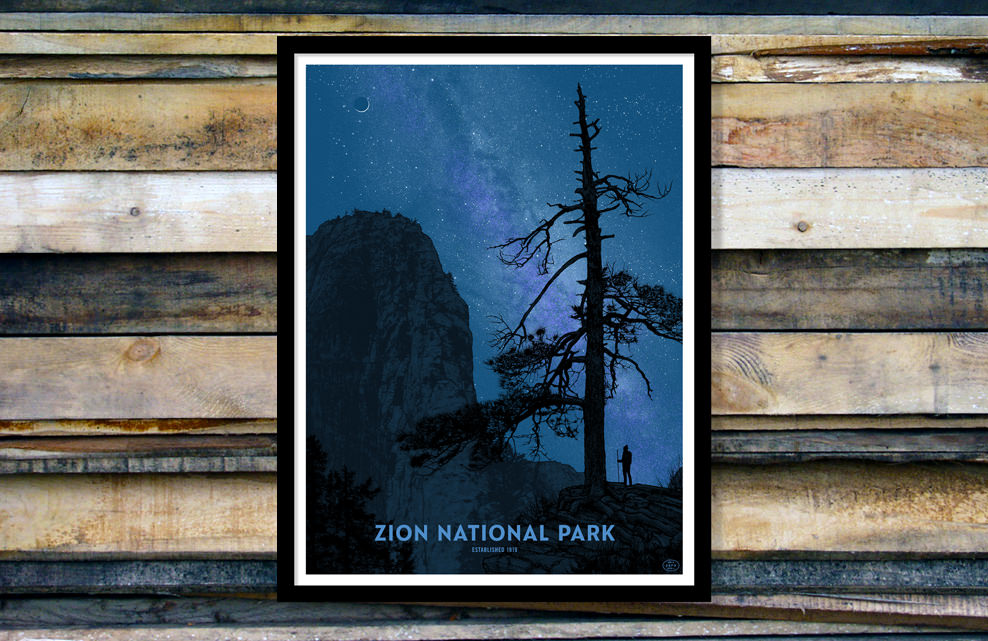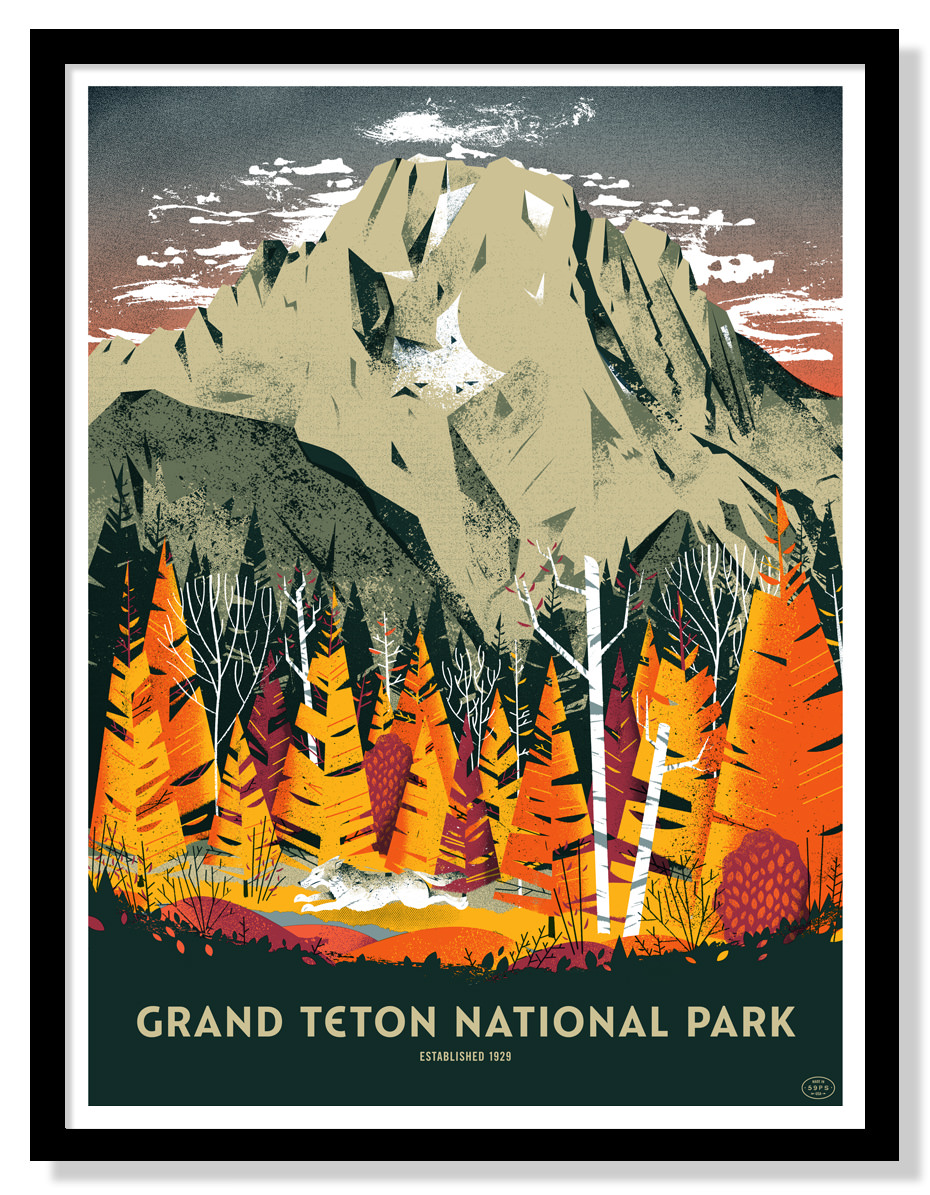 Royalty Free Video Sites
Hey Designers, don't have time to create your own video footage and need a place holder for your next dev project? You're in luck. We've got a great list of sites offering up royalty free video footage* for use in your next design project. We've linked them for you below. (Each includes an example video clip).
Please share and leave any we've missed in the comments section below! * Please confirm the license on each video before using. Enjoy!
Royalty free videos, clips and loops curated by a web agency from Montreal.
Royalty free video, animations, motion graphics and more!
Photos and footage galore
Free HD stock footage
Free stock video footage and motion graphics
Free HD stock video footage
Free to use in 'Free to video projects.' Read more about their licenses here.
Free  Groups on Vimeo
Totally free footage for your projects!