Articles by Month:
March 2014
Hey look at you! You just finished the world's best design. You've outdone yourself this time.
If you were back in the days of old you'd send that bad boy via horse and buggy, ride it off into the sunset.
But times have changed, my friend. Now we need to step up our games. And step 'em up good.
In this episode, Jeff, Bryan, and Bill sit down with Aaron Sechrist (aka OKPants) to talk about surviving as a designer in Cleveland, America.
So recently I took a couple of months out from design to go travelling around South East Asia. Get me. I'd love to peg it as an adventure where I was searching for the lost city of whatever to find the hidden treasure of something something, but this was really just a straight up holiday.
I really don't do holidays that often. I don't really feel the need to – I love what I do for a living so why would I ever need a break? That being said, I'd had one too many big projects with tight deadlines in a row and even I was starting to feel like I was getting worn a little thin.
However after just maybe a week of exploring the Orient I genuinely started to pine for my wacom. I missed designing. I'd told myself that this was going to be a proper refresh for me, so I'd brought no laptop, no drawing pads, not even a pen! "Anyway", I told myself "Bangkok really isn't the kind of place you could sit down a get a really productive days work under your belt", and so I tried to put it out of my mind.
I'm going to share a little trick we like to use to blow our clients' minds every single time we deliver a design: guaranteed.
In our experience, when we present our clients with their finished design, mocked up in a realistic setting, they were *ten times more likely to be wow'd, impressed and baffled, as in "Wait, what? You've already printed the design? Just for me?"
(*more like twenty)
Dei G of Deisign is a master of comic design. A provider of unique character and creature designs for the entertainment industry, as well as a generator of character driven covers and promotional illustrations, Dei has won numerous awards and has produced work for Paramount Pictures, Stone Circles Pictures and ToonBox Entertainment, to name a few.
His work is captivating, his characters jumping off the page with a refreshing sense of life, movement and vitality.
Just how does Dei animate his illustrations so exceptionally? Here are some of his pro tips:
Life as a designer can be completely overwhelming. With projects constantly coming through, work piles up and never-ending revisions make for long days and late nights. It isn't like we're not completely thankful, but let's be honest:
Sometimes we just need a break.
Thankfully, there is a little shortcut sent from heaven that lets us do our job while cutting our hours, saving us money and making us look like a rock star.
Introducing the t-shirt design pack.
One of the best part of our jobs here at Go Media is connecting with fellow creatives. Recently, Jeff Gapinski, Co-Founder and Creative Director at Huemor Design in Commack, New York, reached out us. Jeff had some great feedback about Drawn to Business, as well as some questions about developing a killer sales team.
We thought we'd share the exchange with all of you. Enjoy and please feel free to continue the conversation with us in the comments below!
A critical question we often ask ourselves and know other designers contemplate when working on any given design is, "How do I choose a font?"
So many factors go into this decision, however thanks to the help of some friends, including Creative Director Michael Prewitt as well as Art Directors Craig Weiland and Harley Peddie, we're here to share with you ways you can choose the perfect typeface for every project.
We had the opportunity to collaborate with the Umbrella Collective, providing planning, web design and front-end web development for BigBolts.com, the web's first & only site for large-diameter bolts, screws, nuts, and washers and the first of a fastener family that, together, will form an online fastener purchasing destination!
Want to knock the socks off of your clients, whilst instantly boosting your street cred? Take a few extra moments in your design process to mock up your art using the World's Best Mockup Templates. (Promise: It works every time my friends).
The mockup is a trick of the trade for Go Media and the top design professionals in our community. Why? It gives your clients professional, high quality, palpable, photorealistic 3D imagery of your designs. The result fools them into believing you went the extra mile to produce a physical mockup! (But it's okay, we won't tell!) Not only will your client be über impressed, but you'll just generally be able to communicate your vision to your printer and have a clearer vision of the end product yourself.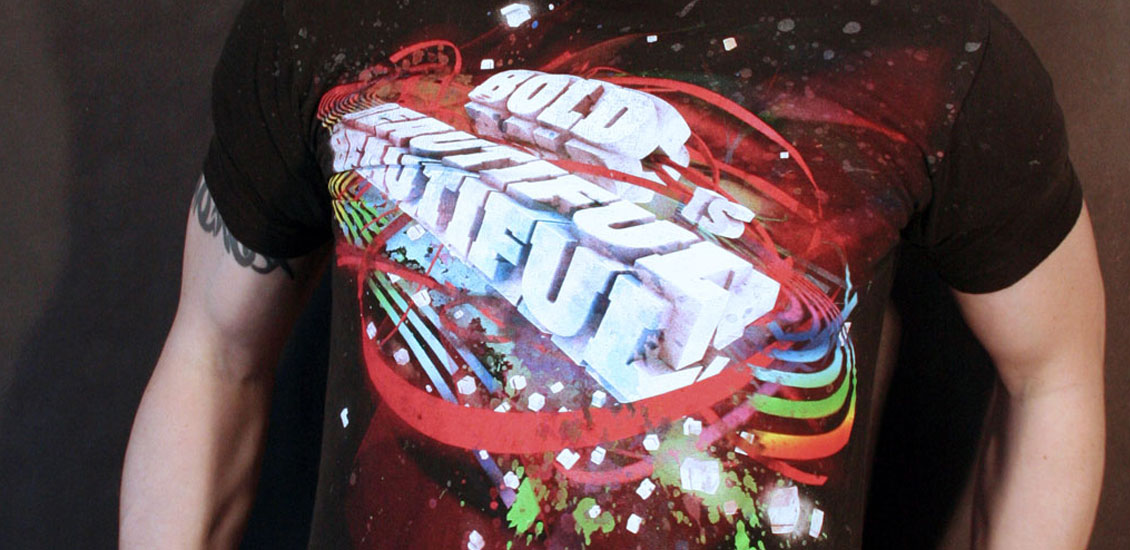 Designed your own original and unique t-shirt, printed and branded your work, ready to launch? Now you're ready for the big time.
For a lot of brands, the holy grail of going big-time is getting into well-known retail shops. There's certainly an appeal to being able to go into your local mall and see your brand on the racks. "How do I get my clothing line into stores," you ask? Here are some general tips for breaking into retail, straight from Go Media Partner Jeff Finley's book, Thread's Not Dead: The Designer's Guide to the Apparel Industry.
Creating the perfect logo takes a lot of time and skill. It also takes practice – and one of the things that I find really interesting are the sketches of a logo before it's been finalised. There are some extraordinarily talented designers out there who are as skilled at sketching out a logo as they are at creating one in Photoshop, and I wanted to bring together a post that showed off some of the best examples of their work.
I've always had an admiration for illustrators, and being able to combine calligraphy and beautiful lettering with logo design on paper is something that I'd love to be able to do myself. I hope you find these logo sketches inspirational, and that they get you thinking about practicing sketching too. As always, if you know of any other examples that deserve some recognition, I'd love to hear about them in the comments.
Some of the questions we hear asked often around the design community are:
What is the best way to learn about typography?
Where do I find the best hand-lettering/type inspiration?
Who are your favorite letterers?
What are the best typography and and lettering tutorials?
We decided to pull together some of our very favorite resources for you today. Here's what you'll find below:
Some of our favorite hand-letterers and typographers (some modern day experts on type, you might say!
Online educational resources
Awesome type and hand-lettering tutorials
Best sources of type and hand-lettering inspiration we've found
Super inspirational found-type collection posts
Books about type and hand-lettering
Off we go!
Here at Go Media, we're proud of our work and love to show it off.
Thanks to the magic of our Photoshop mockup templates, we can do so in the blink of an eye.
In this episode, Jeff, Bryan, and Bill sit down with Chris Finnecy from TrellisPoint to talk about CRMs and why a small design firm like Go Media should be using them. We looked at all of the benefits, as well as reasons why people tend to avoid them, and try to determine what is stopping Go Media from bringing in a CRM into our every day lives.