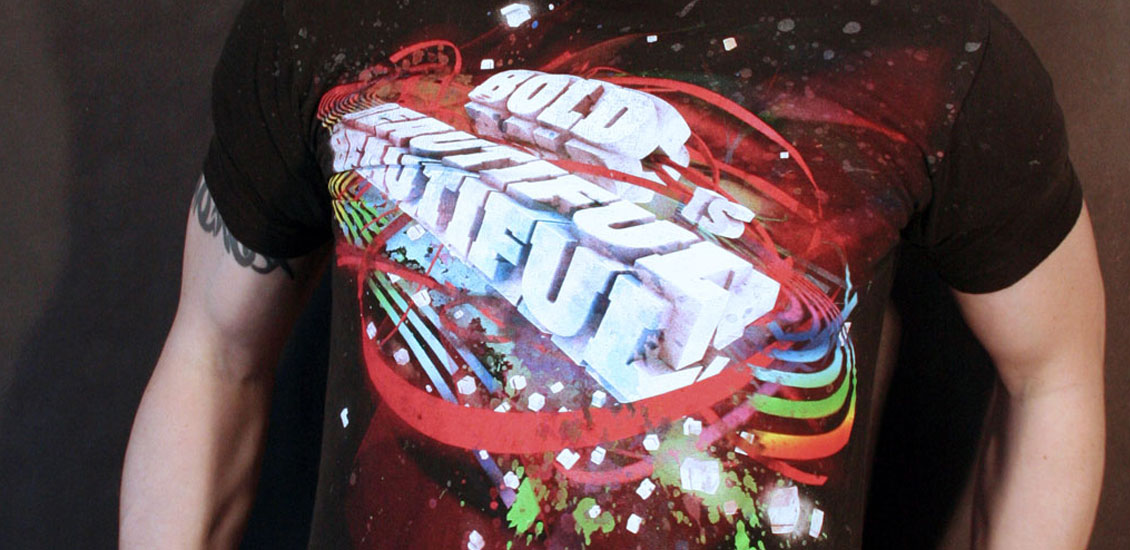 How to Get Your Apparel Line into Retail Stores
Launching Your Apparel Line
Designed your own original and unique t-shirt, printed and branded your work, ready to launch? Now you're ready for the big time.
For a lot of brands, the holy grail of going big-time is getting into well-known retail shops. There's certainly an appeal to being able to go into your local mall and see your brand on the racks. How do you get there? Here are some general tips for breaking into retail, straight from Cleveland Design Agency, Go Media Partner Jeff Finley's book, Thread's Not Dead: The Designer's Guide to the Apparel Industry.
Never Say Die.
Most of the successful "big-time" brands will tell you it wasn't easy getting to where they are and that there's no formula for success. But you've got to be willing to tough it out, deal with rejection, and be ready to ride the roller coaster. You must also have the capabilities to manufacture hundreds or thousands of shirts. For those wanting to go beyond the side project phase and go bigtime, read on.
"How to My Apparel Line into Stores," you ask?
1.  Be Proven. Your line needs to have a history of selling well. If you consistently sell out online or have built up a large fan base online, this increases your chances of getting into a retail shop. If all you have are mockups and no history of selling anything, you need to prove yourself first. It's like a band trying to get signed to a major label and play big shows when they can't sell out the local pub down the street.
2. Be retail-ready. This includes hang tags, custom poly bags or packaging, printed shirt tags, etc. You need to look put-together in order to be taken seriously by retail stores. Johnny Cupcakes often reminds people at his talks that those that pay extra attention to these little details are the ones that stand out and are successful.
3. Have a line sheet or lookbook. A line sheet is basically a PDF of your t-shirt line with product info and photos of product. Include info about your brand, the names of the shirts, t-shirt color and specs, item number, prices, sizing, and other specs unique to your product.
Don't forget to mockup your designs.
4. Do your homework. Find out what stores you want to be in and get all the information you can about them. Make sure your brand fits the style and will look good
with the rest of the products they sell. Talk to the buyers. Find out who makes the buying decisions and set up an appointment to show them your samples. The employees at your local retail shop are not likely the ones making decisions.
5. Talk to other brands who have made it. Learn from their experience! Walk into the stores you want to be in and write down the names of the brands you find. Do your homework and look up contact information for them and introduce yourself. Be polite and see you can set up an interview with them to discuss their experiences. If you have trouble finding information about a brand, it might be because they're a store brand under a different name. For example, I saw a brand called Aces & Eights at JCPenney once and couldn't find a damn thing about them online. From what I gathered, it was just JCPenney putting out a line of tees under that name.
6. Go to Trade Shows like Magic or Pool. You can meet a lot of retail buyers and talk to brand owners and consumers alike. You can really get a feel for what the current trends are at these events. Eventually, setting up your own booth should be on your annual to do list. There are others like Agenda, ASR, and Threadshow.
7. Hire a Sales Rep. Find someone who has experience selling apparel to retail buyers. They do this for a living and are likely better at it than you. They also already have the contacts that everyone wants but doesn't have. Some stores already have relationships with certain reps and buy from them often.
8. Bring samples. Retail buyers and sales reps like to be able see the actual products before they make a decision. It makes sense right? They like to feel the garment and test the quality and fit. This also gives your buyer a chance to notice all of your attention to detail!
9. Be professional yet personable. This is common sense in the industry. Buyers are attracted to people that know their product inside and out and can speak about it with passion and conviction. They buy from people they are comfortable with. If you can't manage to clean up and persuade someone to want your tees, then get a sales rep.
10. Be persistent and follow up. When you contact a store, rep, or buyer, don't be surprised if you don't hear back. These people can have hundreds of brands trying to get into their store! Make a spreadsheet of all the people you are contacting and when you need to follow up. Make sure you follow up and be persistent. Just don't be annoying and if they say no, it usually means no. Don't nag anyone, you don't want to damage your reputation.
Other Options:
Sell at Local Boutiques and Consignment Shops
You can swing by your local clothing boutiques and ask if you could sell your line on consignment. The terms vary, but you only get paid if the shirts sell. The shop gets to keep a percentage. This is a good way to get your feet wet selling in stores. There's no guarantee of making any money, but you can test the waters and get your brand name out there a little bit. You'll need to find shops that sell to the type of consumer you are looking for. Do your tees fit in with the boutique? If you find that your tees are selling locally, then you can consider moving on to more national stores.
Sell at National Chains and Department Stores
If you want to sell your stuff at Hot Topic, H&M, or other chain stores like that, you'll need to talk to their regional sales reps. You can find them at the major apparel trade shows looking at hot new brands to buy up. However, if you've got a large following online, these stores may find you through word of mouth. Urban Outfitters contacted Go Media asking to purchase a bunch of Obama skate decks that Oliver Barrett designed. We agreed on a price, signed the deal, and saw the deck in their stores. It was kind of a lucky shot there, but his design was timely and fit with what they were looking for.
Working with Distributors
Dave from Paint the Stars says, "Distributors are a great way to get your brand into places that you might not be able to reach independently." They can also help you with manufacturing and producing your tees. Getting a distribution deal is like getting a record deal, which is one way to get more exposure and sales. Dave says he's had good and bad experiences with distributors. "We've found ourselves bound by some pretty unreasonable contracts that have only benefited the distributor and left us with nothing but a bunch of empty promises." He warns, "It's easy to get drawn in with promises of brand exposure, marketing you never dreamed of, and crazy production. So make sure you go through every minor detail of a contract before you sign it." Through their roller coaster experience, they have decided to start their own distribution company called Breakout Distribution to help themselves and other indie brands take it to the next level without a lot of the fine print from major distros.

Grab it:
Thread's Not Dead: The Essential Strategy Guide for
Dominating the T-Shirt Design Business