Freelance Switch Redesigns their Site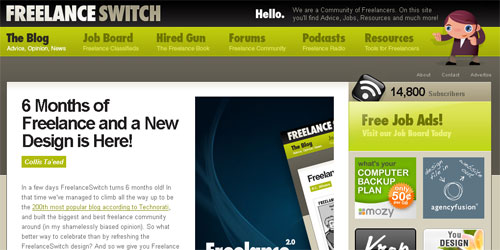 On of my favorite blogs (and one of the most well designed) Freelance Switch redesigned their site the other day. FS is an amazing inspiration to me in terms of the site's growth the past 6 months (nearly 15,000 subscribers already?). Not only is this redesign great, it's somehow better than their previous which I adored. What do I love about it? Well, I love how this blog has really streamlined what they want the user to experience. Every single element in the site has their specific place and it appears to be well thought-out. The most important things have a stronger focus and they integrate their abundance of sponsored advertisements in such a classy way that it's very unobtrusive. Which reminds me, this blog makes money no doubt. They post quality content daily and make it super easy for users to subscribe and advertisers to advertise.
All this great design and content doesn't just happen overnight though. These posts here and here describe how Freelance Switch started from scratch and built itself into a "Superblog." Reading this was also very inspiring and I take a lot of what I will put into Go Mediazine 2.0 (soon! I am so busy I need to find time to do this…) from the advice given in those two articles. I highly suggest you give it a read and fill yourself with hope and inspiration!
Anyway, just thought I'd let you guys know about their redesign. It's great and as a blogger/designer I drool. Drool with me…